Do you like your colours to be deeper and a tonne more impactful? Then you will enjoy what the PS4's HDR games have in-store for you.
The mid-gen console updates, the PS4 Pro and Xbox One X, arrived with 4K support coming to Xbox One and PS4 — though the extra asking price of either is not to be sniffed at. The Xbox One S/X and PS4 Pro are now out in the wild and offer 4K (though the Pro does not technically provide "true" 4K) resolutions and HDR support.
With your new, slightly shinier system, you will need a 4K TV that can also handle HDR, or else the whole thing's a bit pointless, really. You can use supersampling with your Pro on a 2K/1080 TV, but the difference is really not that noteworthy. After stumbling around Amazon for the 4K set you need, you will be able to experience high-dynamic-range for your HDR compatible PS4 Pro.
What Is PS4 HDR & Do I Need It?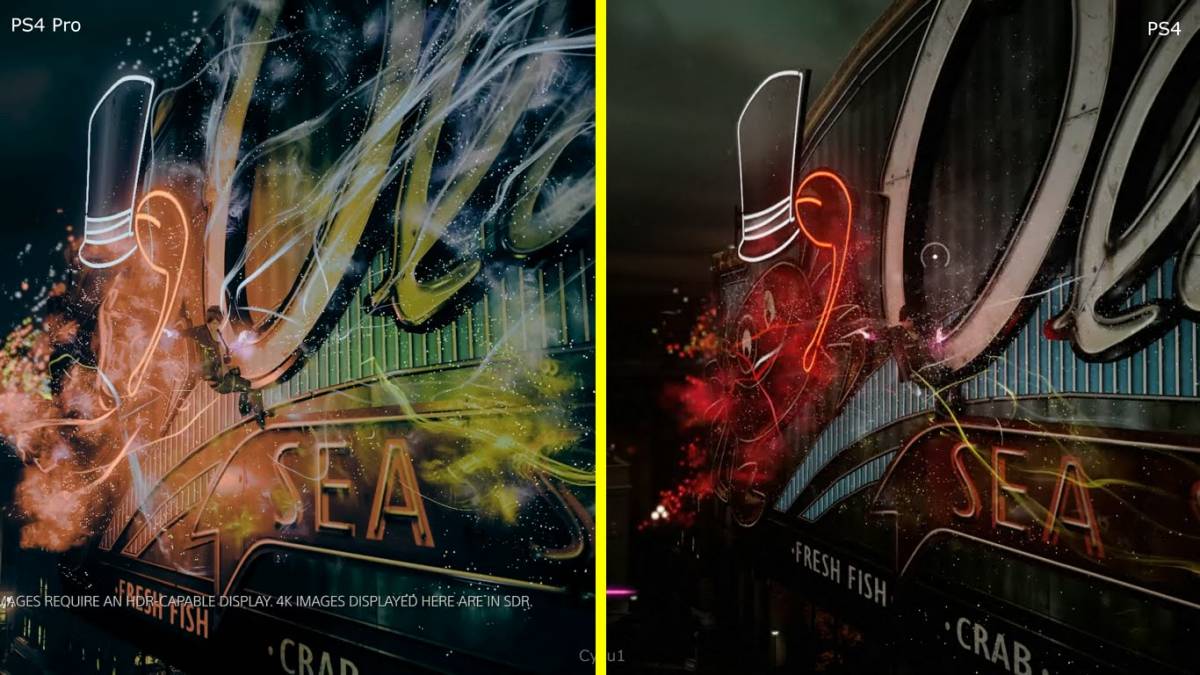 So, what does HDR on your PS4 entail? The most basic explanation is subtle differences in visual quality, such as more complex primary colours that are better defined and designed to be more realistic. If you compare, for instance, HZD in non-HDR and in HDR, the HDR version looks tonnes more vivid, especially when out exploring its beautiful open world.
It's been around in photography for a while now; you may have even been able to use it on your smartphone. But with its adoption in gaming, don't be surprised to see it become the norm before too long, especially as we move closer and closer to the next generation.
As for whether you really need to buy a PS4 Pro and a HDR compliant TV, that's really up to you. It's ultimately a luxury that may not be worth the price of the upgrade; you're looking at at least (and this is at the very least) $600 for a Pro and TV. That said, you may benefit from enhanced framerates and other quality of life improvements if playing PS4 Pro games. With the new generation not that far away, you may be better off waiting a little while longer.
Here are all the PS4 HDR games; we update this semi-regularly for consistency.
PS4 HDR Games
The amount of PS4 games that support HDR isn't exactly a list that will go on for pages and pages, but it's a good start. There will be more PS4 Pro enhanced games to come in the future, so we will add to this list below as they're revealed. It seems to be more of AAA thing currently; there aren't that many indie games making the step up.
Agents of Mayhem
Anthem
Assassin's Creed III Remastered
Assassin's Creed Odyssey
Assassin's Creed: Origins
Battlefield 1
Battlefield V
Borderlands: Game of the Year Edition
Borderlands 3
Call of Duty: Black Ops 4
Concrete Genie
Crash Bandicoot N. Sane Trilogy
Crash Team Racing Nitro-Fueled
Darksiders III
Days Gone
Death Stranding (coming soon)
Destiny 2
Detroit: Become Human
Deus Ex: Mankind Divided
Devil May Cry 5
DiRT Rally 2.0
Dissidia Final Fantasy NT
Everybody's Golf
F1 2019
Far Cry 5
Far Cry: New Dawn
Farpoint (PlayStation VR)
FIFA 17
FIFA 18
FIFA 19
Final Fantasy XV
God of War
Gran Turismo Sport
Guacamelee! 2
Hellblade: Senua's Sacrifice
Here They Lie
Hitman
Hitman 2
Homefront: The Revolution
Horizon Zero Dawn
Horizon Zero Dawn: The Frozen Wilds
Hustle Kings
Infamous: First Light
Infamous: Second Son
Injustice 2
Just Cause 4
Kingdom Hearts III
Knack the Second (Bay-bee)
L.A. Noire
Madden NFL 18
Madden NFL 19
Madden NFL 20
Mantis Burn Racing
Marvel's Spider-Man
Mass Effect: Andromeda
Matterfall
MLB The Show 17
MLB The Show 18
MLB The Show 19
Metal Gear Survive
Metro: Exodus
Middle-earth: Shadow of War
Monster Hunter: World
Mortal Kombat 11
MotoGP 17
NBA 2K17
NBA 2K18
NBA 2K19
NBA 2K20
Nex Machina
Ni no Kuni II: Revenant Kingdom
No Man's Sky
ONRUSH
PUBG
Ratchet & Clank
Red Dead Redemption 2
Redout: Lightspeed Edition
Resident Evil 2
Resident Evil 3
Resident Evil 7
Resogun
Rime
Sekiro: Shadows Die Twice
Shadow of the Colossus
Shadow of the Tomb Raider
Snake Pass
Sniper: Ghost Warrior 3
Spacelords (previously Raiders of the Broken Planet)
Star Wars Battlefront 2
Tennis World Tour
Tetris Effect
The Dark Pictures Anthology: Man of Medan
The Division 2
The Elder Scrolls Online: Morrowind
The Elder Scrolls Online: Orsinium
The Elder Scrolls Online: Tamriel Unlimited
The Last Guardian
The Last of Us: Left Behind
The Last of Us: Part II
The Last of Us: Remastered
The Surge
The Witcher 3: Wild Hunt
The Witness
Tom Clancy's Ghost Recon: Breakpoint
Tom Clancy's Ghost Recon: Wildlands
Uncharted 4: A Thief's End
Uncharted: The Lost Legacy
We Happy Few
WipeOut Omega Collection
World of Tanks
A couple of things to bear in mind with HDR: you will have to unplug your PSVR headset to use HDR on earlier models as they do not allow HDR pass-through, which has been fixed for the new PSVR headset. In addition, captures taken may appear slightly different when uploaded because of HDR. Finally, you will have to ensure HDR is turned on on your TV itself to make it work with your Pro.
The PS4 Pro is out now and is available in bundles on Amazon for relatively good prices. Looking to get a little bit more out of your PS4? Find out if PlayStation Now is worth it.
Want more PS4? Check these out:
– PlayStation Now PS4 Games: The Complete List
– PSVR Aim Games: The Complete List
– The Best PS4 Games You Should Own
Some of the coverage you find on Cultured Vultures contains affiliate links, which provide us with small commissions based on purchases made from visiting our site. We cover gaming news, movie reviews, wrestling and much more.