I really don't envy EA Sports. After over twenty years of developing and refining the simulated football experience, how can you continue to redefine what you've built to make kicking around a pigskin on some grass as satisfying as possible? The short answer: you don't. You just tweak and update, add new features that could work and take away those that don't.
FIFA 18 is no different. There's no genre-defining revolution to be found here, rather a series of small but noticeable changes that improve on what came before it. Some of its harshest critics say it's more akin to a FIFA 17.5 and there's definitely weight to that argument, but whereas I could quite easily wander away from FIFA 17 and find something better to do, FIFA 18 is tough to shake.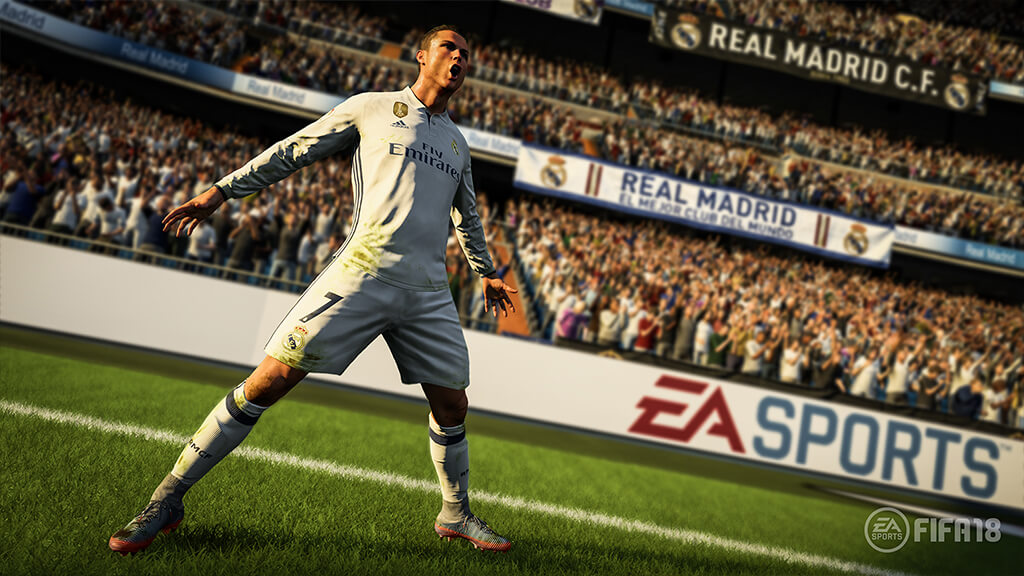 The most obvious changes in the gameplay department have proved to be some of the game's most controversial: FIFA 18 is about as frenetic on the pitch as a pack of Jack Russell Terriers chasing the same toy. It's a little overwhelming at first and feels as if it's catering primarily to Premier League fans, but it's a breathless and incredibly satisfying game of football all the same.
There's a big emphasis on speed this year with fast wingers more often than not making the difference – at least when playing online. The AI must have been stocking up on its B vitamins as they're relentless and almost robotically efficient in their defending; they have an answer for almost everything. The solution that I have found most effective is one-two passing combined with some tricks because lingering on the ball or just trying to sprint past them more often than not results in dispossession. It's a welcome change that makes all AI matches feel closer to the real thing, far more tactical than just distributing it to the wings and holding down sprint.
Defending is also not quite as simple as before with EA Sports seemingly toning down how much the AI helps you out. It's a little alarming to see high-scoring draws to begin with (the Real/Atletico prelude ended in a 6-5 win for me), but it's the game's very blunt way of telling you to change the way you play. Jockeying has never been more important along with the timeliness of your interceptions: it's often a bad idea to charge down the opposition. Instead, FIFA 18 asks that you squeeze players out with pressure and force them into mistakes, or force them down difficult avenues so that it's easier to pick the ball off of them.
There are a couple of other new gameplay quirks, too. Quick substitutions allow you to swap players out without having to hit pause, asking you to hold down R2 when the ball is out of play instead. The AI can either chuck some random suggestions at you (it once tried to get me to swap Oumar Niasse for Ross Barkley) or you can assign your own to one of three slots. It's a neat addition, but should arguably be assigned to another button as it tends to randomly crop up if you're playing on alternative controls.
The best gameplay change, however, has to come from FIFA 18's passing, which feels like throwing cucumbers down butter slides. It's immensely satisfying to put together a string of passes, or just to distribute the ball out wide. FIFA's passing has always felt quite slack to me and something that PES almost perfected last year, but it's FIFA's turn to make something as simple as passing the ball between three players one of its most compelling traits. Playing as Everton, who are currently in a period of playing everything sideways or to the opposition, and their playmaker heavy squad is a tiki-taka triumph, Schneiderlein playing the ball to Davies so he can advance up the pitch before passing it on to Sigurdsson so he can cross the ball with the precision of a homing sniper bullet.
It was with Everton that I took to FIFA 18's Career mode and immediately started rectifying Koeman's tactics, or lack thereof. While FUT continues to grow and expand as the series' most successful mode, those who prefer offline play have been feeling the pinch in recent years. The common consensus was that Career had stagnated and that changes were needed to keep things fresh, changes which have arrived for FIFA 18 with mixed results.
The most prominent switch-up is in how transfers play out. Previously, making a huge signing was as bland as navigating some static menus and fiddling with the numbers until you landed the player to the fanfare of a resounding shrug. Now, though, there are cutscenes between your manager and the manager at the club you're dealing with before advancing to talks with the player and his agent. Transfer fees and sell-on percentages can be made between managers and are fairly straightforward, but it's when it gets down to talks with the players in question that the changes are most appreciated. Contract lengths and salaries are the meat of the discussions, but signing on fees and bonuses cannot be overlooked – if you don't want to pay exorbitant extra fees to Marcus Rashford so he can buy his own helicopter, you can say goodbye to him signing for you.
However, the Career UI overhaul seems rather counter-intuitive this year, asking you to add players to your Transfer Hub before you can approach them for negotiations. Likewise, it might just be me being on the slow side, but I could see no option to take players off the transfer/loan list once an approach had been made for them. It's all quite jumbled and confused, so some streamlining certainly wouldn't go amiss for next year.
When it was announced that FIFA would be getting a narrative-driven mode, eyebrows were raised. While The Journey in FIFA 17 had its rough edges owing to the grind of getting from match-to-match, it still showed a lot of promise. FIFA 18's The Journey is a considerable improvement, barely letting the player get comfortable in one spot for too long, meaning that the grind of repetition never really gets a chance to set in.
The Journey: Hunter Returns focuses on Alex Hunter in the second season of the big leagues, starting off with a kickabout in Brazil featuring some local kids. It's a lot of fun to blast the ball around on a concrete court, which did raise the question of adding it as an independent mode for a bit of nonsense with friends. With the children totally humbled by my footballing prowess, it was time to take Hunter to the top of the Premier League with Everton.
Or so I thought.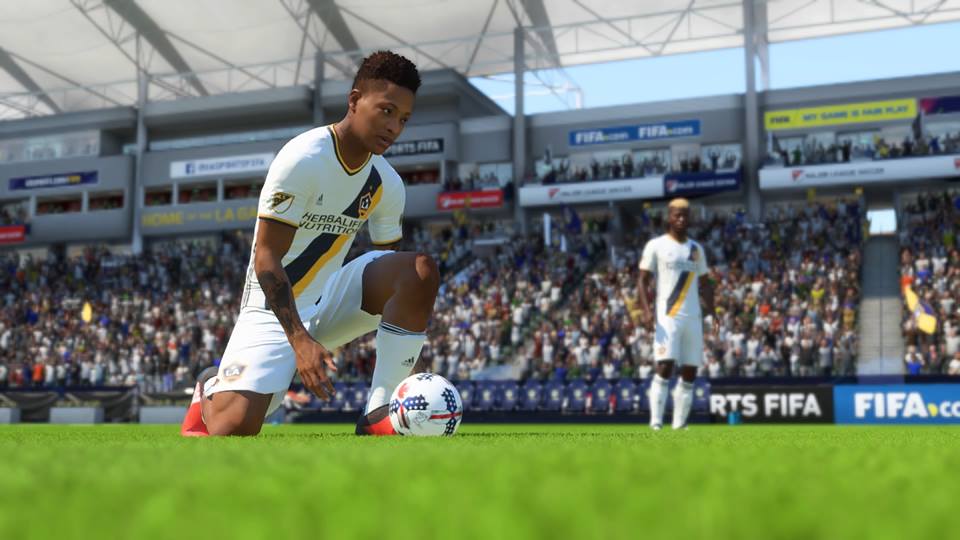 While The Journey is packed with all sorts of extra flourishes this year, it's narratively a little disjointed and completely unrealistic at best. Wresting control away from the player over Hunter's future is disappointing, even if it ultimately Hunter's story. He's passed from pillar to post in the professional footballing world and has family drama to rival a soap opera, but it's comprehensively a better experience than last time around.
The biggest issue I had with FIFA 17's version of The Journey was just how monotonous it was to trudge through. With very little variation in the gameplay loop, it felt more like a slightly more cinematic version of a Player Career than something worth building a franchise around. Not quite so for FIFA 18: EA Sports regularly add in cutscenes and character development (even Gareth Walker's existence is less offensive) to keep the routine fresh while also adding some lightweight customisation options that are unlocked through a combination of story progress and Alex's behaviour in dialogue. Much like the name of the mode itself, the mode appears to be a gradual journey by EA Sports to ape and even best the depth found in NBA 2K's MyCareer and it's something that I am intrigued to see even more thoroughly fleshed out next year.
In the game's other modes, changes are minimal – they seem to work well enough, so wholesale improvements aren't really necessary. It's never been a big lure for me, but FIFA Ultimate Team appears to be as addictive as it ever has been. Even though I only quickly dabbled in it for FIFA 18, it's easy to see why the almost work-like routine of building teams and taking on others is as enthralling as some find it.
One of the biggest reasons why people are so turned away from PES is because of its presentation, which I found to be especially lacking for PES 2018. While PES may purr like a Ferrari and look like a Ford Focus, FIFA 18 is a Ferrari inside and out. The little details are seemingly always overlooked in FIFA, but the attention to the small things is worth keeping an eye out for, such as the announcers reading out the team-sheets pre-match, fan chants, animated and reactive fans, and life-like player animations. However -and perhaps this is just my impatience- the menus are a little unresponsive to player input, so it can often be the case of pressing one thing, getting delayed, and selecting another. It's a minor frustration but one that really builds up when you're so deep into tactics.
Despite a few minor quibbles, FIFA 18 features a series of seemingly insignificant changes that combine to make a thoroughly deep and immersive footballing experience. Your mileage may vary if you don't like its switch to more attacking play, but for me FIFA 18 represents the package that FIFA 17 should have been and then some. EA Sports are probably already turning their attention to FIFA 19 and I am interested to see where they go from here.
Review copy provided
Some of the coverage you find on Cultured Vultures contains affiliate links, which provide us with small commissions based on purchases made from visiting our site. We cover gaming news, movie reviews, wrestling and much more.

Verdict
With a faster pace, beautiful passing, and a deeper emphasis on its single-player modes, FIFA claims the football game throne with ease this year.