Last year was a monumental one for the Pro Evolution Soccer series. It represented the first time in many years that the series' gameplay properly surpassed that of its nemesis, FIFA, which had become complacent. When EA revealed that one of its main features for FIFA 16 was little more than a Trainer mode, Konami must have thrown all hands on deck to take advantage with PES 2017.
It certainly showed. While PES didn't (and is unlikely ever to) commercially compete with FIFA, it was critically lauded as one of the best games of pure football out there. It felt like a glorious throwback to the days of old while still playing like an inherently modern digital footballing experience. PES had announced its re-emergence, and all eyes were on it to see where it would go next.
While Pro Evolution Soccer 2018 represents more of a good thing, it feels like a slight step backwards rather than the natural -ahem- evolution it needed to close the gap.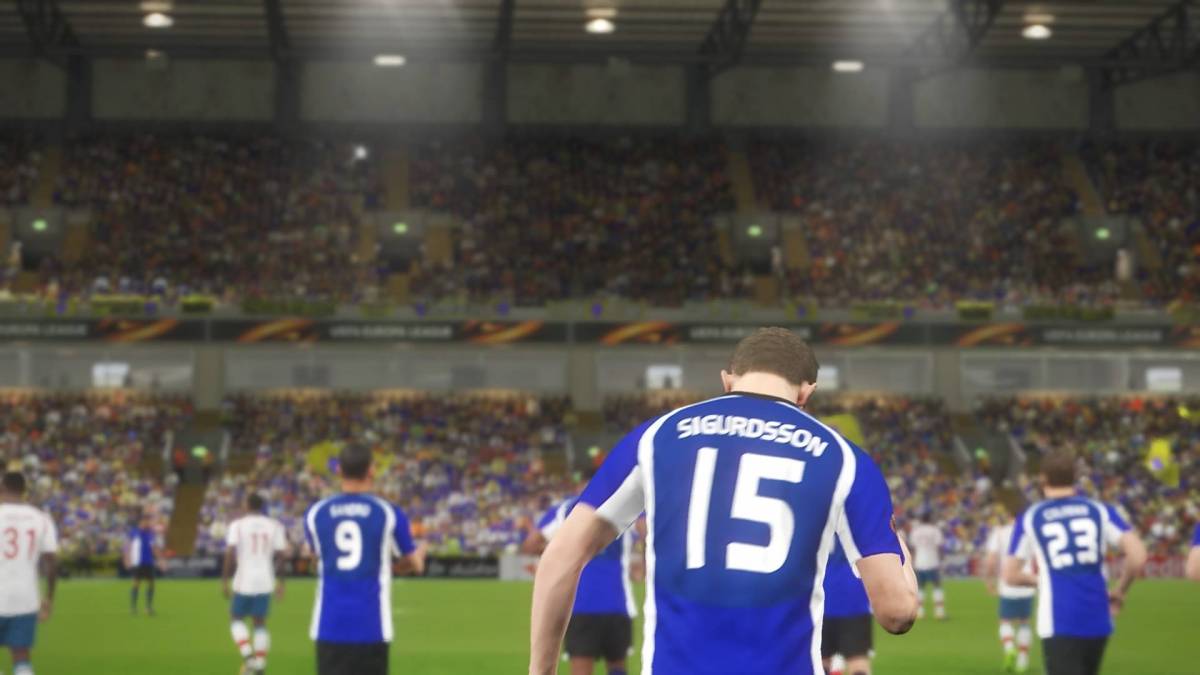 The first thing you will notice when you lump the ball up to your wingers is that it isn't quite as frenetically fast as last year's edition, which is admittedly quite liberating. As varied as last year was when playing against AI, online matches would devolve into who could put in the most crosses when the going got tough. Although this did reflect how many real matches go down, it made too many matches follow the same pattern, inevitably leading to a lot of controller biting when Per Mertesacker belted in a winner in the last minute through the simple fact of him being part-oak tree.
Instead, PES 2018 asks that you have many systems and ways of playing up your sleeve. There's an even greater emphasis on using the in-game quick tactics and attacking/defending levels than before, because they really can make such a huge difference. Push your team higher up and attacks will come easier, but the flipside is that your defensive line is so much easier to break out against. Ask your wingers to track back and the opposition will find it harder to exploit the flanks, but said wingers will need substituting on the 70th minute as they will be utterly gassed. It's a balancing act that's immensely satisfying when it comes off, as desperate as Frank De Boer's Crystal Palace career when it doesn't.
PES 2018's USP is its realistic player movements, which adds to the immersion when you're playing as one of the world's best, or just one of the licensed teams. As a Merseyside Blue (Everton) fan, it pained me greatly to play as Liverpool, but it was startling how close to life it was: heavy emphasis on pacey wingers with midfield steel to back it up. Picking the ball up as Salah or Mane before running with it can, at times, feel like watching a less glossy TV broadcast. One of PES' biggest gameplay changes is also its simplest: the ability to shield the ball. It's a little wild that is hasn't been introduced before, but now that it's here, it should be here to stay because it's hard to imagine future games without it. Having a strong striker hold the ball up while the rest of the team presses up the pitch just feels like a natural part of the process now. Players like Lukaku excel in this role, so PES's strikers ultimately need to be played in a more rounded way than hoofing it in their direction and hoping that they beat their man.
Konami have certainly nailed player realism, but there are definitely areas where they've gone for too much realism.
https://www.youtube.com/watch?v=Di1Jo9Pdxmc
There is no such thing as the perfect goalkeeper: even the biggest and best names between the sticks have made horrific mistakes in the past. However, PES 2018 seems to think that they're Jekyll and Hide: possessed superhumans for one match and about as efficient as Everton's transfer activity the next. Goalkeepers are woefully inconsistent in PES 2018, meaning that any shot from any distance will leave your heart in your throat. They have an awful tendency to direct saves back into the paths of attackers and seldom seem to be able to gather the simplest of shots – if a shot comes from anywhere inside the box, don't hold out too much hope. They also move as if they've taken some valium, so the slowest of shots can feel like the scene with the steamroller in Austin Powers. This admittedly does heighten the drama, but it's hard to be ecstatic when you score a cheap goal through goalkeeper incompetence and makes it easy to deride the AI when you're on the receiving end.
Away from the goalkeepers, the rest of the AI is solid and even smarter than some of their real-life counterparts. They hardly ever commit fouls, which is good for the flow of matches, but it also means that it's extra difficult to practice free-kicks – I think I may have had six short-range attempts in total over countless matches. I also never had the opportunity to test out the game's tweaked penalty system because it seems as if defenders would rather you score than put in a risky tackle when you're in the box.
Any sports game lives or dies by the depth of its modes, and PES 2018 certainly doesn't disappoint in that regard. I spent most of time with the slightly revamped Master League, which introduces added challenges given to you by an extra needy chairman. Based on your performances against set objectives, such as continuing a winning streak, the Ken Bates-looking grey avatar will pop up and either applaud or criticise your performance. While I never really struggled to meet his expectations, it certainly added some much-needed weight to Master League.
The rest of my time was divvied up between myClub and Online Divisions, though there are tournaments, such as a run through the Champions League, that can offer light distractions. I have never been drawn in by myClub and its FIFA counterpart, Ultimate Team, all that much in the past and it doesn't look like changing this year. I spent ample time with it and noted that there don't seem to be huge differences to the formula. If you liked myClub last year, you're almost definitely going to in PES 2018, too.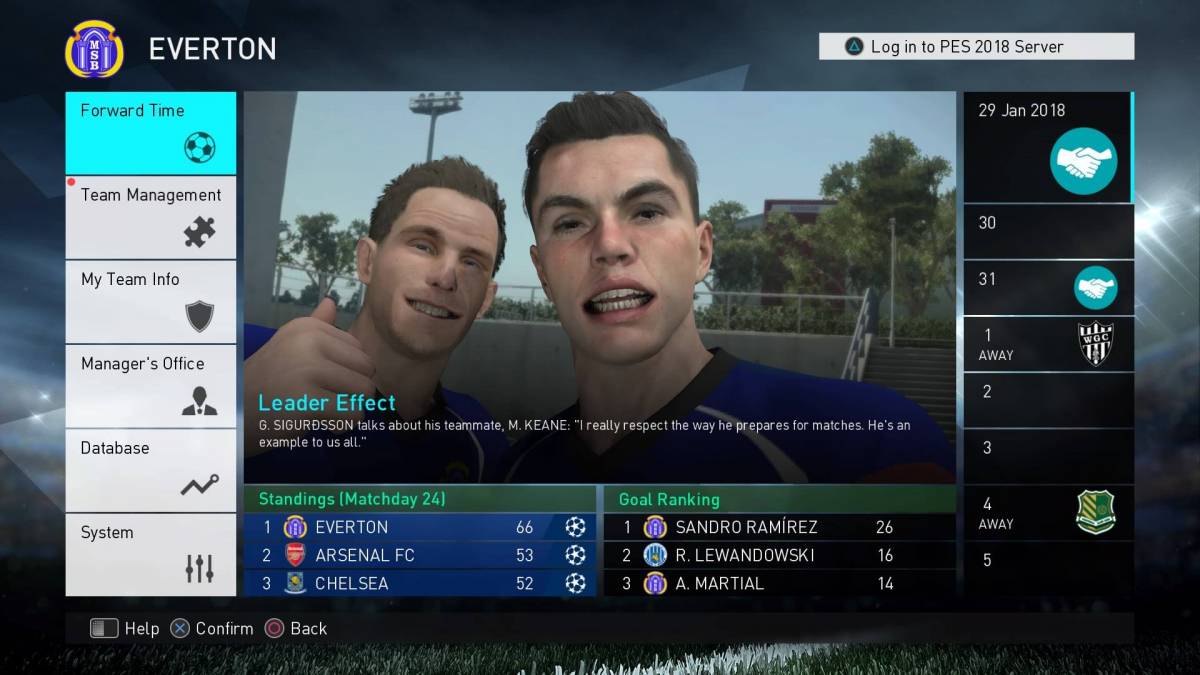 It seems almost trivial to point this out by now, but PES' presentation is severely lacking. While its players may look and feel realistic, everything else is subpar – Konami have effectively built an engine fit for a Ferrari and slapped on a Ford Focus chassis. All of the menus and interfaces feel barely progressed since the halcyon days of Pro Evolution Soccer 3, which, when compared to the sleek and effective presentation FIFA offers, is always going to work against the series when trying to lure in new players. They need the little flourishes to make a dent, so it's troubling that the same complaints the franchise has been receiving for many of its recent iterations have yet to be addressed.
Bad commentary and PES go hand-in-hand and this year is also no different. I struggled to notice many new voice lines at all, but a rather stomach-turning line about someone getting stopped by "flesh and bone" is too much to forget. Peter Drury and Jim Beglin might be fine commentators in real life, but they either need better direction for next year or should be replaced. The latter talks as if he's chugged down a whole bottle of Calpol.
The story for PES 2018 remains largely the same as PES 2017: irresistible gameplay held back by weak presentation. Some even less reliable goalkeepers than before and a conversative forward step make this a game that isn't as easy to recommend as last year, but PES 2018 still has plenty to offer those who want some thrilling, tactical football.
https://www.youtube.com/watch?v=y0FCfnmlEwI
Review copy provided
Some of the coverage you find on Cultured Vultures contains affiliate links, which provide us with small commissions based on purchases made from visiting our site. We cover gaming news, movie reviews, wrestling and much more.

Verdict
Apart from some serious goalkeeper issues, PES 2018's gameplay is on par with last year's edition and is still as thrilling, if not even more so. The dated presentation, however, continues to hold it back - it needs to be dragged kicking and screaming into this decade sooner rather than later.