Last year's Resident Evil 2 remake was a revelation, a pure adrenaline shot of survival horror that made its original difficult to return to. With remixed mechanics, twists on the storyline, and almost infinite replayability, it's already gone down as one of the best remakes of all time and Mr X the scariest meme you could possibly run away from.
Barely even a year later and Capcom have followed that up with the surprisingly swift remake of Resident Evil 3, an entry that, while not as revered as the second game, still has plenty of fans. Anchored by the ever-present Nemesis and a greater focus on action, Resi 3 started as a spin-off before being retooled as a mainline game just ahead of the release of the sixth generation of consoles.
Following the events of Resident Evil 1 and set just prior and during Leon and Claire's escapades in the second game, we once again take control of Jill Valentine as she looks to escape Raccoon City during the outbreak. Not only does she have a horde of the undead to contend with, but there's also a new Umbrella creation on her tail who seems laser-focused on turning her into sandwiches.
The new Resident Evil 3 remains mostly faithful to the original in a lot of ways, particularly its focus on action over puzzles, though they are largely different experiences. The most obvious change is visual, and it's fair to say that whatever powerful organism Capcom are splicing the RE Engine with, it's working wonders: Resident Evil 3 is an absolutely sumptuous game to look (and also recoil) at. Jill's hair bobs during movement with an almost pain-staking amount of detail, but it's also the other little things, such as a reflection on shiny metal while opening a vault door, that really catch the eye.
Jill herself has had a rather drastic overhaul, now even more closely fitting the Lara Croft mould of battered heroine who just keeps standing up when knocked down. Nicole Tompkins plays Jill with a cocky, albeit cynical air which helps her quips and barbs to land, though don't worry: Jill is no Leon in Resident Evil 4 in terms of cheese factor.
Jill's right hand (which doesn't come off) is Carlos, who also gets a considerable makeover from the original game, one so successful that it's easy to see the big dope becoming a fan favourite among Resident Evil fans. Jeff Schine, who Telltale's The Walking Dead veterans may recognise as the voice of the underappreciated Javier, brings a golden retriever charm to Olivera, who also adds some variation to the experience during his (sadly short) gameplay sections.
Resident Evil 3 plays very similarly to its remake predecessor, the supremely fluid over-the-shoulder action making the old tank controls feel even more antiquated than they already are. Both characters have full freedom of movement and exploration, whether that's walking through doors without the need for a loading screen or hunting down the game's many secrets, and also a special move they can depend on during sticky situations. Jill can utilise a quick step that sees her roll out of the way if timed perfectly, whereas Carlos can punch and repel attackers for some breathing space. He's clearly been taking boxing lessons with Chris.
Gunplay is still as nerve-wracking with missed shots potentially being the end of you due to the relative scarcity of ammo and how quickly damage can pile on top of you. I opted for controller over mouse and keyboard on PC as the lack of aim assist adds an unusual dramatic weight to each shot, whereas a mouse would likely make things a tad too comfortable. There's a lot of weaponry on offer, including a incredibly satisfying assault rifle for Carlos, but one of the most vital additions is an unbreakable knife that you can use as a last resort. I expect a knife-only homicide run of the game within the next two weeks.
Inventory management remains key to survival here, and while some may not appreciate how fiddly it is to keep going back and forth to an Item Box to dump and retrieve resources, I appreciated how it challenges the player to consider what they can use and what they need to save. While it's overall less stingy with resources than its predecessor, Resident Evil 3 still requires some care due to how much of Umbrella's army you will be taking on.
The zombies make an obvious return, remake veterans no doubt aware of how they absolutely refuse to stay down. Each zombie encounter is tense, you weighing up dumping your ammo into them or just scarpering to deal with them later when you're better equipped. While still unnerving, it must be said that the majority of zombie models are reused from the previous remake, and there doesn't seem to be a lot of variation in them here. Still, zombies crashing through windows and doors never failed to make me grip my controller for dear life. Resident Evil 3 is definitely more of an action game than straight survival horror, yet it boasts a tonne of hugely effectively scares that managed to put the jeepers up me even on a subsequent playthrough.
Other classic Resident Evil ghoulies are back with a vengeance, including the dreaded Hunters who can kill you in one slash if they get too close. If you have any grenades, you're going to want to conserve them for these guys thanks to their armoured shells making them absolute bullet sponges, as well as the aforementioned one-hit kill. However, above all others, the previously titular Nemesis is absolutely who you should fear the most.
Nemesis makes Mr. X look like a cuddly bear, his affinity for speeding in front of you and cutting off your escape route likely to cause a panic. He also hits extremely hard, capable of pinning you into an unavoidable flurry of punches and then utilising his tendrils to lash out if you dare to get away. If that wasn't bad enough, he is also able to infest zombies with parasites to make them reminiscent of Resident Evil 4's Plagas villagers. He is a persistent nuisance in Resident Evil 3, a mutated Terminator with one thing on his mind: killing Jill. Even when you think you're safe from him, you almost certainly aren't, him smashing through buildings without a care in the world for your likely shattered nerves.
Away from Nemesis, Resident Evil 3's level design really shines with the hospital probably being the closest thing to Resi 2's iconic police station. There's something deeply unsettling about visiting somewhere that used to be about preserving life but is now completely dead itself, corpses littered all over and zombie doctors now doing the opposite of what their job is supposed to be. There's a lot of lore packed into one spot that paints a picture of the chaos that unfolded there, it almost as chilling as watching it first-hand. The lighting, one of RE Engine's crown jewels, is second to none here, as is the audio design, which begs to be experienced via a headset. Every little creak will have you on edge as you whip around with your gun aloft.
The street section seen in the demo is also worthy of praise, though your time spent here is disappointingly fleeting — there isn't much more than what many have played in that early gameplay slice. Yes, there are a fair few collectibles to backtrack for and some additional enemies to contend with, but it's no time at all until you're moving ahead again. It's a real shame, because the idea of playing out in the open more works superbly while it lasts. I still don't feel a Resident Evil game to date has well and truly captured the madness of Raccoon City's downfall in a substantial way.
Speaking of substance, that's where my main gripe with Resident Evil 3 lies, and it's where it really falls down compared to the previous remake. My initial completion took just over five hours even when backtracking and searching for loads of secrets. Hoping to unlock a new game plus or something like it, I completed the story again in an even shorter time, but it wasn't to be. Unless I am missing something, there are no A/B scenarios and just the same narrative on different difficulties if you want some variation. While this is true to the original, it can't help but feel like a seriously missed opportunity to expand on Carlos' sections with what he does prior to meeting Jill and in-between their interactions. Resident Evil 3 feels decidedly more lightweight compared to last year's effort.
Players can instead complete challenges to unlock points to put towards unlocking new weapons, outfits and even special coins that will regenerate health, among other things. While this may give completionists plenty to work towards, I don't feel the compulsion to keep playing like I did during the second game. You will need plenty of playthroughs to unlock everything, but it's hard to be enthused by the prospect of yet another playthrough of the same exact experience with just slightly shinier trinkets. No Mercenaries mode and no multiple endings make Resident Evil 3 feel even more like it came too hot on the heels of the previous remake.
Resident Evil 3 is just a far more straightforward experience in general, so much so that I even began to miss the typically nonsensical Resi puzzles. There are two puzzles in total that might make your brain flicker, and that's about it. As someone who dreads puzzles in all forms, it's odd that their exclusion here could feel like such a loss. Perhaps I had also been hardened by the many tribulations of its predecessor, yet I think I died more to the previous game's final boss more than throughout the entirety of the third game. If it wasn't for the one-hit kill Hunters, my death tally would be far, far lower.
While both of the new remakes switch up some of the iconic characters and plot, Resident Evil 3's re-imaginings are considerably more mixed in terms of impact. Some characters come out well, others do not, though the ins and outs of which I can't exactly detail due to spoilers. Let's just say that while a lot of the changes will be welcomed by Resident Evil fans, others may cause a few raised eyebrows.
Resistance is Capcom's main gambit for the lack of flexibility in the story, it being a 4V1 multiplayer mode that shows plenty of promise. One player controls the Mastermind as they spawn in zombies and other Umbrella creatures, while a team of 4 must try and make their escape before they succumb to the infection. I unfortunately couldn't find a match to play with others from the press build, so I just played in solo practice instead.
It's clear that a lot of effort has been poured into Resistance with it featuring a tonne of characters and their own special skills to get to grips with, as well as even some narrative elements thrown in as you clear a particular area. Time is granted for killing zombies and making progress, though it's always a tense race against time. The Mastermind is the main attraction here, though, their ability to call in Mr. X and decimate the survivors likely to give plenty of players morbid glee. While I can't make much of a judgement on Resistance at this point, it's already easy to see that it is lightyears ahead of the likes of Umbrella Corps in terms of gameplay.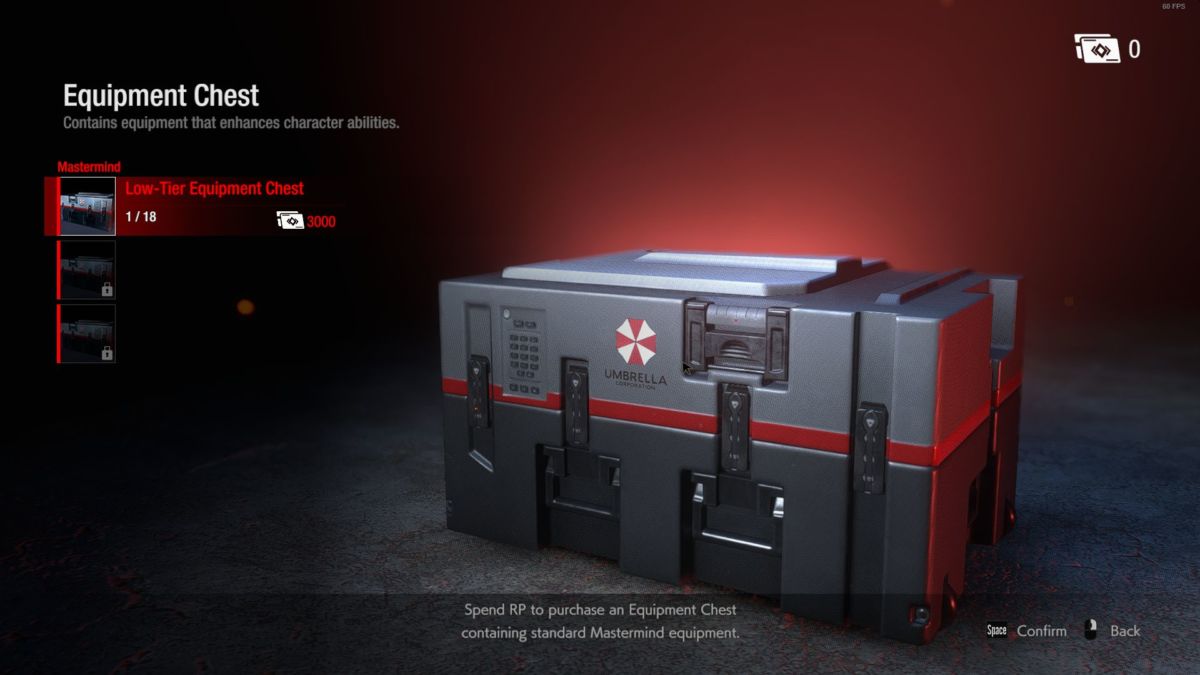 However, what is more than slightly regressive of Resistance is that it somehow has loot boxes by the name of Chests that, while not outright purchased with microtransactions, can be unlocked quicker by paying for RP boosters. Though RP can only be earned in-game, the ability to buy a booster that could potentially speed up opening a Chest including a passive skill can't help but feel like Capcom trying to find a bit of a loophole. Rainbow Six Siege has a very similar model for its Alpha Packs, yet nothing you get from those can alter gameplay. The prices for these boosters aren't available during the review build, so we will update the review at launch with the details.
Perhaps it's just coming out too close to last year's remake, or maybe Capcom were reticent to fiddle with the original's storyline to add extra replayability, but Resident Evil 3 can't help but come across like a bit of a missed opportunity. Make no mistake, this is still a brilliant, often captivating action horror game with simply unmatched presentation and some wonderful characters, though anybody hoping for the same value for money and depth as Resident Evil 2 may be left slightly disappointed.
A Steam build was provided by PR for the purposes of this review
Some of the coverage you find on Cultured Vultures contains affiliate links, which provide us with small commissions based on purchases made from visiting our site. We cover gaming news, movie reviews, wrestling and much more.

Verdict
Resident Evil 3 is a mostly superb remake of a horror classic with many clever spins on the formula and fluid, enthralling gameplay. I just wish there was more of it.