What a great year for film it's been. So our writers huddled together to compile the best movies of 2022: 5 writers, 25 films, 1 list.
There are still quite a few films that are being released later this month that could be contenders, like James Cameron's Avatar: The Way of Water. But as with any list, this one is far from definitive – ask me in a month's time and my top films might no longer be the same. I even changed my mind a bunch of times just this week alone.
There're also films that didn't make this list but deserve a mention, like She Said and Women Talking, with both movies handling their subject matter with such depth and nuance. Then there's a ton of really good films that are enjoyable and just a hair away from making it on the list, like Glass Onion, Fresh, Barbarian, Good Luck to You, Leo Grande and Broker.
We hope you enjoy the films we selected for this list, but if you didn't, that's alright. That's the great thing about art and cinema, we might not always agree, but we can still appreciate a well-made film. Without further ado, and in alphabetical order, here are our best movies of 2022.
The Best Movies of 2022
1. Apollo 10 1⁄2: A Space Age Childhood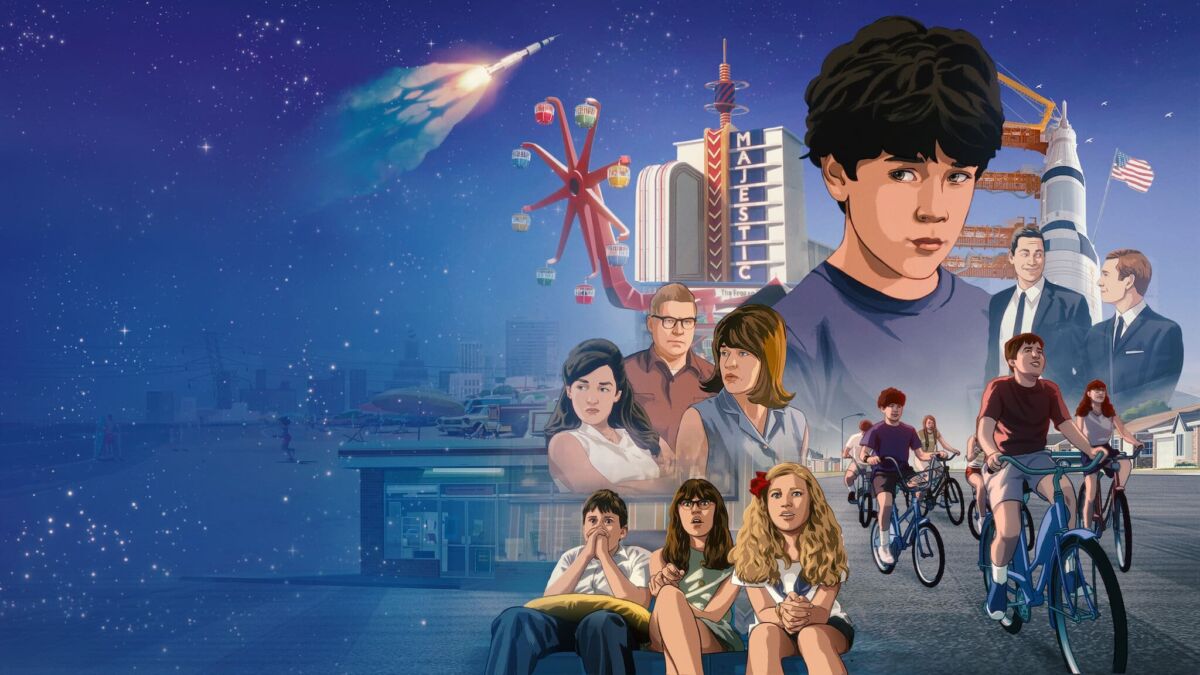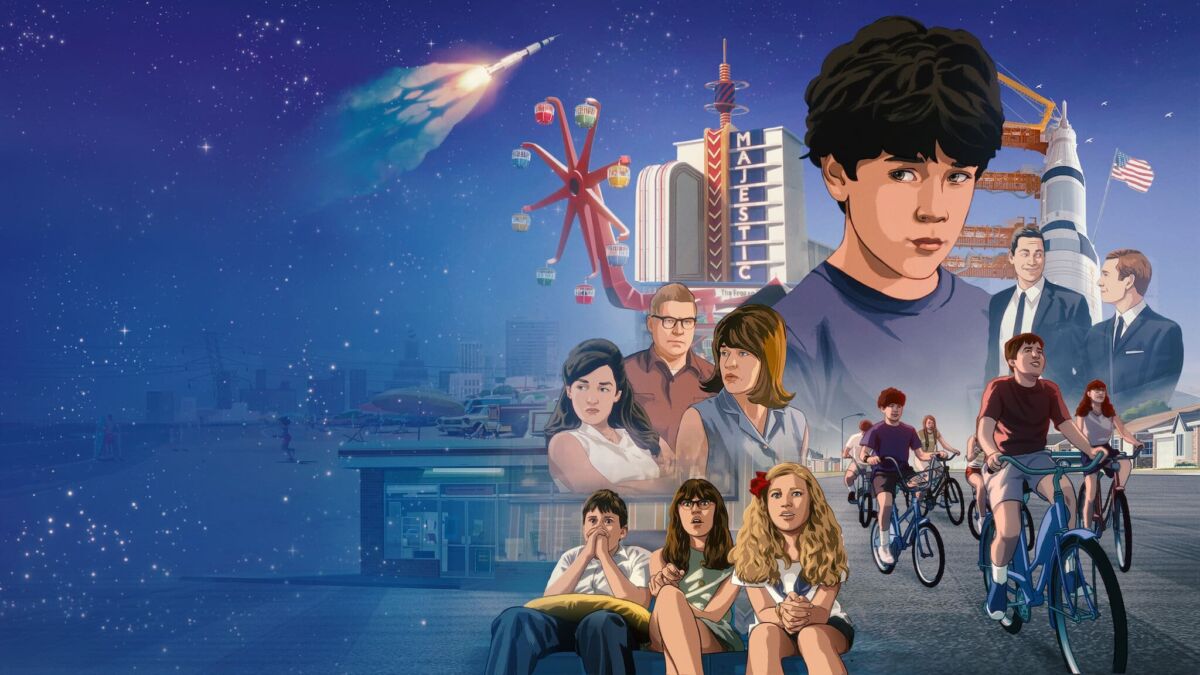 Director: Richard Linklater
It's a shame that Richard Linklater's latest piece of exceptional filmmaking was dumped unceremoniously onto Netflix earlier this year. Not only is the film one of best to date from the director of such films as Dazed and Confused, Boyhood, and Bernie, but it's one of the best period pieces of the year, as well. There's an engaging and pleasing sincerity to a man narrating the story of his Houston, Texas 1969 childhood. The film is a cross between memory and fantasy, with memories of fantasies soon dominating a film that was partially shot in the rotoscope style Linklater previously used for Waking Life and A Scanner Darkly.
Apollo 10 ½: A Space Age Childhood is more than just nostalgia for a different time. It's the tracing of one person's imagination and sense of wonder to its very beginnings. More than that, it's a portrait of the dynamics of family and the small world built around those we love under the shadow of monumental global events.
– Gabriel Ricard
2. Bodies Bodies Bodies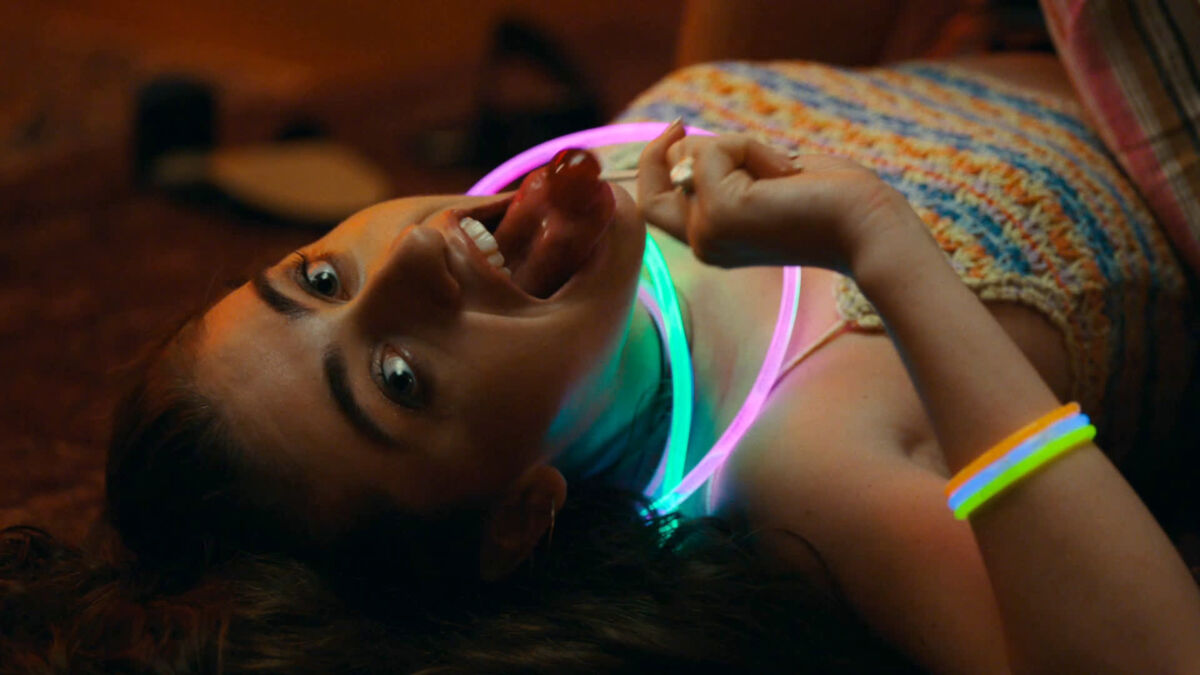 Director: Halina Rejin
A slasher comedy adapted to Gen Z's style doesn't sound like one of the best movies of the year on paper, but Halina Rejin's Bodies Bodies Bodies has enough twists, turns and a couple of brilliant performances to earn its place on this list. Starring Amandla Stenberg, Maria Bakalova and Myha'la Herrold, the film is a thrilling ride full of surprises.
A group of friends must solve a murder mystery in the middle of an aggressive storm, and there's no telling what they might do when they stop trusting each other. Expect the unexpected when a party becomes a quest for survival, with one of the best scripts of the year unfolding before your eyes.
Bodies Bodies Bodies will become a cult Halloween classic, with a story that's both funny and tragic, and superb acting from Rachel Sennott and Amandla Stenberg.
– Diego Peralta
3. Bones and All
Director: Luca Guadagnino
No one meshes love and horror quite like Luca Guadagnino. Bones and All is first and foremost a love story, but because of the cannibalistic theme running through it, there are some truly horrifying images permeating the film. Somehow, director Luca Guadagnino has managed to meld the two themes seamlessly, where we are taken aback by the grotesque moments of masticating flesh, yet can still feel the tenderness of their love. The score by Trent Reznor and Atticus Ross aptly conveys these dual themes, capturing the soaring feeling of first love yet weighed down by the melancholy of the past.
The performances are all terrific – both Taylor Russell and Timothée Chalamet devour their roles – but Mark Rylance is the true standout as Sully. There's something so unsettling about Sully's movements and demeanour, and Rylance's tapped into some inner darkness to play him. The final 10 minutes of Bones and All is particularly brutal, and you'll find yourself struggling to catch your breath as the scenes unfolding pull from you an adrenaline you didn't know you could feel.
– Natasha Alvar
4. Decision to Leave
Director: Park Chan-wook
Decision to Leave is a masterclass in filmmaking, and I don't throw that phrase around lightly. Since the streaming era began, we've been inundated with a deluge of films every week, so much so that I've forgotten how utterly gripping a good film can be.
The editing is immaculate, with the constant shifts in perspective held together by match cuts. Its structure is classic film noir, yet the style's so fresh, and there's a honesty in Hae-joon (Park Hae-il) and Seo-rae's (Tang Wei) relationship despite the lies and manipulation. Despite its darker themes, Decision to Leave is first and foremost a love story. It paints for us the irrational nature of love, the heights we would go for it, and the morals we would relinquish to preserve it.
Park Hae-il does an excellent job portraying Hae-joon's transition from confident cop to broken man. Tang Wei matches him beat for beat, giving her femme fatale role a certain nuance, as we catch flashes of the tenderness she feels for the people she cares for.
Park's ability to build eroticism, intimacy and sensuality is unmatched – the sexiest movie you'll watch this year.
– Natasha Alvar
5. Dinner in America
Director: Adam Rehmeier
I had to wait 2 years for Dinner in America to make it onto the best movies list, since I saw it at Nightstream in 2020 but it wasn't widely released till this year. The wait's done nothing to diminish my love for this movie. It's still absolutely bonkers, in the absolute best of ways – so kudos to you, Adam Rehmeier, you mad genius of a man.
Dinner in America is the very definition of punk rock; it's loud, aggressive and fast-moving, with chaos laced into every layer of its runtime. But it's also about purpose, and how going against the grain is sometimes needed in order for you to discover who you are and what you can offer to the world.
Kyle Gallner's Simon is truly the perfect embodiment of sex and danger, the kind of man your parents warned you about, where simple proximity to him is combustible stuff. Emily Skeggs' Patty is the opposite: she is bullied by nearly everyone, from school jocks in matching tracksuits, to her employer at the pet store. But within the confines of her own room, we see that Patty longs for something more than her colourful clothes would suggest.
Watching this film is like riding the most loopy roller coaster, where you end the journey with mad hair and a perma-smile on your face, and say yes to doing it all over again.
– Natasha Alvar
6. Dual
Director: Riley Stearns
Director Riley Stearns' Dual is a science-fiction dramedy with finely-calibrated performances and sharp social commentary. The story, taking place in a slightly futuristic version of the present-day, centers around a lonely, depressed woman named Sarah (Karen Gillan), who feels neglected by her workaholic boyfriend, Peter (Beulah Koale), and distant from her mother (Maija Paunio).
One day, she's diagnosed with a terminal illness and has herself cloned to eliminate the need for her loved ones to grieve her loss — and, perhaps, to present them with a "better" version of herself she thinks she can't be. However, Sarah's Double (also played by Gillan, with subtle yet distinct differences) ingratiates herself into Sarah's life with ease, much to Sarah's chagrin, when her illness suddenly vanishes. Sarah and her Double must engage in a televised duel to the death to determine who will remain the "true" Sarah. Sarah enlists the help of a fight instructor named Trent (a dryly amusing Aaron Paul), to help train her.
A pitch-black comedy with deadpan dialogue reminiscent of the films of Yorgos Lanthimos, Dual serves as a perfect vehicle for Gillan to demonstrate her acting chops, while exploring thought-provoking themes of mental illness, identity, and how we're perceived (and think we're perceived) in a world largely devoid of empathy. Yes, Dual is pessimistic, demoralizing stuff, but it's also often hilarious, and a true gem.
– Alex McPherson
7. Emergency
Director: Carey Williams
Every now and then a film comes out that feels properly unexpected, adding something different to an increasingly predictable cinematic landscape – and Emergency is undoubtedly one of these films.
This refreshing release follows Sean (RJ Cyler) and Kunle (Donald Elise Watkins) as their plan to head on a legendary party crawl is thrown into disarray when a mysterious girl ends up passed out on their living room floor. Concerned that a racist police force might pin the blame on them, they concoct a plan to take the girl to hospital – and what follows is a tense yet hilarious story filled with car crashes, toxic frat bros, and a truly hectic cat-and-mouse adventure.
One of Amazon's boldest releases in a long time, boasting a sharp, thought-provoking script and top performances from the entire cast, it is as compelling as it is entertaining.
– George White
8. EO
Director: Jerzy Skolimowski
Heartbreaking, invigorating, harsh, and earnest, director Jerzy Skolimowski's EO chronicles a donkey's harrowing journey from Poland to Italy in one of the year's most impactful films. EO, our titular donkey, begins in a small Polish circus, performing alongside a young woman named Kasandra (Sandra Drzymalska), with whom he shares a deep bond. After he's abruptly separated from Kasandra and shipped away to a nearby farm, this gentle being embarks on a search for freedom and to be reunited with his beloved — encountering humankind in all its thorniness along the way.
Utilizing mind-blowing cinematography and editing that viscerally paints the world through EO's knowing, mesmerizing perspective, Skolimowski's film is unlike anything I've seen before. Seemingly inspired from Robert Bresson's Au Hasard Balthazar, EO is a fierce cry to treat all animals as beings worthy of respect, and the natural world in general with compassion. EO is sometimes brash, always immersive, and hard-hitting throughout — particularly during its unforgettable finale.
– Alex McPherson
9. Everything Everywhere All at Once
Director: Dan Kwan & Daniel Scheinert
The second film from director duo Daniels includes sentient rocks, fanny pack fights and a muscular security guard leaping onto a butt plug in slow motion. Yet amongst all the chaos and multiverse-jumping insanity, what really sticks in the memory is the complex relationship between Ming-Na Wen's Evelyn and her utterly dysfunctional family.
Daniels explore the idea that, for all we might dream of fame and heroism, what truly matters in life is the people we have around us. Those you love may sometimes annoy you, or bore you, or even drive you mad, but that love still remains – and is always the most important thing. No moment emphasises this more than the gut-punching 'taxes and laundry' speech from Ke Huy Quan's Waymond in the final act. So simple, but so effective.
– George White
10. Guillermo del Toro's Pinocchio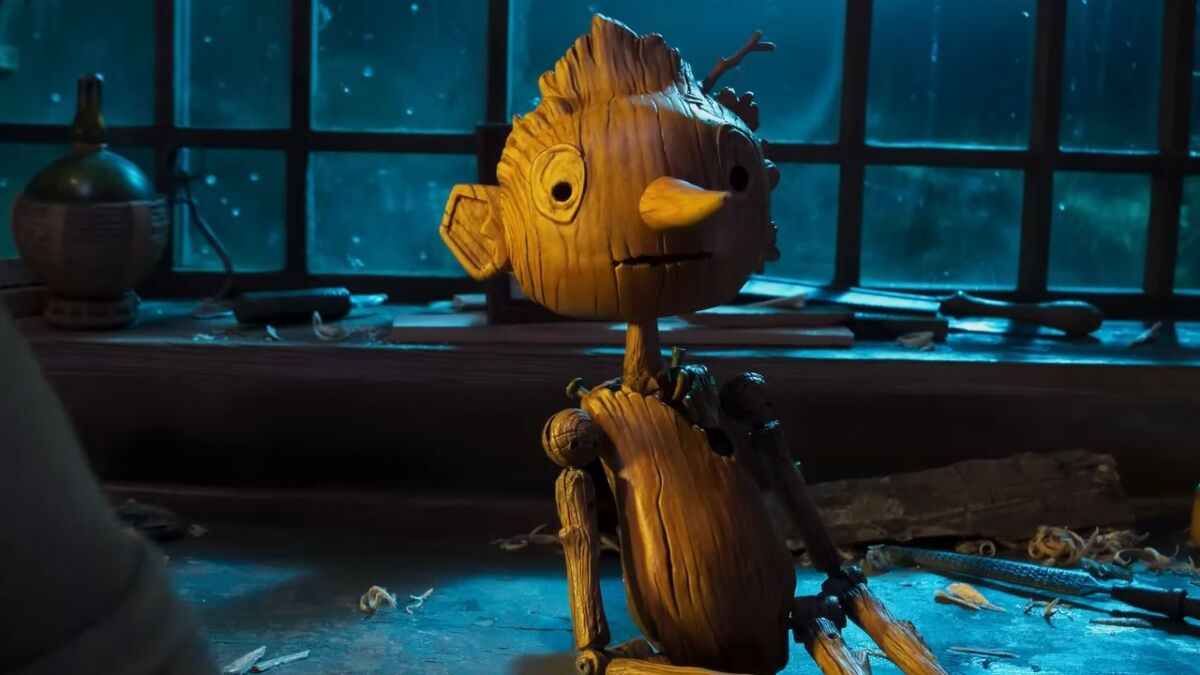 Director: Guillermo del Toro
A spectacular achievement of stop-motion animation, co-directors Guillermo del Toro and Mark Gustafson present a wise reinvention of Carlo Collodi's 1883 narrative in Guillermo del Toro's Pinocchio. Set in 1930s Italy during Mussolini's reign, the film follows an elderly carpenter named Gepetto (David Bradley), who loses his young son in a bombing and crudely fashions together our titular Pinocchio (Gregory Mann) as a stand-in.
Granted life by a mysterious Wood Sprite (Tilda Swinton) and put under the guidance of the erudite, self-absorbed Sebastian J. Cricket (Ewan McGregor), Pinocchio must navigate an unforgiving world in search of belonging — not with the goal of becoming a "Real Boy," but rather being loved by Gepetto for who he actually is, not merely who Gepetto wants him to be.
With an additional voice cast including Ron Perelman, Christoph Waltz, Finn Wolfhard, and Cate Blanchett (imitating a monkey with startling emotional depth), plus a fantastic score by Alexandre Desplat, and hand-crafted animation mixing the whimsical and the grotesque, Guillermo del Toro's Pinocchio is a mature yet accessible retelling. It wisely expands the original's themes, especially regarding the importance of rebellion and how we must hold our loved ones dear with the precious time we have together.
– Alex McPherson
11. Mad God
Director: Phil Tippet
This will be the third time I've written about Mad God this year. That's fine with me. With this extraordinary achievement from director Phil Tippett, who has spent decades bringing this electrifying piece of stop-motion animation to life, I really can't get sick of singing its praises. This is the grimiest, darkest, and most savagely violent animated film you're probably ever going to see. It's also at the exact same time one of the most thrilling action movies one could ever witness. It's a plethora of technical victories for those who worked on it, but it's also a testament to the inventiveness of animation and of those who still see the potential of film to create something no one has ever seen before.
Mad God is glorious as pure, frenetic entertainment. There's also a meaningful second layer of all it manages to convey over a blazing expanse of gunfire, monsters, betrayal, and somehow even hope. This is a breathtaking work of art that's guaranteed to stay with you for quite possibly the rest of your life.
– Gabriel Ricard
12. Marcel the Shell with Shoes On
Director: Dean Fleischer-Camp
Having not seen the short films which led to Marcel the Shell with Shoes On, I didn't really know what to expect. Given this was an A24 release, I half-anticipated a movie filled with wonderment trying to survive in a hideous world. That wasn't quite the viewing experience I had with a movie. It certainly hits the right buttons for sweetness and heart, as we watch an aspiring filmmaker named Dean develop and then share the friendship he finds himself developing with Marcel, a one inch talking shell. However, the movie stays on a relatively gentle course. That doesn't make it shallow. It just isn't manipulative.
Voiced by Jenny Slate, Marcel is a winning character, living with his grandmother (an immensely likable voice performance by Isabella Rossellini) and pet lint ball. Marcel is trying to locate his community, who disappeared mysteriously some years ago. The film doesn't get much more elaborate in its plot or presentation than that.
That's what I think I love about Marcel the Shell with Shoes On the most. You can discover a lot about the best qualities of yourself when you simply surrender to this disarming story and follow along this tiny shell on its journey to be part of its community again. Themes of loneliness and survival reveal the complexities of Marcel and his story.
– Gabriel Ricard
13. Moonage Daydream
Director: Brett Morgen
There is no doubt in anyone's mind that David Bowie was one of the defining artists of his generation, leaving a permanent mark on rock music history. Director Brett Morgan is determined to express his admiration for the revolutionary icon, and the result is a beautiful documentary, exploring life itself alongside the musical career of a legend.
Moonage Daydream, named after the 1972 song of the same name, dives deep into Bowie's career, and the personal meaning each stage of his path had for him. Visually striking and accompanied by great music, this documentary gives a behind-the-scenes look at the singer's most memorable moments, such as his time as a painter while he lived in Germany.
Morgan's film was the first to be officially authorized by Bowie's estate, who provided him with full access to the artist's archive.
– Diego Peralta
14. Mrs. Harris Goes to Paris
Director: Anthony Fabian
As a film community, we do have a tendency to look down on what we term feel-good movies. They're feel-good for a reason – there's usually some element of struggle, a winsome protagonist and a triumph against the odds. It's formulaic, and predictability in movies isn't what's fashionable – it's the reason why CODA's Best Picture win last year was such a surprise and why some felt it was undeserved.
In our search for films that challenge and surprise us, we forget that art doesn't have to be dense and complicated to be good. Mrs. Harris Goes to Paris is on this list because it's charming and delightful – it's also a well-made film.
Cleaning lady Ada Harris (Lesley Manville) is a glass half full kind of person. Despite the horrid clients she works for, who either don't pay her on time or take advantage of her generous spirit, she goes through life with a certain optimism. While cleaning she stumbles onto a client's recent purchase – a beautiful Dior gown. She can't stop thinking about how gorgeous it is, and decides that she must work towards owning one of her own.
Manville is marvellous as Mrs. Harris, and is the main reason why the movie succeeds the way it does. To everyone around her, Ada's dream may seem silly – after all, it involves owning a dress she won't have much opportunity to wear – but that's the whole point of it. We need to cherish our dreams and what is beautiful to us, and not let the dissenting few diminish what we hold dear.
– Natasha Alvar
15. Nope
Director: Jordan Peele
We still have a few more years to go for this decade. Nonetheless, I await with almost slavish devotion for the film and filmmaker who will top my enjoyment and fascination with Jordan Peele's triumphant science fiction horror masterwork Nope. Maybe no one ever will. That's not a knock on the future, but I'm hard-pressed to imagine a 2020s film I'm going to like more than this one.
Nope is the full summation of writer/director Jordan Peele's talents as a filmmaker. Commentary on everything from Black film history to our addiction to spectacle rides atop a wave of incredible performances (particularly Keke Palmer), visual ingenuity, stunning cinematography from Oscar-winner Hoyte van Hoytema, production design work from Ruth de Jong, and more. Nope is the summation of what film is capable of when everything runs as it should for some of the most talented artists and creators in the world. This is the kind of thrill and wonderment for everyone involved, including the audience, that leaves you excited for what the future may still have to offer fans of film itself.
– Gabriel Ricard
16. Pearl
Director: Ti West
Featuring a bravura performance from Mia Goth, director Ti West's Pearl is a captivating, upsetting, and idiosyncratic horror drama detailing the origin of X's murderous antagonist. The story takes place in rural Texas during the height of the 1918 Spanish Flu epidemic and follows Pearl, now a young woman, stuck on the same farm from X with her domineering mother (Tandi Wright) and ailing father (Matthew Sunderland), who requires constant attention. Pearl dreams of leaving her parents and becoming a movie star, finally being appreciated and feeling a sense of belonging. It's quickly apparent that Pearl has a violent streak, and will absolutely not take no for an answer.
Evoking the style of Old Hollywood and an off-kilter world of the harmless-turned-sinister, Pearl is quite a different beast from X, but no less effective, matching its gnarly thrills with genuinely poignant drama throughout. Goth is utterly magnificent — bringing devastating humanity to a character warped by ambition and delusion. She's a force to be reckoned with, giving a performance that charms, endears, and horrifies in equal measure. West recognizes the tragedy at the core of Pearl's character, and gives her the blood-soaked spotlight she deserves, in a film that towers above the pack.
– Alex McPherson
17. RRR
Director: S.S. Rajamouli
S.S. Rajamouli's RRR is energetic, over the top, completely extra – and that's the way we like it. The New York Film Critics Circle just awarded the man Best Director for RRR, and while it's unclear as yet if this will translate to any Oscar nominations, it's a great moment for the director and Telugu cinema.
RRR has three parts to it: Rise, Roar, Revolt. The movie is based loosely on two real-life Indian rebels, Alluri Sitarama Raju (Ram Charan) and Komaram Bheem (NTR). The introduction of both Ram and Bheem are bombastic spectacles, with Ram taking on a mob of protestors and Bheem wrestling with a tiger. Both men have superhuman abilities, yet they remain human and vulnerable, and we enter each fight with them uncertain if they will triumph or succumb. The movie doesn't obey the law of physics and goes as big as it wants to be – there's even a moment where Ram starts riding a horse with Bheem in a motorcycle beside him – with jaw-dropping action sequences and exuberant dance numbers.
Bheem is a Gond tribesman whose gone undercover to rescue a girl taken by the British, while Ram is British police, helping the government track Bheem down. The men, unaware that they are on opposite sides, strike up a friendship after they rescue a boy. It's bromance at its finest, and both Charan and NTR are fantastic to watch on screen, serving up intensely physical as well emotional performances.
RRR is meant to be enjoyed on the biggest screen possible, but be warned, you'll probably want to experience it all over again once you're done.
– Natasha Alvar
18. Skies of Lebanon
Director: Chloé Mazlo
Chloé Mazlo's Skies of Lebanon is a stylistically engaging, soulful look at war's toll and the power of the human spirit. Inspired from her grandmother's experiences, Mazlo mixes stop-motion animation and live action to tell the story of Alice (Alba Rohrwacher), who, in the 1950s, leaves a strict household in the Swiss Alps to work as an au pair in Beirut — a city brimming with excitement and peaceful co-existence. She starts a family with a charming rocket scientist named Joseph (Wajdi Mouawad), who hopes to send the first Lebanese person to the moon. All seems well until the Lebanese Civil War breaks out — fracturing the family Alice and Joseph have worked hard to cultivate, and forcing them to make difficult decisions about where they belong.
With a visual aesthetic calling to mind the works of Wes Anderson at points, with its own satirical flair, Skies of Lebanon brims with artistic creativity from start to finish. Early sequences unfold in a surreal, dreamlike haze, creating a heightened reality subsequently offset by the war's brutality. Mazlo's film finds bittersweet, humanistic truths in a tale of love, loss, and dreams amid calamity.
– Alex McPherson
19. The Banshees of Inisherin
Director: Martin McDonagh
If Martin McDonagh hadn't already cemented himself as one of the finest directors around, his phenomenal fourth feature surely seals the deal. What makes the filmmaker such an impressive force is his ability to find heart in the bleakest moments, and The Banshees of Inisherin demonstrates this more clearly than ever.
What is, on the surface, a brutal tale of a broken friendship – one involving dead donkeys, severed fingers and a delightfully dastardly performance from Brendan Gleeson – is actually a poignant exploration of what it means to be kind. In simple sweetheart Pádraic (a fantastic Colin Farrell), the audience witnesses just how much it takes for a good person to lose their goodness, and the resilience of the lead character's spirit is surely a source of inspiration. This may seem gloomy on the surface, but in his own crude way, McDonagh puts together one of the most touching stories of 2022.
– George White
20. The Batman
Director: Matt Reeves
Matt Reeve's version of the Caped Crusader set the bar really high when it came to blockbuster movies this year. Starring Robert Pattinson and Zoe Kravitz, The Batman is a noir-inspired mystery which focuses on Bruce Wayne's detective skills more than anything else, demonstrating his intelligence in his quest to take down The Riddler, played brilliantly by Paul Dano.
The city of Gotham feels vibrant and has plenty of personality. In previous Batman adaptations, cities such as Chicago or Pittsburgh stood in for the famous comic book location. This time around, Reeves chooses to display extremely dirty streets, abandoned buildings and dark alleys to visually show why Bruce Wayne is desperate to make a change in the community he loves so much.
The Batman is a very good example of how focusing on character development and motivation can push away any notion of superhero fatigue. It will be exciting to see how Reeves decides to expand Bruce's story in future entries.
– Diego Peralta
21. The Sea Beast
Director: Chris Williams
Netflix delivers a maritime adventure about monsters, nature and strange alliances. Starring the voices of Karl Urban, Zaris Angel-Hator and Jared Harris, the film is a story about humanity's relationship with the natural world. Hunter Jacob Holland and the young Maisie meet when the latter sneaks into a ship full of pirates.
Together, the improvised duo must learn to value every sea beast's life, and share the sentiment with a town full of people whose entire culture is based around monster hunting. Directed by Chris Williams, this movie might have a generic plot, but it is delivered in such a beautiful way that it doesn't matter. A movie that will tug at your heartstrings.
The Sea Beast is a fun tale packed with beautiful visuals. Woonyoung Jung's art direction makes the best use of the ocean, sunlight and fire to flesh out every scene.
– Diego Peralta
22. The Worst Person in the World
Director: Joachim Trier
Is there a single more relatable film than The Worst Person in the World? As Renate Reinsve's thoroughly flawed Julie navigates crumbling relationships and a stuttering career, stressing wildly over just exactly who she wants to be, it is impossible not to empathise with her struggles in one way or another. Each of us has questioned how we can leave our mark on the world, how we can make this whole 'life' thing worthwhile, and this is what makes Joachim Trier's understated masterpiece such an engrossing watch.
Of course, the gorgeous cinematography, exceptional performances and that sensational set piece play their part. Yet it is ultimately the familiarity of this very human story, its ability to connect with you on a deeper level, that makes it stand out.
– George White
23. Top Gun: Maverick
Director: Joseph Kosinski
When it was announced that Top Gun would receive the sequel treatment decades after its 1986 release, director Joseph Kosinski promised to put together a satisfying flick that "entertains everybody". And it fully delivers on that promise.
From the very first sequence, as Cruise's Pete 'Maverick' Mitchell tries to fly a hypersonic plane at Mach 10, the audience know they're in for a hell of a ride – with pulse-racing action and creative camerawork already on display. What follows in the subsequent runtime only ramps things up further, with Kosinski immersing the viewer in every take-off, every dogfight, every stunning stunt like no film has managed before.
The commitment levels of the cast and crew, shooting countless sequences in the cockpit of actual fighter jets, pays off in abundance. In an era of greenscreens and LED sets, the authenticity of Maverick feels like a breath of fresh air, making it the most exciting big screen experience in recent memory. The blockbuster is back.
– George White
24. Turning Red
Director: Domee Shi
Growing up is never easy, and Pixar's film about how Mei (Rosalie Chiang) turns into a giant red panda every time she feels a strong emotion is a testament to that . Turning Red is full of life, color and boy band fever. It's one of the studio's most refreshing entries in years, full of the creativity and heartfelt storytelling that turned its first feature films into instant classics.
At the core of the story, Mei has a complicated relationship with her mother (Sandra Oh), who comes from a family of high achievers, and tries to raise her daughter with a similar lifestyle. The two embark on a race against time before Mei is unable to revert the curse, forcing her to lead a double life with the panda version of herself for the rest of her days.
Turning Red is fun, emotional and a perfect depiction of what it is like to go through puberty. You don't want to miss one of the year's best animated films.
– Diego Peralta
25. X
Director: Ti West
One of the best horror films of 2022 is an easy contender for one of the best movies of the year, period. X is a wild and violent experience, but it's also a character-driven piece that aspires to surprise you as often and sometimes even as violently as possible. The story of a group of people trying to make a humble hardcore porno in rural Texas in the 1970s, X effectively sells its premise with a strong cast, great performances, and some dizzying slasher set pieces.
Of course, one of many shocks to the system while watching X is meeting Pearl (Mia Goth, pulling double duty as both this character and aspiring porn starlet Maxine) and Howard (Stephen Ure) for the first time. As they become an integral part in the lives of strangers filming a dirty movie on their property, X transforms into a film that blends comedy with strong characters and some genuinely frightening moments of extremely potent tension. It's a complete horror experience and a clear sign of the horror genre being the best game in town for truly unique, compulsory cinema.
– Gabriel Ricard
READ NEXT: Biggest New Games Of 2023 & Beyond
Some of the coverage you find on Cultured Vultures contains affiliate links, which provide us with small commissions based on purchases made from visiting our site. We cover gaming news, movie reviews, wrestling and much more.