When we look back on 2022, at least in the world of horror, people are going to be impressed. At least as far the genre is concerned, 2022 has been an exceptional year for horror movies, with an impressive degree of variety and diversity in the types of films that were released. You should also make some time for the fact that every single month on the calendar has had something to offer audiences.
At best, each month saw films that could very well be in contention for the best of the decade. At worst, any given month could simply leave us with some meaningful amount of entertainment value. You really couldn't go wrong this year at almost any given moment.
No matter what your tastes might be, 2022 in horror has something for you. Let's highlight just how good it was this year with the best horror movies so far in 2022.
The Best Horror Movies of 2022
14. Sissy
Directors: Hannah Barlow and Kane Senes
Sissy is the story of a young woman Cecilia (Aisha Dee as the titular Sissy) running into her childhood best friend Emma (co-director Hannah Barlow).
Emma is getting married to a charming, likable woman (Lucy Barrett), and invites Cecilia to come along to the hen's weekend getaway. This sets Cecilia, living alone but doing very well as a social media mental health advocate/influencer, on a path to remembering why they stopped being friends in the first place. It doesn't hurt that Cecilia's childhood bully Alex (Emily De Margheriti) is also going to be there.
Cecilia's journey becomes as dark and violent as it is uniquely hilarious and insightful. A character study and gentle social satire, Sissy is also a story of literal and figurative childhood scars. Even as the movie goes berserk in its delirious and exceptional final act, this dark comedy doesn't forget that it's also a searing and brilliant character study.
13. Terrifier 2
Director: Damien Leone
Nothing on this list is as visually shocking as Terrifier 2. Clocking in at an almost inhuman 2 hours and 28 minutes, Terrifier 2 understands its assignment implicitly. This starts with the challenge of outdoing the gallows humor and unflinchingly savage brutality of the first film. The film succeeds boldly and sadistically on this level, but also succeeds in topping its predecessor in every other regard.
Terrifier 2's writer/director Damien Leone understands that a good sequel needs to justify its existence quickly and decisively to the viewer. Few fans of Terrifier will watch this controversial follow-up and feel that it fails to do this.
Dipping its toes into more supernatural elements, including how we're once again dealing with a rampage by Art the Clown (David Howard Thornton, heading to icon status with this character), Terrifier 2 is a wild ride that's not for everyone.
12. Crimes of the Future
Director: David Cronenberg
The fact that Cronenberg is still making movies of the caliber of his newest word on body horror (and more) is a gift to us all. Cronenberg hasn't missed a step in his 40+ year career as a writer and director, but it's been a good while since the man stepped into the realm of science fiction and horror having the scariest damn baby possible.
Crimes of the Future feels at times like a throwback to the Canadian filmmaker's best body horror works (Cronenberg actually used this title once before on an unrelated 1970 film). Yet this film also represents the evolutionary process Cronenberg has gone through during his long career as a storyteller and commentator of our unhinged times.
Crimes of the Future is a welcome return with memorable performances by Viggo Mortensen, Léa Seydoux, and Kristen Stewart.
11. Smile
Director: Parker Finn
For some, Smile shouldn't be anywhere near a collection of the best horror movies of 2022. We obviously beg to disagree, with Smile being a memorable package of a solid horror-mystery premise, nightmarish visuals, and a sense of doom that pervades every scene and every line of dialog.
A traumatic experience involving a patient leaves Dr. Rose Cotter (Sosie Bacon) trapped in the heart of a series of frightening, inexplicable experiences and encounters. Smile has an elaborate plot that's difficult to explain in just a few words, but understand that we're dealing with a movie that goes heavy into the subject of trauma. To do that effectively, and in a fashion that elevates the film beyond your expectations, you'll want to strap in for some of the scariest visuals of the year.
Smile is a surprising experience in more ways than one.
10. Deadstream
Directors: Joseph Winter and Vanessa Winter
Horror is no stranger to telling old stories with new insights. Deadstream is one of the most pleasing examples of this idea, with a premise that riffs nicely on the haunted house story.
A supremely annoying and recently disgraced internet personality named Shawn (Joseph Winter, who will impress you again and again in this horror/comedy hybrid) opts to resurrect his career by livestreaming a solo sleepover in a haunted house.
The evening doesn't go well for Shawn. While we expect that from Deadstream, you're probably going to be taken aback by just how clever the movie is at realizing the full potential of its ideas. Relying on strong, engaging characters and taking full advantage of its love of haunted house horror movies, Deadstream isn't too terribly scary, but it makes up for that in sheer inventiveness and fun. It's even a bit of a redemption story, believe it or not.
9. Glorious
Director: Rebekah McKendry
With Glorious, we have another entry that defies expectations.
On one hand, we have a very dark and gruesome comedy about a man named Wes (Ryan Kwanten) and his life-changing encounter with a mysterious voice (J.K. Simmons in another good voice role) in a filthy rest stop bathroom. But where the basic premise might be a little over-the-top, with special effects that match this in no uncertain terms, Glorious also has a harrowing emotional component to its story. This aspect is marked by a genuinely meaningful and well-executed plot twist on just who Wes is in the first place.
Glorious runs a lean 79-minutes, meaning you're going to be pummeled by story beats and cosmic horror from start to finish. The experience is a little like walking down some steps, with the one in the middle dropping you down about seven million feet. Glorious doesn't let up — and that's a good thing.
8. The Black Phone
Director: Scott Derrickson
The Black Phone draws nicely from virtually everything that worked with Joe Hill's excellent short story.
Focusing on Finney (Mason Thames), a young boy who lives with his abusive alcoholic father (Jeremy Davies) and potentially clairvoyant little sister (Madeleine McGraw, stealing every scene she's in), The Black Phone is a childhood horror story. It's one of the most interesting things to come along in a while, [particularly in its depiction of the more supernatural forces that drive this film and its story involving a child murderer named The Grabber (a terrifying Ethan Hawke) and a mysterious black phone that communicates with the dead.
Well, specifically with the children who fell to The Grabber. Thames' grounded, empathetic performance in The Black Phone plays well against Hawke's psychotic child murderer. The film doesn't bog down this satisfying and haunting story with too much detail. It gets to the point and stays the course.
7. The Innocents
Director: Eskil Vogt
A slow-burn horror story about superpowered children in an isolated community, The Innocents is guaranteed to freak you out on some level. While it doesn't have the jump scares of something like Smile or the blistering violence of Terrifier 2, the film is every bit as frightening as those two.
With a focus on children trying to make sense of their powers and what they mean, The Innocents goes about its scarier aspects by treating its children with respect. The story follows them and stays with them, creating fully realized beings who nonetheless are still trying to make sense of the world under normal circumstances.
One child (Sam Ashraf as Ben) opts to use his abilities for cruel, destructive, and selfish ends. This puts him at odds with young Anna (Alva Brynsmo Ramstad) and Ida (Rakel Lenora Fløttum), leading to a decidedly unique cat-and-mouse showdown. The Innocents is horror that burrows into the psyche.
6. Pearl
Director: Ti West
The only film on our look at the best horror movies of 2022 that's part of a larger cinematic narrative. Pearl is a prequel to X, which was released earlier in the year and features the title character as an old, murderous woman. Screenwriter Mia Goth once again plays the character, finding wholly fascinating and provocative notes to deepen someone we had only just recently met at the end of a long, heartbreaking life.
Pearl lives a hideous life, dreaming of movie star fame under an oppressive small-town atmosphere. Her mother is a ferocious religious fanatic. Her father is slowly dying. If you absolutely can't watch X first, you should still be able to appreciate this woman's descent into the result of a form of frustration that practically infects the very being of this film.
Pearl is another masterwork of tension with explosions of humanity and violence by co-writer/director Ti West.
5. Barbarian
Director: Zach Cregger
It's fair to take a quick look at the plot of Barbarian and assume something straightforward. A young woman Tess (Georgina Campbell) discovers someone else is staying at the rental home she's checked into for the evening.
A double booking at a weird house in an unfamiliar city (Detroit) is a good premise for a horror movie. It could go in a variety of narrative and tonal directions, and where Barbarian goes with this whole idea is truly something to see. The film is a masterwork of escalation, in terms of both plot development and certainly violence. Barbarian is likely to make even seasoned genre fans flinch once or twice.
What also helps Barbarian in its stunning audacity is one of the best casts of any horror movie in 2022. Georgina Campbell impresses with a performance that meets the wild shifts of this film, with Justin Long also turning in the best horror performance of his career.
4. Prey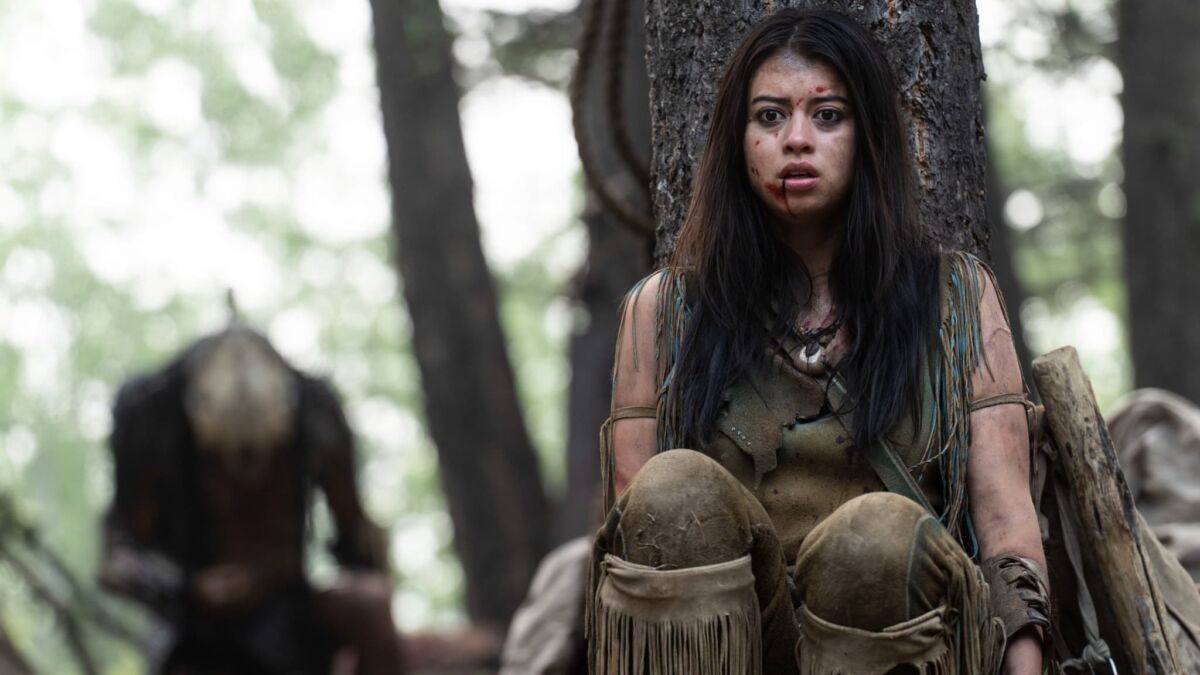 Director: Dan Trachtenberg
As far as the Predator prequel Prey is concerned, we will call it a comeback. This is a series that arguably hasn't had a really good entry since 1990 (or at least 2010). Prey sets its story in 1719 with a Great Plains Comanche woman whose ambition to become a warrior leads to an opportunity to do that while protecting everything she cares about.
A Predator is hunting and we know how that's going to go, but Prey offers plenty of surprise in how it executes the familiar part of this story. It gets even better when the film takes us into new territory with an outstanding lead performance by Amber Midthunder as Naru.
Prey keeps a tight focus on its story and characters, even as it seemingly takes a detour into such events as the Predator squaring off against a group of reprehensible European fur traders. The result is exceptional entertainment.
3. Mad God
Director: Phil Tippett
Mad God is an assault on the senses in the most visually stunning interpretation of that achievement.
A mysterious individual known only as The Assassin embarks on a dangerous mission, with his travels taking him from the heavens to a depraved, chaotic, and vile nightmare world that gets more and more horrific the deeper he goes. Mad God is a stop-motion masterpiece that dares you to keep watching at times, simply because it's difficult sometimes to fully accept what's going on. "Chaotic" isn't even a strong enough word to describe the experience you have watching this incredible creation in a single sitting.
Over a period of more than thirty years, director/writer/producer/co-cinematographer Phil Tippett worked to bring this movie to its almost indescribable life. The animation alone is worth your time, but Tippett also promises themes of madness and greed and action sequences that also defy simple description.
2. X
Director: Ti West
If X was the only film in this universe, it would still be second place in our countdown for the best horror movies of 2022. This film feels like a throwback but repeatedly provides its own ideas and places from which to draw inspiration.
X is the story of a small group making a porno at a farmhouse in rural Texas. They run the wrath of the ancient married couple who live there, including Pearl. X soon comes down to one of the adult film actresses, Maxine Minx (Mia Goth, pulling double duty as Maxine and Pearl), fighting for survival.
X has interesting things to say about its characters, the type of film they're making, and the sometimes-violent complexities of human sexuality and longing. It also doesn't forget the sex and violence we're hoping to see unfold. It really does offer just about everything needed for a perfect horror movie.
1. Nope
Director: Jordan Peele
Nope's blend of humor, a truly novel approach to its UFO horror story, and career-high performances by the cast would be difficult to surpass in any context. T
he film has plenty of commentary behind its larger story of a UFO terrorizing a tremendous ensemble cast. The list includes a Hollywood horse rancher and his sister (Daniel Kaluuya and Keke Palmer), a listless electronics expert (Brandon Perea), a disconcerting cinematographer (Michael Wincott) and a faded, traumatized, and deeply misguided former child actor (Steven Yeun).
There's a lot in Nope about our obsession with spectacle, but those familiar with Peele's work by now won't be surprised that there's so much else going on. Nope explores and feeds our desire for a spectacular show. It's exciting in the moments we're watching it all go down, and it continues to dominate our thoughts and ability to interpret clever, fun art long after it's over.
READ NEXT: 10 Best Horror Books For Kids
Some of the coverage you find on Cultured Vultures contains affiliate links, which provide us with small commissions based on purchases made from visiting our site. We cover gaming news, movie reviews, wrestling and much more.