Not to toot my own horn, but my choice for best movie of 2019 ended up winning Best Picture at the Oscars. Considering all the buzz Parasite was getting, and how much I enjoyed it when I first watched it, it was an easy choice to make. This year, however, is not as smooth-sailing. While all the big releases were delayed, film festivals decided to venture online, so this meant I had access to more films than ever before. I guess the upside to this year is that I got to watch films that might have escaped my radar because I was too busy focusing on the bigger ones.
We are not quite at the end of the year yet, so there are some movies that I haven't had a chance to see which could possibly make it onto the list: Carey Mulligan's Promising Young Woman has yet to have a wide release, and Pixar's Soul will only be released on Christmas day this year. There are also the indie films I enjoyed immensely, films like Dinner in America, Save Yourselves! and Anything for Jackson, that didn't quite make it onto the list, but are still very good movies nonetheless.
The focus of this list of the best movies of 2020 is variety, where I have tried to select films that are the best representatives of the genre they belong to, and while there may be some overlap at times (I think I have two horror films on the list), they embody very distinct spaces even within the same genre.
10. Borat Subsequent Moviefilm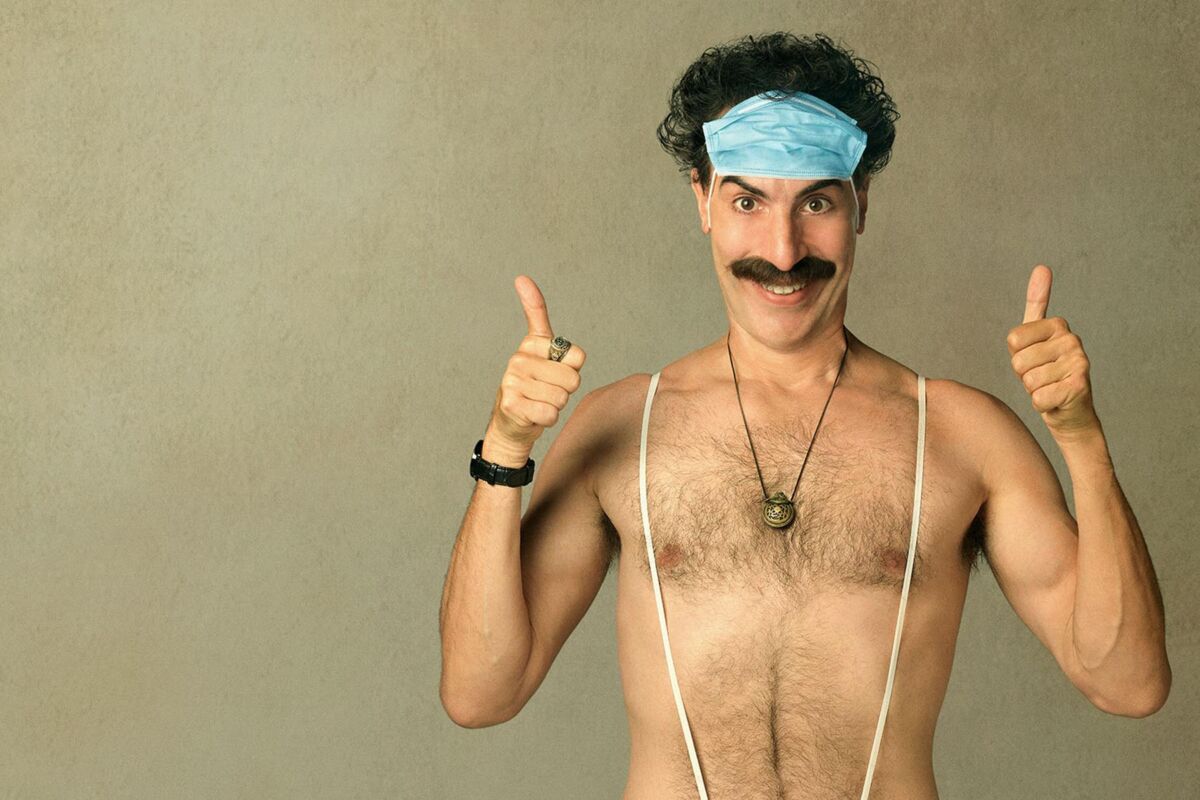 Director: Jason Woliner
The sequel to Borat is my comedy choice for the year. Yes, it isn't as funny as the first one, but I think it was the one movie that actually made me laugh out loud this year. It's difficult to do sequels and still try to bring something different to the table, and I think this movie managed that.
Borat (Sacha Baron Cohen)'s mission this time is to provide a suitable gift from Kazakhstan to Vice President Michael Pence, so that his leader can become a part of Trump's strongmen, and his daughter Tutar (Maria Bakalova) is along for the ride. The addition of Tutar's arc and storyline for the sequel definitely zeroes in and latches its focus on misogyny and the patriarchal elements still alive and well in American society.
The movie also has cultural impact, given that it was released in an election year, with the satire meant to reflect insights about American politics. It was also filmed during the pandemic, and this became a part of the narrative. So yeah, there's no way I could pen a best movie list without including this film as a part of it.
9. On the Rocks
Director: Sofia Coppola
I am such a fan of Sofia Coppola. Her films aren't for everyone, given that they focus on a particular demographic and their problems, and has sometimes been criticised for valuing style over substance. On the Rocks isn't as on the nose with the lush images and scenery, and doesn't always succeed in the balancing of its dramatic and comedic elements, but it was one of the more memorable films for me this year, mainly because of Bill Murray. Murray's pairing with on screen daughter Laura (played by Rashida Jones) is reminiscent of the dynamic in Lost in Translation, and it is the strongest element of the film.
When Laura starts to suspect that her husband Dean (Marlon Wayans) might be cheating on her, her father Felix (Murray) offers his services so that they can catch him in the act. This involves stake-outs, car chases and other funny moments. Every conversation they have is just hilarious (maybe because Murray can conjure hilarity from air), and I think there aren't enough films that focus on father-daughter relationships. On the Rocks can't dethrone Lost in Translation or The Virgin Suicides as my favourite Coppola film, but it is competent enough to make it onto the list.
8. Possessor
Director: Brandon Cronenberg
Possessor is classified as horror, and of course it would be, given that it is directed by Brandon Cronenberg – the apple doesn't fall far from the tree here. There were gruesome body horror moments that made me gag, and I certainly don't think I can rewatch them, but it is the sci-fi elements of the film that fascinate the viewer. Tasya Vos (Andrea Riseborough) is a corporate assassin, and works for a company that uses brain-implant technology to take control of individuals, in order to execute high profile targets without drawing suspicion.
Each time she goes under, Tasya finds herself losing more and more of herself, her kills becoming more brutal each time, and then one day, push comes to shove when she takes over the identity of Colin Tate (Christopher Abbott), and things don't pan out the way they usually do. There are just stellar sequences, especially the bits where Tasya takes over Colin's brain. Besides the haunting imagery, the performances by Riseborough and Abbott are just superb, especially Abbott, since he needs to pretend to be Tasya and his character, all at the same time.
It is a film that one won't soon forget.
7. Palm Springs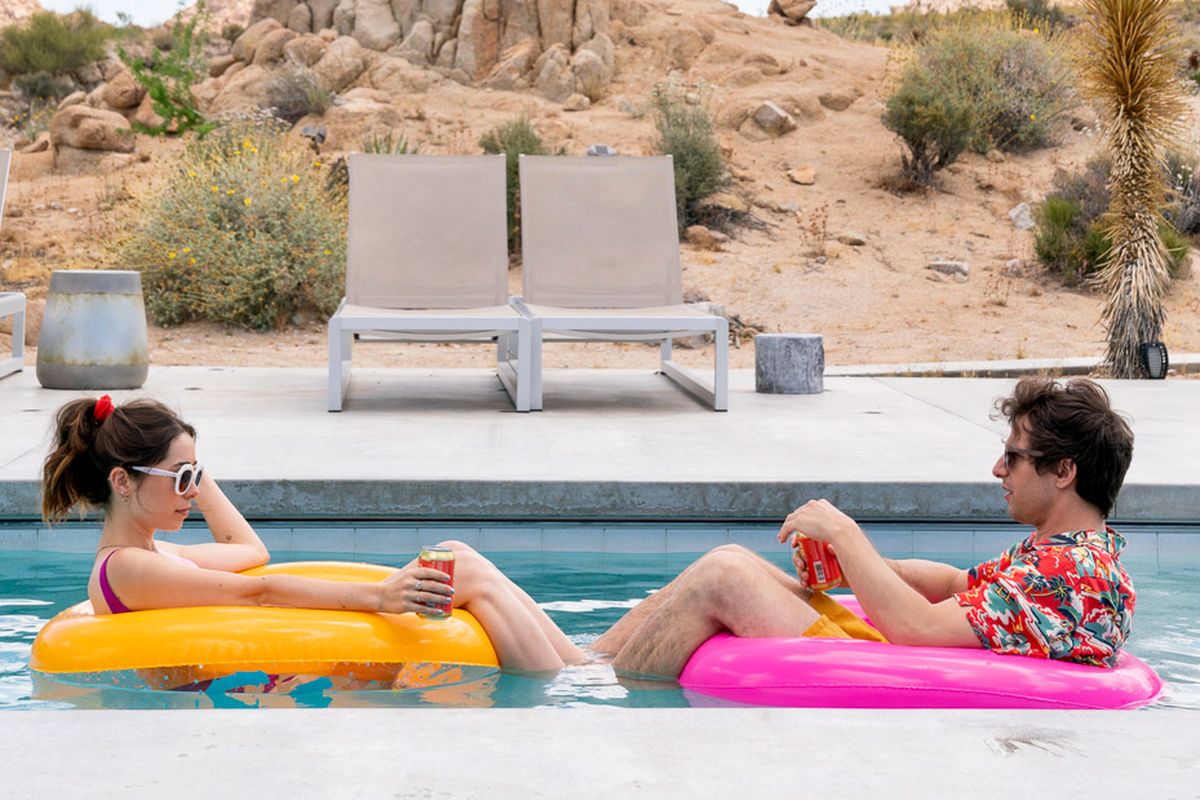 Director: Max Barbakow
Palm Springs is a reminder of how good rom-coms can be, if they have a good concept, the humour, and well-developed characters. Palm Springs has a time loop concept attached, though it executes it in a far different way from its predecessors.
The movie begins with Andy Samberg's character Nyles partaking in an unsatisfying romp with girlfriend Misty (Meredith Hagner), who are both at this location to attend a wedding. He doesn't appear to be happy, also doesn't seem to care, dressing for the wedding like he's going for a luau, yet somehow saving Cristin Milioti's Sarah from having to make a wedding speech she didn't prepare for. The two head off for a bit of nookie in the wilderness, before shenanigans ensue, and Sarah finds herself drawn into the same time loop that Nyles has already been living in.
The film is also a riot, with leads Samberg and Milioti full on committing to their chaotic roles. J.K Simmons, minor character or not, simply steals the show whenever he's on screen. Life can be a bit of a rut sometimes, but Palm Springs reminds us that if we have someone to share it with, things get a little less mundane. With the right person, even the most boring of days can seem like the time of your life.
6. His House
Director: Remi Weekes
His House is the second horror film on my list, but I think it is a very different type of horror from Possessor. Possessor's horror is the detachment Tasya slowly starts to experience from herself, while the horrors of His House are emotionally driven, the result of Bol (Sope Dirisu) and Rial's (Wunmi Mosaku) move from war-torn Sudan to an English town. All is well until they start to become tormented by figures that haunt the house. The film is so well-layered such that we can look at these horrors in a multitude of symbolic ways – it is a reflection of their immigrant status, where they don't feel at home and others consider them outsiders.
The horrors also point to an emotional guilt that the pair are holding within them, with Bol choosing to repress these past guilts, while Rial aligns herself with what haunts the house, though also choosing to repress a deep secret she cannot even admit to herself. The scares are legitimate, the leads carry the film well, and the fact that this is Remi Weekes' debut film is a testament to the filmmaking force he will become in years to come.
5. Never Rarely Sometimes Always
Director: Eliza Hittman
As the pro-choice v. pro-life argument continues to wage on, people on both sides sometimes forget that these are real girls and women who find themselves having to make a decision they never thought they would have to make. This is the case for Autumn (Sidney Flanigan) in Never Rarely Sometimes Always, who discovers she is pregnant, but because she lives in state which makes it difficult for her to have an abortion, she travels to New York to get it done there, and this film is about her journey through the entire thing.
We do not know how Autumn got pregnant, or if she was a willing party in the situation, but we do know that she doesn't feel ready to be a mom. She can't bring herself to tell her own mother, and only spills the beans to her cousin Skylar (Talia Ryder). The dynamic between the two girls is really lovely and precious, and both Flanigan and Ryder surely have bright futures ahead of them. Director Eliza Hittman lets the film's visuals do the talking, with the dialogue sparse and most of the soundscape mainly attuned to the natural sounds around the girls as they make their journey.
Watch out for the scene where the title comes into play; it is a movie that will stay with you long after the credits roll.
4. The Assistant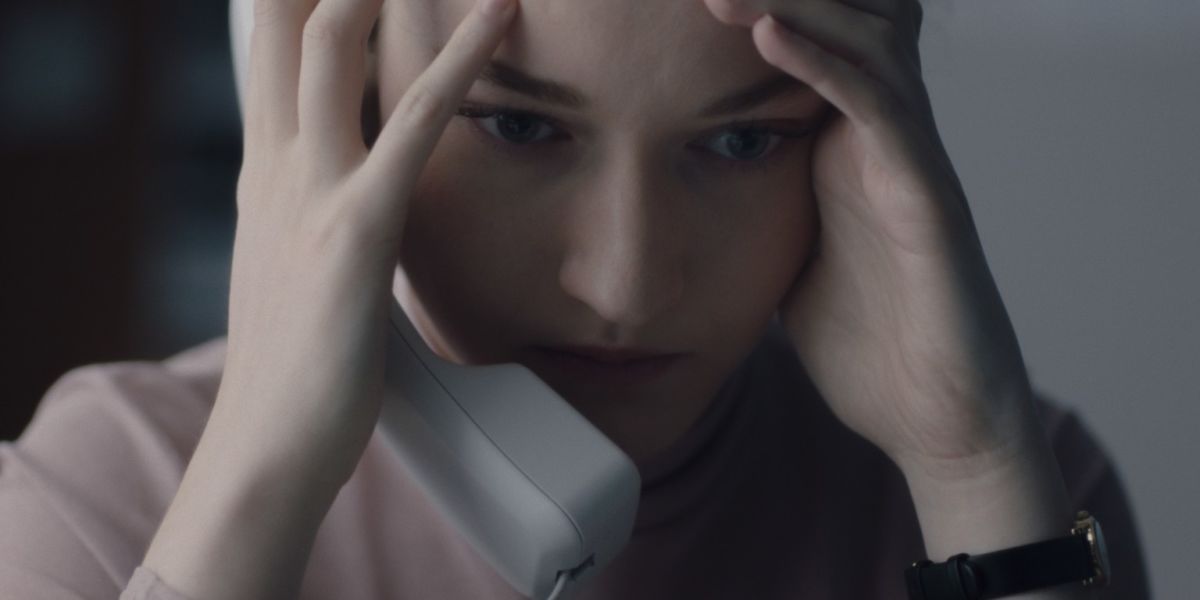 The Assistant deals with #metoo themes, but fleshes it out in the space of shadows, hushed whispers and knowing nods – an environment that is aware of their boss as a sexual predator (this is of course meant to draw parallels with Harvey Weinstein, since the character is in the entertainment business), yet does nothing about it. As one of his assistants, Jane (Julie Garner) has knowledge of his activities from the peripheries, and we slowly become aware too, as we see her clean the couch, usher young beautiful women into his office, and have to deal with the incessant phone calls and questions from his wife.
It is not just that he is a sexual predator, he enforces a toxic work culture as well. He verbally abuses Jane on the phone, and afterwards, she has to send him an email apologising for her behaviour and promising to be better. He justifies his conduct by saying that he is hard on her because he believes in her, and that he feels she will be successful one day. After each interaction, I feel myself growing sick to the willing blindness of everyone there who enable his bad behaviour, as well as shut down any efforts to hold him accountable.
It is a scary film because it is close to what real life can be, where we get caught up in work cultures like this and keep silent because we want to move ahead in the game – but at what cost?
3. The Trial of the Chicago 7
Director: Aaron Sorkin
Aaron Sorkin's The Trial of the Chicago 7 is an engaging film, and while Sorkin does play a bit safe for his sophomore effort, it has enough compelling elements going for it that it had to make the list. The Trial of the Chicago 7 takes place during the 1968 Democratic Convention, when seven political activists were arrested and later charged with conspiracy to incite a riot after police violently tried to break up an anti-Vietnam War protest, using batons and tear gas against the protesters.
The cast is stellar, with Sacha Baron Cohen the stand-out as Abbie Hoffman, the actor proving that he has both the dramatic and comedic chops to carry the role. Sorkin brings in his usual fast-talking, snappy dialogue, and it works brilliantly for this political drama. While Sorkin veers too much on the side of sentimentality, the film is still enough of a heavy-hitter to make its way to the top five movies of the year. It is accessible and memorable, and I can't wait to see where else Sorkin takes his directing career.
2. Sound of Metal
Director: Darius Marder
You cannot end the year without watching Sound of Metal, which is a film about addiction, but doesn't cover the usual beats you expect in such addiction narratives. All is right in Ruben's (Riz Ahmed) world – he and girlfriend Lou (Olivia Cooke) are in a successful metal band together, their relationship is great, and they enjoy their time together in their RV, travelling from place to place for their tour. Things are so good that when Ruben notices some issues with his hearing, he chooses to ignore it, until he can't ignore it anymore.
Upon visiting the doctor, he is told he has lost a significant portion of his hearing, and he won't be able to get it back again. Because he suffered from substance abuse, his sponsor arranges for him to be a part of a deaf community. Ahmed delivers such a powerhouse performance, as does Cooke and Paul Raci, who plays Joe, the man in charge of the community.
Because of how immersive the movie-watching experience is with Sound of Metal, we are privy to Ruben's experience with sounds (or lack thereof), and it is the most disconcerting experience ever. My ears felt so uncomfortable the whole time, and composer-sound designer Nicolas Becker needs to take home the Oscar for sound mixing – I will riot if he doesn't.
1. Nomadland
Director: Chloé Zhao
It seems that if you want an award winning project, you just need to make sure Frances McDormand is a part of it. She has been a part of some of the best films and TV shows in recent years, like Three Billboards Outside Ebbing, Missori and Olive Kitteridge, and who can forget Fargo, a film from about twenty-ish years ago that is probably on a list for the best films of all time.
Director Chloé Zhao is an indie film darling, and she might have just delivered her best work with Nomadland – clearly third time's the charm here. McDormand plays Fern, who is forced to lead a nomadic life after the economic recession, which has striking parallels with our current situation as the pandemic continues to wreak havoc. Her home is her van, and with that she roams all over, finding work where she can get it, connecting with fellow nomads along the way.
What is so great about Zhao's film is that it highlights a group of people who exist in the peripheries for us, people we don't notice, and brings them into the fabric of society. The film plays out like a classic American novel, and truly does justice to the novel it is adapted from.
2020 is definitely not the greatest year, and the film industry may have taken a hit, but this list is proof of the importance of film and art in all our lives. Each film made me feel a less alone in this horror of a year, as they drew me into their spaces and allowed me to know their characters. I hope you enjoy each one as much as I have; see you in 2021.
READ NEXT: 10 Most Underrated Movies of 2020 So Far
Some of the coverage you find on Cultured Vultures contains affiliate links, which provide us with small commissions based on purchases made from visiting our site. We cover gaming news, movie reviews, wrestling and much more.