When the first Borat film came out in 2006, or as you know it Borat: Cultural Learnings of America for Make Benefit Glorious Nation of Kazakhstan, it astounded everyone that Sacha Baron Cohen was able to successfully pull something like it off. Of course, at the time the character of Borat wasn't very well known. He had been part of Da Ali G Show, but was still under the radar enough to pull off this piece of satire. 2020 is a whole different ballgame.
Those of us whose sensibilities were too offended to watch the first one, would still somehow know this character, and fans would be eager to connect with this iconic figure of Kazakhstan. So, when a sequel was announced, many of us wondered how he could have possibly pulled it off for a second time. The answer, my dear friends, is by donning numerous disguises, as well as his secret weapon in Maria Bakalova's Tutar, who is Borat's daughter.
Tutar has a desire to be a journalist, much like her father, but is told that jobs and careers are not spaces for women. Initially, Borat is unsure on how to deal with his daughter. Luckily, there is an instructional manual to guide him, as well as strike fear into Tutar due to the stories within the manual of what happens to women should they choose to transgress. The addition of Tutar's arc and storyline for the sequel definitely zeroes in and latches its focus on misogyny and the patriarchal elements still alive and well in American society.
Tutar is taught that as a woman, the best thing you can do for yourself is to catch the eye of a wealthy man, so you have to be beautiful (and beautiful in a way that conforms to society's standards) and submissive. A golden cage in the way of Melania is what she aspires to, and Borat proceeds to help her so that he can gift her since that is his mission, to provide a suitable gift from Kazakhstan to Vice President Michael Pence, so that his leader can become a part of Trump's strongmen.
So now Borat has Tutar with him, as the pair make their way through various retail spaces, doing ridiculous things and making absurd requests of the sales people, proving that those in retail will truly do whatever it takes to make a sale. The film tackles other issues as well, like how far the pro-life argument can be stretched despite the circumstances, as well as pokes fun at the belief of the coronavirus being a liberal hoax. It is especially frightening to see the confidence of the political leaders at the early stages of the pandemic, especially since we know that the 15 cases snowballs into the alarming numbers that America has on its plate now.
While it may seem tamer than its predecessor, and not as impromptu, given that it does feel more staged, Jason Woliner's Borat Subsequent Moviefilm: Delivery of Prodigious Bribe to American Regime for Make Benefit Once Glorious Nation of Kazakhstan (I dare you to say all this at once without stopping) is bold in the political spaces it chooses to traverse, be it rallies or even managing to get an interview with a well-known figure in the Trump administration.
Some of these moments are truly shocking, and while many would claim that much can be taken out of context with the right editing, there is many a-time that you find yourself just staring at the screen, mouth agape. It vacillates between that and guffaws of laughter at some of Borat's stunts, many of which involve his dealings with technology.
It is the best kind of satire, one that makes its point while making you laugh so much your moon blood might make an appearance. It is not for the easily-offended variety of folk though, so if you find yourself clutching your pearls at most of Sacha Baron Cohen's antics, then you might want to sit this one out. For the rest of us, it's time to get our dance pants on, and have a roarin good time with Borat once more.
Review screener provided. Borat Subsequent film will be released Amazon Prime Video on October 23, 2020.
READ NEXT: 10 Best Comedy Movies of the 2010s
Some of the coverage you find on Cultured Vultures contains affiliate links, which provide us with small commissions based on purchases made from visiting our site. We cover gaming news, movie reviews, wrestling and much more.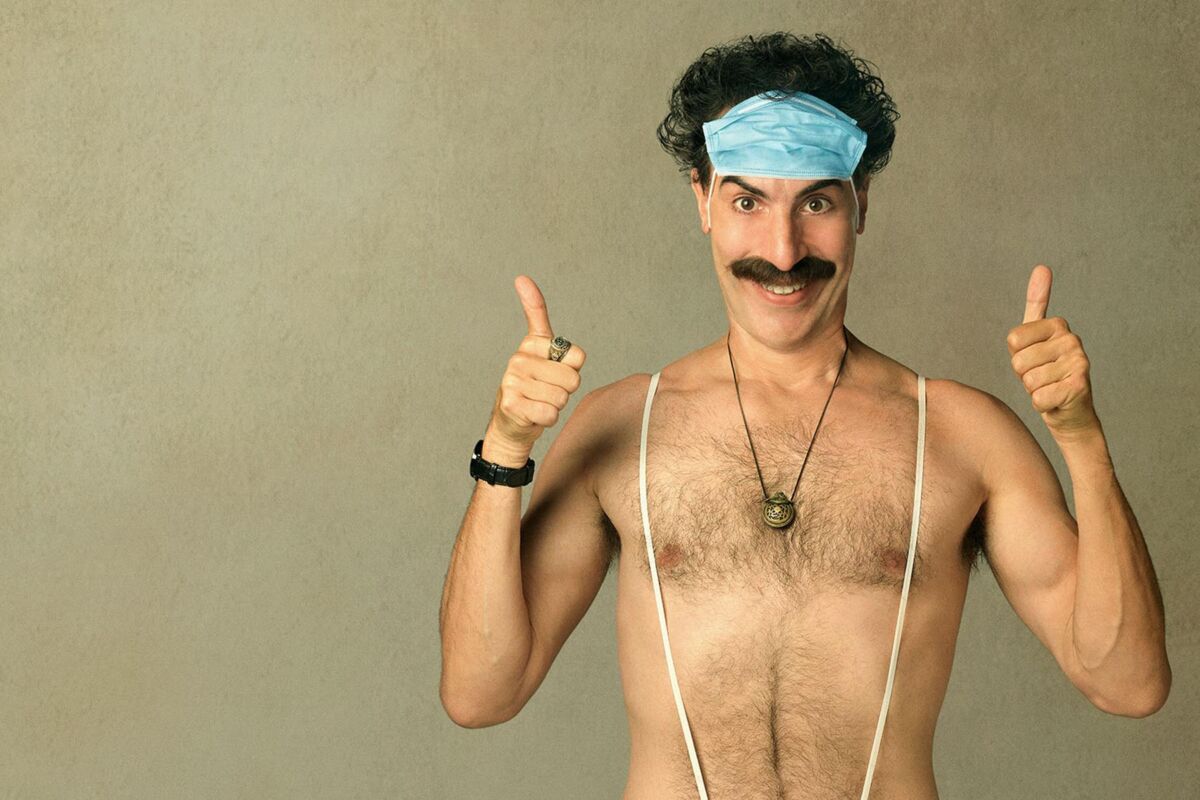 Verdict
It is impressive how Borat Subsequent Moviefilm is able to tread new ground despite being a sequel that employs a familiar shtick, garnering laughs in such insane, innovative ways. It might just be the funniest film you see all year.