At a time when Netflix has seen its profits under threat and its subscriber base declining, Disney Plus is seemingly going from strength to strength. While the current streaming kingpin has been criticised for prioritising quantity over quality, Disney's approach has been far more pragmatic and selective. Thanks to the media titan's ownership of some of the most sought-after brands around, most notably Star Wars and Marvel, the best Disney Plus shows are able to utilise some exceedingly lucrative creative properties.
Even as new contenders have entered the arena (most recently Paramount Plus), Disney Plus has continued to grow at an alarming pace since it launched in late 2019, surging forward to boast around 140 million global subscribers as it looks to take its place at the top of the streaming tree once and for all.
Scrolling through Netflix can sometimes feel like seeking out caviar in your local branch of Greggs, whereas Disney Plus does boast a much higher hit rate from its more modest catalogue of TV and movies. The library may not be vast, but the best Disney Plus shows go far beyond High School Musical and something to put on to keep the kids quiet.
The Best Disney Plus Shows
20. Gargoyles
Seasons: 3
The 90s were an underrated decade not only for cartoons but for TV in general. With everyone waxing lyrical about Seinfeld, The Simpsons and Twin Peaks, it's little surprise that a kids' animated show about a group of Scottish gargoyles lost in contemporary New York might have slipped under the radar.
With a darker and grittier tone than most kids' TV shows of the time, Gargoyles is exactly the sort of thing you should be seeking out if you loved the fantastic Batman: The Animated Series that made its debut just two years earlier.
Massively underrated at the time but still boasting a loyal fanbase of devoted acolytes, Greg Weisman's superb animated saga deserves to be rediscovered by a whole new generation of fans. It's easily one of the best Disney Plus shows on offer.
19. Malcolm in the Middle
Seasons: 7
Malcolm in the Middle is one of those shows that seems to just get better as time passes, the sort of thing that you don't realise you loved so much until it isn't there anymore. As far as a beautiful microcosmic capturing of what suburban American life was like in the early-to-mid 2000s, Linwood Boomer's domestic sitcom is pretty much peerless.
Malcolm in the Middle wasn't only terrifically funny and exceedingly well-written, it never pandered to its audience or ended up becoming saccharine and schmaltzy like so many family-centric US shows have a habit of becoming. Yes, it was sweet, heartfelt and perfectly observed, but MITM never lost sight of the crueller, trickier edges of enduring childhood, adolescence and adulthood as a gifted child, a put-upon younger sibling or a dim-witted no-hoper.
As They Might Be Giants put it: Life is unfair.
18. Modern Family
Seasons: 11
The 2010s saw an explosion in the single-camera sitcom format in America. The likes of 30 Rock, Brooklyn Nine-Nine, The Office and Community all ditched the traditional multi-cam setup and laughter track in favour of a new comedy format in which audiences were trusted to know when to laugh all by themselves. In many ways, this semi-transition ushered in a golden age of American comedy, its consistently fine output outstripping all challengers as greats like It's Always Sunny and Arrested Development made the US the envy of the world, at least with regard to its TV.
A sort of Malcolm in the Middle for a new generation, Modern Family looks at three intersecting families as they navigate the usual gripes, tensions and pitfalls of family living in the 21st century, its smart writing and layered characters making it one of the best Disney Plus shows to switch off to. The fact that Steven Levitan's sitcom ran from 2009 until 2020 gives it a melancholic, 'Boyhood' quality, allowing the audience to see how the core cast, particularly the younger members of the extended Dunphy family, grew up as each season led into the next.
17. Lost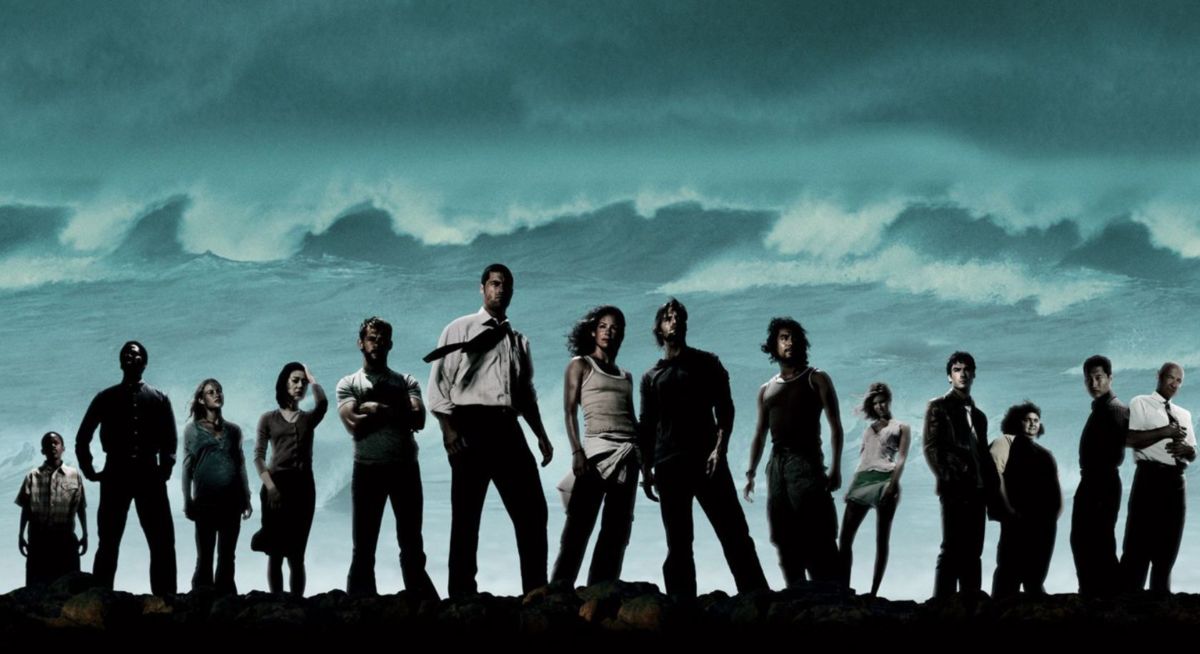 Seasons: 6
It may have gone off the boil towards the end, but there was a time when J.J. Abrams' supernatural tale of stranded airline passengers from all walks of life trying to cope on a mysterious island in the South Pacific was, to be cliched, the show that everyone was talking about. During the noughties it felt as though half the globe was trying to figure out what the mystery of the island was, or why this diverse gang of deserted castaways had been mysteriously brought together in the first place, or why Hurley never actually seemed to lose any weight.
The ending continues to polarise fans even to this day, proving that even the greatest of shows struggle to stick the landing when push comes to shove, but it was worth it for the fun we had along the way trying to get a handle on what everything actually meant. Thanks to its philosophical and mythological themes, captivating storylines and a bulging cast of stellar talent, Lost was one of the many shows that helped usher in a new golden age of prestige, populist television drama.
16. The Orville
Seasons: 3
Family Guy co-creator Seth MacFarlane's Star Trek obsession has never exactly been a secret, so the announcement of a comic sci-fi space opera that debuted in 2017 didn't come as a huge surprise. Whereas the maiden voyage was a more parodic affair, The Orville changed trajectory during its second season to become a more down-the-line tribute to everything that MacFarlane and so many others have loved about Gene Rodenberry's monumentally successful intergalactic hit.
Not that it hasn't retained much of the humour on which Seth MacFarlane has traded for decades, with Peter Macon's stoic, deadpan first lieutenant Bortus acting as a particular highlight. As far as spiritual successors go, The Orville really is worthy to take up the mantle, evidencing a genuine understanding of the weighty ethical questions and ambitious storytelling that made Star Trek so beloved.
Trekkie or not, The Orville is one of the best shows on Disney Plus.
15. Ms. Marvel
Seasons: 1
Ms. Marvel is only a season in, but it's already ended up as Marvel's highest-rated original series, no mean feat considering that recent offerings such as Loki, WandaVision and The Falcon and the Winter Soldier have set the bar pretty high over the last couple of years.
Ms. Marvel stars Iman Vellani as Kamala Khan, AKA Ms. Marvel, a Pakistani-American teenager and Avengers obsessive navigating her way through high school before discovering she herself has burgeoning cosmic powers of her own. Where Ms. Marvel excels is in balancing the sort of coming-of-age tale of adolescence and self-identity with the usual enjoyable superhero fun in a similar vein to Spiderman: Homecoming, using its titular protagonist as the lens through which the audience is able to view the wonder of the MCU.
Satisfying and heartfelt, all eyes now turn to 2023's upcoming ensemble tie-in The Marvels to see where Kamala goes next.
14. The Falcon and the Winter Soldier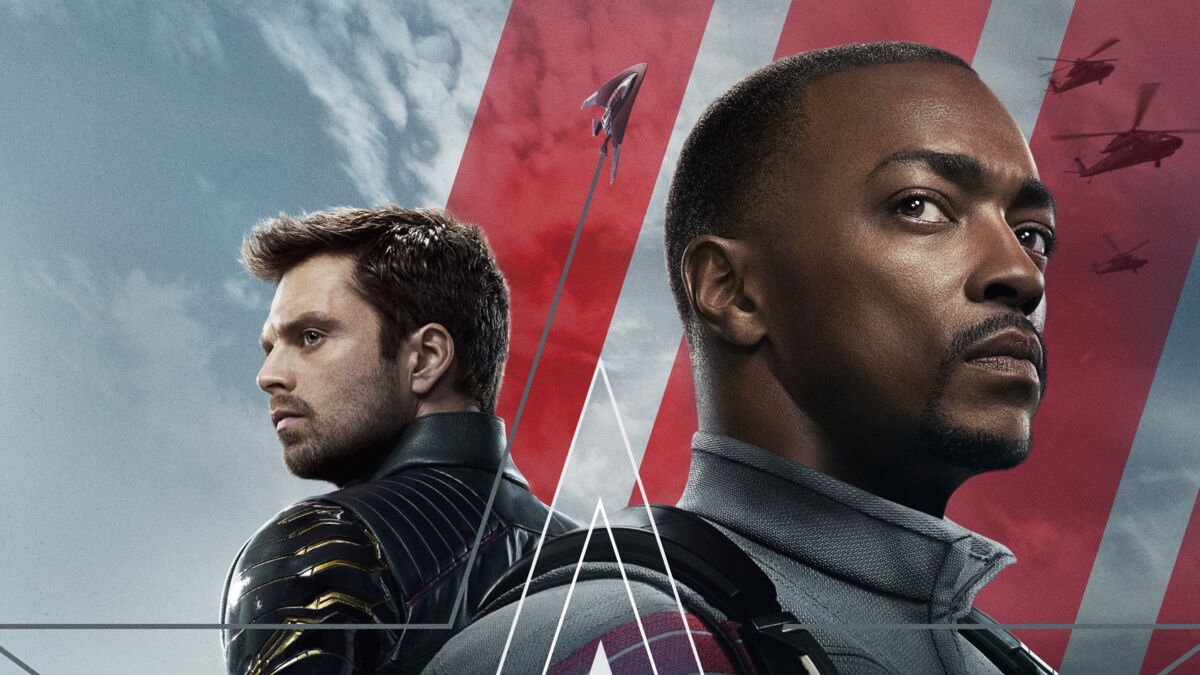 Seasons: 1
There was a time when Marvel were derided for their shows being of an inferior quality to DC's far more accessible and enjoyable costumed capers, but those days are long gone. DC's jaded Arrowverse mainstays are long outstaying their welcome, whereas Marvel has pushed the accelerator into the ground during Phase 4 by pumping out hit after serialised hit.
One of the picks of the bunch has undoubtedly been The Falcon and the Winter Soldier, a thrilling and heartfelt piece of work that brings two of the MCU's most underrated yet eminently likeable figures together and allows their undeniable buddy-cop chemistry to shine. It may be a tad heavy-handed with its otherwise pertinent social commentary at times, but The Falcon and the Winter Soldier is easily one of Marvel's best original shows built on purposeful storytelling, rip-roaring action sequences and a stellar cast.
Look out for Daniel Brühl's captivatingly devious Baron Zemo or UFC legend Georges St. Pierre's return as Batroc as standouts.
13. Atlanta
Seasons: 3
The many talents bestowed upon Donald Glover, AKA Childish Gambino, are enough to make a person want to crawl under a rock and never bother trying to do anything ever again. Comedian, actor, highly successful musician and now auteur and influential scriptwriter-cum-director — God wasn't fair when dishing out the talents equally.
Massively acclaimed and already exceedingly influential, Atlanta premiered on FX in 2016 and follows Donald Glover's Earn, a Princeton dropout attempting to launch the music career of his cousin, Alfred 'Paper Boi' Miles. Atlanta's surreal flavour, coupled with the show's biting satire and continually relevant social commentary, have made it one of the best comedy dramas in years, proving once again that Donald Glover can do almost anything he likes.
Next he'll be solving mathematical theorems or running in the Olympics.
12. Moon Knight
Seasons: 1
It's so satisfying when a big, money-driven corporation like Marvel takes the training wheels off and allows a show to be genuinely weird. One of the main complaints about the Marvel movies has always been that, at their worst, they feel like generic cut-and-paste jobs that could essentially be interchanged with one another without ever changing the plot. It's not a criticism that you could level at the downright bizarre goings-on of Jeremy Slater's Moon Knight.
Moon Knight follows the trials of Marc Spector, a man with dissociative identity disorder as he attempts to get a handle on his many competing alter egos while also navigating a strange mystery revolving around the ancient Egyptian deities. As you can imagine, this is a show that's far better actually watched than it is merely described.
If you can get past Oscar Isaac's slightly wonky English accent (partly based on Karl Pilkington's slack-mouthed Manc drawl), Moon Knight is darkly surreal fun that takes the MCU into weird new places.
11. Pam & Tommy
Seasons: 1
On the surface, biographical miniseries Pam & Tommy looks as though it could be just as exploitative and tacky as the initial coverage of the events which inspired it, but it's an impression that hides a far more accomplished and nuanced piece of work.
Starring Lily James and Sebastian Stan (both excellent and near-unrecognisable) as its titular leads, Pam & Tommy explores the fallout for the pair's relationship after their infamous sex tape is leaked by Lee's disgruntled ex-employee Rand Gauthier.
Pam & Tommy trades out titillation and voyeurism for intimacy and respect, dealing with its subject matter seriously as it examines the fallout of the scandal on Anderson's life. Funny, intelligent and surprisingly feminist, Pam and Tommy hits pretty much all of its marks beautifully.
10. Loki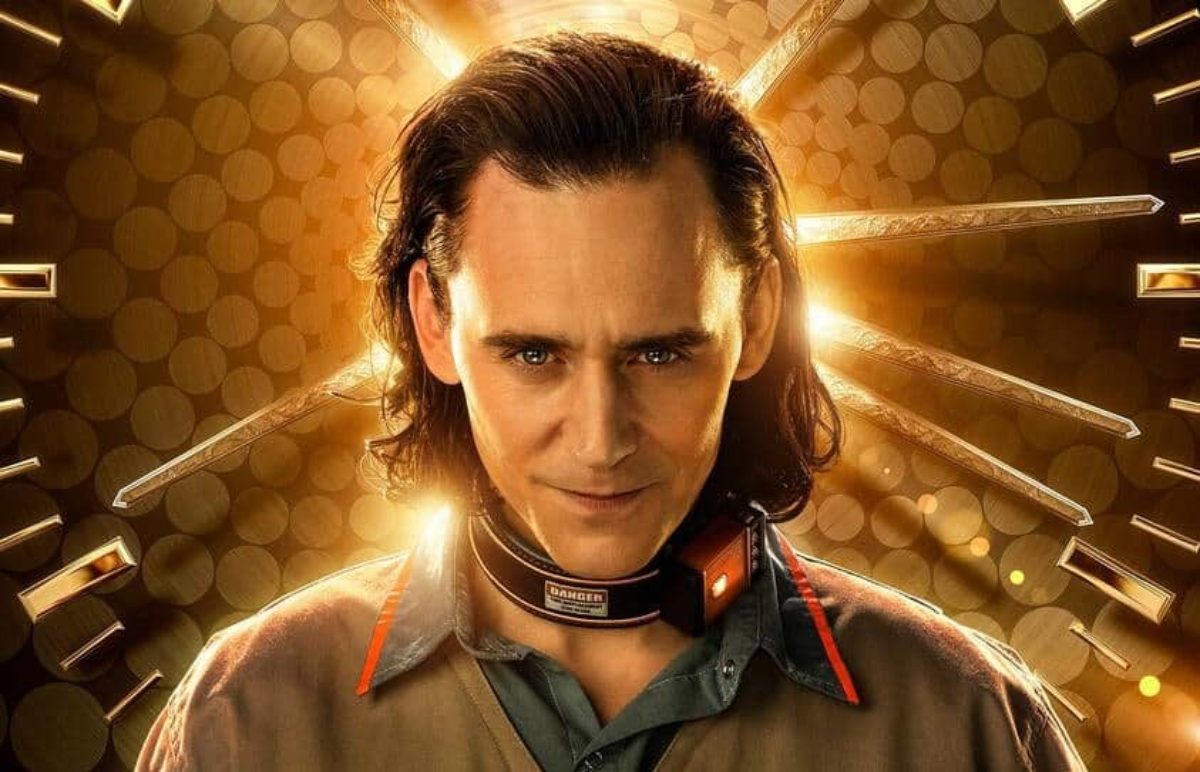 Seasons: 1
It was hardly a surprise when Marvel decided to give its resident god of mischief his own spin-off in 2021, such was the undeniable allure of Tom Hiddleston's charming, chaotic portrayal of Thor's adopted brother. The Loki actor has become a household name since making his debut in 2011's Thor, threatening to outshine his on-screen sibling thanks to some irresistibly conniving charisma.
Following the events of Endgame, Loki sees its titular antihero coming face to face with the Time Variance Authority, a sort of time bureau charged with ensuring that the timeline(s) of the universe are kept broadly in check.
One of the best Marvel shows, Loki boasts an impressive supporting cast of performers including Gugu Mbatha-Raw, Owen Wilson and Richard E. Grant, but the whole setup is utterly held together by Hiddleston himself, a man who, despite probably tiring of requests to spout Avengers catchphrases, always looks like he's having the time of his life when sporting his jet black hairpiece and matching robes.
9. What We Do In The Shadows
Seasons: 4
What We Do in the Shadows practically defines the phrase 'a match made in heaven'.
Taika Waititi and Jermaine Clement's original indie movie about a group of ancient vampires living in contemporary Wellington became an instant cult hit when it premiered in 2014, tapping into the same quirky Antipodean energy that had made Flight of the Conchords such a darling among similar audiences.
The natural extension of the pair's indie hit was to create a show dedicated to the same premise, albeit with a new cast and with the action now relocated to 21st century Staten Island. Possibly even funnier than the work that inspired it and with the most perfectly cast central players you could hope for in the shape of Matt Berry, Kayvan Novak and Natasia Demetriou, What We Do proves that not everything becomes unwatchable when transferring to the shores of the New World.
8. WandaVision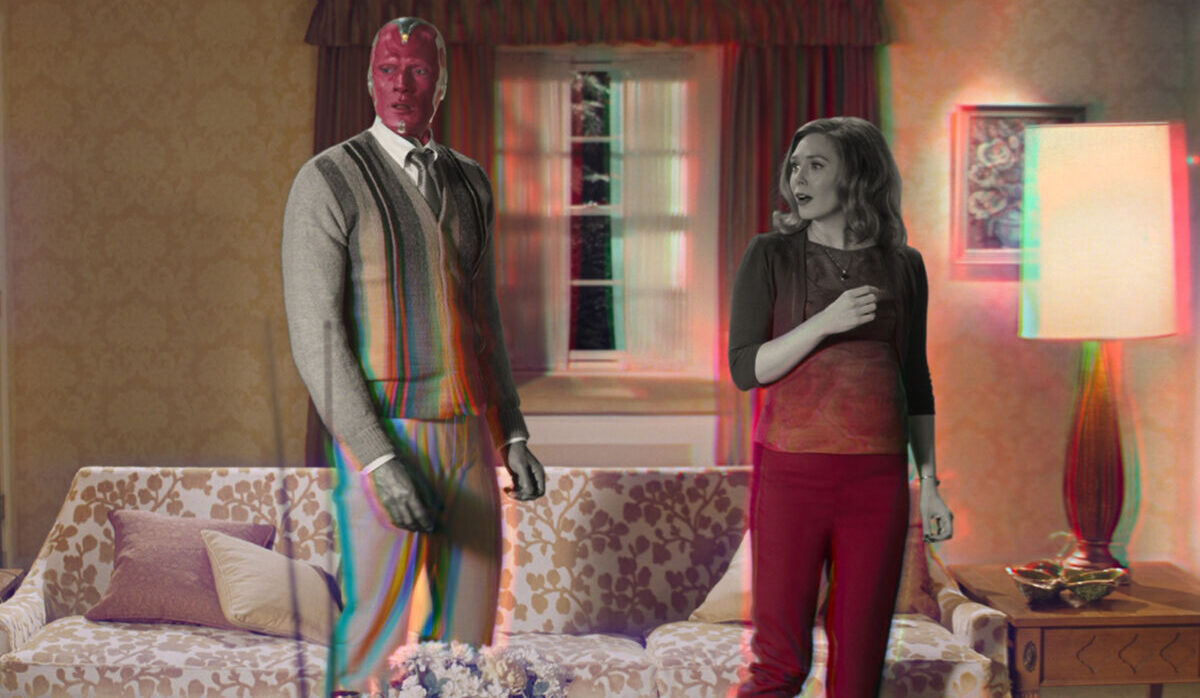 Seasons: 1
As Marvel has transitioned out of Phase 3 and into Phase 4, the studio has made a concerted effort to bring a new selection of heroes into the fore to replace the yawning chasms left by the departures of Captain America, Iron Man and The Hulk. Well, not so much the Hulk. Central to this has been Elizabeth Olsen's Wanda Maximoff, AKA Scarlet Witch, the central focus of WandaVision and one of the most pivotal figures in this new era for the biggest cinematic universe around.
Superficially, WandaVision follows the events of Infinity War, albeit with Vision now resurrected from the grave and living an idyllic suburban existence with wife Wanda, and while the pair seem to be enjoying their inexplicably perfect lives together, reality threatens to intrude at every turn. Not only is WandaVision a continuation of the overarching Marvel story, albeit a rather tangential one, but it's also a committed and reverential celebration of the television throughout the ages as the show transitions from cosy 50s nostalgia through to a Modern Family-inspired contemporary sitcom.
Things inevitably revert more to type as the secret of the happy couple's existence is gradually revealed, but WandaVision remains one of Disney Plus' most unique and ambitious original creations to date.
7. Sons of Anarchy
Seasons: 7
FX's worthwhile spin-off Mayans M.C. (also on Disney Plus) has done its best to carry on the legacy of the show that inspired it, but Kurt Sutter's original neo-western story of the members of an outlaw motorcycle gang stands alone as one of the best dramas of the 21st century.
Sacrificing glamor and shine for a grimy, ruthlessly grim worldview, Sons of Anarchy never shied away from showing the consequences of its characters' actions, often in brutal, bleak fashion. Before Game of Thrones was shocking audiences by nihilistically culling core members on practically a weekly basis, Sons of Anarchy was delivering sucker punches with the regularity of a boxing heavyweight.
Brilliantly written and with an ensemble cast that few shows could ever hope to match, Son of Anarchy was riveting until its gut-wrenching, unforgettable climax.
6. Gravity Falls
Seasons: 2
Everyone is always biased toward their own generation, but you have to concede that children's TV has pretty much reached its peak during the last ten or so years. Adventure Time, Regular Show, The Amazing World of Gumball, Steven Universe, Clarence, Teen Titans — it's a wonder kids ever leave the house.
Gravity Falls is yet another smash hit for the child-friendly mirth makers, a delightfully uncynical look at childhood adventure and the wonder of youth that first premiered on the Disney Channel in 2012.
Following the adventures of two kids spending their summer with their great-uncle Stan in Oregon and investigating supernatural mysteries, Gravity Falls has been praised for its warmth, humour and exquisite animation. So universal has the acclaim been and so widely has the show managed to spread its appeal that Gravity Falls has been adored by adults as much as kids, and will continue to feel the love for many years to come.
5. The Americans
Seasons: 6
It's an odd mystery that one of the best shows of the last 20 years still doesn't command the mainstream attention that its peerless critical reception would indicate it deserves. It might not be heralded as often as Breaking Bad, The Wire or Better Call Saul, but in terms of consistency, very few shows have managed to match Joseph Weisberg's captivating Cold War thriller The Americans.
First airing in 2013 on FX, The Americans follows two Soviet spies posing as an American married couple in suburban Washington DC as they gather intelligence on the West while attempting to evade capture and avoid suspicion. It might sound like a somewhat pulpy setup, but The Americans is a deeply thoughtful, hugely intelligent and nuanced slow burner that never patronises its audience or trivialises its subject matter.
For anyone who likes gripping and mature drama to rival the best that HBO can offer, The Americans is absolutely vital television.
4. The Mandalorian
Seasons: 2
You cannot escape the almighty gravitational pull of the Star Wars universe. Who would have predicted in 2005 that 15 years later the prequels would have become semi-ironically adored classics, the number of films out in the ether would have doubled and a string of TV shows would have found themselves on an online digital library called Disney Plus?
The undoubted crown prince of all the serialised Star Wars spin-offs has to be The Mandalorian, a captivating piece of work that proved that you could make a standalone sci-fi saga about a man with a bucket on his head running around with a small telekinetic goblin and have it become some of this decade's best TV.
The first two seasons have been gold, built predominantly on Pedro Pascal's silent, stoic charisma, so here's hoping the third instalment in the saga isn't the start of some horrible decline.
3. Only Murders in the Building
Seasons: 2
Who saw this coming? A knockabout murder mystery starring Steve Martin, Martin Short and Selena Gomez would go on to become a streaming hit that has enamoured both audiences and critics thanks to its wit, charm and surprising insight. Not only has Only Murders been a surprise, it's rocketed its way to already become one of the best Disney Plus shows released so far.
Modern attitudes towards murder have always been peculiarly paradoxical. Crime shows are either miserable noir-esque procedurals like The Bridge or The Killing or cosy, lightweight shows such as Jonathan Creek, Monk or Psych. Only Murders in the Building is very much in the latter camp, and it's all the better for it as it rides on the back of its central trio's bizarrely effortless chemistry.
With both seasons nailing 100% positive review scores on Rotten Tomatoes, OMITB has barely put a foot wrong.
2. Futurama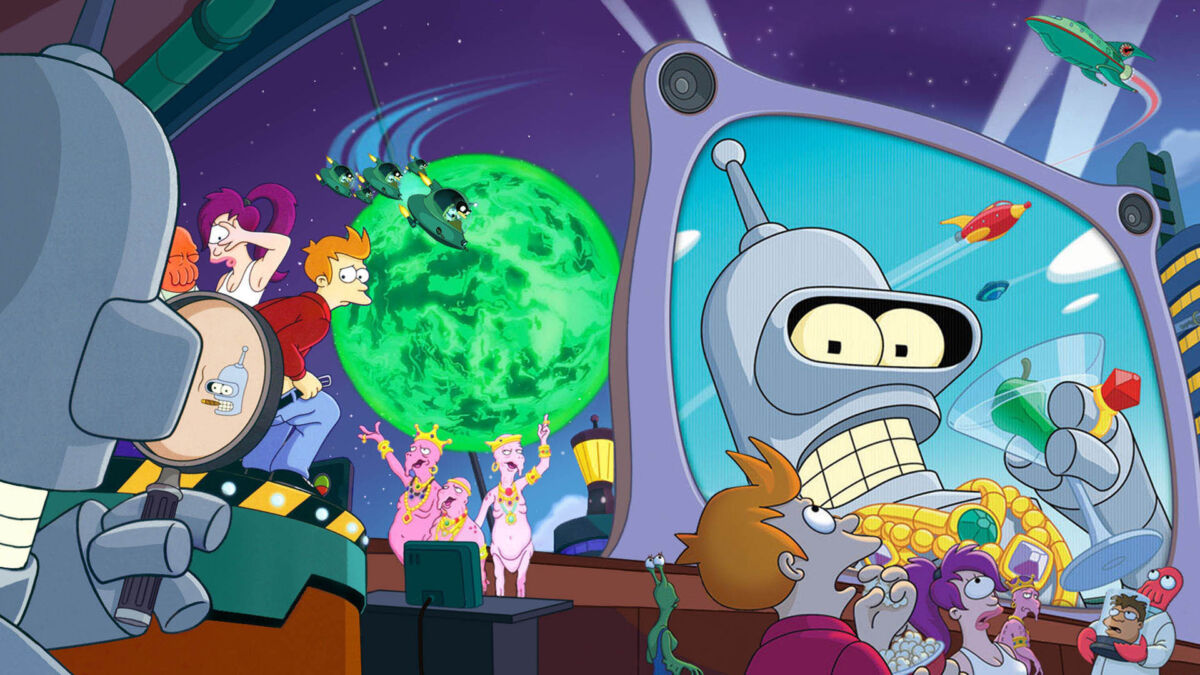 Seasons: 10
Futurama has truly stepped out of The Simpsons' shadow.
Few shows have been cancelled, revived and repurposed as much as Matt Groening's proper sophomore cartoon, but when you consider the levels of quality that Futurama was operating at during its ten-season run, it's almost impossible to figure out why. Why has The Simpsons been allowed to limp on towards its 34th season as a shadow of its former self while Futurama had to scrap and fight for its very survival practically every year it was on the air?
The most likely answer is that people just don't know a good thing when they have it. Futurama is smart without being exclusive, funny without being cheap and often incredibly affecting while never resorting to schmaltz. Streaming giant Hulu is set to revive the adventures of the Planet Express Crew once again, so now is definitely the time to catch up on what is easily one of the  greatest animated shows ever made and one of the best Disney Plus shows around.
1. The Simpsons
Seasons: 33
There's a good chance that a decent proportion of Disney Plus' initial bout of subscribers were enticed in purely on the promise that the world's most famous corporate mouse was offering the entire back catalog of practically every Simpsons episode ever released.
There's little to say about Matt Groening's world-beating cartoon phenomenon that hasn't been eulogised in a thousand different ways on a hundred different platforms, suffice to say that at its peak, The Simpsons was probably the best TV show in existence. Yes, the quality has declined somewhat since the golden age of the 90s and yes, the strain of doing the same voices for more than thirty years has taken its toll on Castanalleta, Kavner and co., but when the show was on form it was downright stunning.
Seasons 3-8 were pretty much as good as TV ever got, and more than enough reason to clamber over to your laptop and fork out the monthly subscription for a Disney Plus subscription.
READ NEXT: 10 Shows Like Rick and Morty You Should Watch
Some of the coverage you find on Cultured Vultures contains affiliate links, which provide us with small commissions based on purchases made from visiting our site. We cover gaming news, movie reviews, wrestling and much more.