The open world genre tends to be a great watermark for the progression of gaming, with bigger, more densely populated worlds filled with content and activities becoming more commonplace as the technology advances. Some of the best open world games of all time are available right now on the PS5, but it's hard to know which ones are truly the best.
We've gone out and ranked the best open world PS5 games you can buy, showcasing a range of crime solving, fantasy adventuring, sci-fi planetary exploration and a bit of superheroing for good measure. If it's open world, good, and available on Sony's oversized router of a console, it's on this list. Here's the best open world PS5 games you can buy.
The Best PS5 Open World Games
11. Sherlock Holmes Chapter One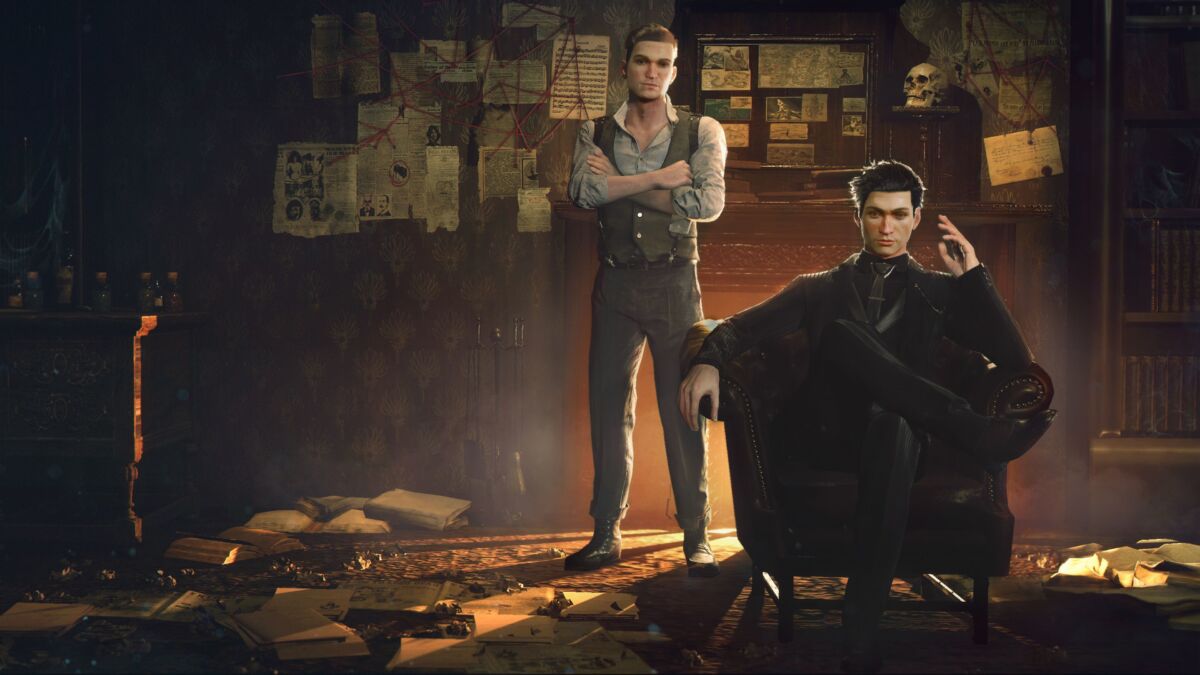 Developer: Frogwares
Publisher: Frogwares
Frogwares have carved something of a niche out for themselves with their takes on investigation games, with The Sinking City showcasing their talents while tackling the worlds of Lovecraft and all things Eldritch. However, for the longest time, the Ukraine-based developers have built up a reputation for their work on the Sherlock Holmes games. Their most recent entry, Sherlock Holmes Chapter One, might be their best yet.
Set in the fictional, open world island of Cordona, you control a younger Holmes as he sets out to investigate the mysterious death of his own mother. In doing so, you're in complete control of Holmes' investigation, finding your own leads and questioning witnesses and suspects how you see fit, ultimately coming to your own conclusions too.
Just be careful, as the game won't stop you if you're wrong. It's a truly open world, and that means dealing with the consequences too.
10. The Pathless
Developer: Giant Squid
Publisher: Annapurna Interactive
Not all open worlds have to be about stealing cars and being a jerk to the other people who occupy the same space as you. In fact, sometimes the best open worlds are about giving the player a cool ability and letting them run free through a specifically curated playground. The Pathless opts for the latter, creating an imaginative world begging to be explored with an ability that never gets old.
As The Hunter, accompanied by an eagle companion, you must explore a chaotic world where corrupted spirits are rampaging without anyone to stop them. Players can shoot talismans scattered across the landscape, which allows the Hunter to fill their dash meter and zoom across the island, creating a fun gameplay loop of maintaining your dash while running at top speed.
At a discount price too, The Pathless isn't one to ignore.
9. Immortals Fenyx Rising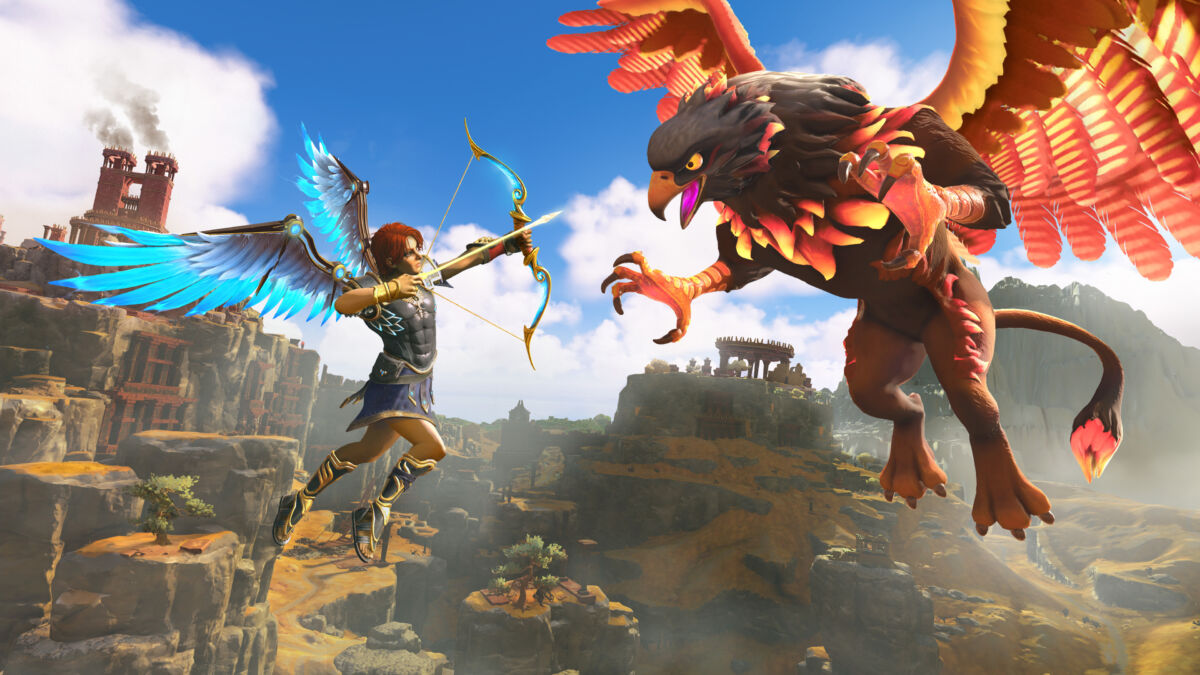 Developer: Ubisoft
Publisher: Ubisoft
Borrowing the open world formula from The Legend of Zelda: Breath of the Wild isn't really a bad idea when you consider that BotW is widely considered to be one of the best open world games of all time. Immortals Fenyx Rising takes that approach to combat, world design and puzzle solving, but wraps it all up in a package that's slightly easier to digest than Nintendo's goliath of an adventure.
Immortals is a retelling of Greek mythology, with Prometheus and Zeus narrating a story about Fenyx, a mortal hero looking to both rescue their brother and stop the evil Typhon from destroying the world. Along the way, you'll encounter various other Greek gods, who'll imbue Fenyx with a range of powers and abilities, making them more deadly as a result.
Considering it's been out for a while, Immortals is a bit cheaper than other games on this list, and the Season Pass includes a host of new open world adventures too.
8. No Man's Sky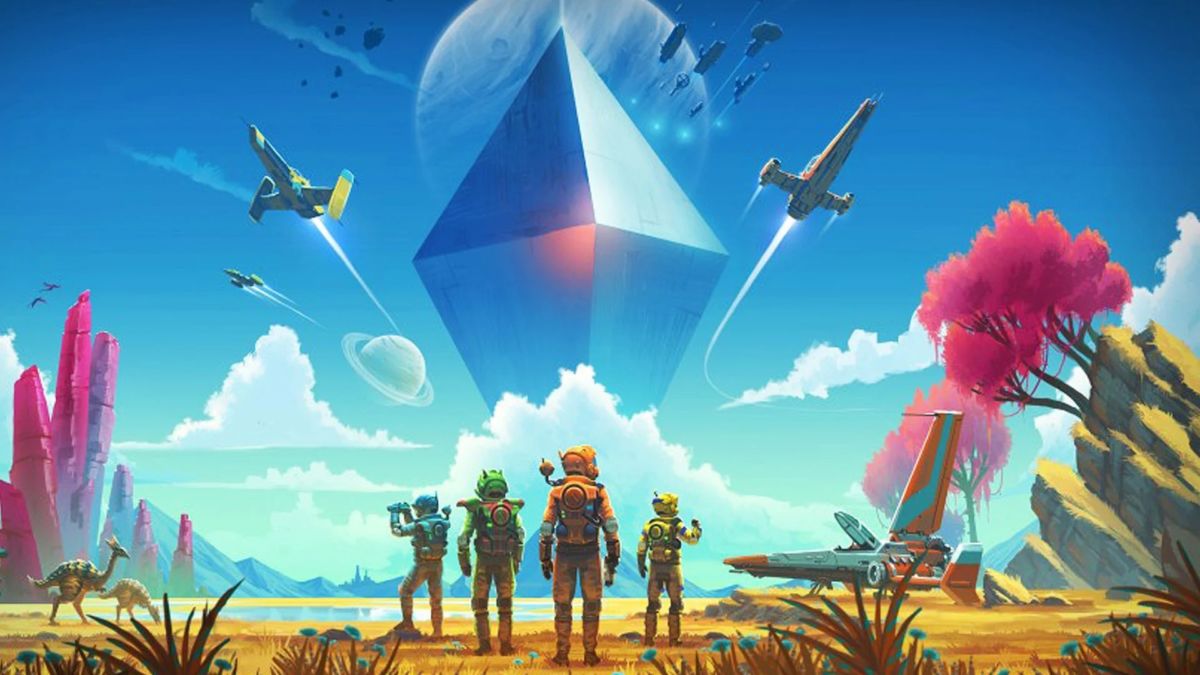 Developer: Hello Games
Publisher: Hello Games
The open world genre is so passé, so let's celebrate the open worlds genre. Heck, let's open it up even further with No Man's Sky and the "open universe" genre. It feels like so long ago since the disappointment of No Man's Sky and its launch, as the amount of free content updates and improvements that have added to the game's quality make the No Man's Sky of today feel like a completely new game. Full hats off to Hello Games for their commitment over the years.
Players control space explorers, who at this point can essentially carve out their own life and play style within the world of No Man's Sky. If you want to improve your spaceship and explore multiple worlds, you can. If you want to build bases and adopt pets, that's an option too, or you can squad up with other players to complete co-op missions.
There's a universe of content to dig into here, so what are you waiting for?
7. Far Cry 6
Developer: Ubisoft
Publisher: Ubisoft
With six mainline instalments, it's fair to say at this point that you know what to expect from a Far Cry release: a big map, a charismatic villain and plenty of outposts to liberate and missions to complete. Far Cry 6 is certainly no exception to this rule, but it doesn't stop the game from being incredibly entertaining.
Playing as the rebel Dani Rojas (and no, not the one from Ted Lasso), you set about trying to liberate the fictional island of Yara from the tyrannical rule of "El Presidente" Antón Castillo, who's raising his son Diego as the next potential ruler. Along the way, you'll kill tonnes of the dictator's goons, making friends with puppies and invite your friends for some co-op fun.
6. Death Stranding: Director's Cut
Developer: Kojima Productions
Publisher: Sony Interactive Entertainment
There's a case to be made that Death Stranding, at least in its original form, wasn't for everyone. The first ever game in the so-called "Strand" genre, exploring Death Stranding's open world and forming delivery routes and roads across a fractured America might not have been appealing to some, especially considering combat was put on the backburner to wandering across the world with an overflowing backpack.
The Director's Cut version of Death Stranding offers a raft of improvements on PS5, the least of which being new graphics and DualSense support. The combat has been improved, with main character Sam receiving big improvements in terms of melee capabilities compared to the original game.
There's also plenty of new items, areas to explore and other content that makes Death Stranding a more well-rounded experience that you should check out, even if you weren't keen on the original game.
5. Lost Judgment
Developer: Ryu Ga Gotoku Studio
Publisher: SEGA
Quietly, or loudly if you're in the presence of a Yakuza fan, Ryu Ga Gotoku Studio have built themselves up as a master of the open world genre, not because their takes on open worlds are bigger or feature more content. Instead, their open worlds feel the most like a world that people would actually live in, thanks to their realistic depictions of Japanese metropolises. Lost Judgment is the next step in their journey, and it's yet another winner.
An action RPG at its core, you control Yagami, a private investigator travelling across Japan to investigate a particularly grisly crime, uncovering layer upon layer of intrigue as he goes. While the narrative itself makes Lost Judgment worth checking out, it's the open world that takes the cake, with so much in the way of content, quests, collectibles and zany minigames to discover.
Again, it's not as big as some, but you're likely to be sucked in here the longest, even if it's just for the karaoke.
4. Subnautica: Below Zero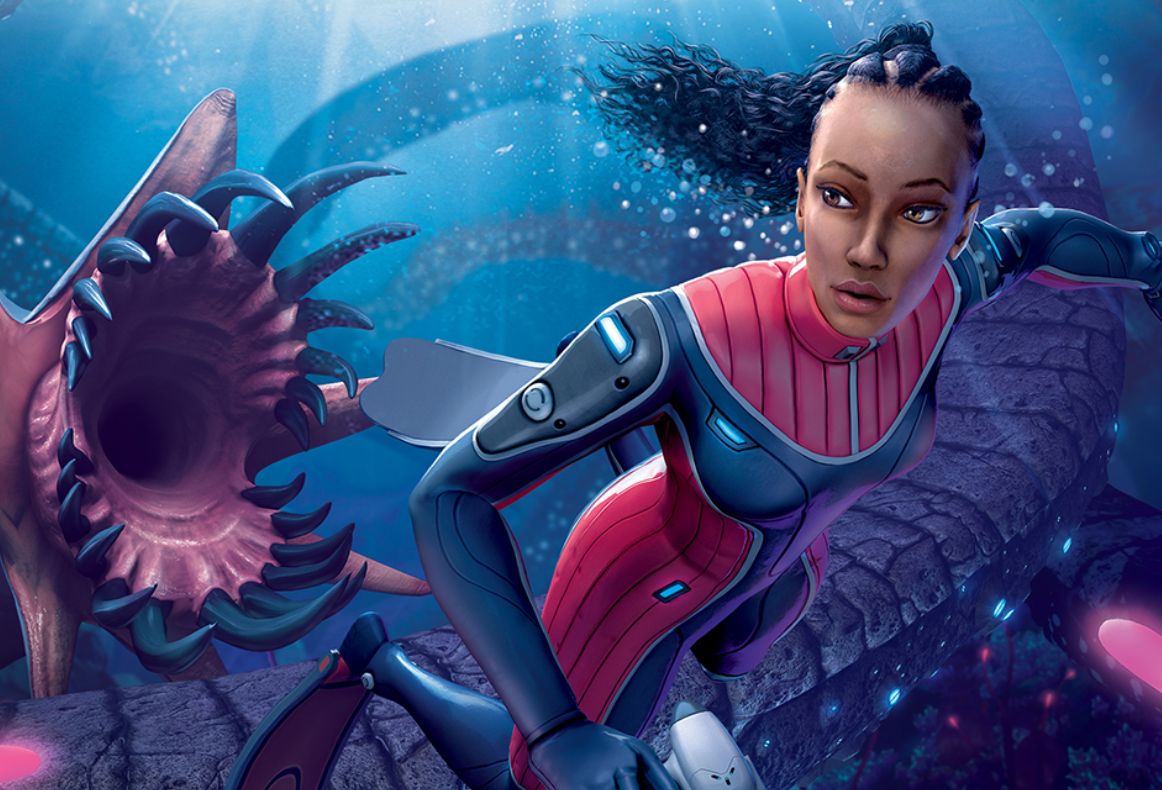 Developer: Unknown Worlds
Publisher: Unknown Worlds
Fans of open world survival games will find their needs met with Subnautica, which tasks players with scavenging for supplies and dodging the hostile denizens of an alien planet. It's a lot to manage, but Subnautica is arguably the best that the open world survival genre has to offer. While the original game has received PS5 upgrades so it runs better, the real PS5 star is Below Zero.
A sequel to the original Subnautica, Below Zero is set two years after the original game and sees players investigating the mysterious death of their sister. Doing so plants you on a frozen alien planet filled with ancient structures and the remnants of a prior scientific expedition gone wrong.
You'll have to piece together as many supplies as possible to survive in the freezing cold long enough to complete your mission. No pressure.
3. Assassin's Creed Valhalla
Developer: Ubisoft
Publisher: Ubisoft
The move that Assassin's Creed made from smaller scale open world, with social stealth and assassination, to full blown RPGs with more quests and content than you know what to do with, in a world bigger than the island of San Marino, might not have been for everyone. Some people preferred the old AC, but Valhalla is perhaps the closest the series has come towards bridging the gap between the two. It's still massive, but there's a lot to enjoy here.
As the viking Eivor, you're mounting the Nordic invasion of England, conquering the country one area at a time. WIth so much to see and do, there's an almost overwhelming amount of content on offer in Valhalla, but it's still a brilliant and effective PS5 open world. Besides, playing as a Viking fighting against the English is just a premise that'll never get old.
The rap battle-esque Flytings are just the icing on the cake.
2. Ghost of Tsushima: Director's Cut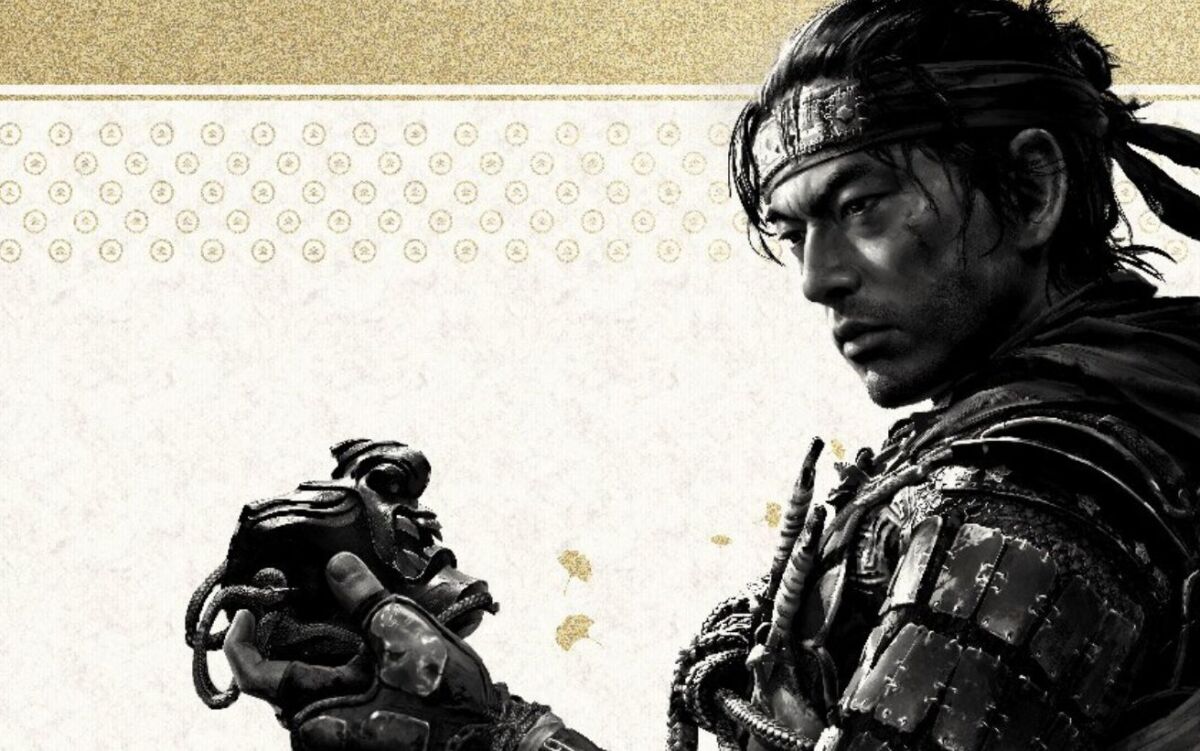 Developer: Sucker Punch
Publisher: Sony Interactive Entertainment
Much like Death Stranding, Ghost of Tsushima felt like a PS4 game that could have done with a next-gen update at launch. Released towards the end of the PS4's general life cycle, just a few months before the PS5, Ghost of Tsushima pushed the aged console to its limits. Now that it's available on PS5, it feels like Ghost of Tsushima: Director's Cut can really shine like it deserves to.
Putting players in the samurai armour of Jin Sakai, you'll have to contend with the Mongol invasion of Tsushima by Khotun Khan, whose savagery calls the Samurai code of honor into question. How can you play fair, if all the enemy knows is dirty? The invasion forces Jin to adopt unsavoury methods, creating an open world that encourages huge sword fights and satisfying stealth sections.
The Director's Cut even includes Iki Island, an expansion that explores Jin's trauma following the death of his father, which feels like an essential part of Ghost of Tsushima's incredible tapestry.
1. Marvel's Spider-Man: Miles Morales
Developer: Insomniac Games
Publisher: Sony Interactive Entertainment
One of the PS5's big banner showcases, it makes sense that Marvel's Spider-Man: Miles Morales would top the list of best PS5 open world games. Exploring the city of New York as the iconic wallcrawler in the first game was incredibly fun back on PS4, but now with Miles, who's trying to find his feet as a hero, that experience is only amplified. Heck, even the Dualsense feels like it was made for Miles' powers.
As Miles, you're thrust into the role of the city's lead protector while Peter Parker takes some time to recuperate. Naturally, the poop hits the fan, meaning you'll have to dig deep in order to survive and prove your worth as a hero. As an aside, the Ultimate Edition of Miles Morales also includes the Remastered version of Marvel's Spider-Man, rebuilt for the PS5.
If you can get past the fact they changed Parker's face for PS5, there's dozens of hours of open world web swinging to enjoy here.
READ NEXT: The Best PS5 Horror Games
Some of the coverage you find on Cultured Vultures contains affiliate links, which provide us with small commissions based on purchases made from visiting our site. We cover gaming news, movie reviews, wrestling and much more.