While plenty has changed with the world's most popular football game this year, most importantly the fact that it's no longer called FIFA, EA Sports FC 24 is still sticking to the same core principles and content that have earned it endless fans year on year. While it's not for everyone, you have to appreciate the sheer breadth of modes available in EA FC 24, with even those who don't like competitive multiplayer catered to with the ability to scout the next big thing in football with the best cheap wonderkids as part of Career Mode.
There's something about scouting a wonderkid and growing them over many years in these games that's almost second to none, especially when you're able to find a really underrated gem for next to nothing and slowly cultivate their talents over many years. It's all well and good signing the likes of Højlund and Mudryk, but you won't find any of those players here. Instead, we're looking at wonderkids that might be under the radar and are viable for a whole range of clubs, not just the big boys with bottomless purses.
This year, our EA Sports FC 24 wonderkids guide covers players from all kinds of backgrounds from players of all kinds of leagues. We can't promise that every single one of them will become the next Mbappe or Haaland, but what you will get is a youngster on the cheap that you will be able to sell on for massive profit down the years or grow into a mainstay of your squad. Covering every position on the pitch, our wonderkids guide has you sorted for the future, with goalkeepers, defenders, midfielders, and attacker all scouted.
NOTE: bear in mind that values and the difficulty of signing these players will vary depending on the strictness of negotiations, and potential will vary depending on many factors, including the coaches you hire for development and how much they play.
EA Sports FC 24 Wonderkids
Best Young Goalkeepers
André Gomes (GK)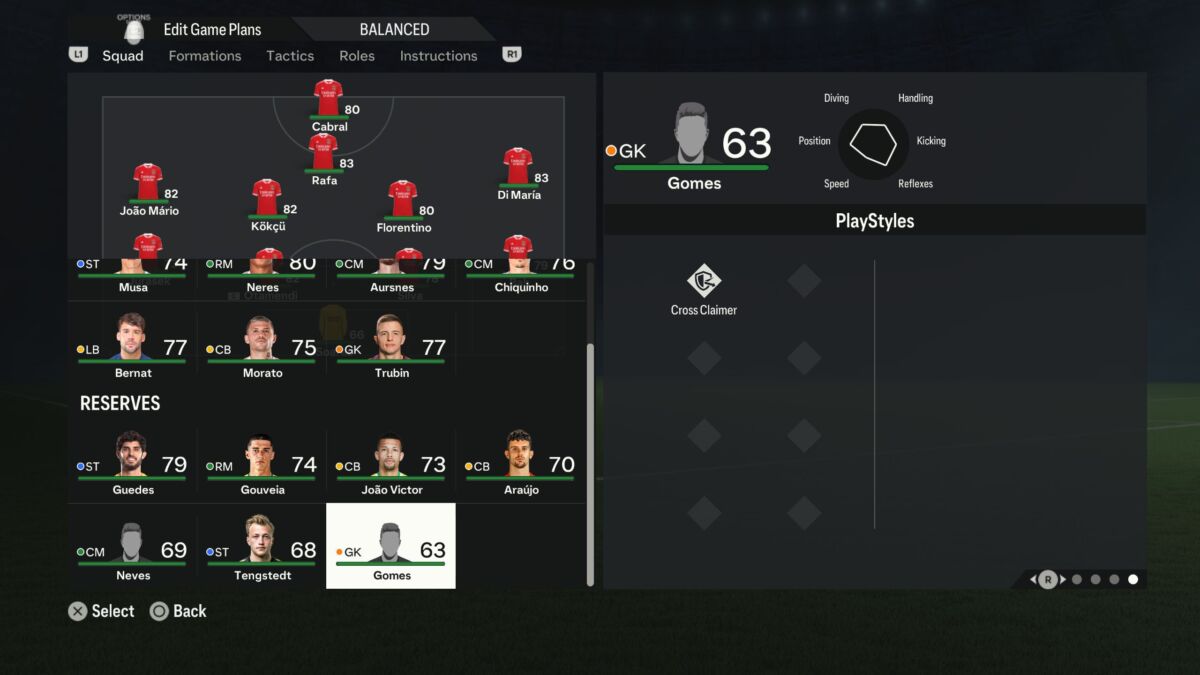 Age: 18
Rating: 63
Potential: 85+
Nationality: Portugal
Current Club: SL Benfica
Value: €1.4m
Not to be confused with the Everton outcast of the same name, Benfica's André Gomes is a player tipped to go to very high places in football — it's not often you see a young goalkeeper with these kinds of stats, and even a trait that allows him to claim crosses.
He will be best suited to lower league football to begin with, but if you put him on a development plan with a quality goalkeeping coach, you should see his rating soar before too long. Consider sending him out on loan for a year for experience too, don't forget that goalkeepers tend to peak a bit later.
Dennis Seimen (GK)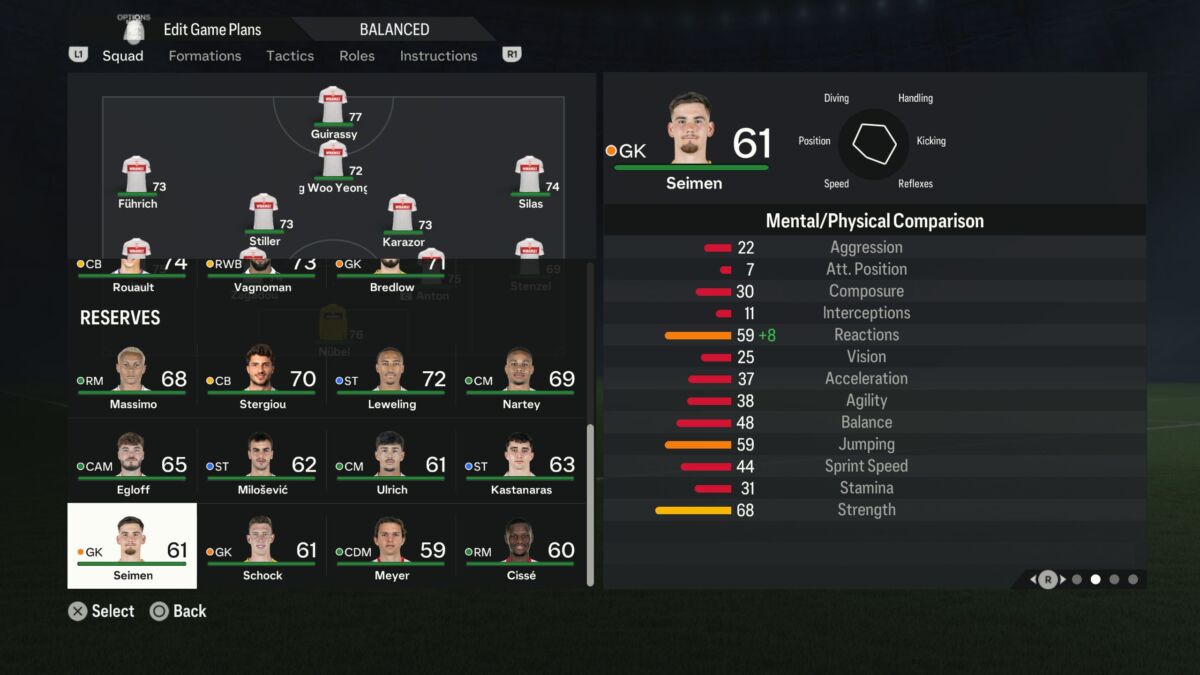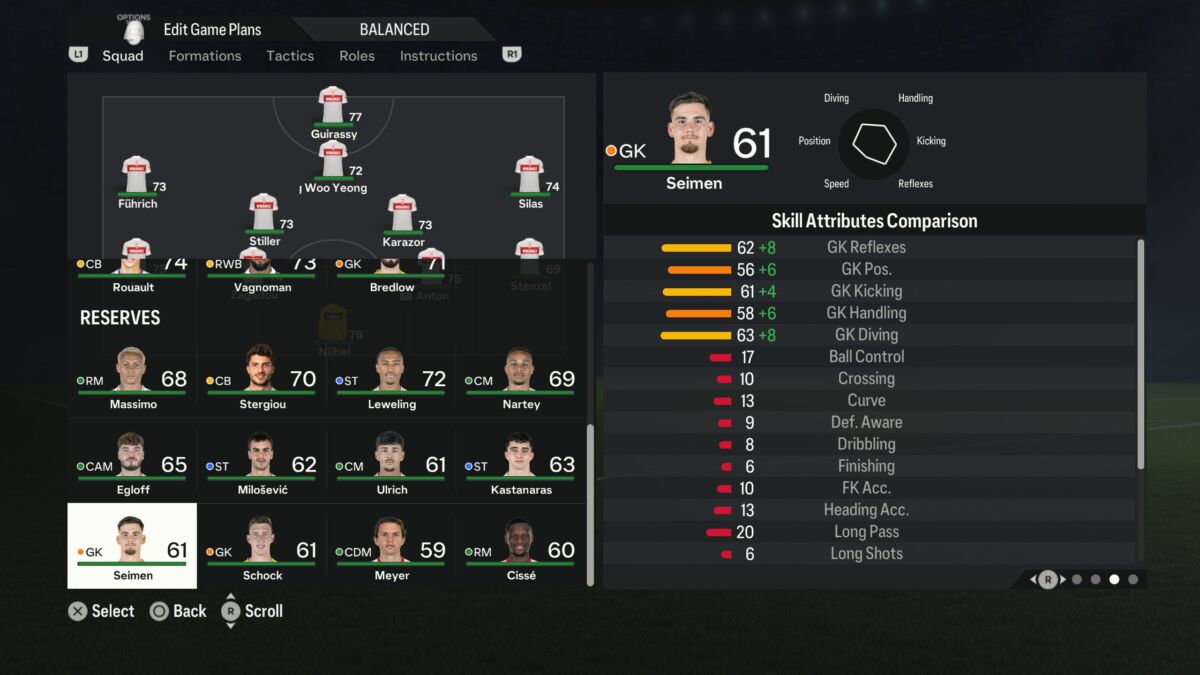 Age: 17
Rating: 61
Potential: 80+
Nationality: German
Current Club: VFB Stuttgart
Value: €925k
Get the giggling out of your system then appreciate just how good Dennis Seimen will be for most clubs in a top league. The German youngster will be far too big a risk for most elite clubs from day one, but if you cultivate his potential, you're looking at a player with one of the highest skill ceilings across all of EA FC 24.
Standing at a fairly commanding 6'3″ with some solid if not great goalkeeping stats from day one, Seimen is a bit of a blank canvas for your Career save. Whether you want him to be a shot stopper or a sweeper, there's a chance he can do it, and all for quite the bargain price too. Just make sure he gets game time somewhere.
Guillaume Restes (GK)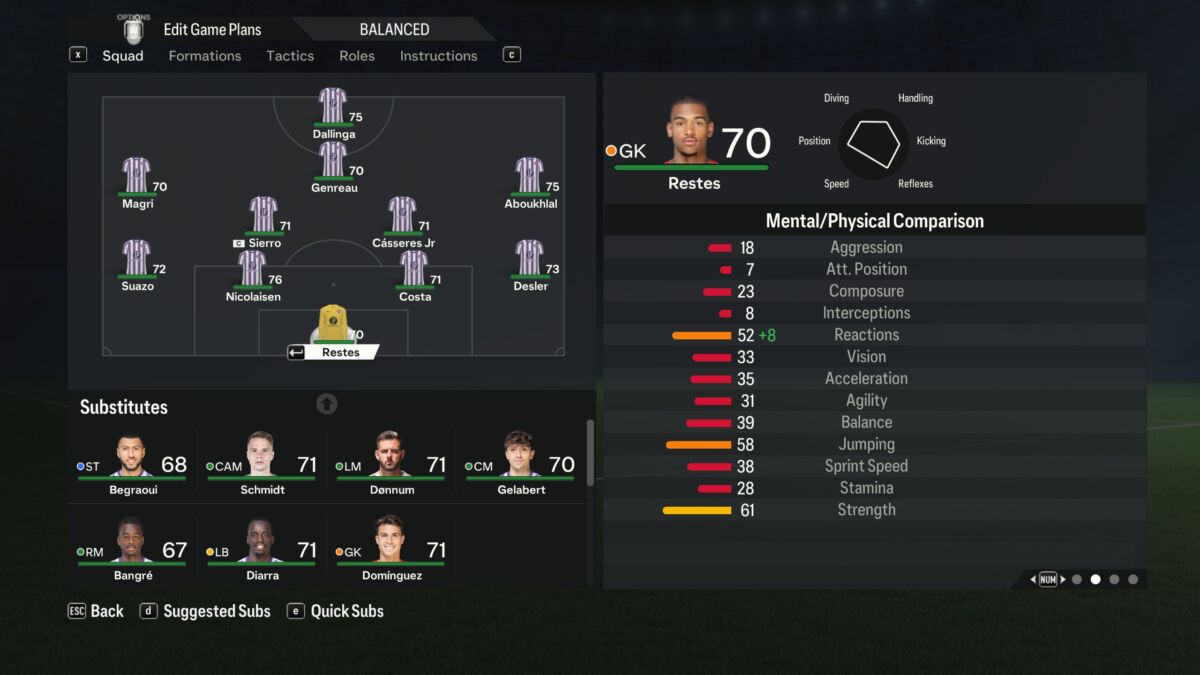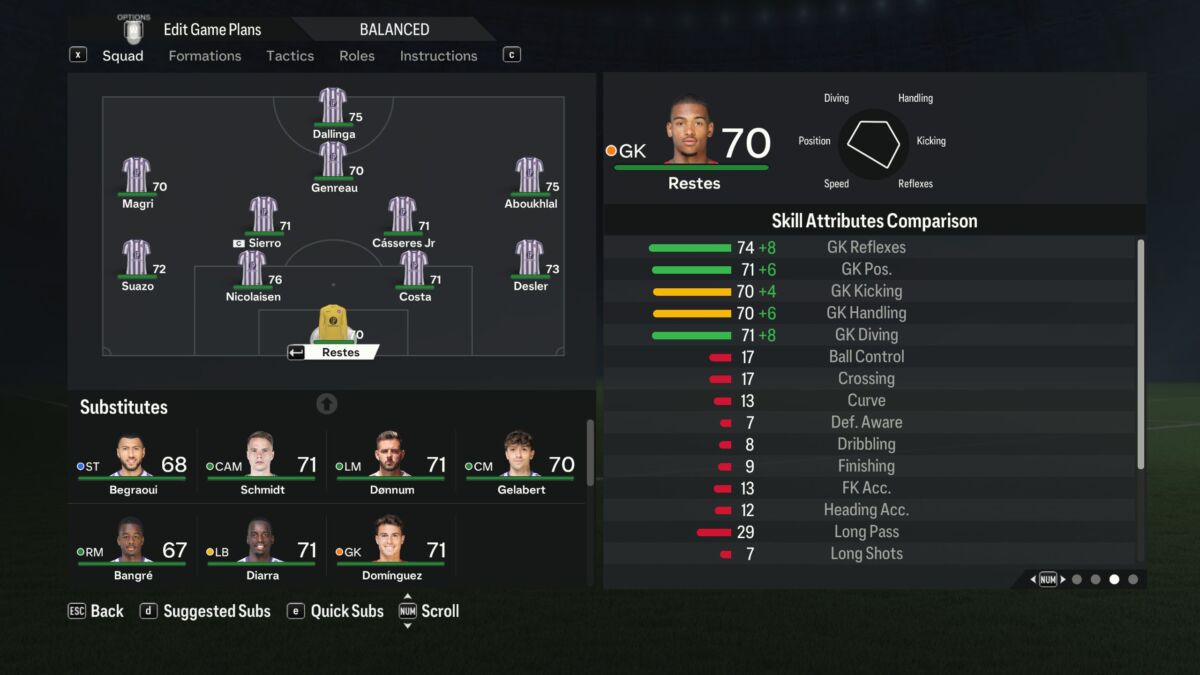 Age: 18
Rating: 70
Potential: 85+
Nationality: French
Current Club: Toulouse FC
Value: €3.6m (€9.4m release fee)
A returning wonderkid from FIFA 23, a lot is expected of Guillaume Restes with France producing quality keeper after quality keeper in recent years. He isn't far away from a big move, and it's easy to see why.
With most of the more important GK attributes already at 70+ and with about 12 more years of growth before he hits his peak, you shouldn't rest until you get Restes in your team. He'd be a good #2 from day one.
Best Young Full-Backs/Wing-Backs
Alvaro Fernandez (LWB)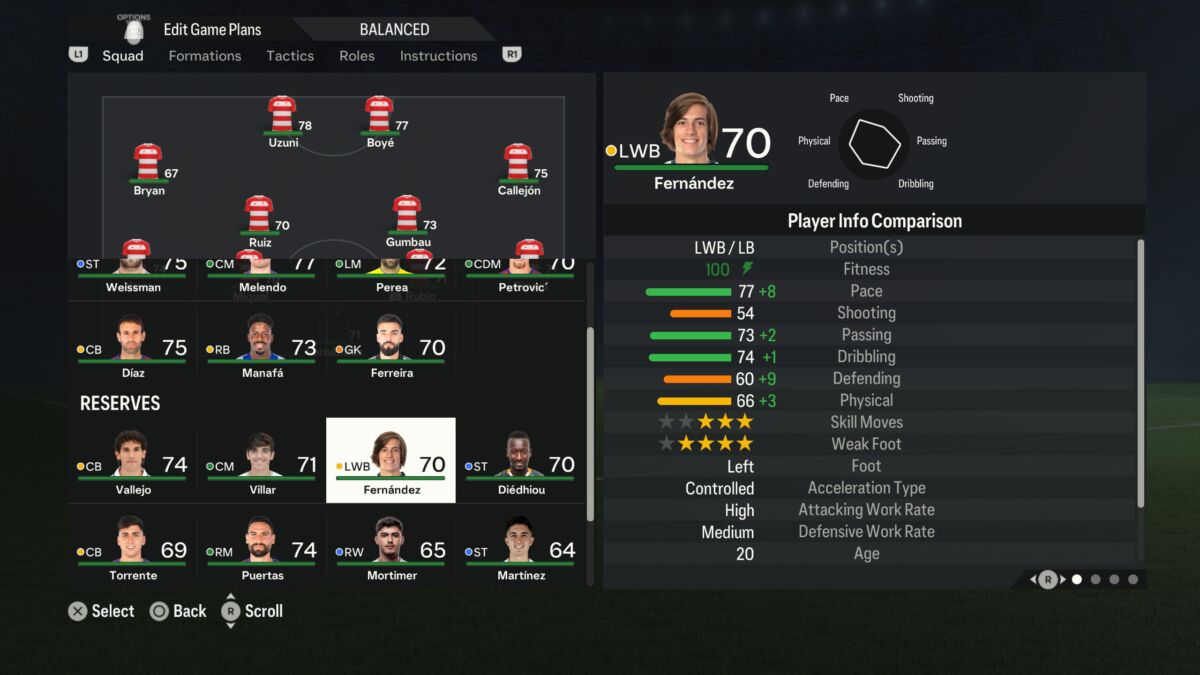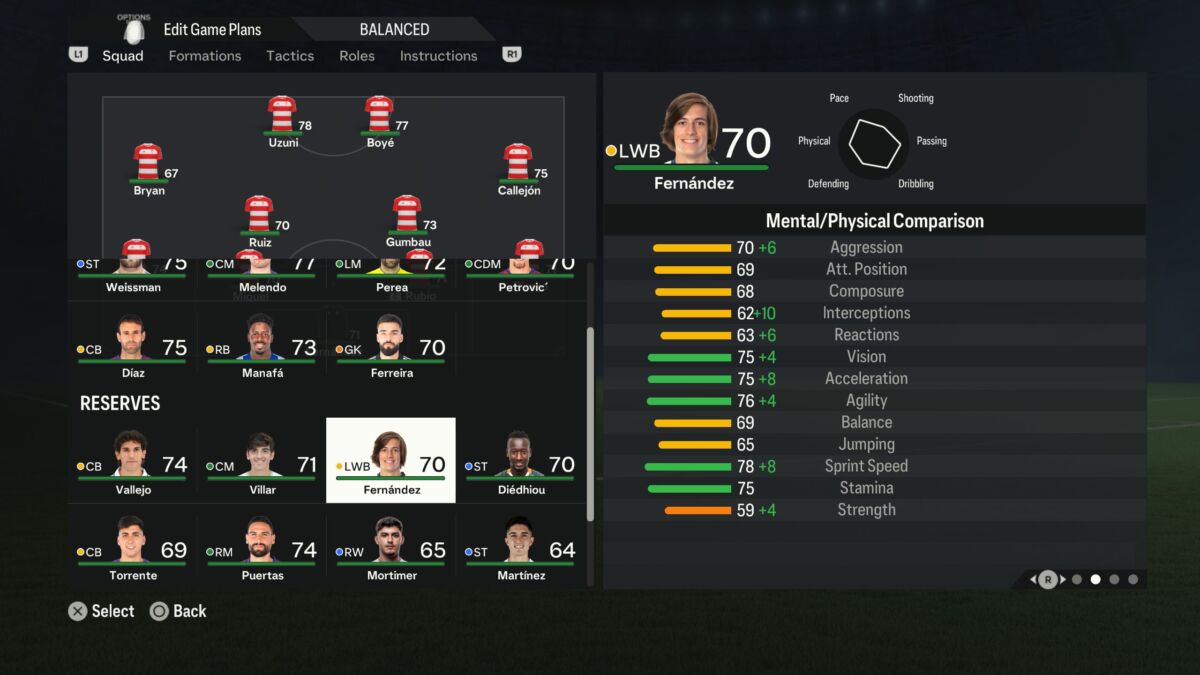 Age: 20
Rating: 70
Potential: 85+
Nationality: Spanish
Current Club: Granada CF
Value: €3.9m (€9.4m release fee)
Alvaro Fernandez has basically everything top clubs are looking for from a modern wing-back. Pacey (though not exactly the quickest), good with the ball at his feet, and a solid passer, the 20-year old Spaniard has the kind of attributes that a Premier League club would pay way too much for.
Luckily for you, he's not going to cost you all that much in EA Sports FC 24. Do try and stick him on a defending development plan — he is a modern wing-back, after all.
Jose Carmona (RWB)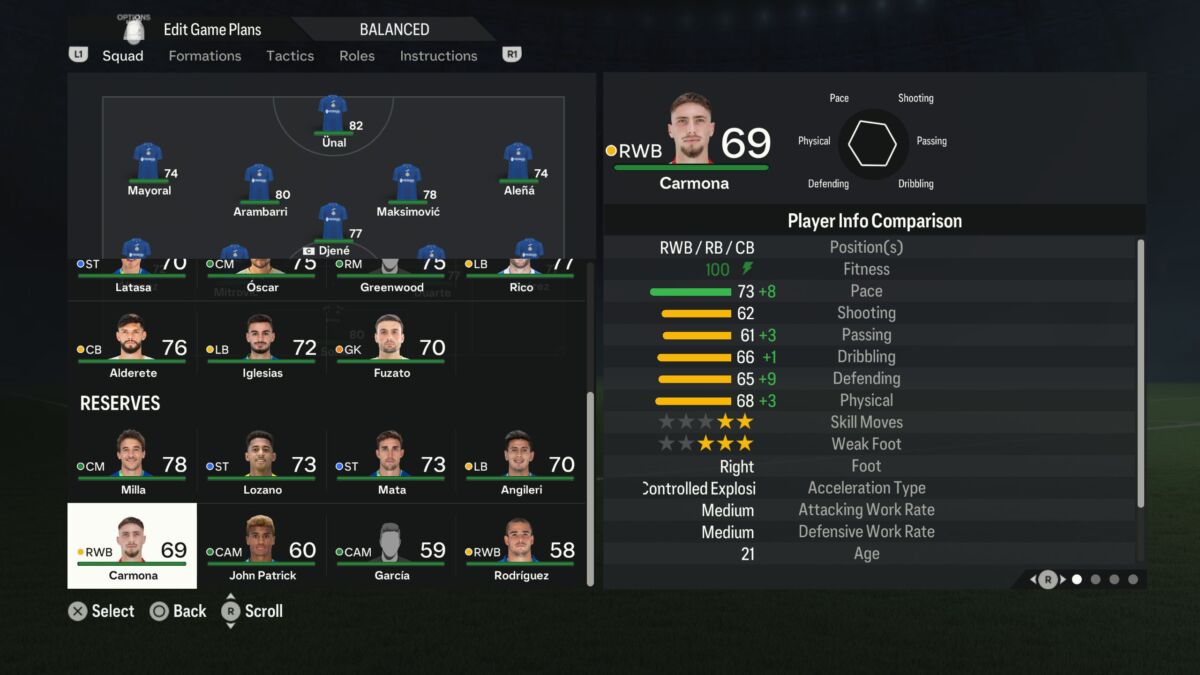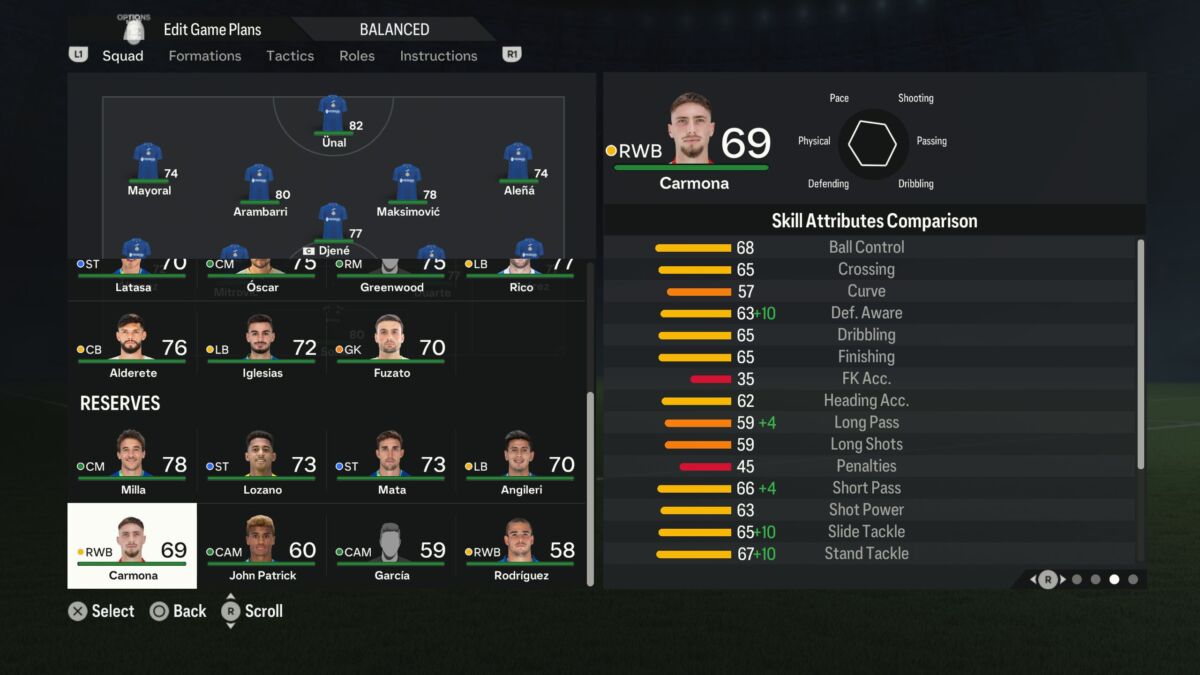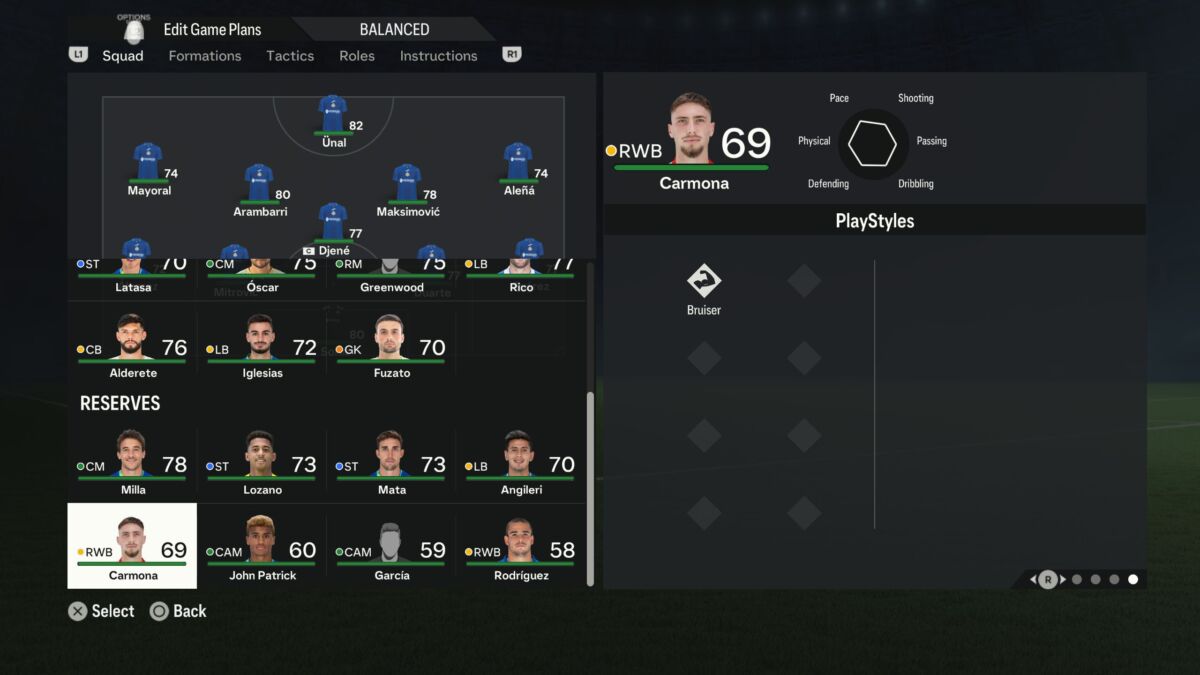 Age: 21
Rating: 69
Potential: 80+
Nationality: Spanish
Current Club: Getafe CF
Value: €3.3m
It sure seems like Spain is where you want to go if you need some affordable full backs these days. Getafe's Jose Carmona is also available for a relative snip as a cheap EA FC wonderkid, and he's got plenty to offer a team in mid-table in most of the leagues around Europe.
Carmona likely won't develop into an absolute world beater, but he is a solid all rounder who knows how to throw himself into a tackle. He's slightly on the tall side for a full-back as well, though obviously not at Dan Burn levels.
Rico Lewis (RB)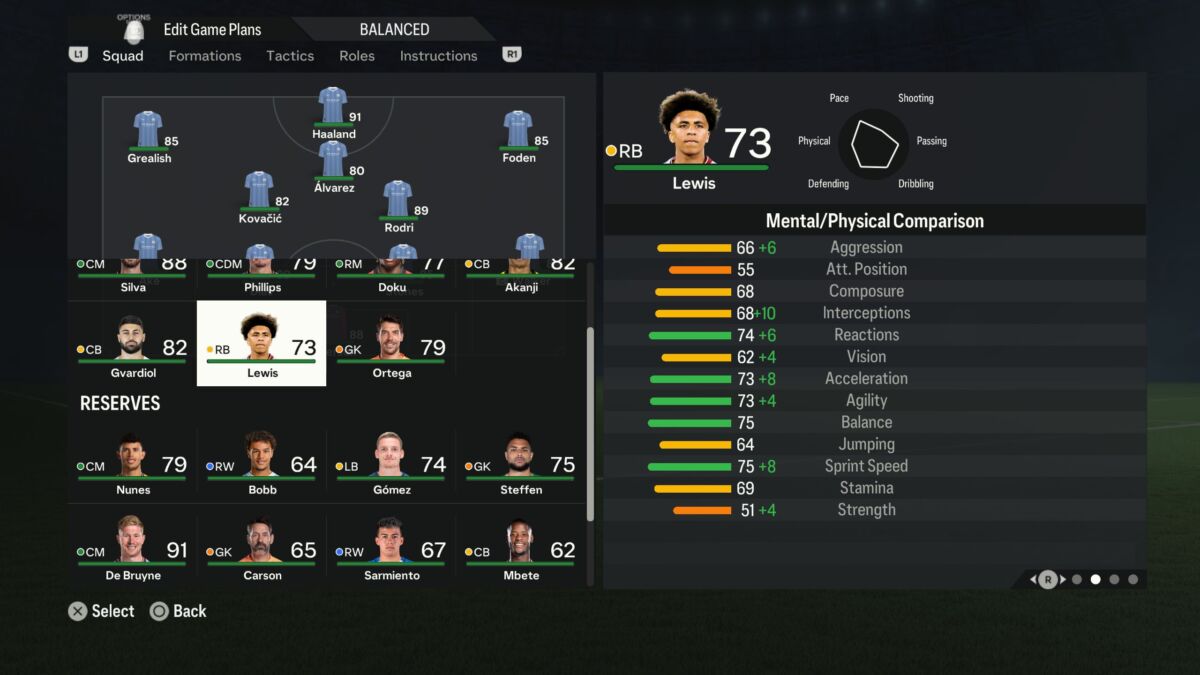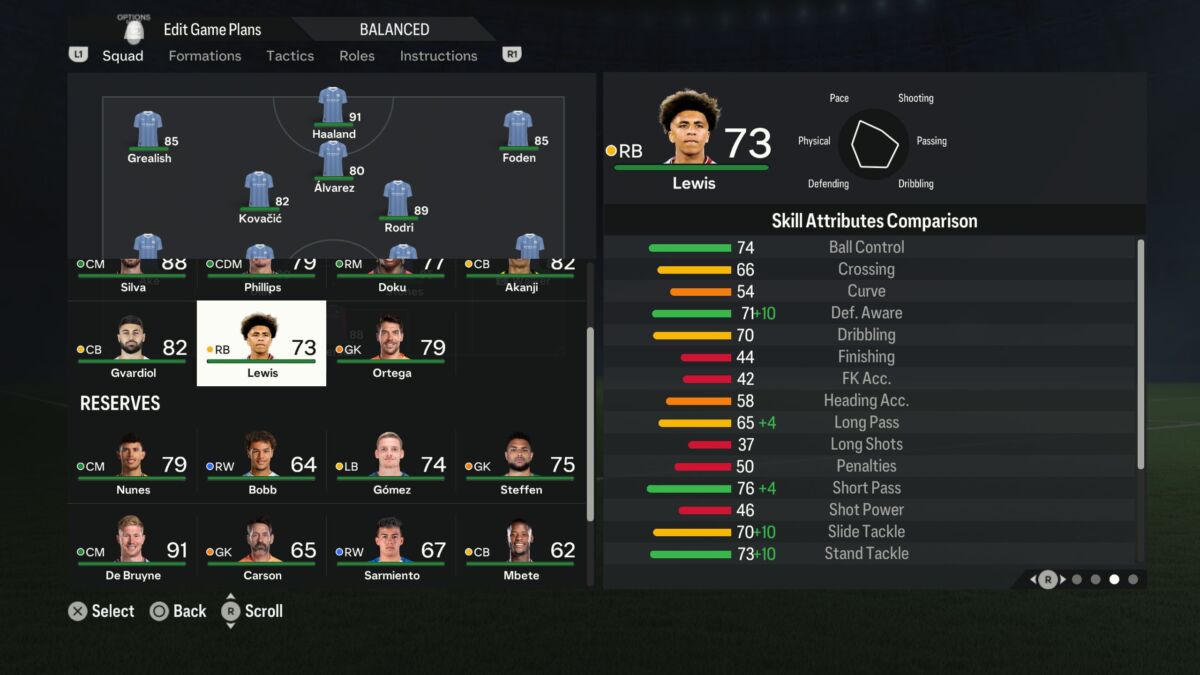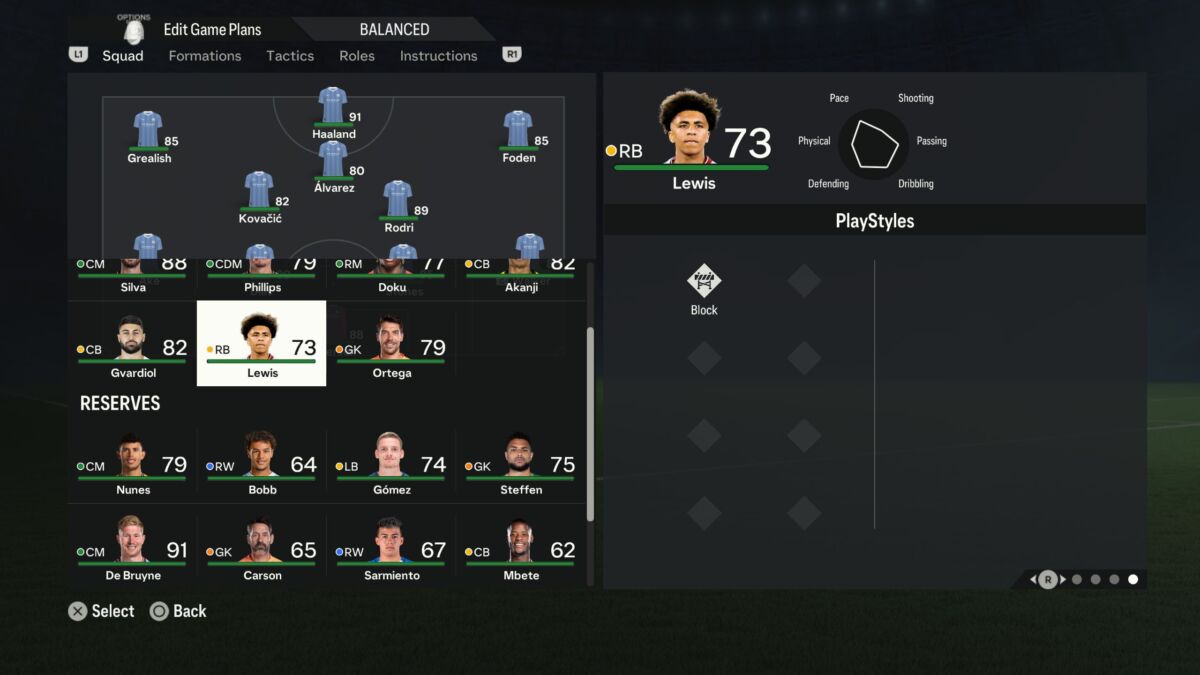 Age: 18
Rating: 73
Potential: 83+
Nationality: English
Current Club: Manchester City
Value: €7m
Pretty much proof that EA FC isn't exactly the most realistic game in the world, one of the most promising and famous young English players in the world is available to you for about a sixth of what made Chelsea paid for Cucurella.
At just 18, Rico Lewis is already better than most of the full-backs and within no time at all will be one of the best full-backs in the world. His passing isn't brilliant, but the solid pace and excellent dribbling make up for it, and that's without mentioning his brilliant tackling.
Patrick Dorgu (LB/LWB)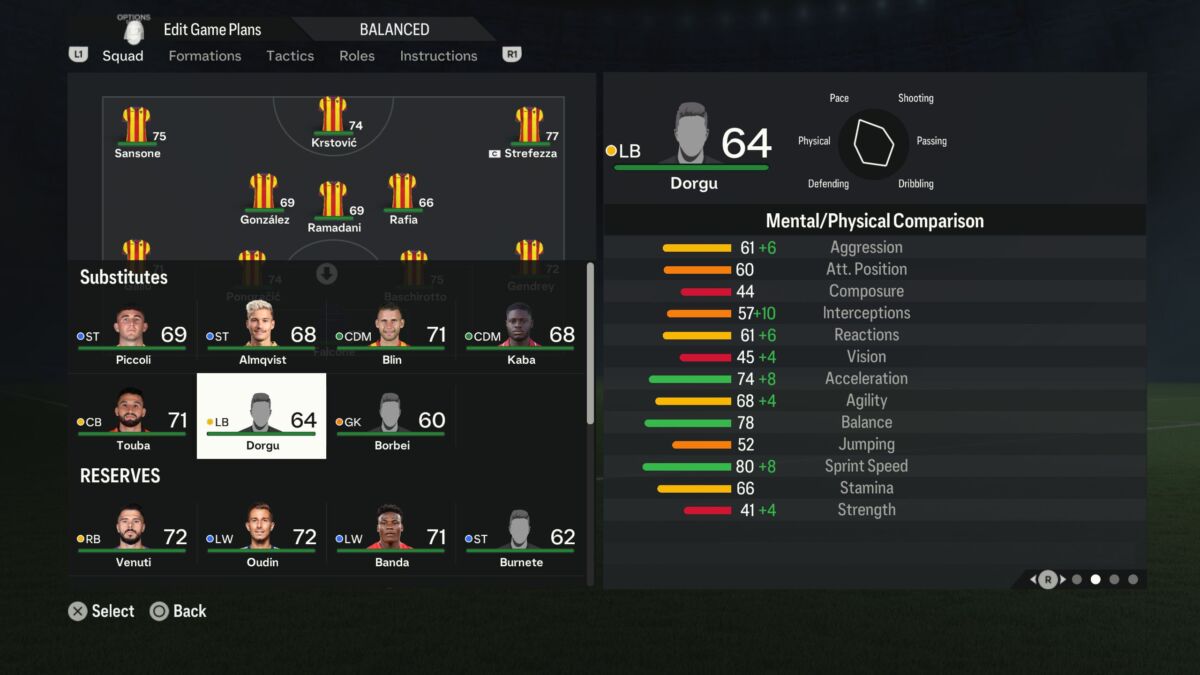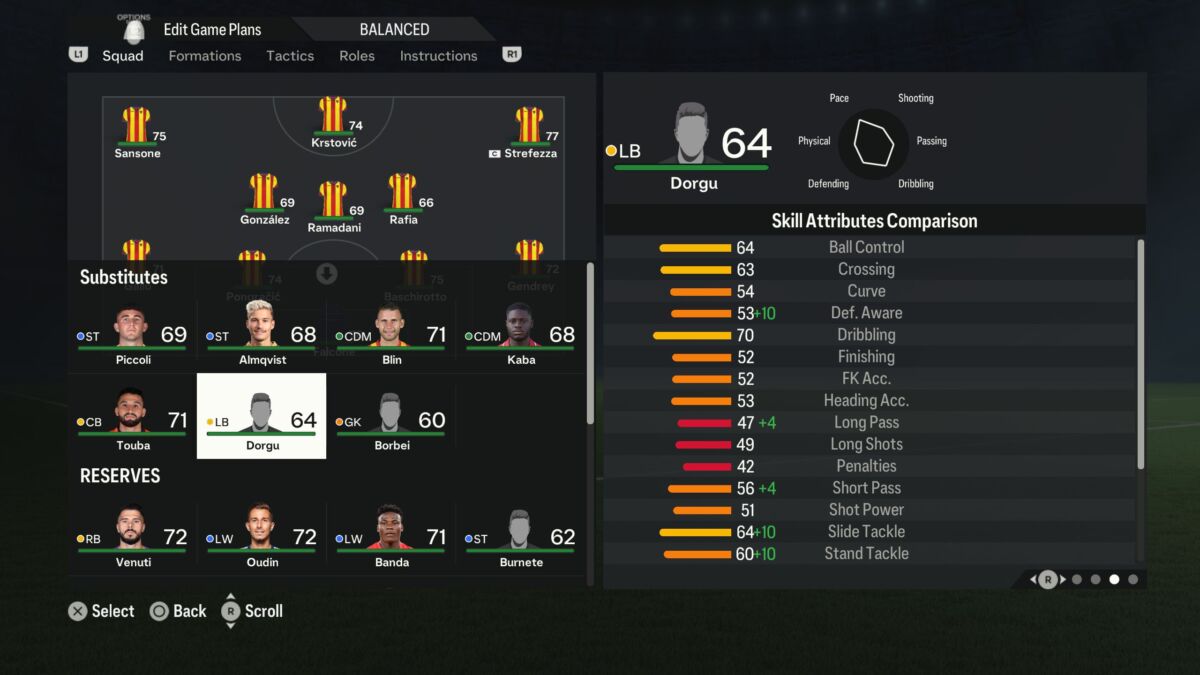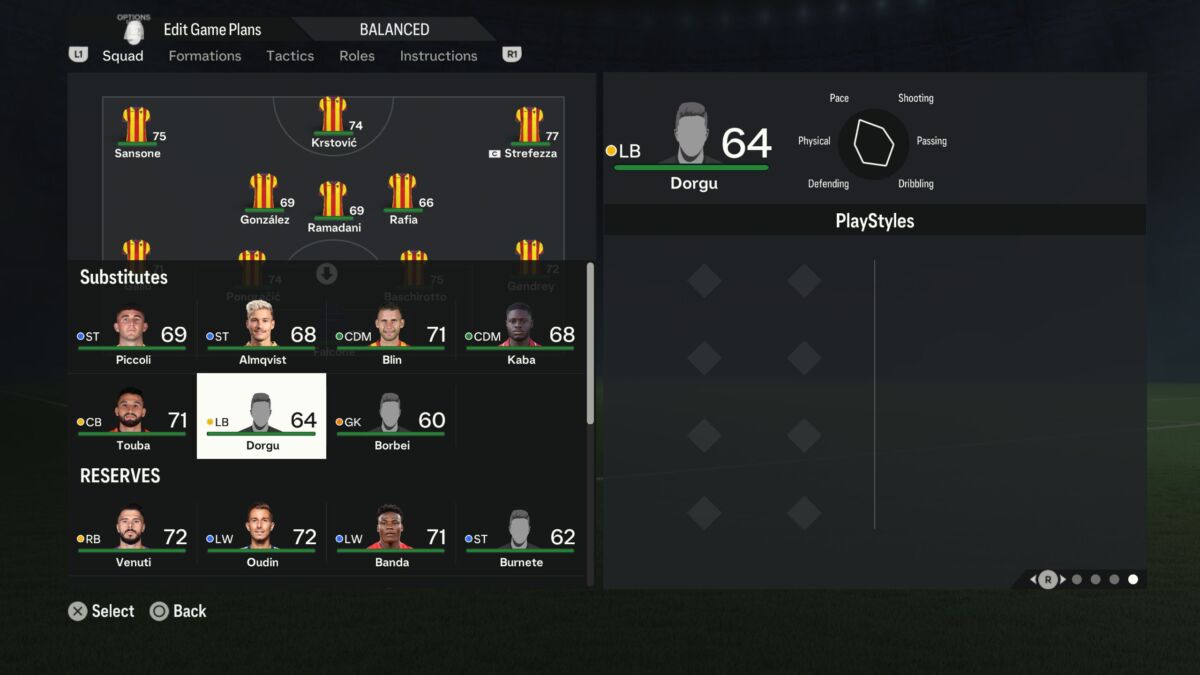 Age: 18
Rating: 64
Potential: 85+
Nationality: Danish
Current Club: Lecce
Value: €1.8m
The full back with the biggest growth potential across all of EA FC 24 is Patrick Dorgu, a Danish left-back who is already making a bit of a name for himself at Lecce. A 20+ point growth jump is nothing to be sniffed at, but Dorgu's overall game is already pretty decent.
Nimble with solid crossing and good ball control, Dorgu does need to work on the tackling side of his game, and also might let you down just a bit when it comes to the end product in the final third, but, as we always say, that's something for training and experience to fix. We're not saying his going to be the next Roberto Carlos, but there's definitely a very solid player waited to be taught here.
Best Young Center-Backs
Jorrel Hato (CB/LB)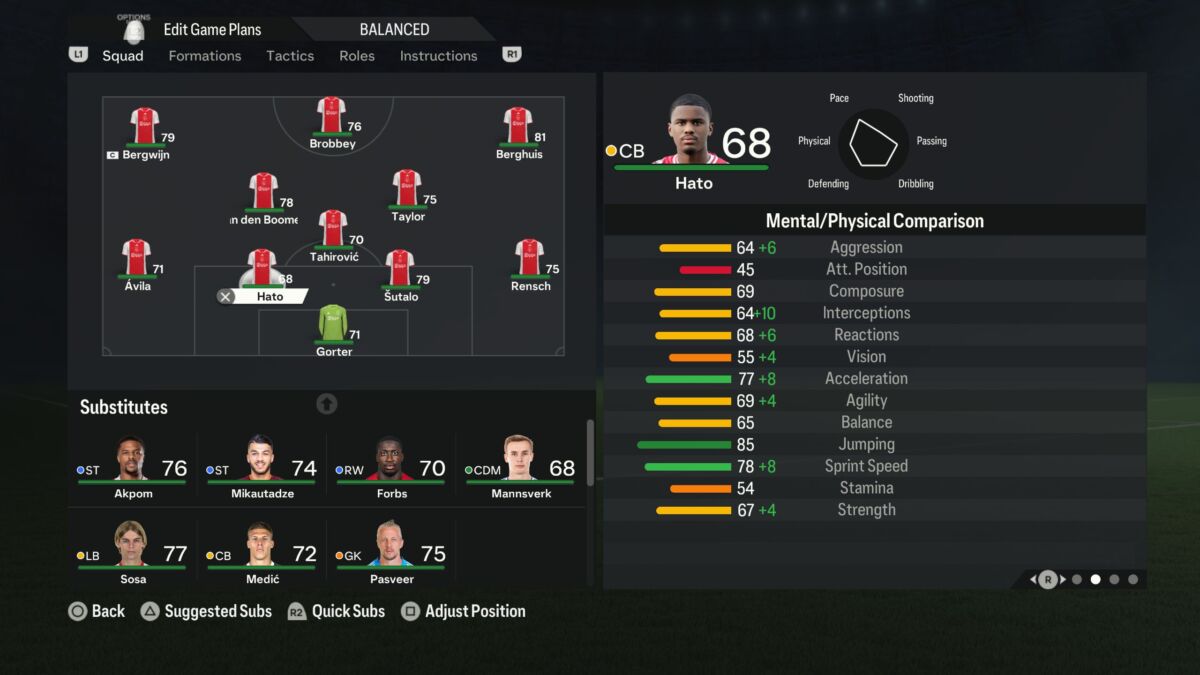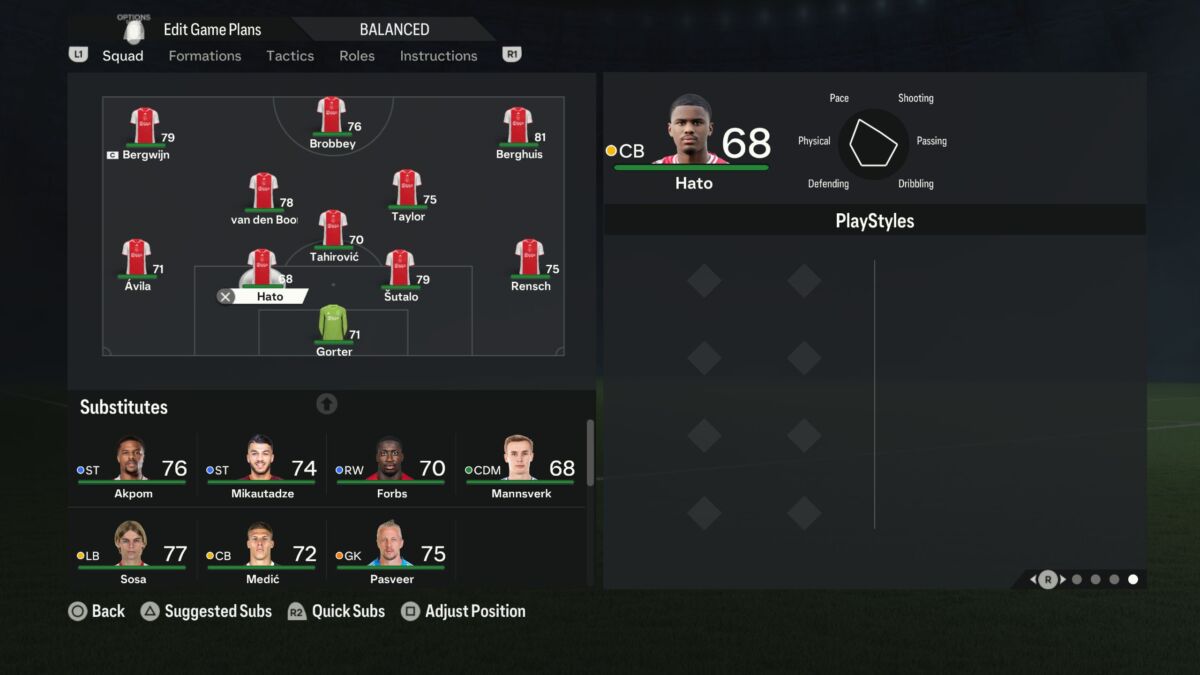 Age: 17
Rating: 68
Potential: 85+
Nationality: Dutch
Current Club: Ajax
Value: €2.8M (€5.7M release)
Possibly the best value wonderkid CB across the whole of EA FC 24, Jorrel Hato has been turning out fairly regularly for the gigantic Ajax in the Eredivisie and hasn't really looked out of place despite being just 17, even if Ajax themselves are at a low ebb.
Also able to play as a LB, Hato has the kind of quickness you need from a modern defender and also knows how to spray the ball across the pitch. But get a load of his jumping attributes — he isn't going to lose his man at many corners.
Jorne Spileers (CB)
Age: 17
Rating: 69
Potential: 85+
Nationality: Belgian
Current Club: Club Brugge
Value: €3.3M (€7M release)
Belgium has been known to churn out plenty of quality CBs over the years (Vermaelen, Vertonghen, Alderweireld, Kompany), and Jorne Spileers is a name who looks likely to be added to that list over the coming years.
Already boasting pretty solid jumping, interceptions, and awareness, Spileers is pretty young to be at heart of defense at just 17, but the fact that he already turns out for Brugge says it all. With a €7M release clause and maybe even less of an asking price if you're clever at negotiating, Spileers is an affordable wonderkid who could probably do with at least a loan.
Jarrad Branthwaite (CB)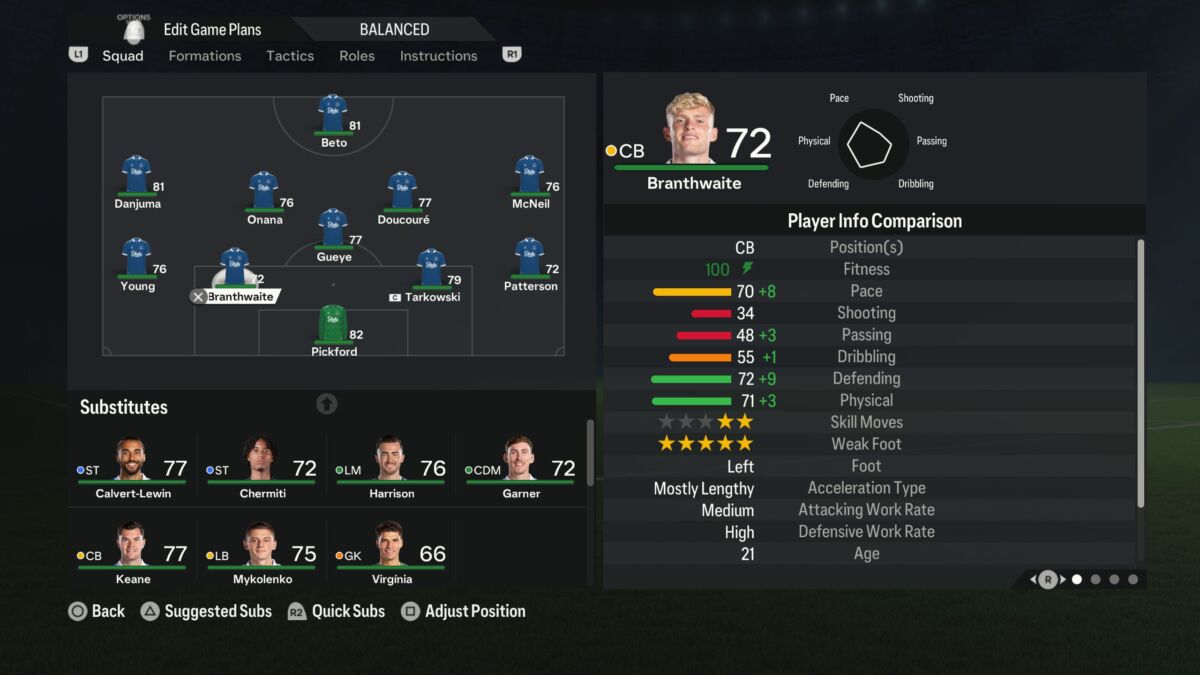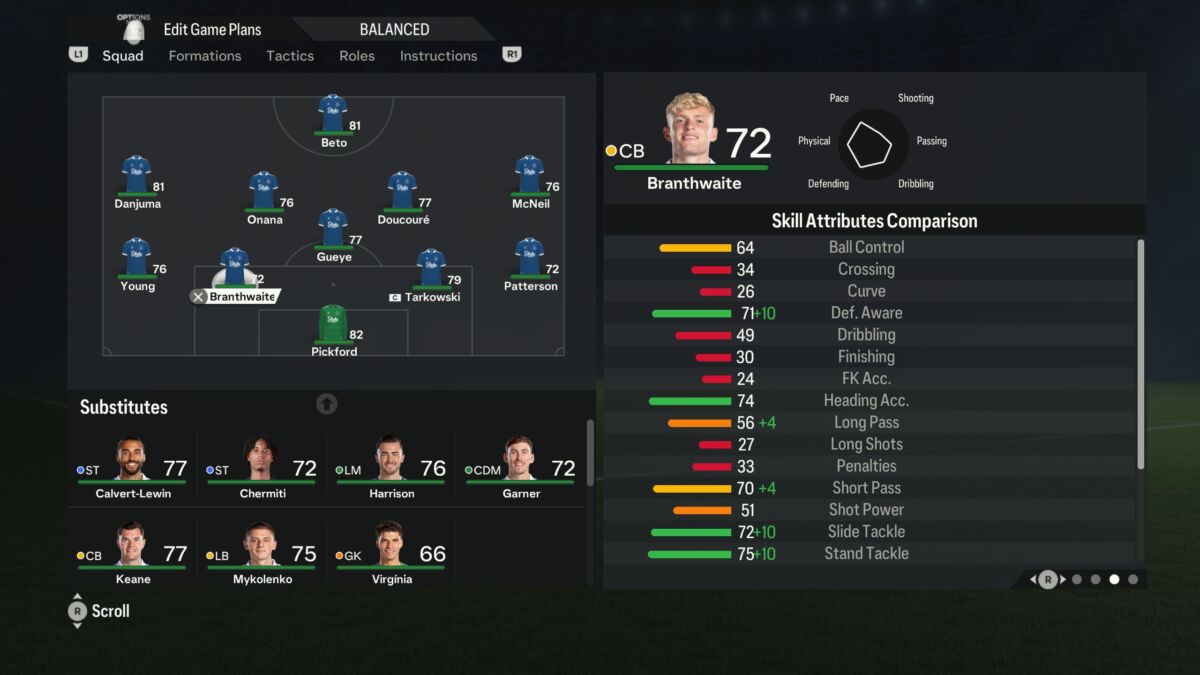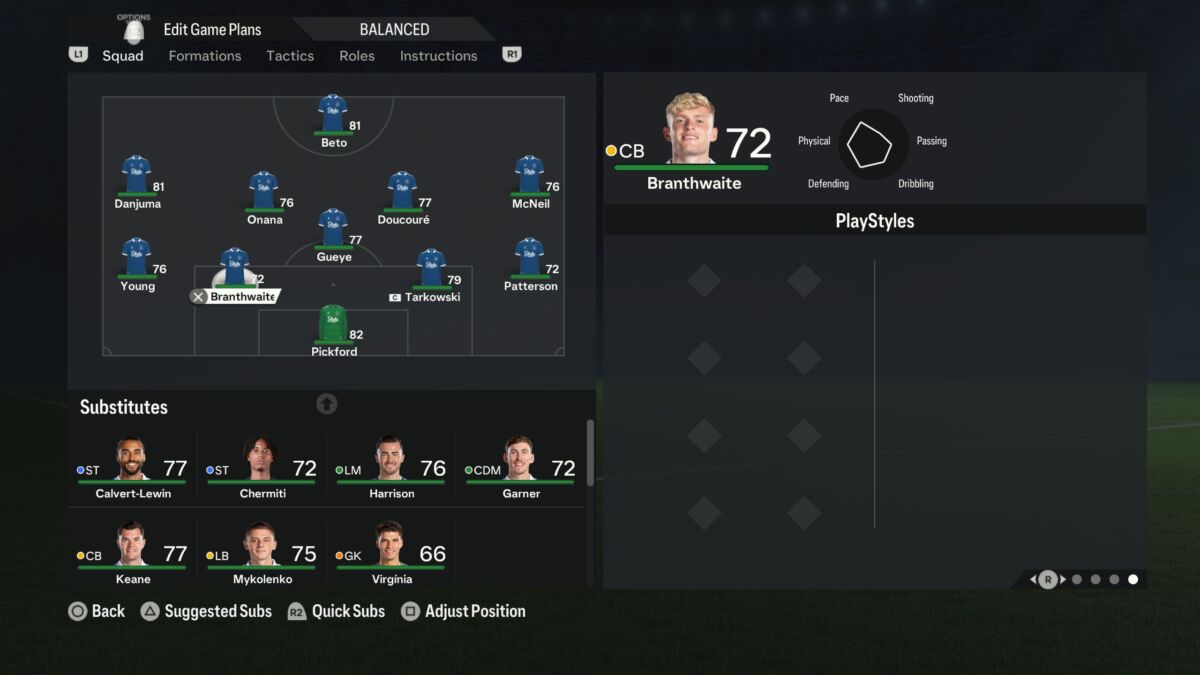 Age: 21
Rating: 72
Potential: 85+
Nationality: England
Current Club: Everton
Value: €5.5m
A central defender expected to have a breakout season at Everton (if they still exist as a club by the end of it), Jarrad Branthwaite has been a wonderkid for many years within FIFA and he's one of the best young defenders across the whole of EA Sports FC 24.
Deceptively fast and with 5-star weak foot, Branthwaite is tall and strong while also being very solid on the ball. This guy's got England starter written all over him for the future, so be sure to snap him for relatively cheap while you still can.
Wisdom Amey (CB)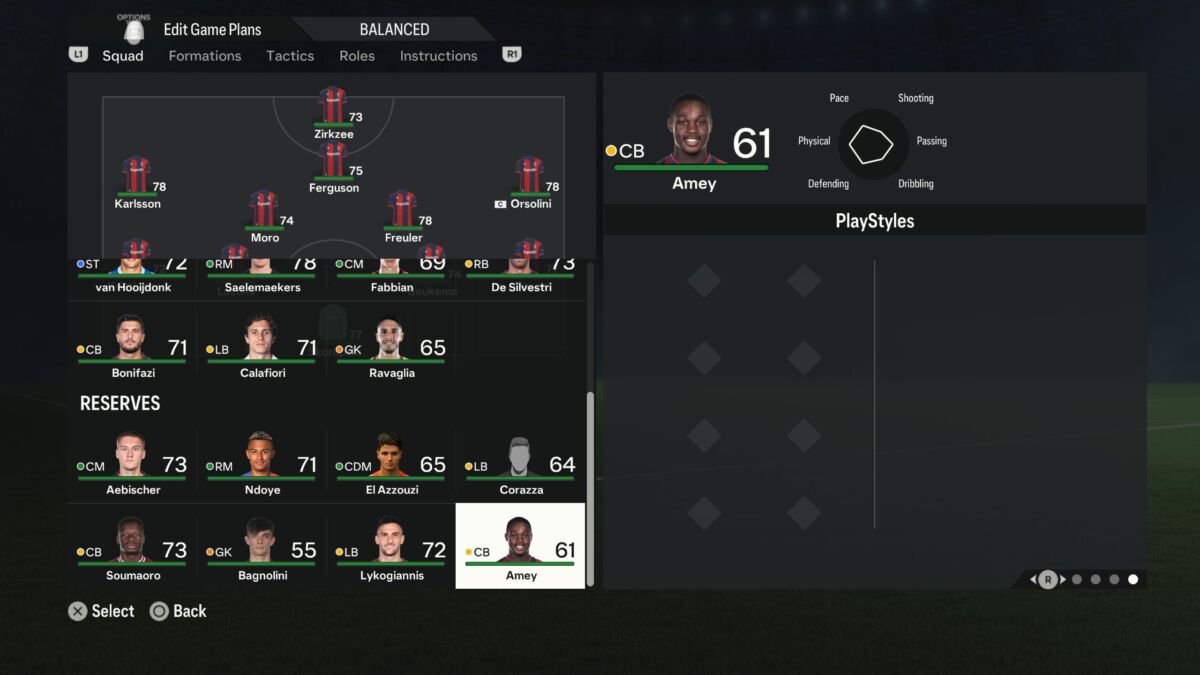 Age: 17
Rating: 61
Potential: 80+
Nationality: Italian
Current Club: Bologna
Value: €975,000
EA sure seem to have a lot of faith in a 17 year old who's only made two senior appearances in their career so far, but if you're looking for a super cheap wonderkid defender for your team this year, look no further than Wisdom Amey.
Though not the tallest CB in EA FC 24, he makes up for that with some solid strength stats and physical attributes overall. He still has about 13 seasons before he reaches his peak, so if he's this much of a beast at 17, imagine how good he will be come his late 20s.
Leon King (CB/CDM)
Age: 19
Rating: 66
Potential: 85+
Nationality: Scottish
Current Club: Rangers
Value: €2.1M
Scotland seems like the place to be in this year's game if you're looking for super cheap wonderkids. Rangers' Leon King already has a lot of eyes on him, and he's one you should be keeping an eye on too.
Capable of playing anywhere in a back four or as its shield, King will be a solid utility player for most sides from day one of your save, but he will also grow pretty quickly and potentially reach high potential. Try to play him often and your depth option could turn into a starter.
Best Young Midfielders
Noah Mbamba (CDM/CB)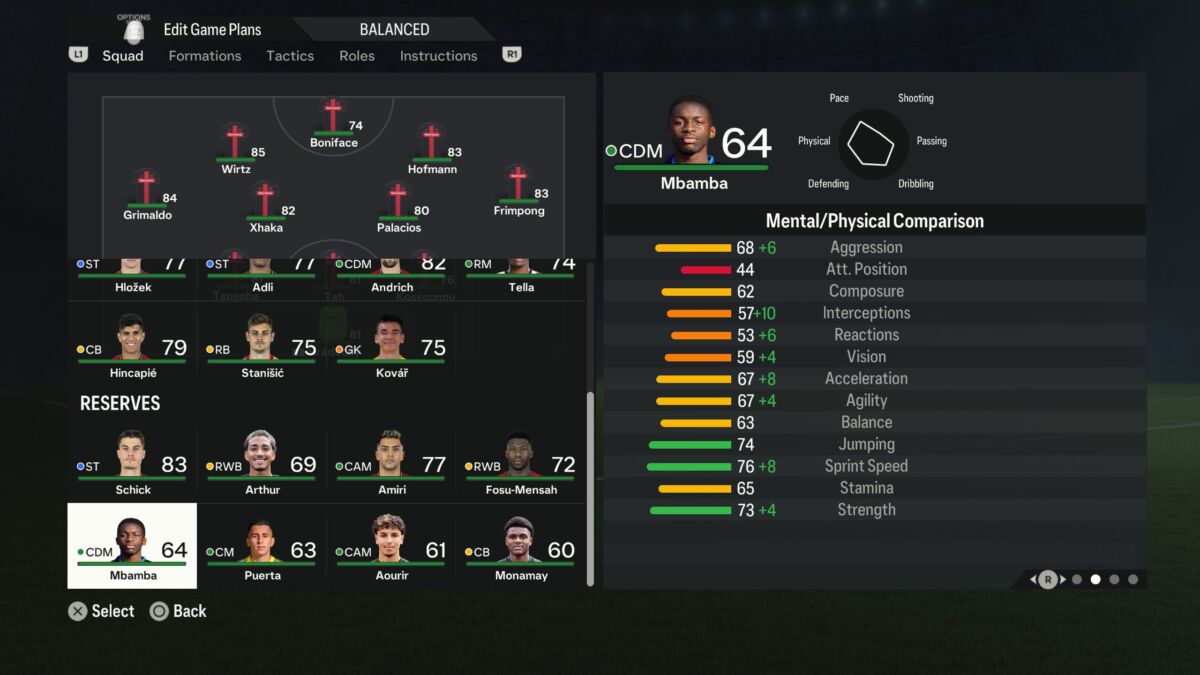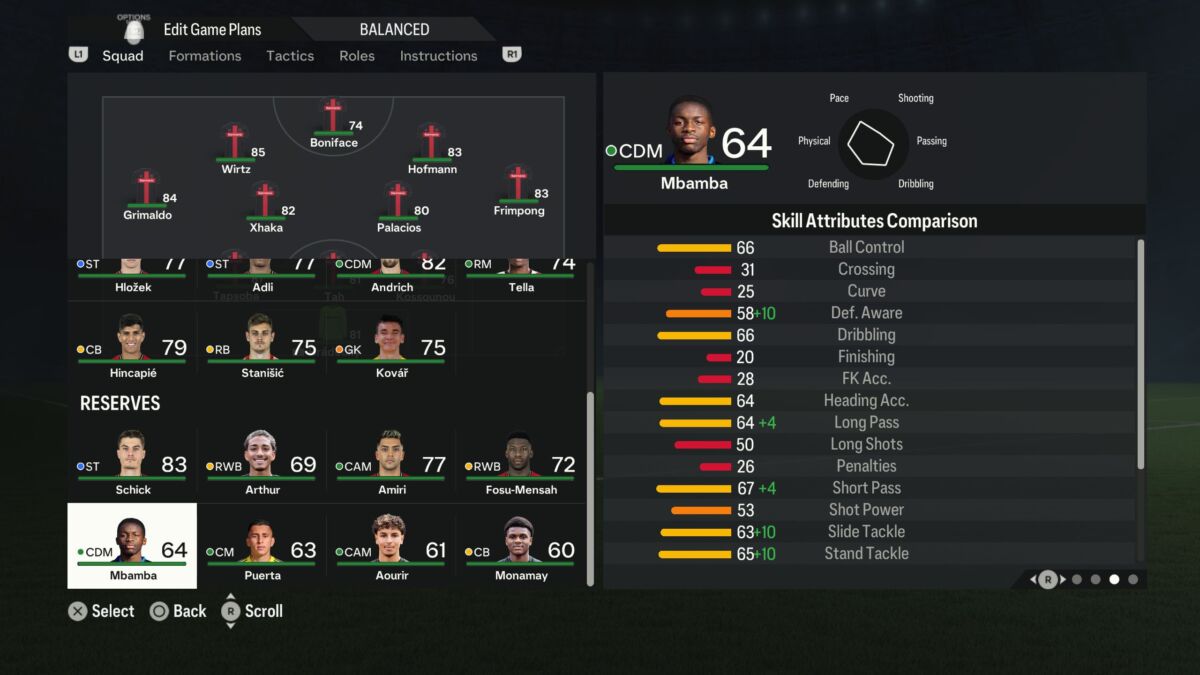 Age: 18
Rating: 64
Potential: 80+
Nationality: Belgian
Current Club: Bayer Leverkusen
Value: €1.5M
A returning wonderkid from last year, the Belgian Mbamba is into his second season at Leverkusen at the start of your Career and is ripe for a solid loan to a bottom half side, or even just a full transfer.
He might not grow into one of the game's absolute elite CDMs (who can also play back in CB), but he's got plenty of place and is quite physical despite being just 18. Deploy him in more of a destroyer role and there's a good chance he could be a budget winner for anyone in the mid-table for quite a long time.
Bailey Rice (CDM)
Age: 16
Rating: 59
Potential: 85
Nationality: Scottish
Current Club: Rangers
Value: €875k (€2.5m release clause)
Someone at EA Sports is absolutely convinced that Scotland's next generation are going to go on to become absolute world beaters. While we've got a few years to go to find that out for real (spoiler alert: they're probably not), you can find out right now in EA FC 24 by buying Bailey Rice on the cheap.
A CDM with plenty of room to develop, Rangers' Rice has strong mentals for a player of his age, though his lack of strength or physicals in general means that he probably needs at least a couple of loans before he features for you. Buy him at the start of your save for just a little over a million and bank big in the future.
Tim Iroegbunam (CDM)
Age: 20
Rating: 67
Potential: 85+
Nationality: England
Current Club: Aston Villa
Value: €2,300,000
A young English midfielder who doesn't immediately leap out in terms of basic attributes, Villa's Tim Iroegbunam is listed as a World Class Prospect as he has so much room to grow basically everywhere.
There isn't anywhere in his game that's particularly amazing. Best played while shielding the back four, stick him on a development plan with quality coaching and you won't have to fret too much about signing the next Caicedo for crazy amounts of money.
Sidney Raebiger (CM)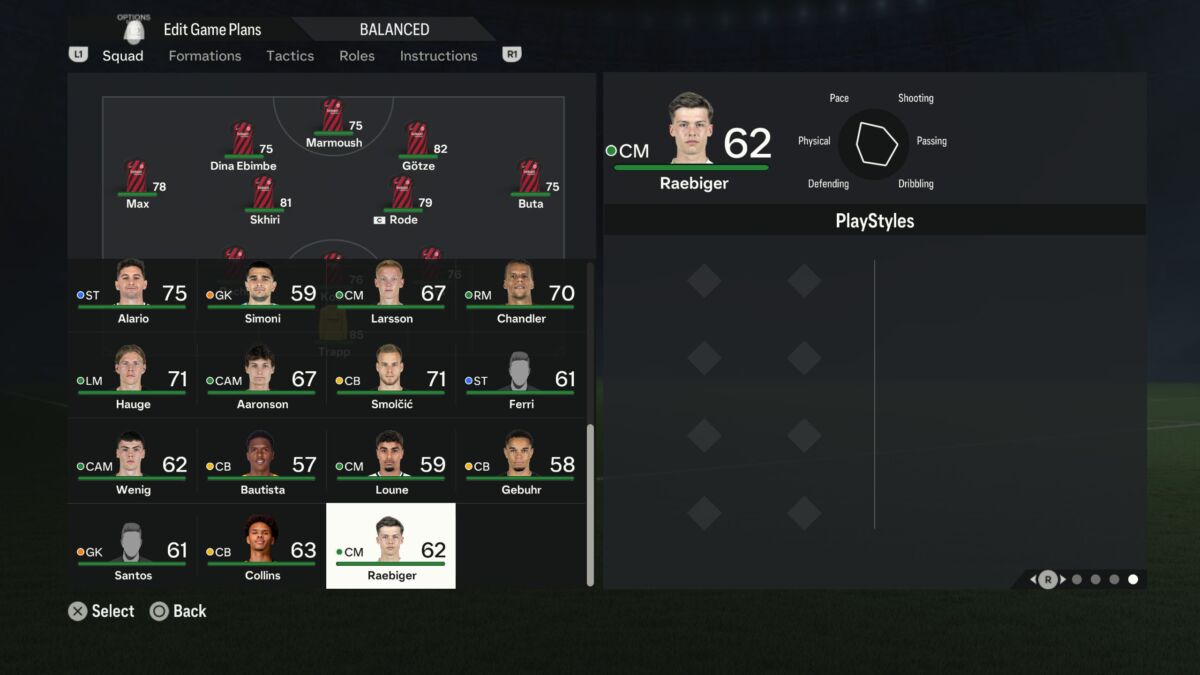 Age: 18
Rating: 62
Potential: 80+
Nationality: German
Current Club: Eintracht Frankfurt
Value: €1.1m
A player who will be a solid hand in the middle of the pitch for most of their career, Frankfurt's Sidney Raebiger has plenty of room to grow but is already fairly fast and is difficult to get the ball off despite the lack of strength, which is really their downfall in the super physical modern game.
However, if you're after a no-fuss ball carrier who can do the basics or just provide you with some depth for many years, you don't need a bigger name when this guy could be yours for less than €2m.
Lennon Miller (CM)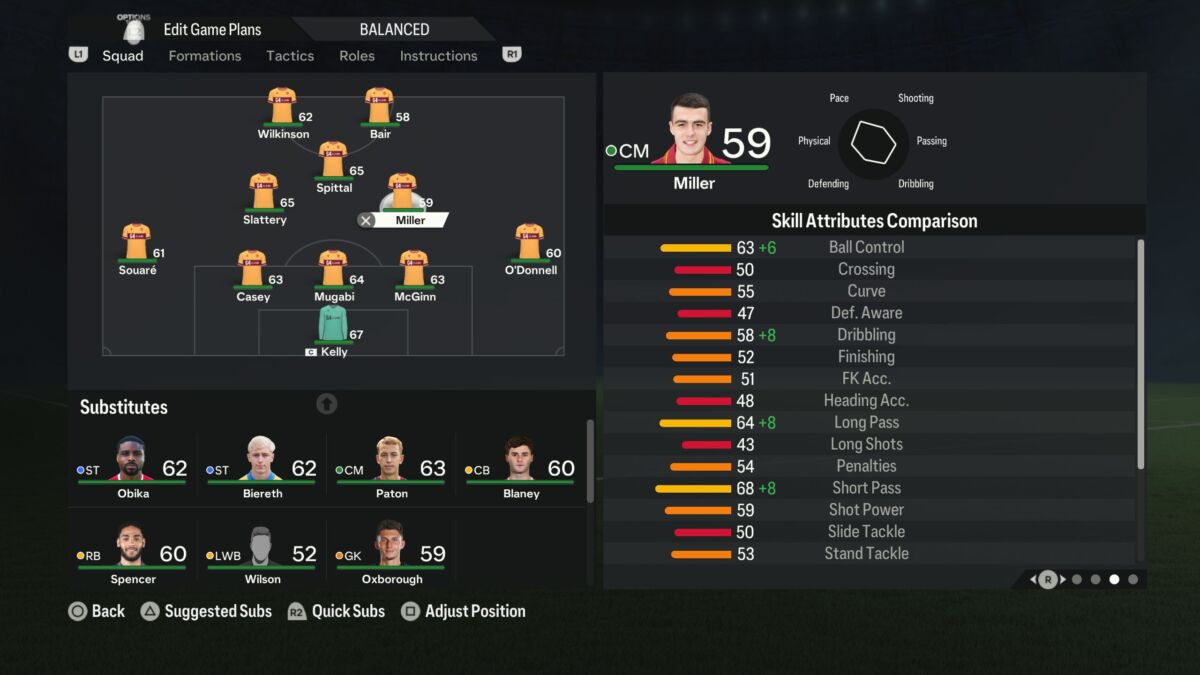 Age: 16
Rating: 59
Potential: 85+
Nationality: Scottish
Current Club: Motherwell
Value: €900k
Not an amalgamation of two of the most famous Scottish players of the last two decades but an actually real person, Lennon Miller is that annual curio with massive potential in EA's annual sports game that comes out of nowhere.
With near to the most growth potential in the game, Lennon Miller has got loads of room to grow compared to where he will start in your save. If you're in a second tier, he's the exact kind of player you want to buy for nothing then sell for at least 10x the profit in a few years — until EA patch his ratings, of course.
Maximo Perrone (CM)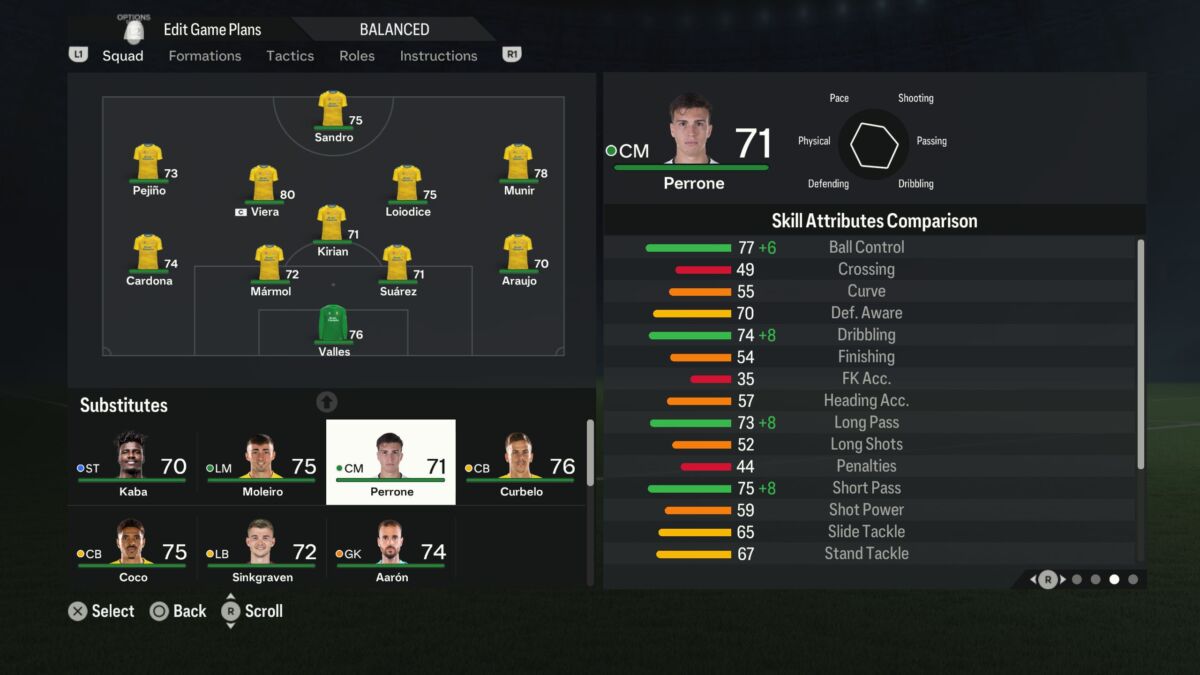 Age: 20
Rating: 71
Potential: 85+
Nationality: Argentina
Current Club: Las Palmas (on loan from Man City)
Value: €4.5m
It's always tempting to just load these wonderkid guides up with Manchester City youth and call it a day, because here's another one. Maximo Perrone is out on loan at the start of your save, which means you won't be able to sign him, but there's a very high chance he will come on leaps and bounds in that season.
A very good dribbler who still has to work on his shooting and general physical side, Perrone is the textbook definition of an old school centre mid, someone who will ping the ball all across the pitch and look good doing it.
Mateus Fernandes (CM)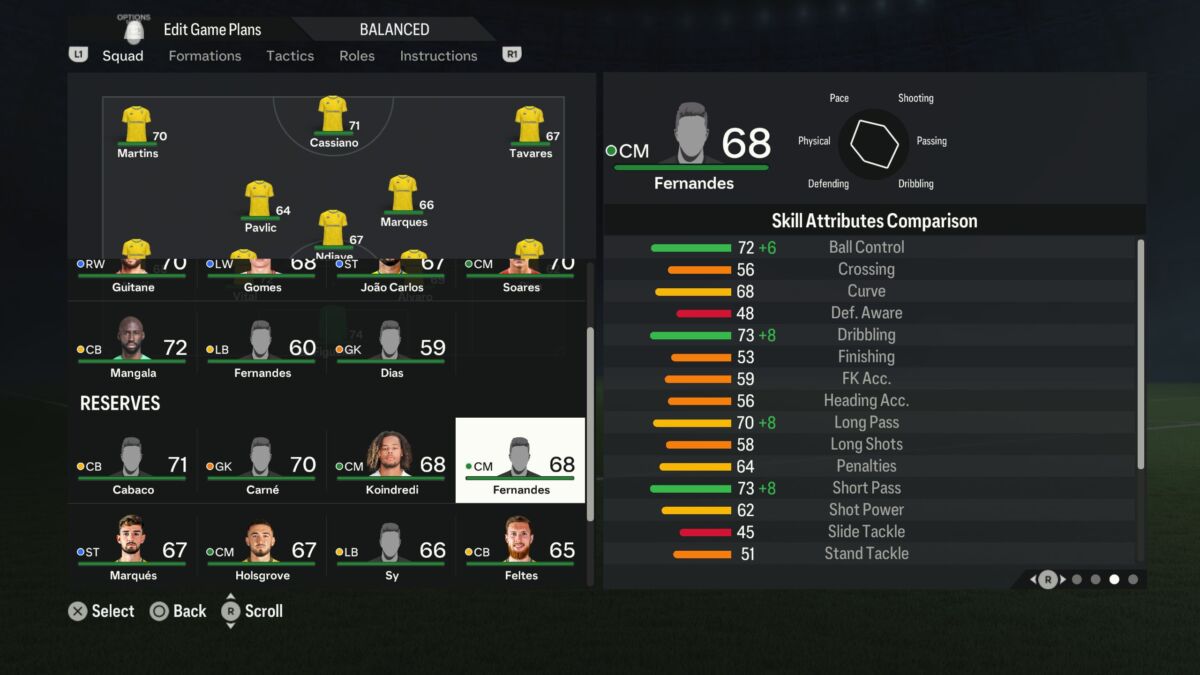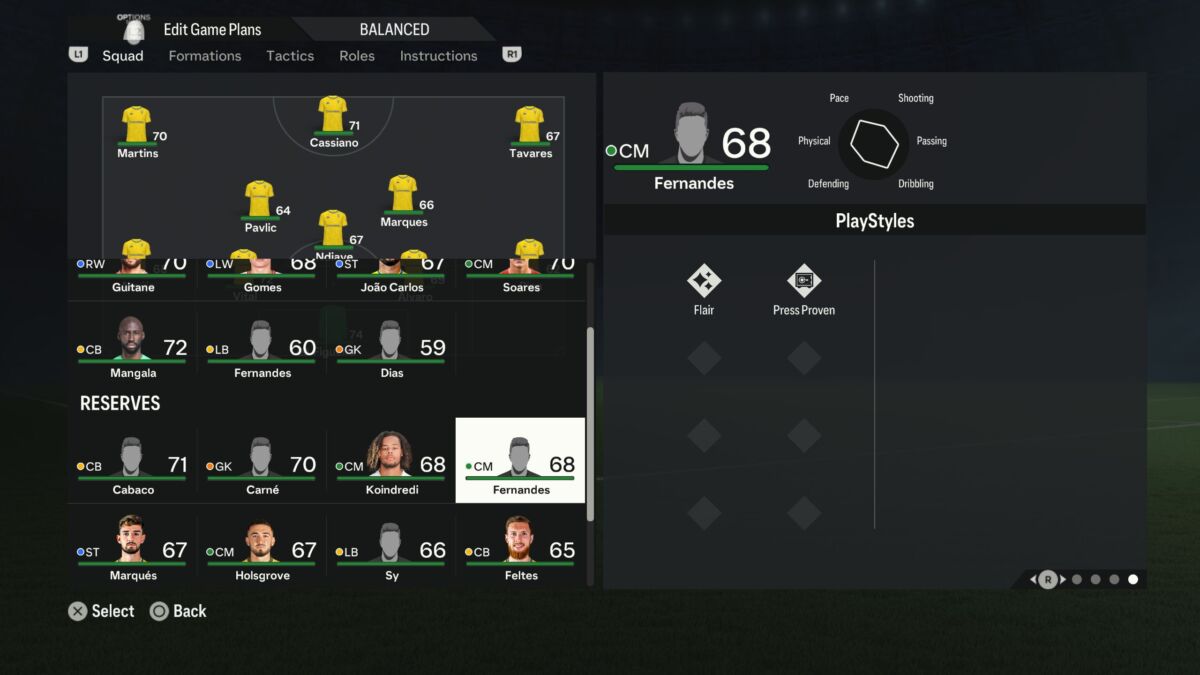 Age: 19
Rating: 68
Potential: 80+
Nationality: Portugal
Current Club: Estoril Praia
Value: €2.9M
Portugal has become a bit of a talent farm for wonderkids in recent years, and Mateus Fernandes looks like he could be yet another excellent export in midfield. Boasting flair and press proven play styles at just 19, Fernandes is fairly nimble as well, with solid 4-star weak foot and skill moves to boot.
The major downfall with him and perhaps why he is so cheap? The defensive side of his game needs a whole bunch of work. Still, that's what development plans and expensive coaches are for, right? Just don't look at his tackling numbers before you buy him.
Simone Pafundi (CAM/RM)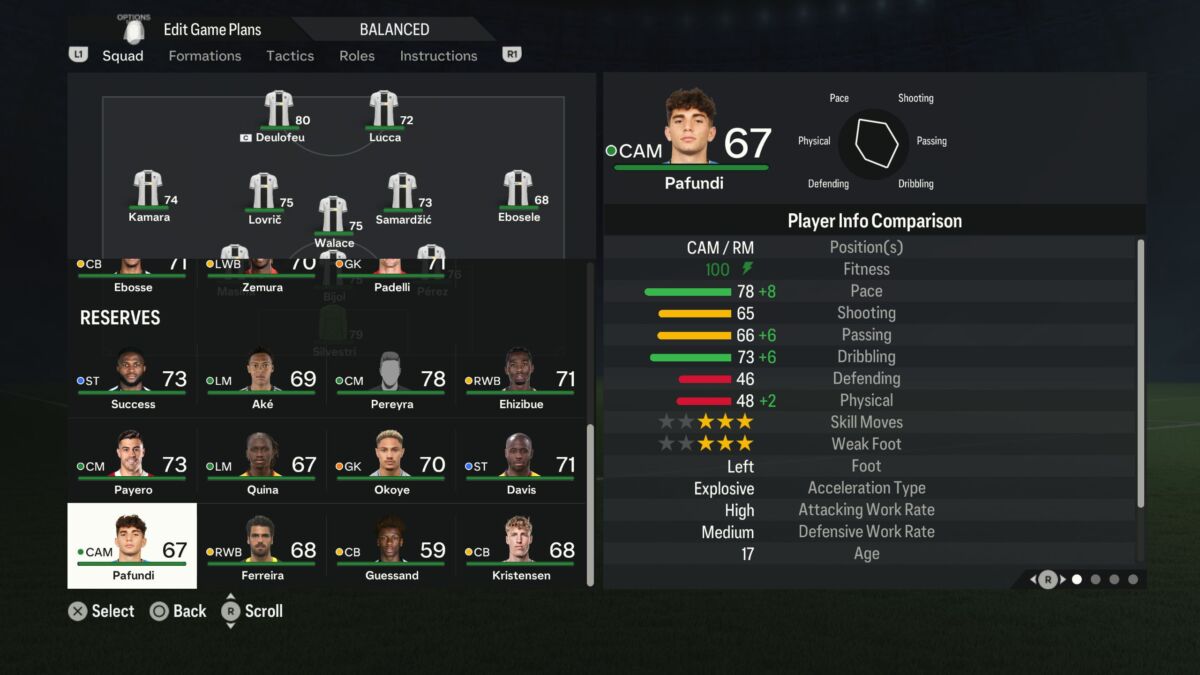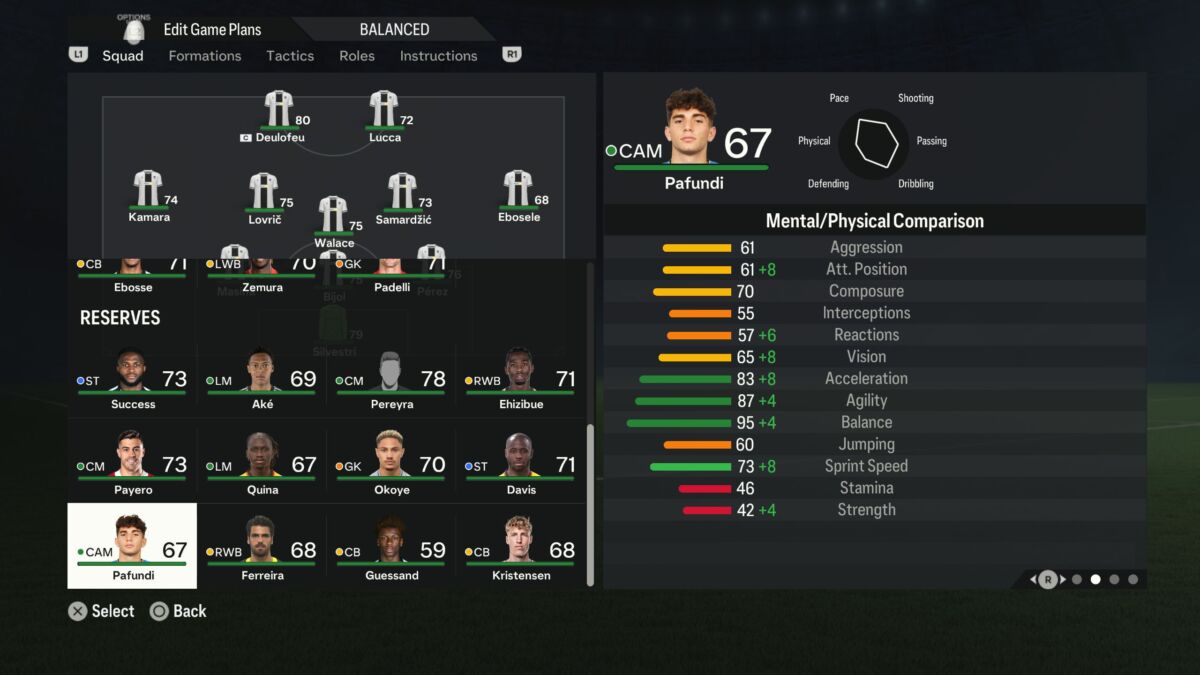 Age: 17
Rating: 68
Potential: 85+
Nationality: Italian
Current Club: Udinese
Value: €3M
Just one look at the Italian Pafundi's attributes and you know you're looking at a future star in the making — or at least EA Sports think so. A rapid CAM who can also be deployed on the right, Pafundi is a fantastic dribbler who would be great to cut inside off the wing with, especially with his explosive acceleration type.
The main flaw with him? His physical and defending are pretty poor to say the least, which is explained away by him only being 17 years old. That will come with time, but waste no time in signing this wonderkid up for less than €5M as soon as you can.
Mattheus Franca (CAM)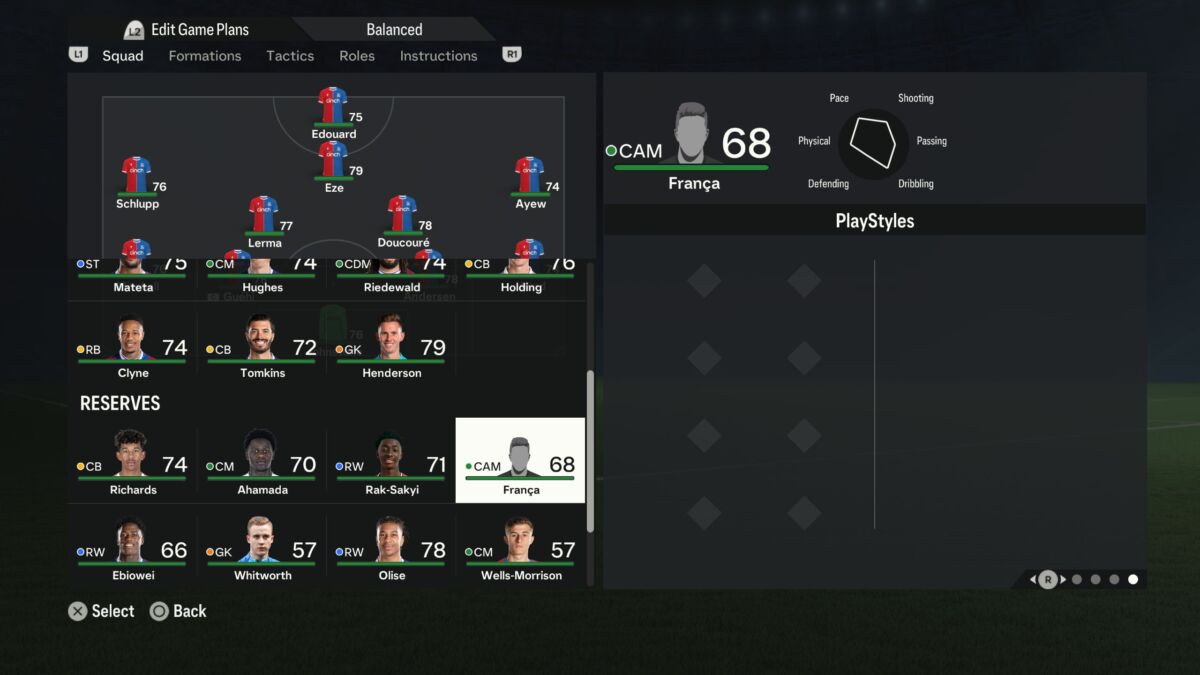 Age: 19
Rating: 68
Potential: 85+
Nationality: Brazilian
Current Club: Crystal palace
Value: €3.1M
Everybody loves a good old fashioned Brazilian wonderkid with growth potential for days. Palace's Franca, who can play in multiple positions in the final third, is tipped for big things in the game, and is already a fairly solid player in this game from day one of your career mode save.
Blessed with excellent finishing, dribbling, and speed at just 19, Franca is a bit more on the pricier compared to most of the players on this list, but with 4-star weak foot and skill moves, as well as being basically a blank canvas to make into one of the best players in FC 24, he is worth every penny.
Best Young Wingers
Gianluca Prestianni (RM/CAM)
Age: 17
Rating: 70
Potential: 86
Nationality: Argentina
Current Club: Vélez Sarsfield
Value: €4M
We know you've already seen those speed attributes and are already rushing off to your Transfer Hub. Gianluca Prestianni is an absolute speed demon in EA FC 24 and one of the game's quickest players at just 17, so you can expect him to only get quicker and better with age.
More than just pace, the Argentinian Prestianni possesses above average dribbling and ball control skills, while also having four different Playstyles (Technical, Flair, Trickster, Quick Step) to go along with his 4-star skill moves. His finishing and strength needs a whole lot of work, but that will come with time and the right training.
Assane Diao Diaoune (LM)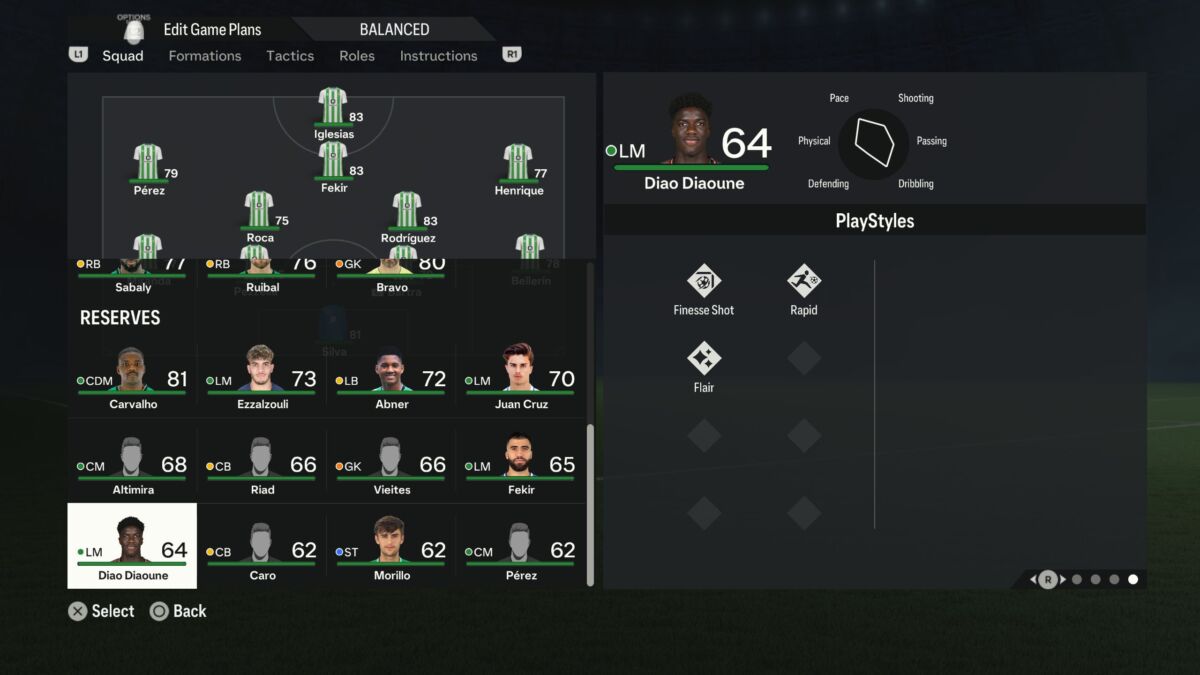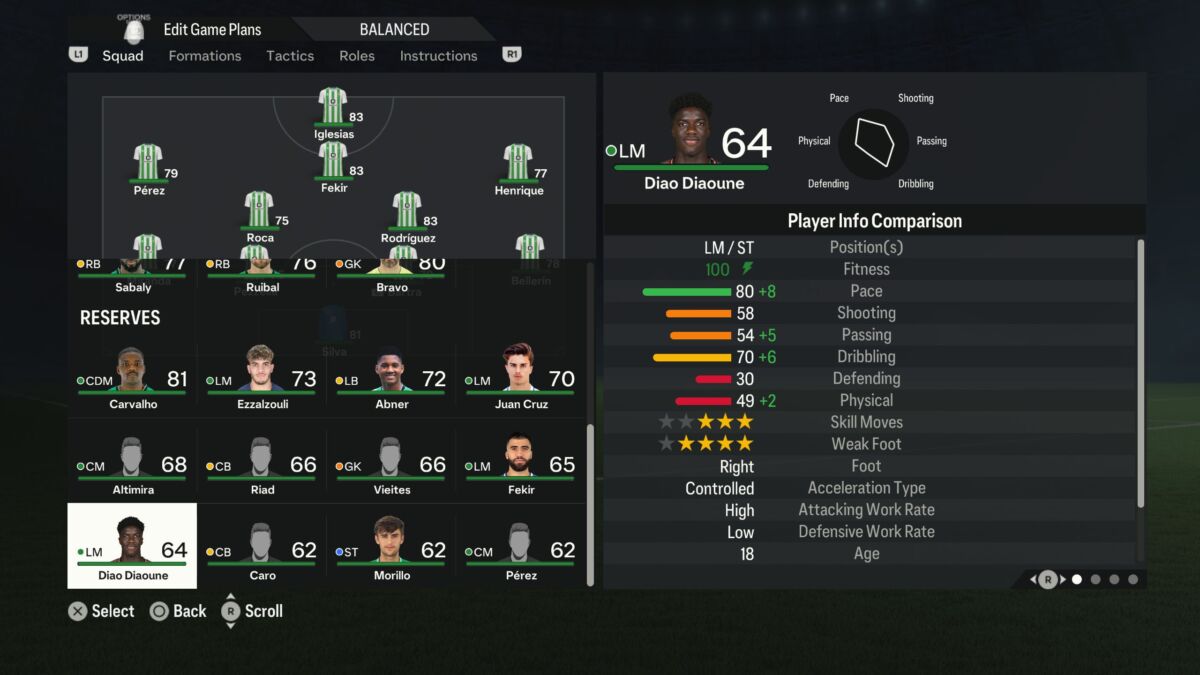 Age: 18
Rating: 64
Potential: 80+
Nationality: Spanish
Current Club: Real Betis
Value: €1.6M
A rapid winger (even his playstyles say as much) who has got a lot of room to grow, don't let the low starting rating put you off Assane Diao Diaoune.
While his dribbling and finishing really need a good bit of work, that's what coaching and actual match experience will improve and most importantly he can only get faster too. Just absolutely do not ask him to track back, as there's a good chance he may actively play against you. Snap him up for less than €2M and try to polish quite the rough diamond.
Luca Oyen (LM)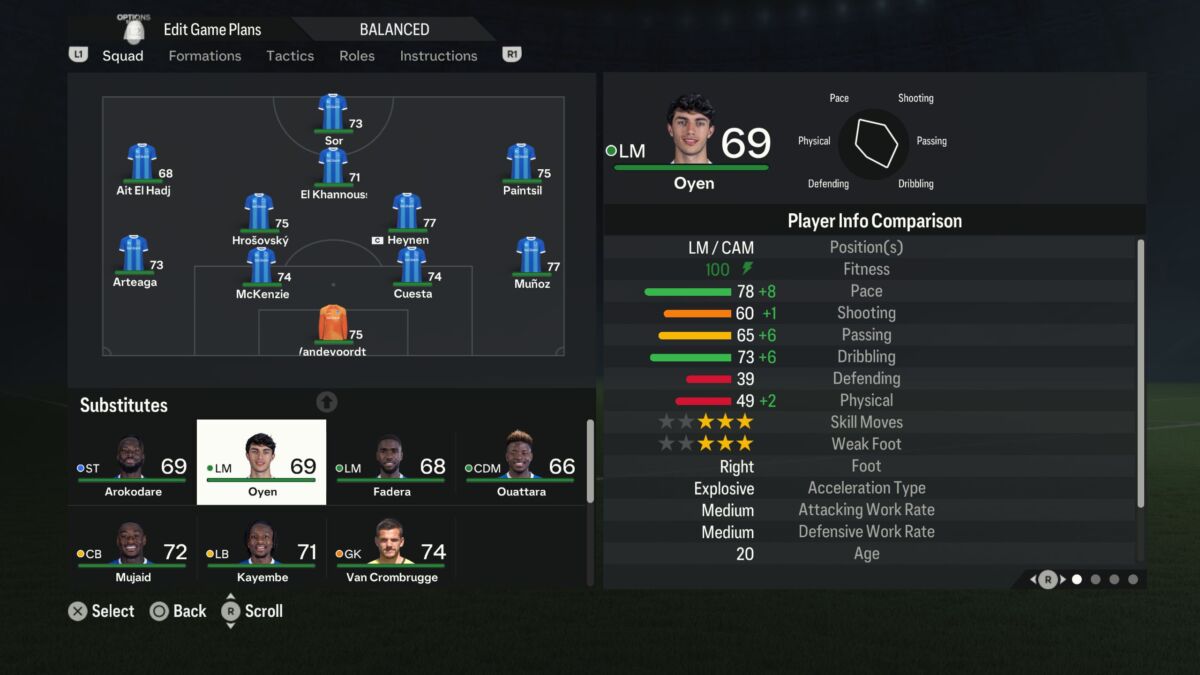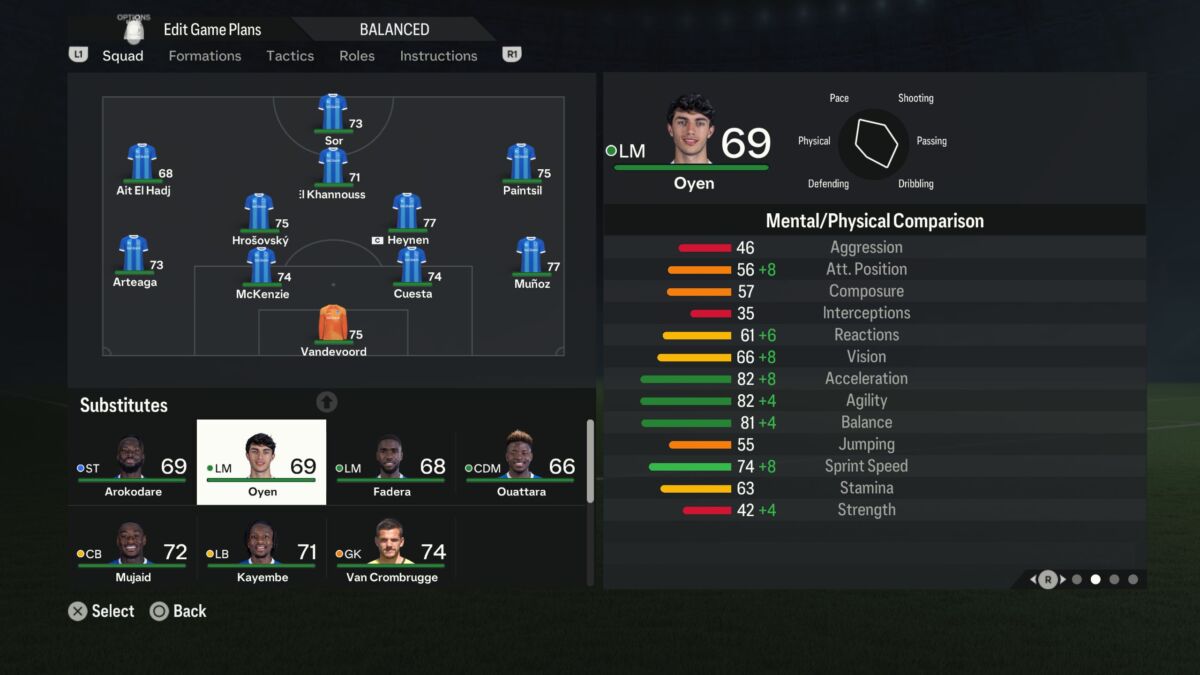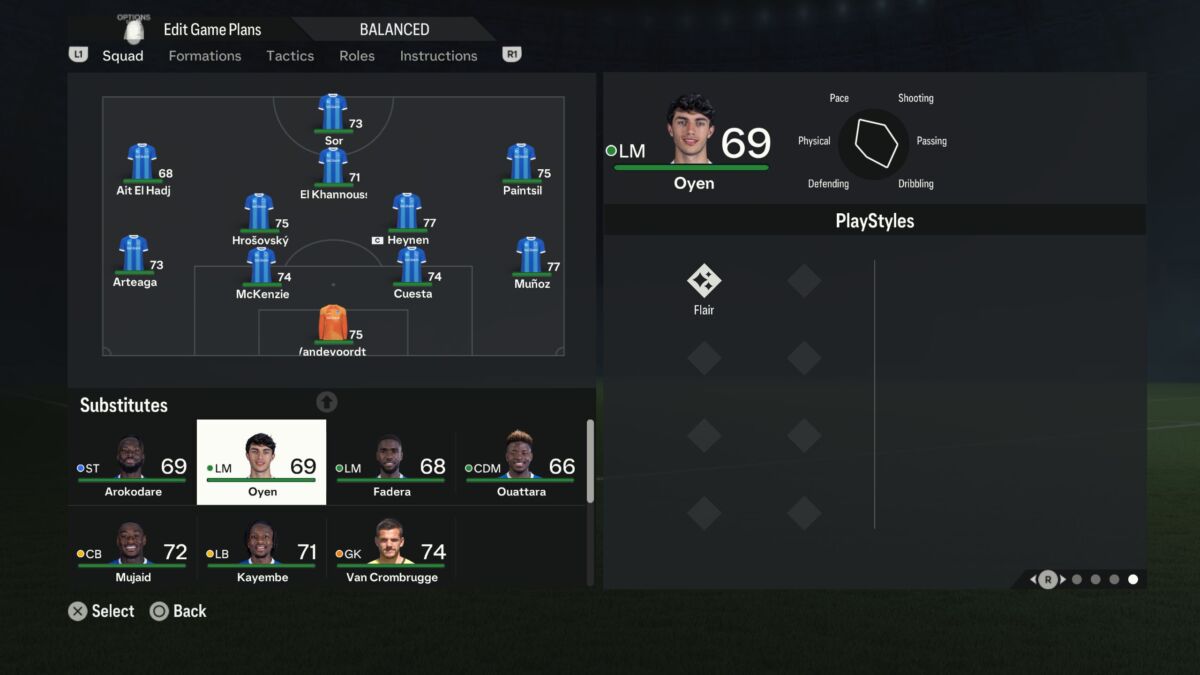 Age: 20
Rating: 69
Potential: 80+
Nationality: Belgian
Current Club: KRC Genk
Value: €3.4M (€7.2M release clause)
It's coming up to last chance saloon to make good on his promise in most football games, as he hasn't really burst into life despite over 50 senior appearances.
Still, you're getting a young Belgian who is plenty fast with explosive acceleration and can also dribble his way out of most situations. With 80+ balance, he may actually be good to reshape into a midfielder, though the lack of strength could hinder that. A nice bit of flair in his playstyle rounds out a good winger who could more than do a job at most mid-table clubs around Europe.
Sávio (RM)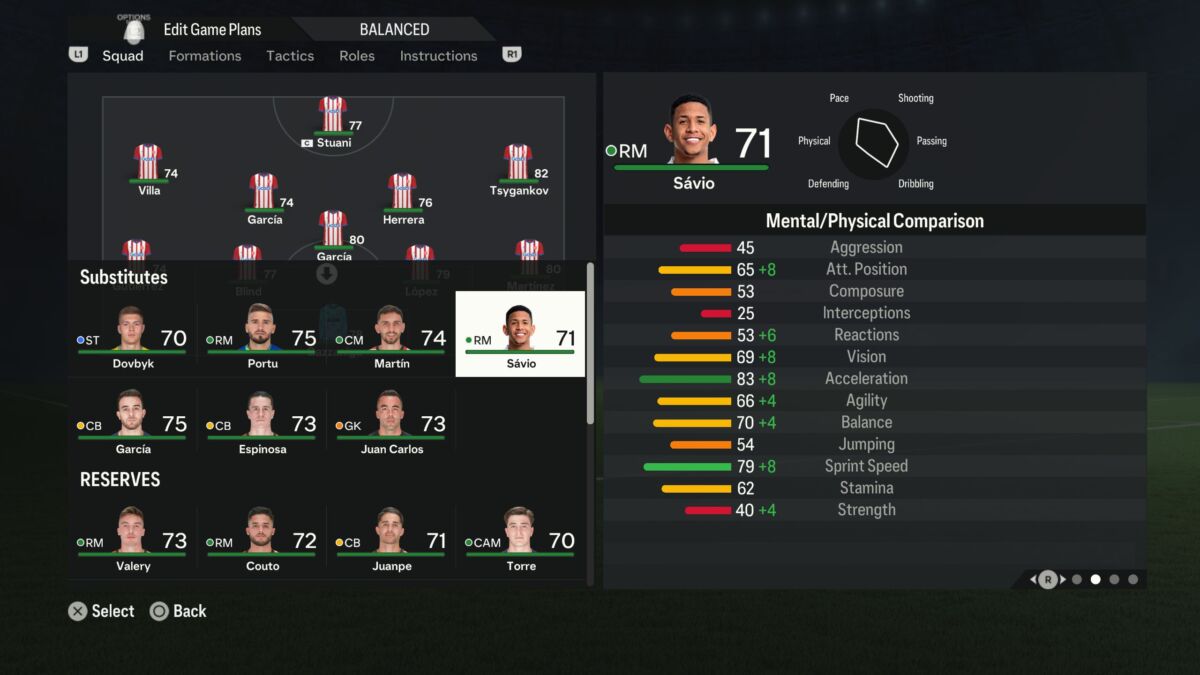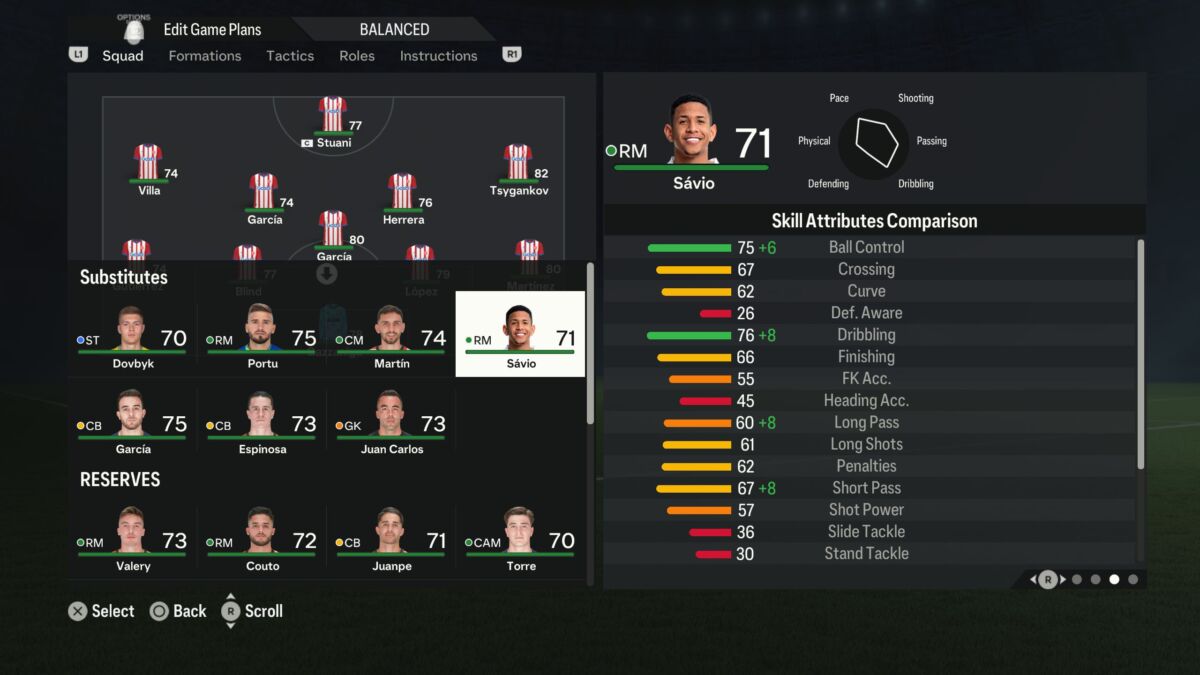 Age: 19
Rating: 70
Potential: 86
Nationality: Brazilian
Current Club: Girona
Value: €4.4M (on loan from Troyes)
A Brazilian currently on loan in Spain's La Liga,
Roony Bardghij (RW)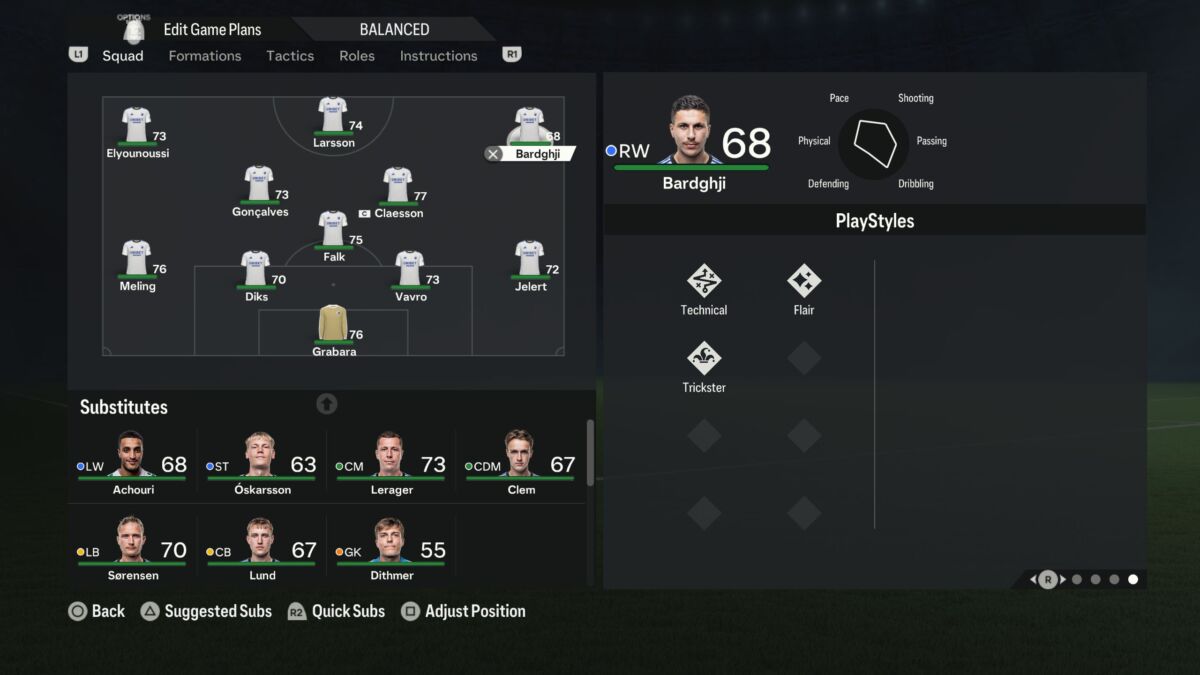 Age: 17
Rating: 68
Potential: 85+
Nationality: Swedish
Current Club: Kobenhavn
Value: €3M
If there are any cheap wonderkids in EA FC 24 in particular that you should really listen to us about, it's probably this guy. You've probably seen Roony Bardghij clips all over Twitter and in YouTube compilations, and he seems like he isn't far from a move to one of Europe's bigger leagues after lighting up the Danish Superliga.
€3M for a player with 4-star weak foot and skill moves, as well as super high speed and dribbling skills (not to mention three different playstyles) seems like a bargain. And at just 17 years old, his room for growth is absolutely gigantic.
Ben Doak (RW)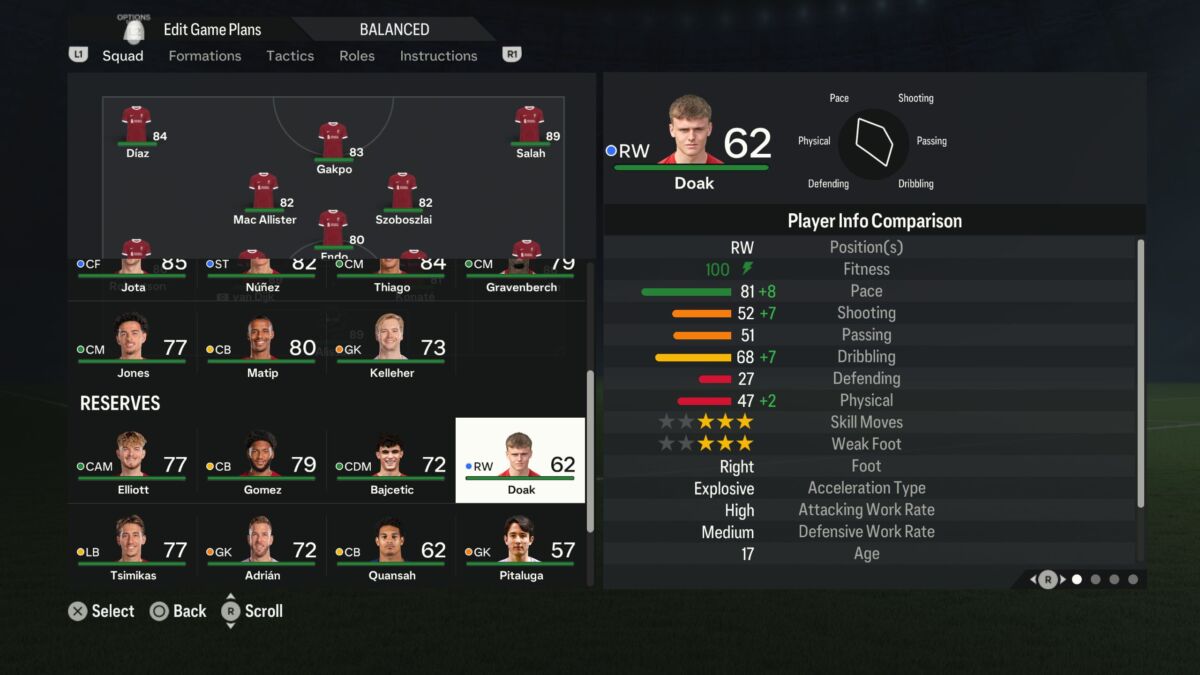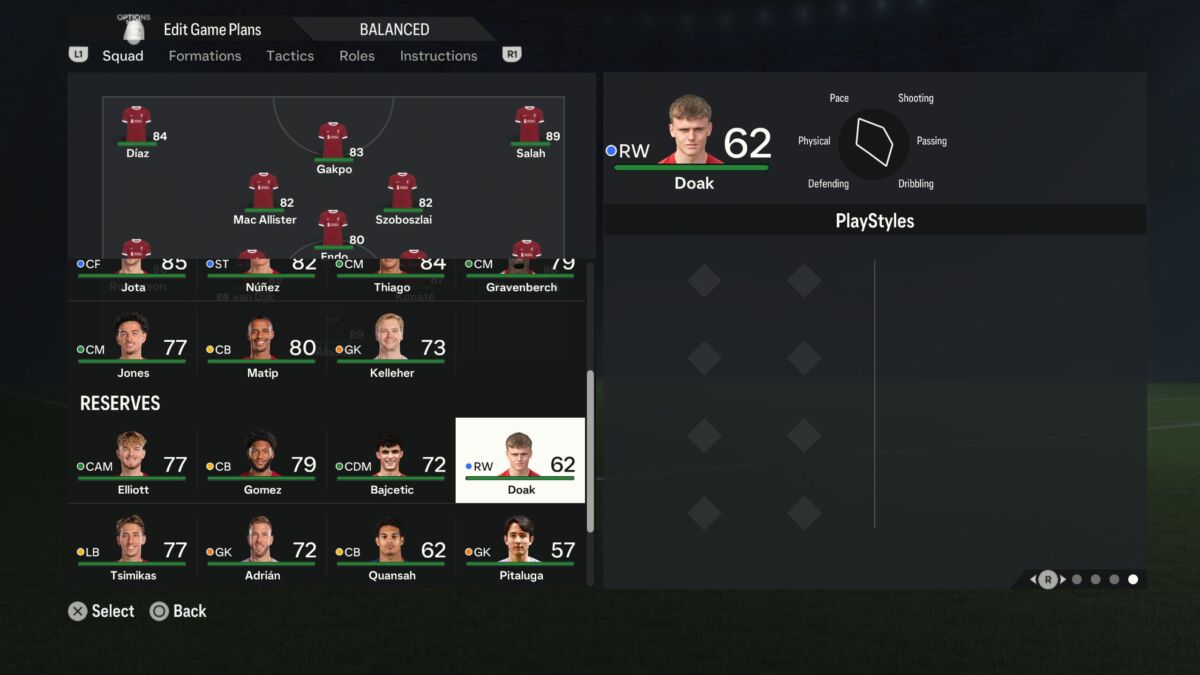 Age: 17
Rating: 62
Potential: 80+
Nationality: Scotland
Current Club: Liverpool
Value: TBC
Liverpool just keep on churning out fantastic prospects year after year, and it's looking like they will have another quality winger on their hands before too long with the Scottish right winger Ben Doak. Blessed with blistering pace, Doak still has a lot of growing to do on the technical side of his game but the explosive acceleration will no doubt carry him a lot of the way. His high attacking work rate and 3-star skill moves make him a wonderkid that might be second choice for most lower half teams around Europe.
Best Young Strikers
Elye Wahi (ST)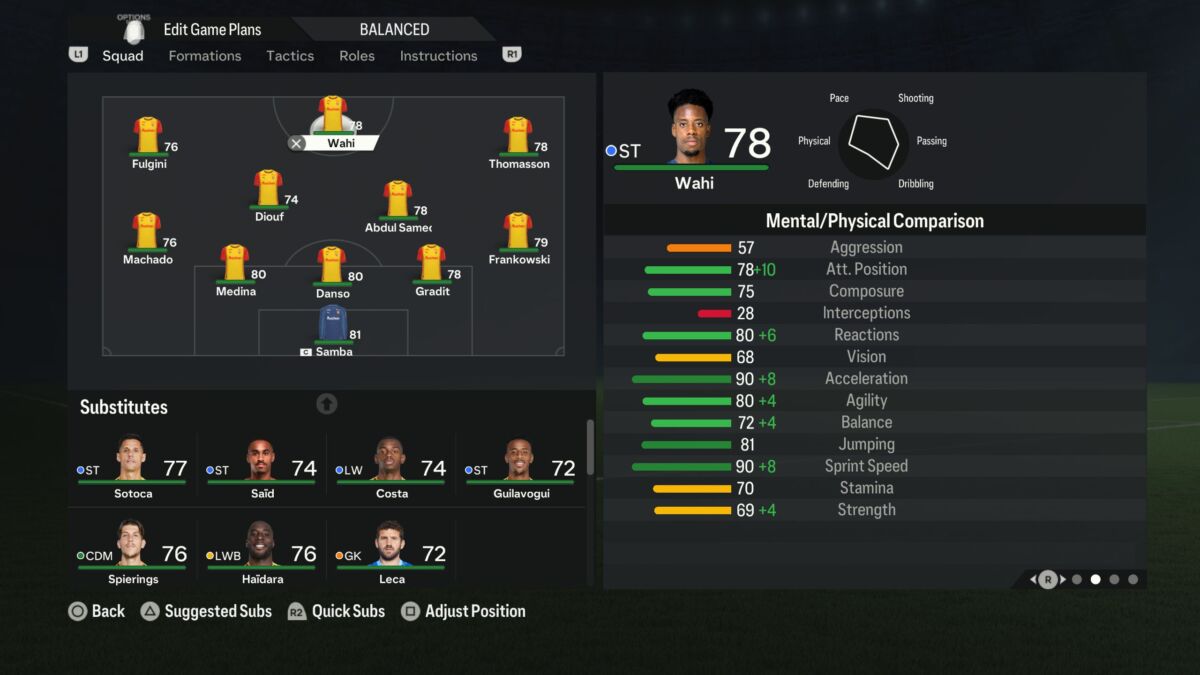 Age: 20
Rating: 70
Potential: 84
Nationality: French
Current Club: Lens
Value: €31m (€60m+ release clause)
Okay, so this might be going against the theme of a cheap wonderkid guide a little bit, but EA really seem to think that Wahi is about to become a pretty big deal. You usually do to end up commanding a €35 million transfer fee, to be fair.
Absolutely rapid and blessed with quite a wild array of player traits for someone who is only 20 years old, this young French striker might end up becoming the next most hyped thing in the sport. Just don't expect him to be very affordable to start off with, especially as he's only just moved to Lens in real life.
Marko Lazetić (ST)
Age: 19
Rating: 65
Potential: 80+
Nationality: Serbian
Current Club: Fortuna Sittard (on loan from AC Milan)
Value: €1.9M
Marko Lazetić's career hasn't really exploded just yet, hence why he finds himself on loan in the Erdivisie at the start of a save, but EA still seem to think he's got it in him to have a breakout season.
If your tactics emphasise wing play, you can't go wrong with the 6'4″ Serbian with an eye for goal. Super strong and with the kind of jumping stats you'd expect, Lazetić won't quite blossom into the next Haaland, but he could be a very good back up for any team in the bottom half of any of Europe's top leagues.
Youssef Chermiti (ST)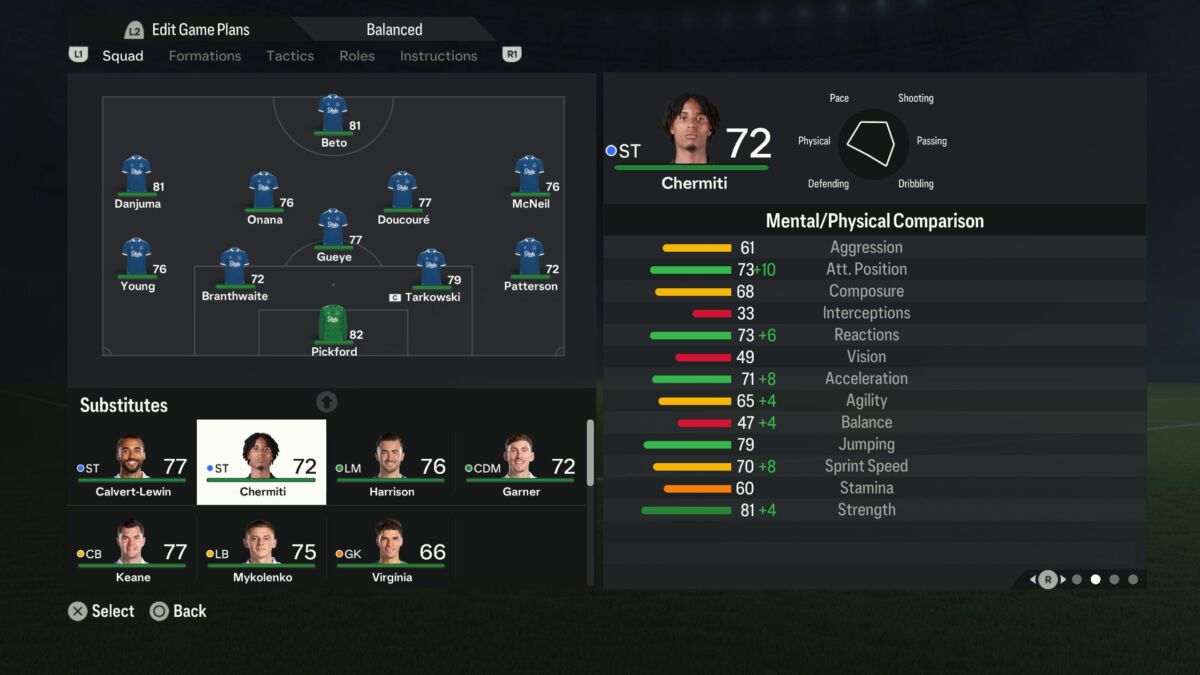 Age: 19
Rating: 72
Potential: 83+
Nationality: Portuguese
Current Club: Everton
Value: €5M
Another big lad who can jump extremely high, Everton's Youssef Chermiti really hasn't had much of a chance to prove himself in the Premier League yet, but there's a reason why Everton paid decent money for him despite having absolutely none.
Fairly nimble for a player of his 6'4″ stature and with tonnes of room to grow technically, is a strong old fashioned striker who does the basics very well indeed. Get some wingers in your team who can whip a ball in and you might have the next Duncan Ferguson on your hands (hopefully without the constant flashes of Scottish mist).
Samuele Vignato (CF/ST)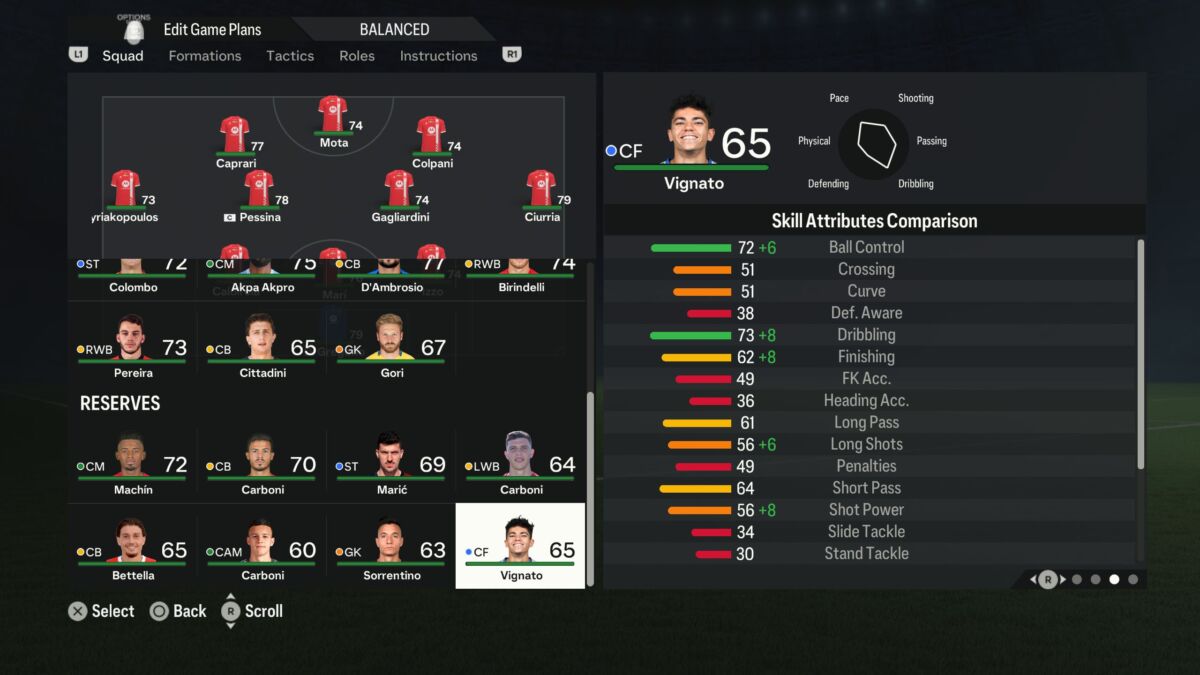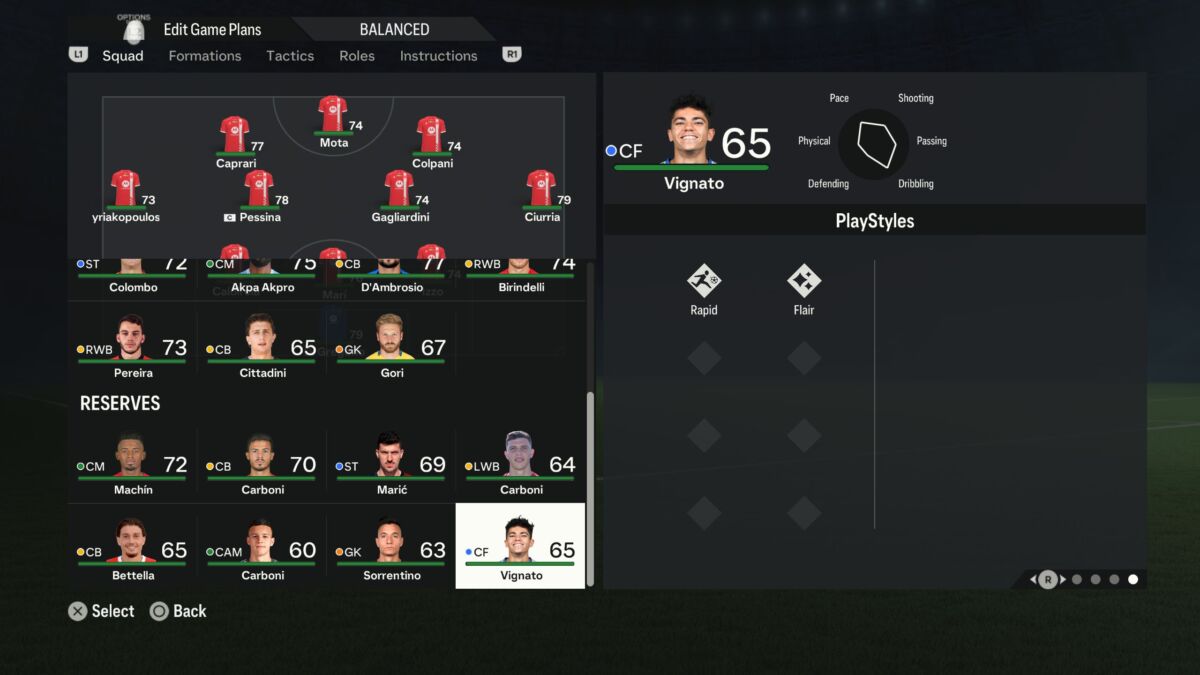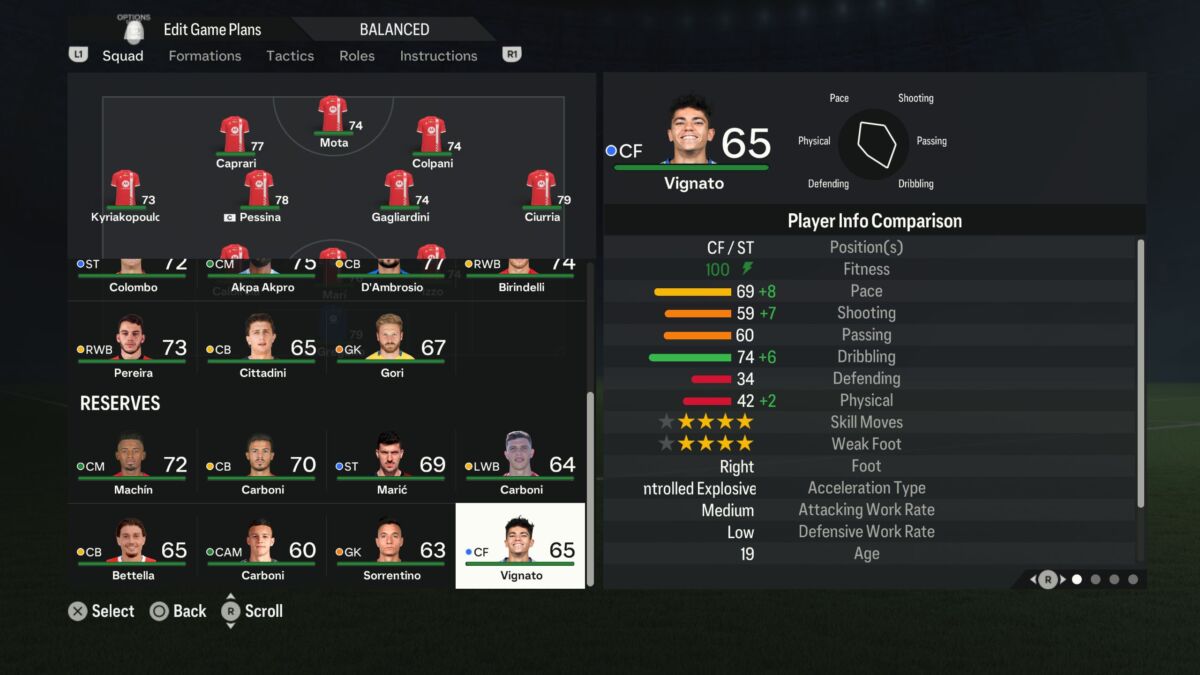 Age: 19
Rating: 65
Potential: 80+
Nationality: Italian
Current Club: Monza
Value: €1.9M
Compared to the previous wonderkid strikers, the Italian Samuele Vignato is definitely on the diminutive side, but he makes up for it by being a better overall dribbler and more technical, complete player — at least as much as 19 year old can be.
While noticeably on the weak side, Vignato's dribbling and quick acceleration will make him a dream for a team that looks to break quickly, though his finishing in front of goal is rather underwhelming. He may actually be better served getting retrained as a winger, as his passing is pretty decent all things considered. For less than €2M, you're getting something of a gem here that you may need some patience with.
EA Sports FC 24 is available on PC, PS4, PS5, Xbox One, Xbox Series X & S, and Switch.
READ NEXT: Is EA Sports FC 24 Down? How To Check Server Status
Some of the coverage you find on Cultured Vultures contains affiliate links, which provide us with small commissions based on purchases made from visiting our site. We cover gaming news, movie reviews, wrestling and much more.