Logistics games, particularly management games, typically fly under the radar compared to their more combat and action-oriented brethren. However, management games have played a vital role in building up the strategy genre as a whole by focusing more on supply chains, caring for personnel needs, and resource production and delivery.
While city builders and management games often go hand-in-hand, there are a slew of management games that stand out from the rest and take things in their own direction. As such, we are ranking some of the best management games, limiting ourselves to one entry per franchise.
The Best Management Games
15. Lobotomy Corporation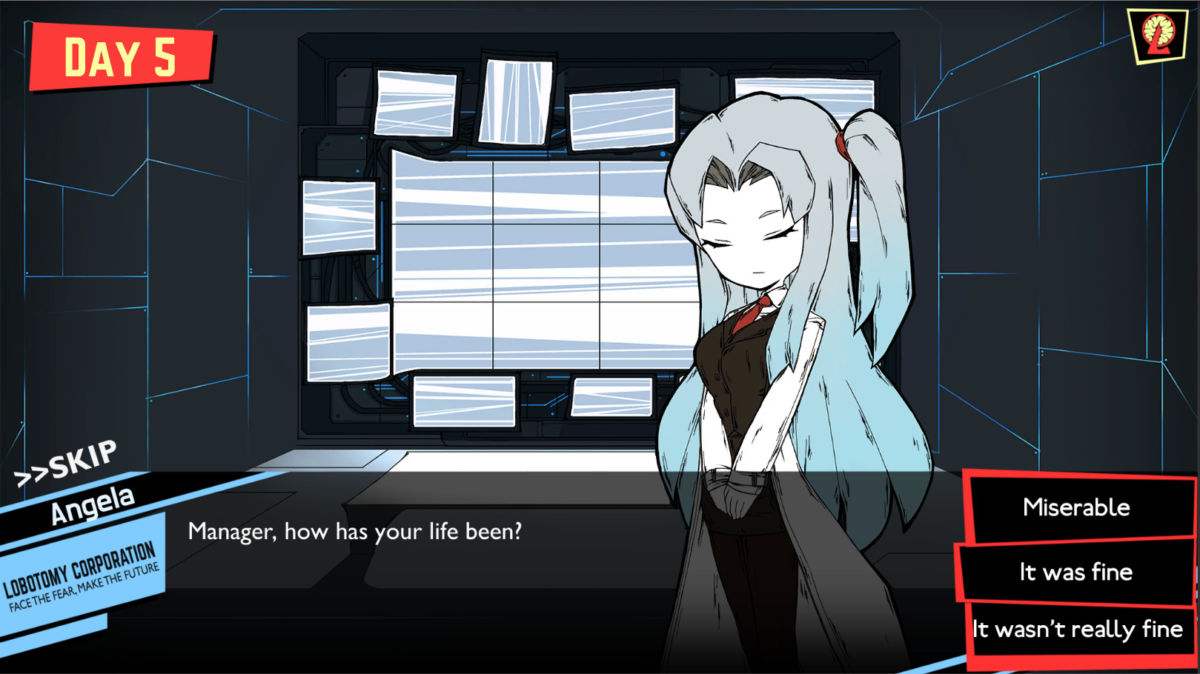 Developer: Project Moon
Publisher: Project Moon
Platform(s): PC
Perhaps one of the most creative management games to make the list, Lobotomy Corporation invites you to be the director of a hidden project tasked with capturing, studying, and entertaining a wide cast of horror monsters. This premise alone makes Lobotomy Corporation worth a look, especially with its off-kilter and funky art style that perfectly reflects the horror theme.
The gameplay core of Project Moon's game rests on developing your staff to best handle surprise crisis situations related to the creatures and denizens you contain. Part of the staff's development will also involve interacting with the mysterious beings to gather information for a mysterious shadowy benefactor. However, you best be ready to see your guests back into their cages and rooms, as they will inevitably wreak havoc on your people and facilities.
Lobotomy Corporation is quite the challenge, opting for an approach that drops you in the middle of things and has you figure out on the fly what to do, which has its downsides. The game can at times be unfairly challenging where no matter how well you prepare your safeguards, the game will ensure everything falls apart. Luckily, Lobotomy Corporation has roguelike elements that'll grip you and invite you to learn from your mistakes, making it one of the more rewarding games on the list.
14. Mad Games Tycoon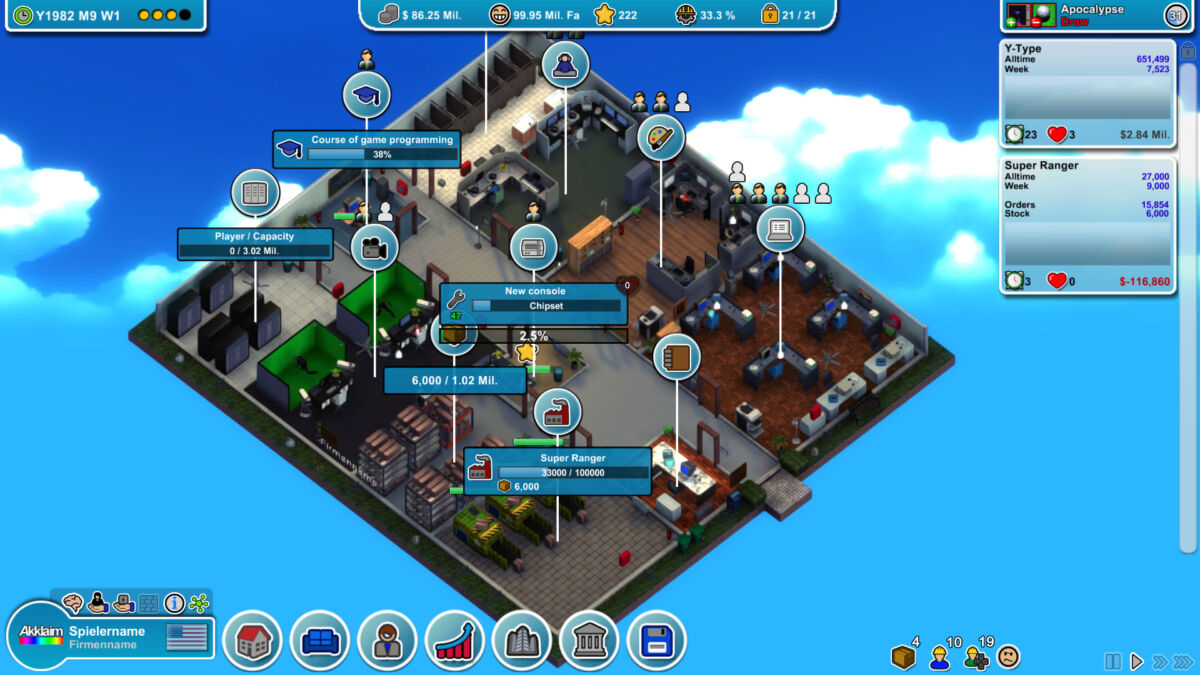 Developer: Eggcode
Publisher: Eggcode
Platform(s): PC, macOS
Starting your own video game development studio or even working for one can be quite a daunting effort, so the industry has provided a game for us to have a virtual taste of what it's like. Compared to the critical darling Game Dev Tycoon from Greenheart Games, Eggcode's Mad Games Tycoon takes significant steps in expanding upon the premise of managing your own game dev studio.
Mad Games Tycoon's main hook is that you can see the growth and evolution of a video game studio that starts in a rinky-dink garage and goes all the way to a massive dedicated lot with multiple departments. These can range from motion capture rooms, marketing teams, and training sessions for up-and-coming staff. The sheer amount of options available, especially in the later stages of your studio's lifespan, are absolutely dizzying.
While the gameplay may be quite solid, unlike most of its counterparts on the list, Mad Games Tycoon goes for a blander functional look, which does ground the game in a sense of realism, but visually lacks some of that punch and flash to make every playthrough truly memorable. Nevertheless, Mad Games Tycoon is one of the best management games to open the lid on the development side of the video game industry.
13. Factorio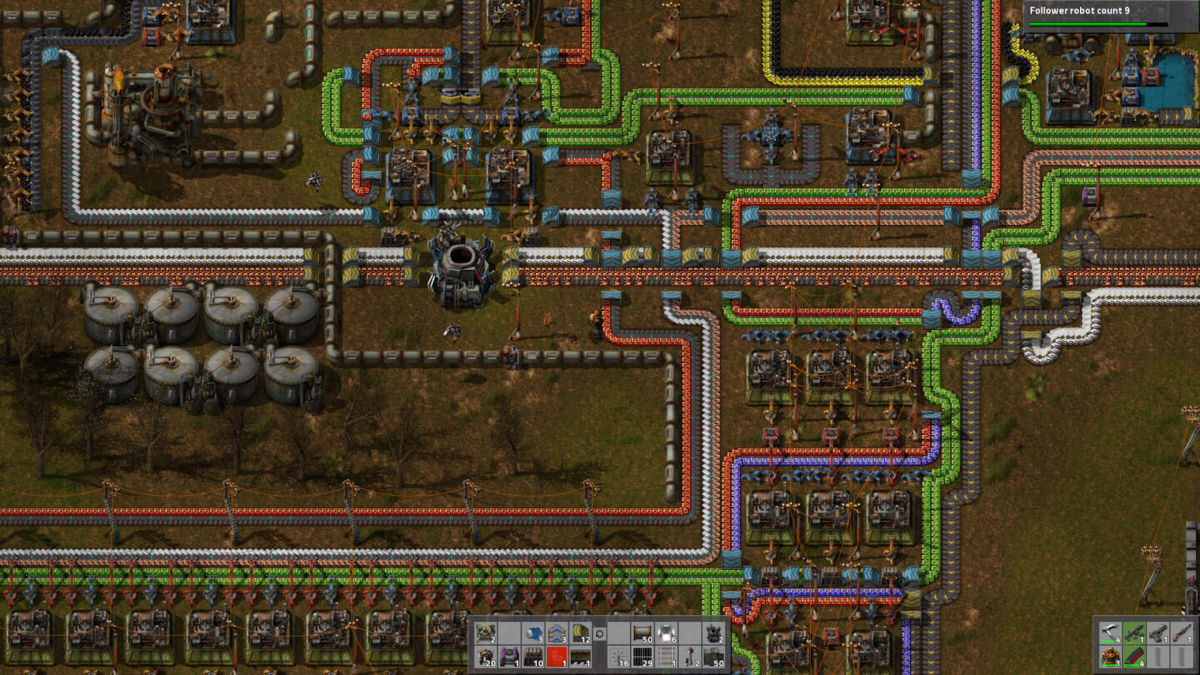 Developer: Wube Software Ltd.
Publisher: Wube Software Ltd.
Platform(s): PC, macOS, Linux
Unlike many real-time strategy games or simulation wargames that have a critical multiplayer component, management games typically center around the single-player experience. So when Factorio comes along, it truly shows the potential of thinking outside the box as it transforms the management experience into a massive and exciting multiplayer rumble.
The first thing that needs mentioning is Factorio's absolutely astonishing player counts on servers that can easily go up to hundreds of players. This leads to an unprecedented amount of potential for teamwork, specialization, and role-playing. Secondly, Factorio has you face off against the planet that you're on with your teammates, which includes both managing pollution as you ramp up production and the aggressive hives and hordes of wildlife that don't take kindly to your resource exploitation.
The game includes deep technology and upgrades system, though of all of its gameplay elements this one is the weakest due to how cluttered it is, making it quite the uphill climb for newcomers to get to grips with progression. But if you can find a welcoming community to play regularly with, Factorio is one of the most fun and refreshing management games on the market.
12. Prison Architect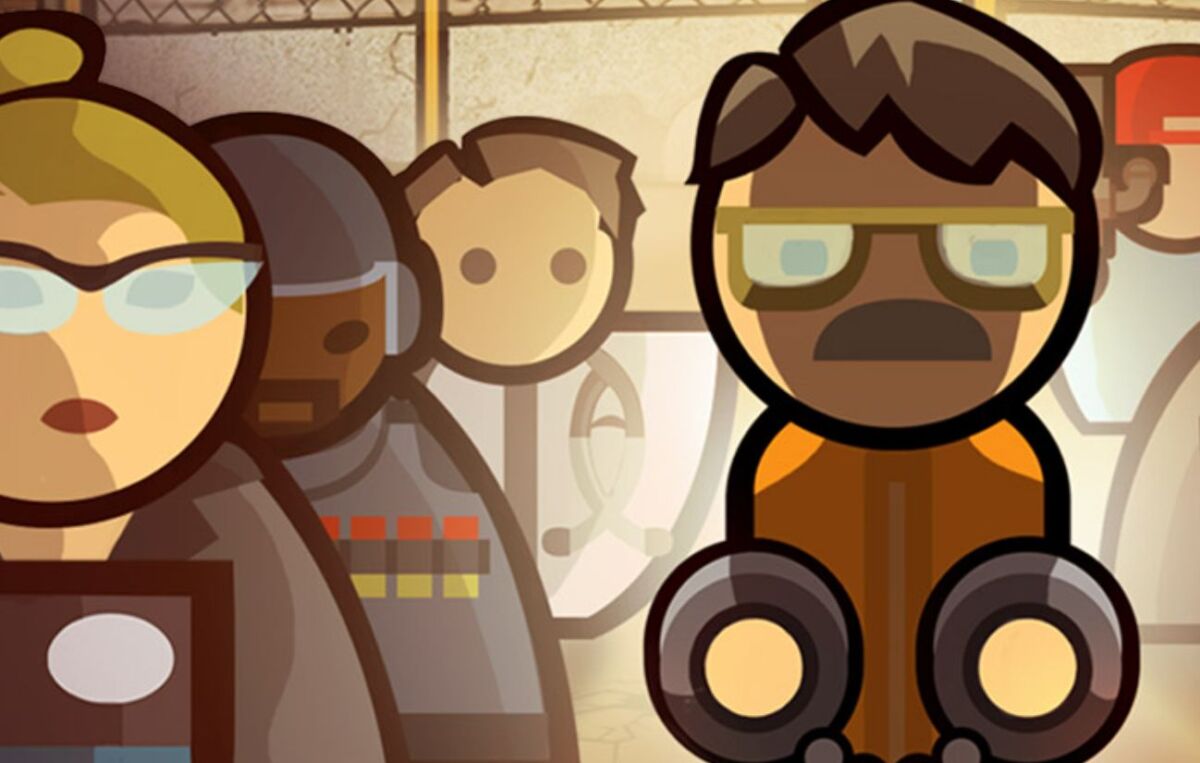 Developer: Introversion Software, Double Eleven, Tag Games
Publisher: Paradox Interactive, Introversion Software, Double Eleven
Platform(s): PC, PS4, Switch, Xbox 360, Xbox One, iOS, Android
If Lobotomy Corporation's horror aesthetic and setting are a bit too out there, then Prison Architect is a great alternative that delves into the goings-on of the incarceration system. Here you'll take the role of the warden tasked with building a successful prison that can ensure the processing of low-level felons and hardened criminals and gangs in equal measure.
Prison Architect prides itself on its vast suite of customization options, be it the warden you select that can offer unique perks to switch up gameplay, or even the objectives and scenario conditions that can drastically affect how any session will go. The minimalist, yet vibrant visual style will ensure that you can track daily activities in your prison, even when it gets large and the number of inmates grows to unwieldy proportions.
The game is essentially the prison version of Rimworld, however, it doesn't quite measure up in the emergent story-telling department as building a prison over and over again can get repetitive. Despite the challenging and grisly subject matter, Prison Architect is a fun and deep strategy game in its own right.
11. Football Manager 2022
Developer: Sports Interactive
Publisher: SEGA
Platform(s): PC, Xbox One, Xbox Series X & S, Nintendo Switch, iOS, Android
EA's action-oriented FIFA game series may be the video game franchise that many immediately think of when talking about sports games in the video game industry, but football has also found its way into the strategy genre. Football Manager 2022 is perhaps one of the best if not the best sports strategy game out there in general.
In this game, you'll act as the manager of a football team of your choosing, dealing with everything from youth recruitment and player training, all the way to team tactics and large-scale financial dealings. Compared to the previous games of the series, this most recent version includes more dynamic matches to better visually simulate the performance of your team, though some janky behavior and animation still exist.
The depth of the game's systems is both a blessing and a curse in that new players can easily find themselves overwhelmed and buried by huge amounts of data, menus, and stats with the UI making it even more difficult to pick out relevant items for you to manage. For any player who's already a fan of the sport, though, or the business of sports in general, Football Manager 2022 is a dream come true.
10. Evil Genius 2
Developer: Rebellion Developments
Publisher: Rebellion Developments
Platform(s): PC, PS4, PS5, Xbox One, Xbox Series X & S
Aside from the rare indie title and occasional sci-fi and Cold War game, the superhero and spy thriller genres haven't made much headway in the strategy genre. This puts Evil Genius 2 in an advantageous position as it fills a large gap in the market with its animated film aesthetic and thematic premise.
Instead of taking down pesky supervillains and masterminds as the Forces of Justice, you'll be taking the role of one of the most dastardly villains with a penchant for world domination and personal enrichment. The management element of Evil Genius 2 centers around developing your own secret island base and managing the hordes of incompetent minions to do your bidding. In addition, the lair-building aspect combines aspects of tower defense games, as you create mazes of traps to prevent agents from infiltrating and sabotaging your operations.
Unfortunately, it's the world domination aspect of Evil Genius that falls flat, as the system comes across more like an annoying and endless game of whack-a-mole rather than an engaging struggle against the Forces of Justice to become the master of the world. But you definitely can't go wrong with Evil Genius' sense of humor, extensive campaign mode, and lair-building systems.
9. Offworld Trading Company
Developer: Mohawk Games
Publisher: Stardock
Platform(s): PC, macOS
Mohawk Games, one of the younger strategy games developers on the block, has quickly made a name for itself with innovative ideas and mechanics in its games, such as Old World. However, it's their first outing that interests us today and that's Offworld Trading Company – a clever competitive real-time management game and one of the greatest strategy games of all time, where you act as the head of a mining company on Mars.
Where Factorio brought collaborative multiplayer action, Offworld Trading Company has you struggle against other corporations in their bid to earn a profit and monopolize their control over Mars' precious resources. You won't be building warships or advanced units to go smack your opponent's business, but will instead create supply chains and manipulate the market to ultimately buy out everybody else's business and become the dominant company.
When compared to other management games, this one doesn't offer quite as many options in construction, as it focuses more on tracking the ups and downs of the resource economy, as well as the actions and efforts of your opponents. But if you're looking to add a competitive spin to your management game craving, Offworld Trading Company has you covered.
8. The Sims 3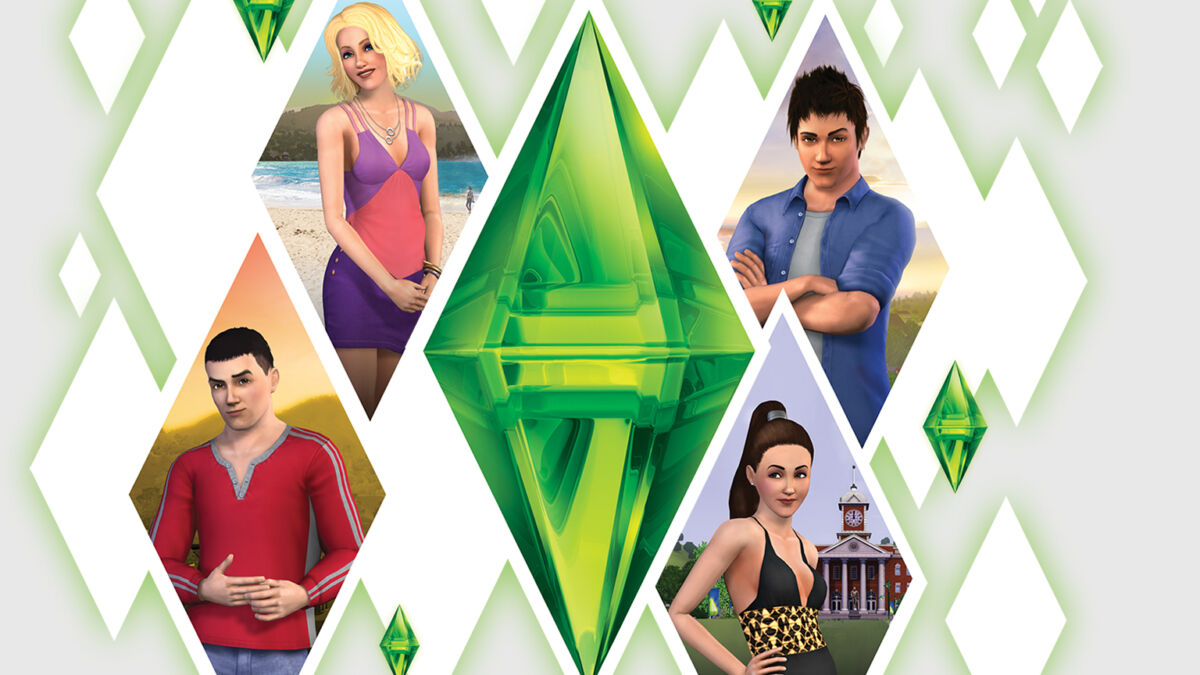 Developer: Maxis Redwood Shores, EA Mobile, Edge of Reality
Publisher: Electronic Arts
Platform(s): Various
The Sims series may not be immediately associated with the strategy genre, but make no mistake: its reputation is just as vital to the strategy genre as series like Total War or Civilization. The Sims is the ultimate life simulator as you're able to create the family, house, and career that you've always wanted and see the people under your care develop, evolve, and answer life's challenges.
It may have a bit more of a role-playing bent than some of the other entries on the list, yet planning, curating, and managing the lives of the people under your care remains at the very heart of the Sims' gameplay. The Sims 3 also stands out from the more recent The Sims 4 in that the latter has eschewed gameplay features present in the third title in favor of technical improvements, leading to a better-looking and performing, but ultimately more hollow experience. The Sims 3 wins out with its sheer amount of customization options and open-ended approach to leading the life of your Sims.
Granted, Sims 3 doesn't quite reach the same levels of management depth as some of the later entries on the list, and the focus on daily and perhaps mundane tasks can lead to stretches of grindy repetition. Still, the Sims 3 remains a one-of-a-kind juggernaut in not only the management games subset but in virtual gaming in general.
7. Planet Coaster
Developer: Frontier Developments
Publisher: Frontier Developments
Platform(s): PC, PS4, PS5, Xbox One, Xbox Series X & S
Frontier Developments has quickly become a household name in management games development in recent years and that largely rests on the success of Planet Coaster. This dev team and roller coaster tycoons have been around for a long time, but Planet Coaster shows exactly what the power of modern technology and game design principles can do to develop a whole type of strategy game.
Planet Coaster is one of the first games to include the now hallmark incredible scale and flexibility in construction that's so integral to Frontier Developments' current games. As the owner of a theme park, you have an incredible suite of options and tools to craft absolutely breath-taking and awe-inspiring roller coasters and rides that'll easily baffle the mind. You only need to look at Planet Coaster's modding community to see the level of creativity and ambition the game can fulfill and enable.
One issue that Planet Coaster does struggle with, along with Frontier Developments' recent offerings, is that there are some performance and technical issues when you get to large-scale parks with huge numbers of entities, which could make the management gameplay quite grueling and slow. Nevertheless, Planet Coaster is a cornerstone of modern management gaming and is easily one of the best management games of all time.
6. Oxygen Not Included
Developer: Klei Entertainment
Publisher: Klei Entertainment
Platform(s): PC, macOS, Linux
Klei Entertainment has taken their own stab at a management experience injecting it with their own signature brand of creativity in Oxygen Not Included. But it's not just the distinct art direction and visual style that make Oxygen Not Included a hit management strategy game.
Klei made their game quite the challenge by adding verticality to the mix of resource and personnel management, making structure placement and supply chains all the more important to the survival of your budding colony. Also, waste management becomes an integral part to the processing of resources and maintaining the wellbeing of your population.
Just like Lobotomy Corporation's level of difficulty can be a double-edged sword, Oxygen Not Included's challenging nature can also make getting into the game quite intimidating, as even slightly inefficient and inattentive decisions regarding placement and task assignment can easily lead to a frustrating death spiral. Luckily, Klei ensured that their game's addictive and charming, which will make you keep coming back and learning its intricacies to master it.
5. Cultist Simulator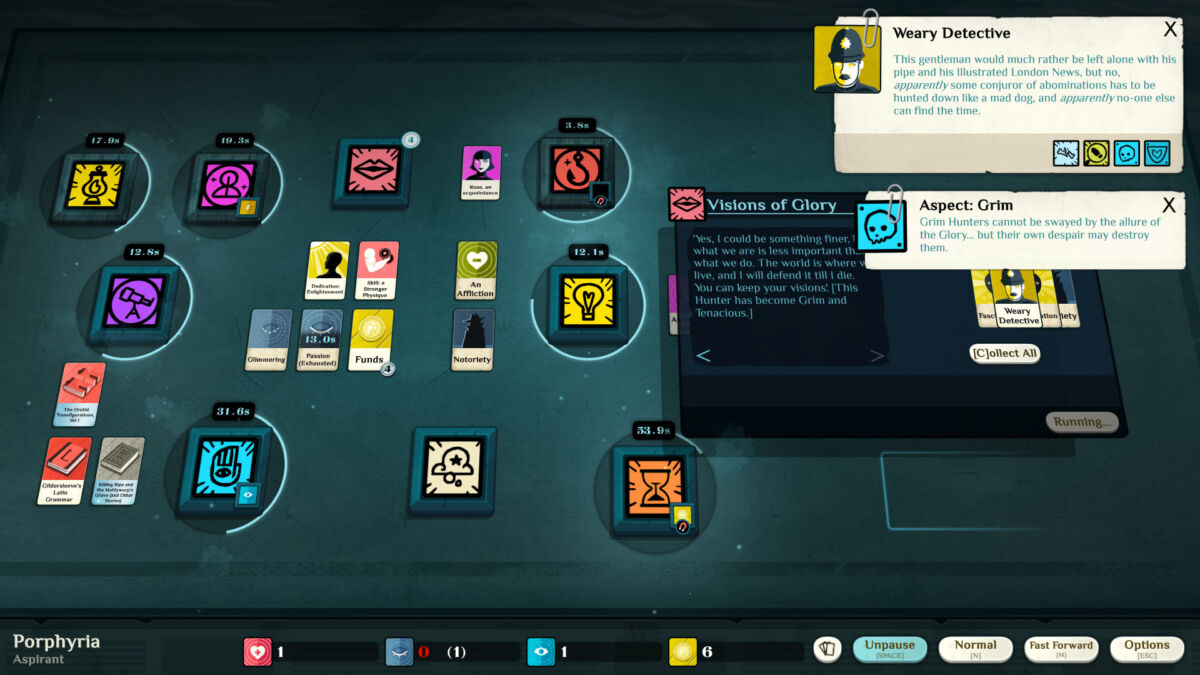 Developer: Weather Factory, Playdigious
Publisher: Humble Bundle, Playdigious
Platform(s): PC, Nintendo Switch, iOS, Android
Not every management game has to have fancy or complicated graphical elements to enhance the gameplay experience, as Cultist Simulator very well demonstrates. In this roguelike card-driven adventure game, you'll take the role of a hapless human working to discover the mysteries of ancient power, in effect creating your own organization and operation.
Unlike some of the more focused and specialized management games, such as Planet Coaster or Offworld Trading Company where the goal is to become rich off of a successful business, Cultist Simulator puts the objectives in the player's hands. Essentially, it's the current situation, resources, and character traits that will incentivize you to pursue your own objective, be it discovering ultimate knowledge, becoming rich, or whatever else the game may offer you.
The flip side of this freedom is that the game's mechanics come across as somewhat obtuse, which can lead to frustration, especially if it's something random or out of your hands that ultimately brings you down. It may not have the appearance of a big-budget hit, but Cultist Simulator is a deceptively engrossing adventure-management game that'll offer you secrets after secrets to keep you going.
4. Two Point Hospital
Developer: Two Point Studios
Publisher: SEGA
Platform(s): PC, macOS, PS4, Xbox One, Nintendo Switch
For a long while, Bullfrog Productions' Theme Hospital was the only hospital management game that charmed players with its eccentric silliness and creative, hilarious take on leading a medical organization. More recently, Two Point Hospital has taken the crown by modernizing the experience with improved graphics, a 3D engine, and a more navigable UI, while still maintaining the barrage of puns and hilarity of Theme Hospital.
You'll be tasked to create a successful medical organization that can best respond to the needs of your patients in a variety of scenarios, ranging from earthquakes to challenging weather conditions and even diseases sponsored by nuclear contamination. The game pretty much comes down to a supply chain manager as you create an efficient system of diagnosis and successful treatment.
For such a person-focused industry, Two Point Hospital can feel dehumanizing and soulless at times, as patients have little agency and their wellbeing only matters as much as they're able to pay for their treatment and line your pockets with cash. However, the game's unrelenting charm and wide range of rooms, gadgets, machinery, and staff make it one of the best management games of all time.
3. Planet Zoo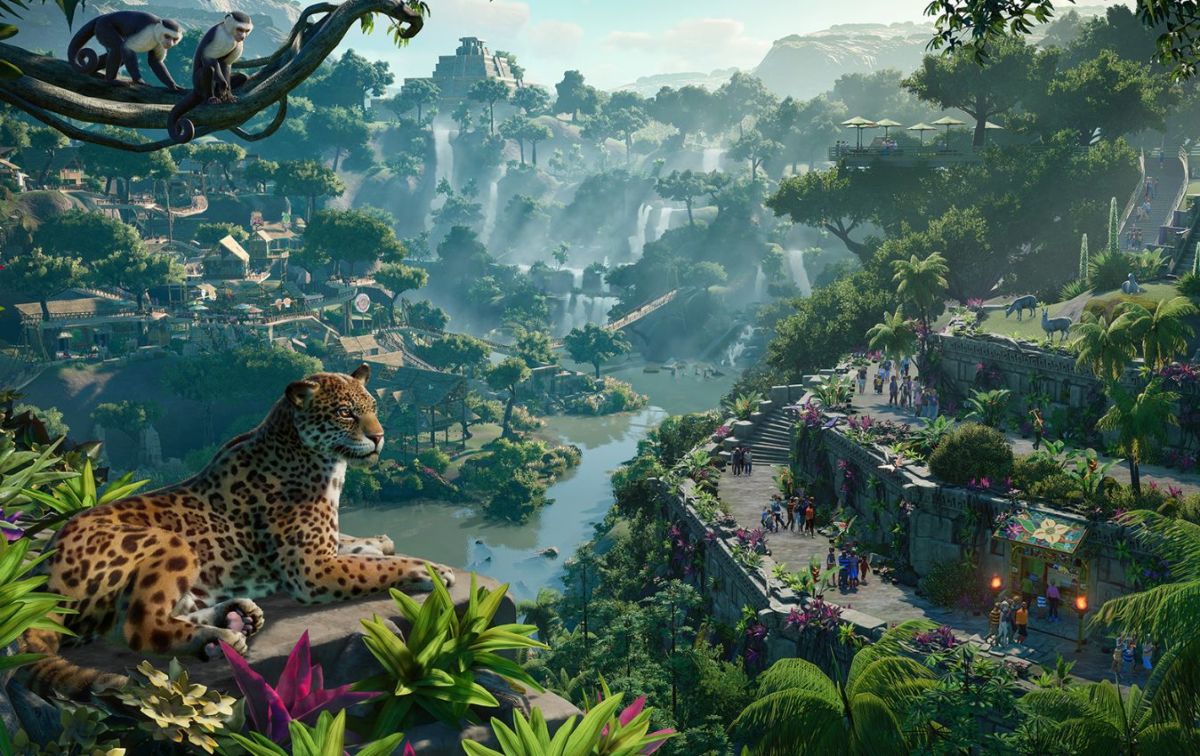 Developer: Frontier Developments
Publisher: Frontier Developments
Platform(s): PC
From homo sapiens to the rest of the animal kingdom, Planet Zoo tasks you with managing a habitat that best suits the needs of a great variety of animals. Just like the preceding Planet Coaster, Planet Zoo immediately captivates with its scale and flexibility of construction and terraforming.
It's really in the details where Planet Zoo wins out as you can fiddle, tinker, and customize every habitat to your heart's content and ensure that the animals' needs are maximally taken care of. The terraforming tool in particular gives a huge amount of power to craft the land to best suit your needs and create an effectively operating park. You'll also need to actively exercise that creativity as there's a huge number of animals to track and work around.
Planet Zoo does share Coaster's performance issues at a large scale when your zoo gets big and intricate, though to a lesser extent due to the improvements of the engine, but it could still get in the way of your enjoyment. What's on offer though in Planet Zoo is the ultimate zookeeper and park management experience with an unprecedented amount of freedom.
2. This War of Mine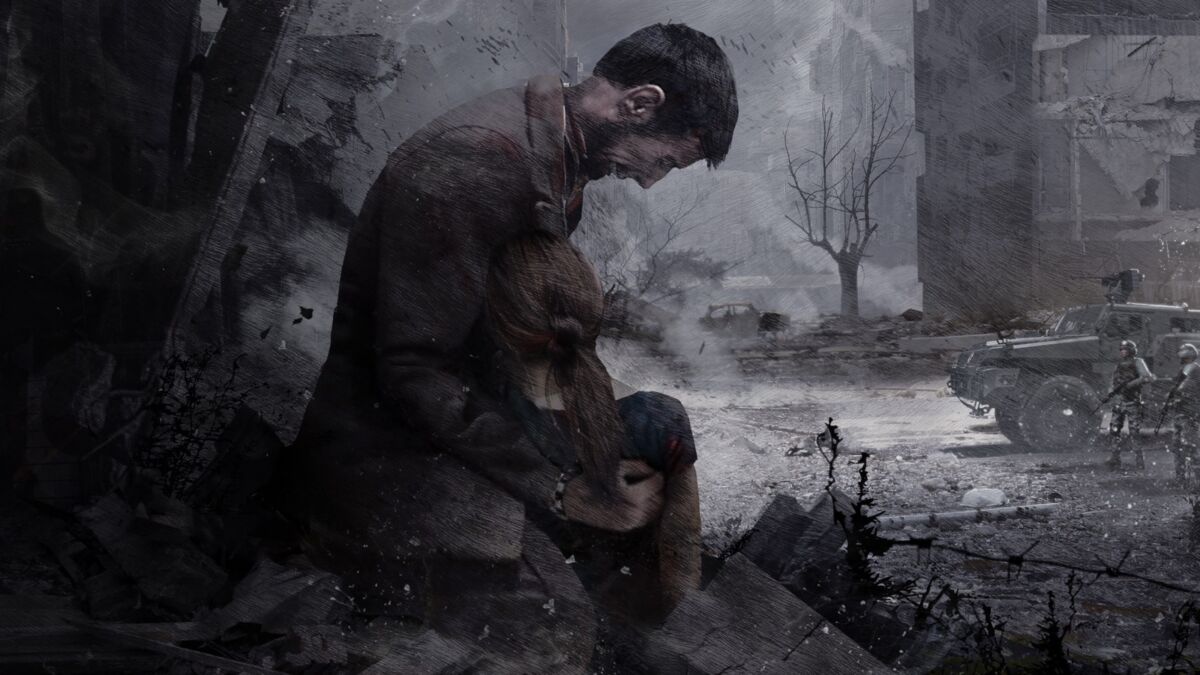 Developer: 11 Bit Studios, Crunching Koalas
Publisher: 11 Bit Studios
Platform(s): PC, PS5, PS4, Xbox Series X & S, Xbox One, Nintendo Switch, Android, iOS
This War of Mine stands out from the rest of its management cousins for its intense and highly relevant subject matter, as well as its survival angle on the management gameplay. This War of Mine may not necessarily be a game for everyone due to its mature themes and emotionally resonant, heavy exploration of war, but it's nevertheless an important cultural cornerstone.
In This War of Mine, you'll manage the lives of a group of survivors scrounging for resources to endure and live through a prolonged and devastating war. You'll not only need to take care of the physical needs of your people, such as sickness or wounds, but also their psychological needs as well, and make sure that you don't let up hope in these trying times. The resource management and survival aspects of This War of Mine aren't quite at the same level of depth as other survival games, but that's easily made up by the inherently visceral nature of the gameplay.
Most importantly, This War of Mine teaches a valuable lesson of empathy to average people stuck in a terrible and challenging situation that they didn't ask for and the way it's presented is both touching and emotionally draining. The sum of its parts makes This War of Mine an incredible management game.
1. RimWorld
Developer: Ludeon Studios
Publisher: Ludeon Studios
Platform(s): PC, macOS, Linux
Perhaps the ultimate management game that'll last for many years to come, RimWorld combines the depth of managing people with incredible emergent story-telling potential. The setting of a fledgling sci-fi colony on a distant planet really helps bring home the open-ended nature of the game that's unrivaled in most other sandbox experiences.
Along with the setting, RimWorld's story-telling potential comes from the well-developed and varied random events generator, which can range from the reasonable to the downright crazy and absurd. Pretty much anything can happen in every playthrough of RimWorld, making every session unique and memorable. Few games will let you be an honest farmer, harvesting alien grain on a new planet, or lead a secret organ harvesting operation just for the sake of it.
Aside from being overwhelming in its incredible player freedom, there's little at fault in RimWorld that's worth pointing out. RimWorld is definitely the current king and best management game of all time, especially with some mods.
READ NEXT: 15 Best Fantasy Strategy Games of All Time
Some of the coverage you find on Cultured Vultures contains affiliate links, which provide us with small commissions based on purchases made from visiting our site. We cover gaming news, movie reviews, wrestling and much more.