It's summertime in Animal Crossing: New Horizons, which means a whole bunch of new fish to catch. From the start of June, players can even start catching a bunch of shark, the Great White Shark most impressive of all.
The shark is a pop culture icon, even recently getting its own game with Maneater. It's one of the most lucrative fish in the game, but also one of the rarest. You will go through a lot of frustration before you find one.
Here's everything you need to know about catching the Great White Shark in Animal Crossing: New Horizons.
MORE JUNE 2020 FISH: Arapaima | Arowana | Dorado | Gar  | Giant Snakehead | Hammerhead Shark | Saddled Bichir | Saw Shark | Whale Shark
Great White Shark Quick Facts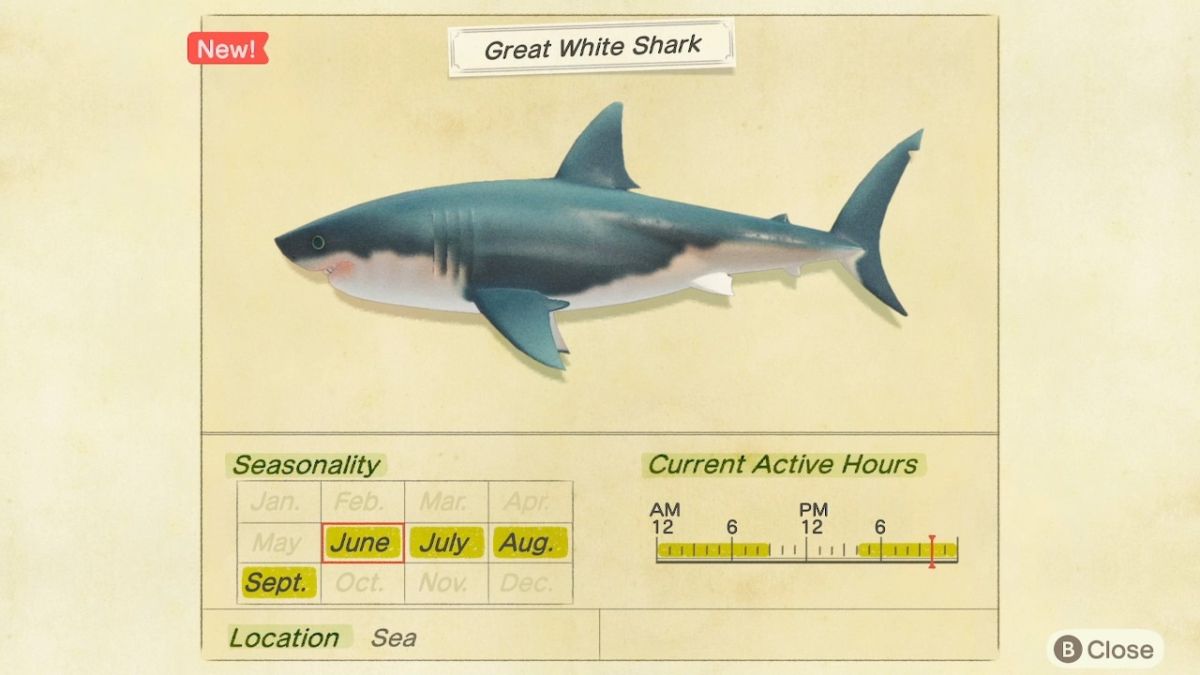 | Name | Location | Time of Day | Price | C.J. Price | Seasonality |
| --- | --- | --- | --- | --- | --- |
| Great White Shark | Sea | 4PM-9AM | 15000 Bells | 18000 Bells | June-September |
Here's what you say when you catch the Great White Shark in New Horizons:
"I caught a great white shark! Watch out for its jaws!"
It looks very much like the classic Great White Shark we've come to fear, expect with a slightly goofy grin.
Great White Shark Location, Time of Day & Size
The Great White Shark in New Horizons be found in the sea surrounding your island. It is of a very large size, but just like all the other sharks, it also has a fin that comes out of the water to help it stand out.
You can catch it between 4PM and 9AM. It is a very rare fish, so be sure to craft yourself plenty of bait and be patient. It took us roughly five hours of straight fishing before we found one.
Great White Shark Museum Donation
Here's what Blathers has to tell you about the Great White Shark when you go to donate it:
"Great white sharks are obviously known first and foremost for their biting. They are masters of the craft! They do lose teeth regularly through biting-related activities, but, luckily, those teeth grow back quickly. In fact, their missing teeth can be regrown in a single day. Just imagine their tooth-fairy-related income!"
Great White Shark Bells Price
The Great White Shark in New Horizons will fetch you 15,000 Bells when sold to Nook's Cranny. This makes it one of the most valuable fish in the whole game.
You can also hold onto it until C.J. comes to your island, who will buy it for 20% more than usual for 18,000 Bells.
When Are Great White Sharks Available Until?
You actually have plenty of time to catch the Great White in Animal Crossing, it being available from the start of June until the end of September.
While that is loads of opportunities to catch the very rare fish, you can always use time travel to go to a specific month in the game just in case you miss out on it the first time around.
Animal Crossing: New Horizons, which is out now exclusively for Switch, is a pretty great game. From our review:
"New Horizons is a great continuation of an already fantastic series of games, and paying back Tom Nook's loan has never been so fun."
MORE NEW HORIZONS:
– Animal Crossing: New Horizons: Which Bugs Spawn During Rain?
– Animal Crossing: New Horizons: How To Grow Gold Flowers
– Animal Crossing: New Horizons: How To Get Rusted Parts
Some of the coverage you find on Cultured Vultures contains affiliate links, which provide us with small commissions based on purchases made from visiting our site. We cover gaming news, movie reviews, wrestling and much more.