Animal Crossing: New Horizons is a game for those with a green thumb, players who love nothing more than to plant loads of flowers and watch beautiful gardens flourish. A lot of people may not know, however, that you can also grow gold flowers in New Horizons.
You need to have met quite a few conditions before you can grow gold flowers in the latest Animal Crossing game. You will need to have spent anywhere from 150-200 hours playing the game before you can realistically start growing them as you need to achieve many things beforehand.
The first is that your island needs to be at five stars. This is a very long process that requires you to fill up your island with appealing scenery, various flowers, different fences, and have at least eight villagers.
You can check your island's star rating at any point by going to see Isabelle in Resident Services. Once you finally reach that landmark, she will give you a recipe for a Golden Watering Can, which is vital for growing golden flowers in New Horizons.
To craft the Golden Watering Can in New Horizons, you will need one gold nugget and a normal watering can; visit a DIY workbench to craft it.
Once you have done that, it's time for step two of the plan.
You will need to learn how to make hybrid flowers, namely the black roses. Make sure you buy plenty of red roses, which should either be available to buy from Nook's Cranny or Leif. Black roses will grow once you plant red roses in a checkerboard pattern, like you can see below in this less than professional design plan.
So, plant a red rose, leave a space, and so on, making sure there is no red rose planted directly beneath another.
It will take you quite a few days until you have enough black roses to make a checkerboard for gold, so make sure you keep watering them to make them grow faster.
Once you have eight or so black roses, you will then want to repeat the method but this time swap the red roses with the black roses you've been growing. Here's a diagram of how that will look.
Now for the most important part: tending the flowers. Make sure you are watering the black roses every single day with the golden watering can. After a few days, you should notice that the gold roses will start to sprout.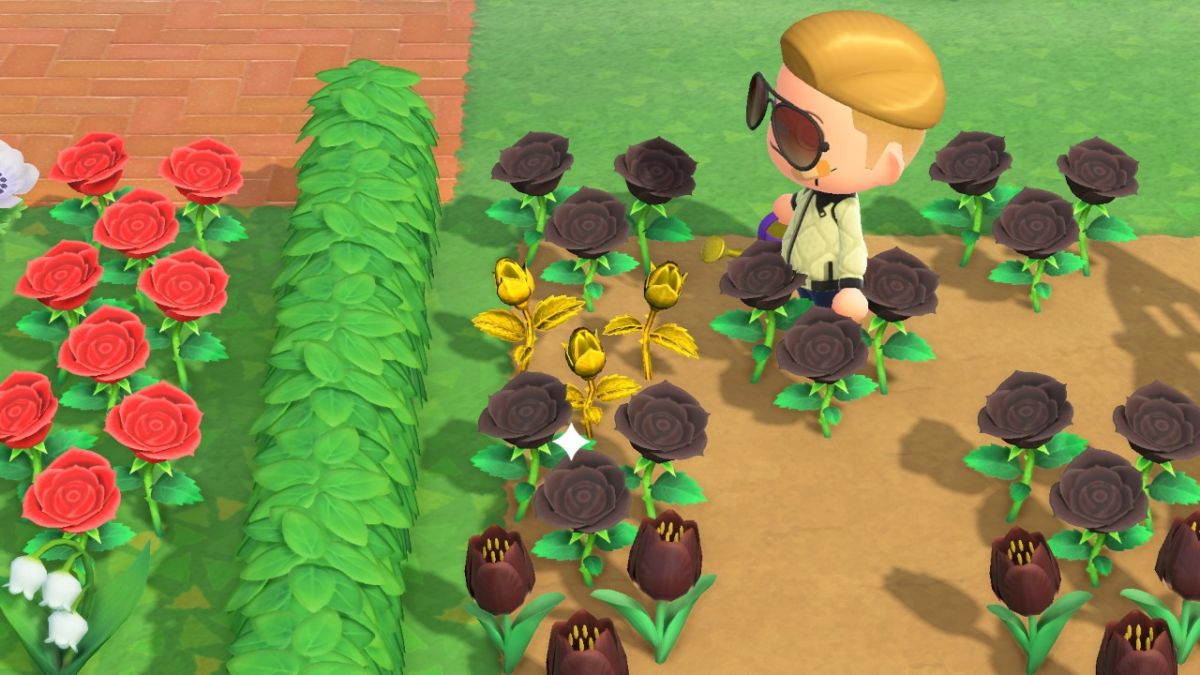 And there you have it, everything you need to know to grow gold flower roses in Animal Crossing: New Horizons. It will take you a long time to grow a proper flower bed of golden flowers, but if you don't want to wait around, there's always the option of using time travel.
As for what you can do with them, they unfortunately cannot turn into gold nuggets if you're really struggling to make all the golden equipment in the game. They're just a really eye-catching addition to your island's flora that will impress any visitors.
Animal Crossing: New Horizons, which is out now exclusively for Switch, really is a golden experience. From our review:
"New Horizons is a great continuation of an already fantastic series of games, and paying back Tom Nook's loan has never been so fun."
MORE NEW HORIZONS:
– New Horizons: All New May 2020 Bugs
– New Horizons: All New May 2020 Fish
– How To Get Rusted Parts
Some of the coverage you find on Cultured Vultures contains affiliate links, which provide us with small commissions based on purchases made from visiting our site. We cover gaming news, movie reviews, wrestling and much more.