As a console with an ever-growing library, you can rest assured that the PS4's free games are pretty comprehensive in their scope. If you don't have the cash to spare on the new big thing, there's nothing wrong with picking up a free game to tide you over — just as long as you don't fall down the rabbithole of microtransactions.
The conversation about free-to-play games is shifting, if only slightly. Games like Fortnite have proven that you can have a pretty compelling game without making your wallet feel lighter. Free console games tend to go down the cosmetic microtransaction route, which mean that they aren't pay-to-win.
With that in mind, if you're bankrupt from buying every edition of Bubsy: The Woolies Strike Back imaginable or just want something new to download, here's a sample of the best free games on the PS4. Also, as the new console is almost completely backwards compatible, these free games will also work on PS5.
FREE PS4 GAMES INDEX:
– Best Free PS4 Shooter Games
– Best Free PS4 MMOs And Action RPGs
– Best Free PS4 Single Player Games
– Best Free PS4 Fighting Games
– Best Free PS4 Sports Games
The Best Free PS4 Shooter Games
Fortnite: Battle Royale
Developer: Epic Games
Publisher: Epic Games
Microtransactions? Yes
Single Player/Multiplayer? Multiplayer
A game so maddeningly addictive that it's probably on the state of Hawaii's watchlist, Fortnite is arguably the biggest thing in gaming right now. And it's completely free, unless you desperately need to dress up as a dinosaur to unleash your inner Jurassic Park.
While its premium skins are certainly on the premium side, none of the microtransactions in the game will affect gameplay in a noticeable way. In fact, depending on the skin you choose, you may end up sticking out like a sore thumb on the battlefield.
If you're yet to see what all the fuss is about, you may as well dive in — and then dive out when you realise all teenagers in the world are better at it than you will ever be.
READ NEXT: How Many People Play Fortnite?
H1Z1: Battle Royale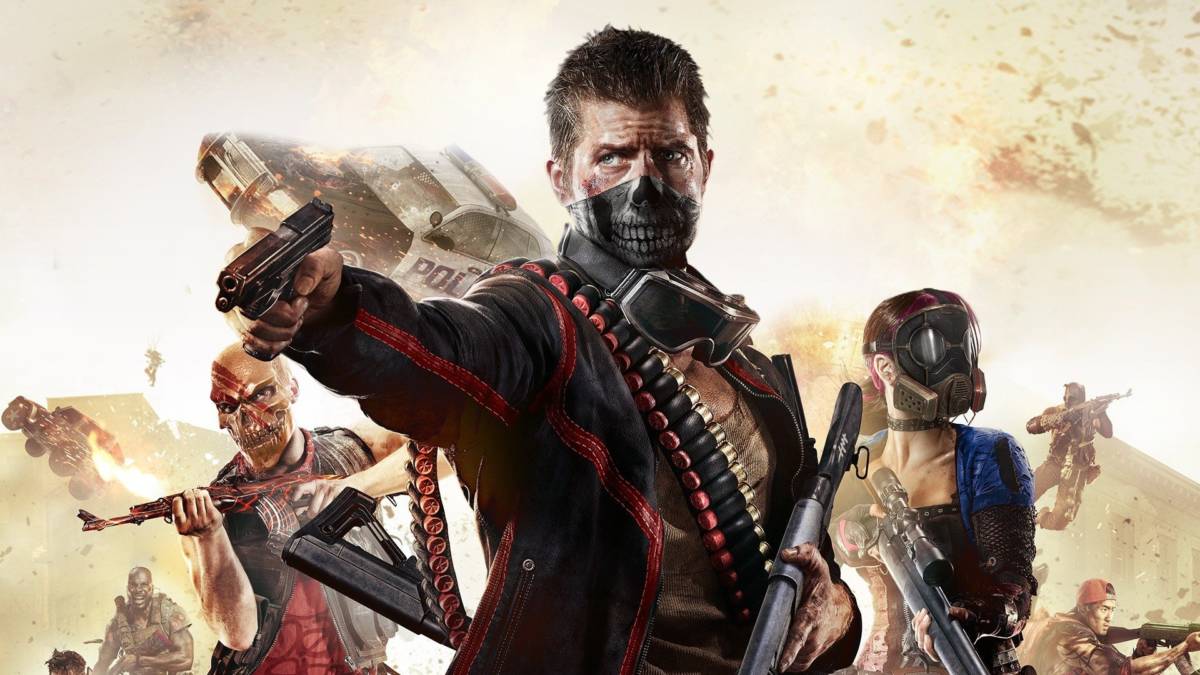 Developer: Daybreak Games
Publisher: Daybreak Games
Microtransactions? Yes
Single Player/Multiplayer? Multiplayer
The game that popularised battle royale as we know it wasn't expected to land on PS4 in such a solid state, but it did, minus the obligatory server outages with 1.5 million players trying to connect to the game within the space of 24 hours. That's a lot of people that want to kill other people.
Coming across like the midway point between PUBG and Fortnite, H1Z1 on PS4 is a tinkered version of the old PC favourite with changes introduced to suit the game better to console. It's rather easy to pick up and play, but crazy difficult to be "good" at. It's stuffed with cosmetic microtransactions, but you can quite easily overlook them as a lot can be unlocked through natural play.
From our H1Z1 review:
"Though it's not without fault, and will likely do little to take away from Fortnite's ever-growing popularity, H1Z1 on PS4 is a worthy addition to the crowded genre. Plus, it's free. Can't complain with that."
Paladins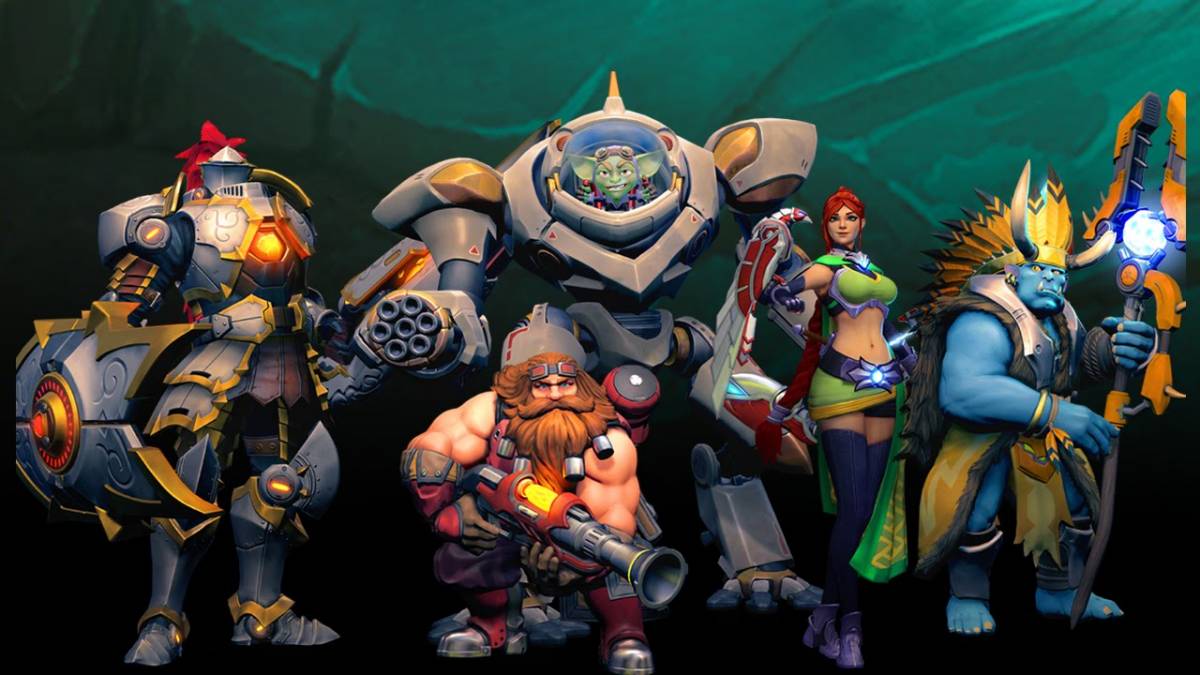 Developer: Hi-Rez Studios, Evil Mojo Games
Publisher: Hi-Rez Studios
Microtransactions? Yes
Single Player/Multiplayer? Both
I searched the depths of my brain and tried to find a door to lock the Overwatch comparisons behind, but it's impossible: Paladins is always going to be unofficially married to Blizzard's monolith in one way or another. It's not hard to see why that's the case, either.
Sharing more than a few strands of DNA with Overwatch, Paladins is affectionately dubbed the "peasant" version of the hero shooter. While the step-down in quality is pretty obvious, Paladins still has tight shooting and an emphasis on teamwork that's worth checking out, if only to figure out which Overwatch characters they were inspired by with their roster.
Hawken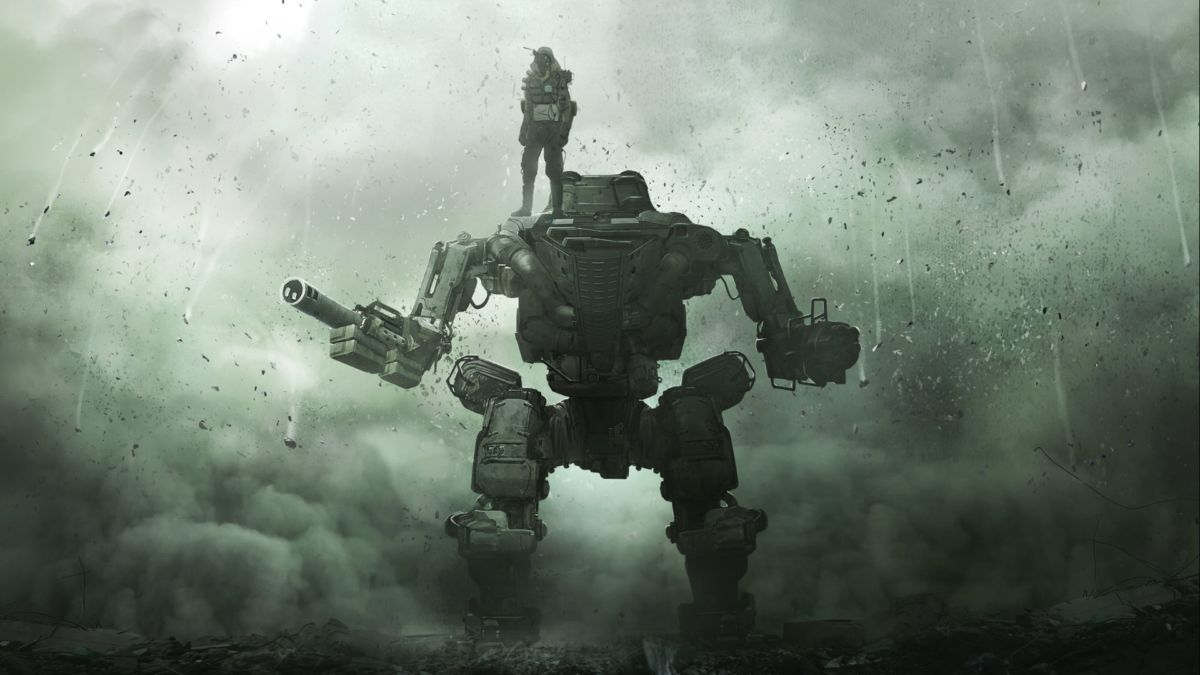 Developer: Hawken Entertainment
Publisher: 505 Games
Microtransactions? Yes
Single Player/Multiplayer? Multiplayer
Big bastard mechs fighting each other: a simple idea not executed often enough in video games. While Hawken doesn't have the fluidity of something like Titanfall 2, it's still a good time in its own right. It's also a lot more tactical than meets the eye, meaning that you will have to have a plan of attack before you take the fight to other mini-Metal Gears online.
While its PC version may have been shut down, Hawken still enjoys some popularity as a PS4 free-to-play game. It's a little rough around the edges and not exactly gorgeous to look at sure, but with a generous monetisation model and plenty of maps to constantly explode in, Hawken is a game that will tide you over for a short while during the release schedule's quieter spots.
Spacelords
Developer: MercuryStream
Publisher: MercuryStream
Microtransactions? Yes
Single Player/Multiplayer? Both
If you don't recognise this game, it's probably because it used to be called Raiders of the Broken Planet: a paid game that really flattered to deceive when it launched and never mustered a huge playerbase. While you would be hard pressed to suggest that the fresh lick of paint and a new business model has been a revelation, it's at least made the experience far more approachable.
The unique hook of Spacelords is that you play as either the good or bad guys in a story-based campaign in 4v1 multiplayer, but you can turn to the dark side if you so wish. It's a novel idea with some tight shooting backed by a pretty distinctive (if questionably ugly) art style. Those who enjoy Warframe may get a kick out of Spacelords.
Apex Legends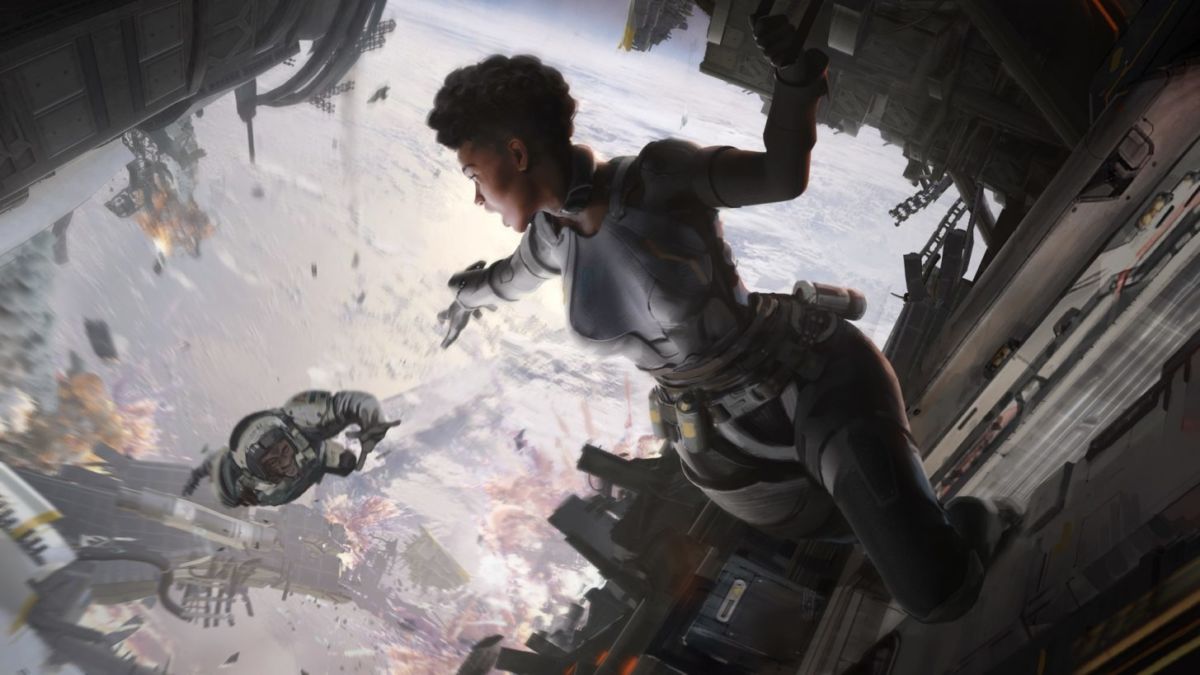 Developer: Respawn Entertainment
Publisher: EA
Microtransactions? Yes
Single Player/Multiplayer? Multiplayer
The game that finally woke Epic from their inertia, Apex Legends has created plenty of competition for Fortnite and co. since it launched as a free PS4 game. It's been a roaring success, going on to reach 25 million players in just under a week and being the talk of Twitch. Its longevity has come into question a few times, but with constant updates on the way and that "one more match" appeal, it has definitely lasted the distance, especially with it now being in its fourth season and still bringing in plenty of invested players.
A squad-based battle royale that has plenty in common with the likes of Overwatch, Apex Legends has a tonne of little innovations (pinging, respawning) that make it feel completely fresh despite the genre being a little overexposed. Even those tired of battle royales in general have found something to love in Apex Legends, and its outlook for the future is looking very bright indeed.
From our Apex Legends review:
"Even the most jaded of battle royale fans will find their interest rejuvenated by Apex Legends thanks to Respawn's attention to detail, superior gunplay, and fantastic innovations, though the loot boxes and progression system certainly need addressing."
World of Tanks
Developer: Wargaming
Publisher: Wargaming
Microtransactions? Yes
Single Player/Multiplayer? Both
A game so transformative that it's more than "just" a game about tanks, World of Tanks is a PVP-centric ride featuring old school tanks. Just in case you don't feel like motoring around Vinewood in a Rhino was a tad too unrealistic, World of Tanks is probably a much better alternative.
Wargaming's money-spinner has actually been going for many years after first launching on PC in 2011 and many different platforms since. Its longevity is down to the barrage of content changes Wargaming diligently push out, as well as how much money it brings in each year.
It's not the friendliest of games if you're wanting a balanced experience without flashing the cash, so keep that in mind.
Planetside 2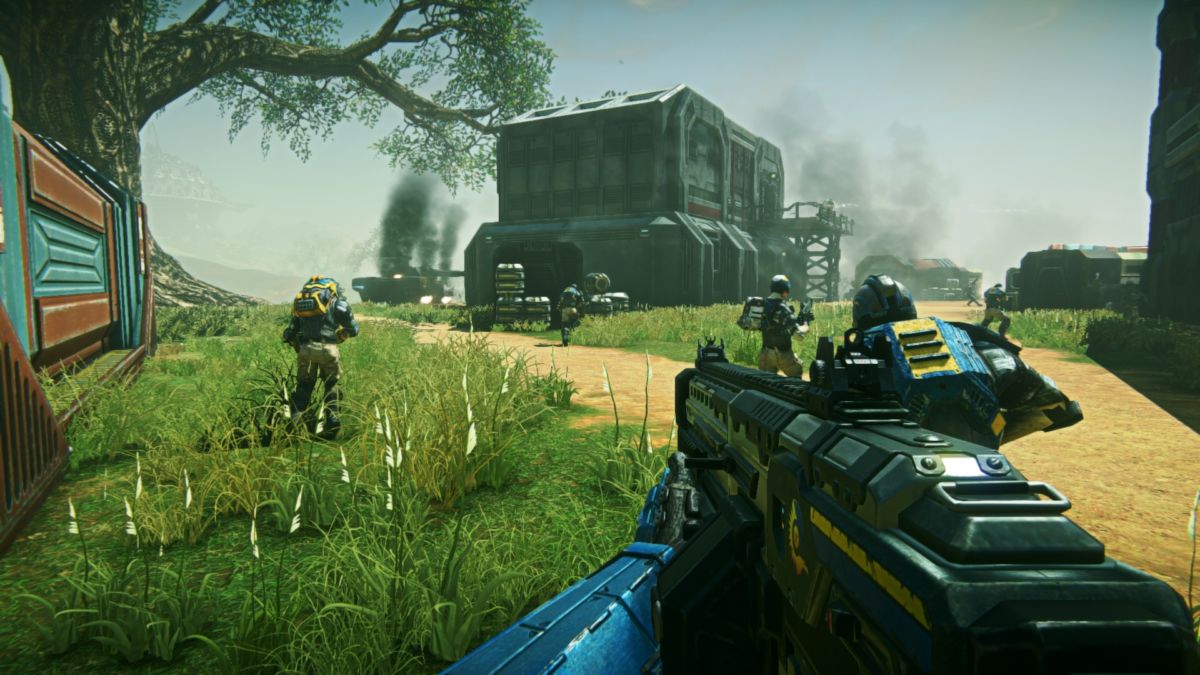 Developer: Daybreak Games
Publisher: Daybreak Games
Microtransactions? Yes
Single Player/Multiplayer? Multiplayer
I have to be honest with you here: it's been a long time since I jumped in to Planetside 2. The gigantic FPS game does not, however, allow you to simply "jump in".
Its battles are massive, long-form affairs that you may need to nap through to see the end of. It currently holds the record for having the most amount of players in any FPS game, so you know it isn't messing around.
Playing a game of Planetside 2 may appear a little bewildering at first, though it's something you do eventually warm to (even if you never fully know what you're supposed to be doing). The perfect FPS game to mess around in, and a good example that free PS4 games don't necessarily have to pull back on the scale to impress.
Destiny 2
Developer: Bungie
Publisher: Bungie
Microtransactions? Yes
Single Player/Multiplayer? Multiplayer
Free from the clutches of Activision, Bungie have been hard at work on turning the Destiny 2 ship around. While the initial response to the game was good, a lack of content and familiarity meant that the game didn't exactly soar. Now they're on their own, Bungie are putting their players first.
One of the first things they did was release New Light, a free to start version of the game that actually gives you a tonne of content. Missions, strikes, Gambit, and much more are all available as part of the free version, and while the time may eventually arrive where you feel like you will need to pay to unlock more, Destiny 2's low price means that you get your money's worth.
Call of Duty Warzone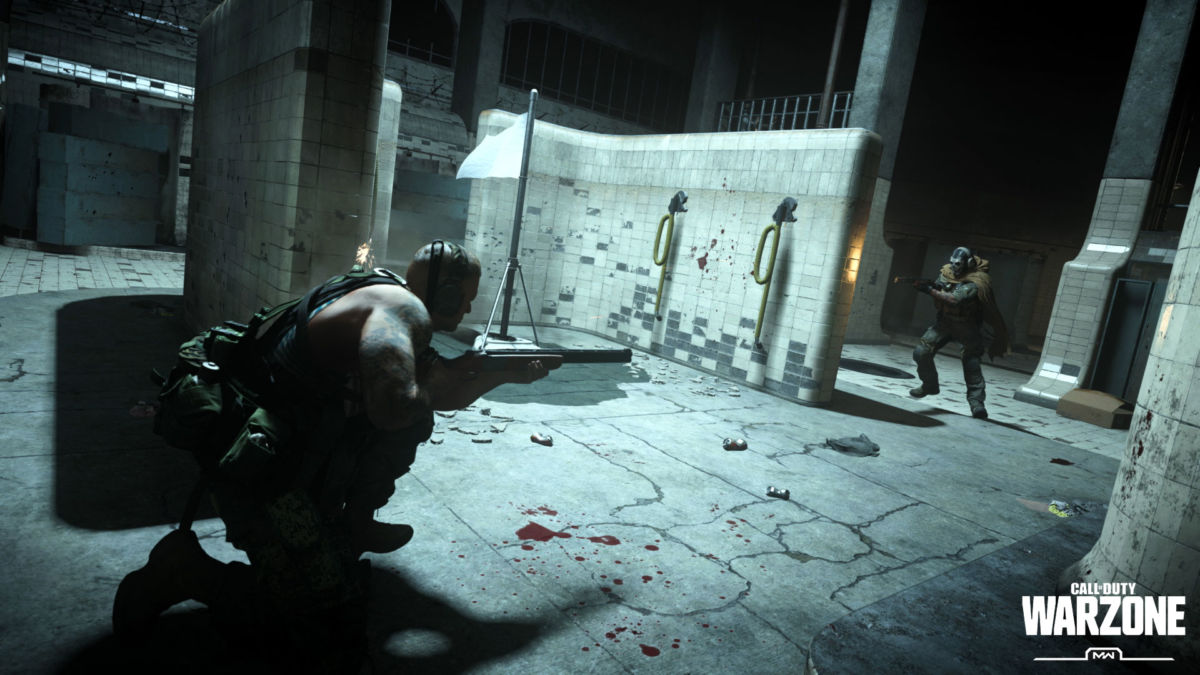 Developer: Infinity Ward
Publisher: Activision
Microtransactions? Yes
Single Player/Multiplayer? Multiplayer
While it's true that are only so many battle royale games that one person can play before they become utterly jaded by the premise, Call of Duty Warzone has enough unique twists on the formula and the famous CoD gunplay the franchise is so beloved for to make it worth your time.
A 150-man battle royale, players can team up in squads of up to three to be the last ones standing. So far, so Apex Legends, but Warzone's Gulag (in which killed players 1v1 others to respawn), the gigantic map, and the sneaky ability to bring in loadouts from the main Modern Warfare experience helps it to stand out.
Even those who don't play Call of Duty that often have fallen in love with Warzone, though their hard drives may not be too happy.
READ NEXT: Best Warzone Controller Settings: Sensitivity, Layout & More
Hyper Scape
Developer: Ubisoft
Publisher: Ubisoft
Microtransactions? Yes
Single Player/Multiplayer? Multiplayer
The latest battle royale on this list of free PS4 games but almost certainly not the last to release, Hyper Scape isn't some huge reinvention of the genre, though it does bring some fascinating concepts to the table.
The first is how it upgrades your weapon each time you pick up the same weapon off the floor, meaning that even a weak gun can be powerful by the end. The second in interesting spin is how it drops players at opposing corners of the map, helping each spot to feel populated. Lastly, the game has great verticality, allowing you to scale and leap across buildings with ease.
Forget all that, though: Hyper Scape lets you turn into a ball. I think that more or less confirms its status as the best free PS4 game.
The Best Free PS4 MMO and Action RPG Games
Warframe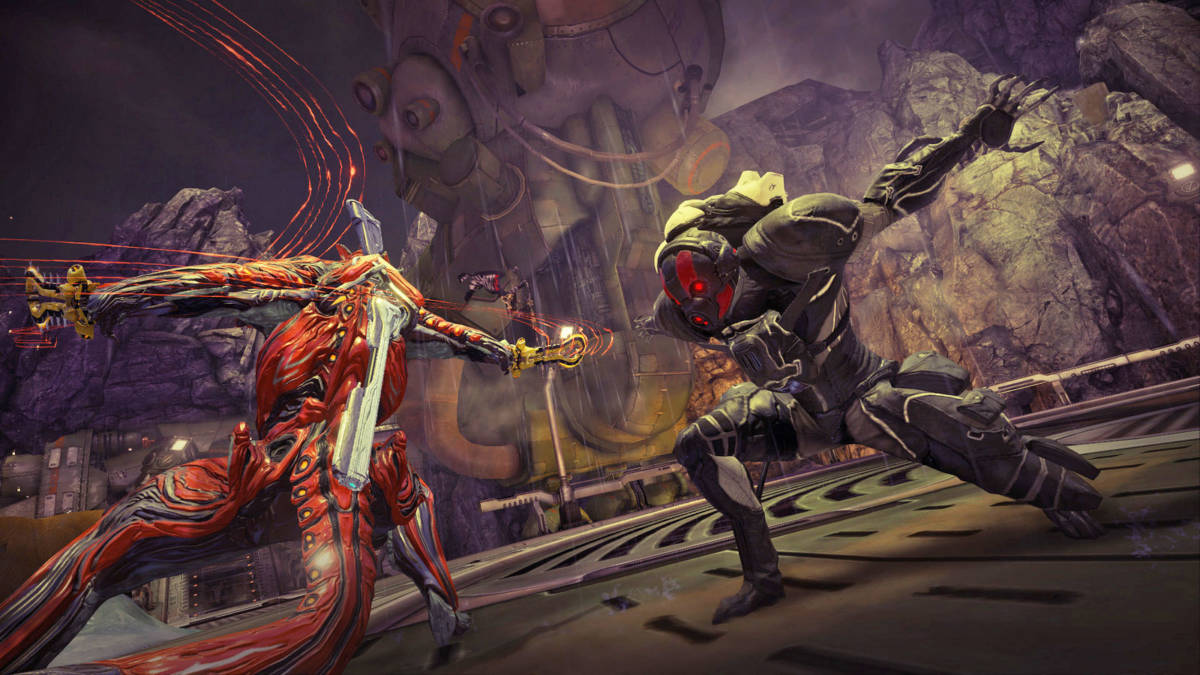 Developer: Digital Extremes
Publisher: Digital Extremes
Microtransactions? Yes
Single Player/Multiplayer? Multiplayer
The perfect example of how you can pull your struggling game back from the brink, Warframe is a constantly updating and evolving online RPG where the main aim is to look sassier than all the other cyborg ninjas. It's basically one long fashion show, but there's a lot of content to distract you from looking like the baddest bitch in all of the galaxy.
However, it's absolutely worth mentioning the Warframe grind. You won't feel compelled at all to open your wallet for the game for its early goings, but it reaches a point where it just seems to be mandatory after dozens of hours. A shame, but that's still dozens of hours of spacefaring nonsense that could quite easily engulf your life for free.
Neverwinter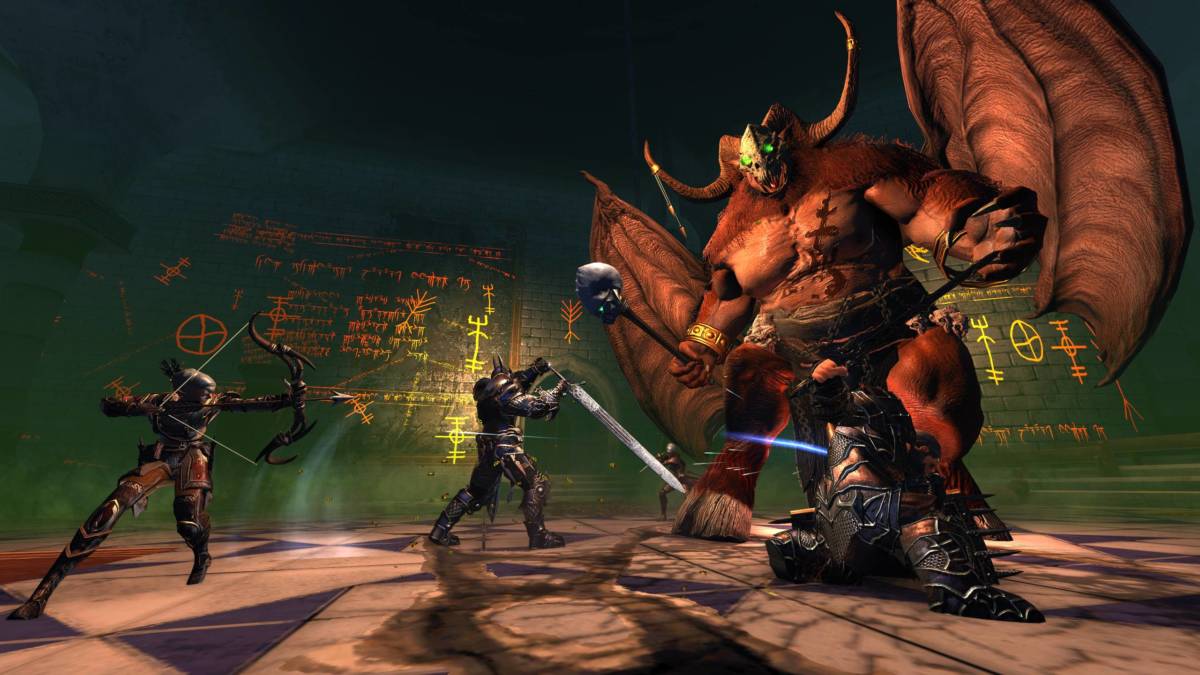 Developer: Cryptic Studios
Publisher: Perfect World Entertainment
Microtransactions? Yes
Single Player/Multiplayer? Both
As far as MMORPG games go, Neverwinter may just be the perfect entry point. It isn't overbearingly robust in its systems or just a lazy PC port, which means that it's one of the MMO titles on the console that you can simply pick it up and play without having to consult several mystical tomes.
Despite being free, it isn't afraid of doling out tonnes of content, either: it has all the expansions previously available on PC ready from the moment you start the game. However, it's worth mentioning that you will hit a paywall eventually to make less grindy progress, but as this free RPG is just a game that you can dip in and out of occasionally, it's not that big a deal-breaker.
SMITE
Developer: Hi-Rez Studios
Publisher: Hi-Rez Studios
Microtransactions? Yes
Single Player/Multiplayer? Both
Without doubt the best option for a MOBA on console, especially now that Paragon has gone the way of the dodo — ironically, it probably wasn't helped by the first game on this list taking up all of Epic's attention. SMITE is a great entry level MOBA, but your enjoyment of it will ultimately be determined by how open you are to the genre overall.
It's a huge battle of gods from different pantheons of mythology, all rationalised by defending towers. SMITE is a silly concept that will lure you in with a steep learning curve that's enjoyable to climb up and a pretty dedicated community to support and berate you at once.
Tera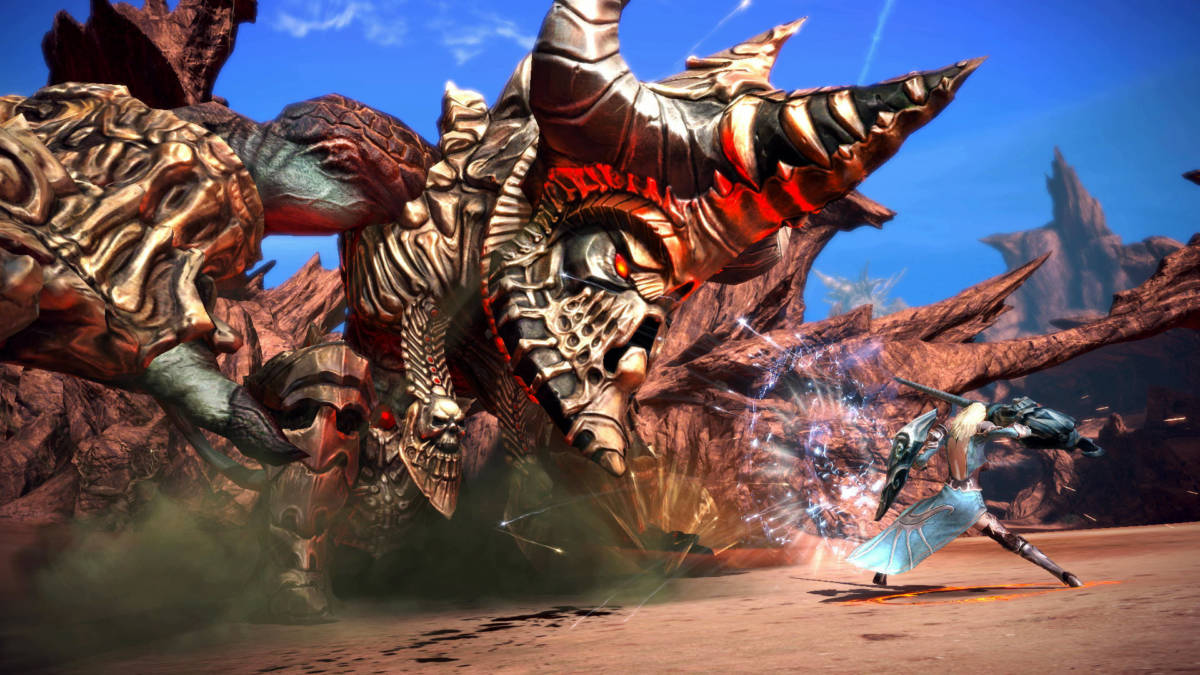 Developer: KRAFTON
Publisher: Gameforge/En Masse Entertainment
Microtransactions? Yes
Single Player/Multiplayer? Multiplayer
Similarly to Neverwinter, Tera is an MMORPG that's fair with its monetisation and packed with content. Previously found on PC, Tera's transition to PS4 has been a fairly smooth one with plenty of players picking up its quick combat and deep systems. There's the obligatory clunkiness of mapping a keyboard to a controller to be aware of, however.
Tera comes with a fairly sized world to explore and a level of customisation that's sure to suck in the detail orientated. It's easy on the eyes thanks to its anime stylings and also has a pretty dedicated community, so it's certainly worth checking out. Tera may not have the same inescapable hook as other MMORPGs, but it's perfect as something to dip into now and again.
Crossout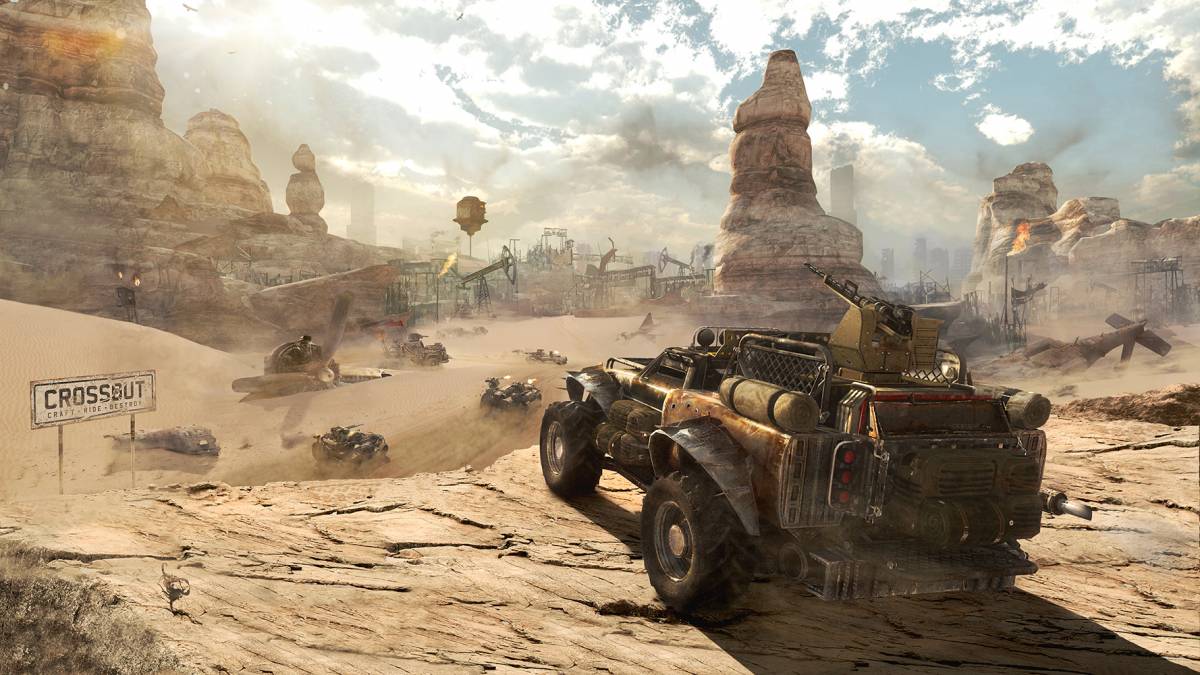 Developer: Targem Games
Publisher: Gaijin Entertainment
Microtransactions? Yes
Single Player/Multiplayer? Multiplayer
While Sony sleep on a new Twisted Metal game, Crossout is a good replacement to scratch that vehicular mayhem itch. A multiplayer car combat game with a bad attitude, Crossout pits you against other combatants and asks you to lean on your creativity with different weapons to gain the upper hand.
Unfortunately, that creativity also comes with a price: a pretty damn steep one at that, too. If you don't put any money into Crossout, you are unlikely to have much fun with it if you're trying to play it competitively. That being said, if all you want to do is live out your Mad Max fantasises, it will tide you over for a short while without separating you from your wallet.
Let It Die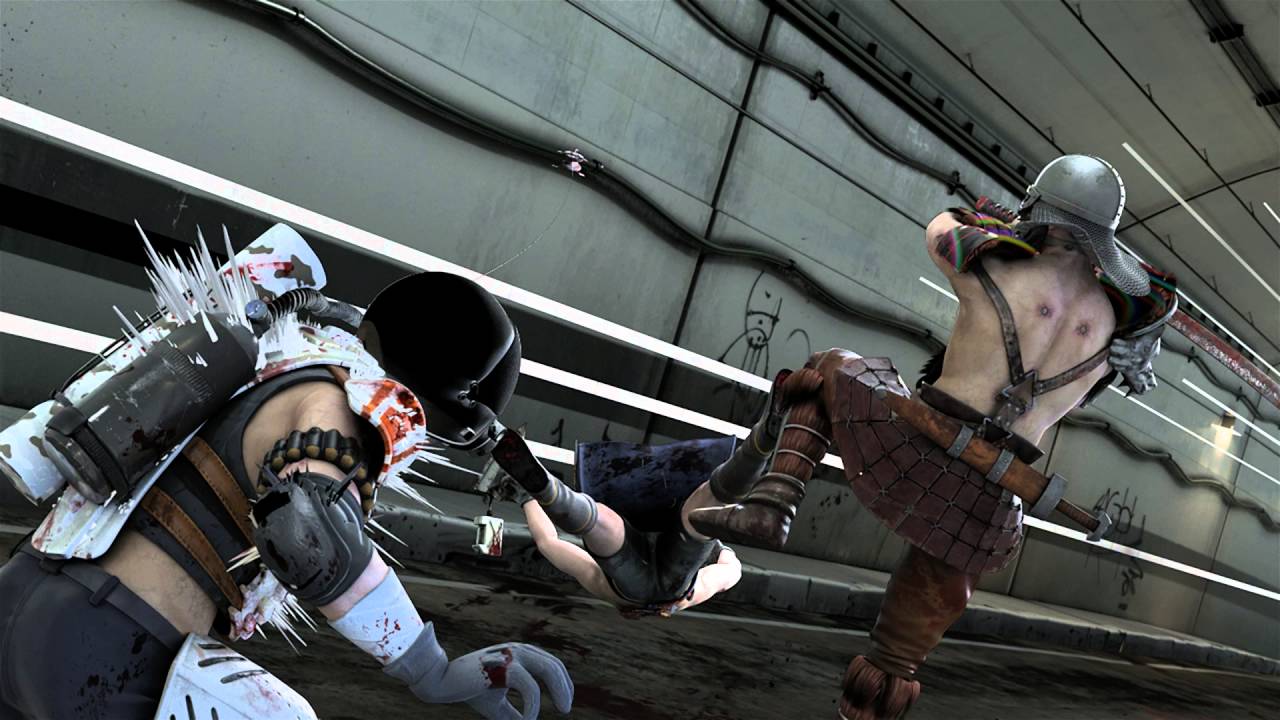 Developer: Grasshopper Manufacture
Publisher: GungHo
Microtransactions? Yes
Single Player/Multiplayer? Multiplayer
Long in the making, Grasshopper's utterly bizarre mish-mash of concepts and ideas is a surprisingly deep hack and slash with roguelike elements. While it was a little rough at launch, the developers have been listening to fan feedback from the start to the point where Let It Die is now just a great game, free-to-play status or not.
The story is bonkers with just about the only scrap of info about it I have retained being that you meet Uncle Death and have to grind your way to the top of a tower. Let It Die isn't going to be a game that's going to immediately make a lot of sense, but Soulsborne fans will definitely get a kick out of it.
Just be careful with mushrooms in what's surely a contender for the best free open world game.
Trove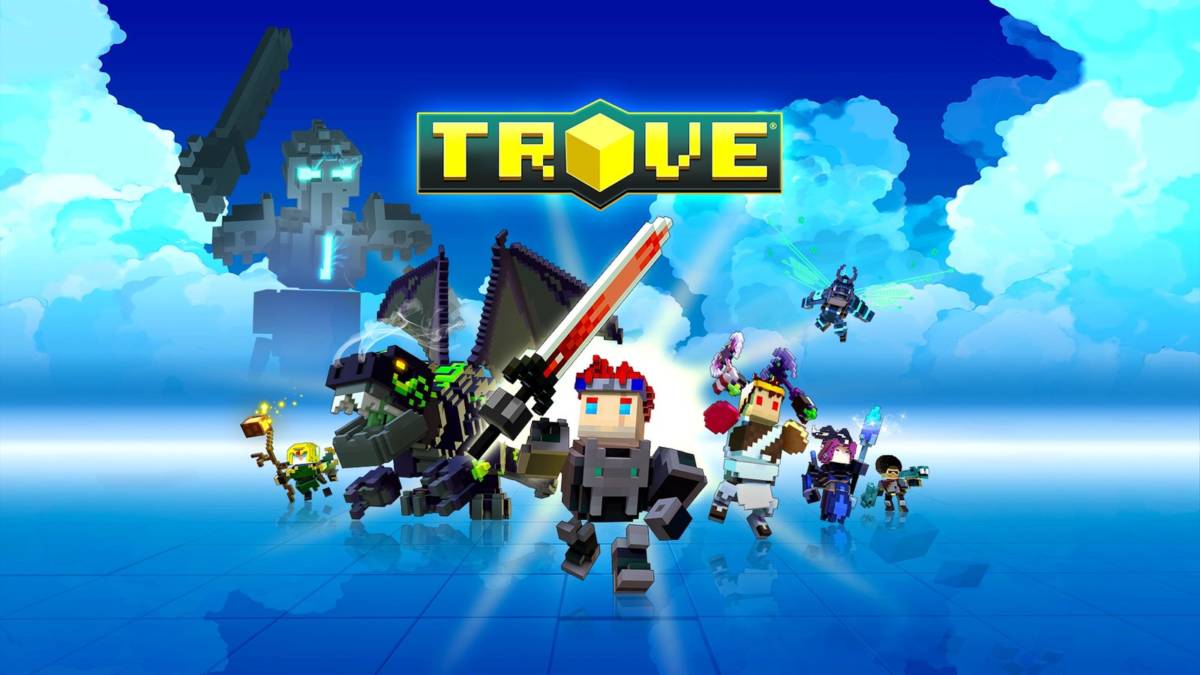 Developer: Gamigo AG
Publisher: Trion Worlds
Microtransactions? Yes
Single Player/Multiplayer? Multiplayer
Repeat after me: it looks like Minecraft, but it isn't Minecraft. Trove is not Minecraft. Trovecraft is no–ah, hell. Let's not lie to ourselves here. At its essence, Trove is an "alternate" take on the mechanics and artstyle that Minecraft the giant that it is with its own unique selling point being that it's free.
If you have kids who have been misbehaving, take away their Minecraft and make them play Trove instead. Here's a tip: make sure you add some pretty strong parental controls to stop them from buying all the Chaos Chests, Party Animal Pinatas, Gem Booster Boxes, Greater Neon Caches, Radiant Sovereigns, Patron Points and so on.
Star Trek Online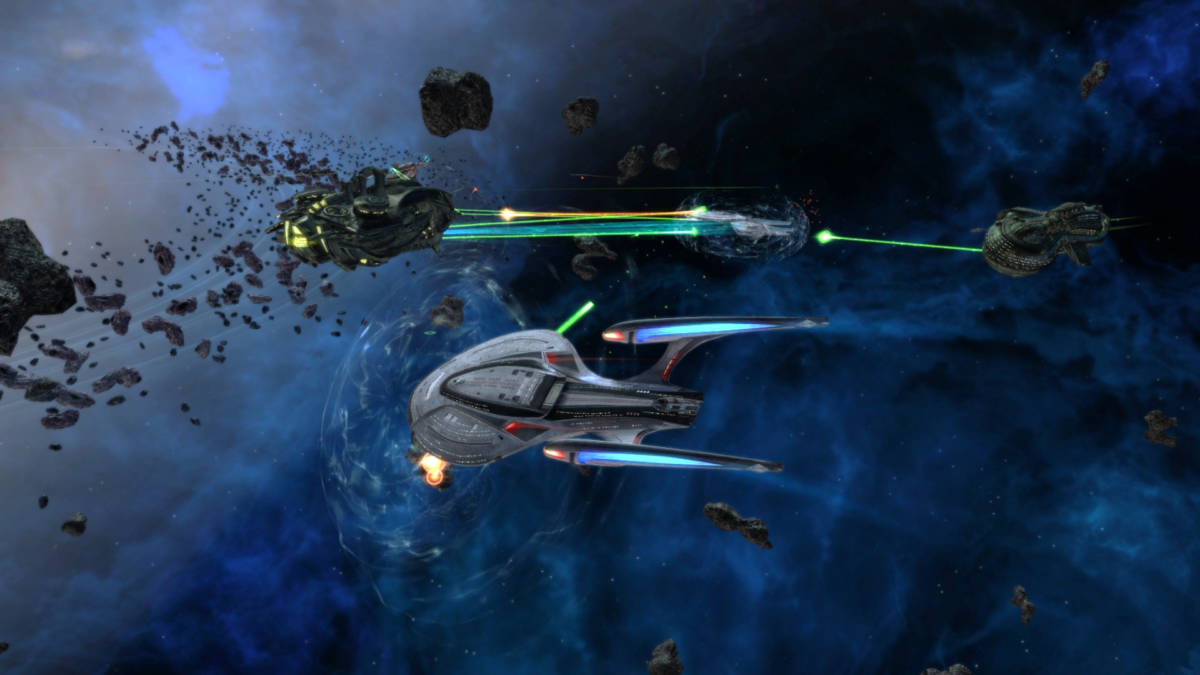 Developer: Cryptic Studios
Publisher: Cryptic Studios
Microtransactions? Yes
Single Player/Multiplayer? Multiplayer
It's quite crazy that the expanses of open space hadn't been fully embraced by a Star Trek game until Online came along. Star Trek Online, while incredibly rough in its early days, is one of the best free PS4 games and and also one of the best ways to approach the Final Frontier.
Behemothic in scale and content, Star Trek Online has its sharp edges and doesn't exactly favour tight purse-strings for its PVP. However, with that side of the game being optional and the spacefaring and narrative costing you a grand total of zero pennies, Star Trek Online is worth checking out by even those only slightly interested in Roddenberry's universe. Even if you aren't investing money into the game, you will gain access to the semi-regular content additions all the same.
Dauntless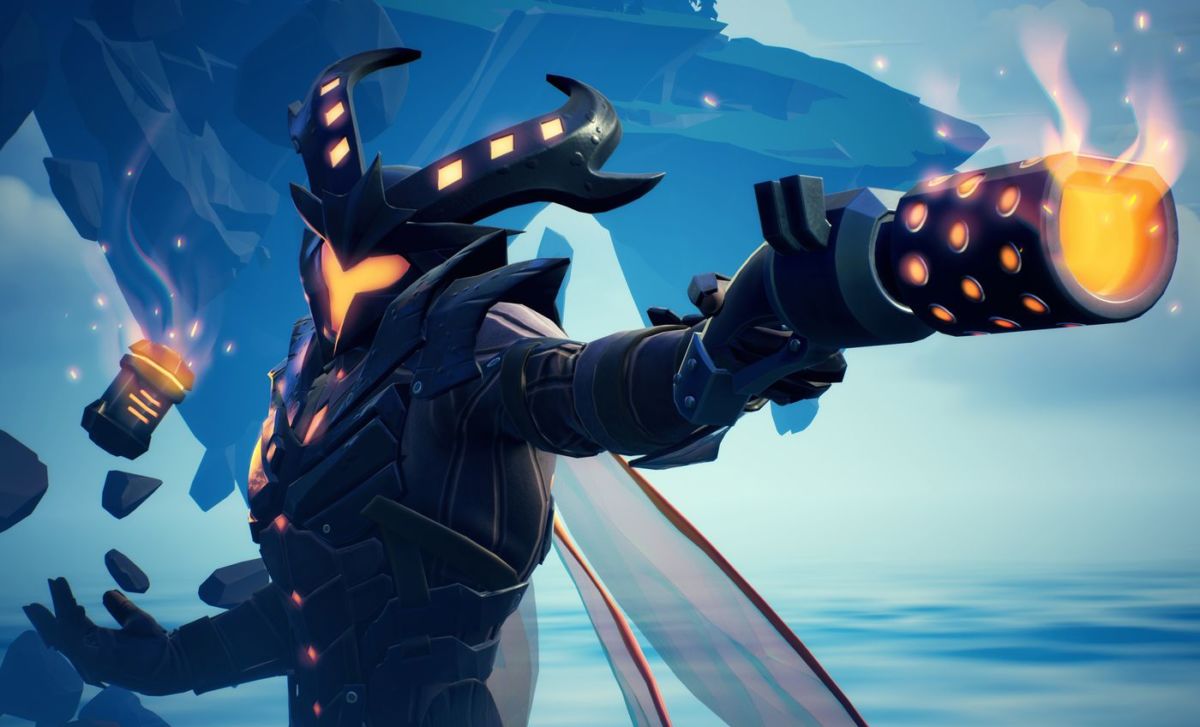 Developer: Phoenix Labs
Publisher: Phoenix Labs
Microtransactions? Yes
Single Player/Multiplayer? Multiplayer
Few first-time developers could hope for the success that Dauntless received at launch. Well, they're technically not first-timers: Phoenix Labs consists of some of the most decorated names in the business, who have previously worked at the likes of BioWare, Blizzard, and Capcom. That experience truly shines through.
While the simple elevator pitch of "Fortnite meets Monster Hunter" has been parroted to the point of you feeling nauseated, don't sleep on Dauntless. It's a hugely fun time with or without you investing your hard earned money into it, and it's only just getting started at this time of writing.
Plus, if you want a free PS4 game that you can also play with your PC and Xbox One pals, you're in luck thanks to its cross-play.
Path of Exile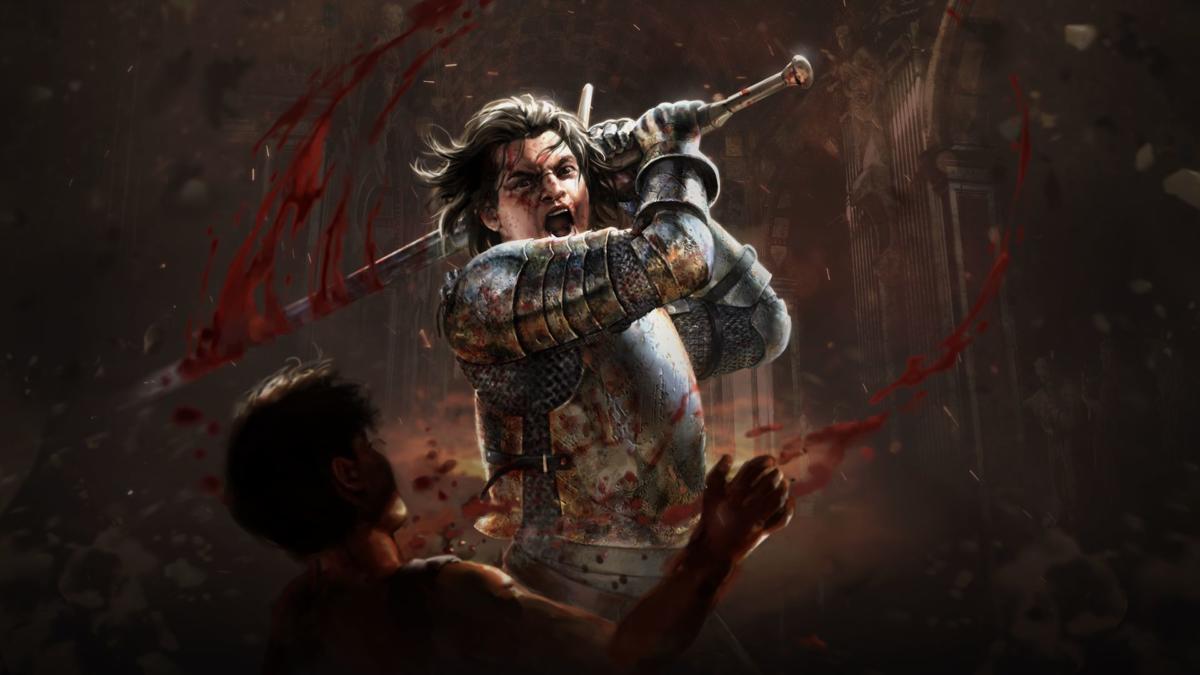 Developer: Grinding Gear Games
Publisher: Grinding Gear Games
Microtransactions? Yes
Single Player/Multiplayer? Both
A game almost designed for those who love Diablo while simultaneously being sick of Blizzard, Path of Exile is an action RPG that has positively exploded into popularity over the last few years and it all comes down to how well it's been supported.
Loot is, of course, the aim of the game here, and it feels almost overwhelming in terms of scope. Path of Exile's skill trees almost demand glossaries on their own and competitive play is absolutely not for the faint-hearted.
With almost unlimited options for customisation and an absolutely wild difficulty curve, Path of Exile's quest that sees you attempting to enact revenge in the dark continent of Wraeclas will take over your brain if you're not careful.
The Best Free PS4 Single Player Games
Hitman 1 & 2
Developer: IO Interactive
Publisher: IO Interactive/Square Enix
Microtransactions? No (full game unlock)
Single Player/Multiplayer? Single Player
Say what you will about Hitman's approach to content, but it's hard to argue against it having some of the best gameplay of the series to date. Featuring massively open levels with plenty of ways to approach your targets, it's a stealth game that rewards exploration, and also drowning people in toilets.
For the grand sum of nothing at all, you can download the intro to the game, which gives you an eminently replayable level to mess around in until you eventually get hailed as a Silent Assassin. Failing that, you can always try to make a penis shape out of dead bodies, which is what video games were quite clearly created for in the first place.
The other episodes of Hitman are periodically up for free for a limited time, too, so keep your eyes out.
Hitman 2 also has a free PS4 prologue available.
Fallout Shelter
Developer: Bethesda
Publisher: Bethesda
Microtransactions? Yes
Single Player/Multiplayer? Single Player
Such a simple and effective concept that Westworld copied it (and wound up in trouble for doing so), Fallout Shelter tasks you with overseeing your very own Vault in the Fallout universe. If you're tired of the heaviness of the mainline games and just want to select some things on occasion, Shelter should be your next port of call.
In terms of its F2P monetisation scheme, it's not so bad. Originally released as a mobile game, Fallout Shelter is essentially a tapping simulator filled with waiting times. It's not as oppressive as some of its peers, however, meaning that you can build the Vault of your dreams with just a little bit of patience.
There are loot crates, but these are totally optional — it's worth playing Shelter for the funny quips from dwellers at the very least.
READ NEXT: The Best Free PC Games You Should Play
The Awesome Adventures of Captain Spirit
Developer: DONTNOD
Publisher: Square Enix
Microtransactions? None
Single Player/Multiplayer? Single Player
Compared to the other entries on this list of the best free PS4 games, The Awesome Adventures has no strings attached. There are no microtransactions or loot boxes, just a simple narrative told well for the grand price of nothing. Not many publishers and developers would give away a well-realised game entirely for free, so credit has to go to Square Enix and DONTNOD.
However, Captain Spirit doesn't cut any corners that you might expect. While it's certainly short, it packs a punch over its three hours of gameplay and hints at what's to come in the rest of the Life is Strange universe. Imagination is the aim of the game in Captain Spirit as you play a young boy who seeks to escape recent trauma — something all of us would do if we could.
From our Captain Spirit review:
"Captain Spirit's aesthetic and construction is very much in line with what DONTNOD is revered for. Their ability to create tranquil atmospheres that bolster their narrative remains second to none. There are few examples of 'show not tell' storytelling more elegant than The Awesome Adventures of Captain which can be enjoyed by fans of the Life is Strange series, as well as anyone who enjoys narrative-driven experiences."
Island Saver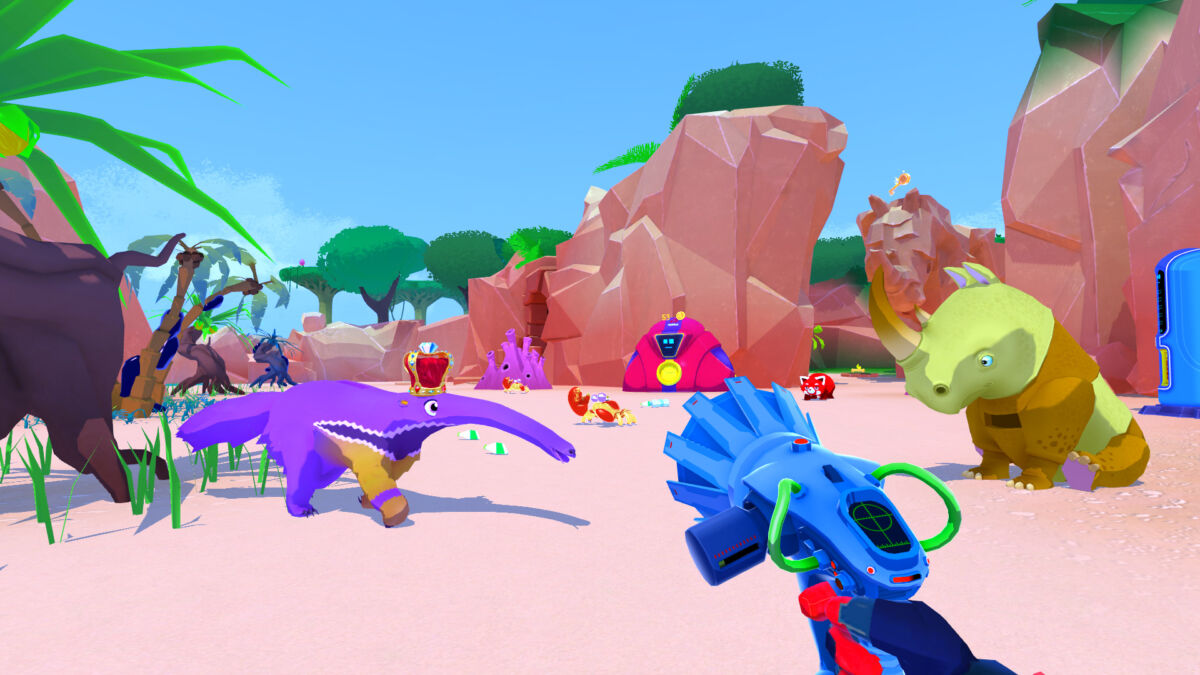 Developer: Stormcloud Games Limited
Publisher: National Westminster Bank plc
Microtransactions? None
Single Player/Multiplayer? Single Player
What's going on here, then? Why is a video game published by a bank better at teaching youngsters about money than the education system? Surely something's broken somewhere?
Regardless of what it says about modern society, Island Saver is a surprisingly great "edutainment" tool that takes one or two bits of inspiration from Slime Rancher and other similar farming sims. It has no right to work this well, but it does.
Your job is to keep the island of Savvy clean from plastic waste by using your Trash Blaster, collecting litter and earning coins as you go with the game teaching you about saving money at the same time. The real objective is to collect all 42 Bankimals and unlock new areas on this wild and wacky island.
Seriously, try Island Saver. It's not as bizarre as it sounds. Well, it is, but it's bizarre fun.
The Best Free PS4 Fighting Games
Brawlhalla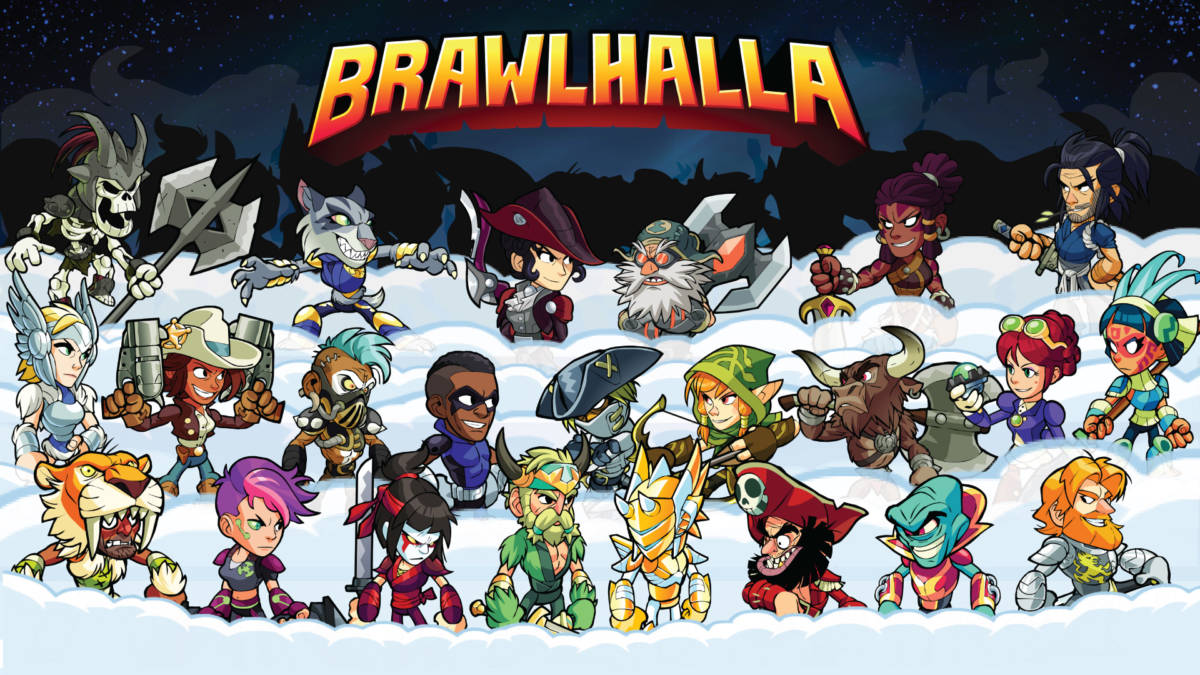 Developer: Blue Mammoth Games
Publisher: Ubisoft
Microtransactions? Yes
Single Player/Multiplayer? Both
In a sea of Smash clones, Brawlhalla is one that doesn't come anywhere close to matching Nintendo's franchise, but it's still some fun all the same. If you don't want to dust off the Gamecube and search around the attic for your Wavebirds, Brawlhalla is a PS4 free-to-play brawler that's worth checking out for your social nights.
Featuring an absolutely gigantic roster of characters, Brawlhalla's main method of monetisation is to offer characters for free in a weekly rotation and then nudge players towards the game's shop to buy more. It's a pretty fair model, though you can also buy extra skins for your characters if you're so inclined. Brawlhalla is lightweight fun, but not ideal if you're playing against friends with bad tempers if you're just going to cheese them off the map.
Dead or Alive 6: Core Fighters
Developer: Team Ninja/Koei Tecmo
Publisher: Koei Tecmo
Microtransactions? Yes
Single Player/Multiplayer? Both
If it's some basic and free fisticuffs you want on your PlayStation 4, Dead or Alive 6: Core Fighters should be your first port of call. Make no mistake: it's a considerably stripped down version of the main game that lacks many features, but Core Fighters is complete enough to let you know if it's worth a full purchase based on the gameplay.
Players of this free to play title have a small handful of characters unlocked by default and a few of the game's modes, but no campaign. You can choose whether to buy individual characters to bulk up your free download, but honestly the best idea would be to just outright buy the game if you want the fairest deal. Those gnarly sweat physics aren't add-on DLC, which is nice.
Fantasy Strike
Developer: Sirlin Games
Publisher: Sirlin Games
Microtransactions? Yes
Single Player/Multiplayer? Both
Previously a paid game that was retrofitted as a free to play one, Fantasy Strike's selling point is that its combat has been specifically designed for fighting games fans of all experiences and skill levels.
Fantasy Strike features simple combos and not an exceptionally deep meta, though everything about it is still deep enough for competitive fighting. Yomi Counters, for instance, are interesting throw break mechanics that shake things up really well.
As simple fun as the fighting itself is, the game's content seems very fractured in its free state. While you do get all the characters, many modes are cut out for premium upgrades, including the option to play locally against your friends.
If that's not a strike in your books, Sirlin's interesting fighter is absolutely worth a look.
The Best Free PS4 Sports Games
Pro Evolution Soccer Lite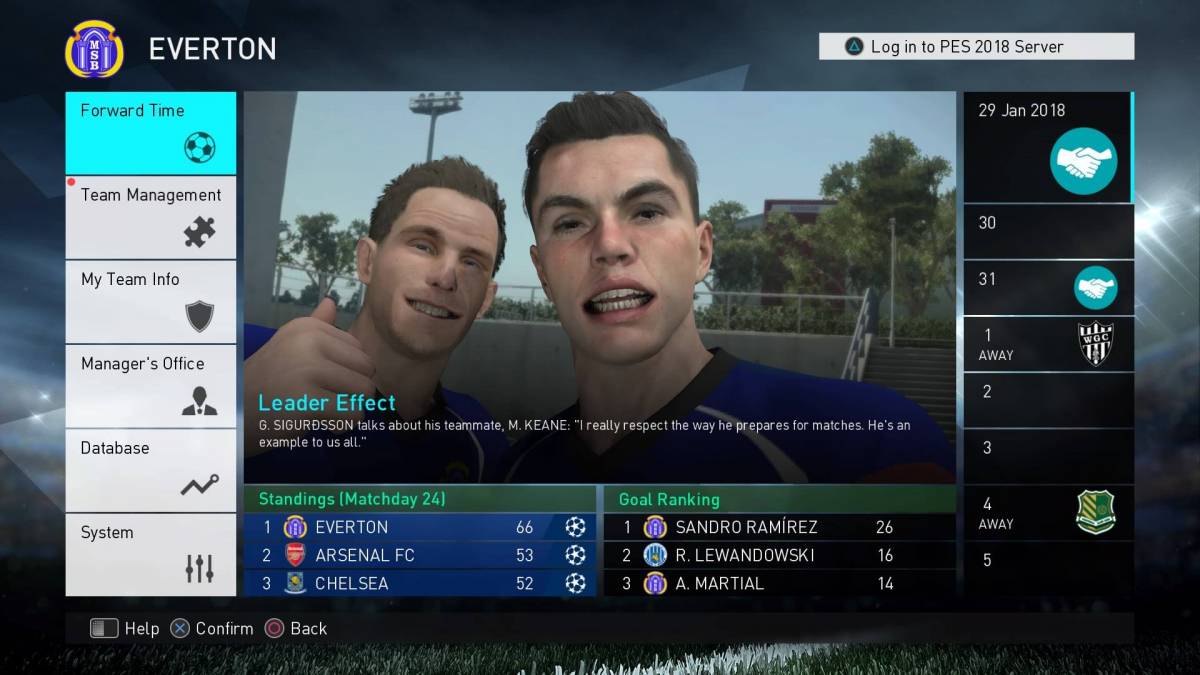 Developer: Konami
Publisher: Konami
Microtransactions? Yes
Single Player/Multiplayer? Both
Don't let the horrifying screenshot above fool you: PES is a beautiful representation of the beautiful game and its free-to-play version offers plenty of bang for your no bucks. A lot of single-player content has been stripped out, but you can still play exhibition matches, which is perfect if you're sick of FIFA for being FIFA.
The main goal of Konami's in releasing a free version of PES is to effectively push players towards MyClub, which is littered with microtransactions. It's a lot like Ultimate Team without the polish or solid servers, so if that's something you hate about FIFA, swerve it in PES.
If you haven't played a PES game in years or ever, you may as well jump back aboard for Pro Evolution Soccer Lite.
Fishing Planet
Developer: Fishing Planet LLC
Publisher: Fishing Planet LLC
Microtransactions? Yes
Single Player/Multiplayer? Single Player
Just watch the trailer.
READ NEXT: Biggest Upcoming New Single-Player Games of 2021 & Beyond
Some of the coverage you find on Cultured Vultures contains affiliate links, which provide us with small commissions based on purchases made from visiting our site. We cover gaming news, movie reviews, wrestling and much more.