Developer: DONTNOD Entertainment
Publisher: Square Enix
Platform(s): PC, PS4, XB1
Review code provided
Where's the review score?
A vivid imagination is at the heart of The Awesome Adventures of Captain Spirit. Imagination is innocent and often a way to occupy one's mind as a form of entertainment as a way to escape from their reality. There's something heartwarming about the lengths to which a child's mind will go to protect itself from facing what they wish to avoid. And sometimes, awaken that which is buried deep beneath the surface of their reality.
The Awesome Adventures of Captain Spirit is a free prologue to the upcoming Life Is Strange 2, introduces new characters that prove to have equally diverse backstories and predicaments living within the Life is Strange universe.
You play as Chris, a young boy with an overactive imagination who has recently moved to a new town with his father after the loss of his mother. Chris spends his free time as his alter-ego, superhero Captain Spirit, and frequently draws and acts out his superhero antics. One of the earliest scenes has Chris designing his super suit, and this is the first moment that the player's decisions impact the game. The structure of Captain Spirit's gameplay will be familiar to fans of Life is Strange, in that the player's choices will affect the story. This makes the prologue inherently replayable given the number of outcomes available.
The Awesome Adventures of Captain Spirit has a sandbox design that allows Chris to explore his home and his front and back yards freely. Players traverse these environments at their behest and to get the most out of this brief 2-hour-ish prologue, and I encourage you to interact with everything you encounter. In similar fashion to Life is Strange, the environment is filled with items that reveal snippets of Chris and his family's backstory. Examining Chris's broken video game console reveals his father has repeatedly been too busy to fix it. Studying a picture of the wilderness reveals Chris's mom liked to hike. On the surface, these snippets seem inconsequential, but it's the sum of the parts that tell the brunt of Captain Spirit's story.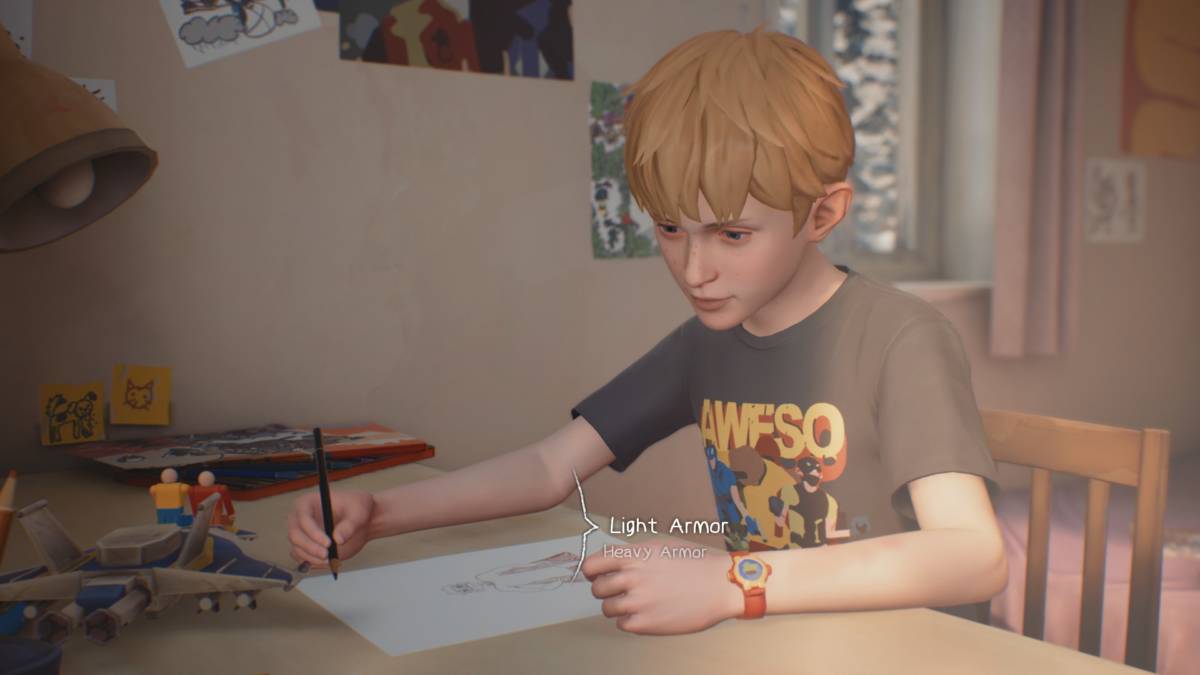 Few developers can convey such meaningful and organic relationships with characters from merely exploring and discovering items within an environment. DONTNOD's reliance on allowing their highly detailed world to tell Chris's story, instead of bombarding the player with lengthy exposition, places players in the role of detective. Players piece together Chris's history by interacting with the environment and identifying clues, some of which don't answer questions definitively, merely speculating outcomes of events. This style of storytelling relies entirely on the player's investment into this world and those who inhabit it.
While there are no restrictions within the sandbox, there is a vague checklist of discoverable events that provide insight into Chris's relationship with other characters but also hint at his past and even his future. If you become as invested in the characters and world of Captain Spirit as I did, you will undoubtedly want to replay or reload your save to ensure you find all of these moments. There's no handholding to help you discover them, but if the player has been diligently exploring environments and interacting with every item they come across they should have little trouble locating these moments.
Look, if you are not predisposed to enjoying narrative-driven adventures, there's little about The Awesome Adventures of Captain Spirit that will change your mind. But if you are like me, a fan of narrative adventures, as well as Life is Strange; there's no reason not to download Captain Spirit. Sure, it's free, but even if it was a couple of bucks, the amount of nuanced character development and storytelling is well worth the two-ish hours you'll spend with it. As a fan of the original Life is Strange, I could not be more excited to explore this world through the lens of other characters, given the new avenues for the narrative to explore.
It would be a disservice to call The Awesome Adventures of Captain Spirit a demo. Despite Captain Spirit's length, its ability to draw the player in and form an emotional bond with its characters is outstanding and follows the example set by Life is Strange. There are nods to the Life is Strange universe, but Captain Spirit's primary focus is to prepare the player for Life is Strange 2 by introducing new characters whose stories will continue in the sequel. Captain Spirit's aesthetic and construction is very much in line with what DONTNOD is revered for. Their ability to create tranquil atmospheres that bolster their narrative remains second to none. There are few examples of 'show not tell' storytelling more elegant than The Awesome Adventures of Captain which can be enjoyed by fans of the Life is Strange series, as well as anyone who enjoys narrative-driven experiences.
Some of the coverage you find on Cultured Vultures contains affiliate links, which provide us with small commissions based on purchases made from visiting our site. We cover gaming news, movie reviews, wrestling and much more.