It's kind of crazy to chart the success of Epic Games' Fortnite, especially after it had such an underwhelming start as a pure PVE experience which was later renamed Save the World. In the making for years, Save the World didn't set the charts ablaze when it released. Seeing an opportunity after the rise of PUBG, Epic made Fortnite: Battle Royale, and the rest is history. Years later, how many people still play Fortnite in 2023, and is it dead?
Epic have been very conservative when it comes to releasing official figures in recent times, only mentioning specific landmarks of total players reached.
In May 2020, Epic announced that Fortnite had a staggering 350 million registered accounts with players spending 3.3 billion hours in-game during the month of April 2020. They reiterated this same figure in August 2020 in a lawsuit with Epic.
However, due to the huge fallout between Epic Games and Apple, it seems that the total amount of Fortnite players may have crashed quite significantly. According to Epic themselves, Fortnite on iOS devices make up roughly 116 million players of the 350 million who have played Fortnite in total. There hasn't been an update on the amount of players since.
It's important to note, however, that those figures do not exclude secondary or spam accounts, though it's still a significant milestone, even considering its issues on mobile. With its significant pop culture status and the game's free nature, Fortnite has become a game that many people have played. That doesn't answer the question of who's still playing the game, however, especially now that we're in Chapter 4.
Before we dive into analysing Fortnite's player figures, it's important to stress that any sites that claim to have an active player counter are completely inaccurate. Epic doesn't have this kind of information publicly available for anyone to check every second. Sites like playercounter.com are vastly inaccurate.
Fortnite In 2023
Fortnite Active Player Figures: On the Decline?
As mentioned, the peak concurrent playerbase for Fortnite was 78.3 million way back in August of 2018. This was when the game was relatively new to Switch and it was the holidays for school, meaning that younger players had all the time in the world to play.
However, it seems that Fortnite isn't a dead game in terms of daily active users (DAU), not even slightly. In August 2020, Fortnite's daily active users (DAU) were definitively revealed in the lawsuit between Epic Games and Apple over the game's status on the App Store.
It was reported in the lawsuit filings that 2.5 million of the roughly 25 million DAU for Fortnite played exclusively on iOS before the two companies' legal battle began – Fortnite is now no longer available on iOS.
If you take away the 2.5 million iOS players, there are 22.5 million people who play Fortnite daily, at least as reported in August 2020. The latter figure may actually be higher now with iOS players potentially migrating to play the game on other platforms. Fortnite had 116 million users on iOS, 73 million of whom only ever played the game on iOS.
You can actually find out the concurrent Fortnite players with some basic (if not entirely accurate) maths. In August 2020, the average concurrent players every hour for Fortnite was 937,500, if you're basing it off the 22.5 million DAU who don't play on iOS. This would put it above most games on Steam by some distance, but as for if Fortnite's players are declining in 2021, we don't have concrete figures. Google Trends does show a dip in terms of people searching for Fortnite, but this isn't really any kind of barometer.
However, in November 2021 in celebration of the console's first birthday, Sony revealed the most played PS5 games over the past year in terms of hours played with Fortnite coming out at #1 ahead of games like Call of Duty and FIFA.
Then, for the launch of Chapter 3 – Season 1 in 2021, Epic announced that Fortnite had the most amount of players ever at a season launch, but didn't give specific numbers.
You always impress, Fortnite fam! The team is working hard to deliver a smooth Chapter 3 experience for the millions of players who joined us, by far the most players we've ever seen at the launch of a season. https://t.co/abj6uHat2g

— Fortnite (@FortniteGame) December 5, 2021
Fortnite is far from dead. And while Epic hasn't released any player figures for Chapter 4 and it doesn't seem like it's broken any records, the fact that it remains near or at the top of playing charts on both Xbox and PlayStation, even in the face of other free games like Warzone, says it all.
Fortnite Events Viewing Figures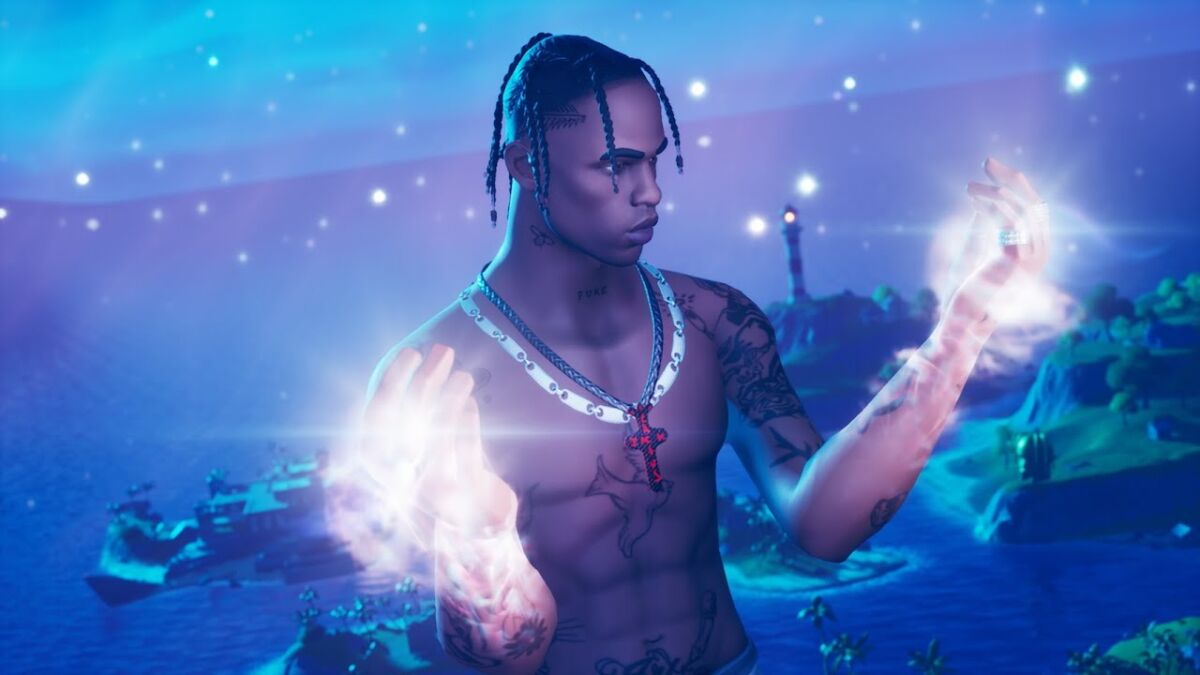 Fortnite's events also show just often the game can pull in gigantic numbers for special occasions.
In February 2019, popular EDM artist Marshmello held an in-game concert "played" by 10.7 million people. This overtook the previous record held by the rocket event of Season 4, which brought in 8.3 million players. On a similar note, the game enjoyed a peak player count for a non-event for a single day with 7.6 million players on February 16th, 2019. For comparison, the most popular games on Steam struggle to crack a million players for a day.
The game didn't hit the heights quite like these until the black hole event at the end of what we now know as Chapter 1. It went down as the most viewed gaming event in history on Twitch, YouTube, and Twitter with a staggering 42.8 million views on the latter. YouTube numbers reached 4.3 million viewers and 1.7 million viewers on Twitch. Epic did not release official word on how many in-game players witnessed The End, however.
In early 2020, Epic reported that there were 12.3 million concurrent players for the first showing of the Travis Scott event, smashing the previous record held by Marshmello when 10.7 million people attended that concert back at the start of 2019. Epic would later mention that 27.7 million unique players in total watched the event in total over its many showings.
In late 2020, with the conclusion of the Season 4 event, 15.3 million concurrent players watched on as Galactus consumed the Fortnite island and then basically burped it up again. That's a big leap over the last record, which just goes to show that people really do still care about Fortnite.
In 2021 as part of Chapter 2 – Season 7, Epic again collaborated with a music star for a concert and skin, this time Ariana Grande. Though the crooner has many more followers than Travis Scott, the fact that Epic didn't publicly comment on how many people viewed the Ariana Grande concert suggests that it didn't manage to beat the old record.
As of the early parts of Chapter 4 in 2023, there hasn't been a similar concert within Fortnite, so it will be interesting to see where Epic go to try and smash their records with another huge artist.
Fortnite On Twitch
The video above shows how Fortnite's popularity has ebbed and flowed on Twitch since launch all the way up to the end of 2022. As of 2023, Fortnite isn't the most popular game on Twitch and even dropped out of the top 10 most streamed games in December 2022 for the first time in years. It does feel like perhaps viewers are a bit fatigued with watching Fortnite, with many Fortnite YouTubers also claiming that their numbers are dropping, though there could be any number of things behind this.
It's interesting that it hit a high of 434,000 viewers on Twitch in May 2018 before a gradual decline. It stayed top on Twitch for viewers for almost a whole year before League of Legends reclaimed its throne.
Apex Legends' sudden surge didn't do much to dampen its viewers overall, with Fortnite briefly returning to the Twitch summit from March 2019 to July 2019. Warzone had been its stiffest competition in 2020 for Twitch viewership with the likes of Among Us and Fall Guys vying for attention as well throughout the year. All this didn't stop Fortnite from becoming one of the most popular games of 2020 on Twitch with it hitting a peak of 2.28 million viewers in April 2020, as well as a high of 1.59 million to see out the year.
Another video shows Fortnite as one of the most searched games in the world, it being one of the most popular games from 2017 until right now. The amount of people talking about Fortnite doesn't seem like it's significantly trending downward, though Animal Crossing and Valorant leapfrogged it in the early parts of 2020 in terms of searches.
Remarkably, though it may not be the biggest game on the platform in 2021, the biggest content creators playing the game still seems to bring in massive viewing figures for Twitch. In January 2021, David "TheGrefg" Martínez trounced the record for concurrent viewers on Twitch when he amassed more than 2 million concurrent viewers with the reveal of his skin in-game.
Fortnite Revenue Over Time
Along with some declining Twitch viewership, Fortnite's revenue has also taken a severe hit. Overall revenue in 2019 compared to 2018 saw a 52% decrease before Chapter 2 launched, though it did manage to bring a lot of it back later.
By the end of 2019, Fortnite made a staggering $1.8 billion, which is a mightily impressive number. However, it's a significant decrease from the $2.4 billion it achieved in 2018; a decrease of roughly 25%. Chapter 2 and the bevy of Christmas skins and packs alongside the many brand deals may have been the one to boost its overall revenue.
However, it's also important to note that, although there has been a dip in revenue, Fortnite's popularity is still extremely strong. In 2019, Fortnite ranked #2 for the most downloaded F2P game on PS4, only ousted by Apex Legends.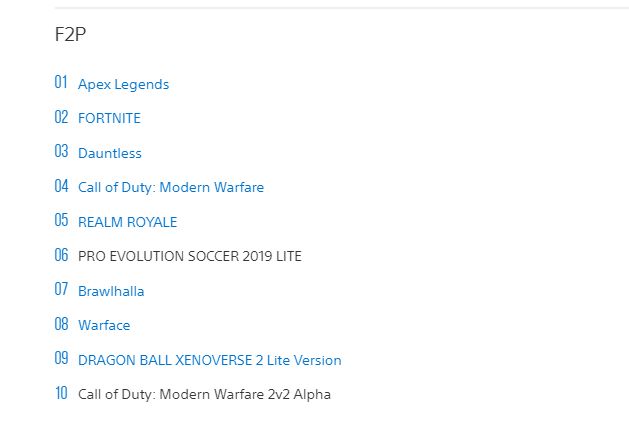 Even more remarkably, the same blog lists the most popular paid DLC over the course of the year. Nobody even came close to matching Fortnite, which managed to snag every single ranking in the top ten.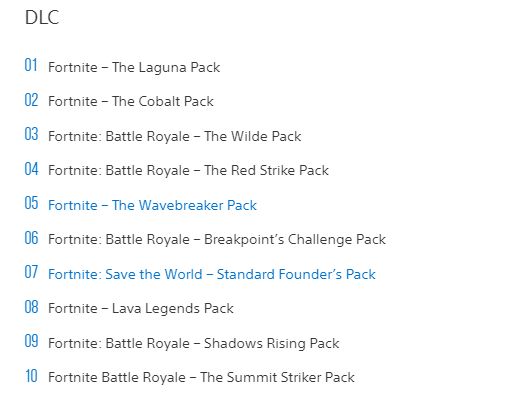 A more recent PlayStation Blog post for July 2021 highlights Fortnite as the second most downloaded F2P game across PS4 and PS5, with it being ahead of Warzone and Apex Legends. This suggests that they aren't struggling to bring in new players as well keep older players invested.
Then, in January 2022, PlayStation revealed the most downloaded games on PS4 and PS5 for 2021, and it shouldn't be a surprise to know that Fortnite topped the free charts in the US and Europe.
There are a couple of possible factors to Fortnite's declining revenues though, the first being that 2018 was such an astounding success for the game that any subsequent years would struggle to match it. The second reason is that Fortnite skins aren't quite as in demand as they once were, the competitive players favouring simple, basic skins over the flashy ones. With a lot of Fortnite players taking the game very seriously these days, it makes sense.
It's also highly likely that Fortnite's 2020 revenues saw a sharp decline due to the dispute between Apple and Epic Games. Fortnite has lost 2.5 million DAU on the platform, which can only hurt their bottom line.
Epic also potentially shot themselves in the foot for Fortnite revenue by permanently lowering V-Bucks prices to win favour with their players, though this may have actually made players more likely to spend more. However, it's actually PlayStation that is the biggest market for Fortnite with 46.8% of all revenue coming from the platform, which is a huge number and shows that the iOS removal maybe isn't as big a deal as feared.
The Future of Fortnite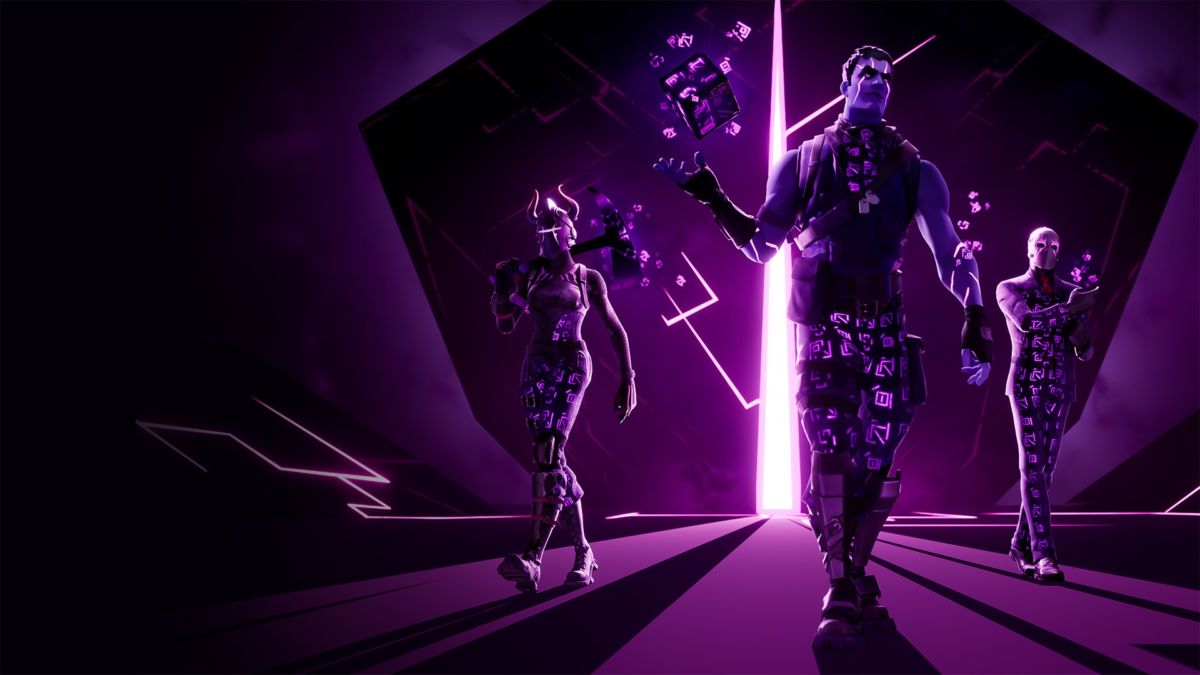 With the launch of Chapter 4 bringing a whole new set of eyes on the game and also possibly bringing some old players back (along with Zero Build), the amount of people playing Fortnite is still massive.
Any mention of Fortnite dying feels, really, just a bit silly. Sure, it may never reach the same heights it did when Ninja played with Drake and the Twitch Prime packs were released, but Fortnite is more than alive and kicking.
No matter how many people hate it, Fortnite just cannot stop earning headlines. In January 2020, it was announced that it would become an official college eSport. Epic Games also announced that the Epic Games Store has enjoyed over 100 million users, suggesting that they are going to have whatever funds they need to keep supporting the game for years to come. That's without even considering the proftit percentage they get from games that license their Unreal Engine. Epic are flush with cash.
As for consoles, Fortnite was a launch title for the PlayStation 5 and Xbox Series X | S, meaning that it has hit yet another new platform. Its release on Xbox via cloud gaming will also likely have to
Epic Games don't seem to be able to crack the biggest market on the planet, however: China. PUBG Mobile still reigns supreme over there with The End event not reaching as many players as it should have.
There's also Chapter 4, which has started off pretty well from a player immersion and enjoyment level, though Epic hasn't released any figures, meaning that it's likely not the most popular launch the game has ever seen. This doesn't mean that Fortnite isn't still played by millions of players each day, however, as it definitely remains one of the most popular games in the world.
Fortnite is free-to-play on PC via the Epic Games Store, PlayStation 4, Xbox One, Nintendo Switch, and Android.
MORE FORTNITE: Best Fortnite Controller Settings: Presets, Edits, Sensitivity & More
Some of the coverage you find on Cultured Vultures contains affiliate links, which provide us with small commissions based on purchases made from visiting our site. We cover gaming news, movie reviews, wrestling and much more.