Weekends are precious. After the slog of the working week has taken its toll, aspirational magazines and inspirational influencers will tell you to don your hiking boots to trek up the side of a mountain or dig out a smelly wetsuit so that you can submerge yourself in the icy waves off the coast.
All any of us really want to do when 5pm Friday rolls around (besides either gaming, getting drunk, or combining the two) is settle down with a box set and forget anything that exists in the relentless misery of the so-called real world. While it's nice to think that you can hammer through the West Wing or get to grips with the entire back catalog of Breaking Bad in a 48-hour period, reality dictates that you need to be a little more selective about the types of shows suitable for binge viewing.
From acclaimed miniseries to limited-run releases, these are the best shows to binge-watch over a weekend.
The Best Shows To Binge
15. Sharp Objects
Watch On: Now TV (UK), HBO Max (US)
Seasons: 1
Psychological thriller Sharp Objects is a great showcase of why Amy Adams has five Academy Award nominations to her name. Adams plays Camille Preaker, a reporter suffering from alcoholism and psychiatric issues, returning to her hometown to investigate the disappearance of two young girls. Never the jolliest of shows, Sharp Objects is a great choice for a winter night with the curtains drawn and the antidepressants close at hand.
Grim or not, Marti Noxon's thriller has received massive critical acclaim, earning 92% approval on Rotten Tomatoes thanks to its dark but engrossing slow-burn approach and a fantastic lead performance from Adams and support member Patricia Clarkson, the latter of whom won a Golden Globe Award for Best Supporting Actress in a Series, Miniseries or Television Film.
HBO's president has quelled rumours that a second season is in the pipeline, a shame for fans of grim murders but a relative boost for anyone who likes a conveniently sized drama to watch over a weekend.
14. Maniac
Watch On: Netflix (UK/US)
Seasons: 1
Maniac managed to slip a long way under the radar when it first appeared on Netflix in 2018, a risk that's always run when you air a limited-release miniseries on a streaming platform stuffed to the brim with endless true crime documentaries and bad Adam Sandler movies. Underrated and underappreciated, Maniac followed two strangers, played by Jonah Hill and Emma Stone, and their experiences of a pharmaceutical trial in a futuristic version of New York City.
How a show with such a massive roster of talent has remained so unheralded remains a cosmic mystery. With co-development from Cary Joji Fukunaga (No Time to Die) and a cast of heavy-hitters including Emma Stone, Justine Theroux, Jonah Hill and Sally Field, Maniac deserves to be as much of a hit with the public as it has been with the critics.
Beautifully made, expertly handled and emotionally rich, Maniac gets the best out of every single one of its diverse cast and crew.
13. The Little Drummer Girl
Watch On: Starz (UK), AMC (US)
Seasons: 1
The Little Drummer Girl didn't quite get the attention across the pond that it perhaps deserved, but in dear old Blighty, the sparkling adaptation of John le Carré's taut romantic thriller was receiving rave reviews thanks to its exceptional cast, crisp production values and faithful reconstruction of one of the British crime novelist's more underappreciated works.
Only boasting six feature-length episodes, Park Chan-wook's brilliant direction and eye for the cinematic ensure that the thrilling tension of le Carré's work translates seamlessly to the small screen.
Helmed by Florence Pugh and Alexander Skarsgård, perfectly straddling the line between Nordic heartthrob and over-controlling creep, Little Drummer Girl is a twisted web of a narrative that follows Pugh's Charlie Ross, an aspiring actress recruited by Mossad to infiltrate a Palestinian terrorist group plotting an attack in mainland Europe. If you like your thrillers tense, glamorous and overdone in the best ways, The Little Drummer Girl is like wallowing in a warm bath.
12. Mare of Easttown
Watch On: HBO Max (US), Now TV (UK)
Seasons: 1
One of the few recent shows on this list not to debut directly onto a mainstream streaming service, Mare of Easttown is, like most things not airing on Netflix, Disney Plus or Amazon, in danger of falling through the cracks.
Not that this is a fate that Brad Ingelsby's limited crime drama deserves. With a star turn from Kate Winslet in the lead role, Mare of Easttown spotlights detective Marianne "Mare" Sheehan looking into the recent murder of a teen mom while, of course, battling her own internal demons stemming from a deceased son and an ongoing custody battle for her grandson.
It's not the cheeriest of police procedurals, hitting most of the familiar beats and themes that shows of its ilk tend to rely on as a matter of routine, but Kate Winslet is so magnetically watchable as its haunted, tormented lead that she supports most of the action alone with her fractured vulnerability. Not exactly one for a cosy night in, but still very much deserving of attention.
11. Gravity Falls
Watch On: Disney Plus (UK/US)
Seasons: 2
Who said this was going to be a list of shows exclusively for adults to watch over a weekend? For the young and the old alike, Gravity Falls is the perfect show for connecting with the childhood wonder of finding yourself in a strange new place and imagining just what sort of adventures you could get into with a new and exciting playground to explore.
First premiering on the Disney Channel in 2012, the show follows the adventures of two small kids spending summer in Oregon with their great-uncle, investigating supernatural mysteries and causing mischief and mayhem as they go. Gravity Falls excels in every area a kids' show should, winning acclaim for its sweetness, warmth and lovingly crafted animation. It's also genuinely funny no matter the age at which you watch it, a rare quality for a kid's cartoon to possess.
Consume it over a weekend and remember what life was like back when anything seemed possible.
10. Derry Girls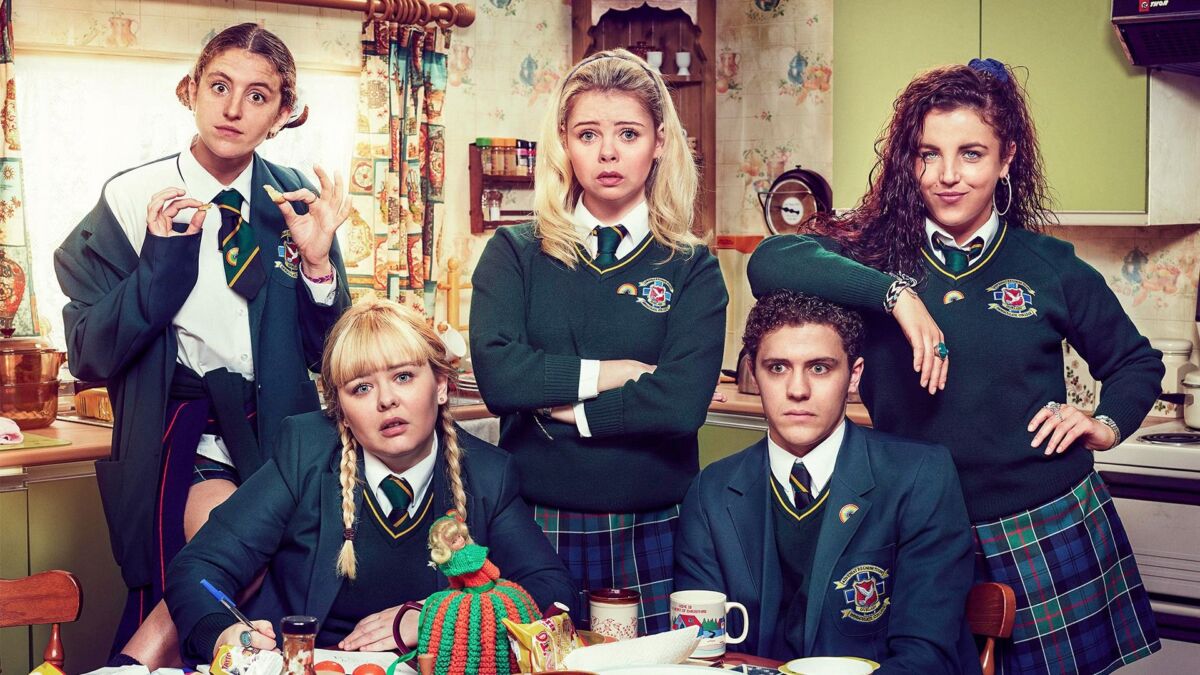 Watch On: All4 (UK), Netflix (UK/US)
Seasons: 3
At a time when it seemed as though the traditional British (and/or Irish) sitcom was at risk of withering and dying on an unwatered vine, Derry Girls rode in like a stallion to save the day. Lots of sitcoms have tended, understandably, to follow the Fleabag model of a young woman's journey of self-discovery in a confusing Millennial world, and while that's all very well and dandy, not many shows felt as broadly accessible and downright funny as Channel 4's Derry Girls.
Nor have so many felt so sincere and warm-hearted. The action is framed by the looming threat of the Northern Irish Troubles, but it's always more concerned with the immediately recognisable concerns and trials of growing up as a teenager in a world that seems bizarre and confusing.
It's a trait it shares with comparable sitcoms such as The Inbetweeners, and the show's perfectly cast core of girls (plus James) each typifies an archetypal personality that we're all so familiar with from our own school days.
9. WandaVision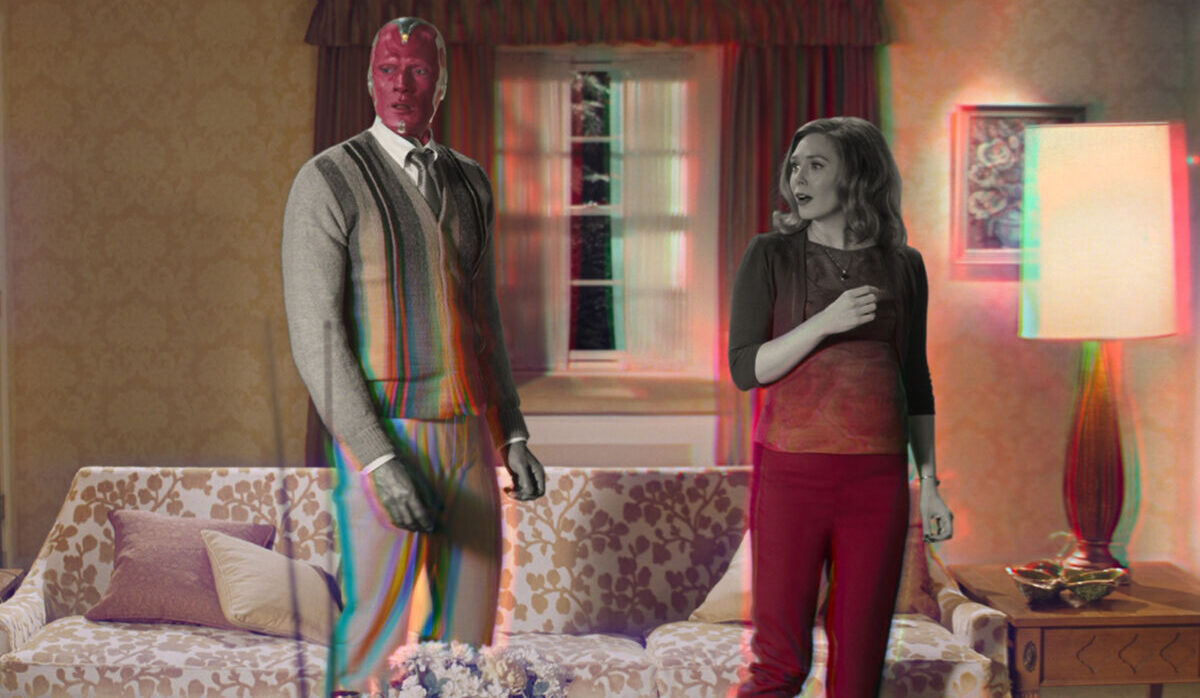 Watch On: Disney Plus (UK/US)
Seasons: 1
In many ways, WandaVision is the thing that really kicked the next phase of Marvel's evolution (some might say devolution) into gear. Set after the turmoil of Infinity War, Wanda is living in a suburban idyll with her resurrected husband Vision, the pair are blessed with two young sons, and the harrowing events of Thanos' invasion seem to have been consigned to the past.
Nothing is as it seems, however, and soon the impertinent real world begins threatening Wanda's romanticised middle-class American dream. What makes WandaVision special isn't the continuation of the MCU's gargantuan narrative, but rather the show's acutely-observed celebration of TV throughout the ages as things transition from an inoffensive 50s sitcom through the various tropes and hallmarks of each subsequent decade on the small screen.
WandVision arguably declines in quality once the facade of Wanda's existence is torn asunder and the usual cape-wearing, building-smashing Marvel superhero tropes re-emerge, but it's still one of Disney Plus' most innovative and unique original shows to date.
8. Squid Game
Watch On: Netflix (UK/US)
Seasons: 1
Everyone was talking about Squid Game in 2021, so much so that you almost wished there was a real-life battle royale on an isolated island that you could enroll in just to escape hearing people gushing over how good Netflix's most popular show was. Surprisingly enough, Squid Game was one of the few instances in which a much-feted creation was able to live up to the colossal amount of hype it managed to generate.
Hwang Dong-hyuk's survival drama is a bit heavy-handed with its socio-political message about wealth disparity and exploitation of the poor, and it often leans into its slightly pulpy set-up in the most exploitative ways, but there's no denying that the overall effect is utterly intoxicating.
Squeezing every ounce of melodrama from its captivating premise, the Korean sensation's first season ended up as some of the most enthralling TV of 2021. Episode 6 in particular is just about the tensest, most troubling and ultimately most tragic thing you'll watch in a long, long time.
7. The Night Of
Watch On: HBO Max (US), Now TV (UK)
Seasons: 1
The Night Of was a magnesium flash of a TV show, exploding briefly into the cultural zeitgeist before disappearing just as quickly as it had so sharply ignited.
A tumultuous rollercoaster from start to finish, the legal crime drama charts the arrest and ordeal of Naz Khan, a Pakistani-American college student living in New York who awakes from a one-night stand to find his date brutally stabbed to death and the finger of blame now pointed squarely in his direction. It can be a hard watch at times, but there's no almost no looking away from the unfolding fallout as Naz's family and even Naz himself begin to question his innocence.
Standing head and shoulders (pun somewhat intended) above all else is John Turturro's John Stone, a weather-beaten, eczema-ridden defense attorney provided by the state to fight Naz' corner who somehow illuminates what is otherwise a dark and shady mise-en-scene. A long way from the genital-thrusting antics of bowling kingpin The Jesus, that's for sure.
6. The Red Riding Trilogy
Watch On: BritBox (UK)
Seasons: 1
Don't be fooled by the name, this is not a trilogy to sit down and watch over a weekend with the wife and kids. Unless you want your offspring to spend the next three years in emotional therapy.
A three-part anthology adaptation of David Peace's Red Riding Quartet, the Red Riding Trilogy consists of three main stories adapted into full-length episodes: Red Riding 1974, Red Riding 1980, and Red Riding 1983. All centre, one way or another, around the Yorkshire Ripper killings of the 1970s, integrating an interconnected raft of cross-generational characters involved in investigating, reporting on or even abetting a range of murders in the area.
However you feel about grisly murders and blood-soaked grimness, you will not find a more impressive cast of devoted character actors than the incredible roster boasted across the entirety of The Red Riding Trilogy. Starring the likes of Paddy Considine, Eddie Marsan, Jim Carter, Sean Bean, Mark Addy, Robert Sheehan and Andrew Garfield, the late-noughties three-parter is a who's who of thespian talent crammed into one nihilistic package.
5. The Office UK
Watch On: Hulu (US), BBC iPlayer (UK)
Seasons: 2
It's not fair to say that The Office invented the mockumentary sitcom, but it damn sure perfected it. Fans will earnestly echo the sentiments of Ricky Gervais' self-satisfied comic persona circa 2001-2008 that The Office "changed the sitcom genre", but Steve Coogan, Chris Morris, Rob Brydon and Julia Davies had all been playing with the format in some way or another since the 90s. Look at The Day Today, Brass Eye or the exceptionally bleak Human Remains as proof.
Regardless of innovation, The Office UK stands proud as one of the BBC's crowning achievements and as a sitcom of unparalleled nuance and attention to detail. There isn't enough time to gush over the superb direction, the peerless writing or the subtle nuances of every Tim and Dawn exchange or Brent-ian grasp at acceptance. Just get hold of it where you can and soak up the genius of the inner workings of Wernham Hogg.
What could be a better way to spend your weekend than going back to The Office?
4. The Queen's Gambit
Watch On: Netflix (UK/US)
Seasons: 1
It's a pretty remarkable achievement that a limited-release Netflix miniseries can inspire a whole generation to put down their iPhones for five minutes and play a 1500-year-old-board game. Netflix is often accused of choosing quality over quantity, but they do have an impressive strike rate when it comes to making watercooler TV drama, a trend The Queen's Gambit only continues.
Look at any YouTube tutorial on the greatest game of all and there will be dozens, hundreds even, of comments claiming to have been blown in that direction thanks to the influence of Walter Tevis' fictional chess prodigy Elizabeth Harmon.
Portrayed by the ever-quirky Anya Taylor-Joy, Harmon's fight to become a world-class chess champion is hindered not only by restrictive social attitudes but by the young prodigy's internal struggles with alcohol, drugs and emotional disarray.
Watch over a weekend and then buy a chess board on Monday morning.
3. Spaced
Watch On: All4 (UK), Freevee (US)
Seasons: 2
Ah, Spaced. There aren't enough words in the English language to express your infinite wonderfulness.
Twenty years later, Spaced still stands up today, as refreshingly unique as it is incomparably good fun. Edgar Wright's cine-literate directorial style gives a flavour no show has really had before or since, while the show's core trio of Simon Pegg, Nick Frost and Jessica Hynes anchor proceedings with effortlessly goofy charm. Mark Heap's superb turn as troubled artist Brian Topp, meanwhile, is just another in a catalog of comic performances of incomparable quality.
Spaced is so fantastic that it makes the heart melt every time it's on, a time capsule that evokes a time and place so perfectly that it brings a lump to the throat. Never cynical and self-satisfied, Spaced remains an unironic celebration of fringe culture with a heart the size of a bus, every ounce of love and care that went into making it spilling out from every Matrix parody, imaginary gun fight and Tomb Raider reference.
As far as feel-good TV goes, Spaced is the ultimate anti-depressant and one of the best shows to binge-watch over a weekend.
2. Chernobyl
Watch On: HBO Max (US), Now TV (UK)
Seasons: 1
For a while, Grant Mazin's real-life, somewhat embellished tale of the fallout resulting from the meltdown of the Chernobyl nuclear facility in 1985 was the highest-rated show on IMDb. lt's since slipped a little to around fifth or sixth, but let's be clear that the startling true-life miniseries is still one of the best things out there today.
Like the worst and most harrowing events and disasters, Chernobyl is the sort of show you just can't look away from, the haunting drama that evolves at a terrifying speed enthralling you from the moment you're struck by the first few frames. Chernobyl feels small and intimately crafted, but the potentially far-reaching consequences of the reactor's fallout are always made to feel terrifyingly significant.
Like the best shows, the HBO miniseries barely wastes a moment, as lean and stripped-down as a marathon runner, telling its story in exactly the right amount of time and in exactly the right way.
1. Planet Earth 2
Watch On: BBC iPlayer (UK), Discovery Plus (US)
Seasons: 1
Planet Earth 2 sits atop the IMDb TV rankings as the best piece of television of all time. In some ways, it's incredibly difficult to find an argument as to why that shouldn't be the case. Aside from the technical achievements inherent in actually filming some of the most inhospitable and least accessible reaches of our floating space rock, the marvel of seeing the astonishing animal behaviours, patterns and intricate sub-narratives of life on Earth is utterly beyond comparison.
Watching Planet Earth is a beautiful, meditative and downright spiritual event that captures the brutality and the beauty of our ever-changing world with an observant, impartial eye, rarely editorialising or anthropomorphising but instead allowing its diverse worlds to unfold before our wonder-filled eyes.
Possibly the most important documentary you'll ever watch, Planet Earth 2 fosters a new understanding and care for the relentlessly awe-inspiring life supported by our incredible shared home.
READ NEXT: The Best Horror Shows to Stream Right Now
Some of the coverage you find on Cultured Vultures contains affiliate links, which provide us with small commissions based on purchases made from visiting our site. We cover gaming news, movie reviews, wrestling and much more.