When you're not in the mood for games with intricate stories, expansive open lands, or gory violence, life sims are the perfect solution.
There's something oddly enjoyable about controlling the lives of virtual avatars, busying yourself with repetitive in-game tasks, and simply experiencing a bit of ordinary life in a digital world.
For those days when you just want to unwind and escape the hustle and bustle of reality, here are the best life sim games you should play.
The Best Life Sims
10. Graveyard Keeper
Developer: TinyBuild, Lazy Bear Games
Publisher: TinyBuild, MP Digital, LLC
Platform(s): PC, Mac, Linux, PS4, Xbox One, Switch, iOS, Android
As its name suggests, Graveyard Keeper puts you in the role of a caretaker of a local cemetery. It's heavily inspired by Stardew Valley and Harvest Moon, but instead of managing a charming farm, you're tending to a spooky graveyard.
After being hit by a car and awaking in a strange medieval town, the job of caring for the local graveyard and church is suddenly your responsibility. In the beginning, your graveyard is limited to a small plot and is overrun with weeds, trees, rocks, and stumps.
However, as you clear the land and unlock new facilities, you'll be able to expand your graveyard and bring in more revenue. You'll also need to build up your Technology tree, which will allow you to unlock and improve skills like alchemy, anatomy, farming, theology, and book writing.
Not only will learning these abilities provide you with more sources of income, but they will also unlock new features, many of which are useful for building up your cemetery and completing quests for the townsfolk.
9. Rune Factory 4
Developer: Marvelous Inc., Neverland, Hakama Inc.
Publisher: XSEED Games, Marvelous Inc.
Platform(s): PC, PS4, Xbox One, Xbox Series X | S, Switch, 3DS
Rune Factory 4 is part life sim, part action RPG, so if you enjoy both of these genres, you won't be disappointed with what this game has to offer. After falling from an airship and developing amnesia, you land in a fantasy town known as Selphia.
You're mistaken for a member of royalty who was brought in to help manage the town, which works in your favor, as you're now the new person in charge. You'll need to develop and build up the town to attract tourists and boost your relationship with the residents.
In addition to town management, you can farm, fight (and tame) monsters, complete dungeons, participate in seasonal events, fish, cook, mine, and much more. Compared to previous entries in the franchise, Rune Factory 4 has a larger focus on romance.
There are 12 bachelors and bachelorettes to date or marry, as well as special interactions and activities unique to romance partners. Your family can even explore with you and assist you in dungeons.
8. Fantasy Life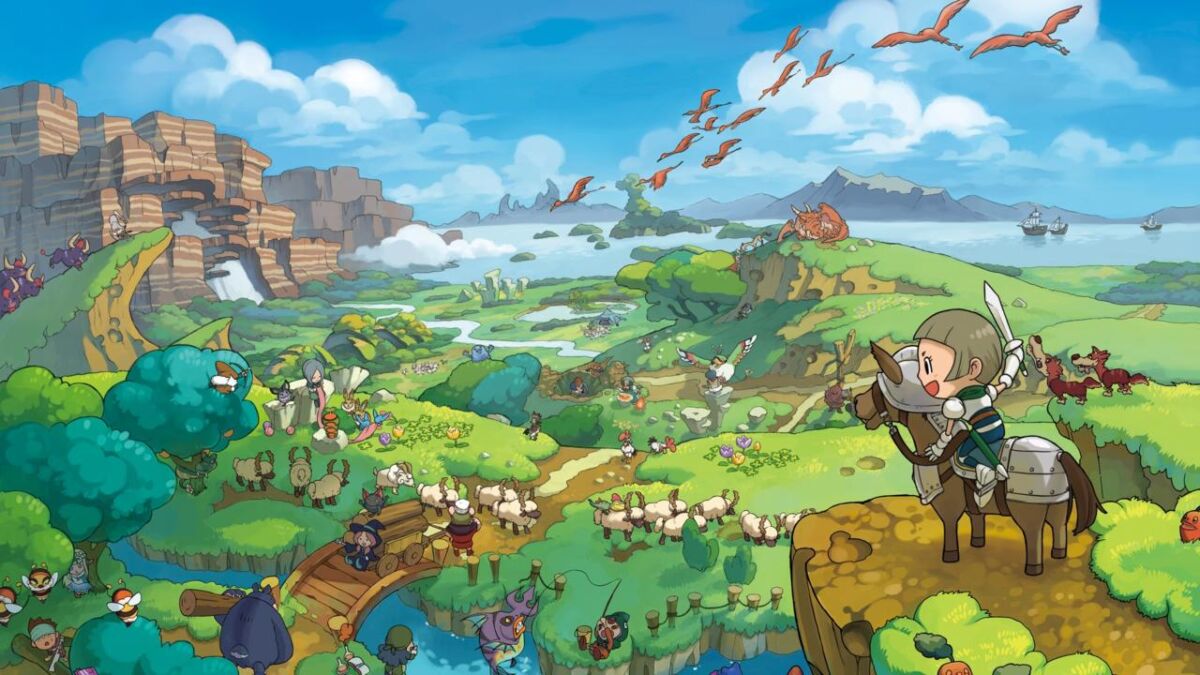 Developer: Level-5, 1-Up Studio, h.a.n.d.
Publisher: Level-5, Nintendo
Platform(s): 3DS
Fantasy Life is one of the best life sim games, but, unfortunately, it's only available on the Nintendo 3DS. However, it's well worth digging out your old 3DS for this game.
It takes place in a fantasy world called Reveria and follows a hero who is tasked with investigating mysterious meteorites that have unleashed strange creatures across the lands.
There are 12 life classes to choose from, including the Magician, Paladin, Cook, Miner, Angler, and Carpenter. Each job offers a different playstyle and gameplay experience, but you can also learn skills and abilities from other classes.
Each life class will have certain tasks that you'll need to complete to rank up and improve your efficiency. Accomplishing specific goals will also award you bliss points, which provide you with additional features, mounts, bigger inventory space, and new cosmetics.
As you advance through the plot, you'll unlock new areas to explore and NPCs that can help you out on your quest. While Fantasy Life is a little more story-driven than most other life sims, you're free to explore and play the game at your own leisure.
7. The Sims 4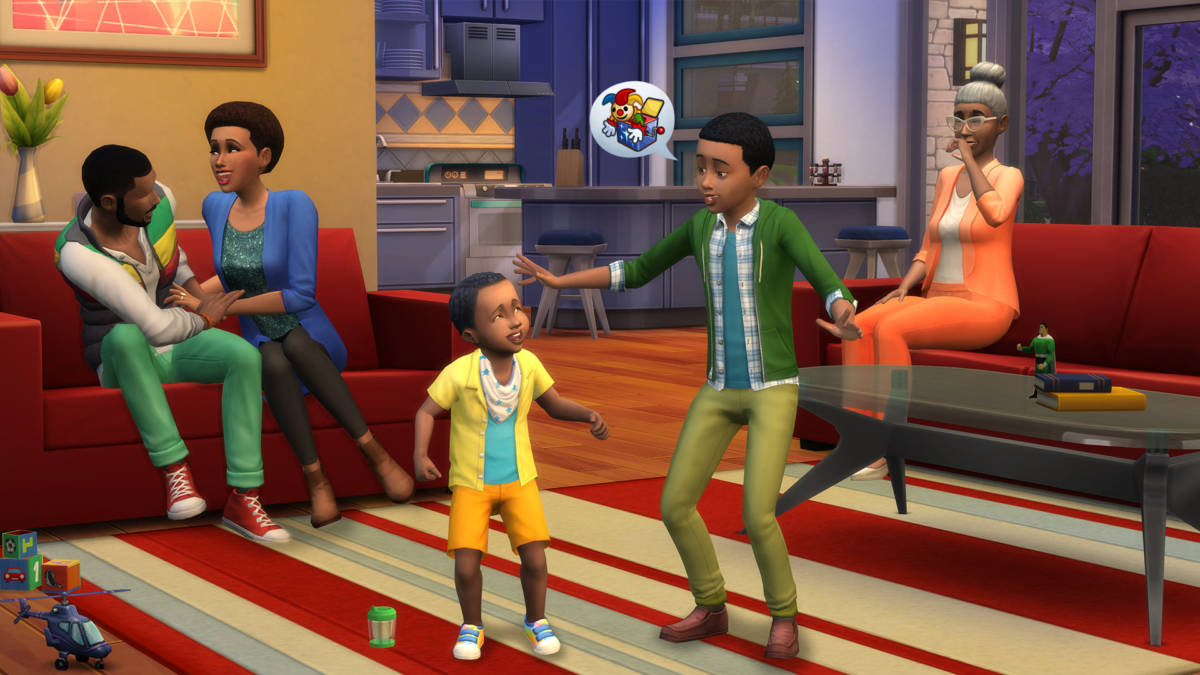 Developer: Maxis, The Sims Studio
Publisher: EA
Platform(s): PC, Mac, PS4, Xbox One
As the series that popularized and reinvented the life sim genre, it's hard to beat The Sims games if you want to manage or ruin the virtual lives of others.
Although some fans were disappointed with The Sims 4 when it was first released in 2014 as it lacked content, it's managed to redeem itself in recent years by adding in previously missing and new features.
If you're unfamiliar with The Sims games, you care for virtual humans known as sims by keeping on top of their basic necessities, which include hunger, hygiene, social, fun, bladder, and energy.
You can order your sims to do anything you can command, whether that's chasing careers, forming a family, starting a fight with everyone in the community, or building a fence around a swimming pool and removing the ladders so they can't escape.
The opportunities are pretty much endless – more so if you purchase The Sims 4 ever-growing number of expansion packs.
6. Little Dragons Café
Developer: TOYBOX Inc., Aksys Games, TOYBOX Inc., Co Picola LLC
Publisher: Aksys Games, Rising Star Games
Platform(s): PC, PS4, Switch
Designed by the same creator of the Harvest Moon series, Little Dragons Café is a charming casual life sim where you manage a small cafe with either your twin sister or brother, but there's also a unique twist.
After finding your mother in a deep, unwakeable slumber, a mysterious old man appears and tells you that the only way to save her is by raising a dragon. The responsibility of managing the family business while also caring for a dragon now falls to you.
The gameplay elements of Little Dragons Café include tending to your cafe, exploration, and looking after your dragon. You'll need to manage your staff to ensure they don't slack off and ruin your cafe's reputation, as well as serve customers, help prepare dishes, and customize the food menu.
The cafe will need a constant supply of fresh ingredients and new dishes, so you'll need to adventure into the vast wilderness, which is brimming with secrets, recipes, items, animals, and hazards. As your dragon companion grows from a baby to an adult, they will help you get past certain obstacles and uncover new areas, allowing for even more exploration and mysteries to unearth.
5. Story of Seasons: Pioneers of Olive Town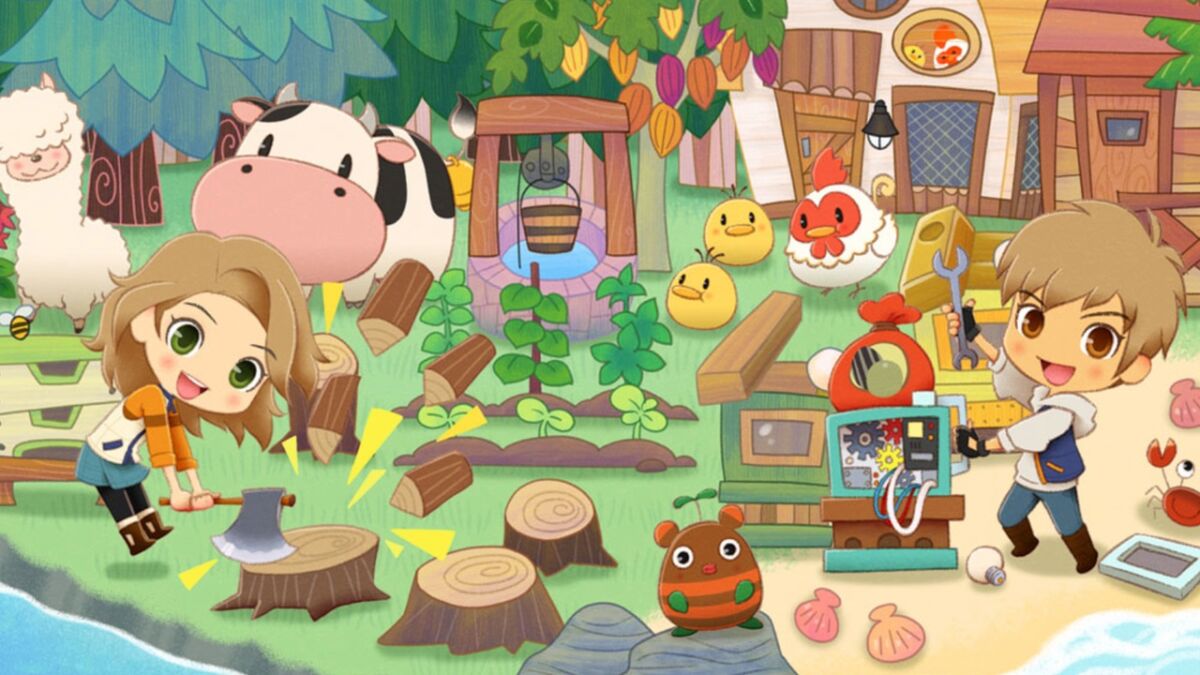 Developer: Marvelous Aql Inc., Three Rings Design
Publisher: Marvelous Aql Inc., XSEED Games
Platform(s): PC, Switch
Story of Seasons: Pioneers of Olive Town follows the same formula as previous titles in the series (or any farming sim, for that matter), but this isn't necessarily a bad thing. Its charming cartoony visuals, relaxing vibes, and addictive gameplay make for an enjoyable experience all around.
After quitting your day job and moving to the serene Olive Town to try your hand at farming, you discover that your new neighbors aren't satisfied with their uneventful, bland lives. The town is peaceful but dull, so it's your duty to shake things up a little to encourage the residents to stay.
There are numerous improvements you'll need to make to the town, such as renovating benches, repaving paths, and expanding the Town Hall, which you'll need to complete while also working on your farm.
You can learn 12 skills in Pioneers of Olive Town, including Animal Care, Fishing, Cooking, Communication, Beekeeping, and Cultivating. Each skill can be leveled up to improve your efficiency and will reward you with special bonuses.
This adds a lot of diversity and freedom during your playthrough as you can focus on specific skills you're interested in. For instance, if you'd rather forgo growing crops altogether and concentrate on becoming a master beekeeper, Pioneers of Olive Town won't stop you from achieving your goal.
4. My Time At Portia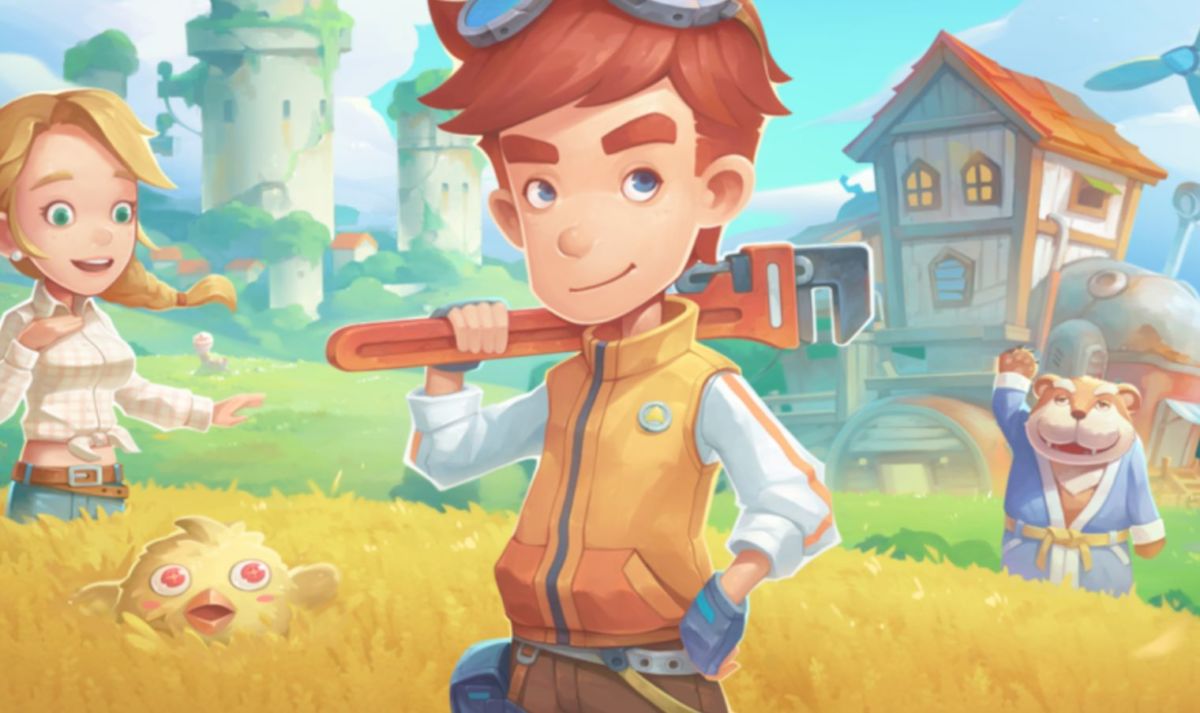 Developer: Pathea
Publisher: Team17
Platform(s): PC, PS4, Xbox One, Switch, iOs, Android
Another great game to try if you're a fan of life sims is My Time At Portia. You assume the role of a builder living in a post-apocalyptic land. The titular Portia appears as a friendly and tranquil town when you first arrive, but you'll quickly discover that things aren't quite as they seem.
There's a simple plot to follow, but you can progress at your own pace or ignore it completely if you'd rather. Crafting plays a large role in My Time At Portia as you'll need to fulfill town commissions and neighbor requests to improve the town and the rank of your workshop.
Although building and gathering resources are central gameplay cores, you can also engage in a wide range of other activities, including fishing, mining, hunting, collecting relics, farming, and forming friendships or relationships with the citizens of Portia.
There are also enemies to fight and dungeons to explore, which will reward you with rare and valuable loot upon successful completion.
3. Littlewood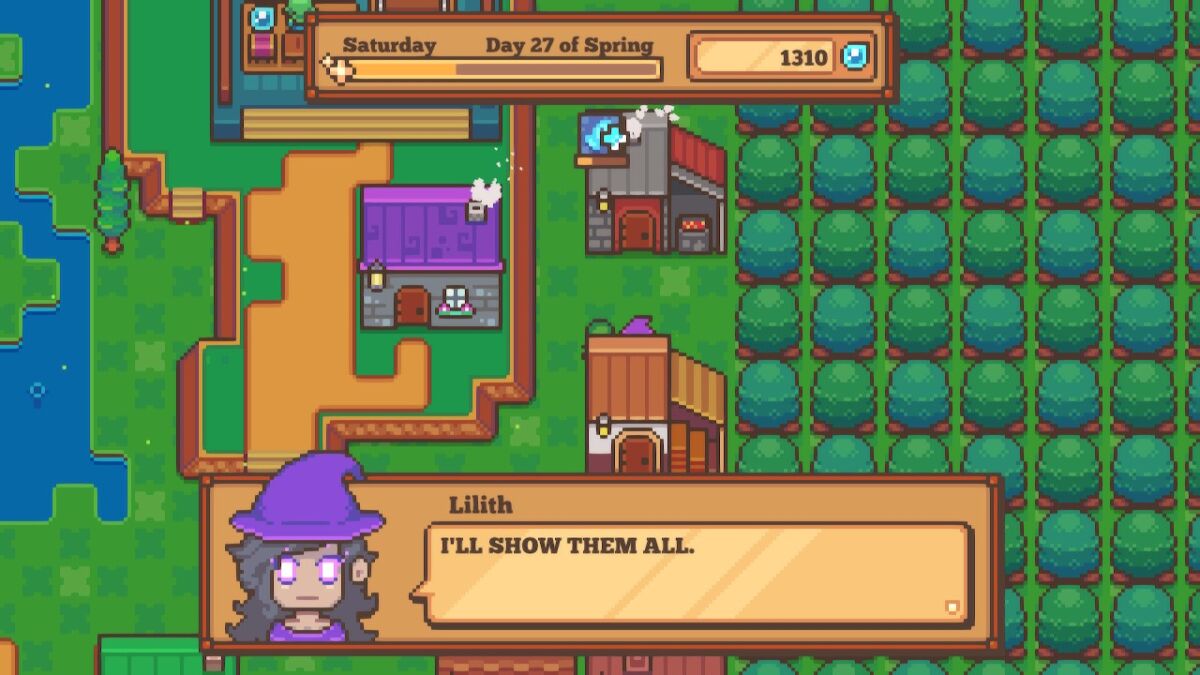 Developer: Sean Young
Publisher: SmashGames
Platform(s): PC, Mac, Linux, Switch
At first glance, Littlewood seems like any other life sim – and while that may be partly true, it takes features from the likes of New Horizons, Stardew Valley, and Harvest Moon, so you have the best of all worlds.
Its premise also has a unique twist as it takes place in the fantasy world of Solemn after the player character has successfully defeated a Dark Wizard who previously threatened the lands.
You reawaken just after the battle with no memory of your past and the big responsibility of rebuilding the town. Similar to New Horizons, you have full reign when it comes to styling and arranging your town, including the placement of mountains, trees, and your villagers' houses.
Alongside designing, there are countless other things to do in Littlewood, such as raising animals, cultivating crops, mining, fishing, mining, gathering resources, merchanting, bug catching, and more. All of these activities can be leveled up to gain access to unlock new content.
As your town grows, new residents will move in, including humans, orcs, and goblins. Fulfilling requests for your neighbors will allow you to build new structures in your town, as well as help you uncover your memories.
2. Animal Crossing: New Horizons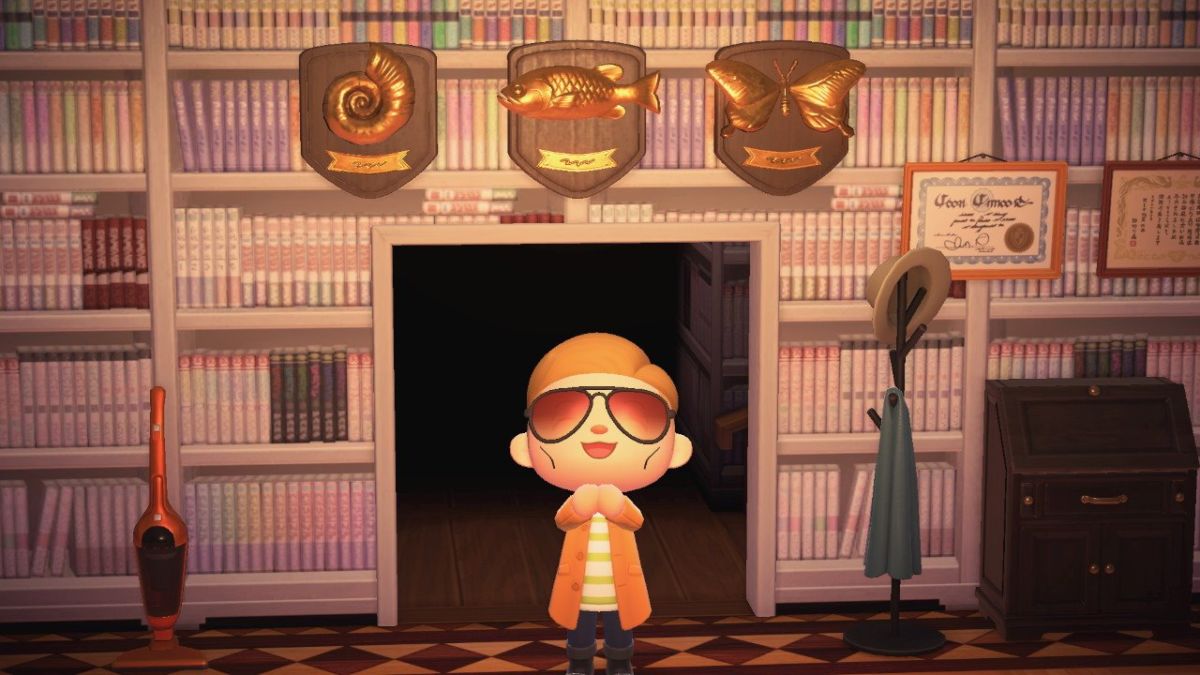 Developer: Nintendo
Publisher: Nintendo
Platform(s): Switch
While pretty much any game in the Animal Crossing series is well worth playing if you enjoy life sims, Animal Crossing: New Horizons is a great place to start if you're new to the franchise. You start your journey on a deserted tropical island, which isn't exactly the dream getaway for potential residents in its current state.
With the help of a greedy tanuki, you'll need to build and design your island to make it the picture-perfect location for yourself and your anthropomorphic neighbors. Like its predecessors, the gameplay of New Horizons mainly centers around befriending your island's inhabitants, fishing, collecting fossils, catching bugs, and designing your house.
There are many new features in New Horizons that weren't present in previous entries, including a vast number of customization options, which give you full control of the appearance of your home and island. Crafting and gathering resources also play a large role in New Horizons and are necessary for building tools and certain furniture and clothes.
Although your island is relatively small, there are plenty of activities to do to keep you entertained each day, whether that's hoarding every item you come across, gardening, cooking, growing crops, exploring uncharted islands, or hitting villagers you don't like with a net.
1. Stardew Valley
Developer: ConcernedApe
Publisher: ConcernedApe, Chucklefish
Platform(s): PC, Mac, Linux, PS4, Vita, Xbox One, Switch, iOS, Android
If you've ever entertained the idea of ditching your boring day job and escaping to a sleepy town to work on a farm, Stardew Valley allows you to do just that (without the repercussions of doing it in real life, of course).
After moving to your grandfather's old farm in the quaint, friendly Pelican Town, you find that your new home requires some major TLC. It's up to you to turn things around and transform your farm into a successful money maker.
You can raise animals, grow crops, craft, forage, mine, fish, fight monsters, participate in seasonal festivals, and even steal garbage from your neighbors' trash cans, though the latter probably isn't going to bring in the big bucks or positive responses from the locals.
When you're not busy tending to your farm and exploring, you can befriend the residents of the town, learning more about their personal struggles as you build their trust. There are 12 bachelors and bachelorettes to court if you're in the mood for romance, too.
While you can simply stick to farming and chatting with the inhabitants of the town, Stardew Valley also offers a simple story if you'd rather have an objective to follow in your playthrough.
The community center of the town is dilapidated and in ruin, so it's your job to return it to its former glory, either by donating certain items yourself or by purchasing a membership at Joja Corporation. Choosing the latter route is far less time-consuming, but it comes at a hefty price, both financially and for the fate of the town.
READ NEXT: 20 Best Short Games You Can Complete In An Afternoon
Some of the coverage you find on Cultured Vultures contains affiliate links, which provide us with small commissions based on purchases made from visiting our site. We cover gaming news, movie reviews, wrestling and much more.