Weekend Box Office: Justice League Disappoints With $96M
Dusk of Justice?
OUR LATEST VIDEOS
This weekend was a whirlwind. An anticipated superhero team-up borderline flopped, a family-friendly drama surprised, and a Christmas animation fell roughly in line. Let's unpack.
Taking first, Warner Bros./DC's Justice League launched with $96 million from 4,051 venues. That's -42% from last year's Batman v. Superman: Dawn of Justice ($166.07m), -7% from this June's Wonder Woman ($103.25m), and -22% from this month's other superhero offering, Disney/Marvel's Thor: Ragnarok ($122.74m). Justice League should've been DC's surest bet, serving as the universe's zenith (to note, Justice League debuted -54% lower than Disney/Marvel's The Avengers ($207.44m)). Instead, the film notched the lowest debut in the DC Cinematic Universe to date. What happened?
Quality is at the root of most, if not all, things. Batman v. Superman was feverishly-anticipated, a long-awaited pairing of heroes. Its massive debut was in accordance with that. Nevertheless, audiences turned against the film shortly after – BvS dropped -69.1% in its second weekend, one of the worst falls in the genre, and couldn't double its opening by run's end ($330.36m). Yes, last year's Suicide Squad hit with $325.1m domestically/$745.6m globally. Yes, Wonder Woman's solo outing soared with $412.56m domestically/$821.76m globally. Those flicks had the benefit of being detached from Batman v. Superman; the same universe, but they stood on their own terms. Suicide Squad received an energetic and fun marketing campaign, promising something unique despite critical lashings. Wonder Woman received an empowering campaign and the movie's acclaim only helped.
Justice League had to deal with being the direct follow-up to Batman v. Superman and it had to be good to overcome that. Justice League's campaign shifted to a more optimistic lens, yet nothing about it stood out. It sure as hell didn't feel like DC's Avengers, the event it should've been. In the end, Justice League's marketing simply did a poor job regaining those soured by Batman v. Superman. Mixed-to-negative reception – 39% approval rating on Rotten Tomatoes (avg. critic rating being 5.3/10 from >230 reviews) – more than likely served the final blow.
That said, audiences have taken to Justice League more than critics – the film has a 7.5/10 score on IMDb from >62,000 ratings and an 85% audience rating on Rotten Tomatoes (avg. score being 4.3/5 from >99,000 ratings). Justice League is guaranteed to eclipse Batman v. Superman's 1.99x multiplier, largely thanks to the upcoming Thanksgiving holiday in the United States, unless Disney/Pixar's Coco slaughters it. Conversely, none of this dulls the fact a Justice League movie opened below $100m. It opened below Marvel's first Iron Man flick ($98.62m).
I hate being the person who says $96m isn't a lot of money, but Warner Bros. spent a jaw-dropping $300m just to produce Justice League. The movie needed, per industry insiders, to cross $700m globally to eke out profit. At this rate, Justice League will be lucky to gross much more than this March's Logan ($226.28m and cost $203m less to make). If there's a silver lining, this will hopefully urge Warner Bros. to recognize the mistakes they've made and guide this universe towards a better path (I personally found Justice League a messy yet fairly entertaining flick).
Overseas, Justice League saved a little face with $185.5 million from 65 markets, including a $51.7m debut in China. Global debut is $281.5m. If the movie cost $100m less to produce, this would be a damn fine number. Alas. Justice League doesn't compare favourably to Batman v. Superman's numbers, either – BvS brought in $256.5m in its foreign launch and $422.5m globally. Justice League opened above Wonder Woman ($409.2m int'l total) in like-for-like territories and doesn't face much direct competition until Disney/Lucasfilm's Star Wars: The Last Jedi in less than four weeks, so there's that going for it. We'll see if overseas territories can carry the film from here. Top five openings for Justice League, aside from China, are Brazil ($14.2m), the U.K. ($9.8m), Mexico ($9.6m), South Korea ($8.8m), and Russia ($6.5m).
Opening in second, Lionsgate's Wonder impressed with $27.05 million from 3,096 hubs. Tracking, as well as my own prediction, pegged the Stephen Chbosky film (an adaptation of R.J. Palacio's novel) at a modest $9m. Tripling that is a suitably wonderful feat and speaks to the power of the film's message (embracing diversity with kindness). Kudos to Lionsgate for keeping Wonder at a responsible (*cough* Warner Bros *cough*) $20m production cost.
Reception for Wonder has been positive. The film has a great 84% approval rating on Rotten Tomatoes (avg. critic score being 7.2/10 from >70 reviews) and a 7.8/10 score on IMDb from >1,000 ratings. As for where it goes from here, one could argue Wonder will be the next Blind Side ($255.96m total after a $34.12 debut), but it's important to remember The Blind Side was a massive anomaly that literally nobody anticipated. That's unlikely to be repeated. Regardless, with holiday legs Wonder has a great shot at crossing $100m stateside and that's undeniably impressive.
There are no international numbers to report for Wonder (if any come up, check for updates).
In third, Taika Waititi's Thor: Ragnarok fell -61.8% to gross $21.79 million. Domestic cume is $247.38m. Thor's third-weekend drop is pretty harsh, worse off than this May's Guardians of the Galaxy Vol. 2 (-46.9%) and this July's Spider-Man: Homecoming (-49.9%). Not totally surprising, though, considering the direct competition in Justice League and Wonder grabbing more folks than expected. If it can stabilize, Thor ought to have zero issue crossing $300 million (and it's already a big hit anyway).
Overseas, Thor: Ragnarok added $24.1 million in all international markets. International cume is $490.7m, eclipsing Guardians 2 ($473.75m). Global is $738.08m. Top five markets for Thor: Ragnarok are China ($107.5m), the U.K. ($37.2m), South Korea ($33.2m), Brazil ($27.4m), and Australia ($22.6m).
Falling to fourth, Paramount's Daddy's Home 2 added $14.8 million in its second weekend for a $50.58m domestic total. Daddy's Home 2's -50.1% decline is far off from that of Daddy's Home (-24.6%), though that's not an entirely fair comparison since Daddy's Home played in the lucrative late December frame. The drop doesn't compare well to Paul Blart: Mall Cop 2 (-37.8%) either. Given Disney/Pixar's Coco is rapidly approaching and stealing Daddy's Home 2's demographic, the odds of the comedy sequel crossing $100m are diminishing (but not impossible). Disappointing, considering Paramount badly needs a hit and they put up $69m to produce this.
There are no international numbers to report for Daddy's Home 2.
Rounding out the top five, Fox's Murder on the Orient Express chugged $13.8 million in its second frame. Domestic total is $51.73m. Orient Express' -51.9% decline is on par with last autumn's The Girl on the Train (-50.1%) and is pacing +9.5% ahead of that film at the same point in release. A domestic total of $85m+ is in the cards for Orient Express.
Internationally, Murder on the Orient Express added $20.7 million from 54 markets, bringing its overseas cume to $96.53m and global to $148.26m. Kenneth Branagh's $55m ensemble is pacing +98% ahead of 2014's Gone Girl ($201.56m int'l total) in like-for-like markets and accounting for exchange rates. Top markets for Orient Express are China ($30.4m), the U.K. ($23.1m), Russia ($11.2m), Australia ($6.3m), and Germany ($5.6m).
Just missing the top five, Sony Animation's The Star debuted with $10 million from 2,837 theatres. That's not a miserable result for the $20m flick, but a number in the mid-to-high teen millions would've put it on a far better course. Reception for The Star has been mixed-to-decent, earning a 62% approval rating on Rotten Tomatoes (avg. critic score being 5.8/10 from >25 reviews) and a 5.3/10 score on IMDb from >300 ratings. The picture didn't stand out in the crowd and it's easy to imagine many families opted to save for Coco. What with the holidays around the corner, The Star can aim for $30m+, though that's not an ideal number for Sony and company.
There are no international numbers to report for The Star.
HOLDOVERS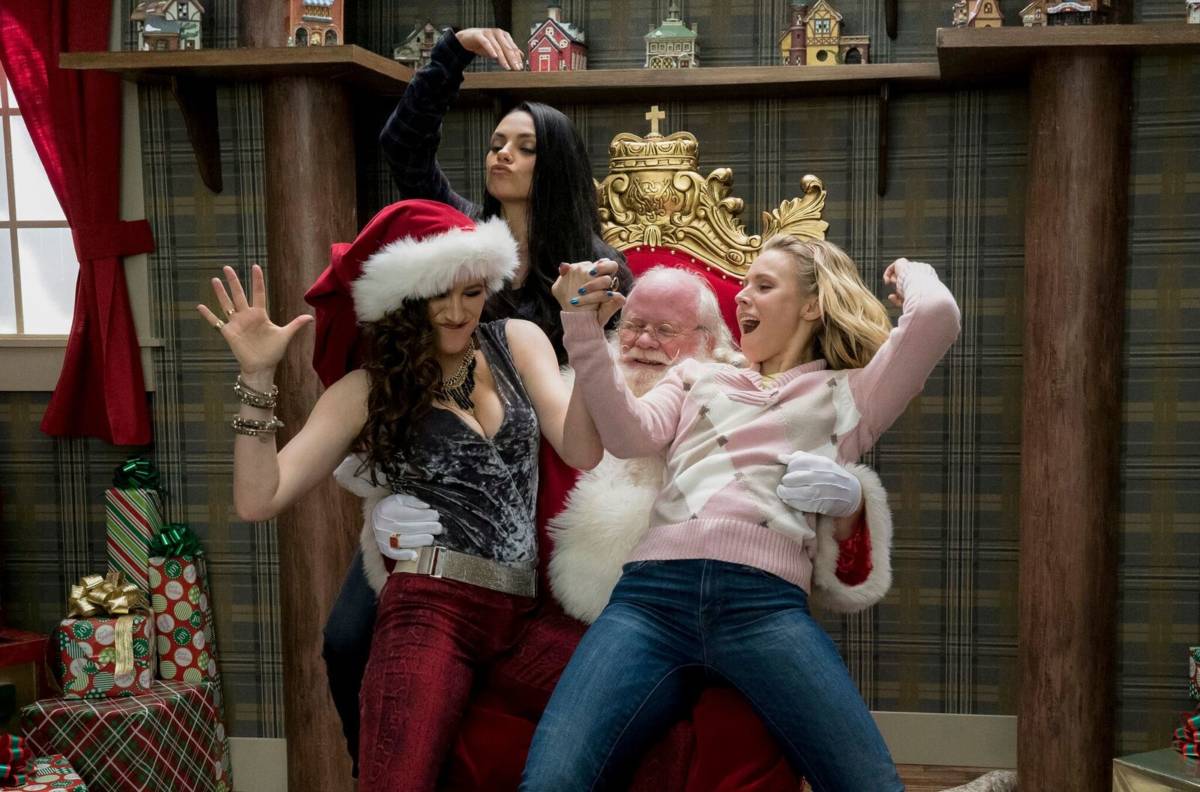 7. A Bad Moms Christmas (STX) – $6.89 million (-39.9%), $50.91m cume
8. Lady Bird (A24) – $2.53 million (+110.9%), $4.7m cume
9. Three Billboards Outside Ebbing, Missouri (Fox Searchlight) – $1.12 million (+246.1%), $1.55m cume
10. Jigsaw (Lionsgate) – $1.07 million (-68.8%), $36.45m cume
NOTABLES
– Roman J. Israel, Esq. (Sony) – $65,000 (NEW), 4 theatres ($16,250 avg.)
– The Breadwinner (GKIDS) – $19,530 (NEW), 3 theatres ($6,510 avg.)
– Thelma (Orchard) – $16,565 (+52.8%), 3 theatres ($5,522 avg.), $32,771 cume
– Sweet Virginia (IFC) – $5,084 (NEW), 1 theatre