While there's nothing wrong with a linear game that leads you down set paths, there's something to be said about a game that grants you the keys to a virtual playground, allowing you to play with the toys to your heart's content. As luck would have it, we just happen to know some of the best Xbox Series X & S open world games on the market for you to enjoy.
The beauty of the open world genre is that it can be any world, from accurate depictions of our real life, historical settings that give us an enhanced peek into how our ancestors once lived or futuristic worlds that let the imagination run wild. Here are the best open world games, ranked from worst to best, that you can play on the Xbox Series X & S.
The Best Xbox Series Open World Games
13. Assassin's Creed Valhalla
Developer: Ubisoft
Publisher: Ubisoft
There's plenty of games out there that allow you to play as a viking, but Assassin's Creed Valhalla is one of the first to truly allow players to live the life of the raiders themselves. You play as Eivor, as they travel to England as part of the viking raids to try and take down the various English kingdoms and settlements. To be honest, you'll be doing that for a while, as Valhalla's open world is vast and filled with things to do.
Assassin's Creed Valhalla follows a similar RPG formula to the previous Assassin's Creed games, Origins and Odyssey, which honestly felt more like "Warrior's Creed" than anything Assassin related. At least Valhalla has more stealth elements to feel more like the Assassin's Creed games of old, but I digress. With plenty of weapons to find, skills to unlock and more besides, Valhalla's open world might just swallow all your time.
12. Watch Dogs Legion
Developer: Ubisoft
Publisher: Ubisoft
The Watch Dogs games are often great open world games, because the hacking mechanics that the gameplay offers allows you to get up to some real hijinks, even if it's just to cause massive traffic jams or make cars drive themselves into a river. There's some powerful abilities and opportunities to really mess with people in Watch Dogs, and Legion is no exception, especially considering you can play as practically anybody.
Legion's core gimmick is that players can control a variety of different characters, each with their own core abilities and traits that distinguish them from others, meaning you can truly get up to some mischief. There are few games that'll let you play as an old grandma who tasers security guards for the hell of it, then five minutes later let you switch to playing as some super spy in a special car that has twin machine guns, but Legion has you covered.
11. Maneater
Developer: Tripwire Interactive, Blindside Interactive
Publisher: Tripwire Interactive, Deep Silver
Maneater approaches the open world genre from quite a fairly unique perspectives: it's an RPG, only you're playing as a shark.
This unique formula earned the game the moniker of a Shark-PG, which is pretty accurate in all honesty. While the world of Maneater isn't always open, as the new regions are unlocked as you level up, you're always free to revisit the old areas as a massive apex predator, even if only to bully the smaller fish.
As a baby bull shark, you witness your mother being killed by a sadistic shark hunter. Dropped headfirst into the Bayou, you'll eat and ravage your way up the food chain, eventually moving on to the human beach dwellers unfortunate enough to get in your way. With plenty of enemies out for your blood, Maneater's open world is a dangerous one, but it's shockingly a lot of fun.
10. Immortals Fenyx Rising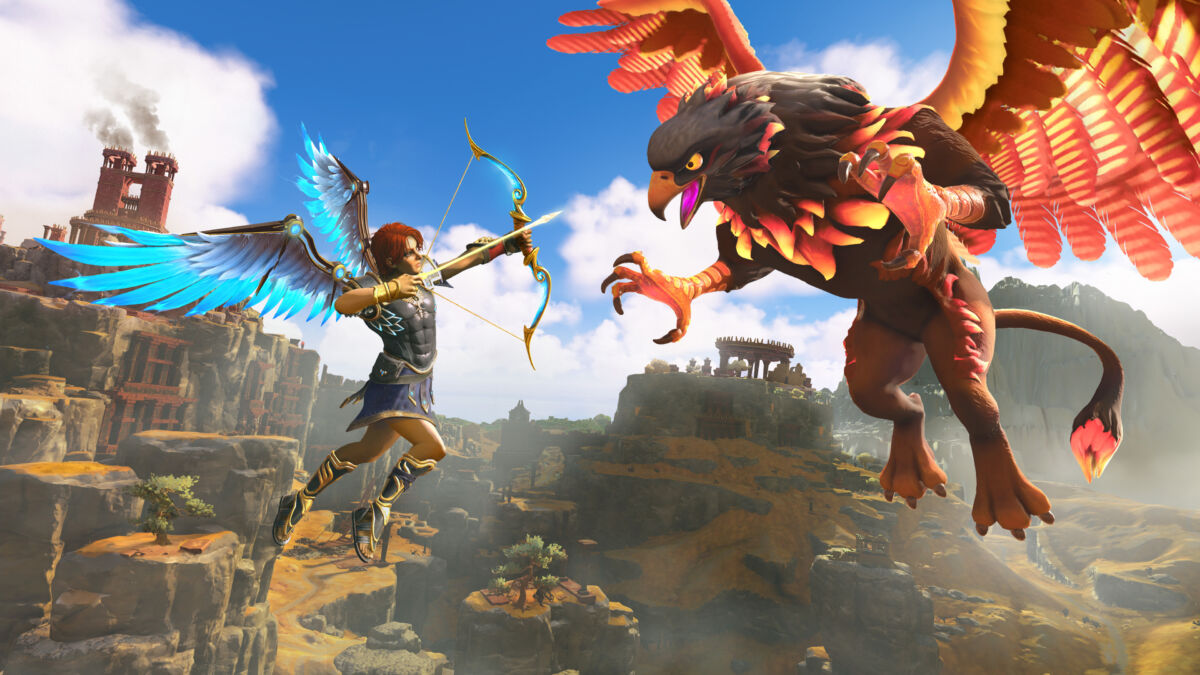 Developer: Ubisoft
Publisher: Ubisoft
Ancient Greece and the mythology surrounding it is one of the best periods that games can explore, as it's filled with interesting events, colourful people/characters and the opportunity to add your own twists and iterations. Just look at the success of Hades, for example, but there was another Ancient Greece-based game that launched the same year which demands your attention, even if it doesn't have the best name: Immortals Fenyx Rising.
The story, which is narrated the entire way through by Prometheus and Zeus, tells the tale of Fenyx, land on a mystical island and must try to find a way to save their brother. Along the way, you'll become part of Typhon's evil machinations, going on a whistle-stop tour of some of the best the mythology has to offer.
At launch, Immortals drew a lot of comparison for its similarity to Breath of the Wild, which definitely isn't a bad starting point as far as open worlds go.
9. Saints Row: The Third – Remastered
Developer: Volition
Publisher: Deep Silver
Ordinarily, we don't tend to throw nods to ports or remasters, but Saints Row: The Third – Remastered is a worthy exception considering that it's one of the most fun open world games ever made. Modelled in a similar vein to the likes of GTA, it feels like Saints Row: The Third's only limit on fun is your imagination.
Set in the fictional town of Steelport, you lead the Third Street Saints into war against a crime family known as the Syndicate, doing everything in your power to take them down, along with the government forces trying to stop. This includes, but isn't limited to: starting a zombie outbreak, beating a crime boss in a wrestling match, invading cyberspace and crashing a rooftop party by parachute.
It's about as bonkers as Xbox Series X & S open world games get, and it's amazing.
8. Lost Judgment
Developer: Ryu Ga Gotoku Studio
Publisher: SEGA
Ryu Ga Gotoku Studio are best known for their Yakuza series, which may or may not be appearing on this list too, but their other work is also fantastic too. The decision to make Yakuza a turn-based RPG series going forward has freed up Judgment, their spin-off series, to focus on thrilling beat 'em up action. Lost Judgment, the second game in the series, is absolutely firing on all cylinders.
Controlling Takayuki Yagami, a private investigator, you're travelling between the brilliant open world of Kamurocho and Isezaki Ijincho as you investigate a criminal accused of both sexual harassment and murder. In order to accomplish this, you'll be battering hordes of goons and gang members, and even recruiting a pet dog to help you investigate crimes.
7. No Man's Sky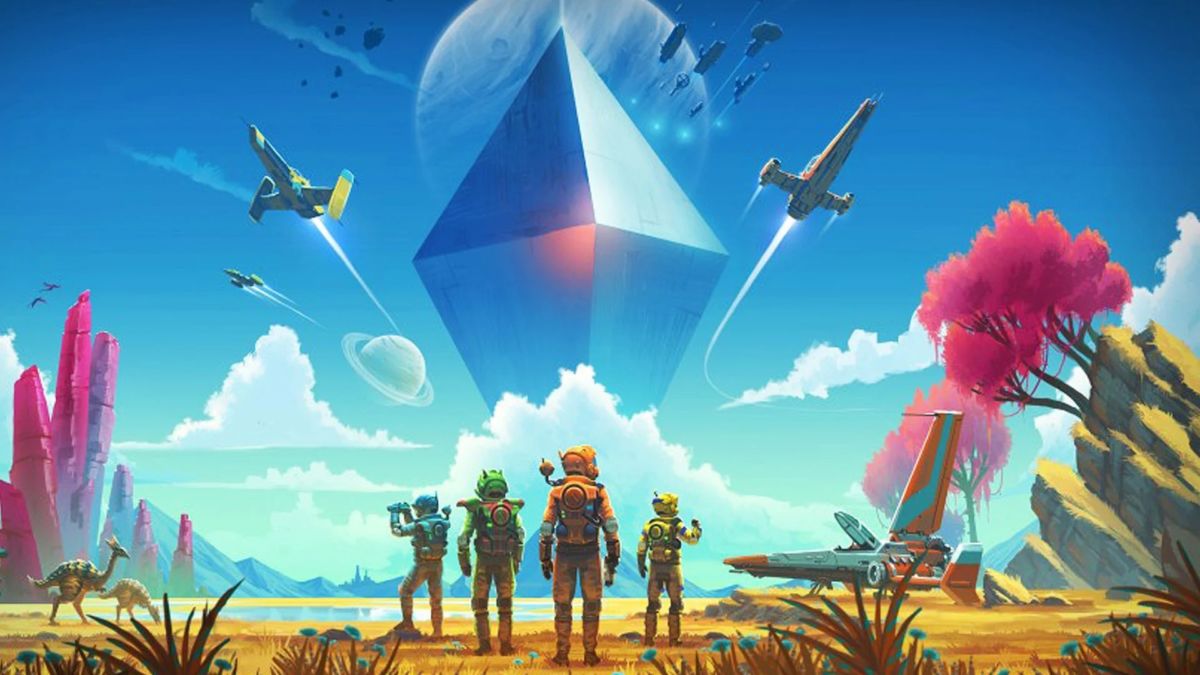 Developer: Hello Games
Publisher: Hello Games
Exploring one open world is great and all, but the ability to explore an entire universe filled with unique creatures, landscapes and more is even better. Fortunately, you can do just that in No Man's Sky, which puts players into the middle of a strange universe and gives you just enough of a push to find your own way in this world.
While No Man's Sky was initially quite barebones, Hello Games have done an amazing job of turning around the fortunes with a cavalcade of free updates, each adding new diversions, upgrade paths and content. There's even cross-platform multiplayer to boot, because exploring the universe is clearly much better when you've got fantastic friends to share it with.
6. Halo Infinite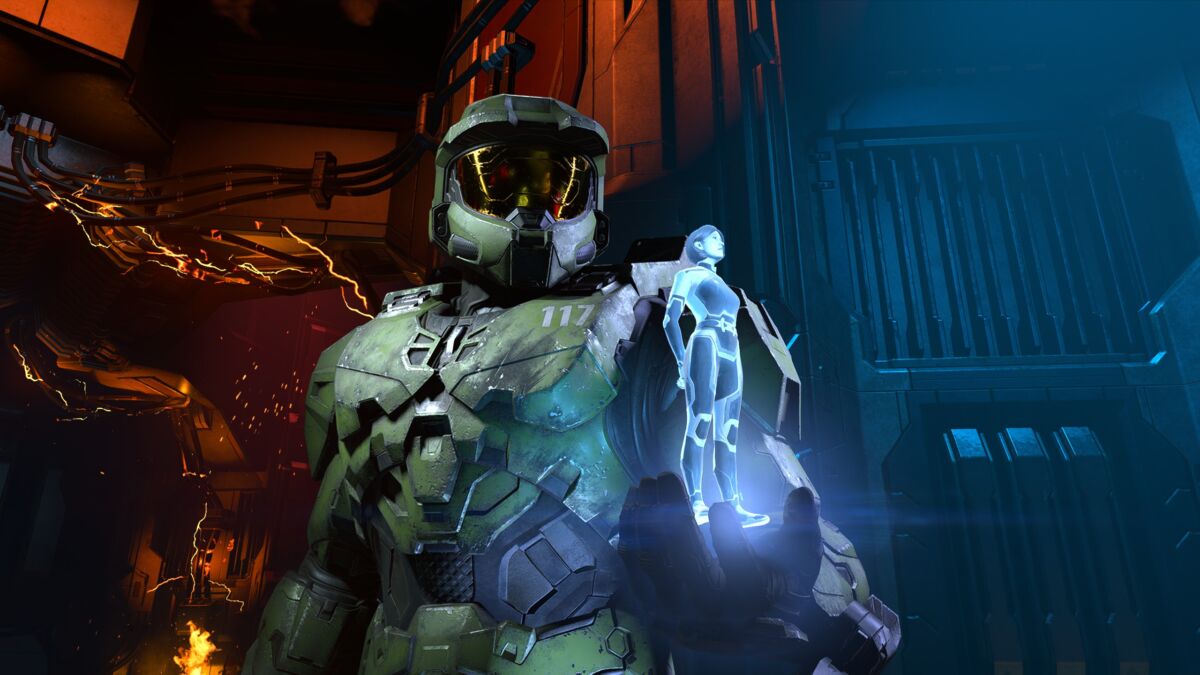 Developer: 343 Industries
Publisher: Xbox Game Studios
Halo Infinite dragged the series, kicking and screaming, into the open world genre, and quite frankly, the franchise is much better for it. The series' campaigns have always thrived on chaotic, physics based interactions on large battlefields, so giving players a whole world to play with made the Halo Infinite campaign feel special.
Halo Infinite saw the Master Chief and a ragtag group of UNSC stranded on a Halo ring, surrounded by The Banished, an alien mercenary group seeking to kill The Chief once and for all. With the game's open world, you'll tackle bases, find collectibles and just maybe find love in the form of the absolutely incredible Grappleshot.
Halo Infinite is one of the best open world games on Xbox Series X & S, though it would be even better with online co-op. Just saying.
5. Dying Light 2
Developer: Techland
Publisher: Techland
An open world game set in a zombie post-apocalypse isn't exactly the most original premise in the world, but damn if Dying Light 2 doesn't own that premise with every fibre of its being. In fact, it amplifies the experience, giving you an urban playground to explore and all the tools you'd possibly need to make the experience as fun as possible.
As a survivor by the name of Aiden, you arrive at Villedor as various factions are competing for control of the city's territories and resources. In the meantime, you'll be dealing with the endless hordes of the infected looking to turn you into lunchmeat. Fortunately, you can call your friends in with four player online co-op, which should make the experience more enjoyable for everyone.
4. Sea of Thieves
Developer: Rare
Publisher: Xbox Game Studios
The pirate's life is an open world, if that world is mostly the high seas, and no pirate game has embodied that more than Sea of Thieves. Players are free to explore the ocean as they fit while part of a crew on the search for treasure. Of course, those seas are home to some hostile forces, whether those are the creatures of the sea or some hostile crews looking to steal your loot.
Like No Man's Sky before it, Sea of Thieves and its open world felt a little bland in the early going, but in the years since its launch, Rare have done a fantastic job in providing reasons for players to come back. With plenty of free updates and premium content, along with regular events, Sea of Thieves is oftentimes a wonderful game to play. Until some crew pillages your ship and steals your loot. Then it's the worst game ever.
3. Forza Horizon 5
Developer: Playground Games, Turn 10 Studios
Publisher: Xbox Game Studios
The racing game genre has experimented with open worlds quite a bit over the years, some with greater success than others. Burnout Paradise's open world is nothing short of a triumph, while The Crew's attempts at recreating the entirety of North America often left a lot to be desired. Still, the best open world racing game on the market is unquestionably Forza Horizon 5.
Set in Mexico, filled with a host of diverse biomes to explore you're given access to hundreds of cars and racing disciplines and you're told to find what makes you happy. If you want to make custom paint jobs to share online, you can, and you're rewarded for it. If you'd rather spend your time breaking speed records, you'll be rewarded for that too. There's even an in-depth event creator for players looking to make their own fun. Literally.
This is an open world in every sense, and it's all the better for it.
2. Yakuza: Like A Dragon
Developer: Ryu Ga Gotoku Studio
Publisher: SEGA
Turn-based RPGs and open world games doesn't sound like a combination that would mix well, but Yakuza isn't any traditional series. The madcap Japanese franchise has long walked the line between engrossing crime fiction set in a condensed yet wonderful open world, and zany antics that make the series such easy fodder for memes and shareable content. Yakuza: Like A Dragon is no exception.
A departure from the regular series, Like A Dragon moves on from regular series protagonist Kazuma Kiryu and focuses on Ichiban Kasuga, who just happens to be a massive JRPG nerd. Powered by a love of Dragon Quest, Ichiban sees fights like a turn-based battle, making for a unique and engaging combat system. Of course, the open world isn't too bad either, as it's filled with distractions and side quests to complete.
1. Elden Ring
Developer: FromSoftware
Publisher: Bandai Namco
The Soulslike genre typically isn't conducive to open world design. You're often exploring claustrophobic dungeons filled with hostile creatures, and you're funnelled down a couple of set paths at best. Somehow though, FromSoftware managed to achieve a brilliant open world game on Xbox Series X & S with Elden Ring. It's finally here, and it's been worth the wait.
As a Tarnished, you're sent to the Lands Between to unite the Elden Ring and become the true Elden Lord, which means there's plenty of massive bad guys to batter. Well, get battered by would be more accurate, as Elden Ring is incredibly hard, but the brilliant open world design means that players can explore somewhere else if they feel like they need to grind and find better gear. There's always something else to do, or another option to take, and it's such a liberating feeling.
READ MORE: The Best Xbox Series X & S Horror Games You Should Play
Some of the coverage you find on Cultured Vultures contains affiliate links, which provide us with small commissions based on purchases made from visiting our site. We cover gaming news, movie reviews, wrestling and much more.