2022 was another great year for Nintendo Switch owners. Whether you're rocking a vanilla version of the console, the top-of-the-line OLED model, or the Switch Lite, you had a stack of terrific new games to choose from over the past 12 months. But which represents the cream of the crop? It's an important question, especially if you're looking to bulk up your collection with all killer, no filler games.
Fortunately, this list of the best Switch games of 2022 has the answer – 10 answers, in fact – to that question. It rounds up the finest games across a range of genres to hit Nintendo's hybrid console during the year that was. These games are so good, you're guaranteed to enjoy yourself whether you're crashed out on the couch or gaming on the go.
Note: we didn't include any ports of games originally released on other consoles prior to 2022 on this list (sorry, Portal Companion Collection fans).
10. Bayonetta 3
Developer: PlatinumGames
Publisher: Nintendo
A lot has been written about Bayonetta 3's various behind-the-scenes dramas, most notably the dispute between PlatinumGames and voice actor Hellena Taylor. Amazingly, these back-of-house problems haven't hurt the game itself, and –Taylor's absence notwithstanding – this hack-and-slash effort largely recaptures the appeal of its predecessors.
This includes Bayonetta 3's fast-paced blend of melee combat and gunplay, which is arguably even more fluid and fully realized than in any other game in the series. That said, a busted camera system and sluggish load times keep Bayonetta 3 from ranking higher on this list, as does its underwhelming storytelling. But really, who plays these games for their plotting or character development?
9. Pokémon Legends: Arceus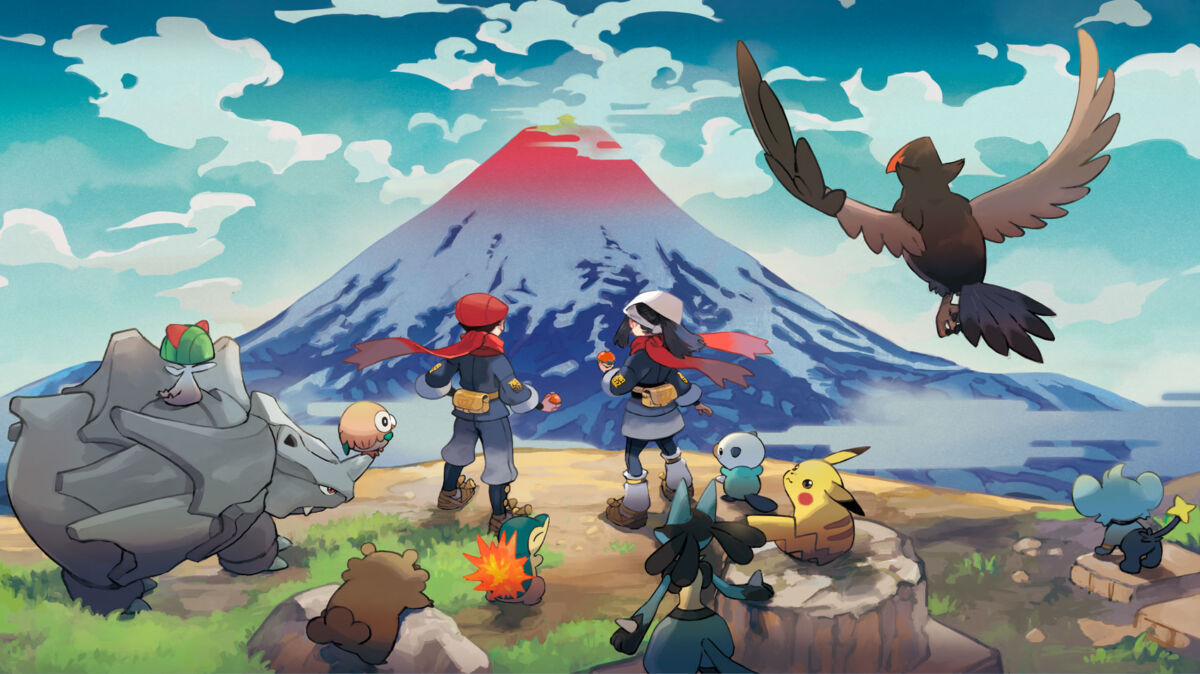 Developer: Game Freak
Publisher: Nintendo, The Pokémon Company
Pokémon Legends: Arceus represents a big step forward for the Pokémon franchise. As an action RPG, it reworks, streamlines, and even straight-up removes many of the mechanics previously enshrined in the series' template to deliver a truly modern gameplay experience. The knock-on effect of this is that Pokémon Legends: Arceus is one of the most accessible entries in the franchise's history. Even a complete beginner will be finding and catching Pokémon in no time.
Admittedly, Pokémon Legends: Arceus' retooled battle system won't be to everyone's taste; however, this is only one half of its gameplay loop. The other half is devoted to exploring the game's quasi-open world, which was inspired by the real-life history and geography of Hokkaido. Wandering through the Hisui region is a similar pleasure to navigating The Legend of Zelda: Breath of the Wild's Hyrule – which is high praise, indeed.
8. Neon White
Developer: Angel Matrix
Publisher: Annapurna Interactive
An intoxicating first-person shooter/puzzle game cocktail, Neon White is arguably the most innovative entry on this list of the best Switch games of 2022. Together, its expertly calibrated mixture of mechanics and genius-level design make for a propulsive experience that's like taking a pure shot of adrenaline.
This isn't to say that Neon White is a cocktail suitable for all palettes. Specifically, your mileage will vary on whether the game's philosophy-infused story and overall Dreamcast-era sensibility are cool or cringe (for the record, they're both). But hey, even if Neon White's story and style aren't your bag, the gameplay and replayability (especially if you're into speedrunning) more than compensate for it.
7. Fire Emblem Warriors: Three Hopes
Developer: Omega Force
Publisher: Nintendo
Musou games are traditionally a "love them or hate them" proposition, however, Fire Emblem Warriors: Three Hopes is so good, even self-avowed sceptics should give it a shot. As its name suggests, it's a crossover between the Fire Emblem and Dynasty Warriors franchises, and it succeeds by offsetting the hack-and-slash repetition of the latter with the best bits of the former.
What this means in practical terms is that Fire Emblem Warriors: Three Hopes is a Musou outing with a refreshing emphasis on storytelling, not to mention exploration and strategic action. Some gamers may find the game's pacing a little deliberate, even if they ignore optional side quests entirely. But a smidge of padding (plus infrequent slowdown when the action gets especially frenetic) is about the only fault with this one.
6. OlliOlli World
Developer: Roll7
Publisher: Private Division
2D skateboarding OlliOlli World is one of the best sports games on the Switch, period. That's a big claim, but also one that's easy to back up. After all, few other titles can match OlliOlli World's addictive experience of rolling through a level, performing tricks and grinding on conveniently placed horizontal and vertical surfaces as you go.
It looks incredible, too. Gone are the generic urban environments of previous entries in the franchise, replaced with the pastel pink and neon green-and-blue locales of Radlandia. That these striking environments also include multiple pathways is yet another point in OlliOlli World's favor, as it increases the game's replay value.
5. Return to Monkey Island
Developer: Terrible Toybox
Publisher: Devolver Digital
The Monkey Island franchise has a stellar track record when it comes to delivering best-in-class point-and-click adventures. As this list of the best Switch games of 2022 makes apparent, that run of form continues with the newest entry Return to Monkey Island. Shepherded by series creator Ron Gilbert, Return to Monkey Island stays true to the spirit of its iconic predecessors while simultaneously overhauling the user interface to meet modern standards.
The upshot of this is that Return to Monkey Island is as fun (and, just as importantly, funny) as long-time devotees of the franchise will expect, without alienating newcomers. There are items to collect, puzzles to solve, and oddball characters to meet, and you'll have a blast doing all of it. Gilbert and his team have even added a handy hint system (there's no need to trawl online guides) and a casual mode, so this truly is a game for all kinds of gamers.
4. Mario + Rabbids Sparks of Hope
Developer: Ubisoft Milan, Ubisoft Paris
Publisher: Ubisoft
Mario + Rabbids Kingdom Battle defied (low) expectations when it arrived in 2017, bringing together the Mario, Raving Rabbids, and tactical turn-based combat to dazzling effect. It's now widely regarded as one of the best Switch co-op games, which is ironic, given its successor Mario + Rabbids Sparks of Hope dropped the multiplayer component entirely.
Fortunately, what Mario + Rabbids Sparks of Hope loses in co-op goodness it gains in an even more polished single-player experience. Not only does this sequel include a bigger stable of characters to choose from, but it also brings a real-time edge to the action. These updates – along with the decision to move away from Kingdom Battle's grided level layouts – make Mario + Rabbids Sparks of Hope every bit as compelling as its predecessor.
3. Splatoon 3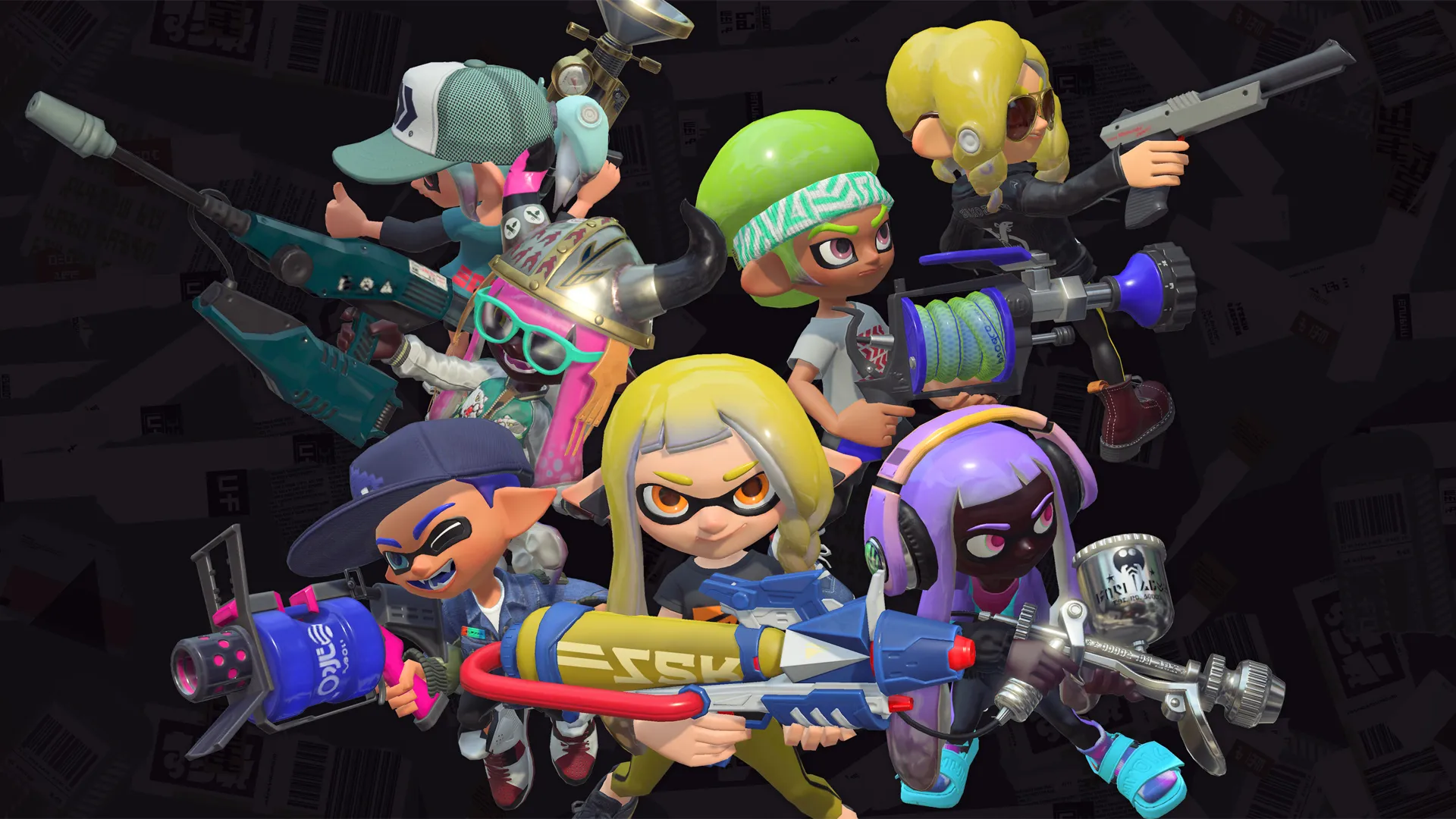 Developer: Nintendo EPD
Publisher: Nintendo
A third-person shooter the whole family can enjoy, Splatoon 3 builds on the brilliantly conceived and executed mechanics that won Splatoon 2 such acclaim. As in that game, players pepper their opponents (and surroundings) with blasts of ink instead of hot lead, in either online multiplayer matches or the story-driven single-player mode.
It's a gameplay formula that's chaotic, colorful, and, above all, fun – and that's before you factor in Splatoon 3's new bosses, maps, weapons, quality-of-life improvements, and customisation options. The game also carries over several nifty features introduced in Splatoon 2's Octo Expansion DLC too. Nintendo even threw a new card game mode into the mix as well, although the real draw remains the core multiplayer experience.
2. Kirby and the Forgotten Land
Developer: HAL Laboratory
Publisher: Nintendo
Kirby and the Forgotten Land is the first foray into true 3D gameplay by a mainline entry in the Kirby franchise. The team at HAL Laboratory makes the most of 3D's creative possibilities, particularly where the inventive implementation of (and expansion on) Kirby's signature copy abilities are concerned.
There are also vast virtual environments to explore, all of which are jam-packed with collectibles and optional challenges. And if this isn't enough, Kirby and the Forgotten Land supports local co-op, so you can even share this awesome adventure with a friend.
1. Xenoblade Chronicles 3
Developer: Monolith Soft
Publisher: Nintendo
Xenoblade Chronicles 3 is the most well-reviewed original Switch release of the year – so is it any surprise it nabbed the top spot on this list of the best Switch games of 2022? Honestly, there's so much to recommend about this action RPG, it's hard to know where to start. The story, combat, open world exploration, and hardware-pushing graphics are all equally deserving of praise.
Then there's Xenoblade Chronicles 3's sheer scope to consider. There's over 100 hours worth of content for players to sink their teeth into here, and if some of it verges on filler material, the rest is engaging enough to render this a minor quibble. JRPGs don't get much better than this.
READ NEXT: Biggest New Switch Games of 2023 & Beyond