Maybe the best compliment you can give Angel Matrix's Neon White is that it feels like something from a different era when games were weird. So many games play it so very safe these days, seemingly designed by committee, yet along comes Neon White that feels like something Sega would have made in their pomp, an arcade-y, super-stylised romp that puts an emphasis on making the player feel great while also having a great time.
From the early 2000s dance music to the rather boisterous title cards all the way up to the game's humour, Neon White would feel right at home on the Dreamcast alongside the likes of Jet Set Radio and Crazy Taxi. If you couldn't tell, Neon White is a very good game.
You play as the titular Neon White, a "Neon" who's recently arrived in Heaven on demon clean-up duty. Neons are plucked from Hell by the Believers do their gruntwork, and the more demons a Neon slays, the longer they get to stay in Heaven and out of Hell, though White doesn't remember any of his past. To unfurl the mystery, you'll talk to other Neons, some with deep connections to White's past, and also cats who tell you what to do. Oh, but sometimes they're also John Cena. You'll see.
Once you've been given orders, you will then venture off into various districts of Heaven and cleanse them while against the clock. Neon White is an FPS game with cards, but it's important to note that this isn't a deck-builder or anything close to it. Really, the cards work as alternate fire modes, as you can pick up a card and fire it normally, then discard it to trigger a secondary ability. The humble pistol, for instance, gives you an extra jump, while the rocket launcher can be used as a grappling hook. This adds an element of strategy to Neon White, as you'll have to mentally lay out exactly when to discard a card to make the most of it, but it does need to be stressed that the game really isn't as impenetrable to new players as most card games. You get the card, use the card, then it's on to the next card — it's more like nice and violent Uno than Slay the Spire.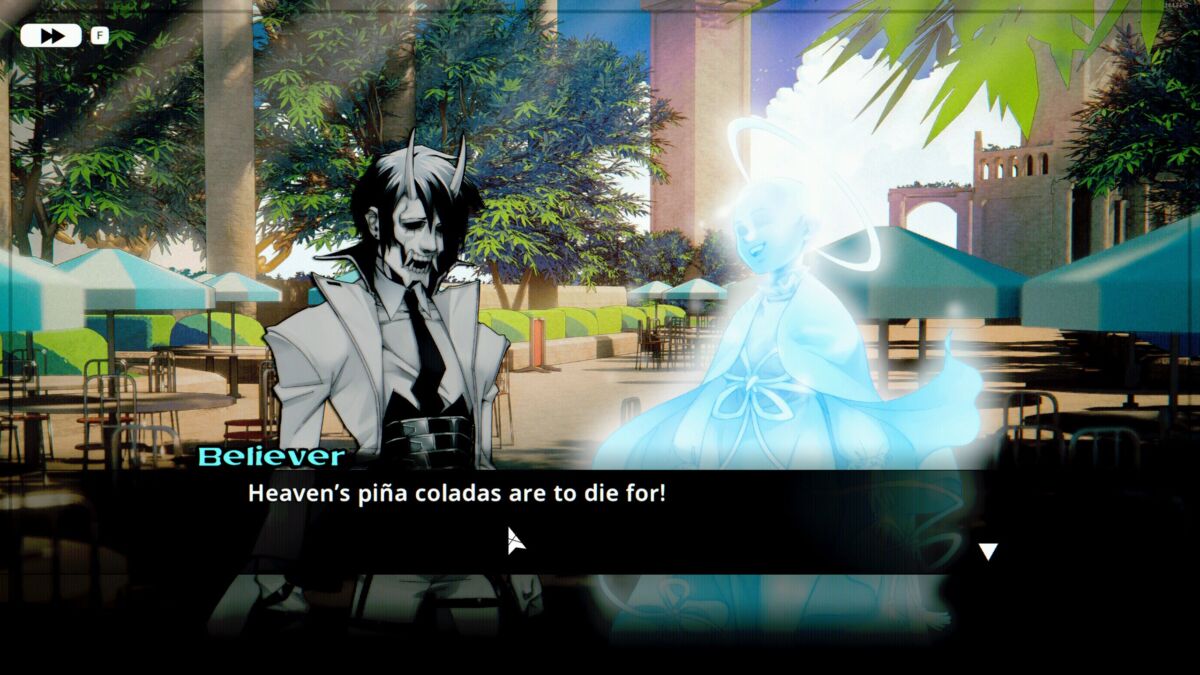 Neon White does have one thing in common with Mega Crit's mega fun deck-builder apart from the use of cards, though: just how addictive it is. As someone who rarely cares to be the best in any game and is happy to coast along in the averages, I was amazed to find just how how deeply my leaderboards placement mattered in Neon White. Not since My Friend Pedro have I replayed the same levels over and over again to try and get the fastest possible time and unlock a hallowed Ace medal, but even Pedro wasn't as engaging as this.
It helps that most levels are well under a minute long and that the basic loop of learning the levels (including enemy and card placement) is inherently rewarding, only bolstered further by how fulfilling it is to shave off a fraction of a second here and there as you gradually ascend the leaderboard and eventually beat a developer's score. I managed the latter quite a few times in my playthrough, but I don't like to brag about it.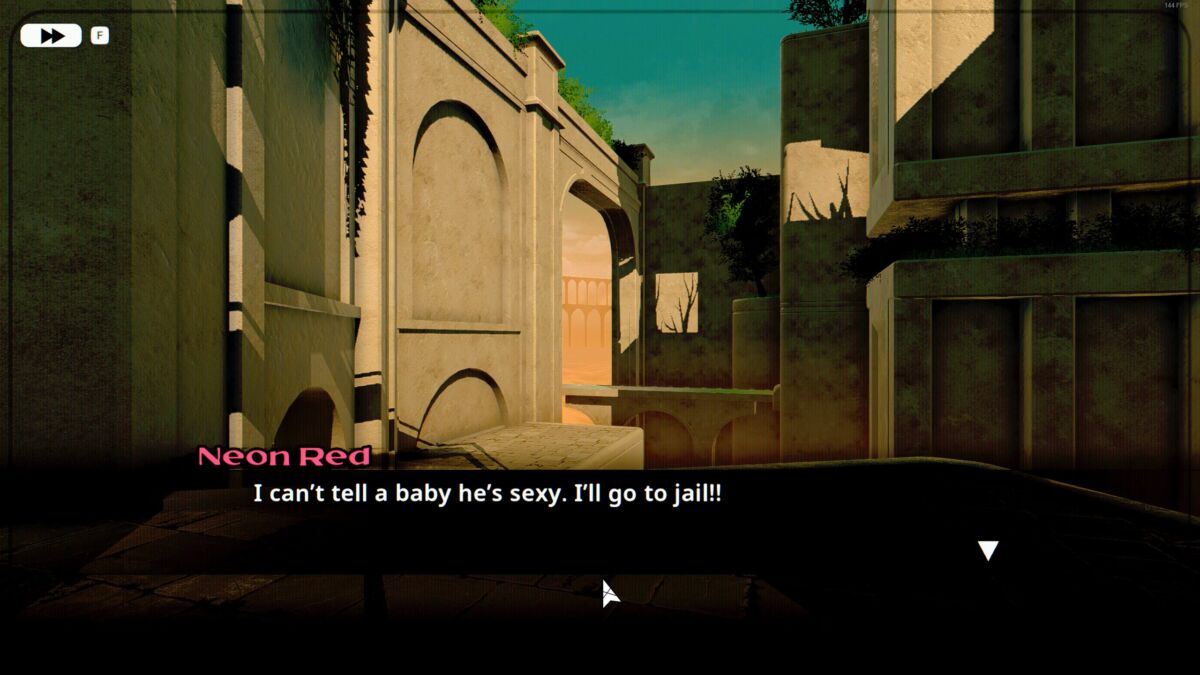 Once you've mastered a level, you can also find a gift that you can give to someone back in Heaven, which unlocks new dialogue, a memory, or even a whole new sidequest. These gifts are basically the game's form of puzzles, with them almost always being far out of the way, meaning that you have to think more strategically with your cards to reach them. There's a hundred or so levels with almost every level having a gift to find, which, when combined with just how much there is to unlock and perfect, explains how I managed to rack up 20 hours or so of playtime.
The great thing about Neon White is that it also isn't especially hard — the sheer pull of perfection is what will keep you coming back over and over again, rather than any cheap stuff. Enemies die in just a few hits at most and are mostly stationary, so they're more used as milestones for your speedrunning than any significant threat. You feel strong throughout Neon White, which is only reinforced when you're able to dash on top of a demon's head with a katana and then zip away via a rocket-jump like something seen on Cartoon Network.
Neon White's loveable cast of weirdos only adds to just how inviting it is to sink hours into so that you can talk to them more, watch The Matrix with them, share ice cream out of a bin, and much more. The writing is excellent here, with Neon Yellow and Neon Violet both feeling like two different Twitter feeds come to life without any of the cringe factor that you might expect. There's also stellar voice work from the likes of Steve Blum, SungWon Cho, and Alicyn Packard that adds to the game's charm and makes the visual novel-esque conversations feel vibrant and alive, not unlike your favourite shonen anime.
I always say that you can tell how much you still want to play a game by the time it comes to actually talking about it. Every sentence I've typed here has almost triggered me to go back and try another run to beat an old score, find a hidden gift, or unlock some delightful new interaction with the game's eccentrics. Neon White is one of the most video game-iest games I've ever played, and it's also one of the most fun in the last 20 years since I picked up a weirdly shaped controller and wondered what the hell a VMU was.
A Steam key was provided by PR for the purposes of this coverage.
READ NEXT: 15 Best Free FPS Games You Should Download
Some of the coverage you find on Cultured Vultures contains affiliate links, which provide us with small commissions based on purchases made from visiting our site. We cover gaming news, movie reviews, wrestling and much more.