While it may seem like everyone is in the middle of pivoting towards games as a service, there are still plenty of excellent solo experiences out there to enjoy with the ninth generation of console gaming already proving just that. The best PS5 single-player games show that there's nothing to be worried about for those who don't want every game to turn into a second job.
Though they dabbled in some multiplayer-focused titles over the lifespan of the PS4, Sony were focused on narrative games for the majority of the console's life, bringing some of the defining games of the generation in the process. Efforts like God of War, Horizon Zero Dawn, and Ghost of Tsushima truly shone on the big black box, and now Sony's new weird white box is looking to keep that trend going.
If you're tired of battle passes, creeping microtransactions, and getting destroyed by children online, here are the best single-player games on PS5 you should be trying out.
BEST PS5 SINGLE-PLAYER GAMES: Bugsnax | Immortals Fenyx Rising | Sackboy: A Big Adventure | Assassin's Creed Valhalla | Devil May Cry 5: Special Edition | Astro's Playroom | The Pathless | Marvel's Spider-Man: Miles Morales | Hitman 3 | Demon's Souls
10. Bugsnax
Developer: Young Horses
Publisher: Young Horses
One of the most talked about games following the PS5's reveal for quite the myriad of reasons, Bugsnax is a wacky games for players of all ages that sees you investigating a strange island where the animals are sentient food.
Weirder still, eating these titular Bugsnax will transform body parts, leaving the residents of Snaktooth Island looking very strange indeed. They see it as a completely normal thing when their arms turn into strawberries, though.
Catch Bugsnax, make new friends, and try to figure out what the heck is going on in this barmy adventure game from the makers of Octodad. It's not for everyone, but those who do fall in love with it end up talkin' 'bout Bugsnax for a long while.
9. Immortals Fenyx Rising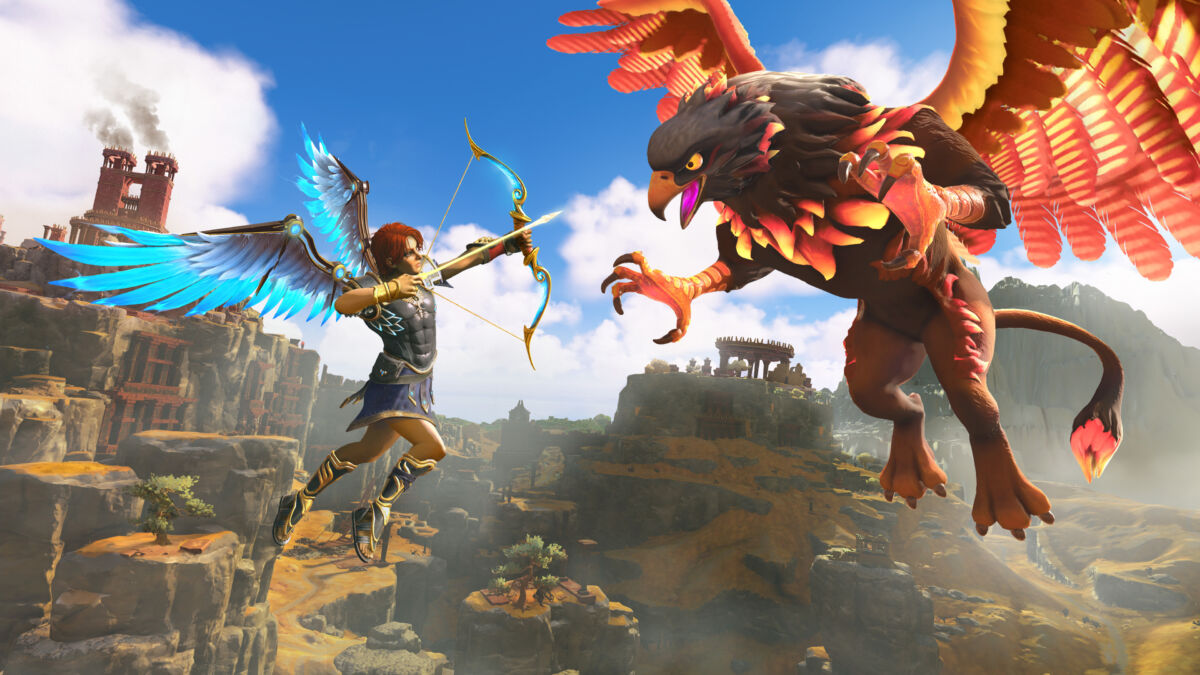 Developer: Ubisoft
Publisher: Ubisoft
Basically like Assassin's Creed Odyssey but made by Dreamworks, Immortals Fenyx Rising slowly grew on a lot of people when it released at the backend of 2020. While undeniably derivative of Breath of the Wild, there's a reason why that game is so beloved: it's damn good. More of it is totally fine by us.
Immortals Fenyx Rising follows Fenyx (the player-created character) as they are embroiled in a battle between Olympus and a usurper by the name of Typhon, who is on a quest for revenge. You must take on the corrupted legends of Greek myth and restore order in a giant open world.
While it might be a tad too similar to Breath of the Wild for comfort, Immortals Fenyx Rising's approachably fun gameplay, large scale, and silly laughs make it an easy pick up and play game that's great to waste a few hours with.
Still should have stuck with Gods & Monsters as the name, though.
8. Sackboy: A Big Adventure
Developer: Sumo Digital
Publisher: SIE
It might not be LittleBigPlanet 4, but Sackboy: A Big Adventure still brings the franchise mascot to the forefront for a fun outing all his own.
A PS5 launch title, Sackboy: A Big Adventure follows the stringed lad as he looks to stop Vex from building his Topsy Turver while saving his friends in the process. A deep setup it certainly isn't, but platformers have never exactly been famed for their strong narratives.
No, what you're coming to Sackboy for is a game for the young ones that you can play right alongside them, a relatively fuss-free and joyful outing that you can dust off in an afternoon — and have a mile-wide smile the whole time. It makes good use of the PS5's new features as well, such as haptic feedback and 3D audio.
While it's a little difficult to justify spending £70/$70 on it for how quickly it can be dusted off, Sackboy is absolutely worth picking up on a small discount.
7. Assassin's Creed Valhalla
Developer: Ubisoft
Publisher: Ubisoft
A single-player PS5 game that just never seems to end, Assassin's Creed Valhalla is seen by many as the definitive Viking video game experience. Well, that was until Valheim came along, though Valhalla is a completely different kind of skol to try out.
If you're familiar with Origins and Odyssey, you'll know exactly what to expect with Valhalla: an utterly gigantic open world RPG with something to do almost every other step. You play as Eivor, a Viking who ostensibly leads the Raven Clan to settle in England, one raid at a time.
While Ubisoft didn't go quite as far as they could have with the feature, being able to customise your settlement while adding new residents and buildings over time is a worthwhile addition to the formula. Backing that up is a beefy combat system, a good amount of loot to collect, and a surprisingly great storyline, even if does have some stodgy pacing at points.
Unfortunately, Valhalla is a little over-monetised with plenty of things to spend your money on, though you can technically go through the whole game without feeling pressured into taking the plunge.
6. Devil May Cry 5: Special Edition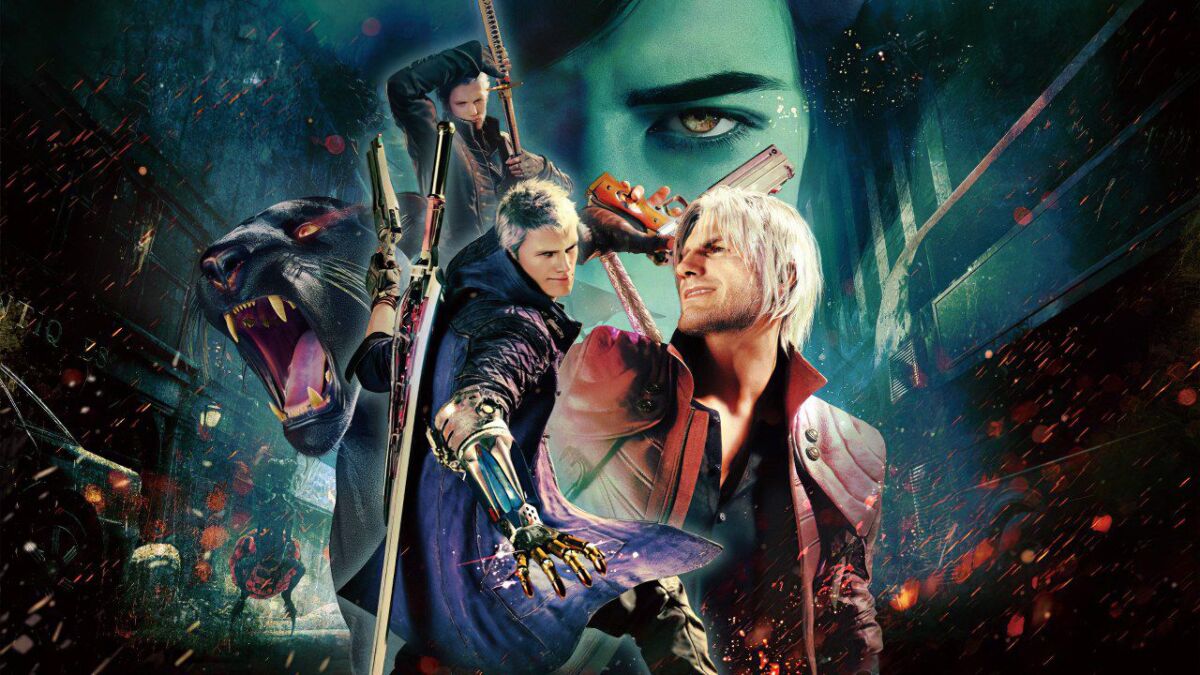 Developer: Capcom
Publisher: Capcom
We'll ignore the dodgy fact that Capcom released Devil May Cry 5 but with added Vergil as an entirely new game for PS5, just as it's a great game regardless of the packaging.
Arguably the best Devil May Cry game since Dante started quipping his way through problems on the PS2, Devil May Cry 5: Special Edition sees you playing as Dante, Nero, and newcomer V as they look to stop Urizen in Red Grave City. It takes about five seconds for Devil May Cry 5 to become much more wonderfully off the wall than that.
The main attraction is the combat, as it should be with any DMC entry. Each character feels unique and satisfying as numbers rack up on-screen, combos pulled off ever more stylishly as the screen getting less congested. While not as flashy, V brings even more variety than the two posterboys, which isn't even mentioning Vergil's bombastic debut as a playable character.
Limber up your trigger fingers and prepare for one hell of a time with Devil May Cry 5: Special Edition. Seriously, limber up: this game will give you cramp.
5. Astro's Playroom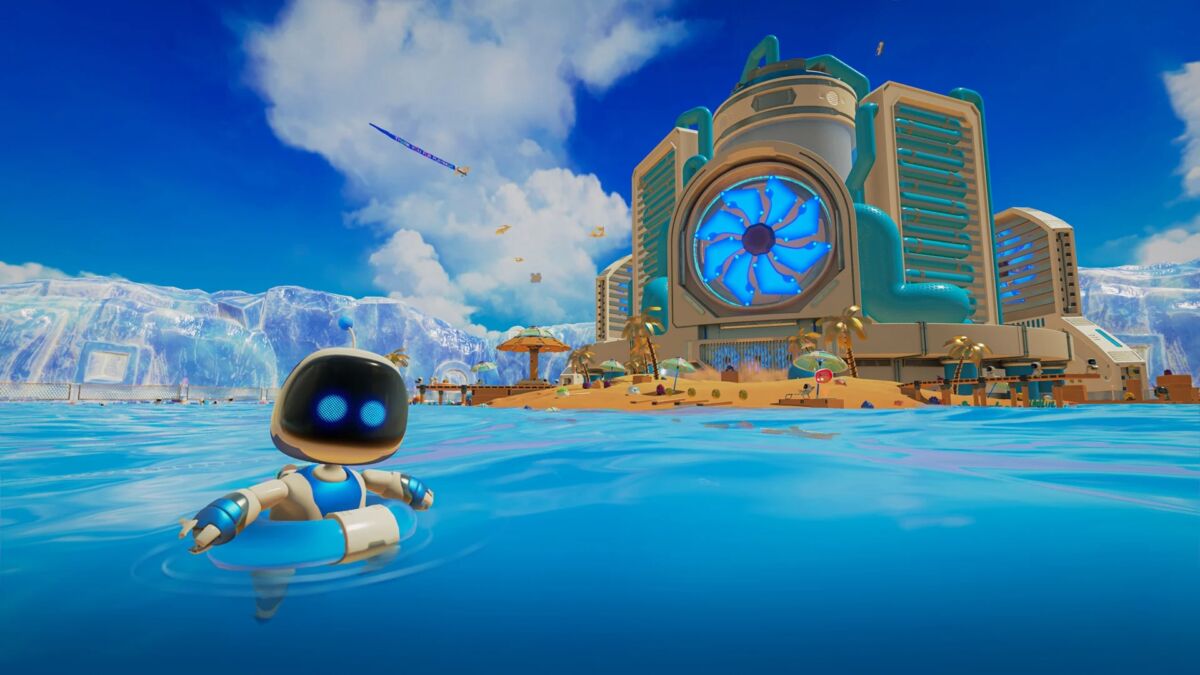 Developer: Japan Studio
Publisher: SIE
The best pack-in game of all time? While Wii Sports might have something to say about that, Astro's Playroom is a pretty much perfect introduction to the PlayStation 5 — and it's completely free, too.
Basically a whimsical traipse through PlayStation history, Astro's Playroom is a fun platformer that also acts as a great marketing tool for the PS5. Each region is a new feature of the console and the game shows them off remarkably well, the DualSense features in particular.
Wherever you're a long-time PlayStation fan or new to the consoles, Playroom will have you grinning through its many brilliant easter eggs and upbeat tone, especially when the bonafide banger that is GPU Jungle is playing.
Here's hoping for a full-fat single-player PS5 Astro adventure in the near future — he's every inch the PlayStation mascot.
4. The Pathless
Developer: Giant Squid
Publisher: Annapurna Interactive
Here's proof that not every open world game has to be packed to the gills with content to be a journey worth taking.
Coming from the creators of Abzu, it shouldn't be a surprise to see that The Pathless offers some restraint from the kitchen sink nature of its peers, it instead preferring to focus on its core gameplay and beautiful visuals to see it through.
And it really works: The Pathless is one of the most unique, captivating open world games around. You play as a young huntress who is trying to put an end to The Godslayer, an evil entity who's corrupting nature. With your trusty eagle friend and bow at your side, you must find a way to stop it, but nothing is spelled out for you.
The Pathless' non-linear approach and simple yet massively enjoyable gameplay would be enough on their own, but when you mesh those with the game's stunning aesthetic and amazing soundtrack, you have a single-player game worth hunting down on PS5.
3. Marvel's Spider-Man: Miles Morales
Developer: Insomniac
Publisher: SIE
While a little on the short side, Marvel's Spider-Man: Miles Morales is the perfect dessert for the PS4 exclusive that points towards the direction for the franchise going forward.
Taking the reins of the titular Miles Morales with Peter Parker off on a well-earned vacation, you must put a stop to the destruction that the battle between the rebellious Underground and Roxxon corporation is wreaking on Manhattan, one Venom Blast at a time.
Though largely the same as the first game despite some new gadgets and powers, that old adage about things not being broken certainly applies here — Miles Morales is an enormously entertaining time with plenty of content to tuck into outside of the brief story.
With support for up to 60 frames per second gameplay or 4K resolution, web-swinging has never been as smooth and satisfying as this. Here's hoping a full-fledged sequel improves on what is already a brilliant franchise — co-op Spider-Man, anyone?
2. Hitman 3
Developer: IO Interactive
Publisher: IO Interactive
The closing act in the World of Assassination trilogy, Hitman 3 is the best way to say goodbye to 47 and Diana, at least for now.
Featuring similar gameplay to the first two excellent games, Hitman 3's small tweaks to the formula don't exactly reinvent the wheel, rather they just make an exceptionally dynamic game feel even more dynamic.
Drop into a sandbox and figure out how to take out the targets — that's really all there is to it. However, it's everything in the middle — all the experimentation with often hilarious results — that defines Hitman 3 as one of the best stealth games ever made.
A game designed to be played over and over with plenty to unlock, making each level completely different depending on how you approach it, Hitman 3 just keeps on giving. That's especially true when you have bananas to throw and grape pressing machines to abuse.
1. Demon's Souls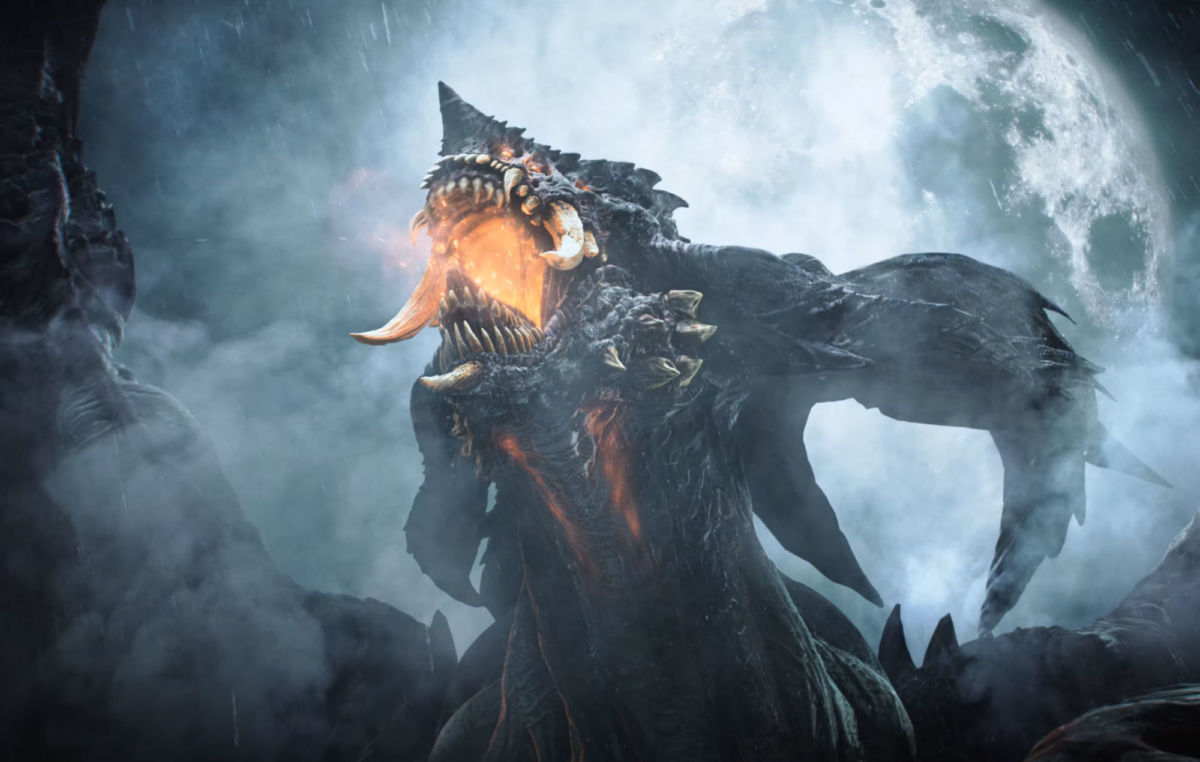 Developer: Bluepoint/FromSoftware
Publisher: SIE
One of the most unloved games at the time of its initial release finally had the chance to launch with the audience it deserves alongside the PS5 — and it took the opportunity with both hands.
Few people seemed to really "get" Demon's Souls when it first came out, leading to it becoming a bit of a cult classic, a curio in the history of Soulsborne that was perhaps a little tricky to go back to. With Bluepoint's excellent remake, Demon's Souls now has the following it should have had from day one.
Buffing out some of the original's rough edges while keeping others to maintain its spirit, Demon's Souls really isn't going to sway those who haven't loved From's misery simulators in the past, no matter how pretty it looks and smooth it is to play.
However, for those who want to be challenged and inevitably dislodge their DualSense from drywall, Demon's Souls is as good an origin as they come and yet another reminder that Bluepoint know how to remake the classics. What's next?
READ NEXT: 15 Best PS5 Gaming Headsets
Some of the coverage you find on Cultured Vultures contains affiliate links, which provide us with small commissions based on purchases made from visiting our site. We cover gaming news, movie reviews, wrestling and much more.