Returnal is a game that wears a lot of different hats, many more than some people give it credit for. As well as being a thigh-slappingly hard roguelike, it's also the PS5 exclusive that does the best job yet of making the console's new features feel like a big deal.
Despite many reservations about its price tag, especially here in the UK, Housemarque and Sony really seemed to have thrown everything at making Returnal truly feel like a next-gen experience.
The most obvious way that Returnal utilises the bells and whistles of the PS5 is in how magically it works with the DualSense. I'll never run out of praise for the new controller, especially since it blew my mind in Astro's Playroom, and Returnal makes what could be viewed as a gimmick into an essential part of the PlayStation 5 experience. While it may take a little while for the games themselves to feel as big a leap as previous generations (that is, until Rift Apart comes out), the DualSense is already doing a lot of this gen's heavy lifting.
It makes an almost immediate impression in Returnal, Selene's crash landing on Atropos translating so kinetically to the palm of your hands. It took me by immediate surprise, so much so that I let out a little "wow" like a spacefaring Owen Wilson. The haptic feedback positively dances across the controller, giving small sensations for every step of the crash.
And then you get out of Helios and the pouring rain on this alien planet is like you're sitting by the window and watching it fall on a cold winter's day. Remember 3D movies in their pomp? That's the equivalent of haptic feedback in Returnal, just in terms of taking something standard (controller vibration) and making it feel like something never seen before.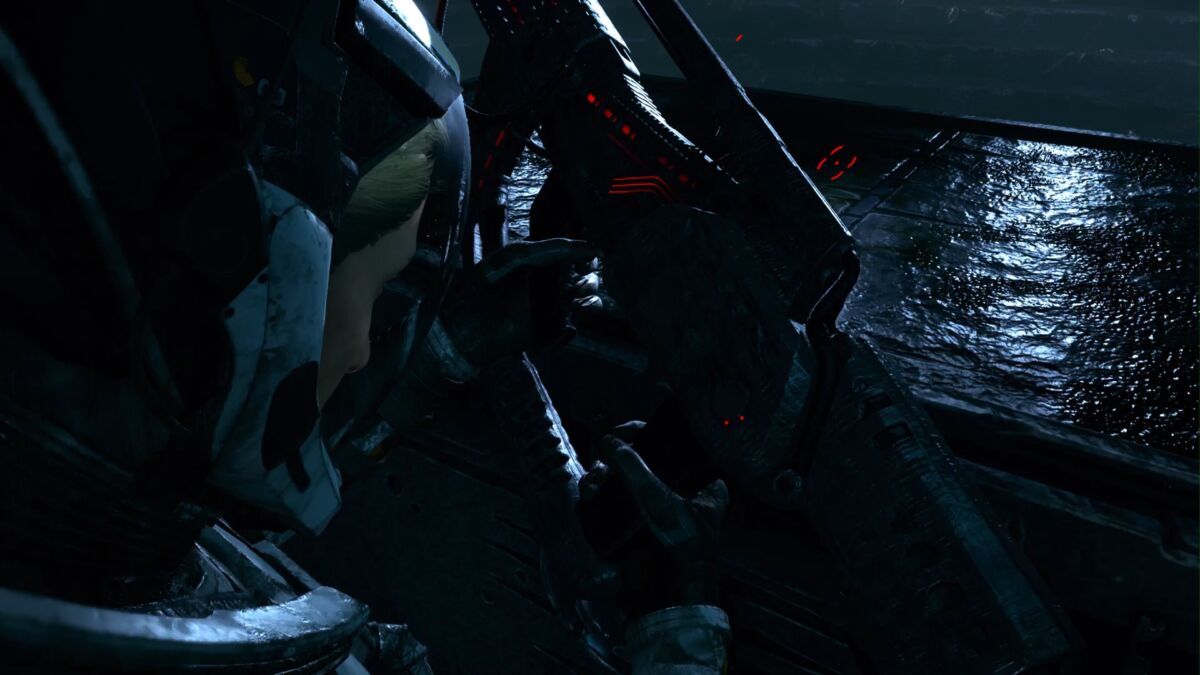 In combat, the haptic feedback seems even better than having a giant arrow on the screen to warn you of danger — you feel a lot of dangers before you even see them. While sprinting away from the game's many tough mini-bosses, louder, more intense vibrations means that violence is right around the corner, or a low, thudding vibration tells you that your health bar won't be able to take another hit. It's kind of like Spidey Sense but done so subtly and intuitively that it becomes second nature to react to it after almost the first vibration.
I think a game may one day land on the PS5 where every single bit of info you need is relayed via DualSense vibrations, but Returnal is the next best thing until then — you could probably play the game without the UI at all, it's that good at conveying information.
The second feature of the PS5 that Returnal really nails in getting across as a big deal is 3D audio. While perhaps a little less impressive overall as games like Hellblade perfected it last-gen, Returnal also had me turning and wheeling around in panic as I always felt like something was behind me.
Crimson Wastes, the game's second biome, was a bit of a nuisance for giving me anxiety, crumbling rocks and what sounded like the pattering of feet seemingly everywhere. What made this more impressive was my headset: a battered old Kraken that my fat ass has sat on about fifty times. The cups barely fit on my ears anymore because of humpty dumpty rumpty have bent the metal, yet it felt like I was wearing a brand new, top of the line set.
While Returnal isn't a perfect game (the whole saving situation is utterly bonkers, for one), it makes me start to really believe in the possibilities of the PS5 and what the future may hold.
Roll on June.
READ NEXT: The Best PS5 Co-Op Games To Play With Friends
Some of the coverage you find on Cultured Vultures contains affiliate links, which provide us with small commissions based on purchases made from visiting our site. We cover gaming news, movie reviews, wrestling and much more.