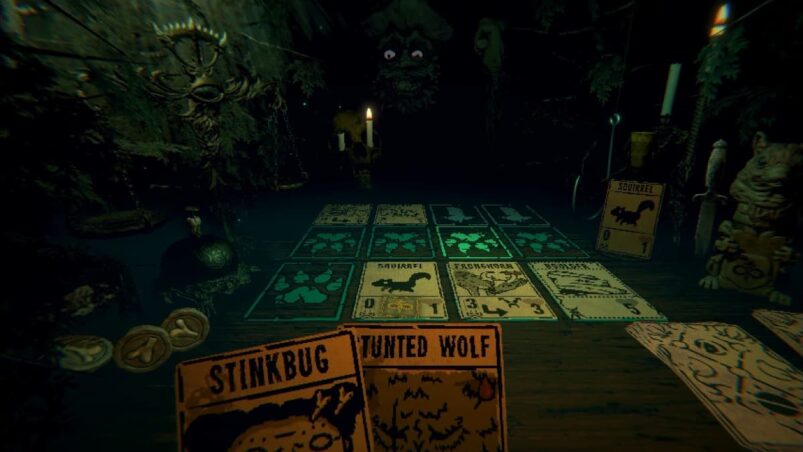 The typical strategy game experience focuses on player decision-making and overcoming challenges with intellect, skill, and wit with the game's theme often taking a back seat to familiar tropes and complex systems. Daniel Mullins' Inscryption goes for a different route and focuses more on theme, atmosphere, and the player's subjective feeling. Is this novel direction for Inscryption enough to capture something special or will it fade away into obscurity?
It's safe to say that Inscryption is an unconventional game which exemplifies the concept that enjoyment comes from the journey, not the end. After fiddling around in the menu and starting your playthrough, you find yourself waking up surrounded by darkness with a faint eerie light spotlighting a heavy wooden table.
Fear shocks you from your confusion as two glowing eyes peer from across the table followed by an unsettling low electronic growl as the mysterious captor speaks. It seems that you have been cordially invited to challenge this enigmatic figure to a game of cards to an unknown end.
Inscryption is an audio-visual treat that perfectly accentuates the game's creepy atmosphere. The amber orange glow of the candles does more to obscure the cabin, hemming you in, limiting freedom of movement, and creating a feeling of crushing claustrophobia. The soundscape when interacting with objects, playing cards, and listening to the sparse music helps calm the mind at least a bit, but it's immediately broken whenever your adversary speaks, adding a level of otherworldly and alien mystery.
This approach to presentation is refreshing and a great way to capture the mystery-horror atmosphere found throughout the game. It really makes the first third of the game one of the most memorable game experiences I've had in a long while. Such dedication to the atmosphere is only made even more effective by the complete lack of technical issues and glitches, aside from the ones purposely intended by the game in telling its wider narrative.
As a quick aside, the creepy atmosphere of the game was made all the more notable and fitting for the Halloween season for me as after I installed the game, I suffered a catastrophic PC failure, which only added to the sense that this was a special and cursed game, capable of playing cruel tricks in the real world. Obviously the game wasn't responsible for the PC failure as it was simply an unfortunate, yet perfect coincidence that definitely set a fitting mood.
Inscryption finds an excellent balance of creating a feeling of ever present unease and captivating wonder when playing cards with the shrouded stranger. Their presence is unnerving and their motives ambiguous, but at the same time the game felt like it was going somewhere. In some ways it reminded me of the Hand of Fate, a series of card-adventure games where you play against an inviting, yet secretive narrator.
You'll find that the best way to avoid being crushed by anxiety and dread is to engage in their adventure-card game, which includes familiar elements from other popular card games like Yu-Gi-Oh with creature sacrifices and multiple summoning systems. As the player, you'll move across maps, making your way through the regions of the forest, visiting various locations and interacting with an esoteric cast of characters. The combat encounters, while generally simple, were stimulating and fun challenges that kept the mind centered on the action and not on the harrowing darkness.
Deck-building quickly became an impressive highlight during adventuring sections, which not only included discovering and adding new cards, but changing them, augmenting them, or even fusing them together to create interesting new combinations and strategies. Moreover, the stranger will consistently introduce you to new features like pack items and alternative summoning methods that spice up every encounter and run. While engaging in all these systems, you'll quickly realize that there's something else going on beyond this intimate card game and sooner or later a path to escape this cabin will be revealed. Hope at last!
This is where the roguelike structure comes into play as you will most definitely lose to this mysterious captor many times and your heart will freeze over with fear as the playing field empties of all items and the adversary's spindly hands reach out to grab you. It isn't all bad as with every defeat, the cabin will open up, revealing new puzzles and secrets to explore. Despite their simplicity in execution, exploration is rewarding and engaging, adding an extra layer of mystery as new factors are introduced and paths to escape the cabin reveal themselves.
The boss battles at the end of the various map stages are as satisfying as they're frustrating, catching you off-guard with their powerful game changing abilities. The final boss in particular brings home everything that made the combat encounters great and swells with equal measure of hope and despair. If you've poked around enough and found the right items and characters to help you escape, this final boss is where you finally break free of your captivity and Inscryption boldly veers into a new and unexpected direction.
Though the game does open up at this point and adds some really fun twisty elements to the narrative especially, this is also where Inscryption loses a lot of its effective creepy atmosphere and runs into some pacing issues. On the whole, this middle section gets repetitive quickly with some disappointingly streamlined mechanics that reduce that sense of mystery and intrigue. Additionally, while the creepy atmosphere makes way for one that's more charming, whimsical, and silly, which is certainly different, it comes across as deflating at best and jarring at worst.
Luckily, Inscryption makes another crazy turn for its final third act that harkens back to the engaging first portion of the game. However, this section goes for a more linear approach to the game's central mechanics, while returning to the excellent creepy dark aesthetic. In the grand scheme of things, it ends up being more enjoyable than the central portion, but not quite as good as that excellent first third.
Altogether, Inscryption is a breath of fresh air in the current video game landscape not necessarily for any specific mechanic or collection of features, but more for the game's own character, atmosphere, and focus on enjoying the moment-to-moment gameplay. The biggest praise for this game is that you'll never know what it'll throw at you next, keeping you on your toes and hungry to see what else there is to discover. The simplest way I can describe Inscryption is that it feels like playing a whimsical dark fantasy role-playing game, without explicitly being one.
The first third of Inscryption is the most captivating and effective stage of the game, but unfortunately its quality dips in the latter portions leaving the game feeling uneven. Nevertheless, Inscryption is a game fit for the spirit of Halloween and is a definite recommendation.
A code for Inscryption was provided by PR for the purposes of this review.
READ MORE: 15 Best Strategy Games For Beginners
Some of the coverage you find on Cultured Vultures contains affiliate links, which provide us with small commissions based on purchases made from visiting our site. We cover gaming news, movie reviews, wrestling and much more.

Verdict
Though uneven in its middle section, Inscryption is a clever and refreshing horror-adventure card game.