It feels like that, in this day and age, you can't ship a big video game without it offering some kind of online mode or multiplayer to play with your friends. However, because it's so affordable, it also means it's incredibly easy to use Xbox Game Pass to convince your friends to try and play a new multiplayer game with you. If they've already got Game Pass and have enough room to download a new game, you're good to go.
Naturally, Xbox is aware of how word of mouth can help multiplayer games, and they've loaded the service with a healthy selection of the best online games on Xbox Game Pass that you and your friends can enjoy together, so we're rattling off the best ones on PC, Xbox One, and Xbox Series X & S. Keep in mind though, some games on this list might be swapped out, due to the revolving door nature of Game Pass.
The Best Online Games On Xbox Game Pass
15. Back 4 Blood
Developer: Turtle Rock Studios
Publisher: Warner Bros. Interactive Entertainment
It's no secret that Back 4 Blood isn't quite on the same level as its predecessor Left 4 Dead, but that doesn't mean that Back 4 Blood should be quickly and easily dismissed. With a host of modern gameplay improvements, and plenty of depth and replayability for those players who love to tinker and optimise their loadouts, Back 4 Blood is one of the biggest multiplayer games on Xbox Game Pass.
Back 4 Blood sees up to four players team up as Cleaners, human survivors in a world overwhelmed by the Ridden, zombie-like creatures that devour anything in their path. With plenty of levels, a large roster of characters with unique abilities and a card system that lets players customise their abilities even further, Back 4 Blood is certainly plenty of fun.
You can even fight as the Ridden against other players too, solidifying it as one of the best online games on Xbox Game Pass.
14. Gang Beasts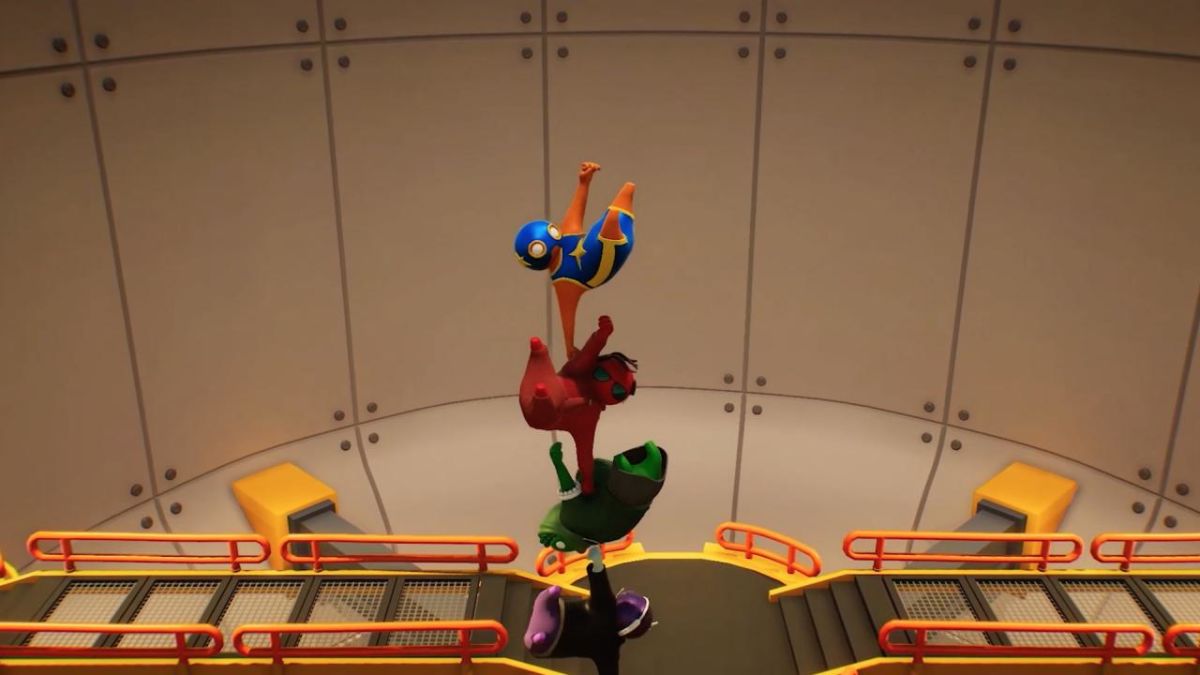 Developer: Boneloaf, Coatsink
Publisher: Boneloaf
Admittedly, Gang Beasts has more of a reputation for its potential as a hilarious local multiplayer party game rather than for its online offerings. Compared to other games on this list, the online play in Gang Beasts is a bit more barebones, and you might encounter more lag than you would with other games, but there's plenty to love about bringing your friends online to play some Gang Beasts.
The physics-based brawler that dominated the landscape of content creators once upon a time, Gang Beasts sees up to 8 players compete to knock each other off ledges, underwater and into various hazards in order to be the last person standing. Playing online is likely the easiest way you can get eight players together to enjoy Gang Beasts at its most chaotic, making it worthy of a place on this list.
Just remember to gang up on the person trying to hide. Accept no cowardice.
13. Dead By Daylight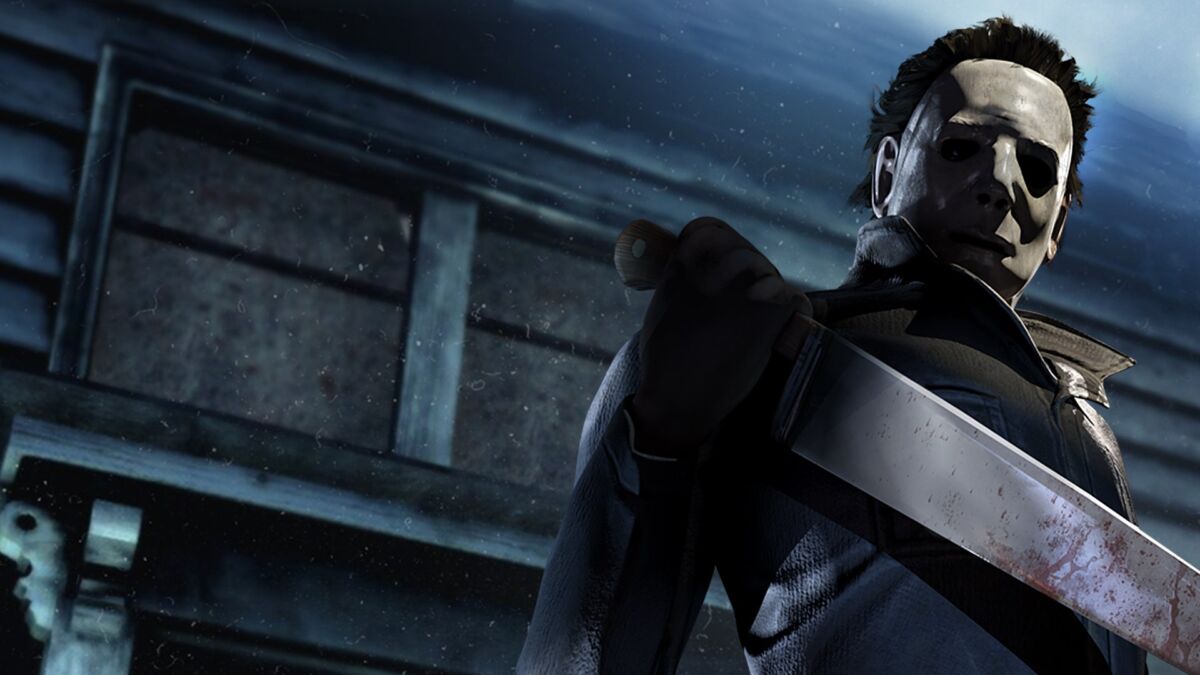 Developer: Behaviour Interactive
Publisher: Behaviour Interactive
Dead By Daylight has become the poster child for unconventional multiplayer games, especially considering how effectively it utilises horror tropes and licences. An asymmetrical 4v1 multiplayer game, Dead By Daylight sees four survivors attempting to outwit a powerful killer, who's trying to sacrifice all four survivors before they can escape. The end result is one of the most tense and enjoyable multiplayer games you can play, regardless of which side you're on.
As a survivor, working together with your fellow man to power on generators and secure your escape route is incredibly thrilling, especially when the killer can end you pretty quickly if you're not careful. Playing with a full party and coordinating efforts to bamboozle the killer is always entertaining, especially when it goes wrong. Meanwhile, each of the killers has their own personal traits that separate them from each other, allowing you to define your own playstyle.
Dead By Daylight's been around for a while, but it's still one of the best online games on Xbox Game Pass.
12. Gears 5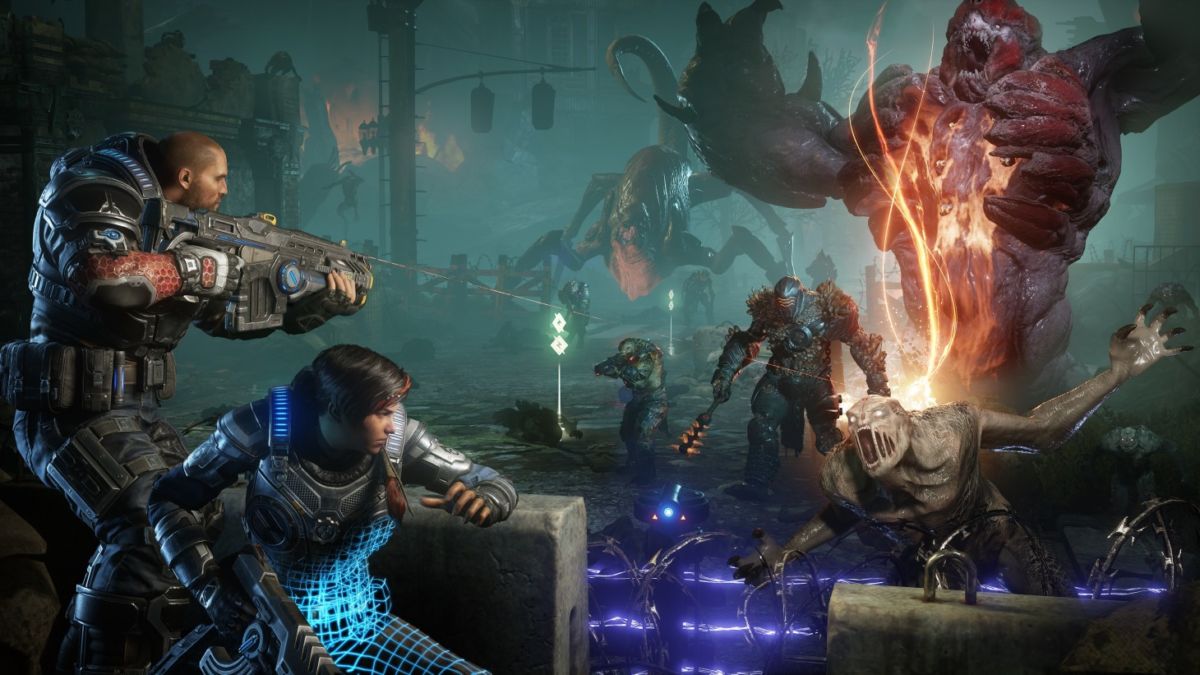 Developer: The Coalition
Publisher: Xbox Game Studios
The Gears of War series has certainly been no stranger to online modes over the years, and Gears 5 feels like the culmination of that for the series. The game is bursting with online modes, both cooperative and competitive, that make it worth checking out. Sure, it might be quite intensive on your storage space to install everything, but what's on offer here is worth it, especially if you love co-op.
For competitive fans, Gears 5 multiplayer is massively fun, even if it is a bit of a departure from the usual gameplay — those wallbounces take some getting used to. However, it's co-op where Gears 5 shines, with 3-player co-op across both the base campaign and the Hivebusters DLC (which is included with Game Pass). There's also Escape and Horde, which pits you and your friends against the Swarm.
The ability to upgrade your characters across Escape and Horde help make Gears 5 a deep and engaging online game.
11. State Of Decay 2: Juggernaut Edition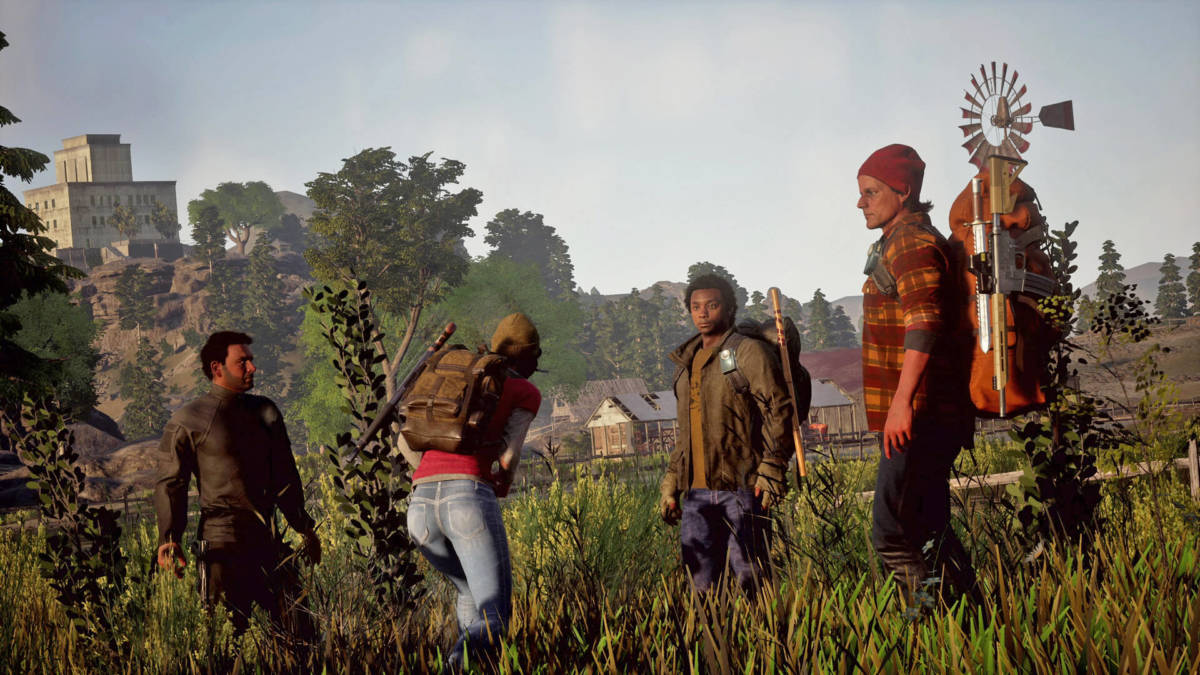 Developer: Undead Labs
Publisher: Xbox Game Studios
As Back 4 Blood already established, uniting against a zombie horde is one of the best premises you can have to group up with your friends, so it's no surprise that State of Decay 2 is worth checking out. While it might have had a shaky launch, and it's not quite the zombie MMO that players were hoping for, State of Decay 2 is still a worthwhile online game for you and your friends.
State of Decay 2 sees players trying to manage their own zombie apocalypse settlement, juggling the various needs of the survivors while trying to avoid becoming the undead's next meal. The game boasts a few different maps to explore, but the real kicker is that the playable survivors have plenty of upgradeable abilities, making the permadeath all the more brutal. Seeing the survivor you've worked hard on levelling up torn to shreds will always be devastating.
10. Sniper Elite 5
Developer: Rebellion
Publisher: Rebellion
Given the game's nature as a stealth shooter, you'd be forgiven for not really associating the Sniper Elite series with online capabilities and multiplayer. The series has always offered the standard competitive multiplayer modes, and even a survival mode where you take on hordes of Nazis, but Sniper Elite 5 feels like the most feature complete online game in the entire series. The fact it's on Game Pass is just the icing on the cake.
For those who'd rather work together with their friends, or even strangers, Sniper Elite 5 includes full campaign co-op across the game's various levels, opening up the game's sandbox formula to new strategies and possibilities. However, if you're feeling a lot more antagonistic, Sniper Elite 5 also includes an excellent invasion feature, allowing you to mess up the campaigns of other players as a dreaded Axis sniper.
Whether together or against each other, Sniper Elite 5 is a great online game on Xbox Game Pass.
9. Human Fall Flat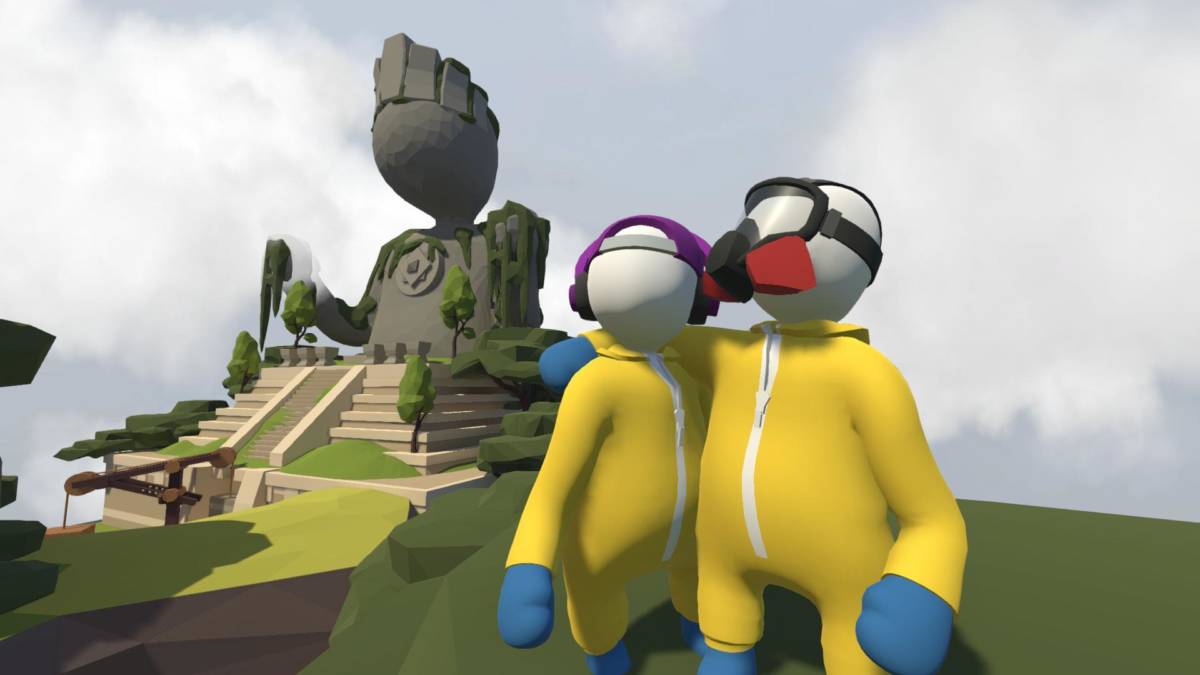 Developer: Tomas Sakalauskas, No Brakes Games, Codeglue
Publisher: Curve Games, 505 Games
As games have become more powerful, they've incorporated realistic physics into their puzzle solving, which has made puzzles infinitely more satisfying to solve. Human Fall Flat takes this premise and stretches it across an entire game, with plenty of themed levels to solve. Better still, you can join up with up to seven friends to solve puzzles together in online co-op, making the experience way more chaotic
Solving puzzles with your friends sounds like a recipe to start shouting at each other, as you get frustrated with each other's "solutions". Human Fall Flat doesn't do much to encourage players to deviate from this potential scenario, as you're free to just throw your fellow player off ledges whenever you feel like, but watching eight players interact with each other in these physics sandboxes is always entertaining.
Just be prepared for the impromptu Royal Rumbles, because there's always a risk they'll occur.
8. Killer Instinct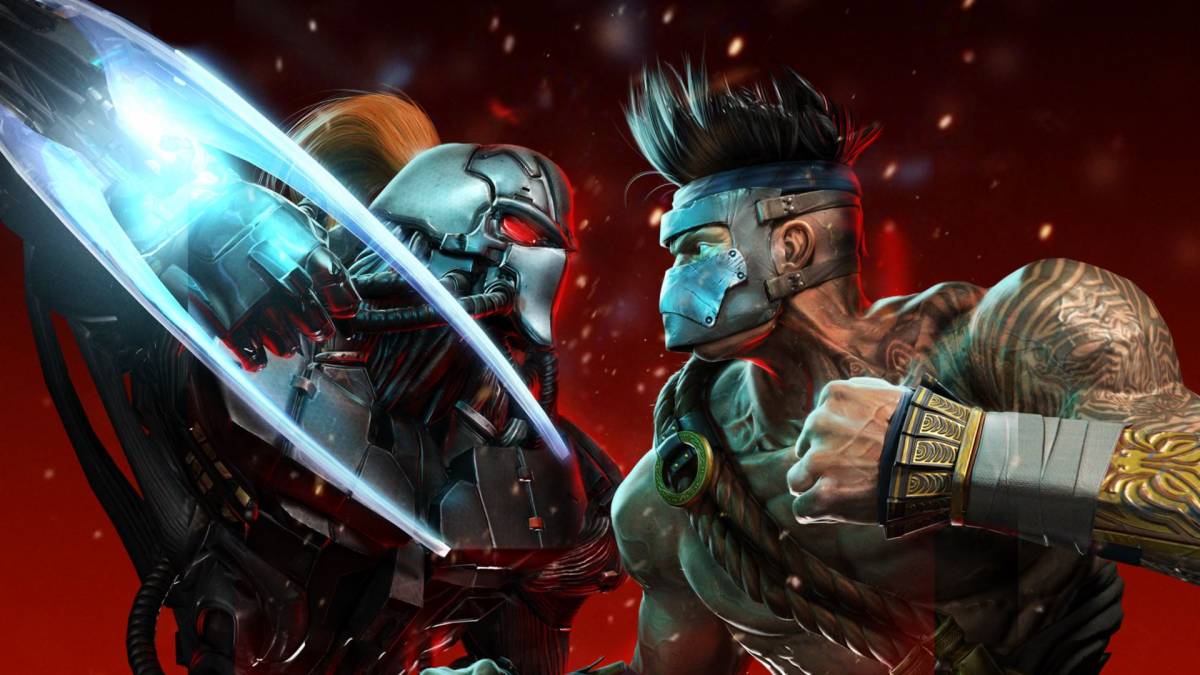 Developer: Double Helix Studios, Iron Galaxy
Publisher: Xbox Game Studios
There's a reason why Killer Instinct was due to be featured at EVO when it was set to be an online-only experience, as quite frankly Killer Instinct's online play and netcode has never been beaten. While there's plenty of other fighting games to enjoy on Xbox Game Pass, Killer Instinct could be considered the creme de la creme, and part of the reason for that is because of how excellent the game's online offerings are.
The amount of modes available in Killer Instinct online only amount to matchmaking and online lobbies, but it's how the game handles online play that makes it incredible. The rollback netcode that powers Killer Instinct online is leaps and bounds ahead of fighting games that have launched in the decade since Killer Instinct dropped. The fact that there's cross-play between Xbox and PC, and there's still people playing online, is just the icing on the cake.
If you want an amazing fighting game, Killer Instinct is one of the best online games on Xbox Game Pass.
7. Sea Of Thieves
Developer: Rare
Publisher: Xbox Game Studios
Essentially Xbox's flagship online game, Sea of Thieves has been one of the most successful online titles for Xbox Game Pass. While the good ship Sea of Thieves set sail already taking on water, as the lack of launch content put off a lot of players, Rare have put in the good work to ensure Sea of Thieves remains a sturdy, sea-faring vessel for a long time to come. That's probably enough nautical puns for now.
Sea of Thieves allows up to four players to take on the role of pirates, sailing the seven seas in the hopes of treasure, danger and adventure. Players can travel to various islands, steal treasure and contend with the various enemies that you'll encounter, but the real issue comes from the fellow pirate crews that you can encounter while out in the world.
There's nothing more tense than trying to guard your treasure from another pirate crew, making Sea of Thieves a truly memorable experience.
6. Among Us
Developer: Innersloth
Publisher: Innersloth
Ancient historians and mythology professors have long maintained that trying to organise with your friends and family anywhere close to a full lobby for a game of Among Us was actually considered as one of the trials of Hercules. Even when the game only accommodated 10 players, it was difficult to find enough people who were free to play it, but now that it's up to 15? You've got no chance, but even with just 6-8 players, Among Us is a riot.
A social deduction game for people looking to murder their friends and get away with it, Among Us sees players controlling adorable little space beans, with most players acting as crewmates who have to complete tasks. However, some of the players are imposters, who must murder their way through the crew and remain undetected in order to win.
No matter whether you're a crewmate or an imposter, Among Us is one of the best online games on Xbox Game Pass.
5. No Man's Sky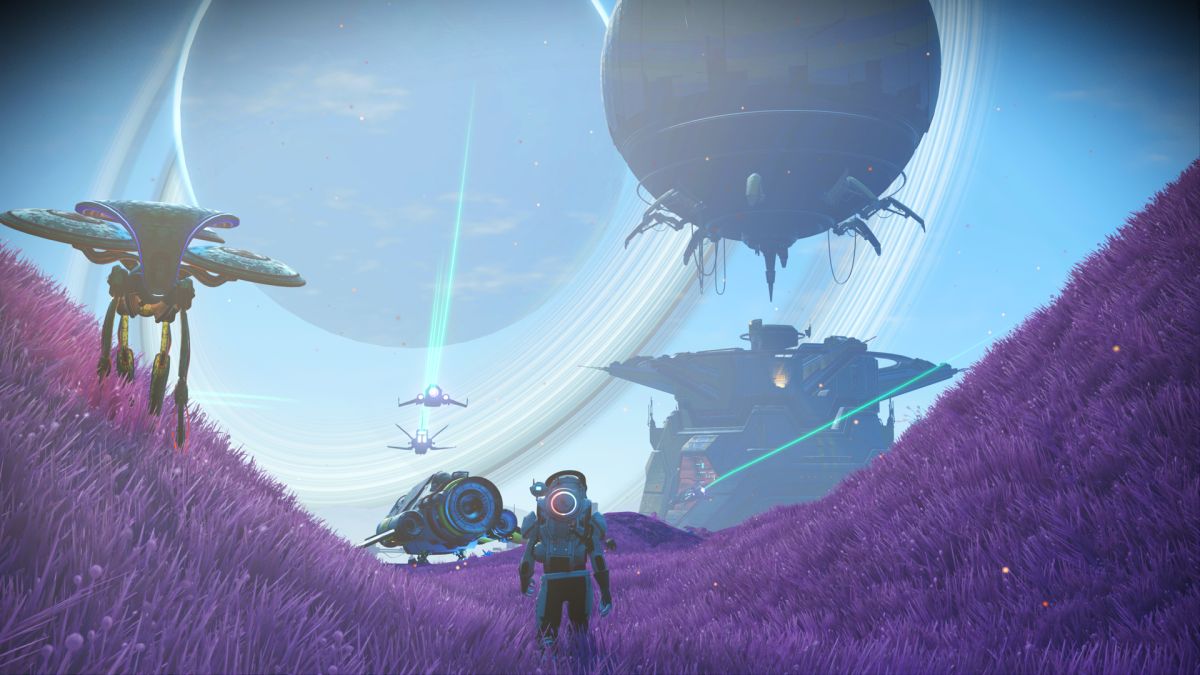 Developer: Hello Games
Publisher: Hello Games
Considering you couldn't even interact with other players when No Man's Sky first launched, it's been quite the surprise to see the game grow and blossom into the amazing online game it's since become. As always, that's thanks to the hard work and dedication of Hello Games, who have managed to cultivate No Man's Sky into the sci-fi epic that it was promised to be before launch.
With a steady stream of updates, No Man's Sky has been transformed into an online gaming powerhouse, with players able to form groups to explore the galaxy, build outposts and take down space pirates together. The social hubs and missions also allow for more co-op gameplay than ever, which is great if you need a friend to hold your hand the minute you encounter some hostile aliens.
4. Overcooked 2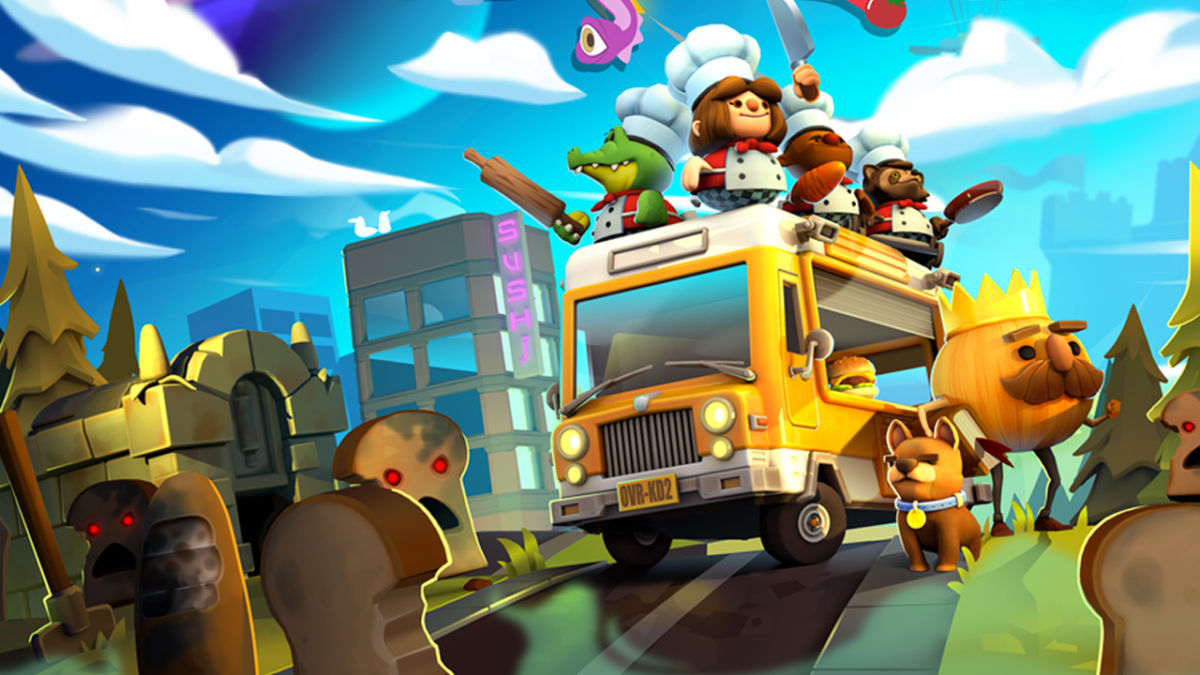 Developer: Team17, Ghost Town Games
Publisher: Team17
Typically, Overcooked 2 is considered more of a local co-op game than it is an online game, but you can take the game's trademark cookery action online too. Playing Overcooked 2 online is arguably better than playing the game locally, depending on how you want to look at it. Either the lag makes the game more chaotic, which is where Overcooked thrives, or the fact you're playing online means you're out of the danger zone when people start throwing things in frustration.
Overcooked 2 sees players try to cook meals made to order in kitchens that would give Gordon Ramsey a heart attack. Whether it's on a blimp in a lightning storm, a raft sailing down the river, a magic castle or a busy intersection in Chinatown, Overcooked 2's kitchens definitely don't pass health and safety regulations. Trying to navigate these hazards while getting orders completed is tense and challenging, but the pursuit of that high score will keep you coming back.
3. Halo Infinite
Developer: 343 Industries
Publisher: Xbox Game Studios
There's every possibility that Halo Infinite will find itself sitting at the top of this list one day, and not just because there's a chance Rainbow Six Siege will get removed from Xbox Game Pass. Developers 343 Industries have promised even more online content is coming to the game, including full campaign co-op along with the ability to create and share maps using the Forge mode.
While that content is still on its way, the online multiplayer that already exists in Halo Infinite is still stellar. The game's excellent gunplay, great maps and healthy selection of modes make it one of the best online games on Xbox Game Pass.
That said, if you'd like to have more bang for your buck, Halo: The Master Chief Collection is definitely a worthwhile alternative. Six excellent Halo titles, all with campaign co-op and online multiplayer? That's a tough deal to ignore.
2. Forza Horizon 5
Developer: Playground Games
Publisher: Xbox Game Studios
The Forza Horizon games have always been the standard-bearer for online racing games, creating a huge community feel as you drive around the game's sandboxes encountering players along the way. Sure, you don't have to play with the online setting enabled, but for whatever reason, exploring a Forza Horizon game offline feels like a more hollow experience. Maybe that's because you can't see racers crashing as often, who knows?
Forza Horizon 5 is perhaps the series' most online and connected experience yet. Taking the franchise to a lovely version of Mexico, players can form convoys with other players and complete a variety of events, whether they're races or something more unconventional.
The game also encourages creation of all kinds, whether it's tuning set-ups, decals or entire events, and you're able to share every single one of them with the player base.
1. Tom Clancy's Rainbow Six Siege
Developer: Ubisoft
Publisher: Ubisoft
Of course this list would be topped by the best multiplayer game currently available on Xbox Game Pass, as Rainbow Six Siege sits on its throne as an unparalleled online shooter. Granted, the mechanics and intricacies of Siege can make it a bit of an unfriendly and daunting experience for new players, but perseverance and determination will reward you with an infinitely satisfying and rewarding shooter.
The premise of Siege is simple: a team of five attackers takes on a team of five defenders for control of certain objectives. Each side has their own unique set of operators, and every operator has a different gadget or mechanic that adds a new wrinkle that the other team needs to work around.
With over 60 operators, and more still in the pipeline, Siege more than earns its place as the best online game on Xbox Game Pass.
READ MORE: 10 Best Horror Games on Xbox Game Pass
Some of the coverage you find on Cultured Vultures contains affiliate links, which provide us with small commissions based on purchases made from visiting our site. We cover gaming news, movie reviews, wrestling and much more.