Arise, ye tarnished, ye dead who yet have the uncontrollable urge to spend money on their loved ones. If you're buying a gift for someone who loves to play video games, there's few safer bets this year than something Elden Ring related. Arguably the biggest release of the whole year, and already a contender for one of the best games of the current generation, Elden Ring was nothing short of a pop culture juggernaut, which means there's also no shortage of Elden Ring gifts and trinkets you can buy this Christmas for yourself or a loved one.
1. Elden Ring – The Game
Just because Elden Ring is one of the biggest games of 2022, it doesn't mean that the person you're buying for will automatically have it.
If you're buying for someone who you know loves the Dark Souls games, or Bloodborne, but they haven't played Elden Ring yet, this is the perfect gift idea.
Just make sure to shop around a bit first, as even though the game launched at the start of the year, it's held its value extremely well.
2. Elden Ring Strategy Guide Volume 1
With a game as vast as Elden Ring, it can be helpful to have some kind of guide to refer to when starting out, so if you've already bought Elden Ring for someone, or they're yet to start playing, the Elden Ring Official Strategy Guide is a great choice for a gift.
There are two volumes of the strategy guide, with the second one planned to launch at the start of 2023, but the first guide should be enough for most players, as it focuses much more on The Lands Between itself, the world players explore in Elden Ring.
3. 9 Inch Replica Blades
One of the best parts of Elden Ring, and Soulslike games in general, is the brilliant array of weapons you can have at your disposal. Thankfully, you can even own those weapons in real life too, as there's a wide selection of replica blades to be found online.
These replica blades are usually around nine inches long, so they make for perfect ornaments on a work desk or shelf. If nothing else, the visual of some little katanas next to a big katana you may or may not already own makes these replica blades worth their value.
4. Blaidd The Half Wolf Doll Pillow
Blaidd The Half Wolf is the undisputed best boy in all of Elden Ring, so it's no surprise that there's collectible merch dedicated to the big lad. There's a few collectibles out there that'd be perfect for any big Blaidd fans, but we're recommending the Doll Pillow, just because it looks so cute.
If you've ever wanted to cuddle up next to Blaidd, or your significant other has expressed similar sentiments, this is the ideal Elden Ring gift.
5. Dark Souls Trilogy
Due to the open-ended nature of Elden Ring, FromSoftware's latest game has attracted attention from players who would never have even considered purchasing a Soulslike game.
If you're buying for someone who made their Soulslike debut with Elden Ring, consider purchasing The Dark Souls Trilogy, which compiles the remastered version of Dark Souls 1, Dark Souls 2: Scholar of the First Sin and Dark Souls 3 with all its DLC.
6. Elden Ring Message Keychain
We mentioned the messages earlier, as they're a huge part of the Soulslike genre's identity. These homemade keychains celebrate that aspect of Elden Ring's gameplay, making them an ideal gift for any super fan.
Consider this to be a perfect Secret Santa gift, if you know the person you're buying for loves playing Elden Ring. You can even add custom messages too, just for that added personal touch.
Buy some Elden Ring gifts from Etsy right here.
7. Melania Canvas Poster
The worst part about beating a difficult boss in a video game is that you can't physically claim their head as a trophy.
Luckily for you, if you feel like having a constant reminder of one of the most difficult fights in all of Soulslike history hanging from someone's wall, this beautiful Melania poster is a brilliant gift idea.
8. Iron Fist Alexander Figurine
Dubbed "Pot Friend" by the community, Iron Fist Alexander has become one of the most popular iconic characters from Elden Ring, so if you're looking for one of the best Elden Ring gifts to buy for someone, something involving Alexander is always a good shout.
For instance, this Warrior Jar statue will make a great desk ornament, especially if you want to make sure someone's home office is being guarded.
9. Ranni Plush Doll
The world of Elden Ring is pretty bleak, dark and foreboding, but that doesn't mean that the game is immune to receiving a host of cute merch. Case in point: this adorable Ranni plush doll based on one of the main characters in the game.
Depending on how you've played the game, Ranni is an incredibly important character, so this could be a brilliant gift for a lot of Elden Ring players.
10. Elden Ring Hanging Tapestry
Admittedly, a hanging tapestry isn't the most practical gift you could give someone, but when Elden Ring offers such beautiful views like the Erdtree, why wouldn't you want something like that on a wall?
If you've got a friend who's played Elden Ring and has recently been complaining that their walls are looking a little bit bare, this hanging tapestry of Limgrave, the game's starting area, is undeniably cool. As Elden Ring gifts go, this tapestry is brilliant.
11. Nioh Collection
Another Soulslike, the Nioh Collection would make a great gift for any Elden Ring fan, especially if Elden Ring was their first Soulslike title. The collection includes both Nioh games and all related DLC, and both titles will put players through their paces when it comes to difficulty.
Consider picking this up if the person you're buying for started the game as the Samurai class, and refuses to run anything other than a katana in their build.
12. Elden Ring Dog Poster
We couldn't put together a gift guide for Elden Ring without giving some kind of mention to "dog," one of the biggest memes to break out of the game after "try finger, but hole". Players would leave messages next to anything from crabs to turtles with just the word dog. It doesn't matter what it was, it's "dog" now.
This poster commemorates the Elden Ring community's commitment to constantly getting a turtle's name wrong, making it one of the best Elden Ring gifts you can buy.
13. Elden Ring Duvet Set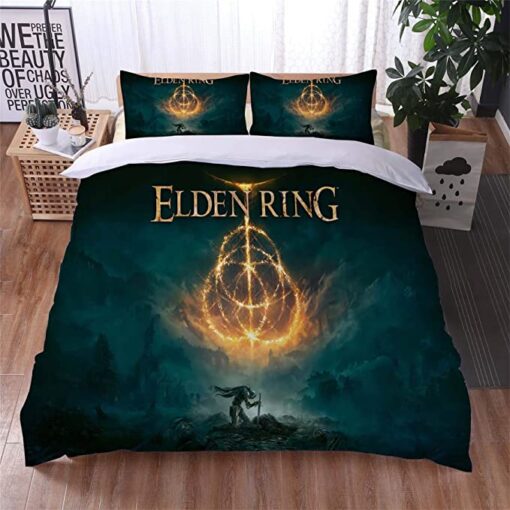 For the tarnished who seeks to remain maidenless for all eternity.
14. Bloodborne
The other main contender for best Soulslike ever made, Bloodborne is an utterly thrilling RPG adventure from start to finish, so if you're looking to buy a great gift for an Elden Ring fan, Bloodborne on PlayStation is a great bet.
Plus, if you buy it, your purchased copy might be the straw that broke the camel's back when it comes to convincing Sony to port Bloodborne to PC, or announce a remaster/remake/sequel. Do your part.
15. Teepublic Shirts/Hoodies/Other Merch
One of the easiest merch/gift ideas is t-shirts and other forms of apparel, and if you're looking for something Elden Ring related, the designs on offer at Teepublic are the best of the best.
Granted, these aren't official t-shirts, as they've been designed by artists who have submitted their work through Teepublic, but the results are still excellent. The shirts themselves are also good quality, so if you're dead set on gifting a t-shirt, this is your best bet.
Buy Elden Ring gifts from Teepublic right here.
READ MORE: 15 Hardest Elden Ring Bosses That'll Leave You Maidenless