The first season of Netflix's Castlevania adaptation was a too-short, nostalgia-laden journey through the world of Dracula's castle: one which I found charming and exciting. Netflix let us have a sneak peek at the second season to see if I enjoyed sinking my fangs into eight more episodes of its original Castlevania adaptation
Season two of Netflix's Castlevania follows two main groups of characters: those bound to Dracula's Court, and those fighting against him and his forces. Familiar characters such as Trevor Belmont (Richard Armitage), Alucard (James Callis), and Sypha (Alejandra Reynoso) all return to the season, which is a great thing considering the sheer quality of the voice talent involved in bringing the world of Netflix's Castlevania to life. We open with a brief flashback involving the demise of Lisa Tepes (Emily Swallow), and then we are thrown right back into the current story, where we see Dracula plotting with his war council as Trevor and co. try to figure out a plan to save their world before it is too late.
My main complaint with the first season is that it felt too short, and though we are given double the amount of episodes this time around, I was left feeling as if I wanted more action and "big" moments, to conflate with some of the series' quieter and more subdued scenes. Perhaps it's just because I'm used to shows swiftly "ramping up" in their second season, something that Castlevania perhaps doesn't necessarily feel as if it has to do, if you consider the first season to be more of a prologue. While the stakes (ha) are raised this time around, with Dracula's war on humankind growing more pressing and more deadly, our main protagonists are rarely in too much danger from him.
The tone of the second season was also something that I found a little jarring, when watching. Tonally, Netflix's Castlevania has always been somewhat of a ever-changing beast: hilarious one moment and tragic the next, and this is seen even more prominently in the latest eight episodes. While it usually worked for me, providing good juxtaposition to the more tense or tragic aspects of the season, it occasionally just felt a little odd, having characters quip like the Avengers and then jump into existential crises where they harp on about their great and noble causes.
Dedicated fans of the game series may also be perturbed by the characterisation changes made to some of the show's main cast (the Internet has been particularly talkative surrounding the human-hating Hector, and whether or not he's a double agent), but the games differ vastly in terms of story and scope, and this is, after all, an adaptation, and not a direct recreation. We also have Smash to look forward to in December, if you're someone who prefers their Castlevania in a less passive form.
These issues aside, the second season is still a fantastic watch, particularly during the Halloween season. It is atmospheric and haunting in its environments and its musical score, and it's still crafted with a lot of love for its source material. The scenes between Dracula (Graham McTavish) and Carmilla (Jaime Murray) were some of my favourites, with the pair playing very well off of each other, and providing some of the best dialogue of the season.
Again, "a good and slightly tense conversation which has some Gothic overtones and some pretty furniture in the background" may not be enough to keep some people entertained for an entire twenty-four-minute-long episode, but I personally loved that so much of the tension came from the characters themselves, as opposed to the fear of monsters or other horrors. The show's more obvious, demon-like monsters have cool designs, but they are not scary: they're simply an obstacle for the characters to overcome, a wave of mini-bosses to defeat before they can advance the level.
The world around our characters is also more fleshed out this season, and the small character moments (such as Hector caring for his zombie dog by feeding it a rib from a corpse) thread together to make the world of Castlevania seem more real, and more exciting. These small moments are where the season really shines, when we get a deeper look into what makes the characters tick, beyond obvious squabbles and shouted exclamations. We also start to learn more about the characters' (often tragic or unsettling) histories and what shapes them into the people we see throughout the eight episodes, giving us more context for their actions this time around.
Though you may be left disappointed if you're looking for constant, non-stop action, Castlevania's second season is a great continuation of the original Netflix series, one which is still filled with pretty people in big coats and vampires moping around being beautiful and tragic. It's still beautiful to look at, and it doesn't always demand your attention and praise. It, instead, lurks in the shadows and beckons you into the library with a gloved hand, inviting you to delight in its secrets.
Netflix gave us access to season two for the purposes of this review.The second season of Castlevania is set to hit Netflix tomorrow, October 26. You can find out more about the show (and watch the first season) over on Netflix's official site. 
Are you looking forward to the new season of Castlevania releasing on Netflix? What did you think of the first season? Will you be rewatching before season two is out? Let us know in the comments below.
Some of the coverage you find on Cultured Vultures contains affiliate links, which provide us with small commissions based on purchases made from visiting our site. We cover gaming news, movie reviews, wrestling and much more.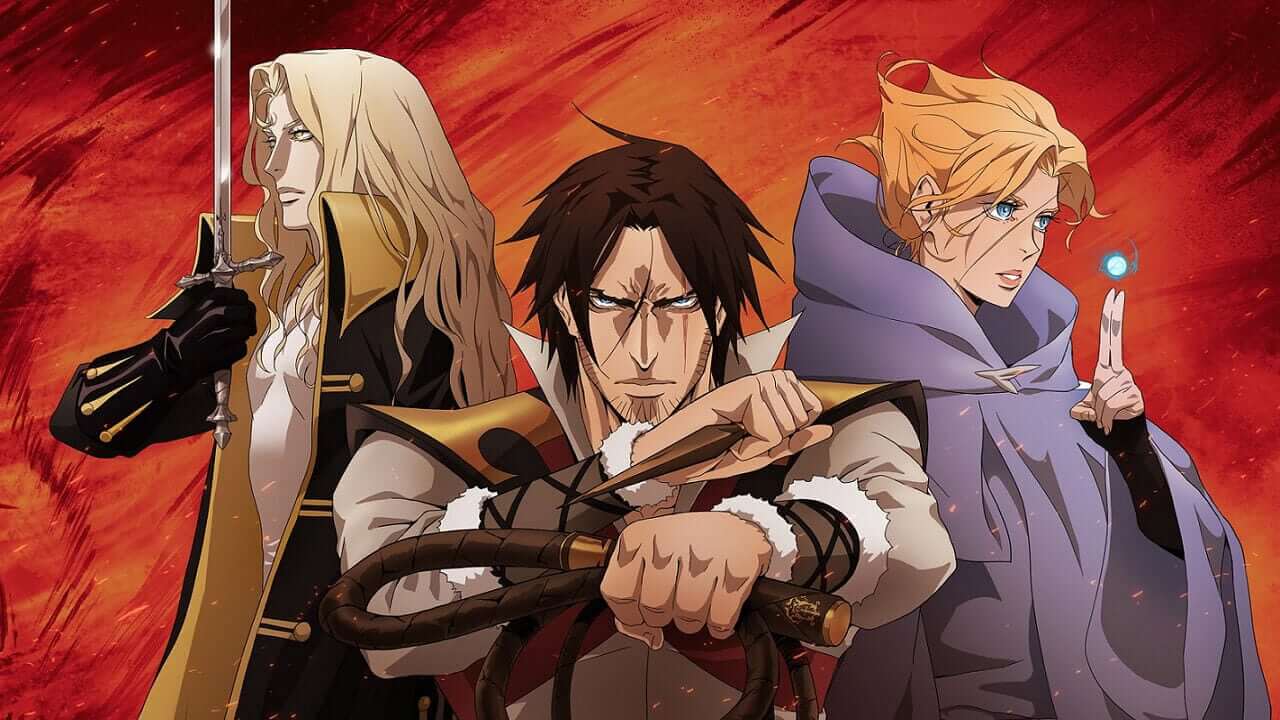 Verdict
Though some might find the second season too slow for their tastes, it is still packed with quality animation, voice talent and music. Perfect to sink your fangs into this Halloween.