Let's face it, people find vampires a little saucy. Unlike their fellow undead cousins, zombies, vampires have the upperhand in the handsomeness stakes, with their porcelain skin being more attractive to us pre-dead folk than rotting flesh. No matter your feelings on our undead counterparts, it is important to remember that here at Cultured Vultures, we don't judge.
Recently, we've been introduced to gaming's latest vampire crush in Resident Evil Village's Lady Dimitrescu, and the internet seemingly lost its collective mind. While Capcom expected gamers to be rather scared of the towering Dimitrescu, they instead seemed to be surprised by the wave of gamer bashfulness over this near-10 foot tall monster lady. But we asked ourselves: what other saucy vampires adorn our favourite video games?
So here's the top 10 of gaming's sauciest vampires. There's no order to this list, and there's no solid guidelines on what exactly is 'saucy' so if you disagree then let's hear about it in the comments.
1. Dracula (Goosebumps: Escape from Horrorland)
Dracula has appeared in many games over the years with plenty to choose from when it comes to the granddaddy of vampires, including Castlevania and, of course, the Dracula games. However, there can be no other choice than the mid-90s, FMV-tastic Goosebumps: Escape from Horrorland. But why choose this now relatively obscure full motion video game as my Dracula?
Well, you should be aware that this incarnation of Dracula was played by none other than Jeff Goldblum himself. I, like everyone (and I mean everyone) reading this adores the Goldblum, but this version of Dracula is a little, well, Goldblum-y. Normally, this would be a good thing, but in this game it's just bizarre and weird, almost like Goldblum is being forced to make a Dracula movie against his will.
Despite the slightly off performance, it is Jeff Goldblum after all, which means he is automatically one of gaming's sauciest vampires. Well done, Jeff.
2. Count Duckula (Count Duckula – No Sax Please, We're Egyptian!)
Okay I can hear you over there, saying that Count Duckula cannot possibly be saucy because he's an anthropomorphic vampire duck. I hear your calls but we've all seen questionable Animal Crossing fan art, so I am sorry to scar you for life, but there's someone out there that finds Count Duckula saucy. Also, with David Jason's dulcet tones as the titular Count Duckula, how can you not?
Sadly, mister Jason does not feature in the first Duckula game, No Sax Please – We're Egyptian. Based on an episode of the cartoon series of the same name, the game sees Duckula roaming around an Egyptian pyramid picking up keys to open doors, rinse and repeat. Pretty standard 8-bit fare, but on a list about vampires I cannot discount the Count.
3. Janette and Therese (Vampire: The Masquerade – Bloodlines)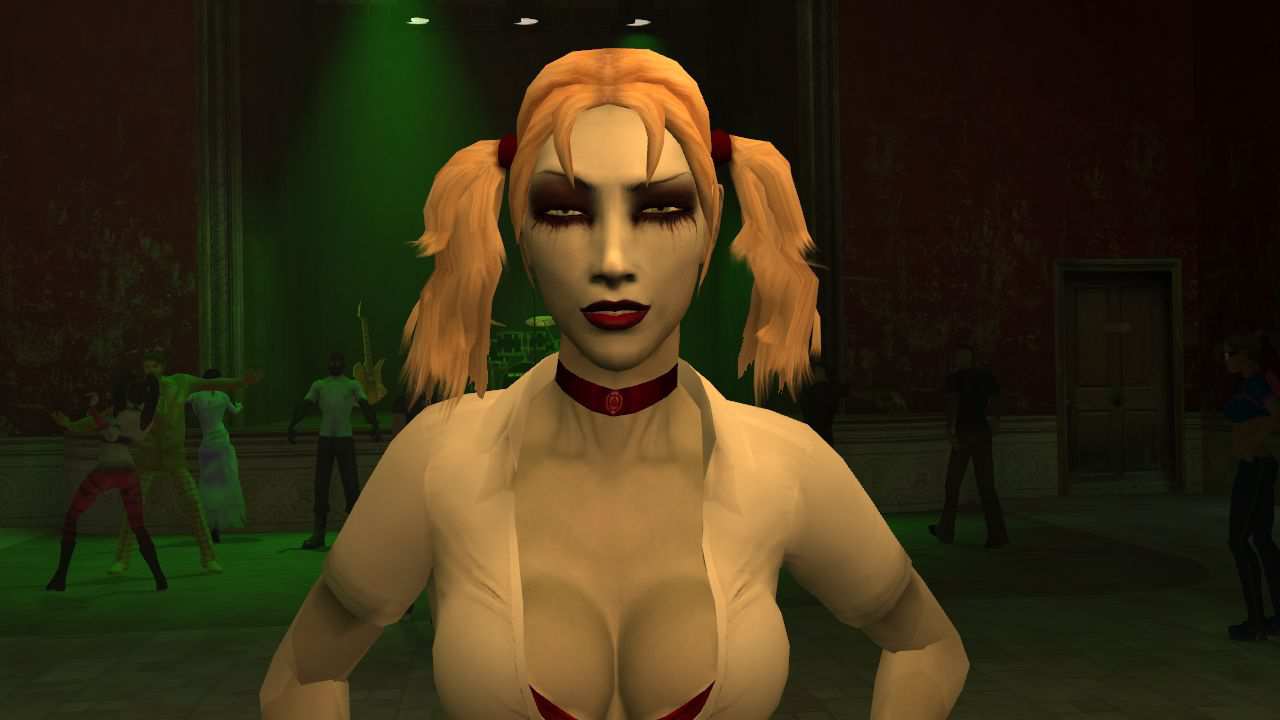 Wait, two vampires in one entry? Surely you're messing with us. Well, about that:
You'll meet Janette early on in Bloodlines and she's hard to miss, decked out like she's just come second in a Britney Spears "Baby One More Time" lookalike contest. Later, you'll meet her sister, Therese. Janette is much more flirty than her straight laced and all business sister, and you'll find yourself working for both of them, despite the fact they seem to disagree with one another.
Spoiler alert: Later in the game, you discover that Janette and Therese are the same person. It may not seem like a big plot point now, but back in 2004 it was an unexpected surprise and a cool bit of storytelling.
This pair of vampire sisters (or singular vampire sisters) have since gone down in history as one of the most memorable parts of Bloodlines, which is getting a sequel sometime in 2021.
4. Raziel (Legacy of Kain: Soul Reaver)
Okay, so it was a close toss up between this entry and the titular antagonist/protagonist of the series, Kain. However, we decided that his darker, emo arch nemesis Raziel would make a better choice.
Raziel isn't a happy bunny, and that's understandable. After having his wings ripped off, he's cast into an endless void where he falls for a thousand years (give or take), which is somewhat similar to visiting a branch of WHSmith.
Hideously disfigured and more than a little annoyed, he's out for revenge against Kain. No longer a traditional vampire, Raziel is now more of a wraith, and instead of feeding on the blood of the living, he sucks up souls. Skinny as anything, Raziel lets it all hang out. Literally, as he appears to be running around naked apart from a cloak covering his face. Quite indecent. However, it is not his white shining eyes or his lack of clothing that makes Raziel stand out on this list.
What really makes him a saucy vampire is that delicious haircut. Who doesn't love curtains?
5. General Vampire Weirdos (Night Trap)
Pitch: So we've got this great idea for a game. It's a full motion video game where you've got a bunch of college girls and they're in this house being chased by vampires and you have to save them.
Developer: Yes, we can make this game.
Pitch: Good. You know what vampires are, yes?
Developer: Of course! What do you take us for?
Night Trap is a game about vampires, made by people who seemingly don't know what vampires actually are.
Okay that's not fair, as there are some traditional vampires in the game. But we're more interested in those weird, black suited vampires wearing balaclavas. And what's with those strange robot arms some of them seem to have? Why are they slowly stumbling around and falling into Home Alone-esque traps? We've no idea.
But perhaps it's the mystery of who these strange bemasked oddities actually are that makes them saucy in their own bizarre way. Who doesn't love a mysterious stranger?
6. Jurgen (Sam & Max Beyond Time and Space)
When we think about gothic vampires, many of our thoughts turn to those vampires tales of old. These Bram Stoker style tales always invoke images of ruffled shirts, velvet jackets and tight trousers, but if you visit any goth pub in any major city dressed in your favourite Dracula wear, you're likely to get a few odd looks. Goths have moved on, and gothic vampires should too, like Jurgen
Jurgen is a fairly normal vampire, sleeping in coffins and being a generally bad guy. But his camp goth aesthetic sets him apart from many of the other vamps on this list. Oh yes and his nipple piercings, you can't forget those. I am certain you're already checking this out on YouTube, and yes we're aware that Jurgen is super annoying. The combination of his nips and how he swings his hoops helps Jurgen to be fully categorised as 'saucy'.
7. Mona De Lafitte (A Vampyre Story)
So this article may have attracted your attention due to a tall, domineering vampire lady from a major video game franchise. But, there's one other tall, vampire woman that may have flown under the radar due to the game's small audience. The point n' click title A Vampyre Story is an often forgotten game from the mid-noughties created by The Dig and The Curse of Monkey Island artist Bill Tiller.
Channeling the spirit of Morticia Addams, Mona is a tall vampire dressed in a traditional style long fitted dress. It's this classic gothic look which nets Mona a place on this list, proving that you don't need pierced nips to rock that goth look.
This overlooked gem was due to have both a sequel and prequel called A Bat's Tale and Year One respectively. Sadly, despite a number of screenshots, there's been no news on these entries for a number of years now.
8. Jericho Cross (Darkwatch)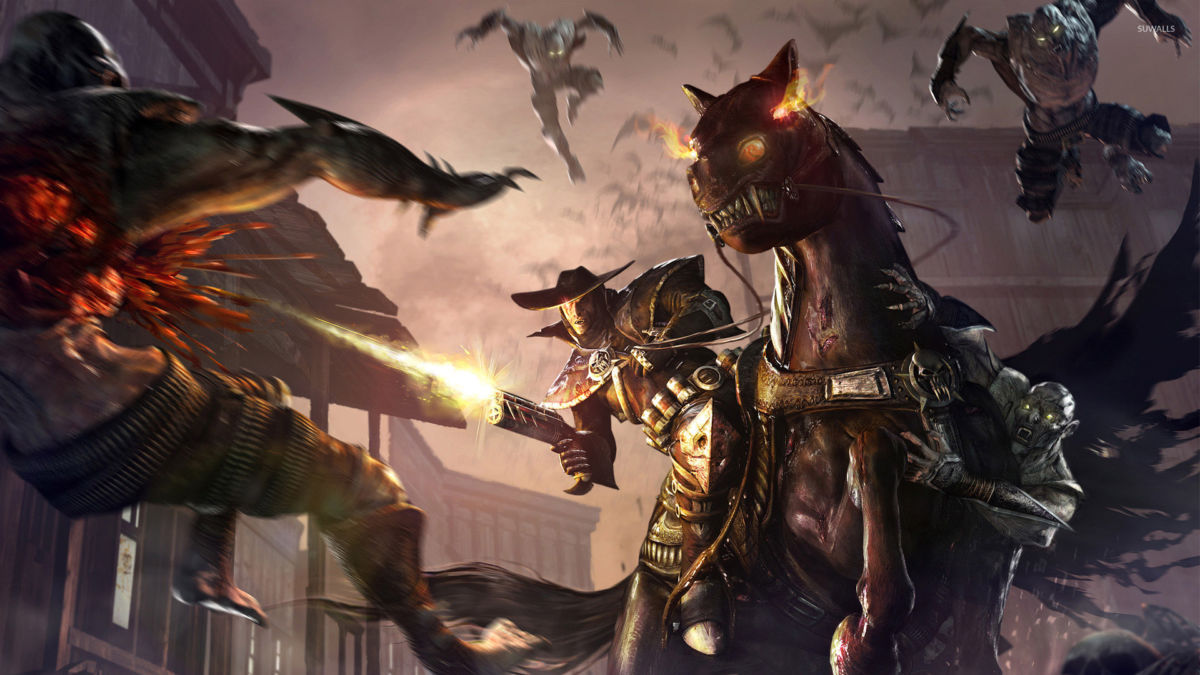 Okay so as you know, vampires are saucy. You know who else is saucy? Cowboys. So imagine your luck when you discover when you can play Darkwatch, a game about a vampire cowboy.
While Jericho Cross may sound like the frontman for a Christian rock band, he is actually our undead western heartthrob who attempts to battle against an ancient evil vampire who is totally not saucy.
For those interested, Darkwatch was a PS2 and Xbox first person shooter and was rather underrated. It came at a time when developers were trying to figure out how best to make console FPS games, and for every Halo there is a Classified: The Sentinel Crisis. The FPS genre was only just getting its teeth into console gamers at this time and despite the likes of Halo, Call of Duty and Black declaring that the genre wasn't just for the home computer crowd, many cool FPS games flew under the radar and were forgotten about, just like Darkwatch.
9. Rayne (Bloodrayne)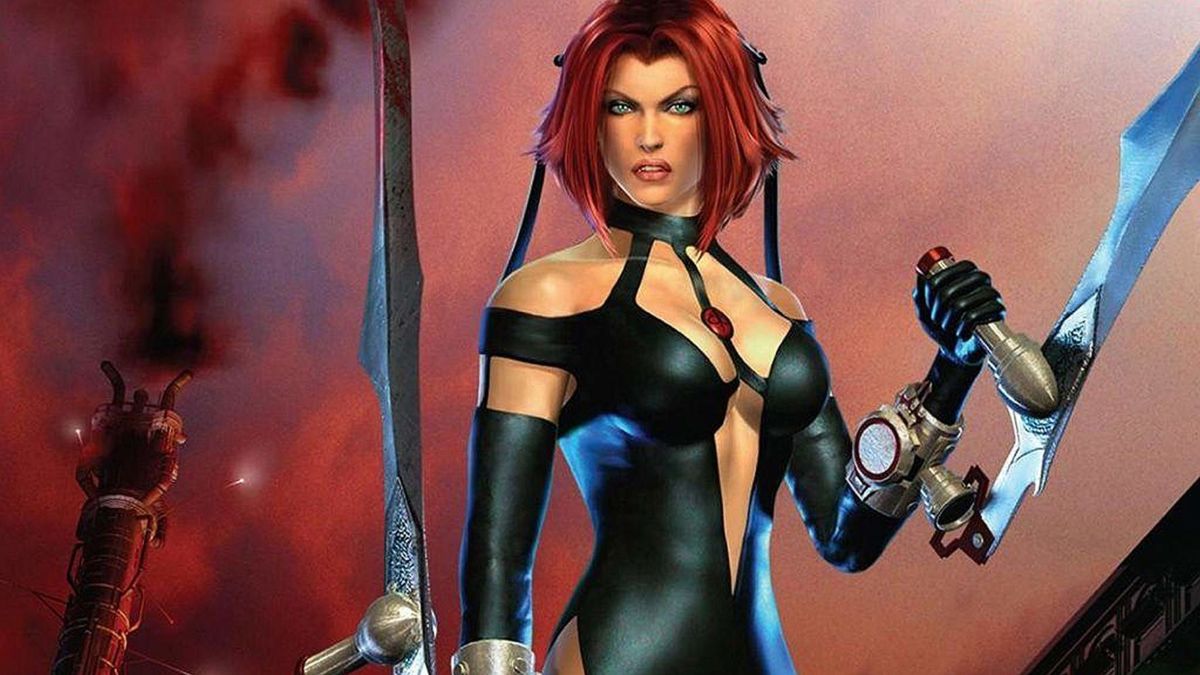 Rayne, the title character from early 00s third person action game Bloodrayne, is very much your typical lads mag adoring video game heroine who has fallen out of favour and rightly so. After spawning a couple of good but not quite great games, it also managed to spawn a trilogy of awful video game movies all helmed by the legendarily bad movie director Uwe Boll.
However, the reason that this seemingly two dimensional video game star falls into the saucy category is not her revealing outfits or suggestive magazine shoots, it's the sheer attitude of Rayne. She's a strong independent vampire who'll happily kick ass, take names, and drink some Nazi blood. Also, I should give a shout out to the 2D hack and slash spin off, Bloodrayne: Betrayal, which sold poorly but is a great game.
10. Alcina Dimitrescu (Resident Evil Village)
Resident Evil Village (or Resi 8age?) is the latest game in the mainline Resident Evil series. Ethan, lead protagonist of Resident Evil 7 is back and is transplanted into a bizarre, backwater European village seemingly filled with werewolves. While we're glad to have Resi's most famous 'everyman' back to lead the charge, it is someone entirely different that has stolen the hearts (possibly literally) of the internet as a whole.
You'd have to be living under a rock to miss the excitement about Resident Evil's newest antagonist, Miss Alcina Dimitrescu. Standing an incredible 9'6" tall, Miss 'well it's the Big Show' Dimitrescu is a towering and intimidating foe. But Capcom have not gone down the route of some monster or hideous freak, they've crafted a tall, elegant woman. Dimitrescu should not be underestimated however, as she has a hidden surprise located in the tips of her fingers, and will happily disembowel you with them.
Dimitrescu is one of the most interesting monsters in survival horror for some time, so we're all looking forward to seeing what Resident Evil 8 has in store.
So that's our list of the sauciest vampires in gaming, there can be no other choices. Disagree? Let us know in the comments.
READ NEXT: The Best Vampire Games To Sink Your Teeth Into
Some of the coverage you find on Cultured Vultures contains affiliate links, which provide us with small commissions based on purchases made from visiting our site. We cover gaming news, movie reviews, wrestling and much more.