The Mass Effect series has set itself apart as one of the most complex, intricate, exciting, and morally gray universes in the entire science fiction genre. With choice-based gameplay and a host of character creation tools, Mass Effect is entirely your story, and that's a big part of its appeal.
Originating the dialogue wheel and allowing for a future where same-sex couples are encouraged rather than scrutinized, Mass Effect actually feels like it takes place in a different time. With its rich history and backstory, the series allows players to truly inhabit a new reality and face the complicated problems that this new timeline entails.
Comprising four games over nearly fifteen years, the Mass Effect series has recently returned from dark space with the stunning Mass Effect Legendary Edition on modern platforms. With that in mind, what better time could there be to argue endlessly about how these games shake out in comparison to one another?
When it comes down to choosing which is the best of the bunch, though, that's something you can leave to us. While all of the Mass Effect games have their strengths and weaknesses, you can count on this list to be the most definitive ranking on the Citadel. So, with more Mass Effect most assuredly in the pipeline, let's rank the Mass Effect games from worst to best so far.
Mass Effect Games Ranked
4. Mass Effect: Andromeda
Platform(s): PC, PS4, Xbox One
Release date: March 21st, 2017
When it comes to the weakest game in the Mass Effect franchise, that spot naturally falls to the newest kid on the block. Though Mass Effect: Andromeda rode into its 2017 release on a mountain of hype, the final product wasn't just underwhelming; it was downright broken.
Filled with glitches and lacking the storytelling flourish the Mass Effect series is known for, Andromeda was a disappointing return to the universe fans had come to love over the last decade. As a result, it pretty much sank the series until the recent release of the Mass Effect Legendary Edition reinvigorated the goodwill of the fanbase.
While Andromeda may be the black mark on the series, it isn't all bad. The glitches have mostly been fixed since the game launched, and the combat and exploration of the title can be genuinely fun at times, especially with the new jet pack. Sadly, when it comes to a series this beloved, middle-of-the-road just doesn't cut it and, as a result, Mass Effect: Andromeda is a story that might never be properly concluded.
3. Mass Effect
Platform(s): PC, PS4, PS3, Xbox One, Xbox 360
Release date: November 6th, 2007
2007 was one hell of a year for ambitious Xbox 360 games. On top of the likes of Bioshock, Mass Effect dropped that year as well, and the intricate choice-based storytelling at the center of the game blew the collective minds of everyone who played it. Part of what makes the Mass Effect galaxy so intriguing is just how well thought out it all is, and a lot of that groundwork is laid here, in the first game.
Mass Effect drops the player into a living history where you, as Commander Shepard, are charged with battling back an intergalactic threat and saving all forms of advanced civilization from eradication. It's a pretty tall order, but with a telekinetic Asari and a hulking Krogan battlemaster on your side, you might just be able to pull it off.
Though the first game isn't without its flaws (like boring planetary exploration with the frustrating Mako and some pretty janky shooting mechanics), Mass Effect is able to overcome them through sheer charm and originality. As such, Mass Effect may show its age a bit, but it's still well worth your time.
2. Mass Effect 3
Platform(s): PC, PS4, PS3, Xbox One, Xbox 360
Release date: March 6th, 2012
The end of a trilogy always has some pretty big shoes to fill, but luckily for fans of the franchise, Mass Effect 3 is mostly up to the job. Packed with suitably epic moments like a giant space monster icing a massive robot, Mass Effect 3 doesn't lack for scale or finality as it hammers toward its action-packed finale.
Unfortunately, that finale ended up being a tad underwhelming for many. Fans old enough to have been invested in the industry back in 2012 will remember that Mass Effect 3 kicked off the biggest controversy of the year when its ending had nothing to do with any of the choices you'd made up until that point. In fact, the backlash was so severe that Bioware was compelled to create a free update to address some of the criticisms leveled at it.
Further, many of the coolest characters from Mass Effect 2 are sidelined for the majority of the game, making Mass Effect 3 a hard game to quantify even nearly 10 years later. There are a ton of gameplay improvements, and the combat has never felt smoother or more exciting. Still, the high benchmark set by Mass Effect 2 meant that almost anything that might follow it was likely to be scrutinized closely and judged harshly regardless of how solid it ended up being.
Make no mistake: Mass Effect 3 is still a very good game. The emotional send-offs the game offers some of the series' most beloved characters like Thane and Mordin are among the best moments in the franchise and the Reaper threat never feels more visceral or intense than it does here.
1. Mass Effect 2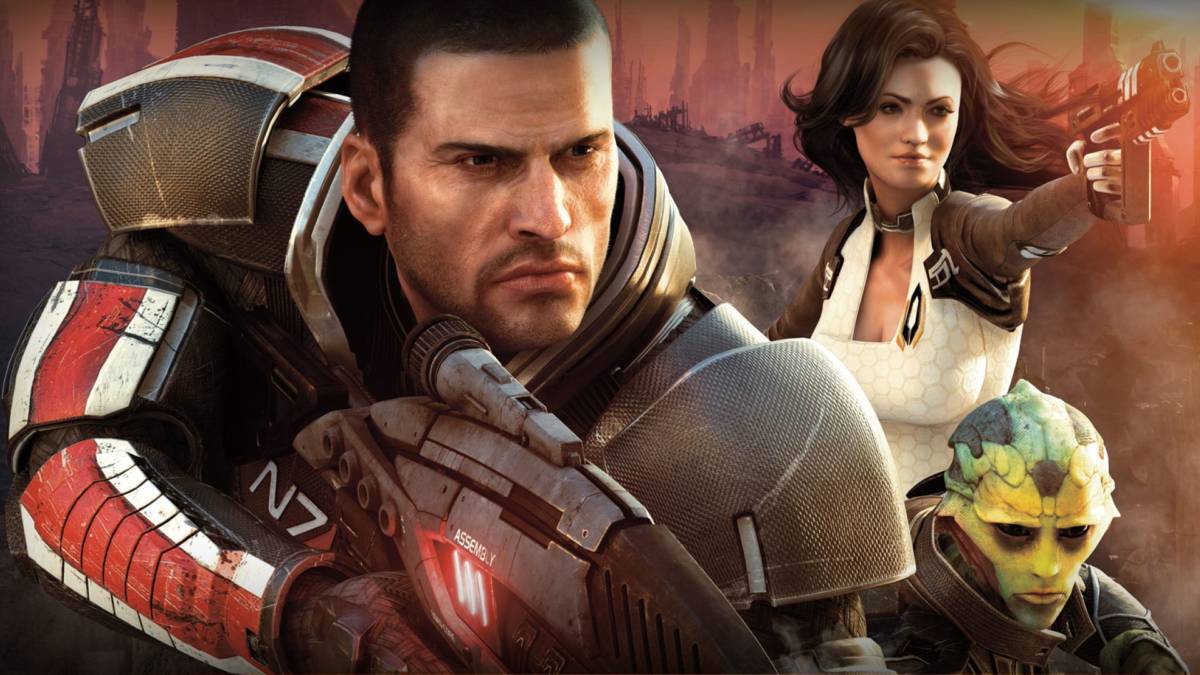 Platform(s): PC, PS4, PS3, Xbox One, Xbox 360
Release date: January 26th, 2010
When it comes to the conversation about the best science fiction games ever made, Mass Effect 2 is a game that's bound to come up every time. The Empire Strikes Back of the Mass Effect universe, Mass Effect 2 blew gamers' socks off by improving upon virtually every facet of the original game so tremendously that it emerged as a sequel for the ages.
Bigger, badder, meaner, and cooler than the first game by a long shot, Mass Effect 2 came in with an edge that the first game had lacked. Tasking the player with building their own personal Suicide Squad and taking them on a mission that they might never return from, Mass Effect 2 had the kind of stakes that made it feel like any choice you made could get someone killed — and often that was precisely the case.
Moving beyond the fancy sheen of the original game, Mass Effect 2 dove headlong into the gritty nuance of this universe, taking it from the Star Trek-style tone of the first game into something more akin to Guardians of the Galaxy. As a result, Mass Effect 2 isn't just regularly discussed among the greatest sci-fi games of all time, but the most fantastic science fiction adventures in any medium.
Truly, Mass Effect 2 is an incredible game and, despite the shortcomings of the entries that surround it in the Mass Effect franchise, it is easily one of the best games of its generation.
READ NEXT: Ranking the Super Smash Bros. Games From Worst To Best
Some of the coverage you find on Cultured Vultures contains affiliate links, which provide us with small commissions based on purchases made from visiting our site. We cover gaming news, movie reviews, wrestling and much more.