The aim of most games is to make its player feel like the hero, congratulating them in their victorious moments. The opening to the beta for Marvel's Avengers this past weekend left me feeling powerful and righteous -— strangely as Thor, one of my least favorite characters — swatting away enemies easily, standing tall in the face of chaos, and hearing the thonk Mjölnir made everytime it connected. I was a champion of the people.This prideful success was felt most in the single-player story-heavy sections, while the odd War Table missions designed for multiplayer felt more like busy work that left me weak and off my mark. The latter was in part due to the game's chaotic battlefields and the lack of options to rein in the disorderly combat for many players. For me, it's the lack of accessibility that stands out.
There isn't much to sift through in the menus. A few usual suspects are thankfully present, like basic subtitle options and assisted aim, but surprisingly little is implemented yet. Given the popularity of the Marvel films, the name recognition of Avengers, and the backing of Disney, this title should have the greatest opportunity — and need — to include every type of player. Even if this was only a beta, I was concerned about what was coming, for a few reasons.
I suppose I should be thankful that many of the options that are present have a few more choices than simply 'on' or 'off,' demonstrating some foresight, but so much is still missing. The game has a lot of commands to observe when learning how to perform moves and instructions for managing characters, as well as navigating menus. A good portion of this text is hard to read, small with little contrast to help words stand out and no way to adjust the size. This will cause players to miss things or focus elsewhere, and they may get hit or even have to redo a section.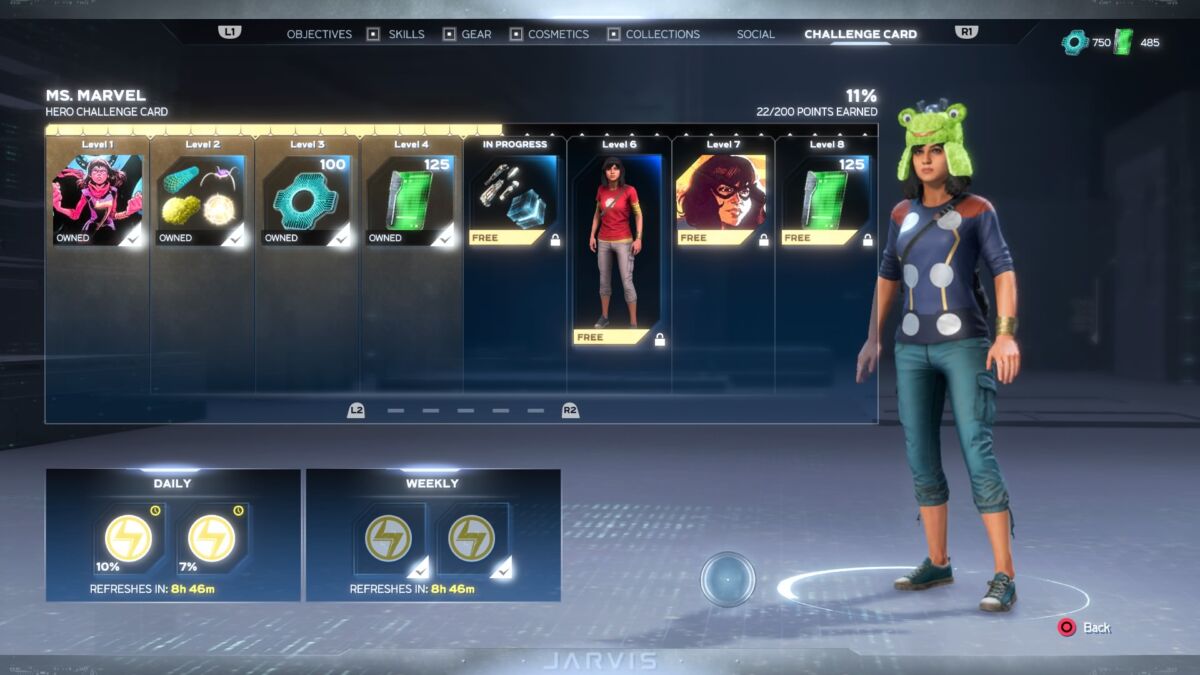 These visual presentation issues also tie into the game's HUD, a system that isn't bad overall, but so many parts of it look similar or have functions that are hard to distinguish without memorization. That isn't too tough, as there isn't much need for constant monitoring or upkeep, but things like making sure the hero's powers are off cooldown can be problematic, while life and power meters can be difficult to gauge exactly without taking attention away from the enemies.
A good example of this is Iron Man's shield counter power (R2) that drains the meter in segments with the far ends of the bar being blocked off, making it confusing to quickly ascertain how many more times the ability can be used. In this case, a numerical representation could be better. It is also hard to keep an eye on the life bars of other team members in case they are downed, as they are kept in the top right part of the screen, small and represented by thin white lines. In each of these cases for the overall HUD, some color variations or position changes might have helped, as well as an issue many games face in not having larger, more easily identified icons.
The environments don't help with these obstacles. It's quite easy to get lost, as much of the landscape and facilities on some missions look so similar. If you've raided one A.I.M. (Advanced Idea Mechanics) stronghold, you've seen them all. The objective markers aren't exactly easy to follow either, as many of them float in a general direction and are visible through walls, giving vague directions and less specific paths to follow. By pressing 'up' on the d-pad, the player can create a white ball of light that comes out to guide them more directly, but with its jerky movements and speed, this can be just as difficult to track if turned around. There is also simply a lot going on in combat, tons of enemies, colors, and objectives to keep track of, all while trying to keep up the assault and not die.
For those wanting a little training off the battlefield, there are the H.A.R.M. (Holographic Augmented Reality Machine) challenges. Think of it like the X-Men's Danger Room without all the cool environments. These segments are a bit long and tedious, but they're a great way to get familiar with a character's style and build up some skills. I quickly realized that I was having trouble seeing some assets in the monochromatic gray background. Many of the bad guys blend in, but more importantly, elements like Black Widow's reticle for her pistols are incredibly hard to make out while manual aiming.
Issues like those listed above may seem small, but there are enough that when playing certain characters I found it harder to keep track of things and counter incoming damage. For characters who can block or reverse incoming assaults, these attacks are marked by small flashing color icons. The different versions of these represent when the blows happen and which ones must be straight-out dodged. It isn't a bad system, but having the indicators stand out a bit more against their backgrounds could help those that find it difficult to adjust to the timing working only off of the available visual cues.
I believe the flying sections with Iron Man will be hard for those with visual or physical disabilities as well due to the shooting, especially when the situation requires some skillful dodging thrown in the mix. This is the type of section where turning the assisted aim up to 'heavy' may be beneficial, and though it doesn't appear to be available currently, complete controller customization looks like it will be present at launch.
Overall, the combat is fluid and fun (though not as good as Spider-Man, which showed us things could be), but will need some tweaks to make sure it remains that way for each player as they progress through the story and multiplayer missions. Marvel's Avengers throws a lot of information at the player, and helping them register that and what is going on is an important part of making the gameplay more fun and intuitive. There's little doubt that we will see a multitude of adjustments that improve the playing experience outside of what seems to be an early beta — it still had assets glitching out and not popping in at some spots, like Kamala not having hair in one cutscene — but will it be enough?
There may not be much in the way of selections at the moment, but I am eager to see what will be included at launch. In a post on their site back in May, Square Enix noted incredibly helpful accessibility options they are adding to the game that were not present in the beta, like a High Contrast User Interface. The assembled team has taken accessibility seriously and proudly discusses those they have brought in to help with the process of adding more choices and representation for gamers with disabilities. More importantly to those eager to eventually play the game, the report acknowledged that while Avengers won't launch with all of the accessibility they want to see for players, they will be working on it afterward as well. We can only hope that waiting to add things doesn't mean some players will lose interest because the advantages they need to help them aren't there.
Square Enix is touting many advancements in accessibility we want to hear about a new game, but whether they come to pass and how well they are implemented may determine whether these heroes can truly rise to the occasion or not.
READ NEXT: Best Superhero Games You Should Play
Some of the coverage you find on Cultured Vultures contains affiliate links, which provide us with small commissions based on purchases made from visiting our site. We cover gaming news, movie reviews, wrestling and much more.