One of the founding genres of video games is that of racing games. In whatever form they might take, be it track racing, street racing or horse racing, the genre has been a mainstay for ages, and that doesn't like it's set to change any time soon. Except for horse racing games. They're usually awful and should be stopped.
The Xbox One in particular has a fine selection of racing games, covering the entire width of the spectrum. There are even games that eschew racing in favour of more creative vehicular pursuits. If you're looking for a new racing or driving game to play, whether you're a avid gearhead or Sunday driver, these are the games for you.
Quick bit of housekeeping before we begin. For a change, we've decided to rank these entries, just for that added bit of sauce. Also, we're including some Xbox 360 games in this list, because that's a luxury afforded to the Microsoft machine. All glory to backwards compatibility. With that said, let's go.
The Best Xbox One Racing Games: 22-11
22. Descenders
Developer: RageSquid
Publisher: No More Robots
While the joy of racing games is usually the idea of competing against others to determine who's the fastest, that's not necessarily the case with Descenders. Sure, you're always in competition, but it's not typically with others – it's with your environment.
A downhill mountain biking game, Descenders pits you against a series of randomly generated race course that vary in the amount of stunts, curves and overall steepness. It's up to you to navigate your way to the finish line without crashing along the way. It's a racing game meets roguelike, which sounds odd, but it's worth checking out.
21. WRC 8
Developer: KT Racing
Publisher: BigBen Interactive
Rally games have been a key part of the racing game genre for decades, with titles like SEGA Rally offering an arcade-style, drift happy experience. Nowadays, rally games tend to lean more towards heavy simulation, but that doesn't mean you can't have massive amounts of fun.
WRC 8 is an authentic take on the sport, which you'd expect considering the fact it's a licensed game, but the title offers plenty of gameplay features and refinements to make it worth your while. Improvements to the overall car handling, a robust career mode and online multiplayer are just some of the reasons why you should play WRC 8.
20. Stuntman: Ignition
Developer: Paradigm Entertainment
Publisher: THQ
This one is a bit more of a personal pick, but I stand by it largely because Stuntman: Ignition is incredibly underrated. Following on from the notoriously difficult 2002 game, Stuntman: Ignition lowered the difficulty significantly, while exacerbating the more over the top aspects of the movie making world.
Ridiculous stunts, egotistical directors and on-the-money movie send-ups made Stuntman: Ignition an incredible game. If you missed Ignition in the 12 years+ since its release, and you're looking for something a little different from the rest of these best Xbox One racing games, give this a go.
19. Horizon Chase Turbo
Developer: Aquiris Game Studio
Publisher: Aquiris Game Studio
A throwback to a bygone age of video games, Horizon Chase Turbo captures the late 80/early 90s magic of games like OutRun, Top Gear for the SNES and Rush. It also helps that the game looks like a modern take on those 16-bit graphics, and the music was composed by Barry Leitch, who worked on the aforementioned Top Gear, Rush and Lotus Turbo Challenge.
More than just a collection of great style choices, Horizon Chase Turbo has the gameplay to back it up, as you drift your way around corners with style. It also boasts plenty of content, with over 100 tracks and 31 unlockable vehicles to work your way through. It might not be the biggest game on this list, but it might just have the most heart.
18. Cel Damage HD
Developer: Finish Line Games
Publisher: Finish Line Games
We'd like to say that this is the retro entry, but considering that Cel Damage made its debut on the original Xbox, Gamecube and PS2, calling it retro makes us feel ancient. Just writing that sentence has caused Saving Private Ryan levels of instant aging, but we press on.
Cel Damage was designed as more of a vehicular combat game in a similar vein to Twisted Metal, as you control one of 10 cartoon characters as they battle for supremacy across a multitude of arenas. It's Wacky Races by way of Itchy and Scratchy, and quite frankly, we're here for it.
17. Mantis Burn Racing
Developer: VooFoo Studios
Publisher: VooFoo Studios
For fans of old school top down racers like Super Sprint, Mantis Burn Racing should be right up your alley. It's classic arcade racing at its most fun, as cars drift around corners with a combination of speed and style.
Not content with merely offering an enjoyable racing game, Mantis Burn Racing also comes complete with an in-depth career mode and an RPG levelling system that allows you to truly customise your vehicle. With 10 games modes and 8 player online play to boot, Mantis Burn Racing is certainly leading the racing game pack.
There. That's your court mandated racing pun for this article.
16. Midnight Club: Los Angeles
Developer: Rockstar San Diego
Publisher: Rockstar Games
There's two schools of thought about which series rules the illegal, underground street racing genre: Need for Speed or Midnight Club. Though NFS had quality hits like Underground or Most Wanted, it also churned out clangers like Rivals or the 2015 reboot. Fortunately, the series made a comeback, but we'll get to that.
On the other hand, Midnight Club, despite having only a fraction of the games, has been consistently excellent. The last entry in the series, Midnight Club: Los Angeles, is perhaps the best offering, with fast cars and drift happy handling providing non-stop enjoyment.
15. Redout: Lightspeed Edition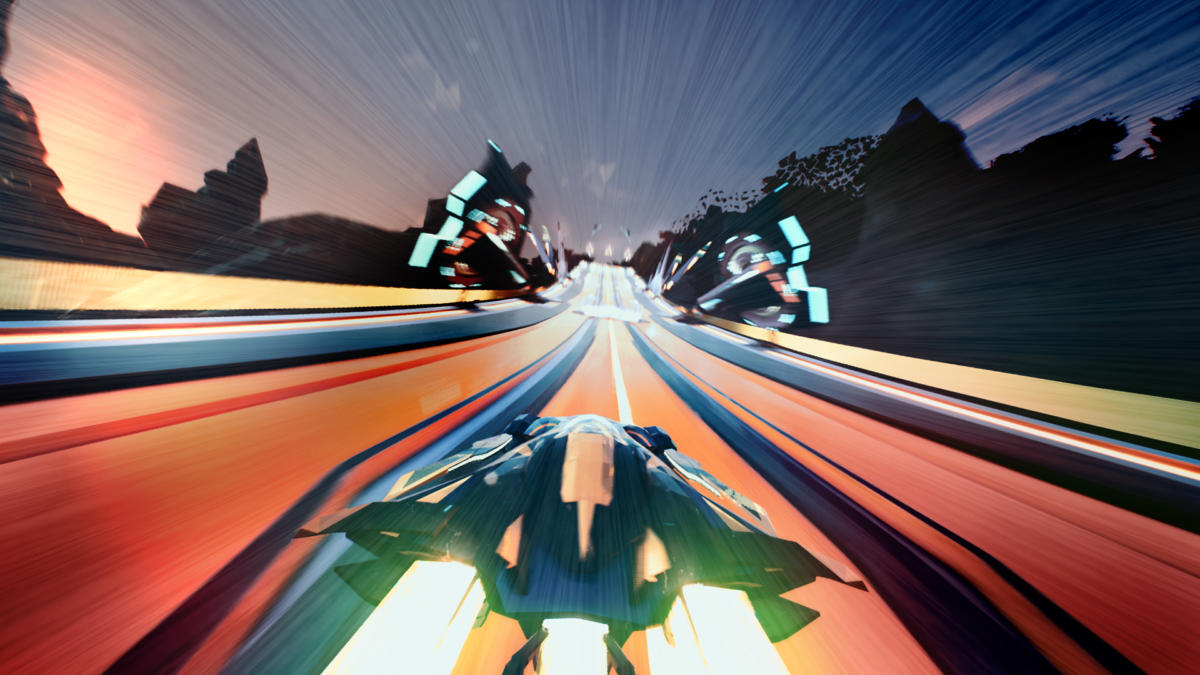 Developer: 34BigThings
Publisher: 34BigThings, Nicallis, 505 Games
Sometimes in life, you realise you're simply not going to get what you want, like a new F-Zero game for instance. During those moments, you can either resign yourself to your fate, or you pull yourself up by your bootstraps and do something about it. Developers 34BigThings opted for the latter and created Redout.
Designed to be the spiritual successor to not just Nintendo's futuristic racer, but for games like Wipeout and Rollcage, Redout is another anti-gravity racer designed to convey an unparalleled sense of speed. They succeeded, creating one of the most intense Xbox One racing games in recent history.
14. Sonic & All-Stars Racing Transformed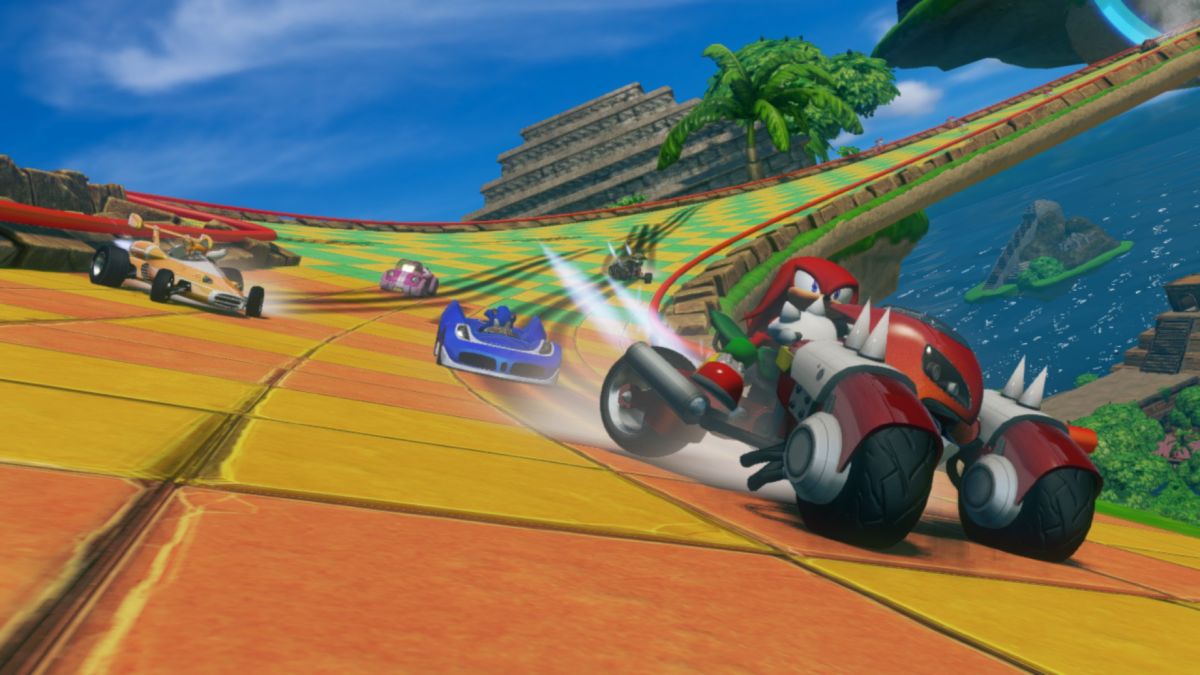 Developer: Sumo Digital
Publisher: SEGA
It wouldn't be a list of top tier driving games without a kart racer of some kind, and since we're not talking about a Nintendo console, we'll have to settle for the next best thing: Sonic & All-Stars Racing Transformed. In fairness, bringing up SEGA's take on the kart racing genre in the same breath as Mario Kart feels unfair to All-Stars Racing Transformed.
This version introduced aerial and aquatic racing long before Mario Kart ever did, making it feel unique in its genre, while delivering brilliantly on the core principles of a kart racer: big drifts and silly weapons. You won't regret giving this a try. While the follow-up, Team Sonic Racing, is also available on the Xbox One, All-Stars Racing Transformed feels like the pinnacle of the series.
13. Onrush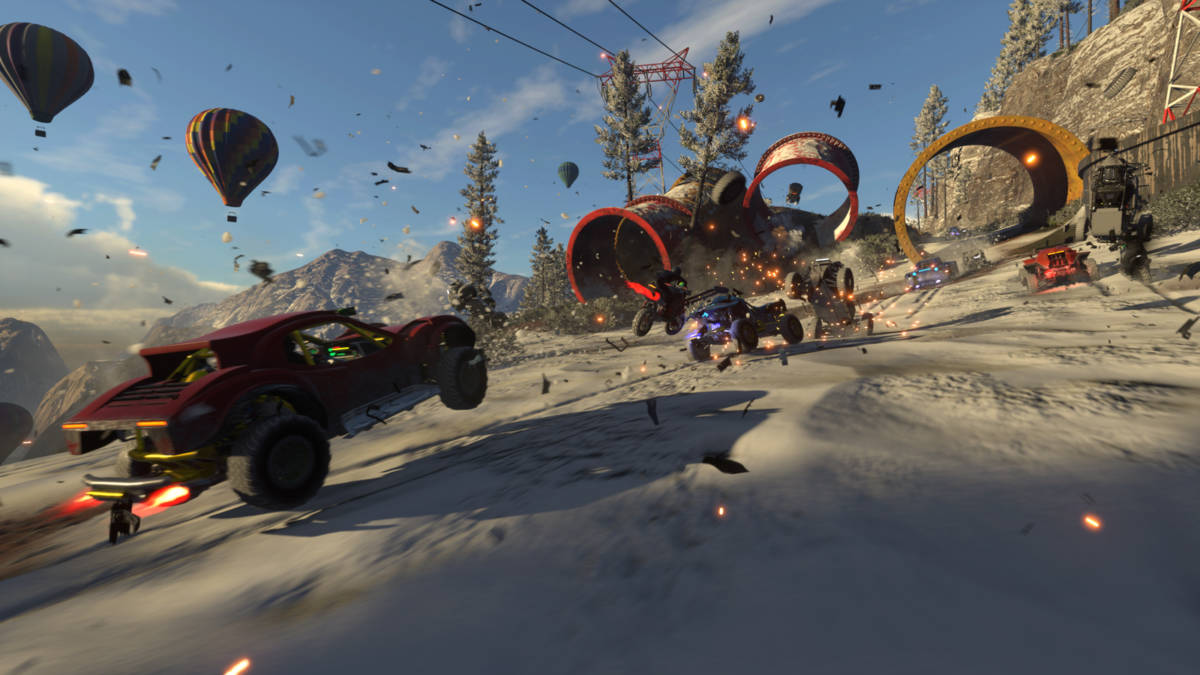 Developer: Codemasters
Publisher: Koch Media
One of the most underappreciated racing games ever made, Onrush combines the intensity and destruction that comes with a traditional arcade racer with the strategy and depth of a class based multiplayer shooter. Shockingly, it's a marriage that works wonders, distinguishing Onrush from any other racing game on the market.
The range of modes ensure that racing always has some variety, and the different classes mean there's more to learn than just racing lines and how to use boost. If you've got a group of friends to play with, Onrush will keep you entertained for hours, either via the co-op campaign or the online modes.
12. Split/Second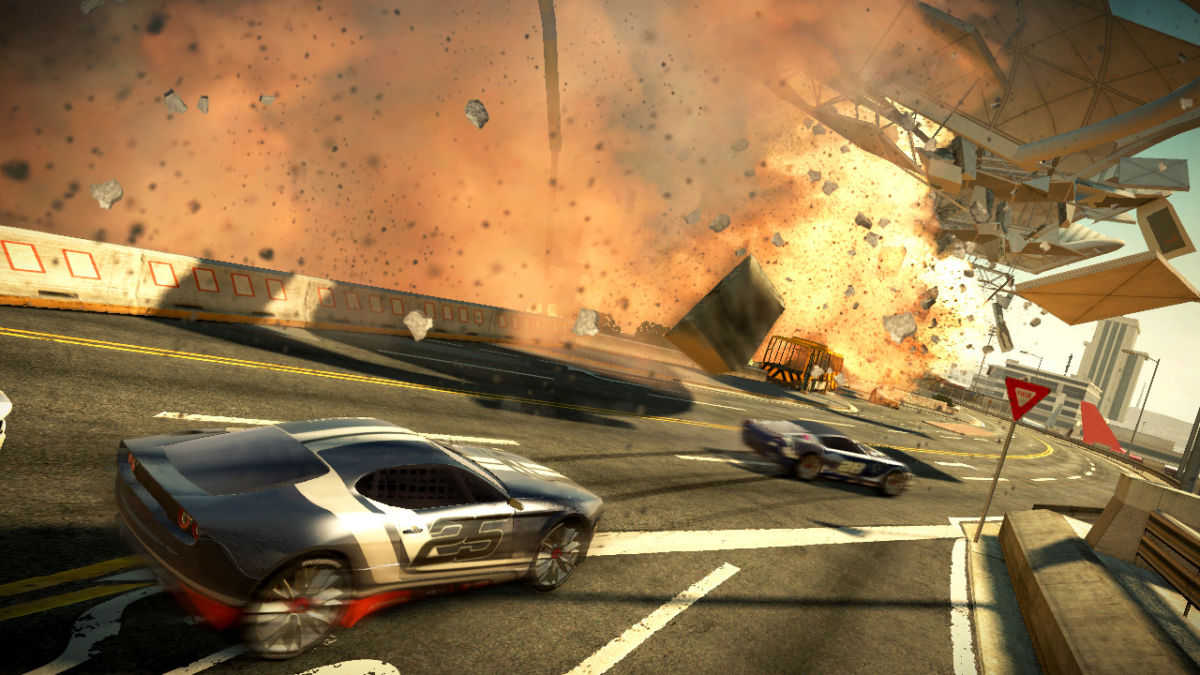 Developer: Black Rock Studios
Publisher: Disney Interactive Studios
Speaking of non-stop thrills, here's a Michael Bay movie turned into a driving game. That sounds like an insult, but it actually works in Split/Second's favour. Playing out like the world's most expensive TV show, players compete in a number of events where explosions and massive destruction occur on every corner.
Though there's plenty of spectacle shown in Split/Second, with buildings falling on the track and planes falling out of the sky, drastically altering the course, the game also exhibits substance underneath the style. Nailing a perfect drift while the track goes to hell around you grants a level of satisfaction that just isn't available anywhere else.
11. Speedrunners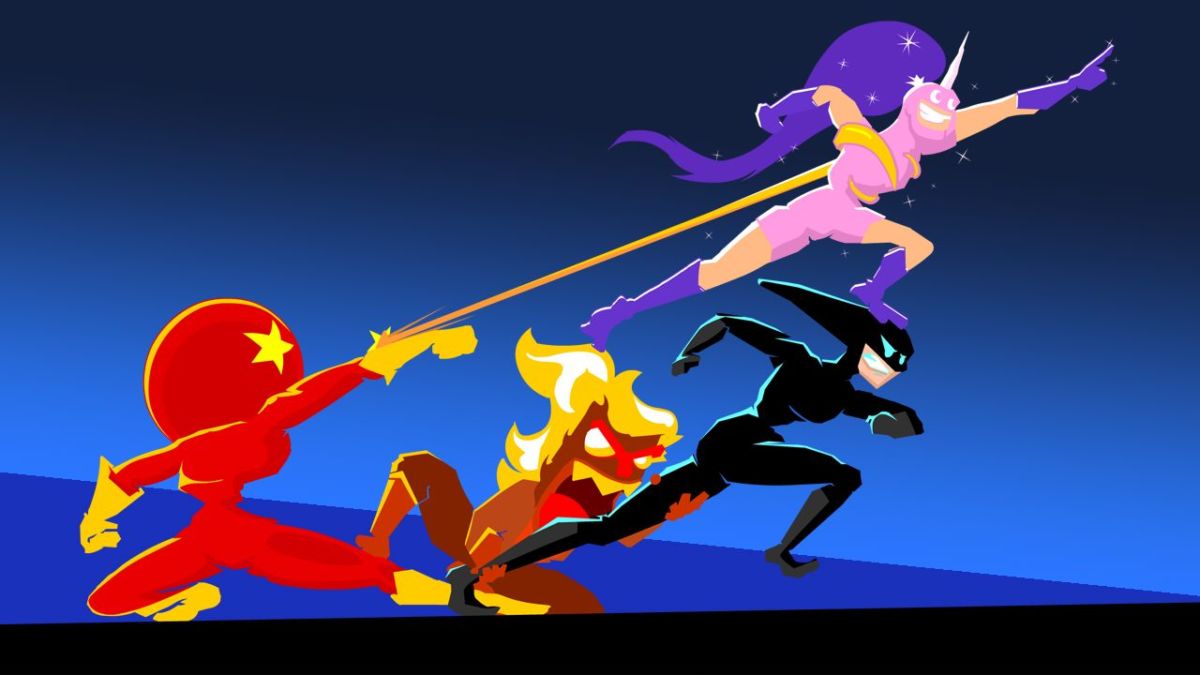 Developer: DoubleDutch Games
Publisher: tinyBuild
Perhaps the most non-conventional racing game on this list, Speedrunners adapts the Micro Machines mantra of multiple players battling to stay on the same screen and applies it to a 2D platformer. As the camera follows the lead player, it's up to the rest of the pack to keep up or get eliminated, with rounds regularly turning into a down to the wire battle where one mistake could cost you everything.
With plenty of power-ups that add new wrinkles to the overall gameplay, along with new maps to unlock and the greatest character name in the history of gaming (Cosmonaut Comrade), Speedrunners is incredibly fun, whether you're playing on the same couch or online against friends.
Some of the coverage you find on Cultured Vultures contains affiliate links, which provide us with small commissions based on purchases made from visiting our site. We cover gaming news, movie reviews, wrestling and much more.