There's something special about open world games. The idea that an entire universe is at your fingertips to explore, with no restrictions on where you go or what you do, is a liberating feeling that only video games can deliver. That's why we've ranked some of the best open world Switch games of all time.
The Nintendo Switch has somewhat become synonymous with this genre thanks to a certain game that happens to top this list, so we feel like it's only right to honor some of the expansive worlds that developers have poured their souls into for us to explore.
So, without further ado, here are the best open world Switch games available right now.
15. Red Faction Guerrilla Re-Mars-tered
Developer: Volition, KAIKO
Publisher: Deep Silver
The Red Faction series has had a storied history spanning over two decades and several generations of consoles. The third installment in the series, Guerrilla, was initially released in 2009. A remaster for PS4 and Xbox One was put out in 2018, with the Switch port coming in 2019.
The third-person shooter sees you step into the shoes of Alec Mason in his battle to overthrow the Earth Defense Force on Mars. This revolutionary theme allows Red Faction Guerrilla to deal with heavier topics throughout the course of its story.
However, most reviewers praised the game for its gameplay rather than its plot. Red Faction Guerrilla is built on the GeoMod 2.0 engine, which allows for destructible environments. This combines with the Mars setting incredibly well and enables players to tackle missions in a variety of creative ways.
While the franchise has since been dormant, Red Faction Guerrilla remains an unappreciated open world gem and a game that you owe it to yourself to play.
14. L.A. Noire
Developer: Team Bondi, Rockstar Leeds
Publisher: Rockstar Games
It's unlikely that L.A. Noire is unfamiliar to you. The game has become something of a cult classic since its release in 2011, something that is on-theme for its 40s detective noir style.
L.A. Noire places you into the shoes of Cole Phelps as he rises through the ranks of the L.A. Police Department. Throughout the course of your detective career, you're charged with solving a number of cases over five different police departments. This involves you navigating open world Los Angeles as you follow up on leads, interview witnesses, and hunt down suspects.
L.A. Noire is celebrated as an important release for video game storytelling and received praise for its advancements in facial technology. This tech serves as a key gameplay mechanic, tasking you with reading the expressions of the people you interview to determine whether or not they're telling the truth.
It's rare to see an open world game that puts so much focus on being a linear story. If you're a narrative fan that hasn't played this one yet, consider righting that wrong.
13. Starlink: Battle for Atlas
Developer: Ubisoft Toronto
Publisher: Ubisoft
Starlink: Battle for Atlas is a unique open world Switch game that wasn't appreciated during its time. Even though it was met with generally favorable reviews, it quickly found itself relegated to the discounted section of several game stores.
That just means that you can pick up this gem, along with its additions, for an exceptionally good price.
Starlink: Battle for Atlas exists in the same toys-to-life genre as Skylanders and Disney Infinity. Instead of figures, though, you use physical starship toys along with different pilots. You even get the option to swap out the weapons on your ship in real-time by changing the attachments on your physical toy.
The game is a third-person action-adventure in which you pilot your starship across a star system as you battle against the Forgotten Legion. You seamlessly switch from planet-based exploration and space-based gameplay at will, making Starlink feel a lot bigger than it actually is.
Starlink: Battle for Atlas is a great open world space game that can tide you over until we finally get No Man's Sky on the Switch.
12. Yonder: The Cloud Catcher Chronicles
Developer: Prideful Sloth
Publisher: Prideful Sloth
Yonder: The Cloud Catcher Chronicles is among the rare indie open world games to be honored with a Switch port. Releasing for the system in 2018, it was the debut title for developer Prideful Sloth, and what a debut it was.
Lead Designer Cheryl Vance commented on how the game takes inspiration from a myriad of different games, including Harvest Moon, Animal Crossing, the Legend of Zelda, and even Skyrim.
That inspiration shines through in a big way, with the relaxing Zelda-esque visuals complementing the beautiful open world level design wonderfully and the inclusion of talents like farming and cooking clearly influenced by the aforementioned titles.
The premise of Yonder is simple. The player is shipwrecked on an island called Gemea. An ominous and mystical dark fog is polluting the land, and it's your job to stop it.
The game is familiar, being a blend of aspects from various games rather than something entirely original, but that's a part of its charm. It feels homely to play, although that experience might be different for you than it was for us.
11. Saints Row IV: Re-Elected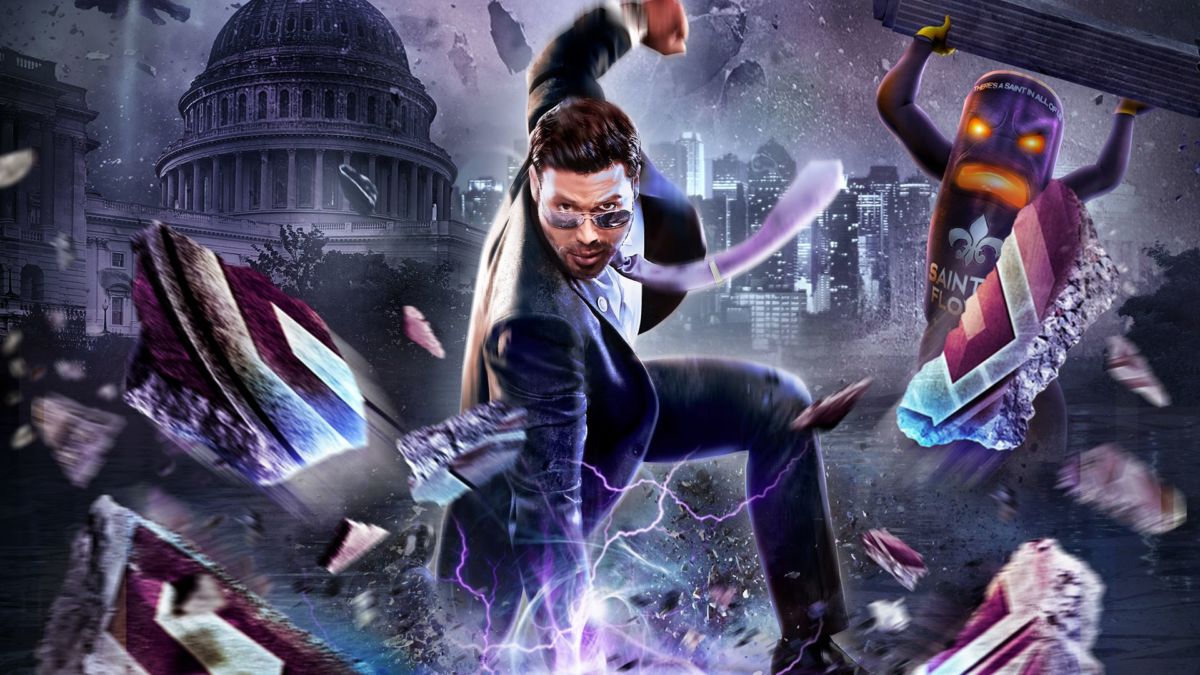 Developer: Volition, KAIKO
Publisher: Deep Silver
Saints Row is one of the most bizarre gaming franchises in history. What started off as an alternative to GTA has taken on an identity completely unique to the series. It's full of over-the-top violence, superpowers, demons, nonsensical plots, and presidential elections and needs to be experienced by everyone capable of getting their hands on it.
It was initially released in 2013, so the fact that it got a 2020 Switch port isn't just surprising; it's a testament to the level of fun that Saints Row IV offers.
The game is a direct sequel to Saints Row III, with players stepping back into the shoes of the boss of the Saints organization. This time around, however, you're the president of the United States. It doesn't take more than 10 minutes for aliens to invade Earth, though, meaning it falls on your heroic shoulders to save the day.
What follows is an open world third-person shooter mixed with Infamous-style superpower gameplay that is as ridiculous as the game's plot, but it works unbelievably well.
10. Immortals Feynx Rising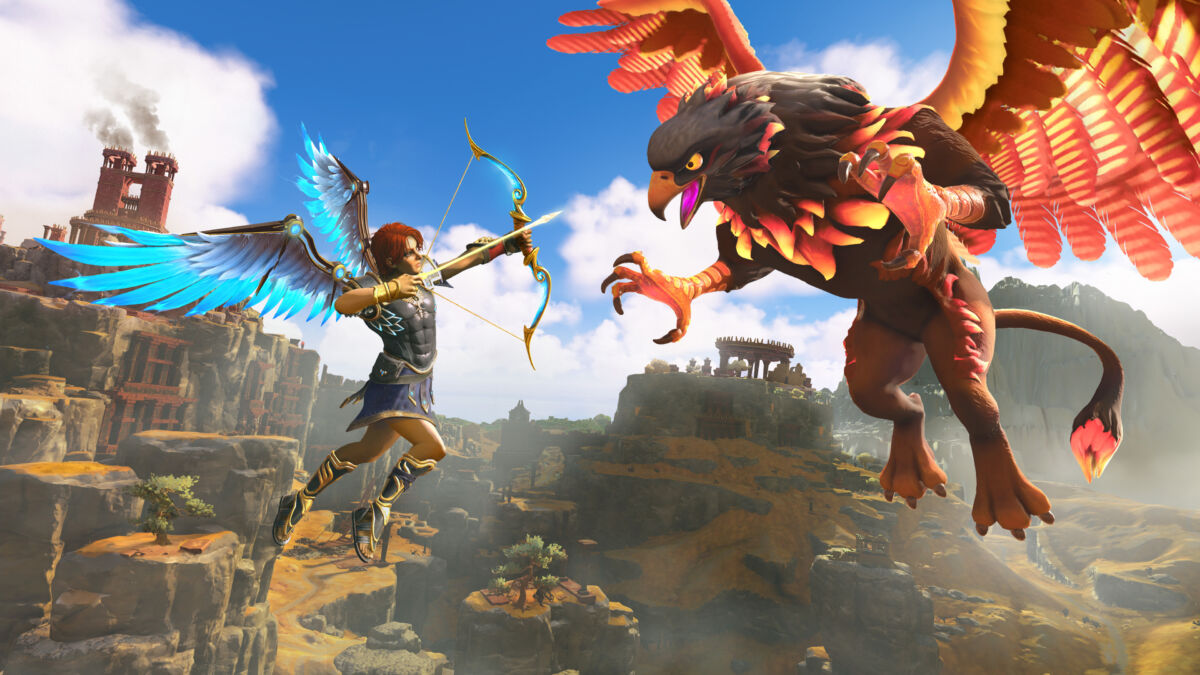 Developer: Ubisoft
Publisher: Ubisoft
It's rare that Ubisoft delivers us a game from an IP not belonging to an established franchise. So for them to do so, and for that game to be as enjoyable as Immortals Fenyx Rising, is a rare treat that begs to be enjoyed.
In this open world, third-person action-adventure game, you play as Fenyx, a shield-bearer destined to defeat the great serpentine giant Typhon. You battle your way across seven regions inspired by various areas of Greek mythology, making use of the game's unique navigation and movement mechanics in combat, as well as puzzles and platforming sections.
The gameplay is great, but where Immortals Fenyx Rising really shines is in its dialogue. The entire narrative is delivered to the player from the perspective of Prometheus as he looks into the future after making a bet with Zeus on your chances of beating Typhon.
The witty banter between these two characters alone makes Immortals Fenyx Rising a must-play. Combined with the stellar level design and gameplay, Fenyx Rising is a once in a generation game that you owe it to yourself to play.
9. Burnout Paradise Remastered
Developer: Criterion
Publisher: EA
Taking a step away from all of the action and adventure, we have Burnout Paradise Remastered – a slightly crisper version of the original 2008 open world racing game.
The game was great then, and it's still great now. It doesn't do more than it needs to, being an open world filled to the brim with different races, cars, game modes, and integrated online compatibility.
We're spoiled for choices when it comes to open world racers, but Burnout Paradise Remastered stands out as an option that has withstood the test of time thanks to solid gameplay and a wide roster of vehicles.
If you're a racing fan looking for a time killer on the Switch, this is it.
8. Assassin's Creed: The Rebel Collection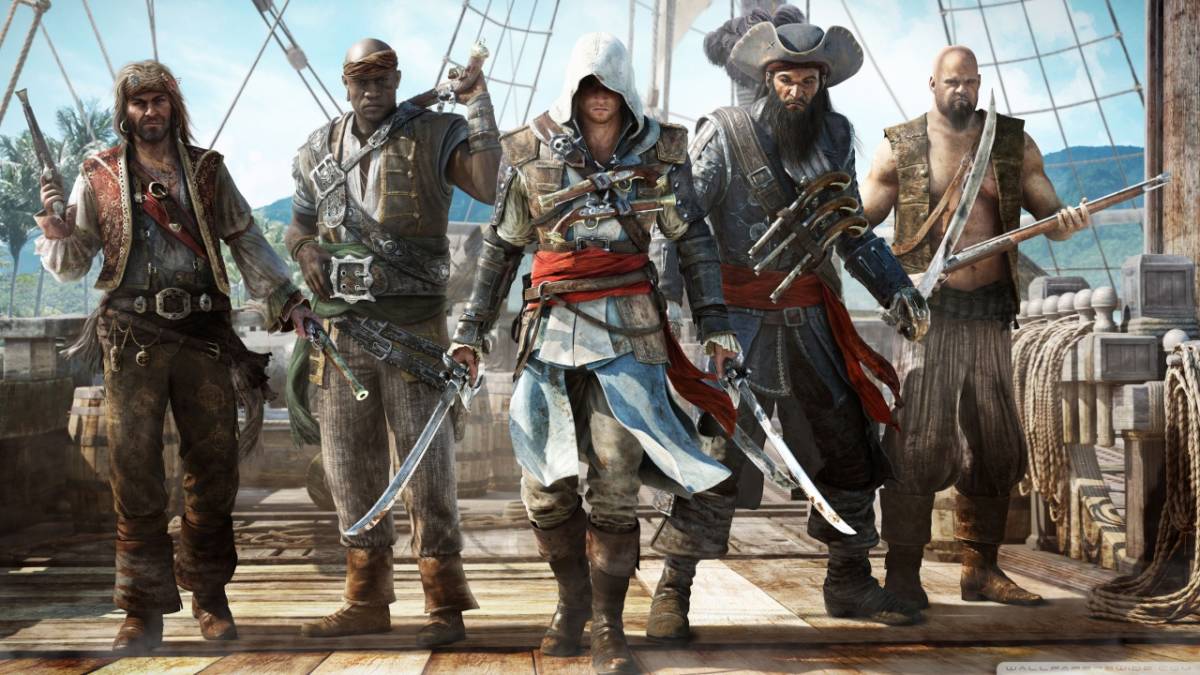 Developer: Ubisoft
Publisher: Ubisoft
Assassin's Creed has a very hit-or-miss history with Nintendo. Black Flag and AC3 flopped on the Wii U, and I don't think any of us even played the spinoffs for the DS.
That being said, the Switch has done wonders for bringing authentic AAA ports to Nintendo hardware, and that finally includes Assassin's Creed with both Rogue and Black Flag being readily available in all their glory.
These games should need no introduction. Black Flag, in particular, gained universal praise for its naval based gameplay, proving to be one of the best "pirate simulator" games ever released, while Rogue garnered a cult following as a narrative title in its own right as we stepped into the boots of a Templar, rather than an Assassin.
Getting a two-for-one deal on these games is a treat. Black Flag serves as a massive adventure for both newbies and long-standing fans of AC, while Rogue allows newer players to get a deeper look into some of the heavier themes that the franchise has to offer.
7. Xenoblade Chronicles 2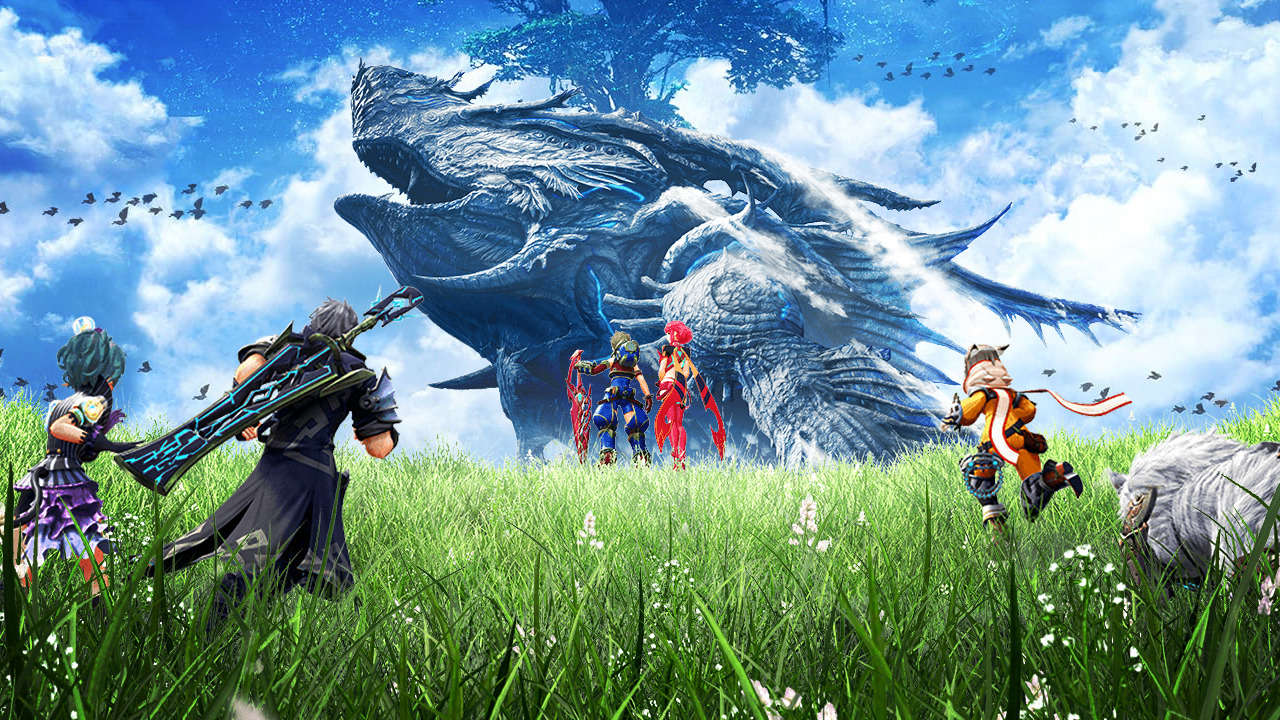 Developer: Monolith Soft
Publisher: Nintendo
Xenoblade Chronicles 2 is the third entry in the series and also the best-selling Xenoblade game to date.
In true JRPG fashion, you play as an unlikely hero caught up in a plot that will ultimately determine the faith of everything you know and love. The story for Xenoblade Chronicles 2 is hit or miss, with one of its most notable critics being Jason Schreier during his time writing for Kotaku.
Despite this, the action-based battle system that dictates many of the encounters in the massive open world was received favorably by fans and critics as a whole. The combination of real-time movement with enhanced combat mechanics such as "arts," as well as the party-focused gameplay, results in a deep and strategic experience that has a high skill curve but is satisfying to master.
Xenoblade Chronicles 2 is considered one of the Switch's must-buy games for a reason.
6. Dragon Quest Builders 2
Developer: Square Enix, Koei Tecmo
Publisher: Square Enix
Square Enix has built up a reputation for constantly delivering stellar games that appeal to audiences on both sides of the Pacific, and Dragon Quest Builders 2 is no exception.
The game takes place in the future after the events of Dragon Quest II, which is ancient at this point. That doesn't mean you need to boot up your NES before you play it, though. The games are disconnected, so it's easy to fully engross yourself in the world without having any knowledge of the series thus far.
The gameplay of Dragon Quest Builders 2 is simple, further adding to its accessibility. It's an action-RPG with hack and slash elements, specifically in combat, which does away with traditional JRPG tropes in favor of a simplified 2-attack option system.
As you might expect, given the title, Dragon Quest Builders 2 features a lot of building throughout its story, both in terms of equipment and actual buildings themselves. Given that its basic story lends itself to sandbox-styled gameplay, this is a great way to stretch out your time in the game.
Speaking of stretching out your time, Dragon Quest Builders 2 features four-player co-op and cross-save transfers, meaning you and your buddies can galavant around, building and fighting to your heart's content for hours.
5. Skyrim
Developer: Bethesda
Publisher: Bethesda
You probably don't need us to tell you anything about Skyrim, but we're going to do so anyway.
In the Elder Scrolls V: Skyrim, you play as the Dragonborn – a hero fabled by legend destined to destroy a world-eating dragon and save Tamriel. You do this by learning "shouts," which you can unlock throughout the game via exploration and absorbing dragon souls.
As an RPG, Skyrim has a myriad of different builds you can use as you play through the game, giving you the freedom needed to play the game as you see fit. Combine that with a near-endless supply of well-written quests to complete and locations to explore, and you have a recipe for one of the best games ever created.
Regardless of what hindsight may say about Skyrim now, it's undoubtedly one of the most recognizable games of all time, so if you haven't played it yet, this is your sign to buy it.
4. Minecraft
Developer: Mojang Studios
Publisher: Microsoft
Few games are more recognizable than Skyrim. Minecraft is one of them. When a game transcends the realm of entertainment and is used educationally to foster creative skills in kids, you know it does something right.
Minecraft isn't just for kids, though, but you already know that.
As an open world sandbox in the truest sense of the world, Minecraft redefines what it means to have endless exploration in a game. Every inch of the procedurally generated world is breakable and buildable, so much so that several communities have popped up around some of the game's most impressive player-made structures.
Minecraft can be played solo, but experiencing it with friends, especially for the first time, is a memory that a lot of gamers cherish. If you're not one of them, now's the time, or if you are: what's stopping you from diving back in?
3. The Witcher 3: Wild Hunt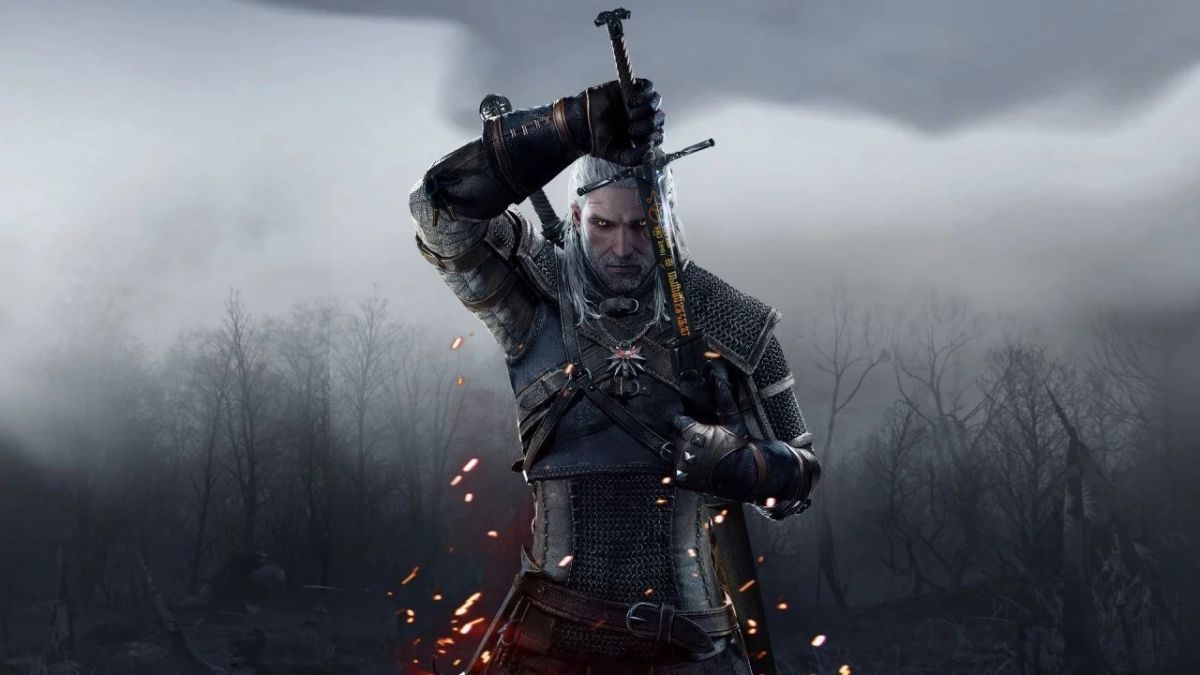 Developer: CD Projekt Red
Publisher: CD Projekt
Before Cyberpunk 2077, we had The Witcher 3. It's a game that turned CD Projekt from a small games studio into a hero in the eyes of gamers all over the world. The success of the Witcher 3 even attracted the attention of the Polish government, which has since gone on to pride itself on CD Projekt Red's placement in its country and award the company grants to continue its research into gaming.
The Witcher 3 is an open world, third-person action-RPG that delivers in both the narrative department as well as gameplay. While having experience with the series will help your enjoyment of it, it's far from necessary.
You step into the boots of Geralt, a professional monster slayer on the hunt for his adoptive daughter, and on the run from a mysterious group known as the Wild Hunt.
Through the use of sword-based gameplay, spells, and potions, you battle your way across a dark fantasy world full of interesting characters and monster bounties to collect on.
The Witcher 3 easily delivers up to 50 hours of gameplay on your first run. That's not all, though, because the DLC adds on another 50 hours, turning it into what might just be the best value-for-money game ever created.
If you saw the discourse and disappointment surrounding the release of Cyberpunk, this is the game that caused it. It set the bar for everything that has come after it, not just from CD Projekt Red, so go and play it already.
2. Terraria
Developer: Re-Logic
Publisher: Re-Logic, 505 Games
Among the juggernauts that are the Witcher, Minecraft, and Skyrim, we have a humble little game called Terraria. Well, not so humble anymore, with over 35 million copies of the game being sold across all consoles as of 2020.
Terraria is a 2D sandbox action-adventure game with a core gameplay premise that focuses on a loop of mining, crafting, and building, similar to a 2D Minecraft.
The open world that you inhabit is procedurally generated, starting you out with a few basic tools at your disposal that can be swapped out for better gear as you explore more of the expansive world.
When you're not mining and building, Terraria features a linear combat progression system that is surprisingly deep for a 2D game. Your in-game progression is directly tied to a series of bosses that you need to defeat in order to continue on your adventure.
Don't let this simplicity fool you. Terraria is a rich game full of depth that needs to be played in order to be fully appreciated.
1. The Legend of Zelda: Breath of the Wild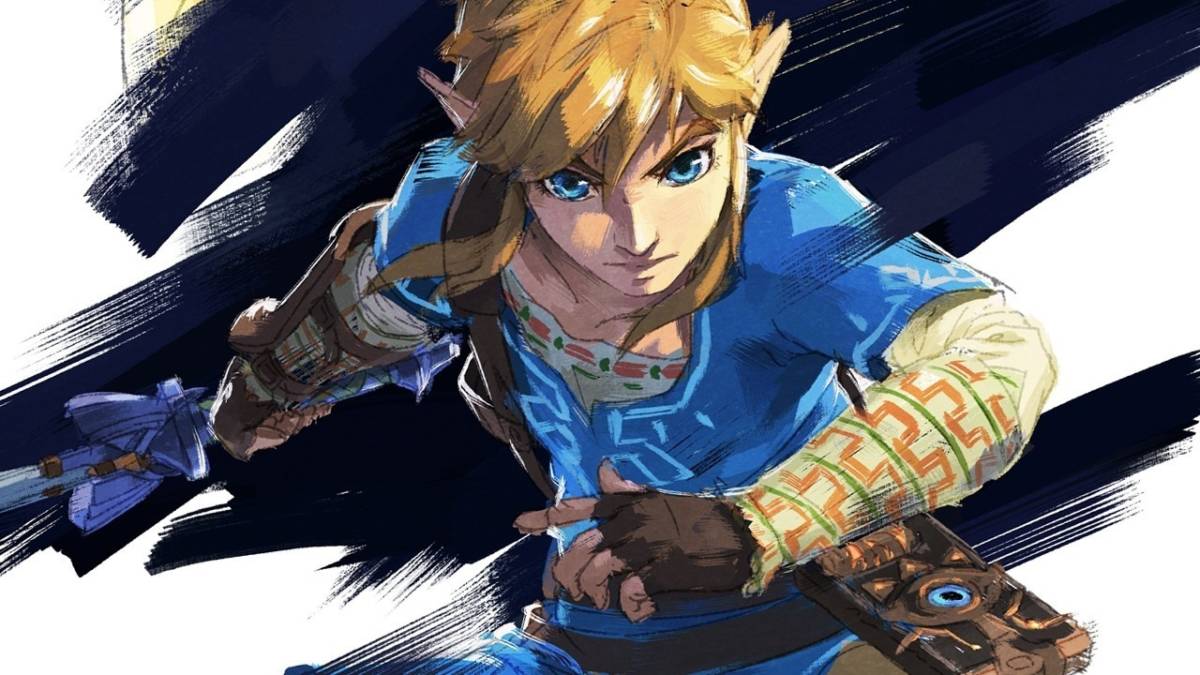 Developer: Nintendo
Publisher: Nintendo
Breath of the Wild released as a launch game for the Switch. Can the console's staggering success be attributed to it? Probably not, but it certainly did help.
As a full reimagining of the Legend of Zelda franchise, Breath of the Wild is an open world game in the very truest sense. Players are given little to no direction after the opening portion of the game, being left to explore the vast and absolutely breathtaking worlds of Hyrule at their own discretion. You even have the option to skip the game entirely and head straight to the final boss.
In classic Zelda fashion, you play as Link on an adventure to stop Ganon. In this case, Calamity Gannon, a nightmarish take on the classic villain.
Throughout this adventure, you acquire different abilities and upgrades through the compilation of dungeons littered around the world, meet members of different races that will help you on your quest, and collect powerful equipment as you face tougher and tougher foes on your way to Hyrule Castle.
Breath of the Wild received near-perfect review scores across the board when it released, and you can bet that there's a reason for that. If you haven't treated yourself to it yet, book a week off and let yourself get lost in the expensive world that the game has to offer.
READ NEXT: The Best Switch FPS Games You Should Play
Some of the coverage you find on Cultured Vultures contains affiliate links, which provide us with small commissions based on purchases made from visiting our site. We cover gaming news, movie reviews, wrestling and much more.