Metroidvanias have surged in popularity in recent years, no doubt fuelled by the huge number of terrific games released in the past decade belonging to the genre. And thankfully, there is no shortage of top-notch Metroidvanias on the Switch.
From dark, gloomy ventures to vibrant, light adventures, here are the best Switch Metroidvanias you should play. Note: as good as it is, Metroid Dread isn't a Metroidvania. It's a Metroid.
The Best Switch Metroidvania Games
10. Bloodstained: Ritual of the Night
Developer: ArtPlay
Publisher: 505 Games
Bloodstained: Ritual of the Night is a fantastic gothic-horror Metroidvania set in 18th century England during the Industrial Revolution. The game is considered a spiritual successor to the Castlevania series – its development was even led by Koji Igarashi, a former producer of the franchise.
You play as Miriam, an orphan who has been inflicted by an alchemist's curse that has crystallized her body. Upon waking from a 10-year long slumber, Miriam learns that England is infested with demons that threaten to destroy humanity.
She must battle through a dark castle filled with monsters in order to save herself and the rest of mankind. Miriam has access to a range of weapons, allowing her to perform melee and ranged attacks, as well as a variety of magical attacks.
As you'd expect from a Metroidvania game, Bloodstained: Ritual of Night takes place over a series of labyrinthine environments. Defeating monsters, bosses, and finding keys or powers will allow you to explore previously inaccessible areas.
Although Bloodstained: Ritual of the Night is brilliant, especially if you're a fan of the Castlevania series, the Switch version was pretty disappointing when it was first released. Downgraded visuals, input lag, and extremely slow load times were just a few of the problems, making it perhaps one of the worst Switch ports in recent years.
The game is in a much better state on Switch now thanks to semi-regular content updates and patches over the years, but it's still far from perfect. If you can get past some performance issues, Bloodstained: Ritual of Night is well worth a play.
9. Blasphemous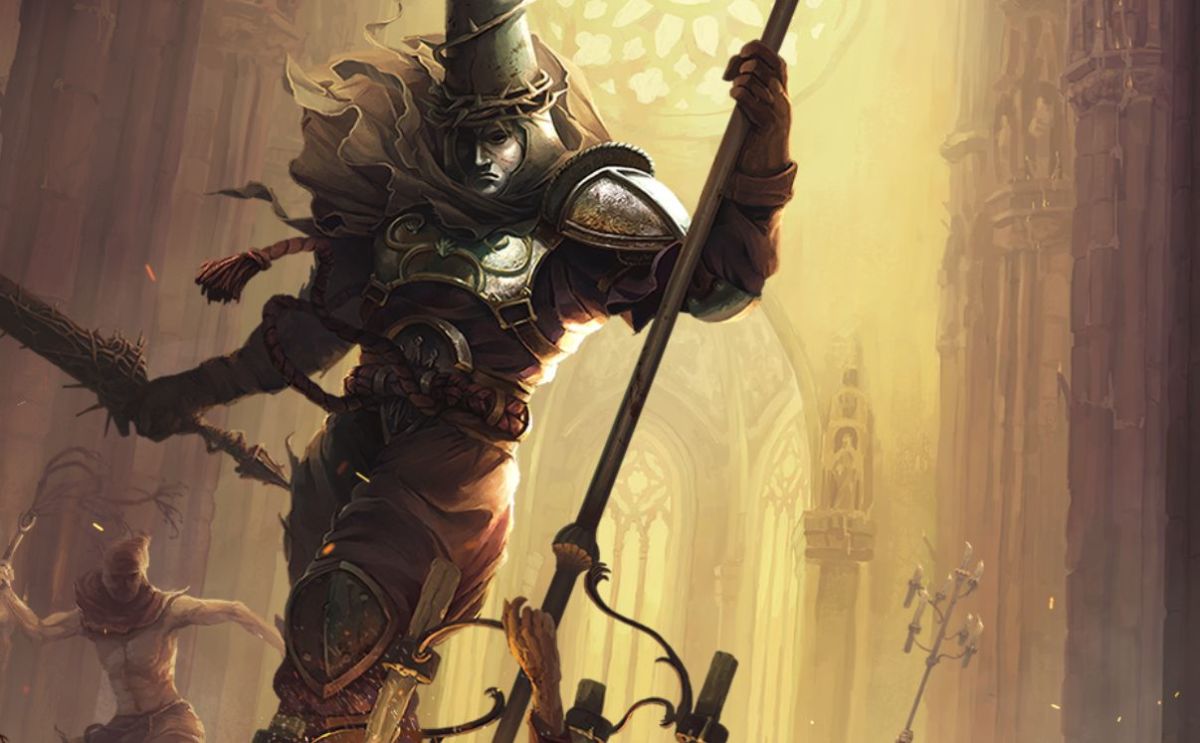 Developer: The Game Kitchen
Publisher: Team17, Limited Run Games
If you enjoy Metroidvanias and hack and slash games, Blasphemous will no doubt be right up your alley. Set in a fictional region called Cvstodia, you play as the Penitent One, a silent knight on a journey to break eternal damnation.
During your quest, you'll uncover secrets, solve puzzles, and fight hordes of enemies through nightmarish lands, making use of your trusty sword and magical abilities for hectic close-range combat that relies heavily on performing combos.
All foes have specific attack patterns that you'll need to memorize to dodge and avoid taking damage effectively, so there's some strategy involved in battles. The game is pretty challenging in parts, but its fluid, fast-paced, and satisfying combat make dying over and over again a lot less frustrating.
Alongside its fun gameplay, Blasphemous is one of the most visually stunning Metroidvanias on the Switch, with much of its design inspired by southern Spanish architecture.
8. Iconoclasts
Developer: Konjak
Publisher: Bifrost Entertainment
Another excellent Metroidvania-style game on the Switch is Iconoclasts, an emotional tale about a self-taught mechanic called Robin living in a world that is dictated by a being known as "The Mother", the ruler of an evil religious authority called the One Concern.
Ivory, an energy that powers all the technology and electricity in the world, is being mined by the One Concern to drive its machines, but it can only be handled by licensed mechanics.
Unfortunately, Robin's kind-hearted but naive nature leads her to help others in need despite being an unlicensed mechanic, which results in her being tracked down by soldiers of the One Concern and branded a criminal.
She manages to escape with her allies, but now it's up to her to take down the One Concern once and for all to bring back peace to the world.
In addition to its emotionally investing plot and engaging characters, Iconoclasts features vibrant visuals and fun gameplay centered around exploration, boss fights (there are over 20 to defeat), and completing environmental puzzles.
7. SteamWorld Dig 2
Developer: Image & Form
Publisher: Image & Form, Rising Star Games
The first SteamWorld Dig was a wonderful mix of pop culture, music, and classic Metroidvania game references in a steampunk Old West setting.
Its sequel, SteamWorld Dig 2, packs in even more of this, as well as some extra enhancements to its gameplay formula, including a bigger map, more horizontal platforming, and additional tools to equip.
Like its prequel, the gameplay loop revolves around digging deep underground to find rare ores to sell, allowing you to purchase upgrades to dig even deeper. You'll also need to manage your light, health, and water levels as you hunt for treasures.
Your character, Dorothy, a robot powered by steam, can utilize a wide assortment of tools, such as a jetpack and grappling hook, to traverse areas with ease. The plot follows the events after the ending of the first game, so you might want to play through the original (another great Metroidvania) beforehand to get up to speed with the story.
6. The Mummy Demastered
Developer: WayForward
Publisher: WayForward
Despite being a tie-in game to the poorly-received 2017 film The Mummy, that shouldn't put you off playing The Mummy Demastered. It's a classic Metroidvania with charming pixel-based graphics, shoot-'em up action, and an absolutely killer soundtrack.
Set in caverns underneath London, the game pretty much follows the same events that happen in the movie. You play as an elite soldier working for Prodigium, an organization that hunts monsters for examination, who must take out Princess Ahmanet and her evil forces.
You'll use a variety of weapons, upgrades, strange artifacts to defeat supernatural hordes, while also uncovering secrets within the caverns. A unique feature of The Mummy Demastered is that upon dying, you'll return as a different soldier and will need to collect your items from a zombified version of your previous character.
The Mummy Demastered also has two endings, so you'll have to keep your wits about you and escape the tomb successfully to trigger the good finale.
5. Axiom Verge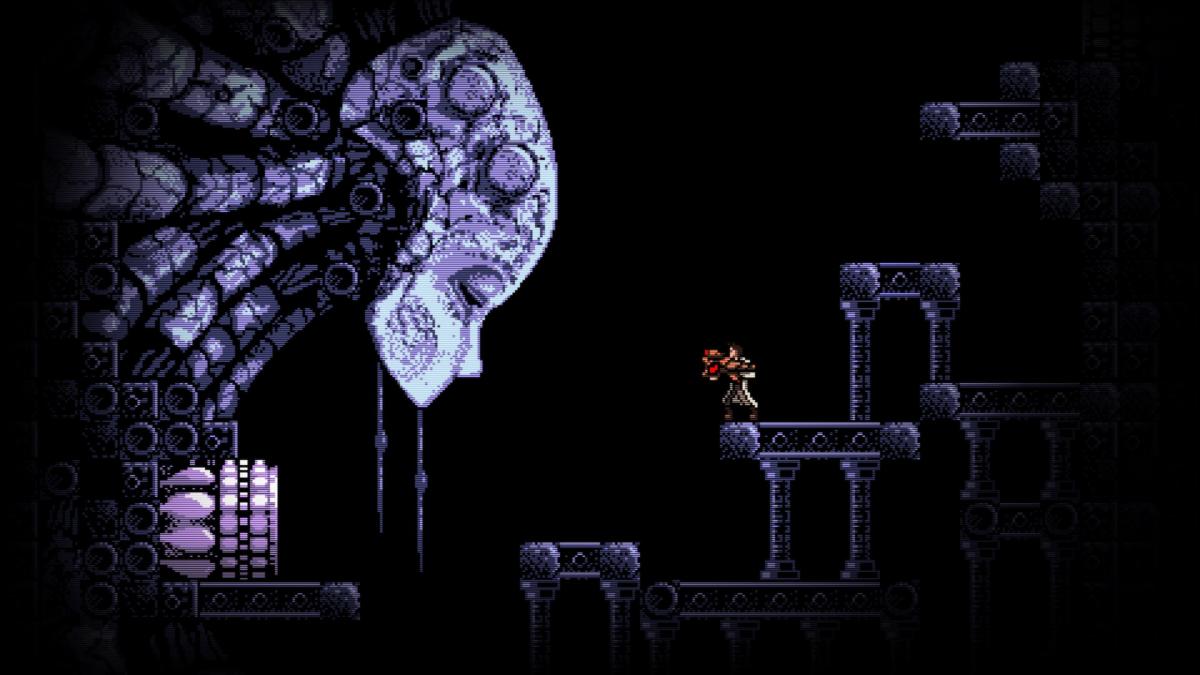 Developer: Thomas Happ Games LLC
Publisher: Thomas Happ Games LLC
Axiom Verge is influenced by the likes of Metroid, Contra, and Contra Master, among others, so if you're a fan of these classics, you'll no doubt enjoy this sci-fi Metroidvania.
You assume the role of a scientist named Trace who, after sustaining a serious injury that leaves him bedridden, wakes up in an alien, high-tech world. The game is a mix of action and exploration, boasting a huge selection of enemy types, puzzles, power-ups, and areas to traverse.
Movement feels responsive and smooth, which is necessary for some of the more challenging platforming sections. Combat can sometimes feel a little clumsy due to the default controls, but you can remap these controls if you prefer.
While your main weapon is the Axiom Disruptor, a long-ranged gun that fires energy projectiles, there are a wide variety of other cool weapons to obliterate foes with, including a Flamethrower, Lightning Gun, Ion Beam, Data Bomb.
4. Guacamelee!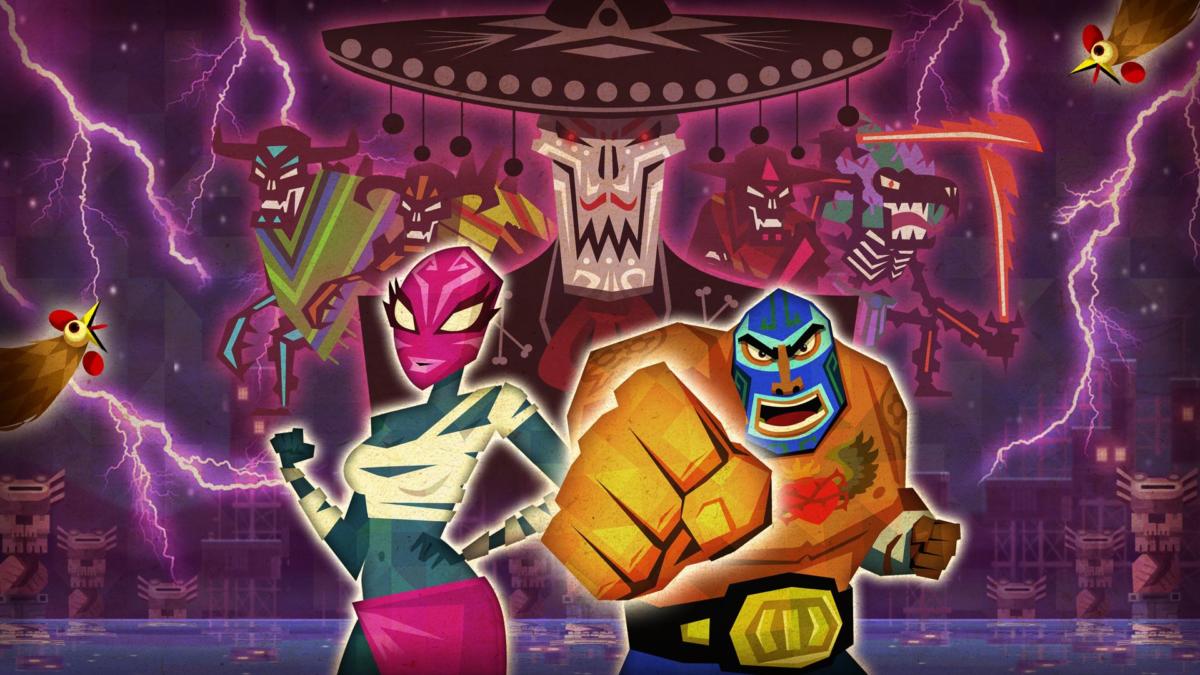 Developer: DrinkBox Studios
Publisher: DrinkBox Studios
Part Metroidvania, part brawler, Guacamelee! puts you in the shoes of an agave farmer, Juan Aguacate. The evil Carlos Calaca, a charros skeleton, has kidnapped El Presidente's Daughter so that he can sacrifice her to combine the World of the Living with the World of the Dead.
Unfortunately, after confronting Carlos, Juan is killed and sent to the land of the dead. There, Juan meets a luchadora who gives him a mask that transforms into a powerful luchador and returns him to the land of the living.
It's now up to Juan to rescue El Presidente's Daughter and put a stop to Carlos' plan. The game is one of the most visually stunning Metroidvanias on Switch, boasting a colorful art style influenced by Mexican culture and folklore.
Gameplay is a blend of exploration, platforming, and upgrade mechanics like Metroid and Castlevania. The combat, as you may have already guessed from its name, primarily revolves around melee attacks. Its best feature, however, is the ability to switch between the world of the living and the world of the dead, which adds a deeper level of challenge to an already pretty difficult game.
3. Dead Cells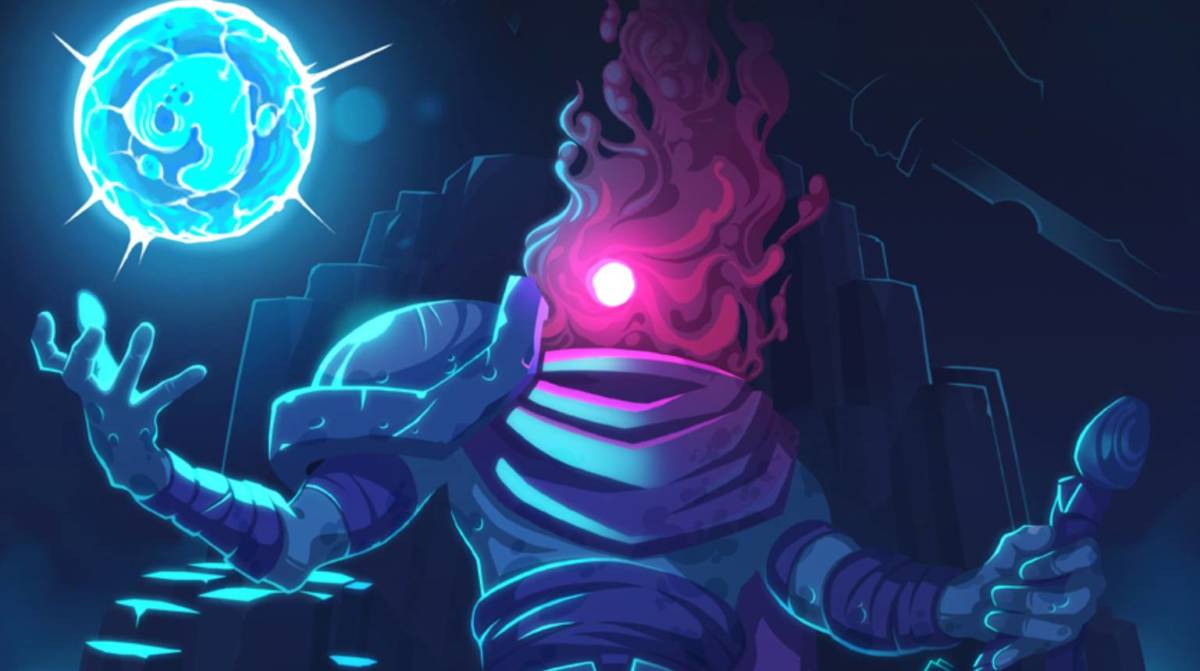 Developer: Motion Twin
Publisher: Motion Twin
Heavily inspired by Metroid games and The Binding of Isaac, Dead Cells is a phenomenal roguelike mixed with a Metroidvania that coined the "roguevania" subgenre. It won numerous awards during the time it was released, and it's hard not to see why.
Its fun gameplay loop, gorgeous visuals, and stellar sound design make it one of the best Metroidvanias not just on Switch, but all platforms. You play as an amorphous creature who has possessed a decapitated corpse and must battle your way out of a dungeon.
The levels are procedurally generated and filled with undead enemies to fight using a hefty range of weapons, upgrades, and items. You can purchase permanent upgrades and items using "cells", which can be acquired by defeating foes, unlocking gold doors, or simply following the standard path. However, each time you die, you'll lose all your cells, items, and any other currencies.
As you'd expect with a roguelike, the aim of the game is to finish your playthrough in one run without dying. Multiple playthroughs are pretty much a necessity to collect all the upgrades, gear, outfits, etc, so there's plenty of content to keep you busy, even more so if you try your hand at each difficulty level.
2. Ori and the Blind Forest
Developer: Moon Studios
Publisher: Microsoft Studios
With its beautiful art design and stunning soundtrack, Ori and the Blind Forest is as enjoyable to look at as it is to play. And for a studio's debut game, you really can't get much better.
You control the titular Ori, a white forest spirit, and an orb-like creature called Sein who is the eyes and light of the Spirit Tree. The game takes place in the forest of Nibel which, after being hit with a cataclysm event, is now withered and decayed.
Guided by Sein, Ori must restore balance to the forest by collecting the light of its 3 main elements: Warmth, Winds, and Waters. Ori can climb, jump, and make use of other platforming skills unlocked via an ability tree, whereas Sein can fight enemies and destroy obstacles by shooting Spirit Flames.
Gameplay focuses heavily on platforming, but there's also plenty of combat and backtracking through areas to both progress the story and snag collectibles. The platforming in particular is outstanding and can get rather unforgiving later on in the game.
Its sequel, Ori and the Will of the Wisps, is equally as fantastic if you're itching for more of this adorable spirit.
1. Hollow Knight
Developer: Team Cherry
Publisher: Team Cherry
While there are some brilliant Switch Metroidvanias in this list, it's difficult not to crown Hollow Knight as the top. It has everything you want in a great Metroidvania: crisp combat, incredible sound design, and charming visuals.
Set in a dark, gloomy ancient kingdom called Hallownest, you control an insect-like knight. The kingdom is filled with beasts and insects to slay using your trusty Nail.
The game is quite combat-heavy, at least compared to some other Metroidvanias, but that certainly isn't a negative as it's challenging but rewarding.
You can learn a variety of spells to keep your enemies at bay, as well as find various types of Nails, upgrades, and abilities to find across the map to expand your move set and make traversing areas a breeze.
Dealing damage with the Nail doesn't just kill enemies as it also grants you with Soul, which is needed to regenerate health and cast spells.
Alongside its satisfying combat, Hollow Knight is packed with details and secrets, especially when it comes to its story. Exploring every nook and cranny will help unveil the game's intricate lore and reward you with all sorts of treasures.
READ NEXT: 15 Best Switch Couch Co-Op Games To Play With Friends
Some of the coverage you find on Cultured Vultures contains affiliate links, which provide us with small commissions based on purchases made from visiting our site. We cover gaming news, movie reviews, wrestling and much more.