When it comes to the best Goosebumps books, everyone who grew up reading them is going to have their own personal list of the best volumes in the series. R.L Stine is a much beloved author for so many people who have attached their own nostalgic memories to his work. But if you haven't thought about Goosebumps in a long while, or you are thinking of checking them out for the first time, then our summary of the best Goosebumps books is a great place to start.
The Best Goosebumps Books
1. The Cuckoo Clock Of Doom | Original series #28
Michael Webster calls his little sister Tara the Terrible. She likes nothing less than getting him into trouble and making his life a misery. She ruins Michael's twelfth birthday by opening all of his presents, scratching his new bike and tripping him up when he's carrying his cake.
But a few days later, Michael's dad buys an old cuckoo clock that allegedly used to belong to a sorcerer, and can make people go back in time. When Michael works out the clock's secret and winds it back, he ends up back at his twelfth birthday, and that's when things really start to go wrong.
2. The Curse Of The Mummy's Tomb | Original series #5
Who doesn't love a mummy story? That alone would make it one of the best Goosebumps books and Stine obviously agreed – he followed this one up with a sequel 18 books later.
After his parents have to leave their Christmas holiday in Egypt, Gabe is left with his Uncle Ben, a scientist investigating pyramids. Ben takes him to the pyramids and tells him that there may have been an ancient curse uncovered by exploring the pyramid. What follows is a story of kidnapping, creepy dark tunnels, mummies, and the followers of an ancient Egyptian princess who are none too pleased to have had her pyramid violated.
3. The Ghost Next Door | Original series #10
Hannah isn't having much fun on her summer holiday. All of her friends have gone away and no one is paying her any attention. When a new family moves into the abandoned house next door, she meets a boy named Danny – and quickly becomes sure that Danny is actually a ghost. As she starts to spy on him, Hannah realises there is a shadowy figure spying on her too, Hannah needs to figure out what is going on, and fast.
A lot of Goosebumps books have a twist ending, but The Ghost Next Door reveals its twist early on. And for a kid's book, that twist is really quite sad.
4. The Haunted Car | Goosebumps Series 2000 #21
The Haunted Car is Stephen King's Christine for kids, and so popular that it got a Classic Goosebumps reprint, one of the few Series 2000 books to get one. The best Goosebumps books have been reprinted; in fact, a reprint is a pretty good indication for how popular the book has been over the years.
Mitchell loves cars, and when he and dad get into a car crash, Mitchell is happy to help him look for a new one. He finds an advert for a new car and when they meet the seller, it seems like he can't wait to be rid the car. Almost immediately the car starts behaving in odd ways; like locking the doors and sending Mitchell on a breakneck joy ride through town. Something is up with this car, and the mysterious girl who keeps appearing and reappearing whenever Mitchell is near the car.
5. The Haunted Mask | Original series #11
This is another book that got a sequel many books later, with original series #36, The Haunted Mask II. The Haunted Mask is also Stine's own personal favourite Goosebumps book, so of course it deserves a place on the list of the best Goosebumps books.
Carly Beth is a shy girl having a bit of a terrible time at school – even her friends are mean to her, always pulling pranks. Carly Beth decides to buy a horrible Halloween mask to get her revenge by scaring people. But the mask she ends up with, purchased from a mysterious shop, is hard to take off – and it makes her act very strangely. When it gets stuck for good, Carly Beth realises she might have made a terrible mistake.
6. The Haunted School | Original series #59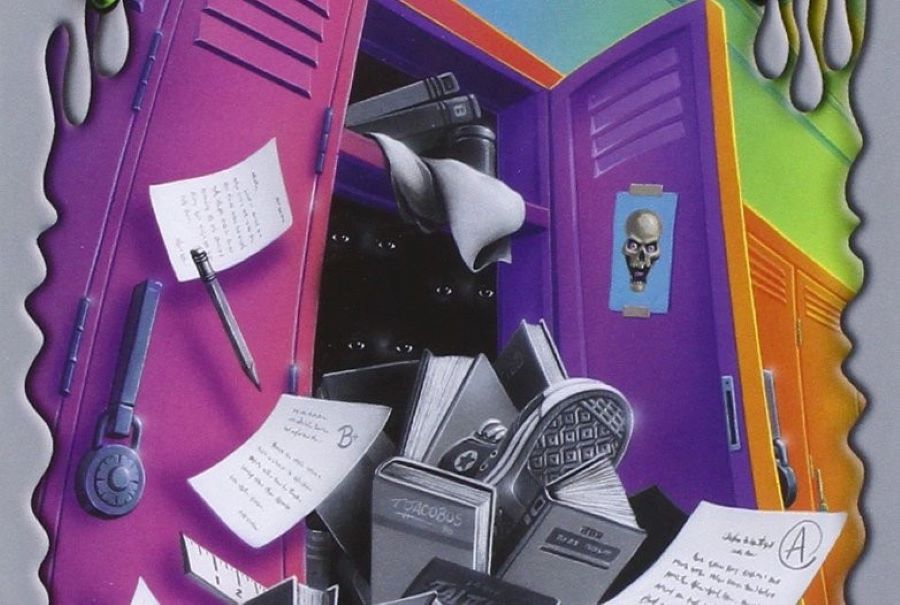 Tommy Frazer moves to a new town and a new school when his dad remarries. It is hard to make friends in a new school, but Tommy throws himself into helping with the upcoming dance. Tommy goes in search of some paint when he is helping to decorate and starts to hear voices, as well as finding mysterious rooms – like the one containing statues of 'The Class of 1947', a group of kids who went missing.
For a book with 'haunted' in the title, there aren't actually any ghosts. But there is a parallel world and a photographer with the power to send people there. The Haunted School is a really great adventure story.
7. The Headless Ghost | Original series #37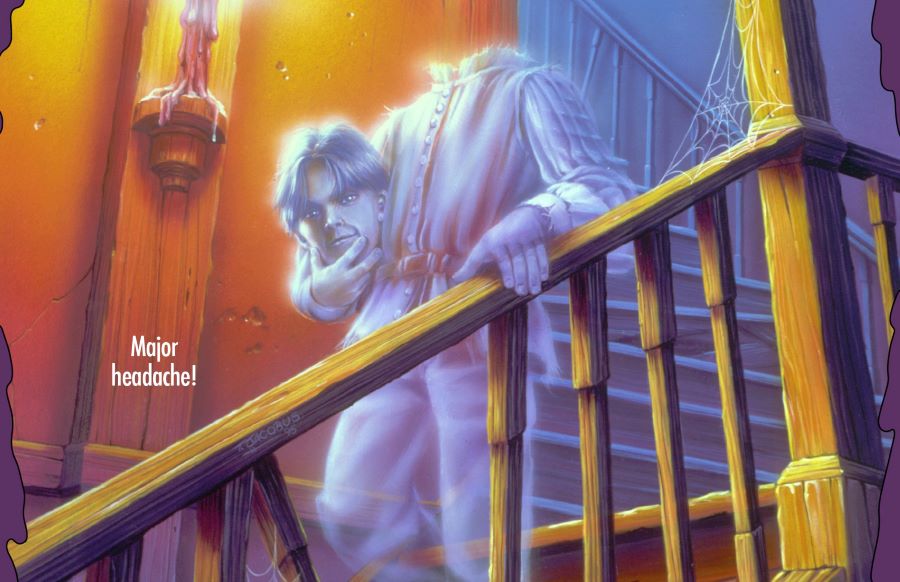 In the very boring town of Wheeler Falls, the only good thing is the tourist attraction, Hill House – which is rumoured to be haunted. Duane and Stephanie love Hill House, and often go on the guided tours there – after all, it is basically the only thing to do in town, apart from messing with people.
One day, tired of pulling pranks, Duane and Stephanie decide they are going to find the head of the headless boy rumoured to haunt Hill House. They meet a boy who claims to be able to help them find the head – but if Duane isn't careful, he might just lose his own head in the process.
8. Night Of The Living Dummy | Original series #7
There is almost nothing creepier than a dummy that comes to life, and Stine obviously thought so too. The Night of the Living Dummy is the first in a three-book saga that are easily some of the best Goosebump books.
Lindy Powell finds an old ventriloquist dummy in a bin, names him Slappy, and takes him home. She soon picks up the art of ventriloquism, which makes her sister, Kris, jealous of the attention she is getting. Their dad buys Kris her own dummy, Mr. Wood, but it soon becomes clear that Mr. Wood is more than he seems – and he's not a very nice person to have around.
9. One Day At HorrorLand | Original series #16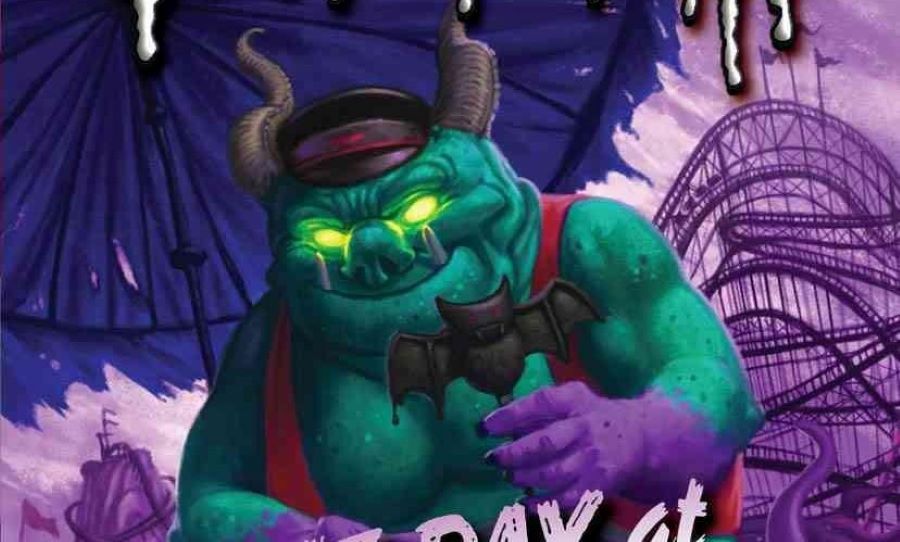 An official poll in 2015 revealed One Day At HorrorLand to be the top favourite book in the series as chosen by fans, which makes it a must-have on a list of the best Goosebumps books.
The Morris family stumble accidentally on HorrorLand, a theme park with no queues. On arrival, their car explodes, and a worker lets them in for free. The kids soon find that the rides in HorrorLand are a bit more than just scary – they are plain dangerous, and some of them are deadly. The family needs to escape before the Horrors can get to them – but nobody leaves HorrorLand alive.
10. Phantom Of The Auditorium | Original series #24
Best friends Brooke and Zeke have been chosen for the lead roles in the school play, The Phantom. Brooke's understudy, Tina, tells everyone that the play is cursed; a boy who played the Phantom before at the school disappeared and was never seen again. Their teacher tells the cast that its all just a story and there is nothing to be afraid of.
But soon a series of mysterious events leads Brooke to think Zeke is playing pranks on her, pretending to be the ghostly Phantom said to haunt the school. But Zeke insists that it isn't him, and soon enough they realise that the story about the vengeful Phantom might actually be true. And he isn't happy about the new version of the play.
11. Say Cheese and Die! | Original series #4
Say Cheese and Die! is one of those Goosebumps books that just seems like so much fun, and absolutely only the sort of story that Stine could get away with telling. It's one of the best Goosebumps books just by virtue of being so madcap.
Greg finds an old camera in the cellar of an old building said to be haunted. But when Greg takes photos, they keep turning out very strangely. He takes a photo of his dad's car, but the picture comes out showing the car as a wreck. He takes a picture of his friend Michael that comes out showing Michael falling and hurting his ankle – exactly how he falls and hurts his ankle just after the photo is taken. Greg realises the camera is dangerous – and returning it to where he got it might be harder than it sounds.
12. The Scarecrow Walks At Midnight | Original series #20
The Scarecrow Walks At Midnight is definitely one of the more frightening books in the series, so if you're looking for a great work of horror, this is a good place to start.
Jodie loves going to stay with her grandparents on their farm, but this summer, her grandparents seem different; tired and inattentive. There are also a dozen new scarecrows in the fields, and they are pretty scary looking. At night, Jodie is sure she sees them moving. And the farmhand Stanley is acting very oddly indeed, obsessed with superstitions and magic. The scarecrows walk at midnight, and they are coming.
READ NEXT: 10 Best Horror Books For Teens 
Some of the coverage you find on Cultured Vultures contains affiliate links, which provide us with small commissions based on purchases made from visiting our site. We cover gaming news, movie reviews, wrestling and much more.