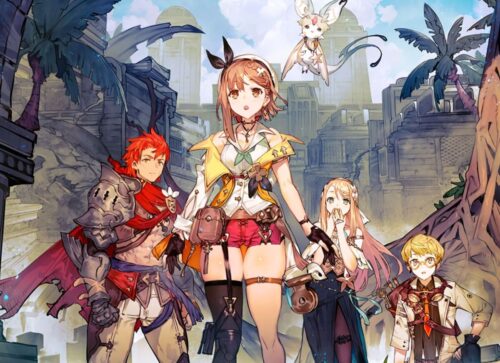 Since the days of the NES, the Japanese turn-based RPG has been a fan-favorite genre. Dating back to the original Final Fantasy and Dragon Quest games, gamers worldwide have been immersed in the colorful anime aesthetic and robust combat systems offered by it. Atelier Ryza 2: Lost Legends & the Secret Fairy, developed by Gust and published by Koei Tecmo, continues the tradition of complex systems and wondrously colorful aesthetics. It also offers a few twists on the typical JRPG formula to give it a personality all its own.
You are Ryza, a country girl from Kurken Island, who must take a mysterious object to the big city. She is an Alchemist by trade, meaning she can create any item out of anything she can find — whether it's sand, water, plants, or even bugs and trash, you can use it to make new items and gear. This practice makes her invaluable in her new surroundings as everyone in the city requires such services. After finding some old friends and settling into her titular atelier, a small and upgradeable apartment serving as a base, Ryza's quest begins.
The colorful characters of Atelier Ryza 2 are gorgeous and ooze with anime charm. The story they deliver, while being a tad predictable, is one of discovery and change. As a girl who's been free to choose her own path in life, Ryza's journey to the big city is littered with folks who feel they never had that chance. This is echoed in both your party members and other important NPCs, whether they be the noblewoman Patricia or your old friends Klaudia or Tao, a large part of Ryza's journey is learning about the ways of the big city and how it differs from home. This is all wrapped up in ancient mysteries solved through dungeon delving and piecing it together in your journal. After collecting all the pieces, you will usually need to craft a specific item to advance, which brings you right back to the alchemy pot.
Seeing as Ryza is an alchemist, you will spend many hours in your atelier coming up with concoctions and mixing items to create the perfect one for the job. This crafting system is the cornerstone of the game — every main plot point will have you coming back to your cauldron and creating items to help you advance. Creating things gives you "SP," which allows you to improve your craft in profound ways. From creating new tools, weapons, or simply adding more to each concoction, each new item you make is satisfying to see come to fruition. This is especially true when the materials used in its creation dictate not only their quality, but potential bonuses they can grant you as well. Making each piece of gear and item is personal and leaves behind the generic "buy the best item in the shop" feeling of most RPGs. Eventually, you will be discovered by a partner Puni, a small slime-like creature that can go and fetch additional items and decorations for your atelier.
Gathering the materials for everything is another matter. The shops in Atelier Ryza 2 do not sell consumable items or gear, but the raw materials needed to create them. It's a fun spin on the typical RPG experience that brings the city to life. The other way to get them is to explore the outside world and collect anything you can — anything you can accumulate in the world is highlighted to separate what you can and can't gather easily. In the beginning, you will not be able to pick up everything you see, which makes the world feel huge, but you will continuously find yourself backtracking to the small areas the world is composed of as a result. While it can be exciting to come back with better tools to see what new items you have unlocked, this immersive crafting system unfortunately comes at the detriment of the game as a whole.
While the combat system is a dynamic, fast-paced, tag-team style turn-based affair, it's made trivial by the power of the items you can make. Seeing as alchemic synthesis is the foundation of the game and is the place you will be spending the most time, it can be effortless to outpace the challenge presented if you invest in it. Along with selling certain items to your friend Romy who runs the city marketplace to improve the stock's quality, it can throw off the pacing of the entire game. It's a shame, because the combat system's depth is compelling and fun when you take advantage of it all, breaking the conventions of the traditional turn-based or even time-based mechanics of yesteryear by making it all seem fluid.
Your party consists of three active members and a backup character, who can tag in and out with another character at will. While the turn-based aesthetic is apparent when a battle begins, it quickly melts away when the combat gets going. Each of your party members can attack on their own, but you'll want to be controlling their special attacks to maximize efficiency and combo damage. The more prolonged the engagement, the more it will evolve as your characters' attack strings become longer and the ability to use special attacks becomes more frequent. When it all comes together, it delivers an eye-popping anime aesthetic satisfying to behold and control but quickly becomes repetitive due its negligible difficulty.
The lack of challenge cuts the exploration to the quick as well. Despite having gorgeous cel-shaded visuals, a fantastic soundtrack that you can't help but hum to, and some fun character and story development, exploration will boil down to simply moving from point A to point B. Whether you're farming for items or moving to your next goal, there's virtually no deviation from the main pathways, making the first impression of the big world wear off fast. Many of the alternative routes you'll discover are merely locked behind different tools, meaning exploration is much more about backtracking than actually finding new locales. This can become especially grating when you are forced to return home to create a new item to advance and not because you chose to go back to experiment with your bounty. When combined with quests and tasks that lead to nothing but exposition without you even making an item, it can leave you with a deflating feeling that you engaged in something for nothing.
There is a lot to love in Atelier Ryza 2, whether that's the immersive crafting, the flashy combat, or charming 'fish out of water' story. The world is colorful and works well with the catchy soundtrack that will stick with you well after turning the game off. Unfortunately, this first impression is dashed by a lack of challenging combat, filler-style quests, and one-dimensional exploration that serves to make the experience more monotonous as you go further in. While the heartfelt story is satisfying and the crafting is immersive, only those captivated by these elements will see the game through.
A PS4 key was provided by PR for the purposes of this review.
Some of the coverage you find on Cultured Vultures contains affiliate links, which provide us with small commissions based on purchases made from visiting our site. We cover gaming news, movie reviews, wrestling and much more.

Verdict
Atelier Ryza 2: Lost Legends & the Secret Fairy has a personality all its own with fun crafting and flashy combat, but falls into common RPG pitfalls such as constant backtracking and tedious questing.