The Holidays are soon approaching, which means it's almost time to crack open your pirated copy of The Holiday Special and snuggle up with your warmest Bantha as the winter months set in.
However, before you can do that, you'll need to start thinking about gifts for all of your fellow Star Wars-loving friends and family, but we've got you covered with a selection of goodies from the entire franchise that will please both the smallest younglings and the oldest and wisest Masters out there:
These totally chill Han Solo Icecube Trays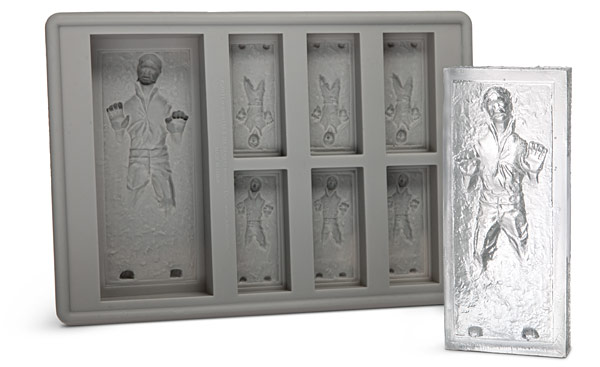 Even though it's getting colder, you've still earned yourself a nice chilled glass of blue milk, and what better way to cool it down than with these Han Solo Carbonite ice cube trays? The best part is that you can also use the silicone mould for things like chocolate, jelly and fruit juice, so there's no escape for poor Solo.
An interactive BB-8 friend
What better gift than the Galaxy's cutest droid? This interactive BB-8 has 17+ sound effects, it lights up and its head will move as it recognises your voice commands. Perfect for some companionship next time you go trekking through the desert.
a new hope notebook to scribble all your Rebel secrets into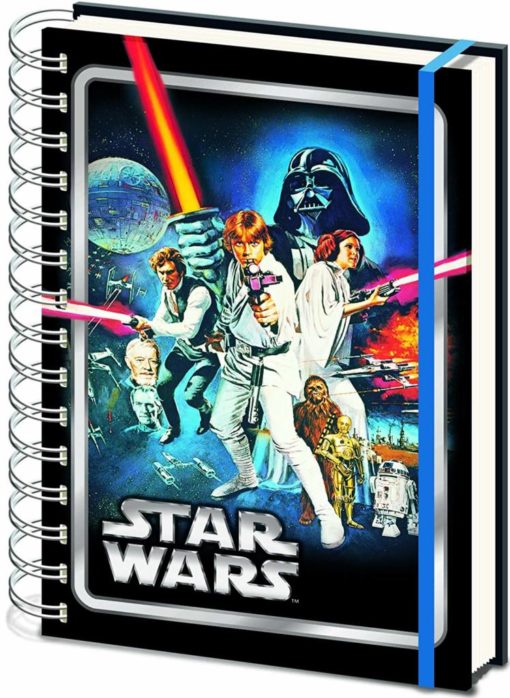 Featuring the classic New Hope poster image, this spiral-bound notebook makes the perfect gift for a fan of the original trilogy! It's A4 sized, with 90 pages for your friends and family to doodle on as they please.
Your very own cuddly Porg
If you're as excited about The Last Jedi's Porgs as we are, then you'll be excited to know that you can own a cuddly Porg of your very own! Bring it to the cinema to mop up tears of joy, save seats for your friends etc etc.
Enough rogue one Funko Pops for a smuggler's bounty
A set of rogueish Pop figures for the discerning collector, this eight-pack contains some familiar faces from Rogue One: A Star Wars Story, and had a limited edition run of 3000 pieces. Give it to someone and make them weep when they remember what happened on Scarif.
This cute r2-d2 loungefly purse
It's not difficult to balance geek and chic with this Loungefly R2-D2 dome bag. Loungefly is a brand well-known for its stylish range of geeky goods, so make sure you check out the rest of the range if you know a stylish Star Wars fan!
A snuggly yet rogueish Chirrut sweatshirt
This warm Chirrut sweatshirt will help remind your friends and family that they're one with the Force, this holiday season! It features Chirrut's most famous line along with a design featuring the man himself, and is made of 50% cotton, 50% polyester.
A Darth Vader costume for younglings…
The Rubie's Official Disney Darth Vader costume is great fun for kids who feel drawn towards the Dark Side! Including a jumpsuit, mask and cape, the costume should keep budding Sith Lords happy when the cold weather sets in.
…and a Vader costume for those who claim to be your father!
Adults can get in on the fun of being Darth Vader too, as Rubie's does an adult version of their popular Darth Vader costume! Made from 100% Polyester, it comes with a chest piece, cloak, mask and a lightsaber: everything you need to start ruling your own Death Star!
That Chewie mask that went viral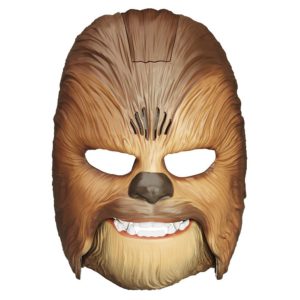 Remember that video of the woman who was having entirely too much fun with this Chewie mask? Well, now you can spread some laughter too with the same mask, which features sounds which are activated by your own mouth movements. Get ready for a loud Holiday season as you roar and growl your way through awkward encounters with distant relatives.
A Lando shirt that'll make you say "Hello, what have we here?"
The young Han Solo movie is set to hit cinemas in May of next year, but for those of you who just can't wait that long to start sporting your Lando love, this 100% cotton Rock Poster Lando shirt is available right now. Featuring a cool colour palette and Lando's signature "Hello, what have we here?" line, this shirt will certainly turn a few Cloud City heads.
40 stories for 40 years of Star Wars
Released several months ago, "From a Certain Point of View" is an anthology story collection that features Star Wars stories from a range of popular writers, including Griffin McElroy, Matt Fraction, Pablo Hidalgo, Kelly Sue DeConnick and many more. Each story tells a "secret" or "hidden" Star Wars stories about what was really happening during some of the galaxies' most famous tales, and is a book that any Star Wars fan will appreciate.
A Lego Phasma to strike fear into the hearts of Master Builders everywhere
Perfect for builders young and old (though the packaging says ages 7-14!), this Phasma building set will give you something to do whilst you're busy waiting for turkeys to cook and relatives to arrive. It contains 82 pieces and comes with a nice, dramatic cape to terrify any blocky Rebels who might be hanging around your home.
A Chewbacca seatbelt cover to keep you safe and stylish
A perfect gift for young ones who don't like wearing their belts, or for older fans who just want to turn their ride into the Millennium Falcon, this Chewbacca seatbelt cover will make everyone laugh when you strap in to head to Hyperspace.
Stylish socks for Force Awakens fans
Your friends and family will appreciate the warmth of these Force Awakens socks if they're ever sent to Hoth! Three designs featuring Kylo Ren, Rey and BB-8 mean that they'll have a difficult choice to make: almost as difficult as choosing between the Dark Side and the Light.
A colour-changing mug to warm your Jedi heart
This amazing heat-changing mug shows the lightsaber blades in a blaze of colourful glory when hot liquids are added to it, turning a morning tea or coffee into a galactic battle. Perfect for budding Jedis whose Force powers don't work before caffeine!
Adorable Star Wars charms for your charm bracelets
ThinkGeek boasts an amazing range of Star Wars inspired charms, including ones featuring R2-D2, Darth Vader, Stormtroopers and more! It fits all major brands of bracelet (including Pandora, Trollbeads and more!) so it's perfect for the chic geek who wants to make their jewellery a little more Jedi.
Poe Dameron's very own helmet
This stunning Black series Poe Dameron helmet is a real treasure for any fan of Episode VII's dashing pilot. Its internal microphone activates battle sounds and it contains adjustable straps to help with getting a better fit. Perfect for anyone who wants to run around pretending to be Poe Dameron which, let's be honest here, is most of us.
A Finn bobblehead to decorate your desk
If you know someone whose desk needs geekifying, this Finn bobblehead will certainly do the trick! Featuring Finn in his Stormtrooper gear, it's a good reminder that we can always change our own destinies. Plus, it's really fun to wobble when bored.
This mesmerising Star Wars lava lamp
This awesome Rogue One inspired lava lamp is unlike any other in that it's actually a green vessel of Star Wars awesomeness. Clocking in at 40cm (15.75 inches) tall, the battle light features four new ship designs from the hit film Rogue One: a Star Wars Story. When the light is switched on, the mini spaceships will continually float within the lamp, appearing to do battle in space, offering a great new twist on the classic lava lamp for all your Star Wars loving friends and family!
Which of the above is your favourite gift idea? What Star Wars items do you hope to get for the Holidays? Let us know in the comments below!
[vc_message color="info"]Some of the coverage you find on GeekSeek/Cultured Vultures may contain affiliate links, which may provide us with small commissions based on purchases made from visiting our site.
Current affiliate partners:
– Amazon
– Humble[/vc_message]
Some of the coverage you find on Cultured Vultures contains affiliate links, which provide us with small commissions based on purchases made from visiting our site. We cover gaming news, movie reviews, wrestling and much more.