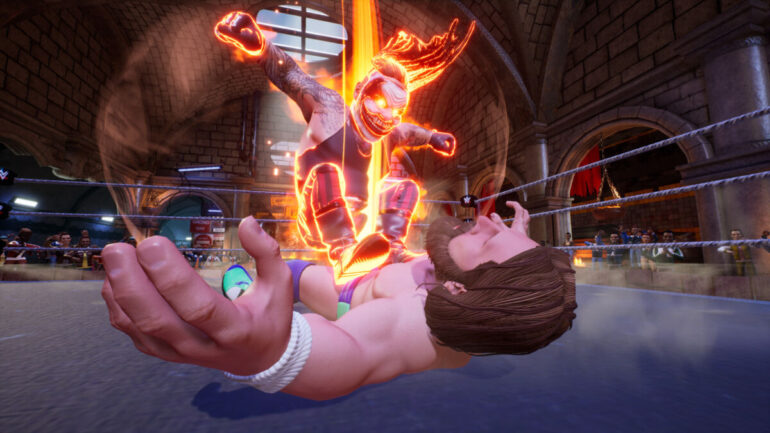 Back when I was eight and bashing my TMNT and wrestling action figures together for fun, WWE 2K Battlegrounds would have been the type of game to keep me entertained for weeks on end. It may not sound like that, but that's praise I'm offering, even if I think the game still has a list of problems.
In lieu of another traditional WWE 2K entry for the franchise, fans were offered an arcade-style brawler, reminiscent of the WWE All Stars game. This doesn't feel like a replacement as much as something that was supposed to accompany a larger title after seeing its art style, simpler concepts, and lower price. In that respect, I find it enjoyable, but I wish I had more good things to say about it.
The character models may seem chibi and cute, but the game packs a punch in what it tries to offer. There are a total of seventy unlockable wrestlers and eight arenas, along with the ability to create characters and customize arenas. Battlegrounds is reaching for that hard to grasp sweet spot of fun and accessible for casual players while being nuanced and taking much longer to master for those that want to put some real time into it. The combat is easy to learn, simple attacks and straight-forward mini-games for the most part, with characters having classes, selectable talents, and meters to micro-manage. There are a ton of WWE wrestlers, references, and fun callbacks to sate hardcore fans, but the action gameplay still has a chance of luring in those who aren't fans of the product already.
I'm among the group that was initially turned off somewhat by the art style and presentation of the characters with that first trailer. Truthfully, I just didn't realize I wanted something it could offer, whether the appearance sold me or not. I'm a huge fan of brawlers and arcade-style games, so once the fists started flying, any trepidation I had with the visuals were immediately gone. It's fun, entertaining for the eyes, and although not every character model looks great, I started to pop when unlocking new combatants. Having the duo of Mauro Ranallo and Jerry "The King" Lawler fused into one pair was a nice surprise. They are one of the more pleasant commentary teams I've heard in a wrestling game in recent memory. It isn't that they won't get old eventually, but that the tandem genuinely seems invested in the action and work smoothly with each other.
The campaign mode is enjoyable, featuring a new, but still familiar, story about a group of rookies making it to the big stage in an effort to become the next top superstars in WWE. Things are a bit different, however, in that these stars are participating in a new type of wrestling match, the Battlegrounds, helmed by the combo of Paul Heyman and "Stone Cold" Steve Austin. The story is told through entertaining comic pages as the colorful new heroes meet and take on a slew of WWE talents. Players will enjoy this campaign for the story and it unlocks a good bit of content for other modes.
Things start off a bit too easy. Several people online have pointed out how some fights can be won with a single attack used over and over, without bothering to press another button until the pin. This does change eventually in the two main progression modes, becoming way more difficult to defeat opponents and seeing some of their moves on the player becoming much cheaper. How many times can Bobby Lashley throw me into this alligator's mouth? Being overly aggressive against the AI later on seems to generate the best results, while foregoing trying to have a good match.
The combat itself is simple and easy to get a handle on. The repetition of those strikes and grapples feels exciting still because the actions that follow them are so vibrant. There are a few different moves, strikes, kicks, various powerful grapples controlled by the right thumbstick, submissions, a way to amplify some of these attacks, and of course signature moves and finishers.
The problem is that figuring out how to do some of those stronger moves or a favorite superstar's finisher can be tedious. Sometimes it can be tough not to keep doing the same move over and over again especially because several characters share move sets and harder opponents require the player to stick to the few attacks that work. There are a few intriguing mechanics, even with keeping things simple. For instance, in some cases, the crowd will yell out a move and if the player performs that specific maneuver, they get an extra boost for their meter. Small things like this are fun, but don't help the move sets feel less limited, sadly.
Reversals can be quite useful, almost to the level of abusing them in some fights. The timing on some actions feels weird, just off a bit, but thankfully the systems themselves aren't too annoying to manage. The other 2K games could learn something from keeping things simple and fun. It is a wrestling game, so of course, the targeting system isn't good and complicates multi-person matches. The AI is also a problem and has some true moments of stupidity. There are instances where they decide to just repeat the same moves without pausing or just not act at all. It's easy to get angry at them.
Saber Interactive, the developers of Battlegrounds, had a ridiculously low bar set for them after WWE 2K20, but I'm guessing they didn't want to feel left out. There are times when characters get stuck, there's a good bit of stuttering, lag, as well as slowdown that can hit hard enough to make the match unplayable, and the game completely froze on me at one point. The most ridiculous moment came when I was playing an offline match against the AI with my wife on some glorious couch co-op and we lost due to a 'connection error.' How does that work?
Having friends to play with, locally or online, is the best way to give Battlegrounds some longevity, but 2K is up to their usual tricks to try and keep everyone coming back. There are some limited-time deals in the shop and daily challenges to keep people checking in, plus we have a slew of superstars that are going to be added. Some of these will most likely be free, acquired by the Battle Bucks in-game currency. I admit that unlocking everything at first did feel quite rewarding — a fun waste of time — but the grind is quite real and there is of course a second, cheaper currency that can be purchased with actual money if you're so inclined. There is a lot to unlock and everything is for sale it seems. What the game could really use is some more of those interactive stages, if they won't be a pain to get.
WWE 2K Battlegrounds isn't a bad game, especially coming out in such a disappointing time, but it may have done better on the mobile market and won't scratch the itch for every fan. With some tweaks, however, Battlegrounds could be seen as an entertaining, above mediocre distraction, with a goofy look, remembered as the less offensive alternative.
A PS4 code was provided by 2K PR for the purposes of this review.
READ NEXT: 10 Wrestling Games Better Than Undertaker vs. Shawn Michaels
Some of the coverage you find on Cultured Vultures contains affiliate links, which provide us with small commissions based on purchases made from visiting our site. We cover gaming news, movie reviews, wrestling and much more.

Verdict
WWE 2K Battlegrounds is an interesting distraction that wants to appeal to everyone, but will have trouble keeping a headlock on anyone for too long.