Recent mercenary management games have really been leaning into the strategy side of the tactical role-playing subgenre. The impact of the Mount and Blade series and Overhype Studios' smash indie hit Battle Brothers is beginning to show in upcoming strategy games. Shiro Games' upcoming WarTales looks to join the ranks of its core inspirations as another lengthy and enticing game about the life of a mercenary.
WarTales is a real-time tactical mercenary management role-playing game set in a low fantasy medieval-inspired universe. Players will control a budding mercenary company by moving around a strategic map, exploring locations, taking on village contracts, learning crafting recipes, and, most importantly, engaging in turn-based tactical battles. The ultimate goal is to become a renowned mercenary company that will be remembered for years to come, though in the current build of the game the overarching objective isn't clearly spelled out.
If Mount and Blade and Battle Brothers act as two pillars of mercenary manager game design, then WarTales sits between the former's exhaustive freedom of activity and the latter's focus on lethal and exciting tactical combat. Most prominently, WarTales aims to include additional layers of strategic flexibility in interacting with the world. The developers do this by including a character profession system, moderate levels of interactivity with villagers and quest givers, as well as an extended crafting system.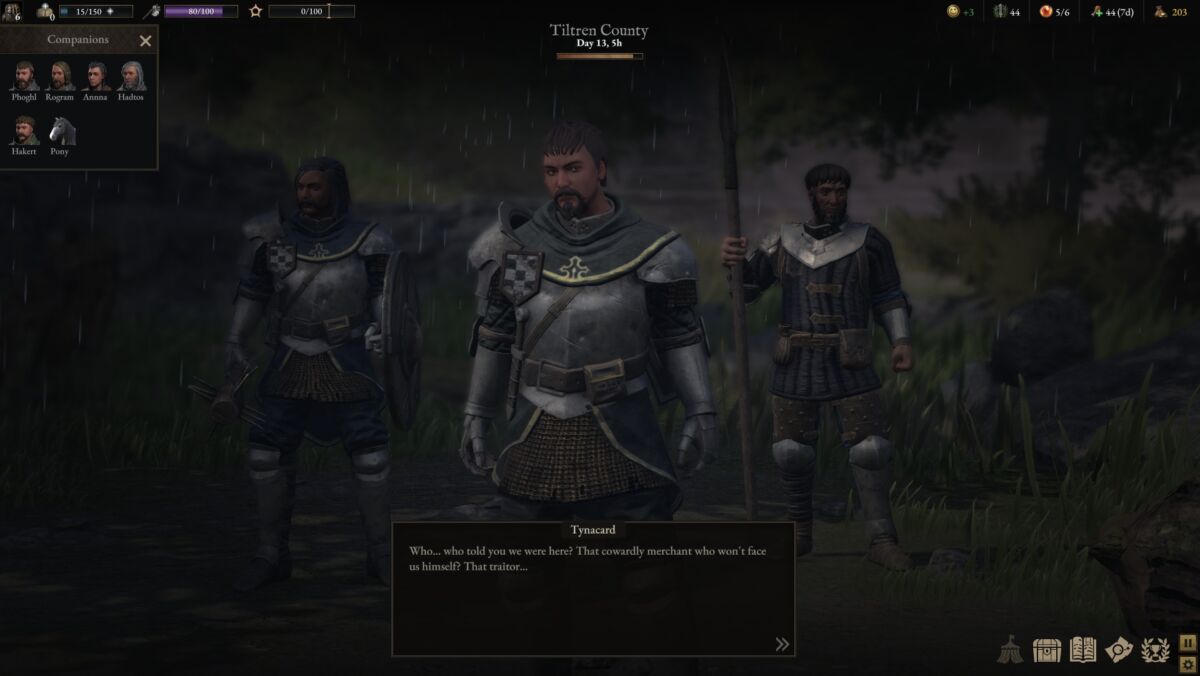 The professions and crafting system in particular let the player utilize their characters in activities other than combat, mostly through crafting or harvesting minigames, in addition to utilizing loot of various kinds to equip the company. Though the minigames themselves aren't inspired and are perhaps too simplistic for their own good, the fact that characters serve a logistical role in the development of the mercenary company as a whole shows potential for where the game could expand. Being a sellsword isn't just about fighting, after all.
While the interactivity with villagers and the people of WarTales' is nowhere near the levels of a full-fledged role-playing game, there's just enough there that certain missions and contracts may have simple binary choices that can steer the company's reputation in a desired direction. This has the benefit of adding weightier moral decisions to how the player approaches the development of their for-hire organization. Granted, any given decision does seem to only have a limited effect on the world as a whole, but it's still a promising hint of a fleshed out dynamic world.
The most intriguing facets of WarTales are definitely its character progression system and the combat. Instead of going for the completely open character development approach found in Skyrim or even Battle Brothers, where players have an unprecedented amount of control and flexibility in developing their characters, all recruitable companions are assigned to a distinct class, which can be further specialized into one of three subclasses. This may initially seem like more of a limiting approach to character progression and design, but there's currently just enough depth and variety to class roles and abilities that there's room for experimentation and effective theorycrafting.
Combat is where character classes and the game's quality can really shine. The first couple of engagements I was definitely not impressed by the dynamic and flow of combat, in that it seemed that character classes at low levels had very little to do except move forward and whack opponents harder than getting hit back.
However, as characters levelled up, equipped new skills, and the party faced new challenges, combat began feeling far more interesting, as companions had more to do and most fights provided unique scenarios to grapple with. Altogether, combat is fun, but can benefit from balancing and improved pacing throughout the game to make combat engagements consistently fun and compelling, regardless of character level.
That being said, WarTales is chock full of presentation, technical, and quality-of-life issues that mire the game's intriguing elements with a general level of annoyance. The developers definitely have their work cut out for them.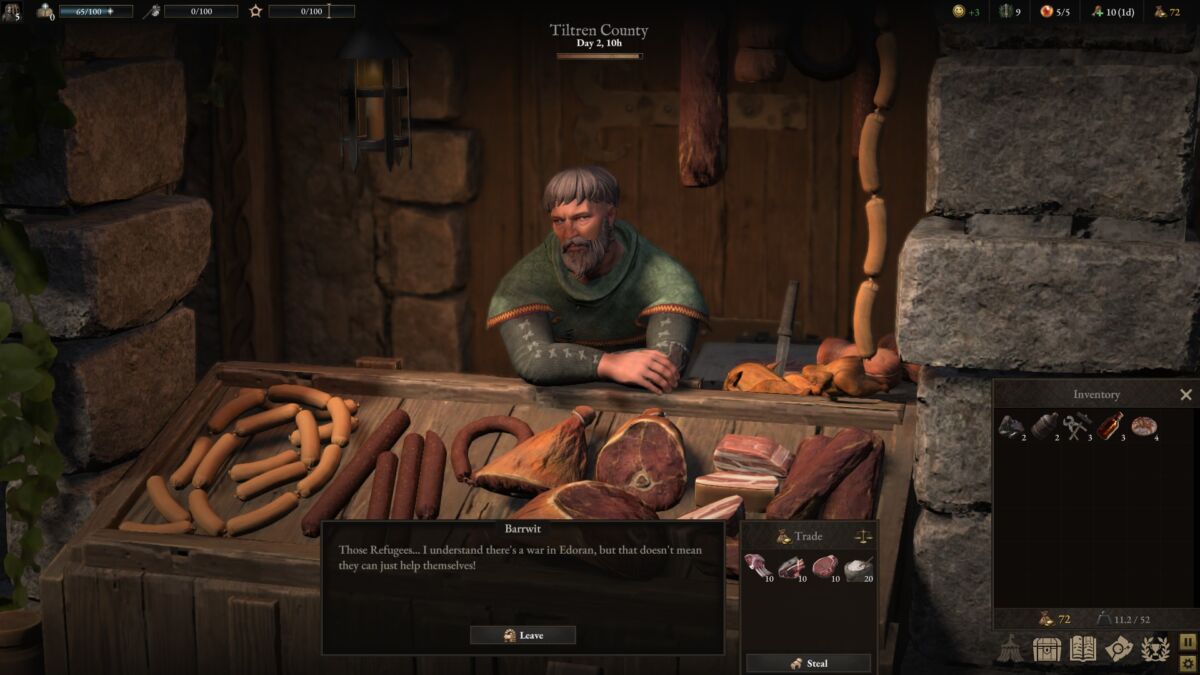 First off, WarTales isn't entirely stable, as I experienced a couple of crashes related to quest progression. The game also has a number of bugs, such as characters killed in combat returning to the company, but essentially lose function. This may also have happened because I took a prisoner in the same fight, which might have treated the dead character as the prisoner.
From a presentation standpoint, WarTales' most annoying feature is the lack of gamma and brightness control. Normally, this wouldn't be too much of a problem if the game's world and art direction gives enough color and inherent brightness to easily read the map. However, for some reason, when entering locations, engaging in activities, or most commonly when interacting with people, the overall brightness dims to the point that it may be difficult to read text and dialogue.
Graphical issues and technical jankiness aside, the lack of quality-of-life features, such as flexible camera controls, minimap, time dilation controls, and inventory management filters, hurt the gameplay experience the most. Collectively, these missing systems and elements hamper WarTales' pacing on the strategic map and makes exploration and company management more frustrating than it needs to be.
Despite its issues and lack of polish in its current Early Access build, WarTales shows promise. My experience with it was similar to the Blood Bowl 3 beta where new systems and changes to the formula were diluted in their impact by technical issues and lack of polish.
Ultimately, WarTales, just like the player's band of mercenaries, has a long road ahead of it to reach its full potential.
A PC key was provided by PR for the purposes of this coverage.
READ NEXT: Darkest Dungeon 2 Strategy Guide: Items, Enemies, Skills & More
Some of the coverage you find on Cultured Vultures contains affiliate links, which provide us with small commissions based on purchases made from visiting our site. We cover gaming news, movie reviews, wrestling and much more.