The Blood Bowl series is coming back with a bang with a new iteration once again developed by Cyanide Studio. This time the veteran developer team has teamed up with Nacon (Focus Home Interactive published the previous two) to bring a new and updated version of Games Workshop's tabletop miniatures game. Though Blood Bowl is technically set in an alternate version of the Warhammer Fantasy universe, where the major factions vent their urges for war in bloody sports instead of on the battlefield (as far as we know), it has little relation with the main timeline found in Creative Assembly's Total War adaptation of the license.
Blood Bowl 3 follows its predecessors' structure almost verbatim in that it's a turn-based strategy mashup of rugby, American football, and chess. Players will create a team from the multitude of races on hand (there were only three in the preview), hire players, customize their visuals and accessories, and take them to the field to play in tense matches against other players or the AI.
It's safe to say though, Blood Bowl 3 has a long way to go to reach Blood Bowl 2's current solid success, as in its current beta state there are a number of technical and stylistic issues that are alarming at worst and make the game quite frustrating to play.
From a graphical and presentation standpoint, the game certainly looks flashier, more refined, and smoother than its most recent predecessor. However, the choice of colors and their saturation, as well as the rather busy map designs (the Imperial Nobility map especially) make it very hard to read and understand the action. The players on the field don't stand out enough and can easily blend with the map's overall color palette.
The UI doesn't do much to help with readability either. It's definitely more stylized and fits the sports theme of the game, but it comes across as too busy, clunky, and a lot of element sizes and colors make the UI also blend in with the map (it took me a couple of playthroughs to even find the tiny re-roll indicator). For a sports game, it's vital to have an at-a-glance understanding of the layout to make quick tactical decisions, but currently Blood Bowl 3 seems to fight the player, making the experience more stressful than it already is.
Probably the worst offenders in Blood Bowl 3 are the slew of technical issues – bugs, crashes, and input lag. The most prevalent bugs were seriously game-influencing, if not outright game-breaking, such as players getting stuck between squares and becoming unselectable, or the game choosing a vital activation type without the player's notice and messing up their plan for the turn.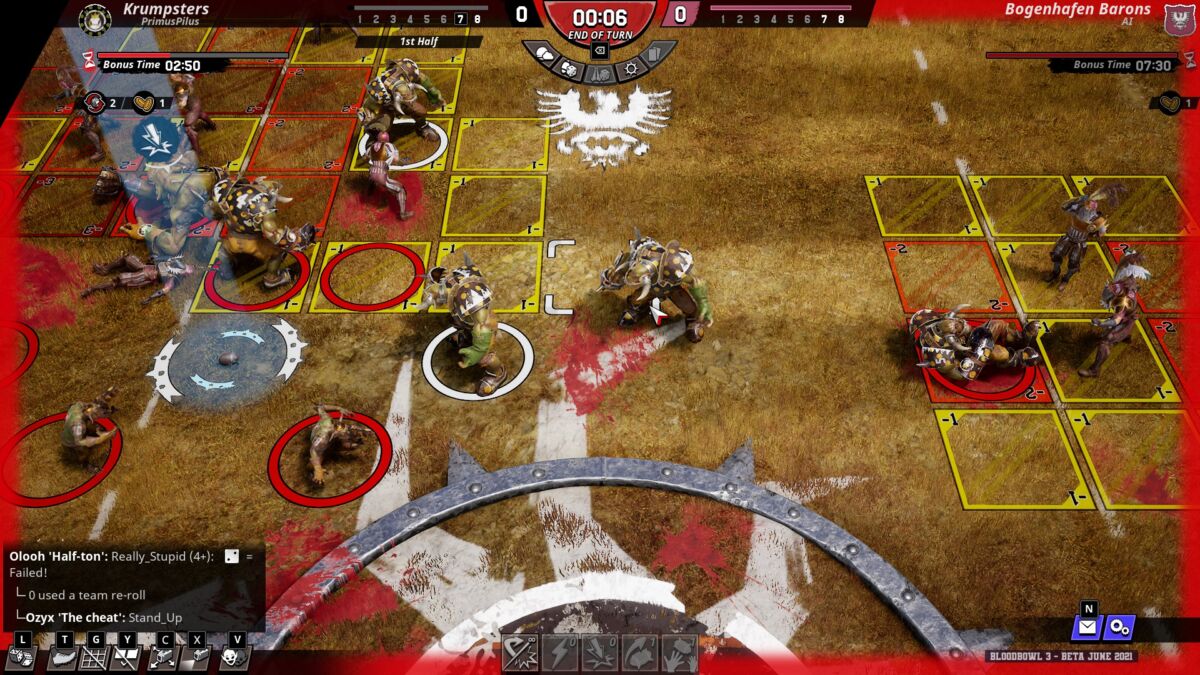 I crashed a few times, mostly from menu switching or attempting to leave a match. There's also plenty of input lag in both the menus, especially in team recruitment for no good reason, and on the fields of play where some players might glitch out or get stuck from the input lag. I understand Blood Bowl is supposed to be chaotic (the fun and controlled kind), but in its current state, it's highly frustrating – quite worrying given that the release date isn't that far away.
Luckily, Blood Bowl 3's gameplay core looks promising with interesting additions and refinements introduced while maintaining the game's spirit. Particularly intriguing is the introduction of the passing stat as a new ability for team members, whereas previously agility took care of all ball-handling actions, including passing. This means the developers can be more granular and varied in their team design approach and, in turn, open up additional tactical options.
Another compelling refinement to the game is the reworked player progression system. In previous Blood Bowls, a team member would have a primary stat that they'd specialize in, meaning that when they leveled up they could learn a skill associated with their specialty and the only way to diversify was to get a lucky dice roll, making it too reliant on RNG. Now the system has added levelling thresholds for team members to reach, allowing them to diversify their skills without necessarily having to rely solely on RNG. This gives the player more control over how they want to build their team and develop their own tactics.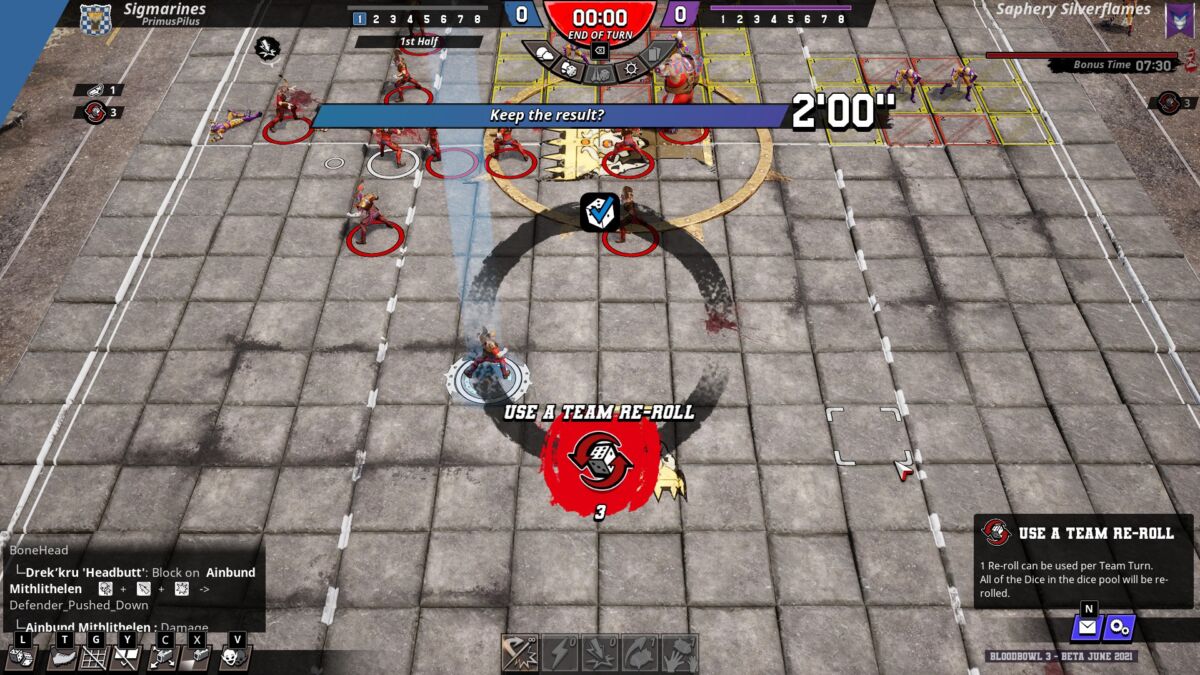 Though there were only three teams in the preview build, each exemplified a particular playstyle archetype showing that the developers are attentive to including a diverse roster of teams at launch. There's certainly plenty of promise in the advertised 12 launch teams (up from 8 at Blood Bowl 2's launch).
Blood Bowl 3's gameplay foundation is solid and the developers' hearts are in the right place. Their long and storied experience with the Blood Bowl franchise certainly gives a lot of hope for the future of the game and confidence that they will iron out the worrying technical aspects of the game. It's too early to tell if Blood Bowl 3 will maintain the series' status as the premier strategy sports game, but it's definitely poised for victory.
A Steam key was provided by PR for the purposes of this preview.
READ NEXT: The Best Warhammer Strategy Games You Should Check Out
Some of the coverage you find on Cultured Vultures contains affiliate links, which provide us with small commissions based on purchases made from visiting our site. We cover gaming news, movie reviews, wrestling and much more.