It was always going to be hard for the latest episode of Game of Thrones, 'The Last of the Starks', to follow the previous episode and not only do right by those who were left perturbed by it, but to also keep up the momentum for those who loved it. It doesn't look like it's managed either: the third episode of Game of Thrones' eighth and final season is the lowest rated in the show's history on IMDb.
Currently sitting at a 7.7/10* on IMDb from 16,543 reviews at this time of writing, criticisms levied at 'The Last of the Starks' are numerous. Almost all of the written reviews we saw were negative, and focus on characters completely forgetting, well, their character, terrible decision making from major players who should be smarter, and coincidence after coincidence piling up on top of lazy writing. Oh, and that coffee cup.
'GAME OF THRONES' (2011 – 2019)

Episode: 'The Last of the Starks'

Dir. David Nutter
DP: David Franco pic.twitter.com/JDtgUhAOEy

— Le Cinéphiles (@LeCinephiles) May 6, 2019
Spoilers follow for those not up to date.
Here is just a small sample for the episode's reviews on IMDb; almost all of them are along these lines.
From heptagons-34863:
"I really want to enjoy this show, I really do. And if it was just one episode I might be able to suspend my belief. But this nonsensical stuff is just thrown at us again and again, and it really takes me out of the moment.

"Help, I just want to enjoy my favorite show :("
From david-83233:
"I could go on and on, but you get the point. This show has, amazingly, gone from one of the greatest shows ever to truly cringe-worthy, fan fic, "gone Hollywood" absurdism. WOW!!"
From damrock:
"What is going on?

"Watch this episode and ask yourself why…Seriously what the hell is going on with the writing???

"The last 35 minutes of this episode just make no sense at all, I'm actually speechless at the major decline of the show. What a disappointment Season 8 has become."
From guilhermecoelhorocha-66-787211 (very catchy name):
"One of the worse episodes in all seasons. Reviews will certainly be a record low for the show.

"A waste of money, time watching and wait."
From bruinsblackhawks:
"I've never written a review before but this called for one… I hoped it would never happen to the show, but it did. This show had been so superior in writing for the longest time and now it's just cutting corners for the sake of setting up some cool shots or dramatic takes, and it's an extreme disservice to not only the loyal fans but GRRM himself. I've tried to excuse it for the last couple of episodes, but this is not the Game of Thrones that I've loved for the longest time. I will no longer be looking forward to watching this show… I thought Game of Thrones was better than choosing shock-factor over actual storytelling, but I was wrong. I truly hope others can enjoy the new direction the show is taking, and if you do, then you are extremely lucky and I hope it lives up to your expectations. Sadly, however, I am not one of them. I'm sorry this is how it is ending, GRRM, because I don't think this is what you'd have wanted."
And one last one from ogdila:
"I made my decision, I am not going to betray the good memories I have from this show. I am going to stop watching the show, and wait for the book. It may come out one day, or it may not, but it is better to wait than to see a poor fabrication of what it should have been."
While 7.7/10 isn't bad on paper, it's a significant step down from the ratings the other seventy episodes of the show have received, which never ducked below 8/10 across all its seasons. For comparison, the immensely polarising previous episode, 'The Long Night', still managed an 8.5/10 from over 120,000 reviews, though it having more than twice the amount of reviews of the previous episode is a little odd.  Every single episode bar one of Season 7 (which many fans believe was rushed) managed a 9 or above on IMDb. Worst of all, even 'Unbowed, Unbent, Unbroken' from Season 5 (the terrible, terrible Dorne episode) is better reviewed than 'The Last of the Starks' with an 8.1/10.
While there's still time for 'The Last of the Starks' to get over its early nosedive, it's not looking good for the episode. With two episodes of the show left in total and a seriously annoyed fanbase left to contend with, it's not looking great for Game of Thrones overall to conclude in a way that befits it, either.
As for our opinion on the episode, any show that leaves its best character so brutally unpetted should be immediately shot with a big bloody arrow from a ship that comes out of nowhere.
You deserved better, Ghost.
*UPDATE: in-between writing and publishing this, the user rating dropped to 7.6/10 from 19,675 reviews. Crikey.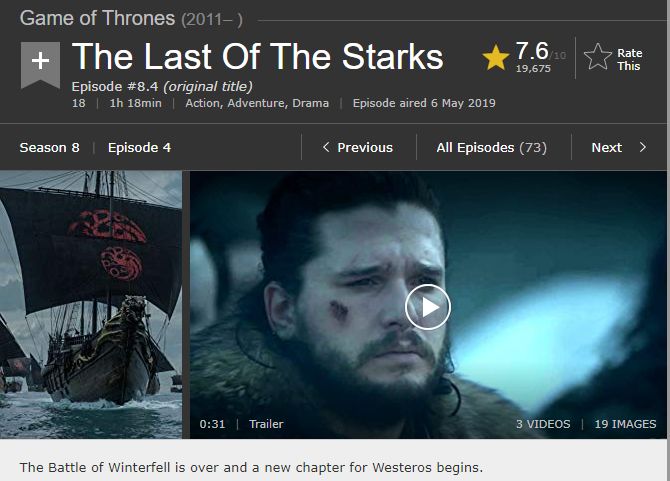 UPDATE 2: it's now down to 7.5/10 from 22,889 ratings.
UPDATE 3 (last one or we will be here forever): 7.4/10 from 29,014 ratings.

What did you think of the episode?
READ NEXT:
– Game Of Thrones: Season 8 – Episode 3 Death & Sex Stats
– Game of Thrones Season 8 Episode 4 Trailer Reveals Rhaegal & Ghost's Fates
– 11 Best Moments From Game of Thrones Season 8: Episode 3
Some of the coverage you find on Cultured Vultures contains affiliate links, which provide us with small commissions based on purchases made from visiting our site. We cover gaming news, movie reviews, wrestling and much more.