I miss football games. Yes, today we have some of the best simulations of the beautiful game available to us, with graphics so realistic you can probably see the beads of sweat on Paul Pogba's head. But these days, if your interest is football, you're limited to only two mainstream series: FIFA or PES/eFootball. Back in the golden days of gaming there was endless choice to tickle your fancy, you indeed had FIFA and International Superstar Soccer (PES), but you could also take your choice from the likes of Kick-Off, Super Soccer, Striker, Actua Soccer, Sega Worldwide Soccer — the list can go on and on.
Despite all these games being about football, they all still managed to be rather different, and put their own stamp on the sport. Over the past few years, we've seen several indie games attempt to plug this gap and create unique and cool looking football games. Recently, one of those games, Super Arcade Football, has just hit its 1.0 release.
It doesn't take long to realise that Super Arcade Football has taken much of its visual design from a classic of the football gaming genre, Sensible Soccer. It's a lovely homage, and in doing so, Super Arcade Soccer celebrates what made those 16-bit football games so special.
Much like Sensible Soccer, Super Arcade Football's appeal comes from its simplicity. It's entirely possible to play the game one-handed and is actually easy to do so. WASD handles the moving around, the space bar is 'kick' and that's all you need. It's easy for anyone to get on board with and also allows for two players on a single keyboard, with player two using the direction keys and enter.
While the game itself seems to be inspired by the likes of Sensible Soccer, the actual feel of the gameplay is closer to the likes of New Star Soccer, and while New Star Soccer has had some criticism over the years, its core gameplay is easy to pick up and play. Despite the easy to get to grips with gameplay, there's a certain challenge when it comes to beating the CPU as their AI is clever, so despite the cutesy look, it's a difficult little game at times.
There's a few elements of the AI of Super Arcade Football which could use cleaning up though, while as it's clever and aggressive, there are times where it feels a little 'cheaty'. For instance, kicking a ball off screen towards a teammate can sometimes be intercepted by the AI, who has moved into position to intercept before you've had a chance to catch up with where the ball is landing, which can leave the game feeling a little unfair at times.
Also, like with most football games, Super Arcade Football auto-selects the best player for you to control when you're off the ball. Sometimes this just doesn't work however, and you'll find yourself in control of a player who has no chance of getting the ball.
While the single 'kick' button makes for a simple gameplay experience, it also means that there's not a lot of depth to the gameplay. Moving through the field, you'll have to rely on clever maneuvers and passing over the big picture of football. While it's not a deal breaker, I can't help but feel like the ability to cross the ball over opponents, sprinting at key moments or being able to hit a more powerful shot at goal would really add another dimension to the gameplay.
In terms of game modes, much like everything else, Super Arcade Football keeps it simple. There is, of course, a quick match mode for those who wish to dip straight into the action. There are also tournaments, which cover both leagues and knockout tournaments, as well as a mix of the two, for a World Cup style set up.
You can create your own tournament, or play one of Super Arcade Football's preset tournaments, which are more unique than you might think. For instance, one tournament may have fouls turned off, or perhaps no boundaries which eliminate the need for throw-ins and corners. Super Arcade Football has many special options to spice up each match, such as speed panels on the pitch, entire pitches of ice or even meteorites.
One thing that the game lacks is a prolonged 'season' mode. While I don't expect a small indie game to have an in-depth mode that guides you through multiple seasons, I think it would add something extra to the game. It's an easy title to pick up and play, but there's nothing to keep me coming back to Super Arcade Football long term.
There are other settings that can be changed, such as the speed of the game, or even things like the size of the goals themselves. While there's no season mode as such, there is a 'story mode' which sets you the task of winning matches in certain ways to gain a 1-3 star rating, and to do so might see you be required to score more than 2 goals, or score a goal from outside the box and so on. Sadly, these matches don't feel linked in any significant way, which leaves the story mode feeling a little shallow. There's other both made and female teams present here, and while graphically it doesn't make much of a difference, their inclusion is a very welcome addition.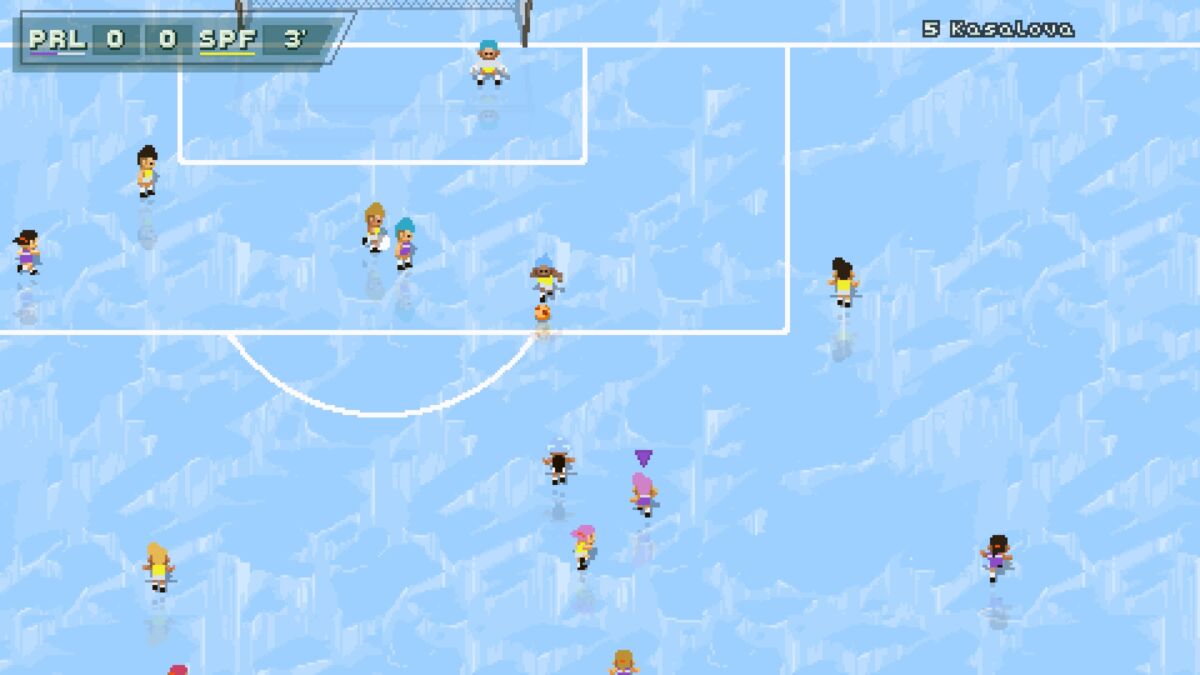 Graphically, the game has some lovely small pixel style sprites, and while there isn't a whole lot of detail due to the 16-bit style art, the graphics are cute and incredibly charming. Music and sound are as you'd expect, ball kicks and crowds are all pretty standard fare for most indie football games and they're all perfectly well done here. Music is only really used during menus, and they're pleasant, chirpy little tunes to keep you company before your next match.
Super Arcade Football is a fun follow-up to OutOfTheBit's 2019 game Super Arcade Racing. It's a great little pick up and play, budget retro football game. Over the past few years, the retro style football game genre has seen a number of entries by indie developers and despite being a solid game, I can't help but feel that Pixel Cup Soccer – Ultimate Edition or Legendary Eleven: Epic Football would be my preferred purchase. However, Super Arcade Football is cheaper than both these games at the low price of £6.99 or $9.99, which it certainly is worth.
A Steam key was provided by PR for the purposes of this review.
Some of the coverage you find on Cultured Vultures contains affiliate links, which provide us with small commissions based on purchases made from visiting our site. We cover gaming news, movie reviews, wrestling and much more.

Verdict
While it's not perfect, Super Arcade Football is an entertaining way to enjoy the beautiful game.