One of the biggest new additions to Sons of the Forest is firearms, with the Pistol being a weapon that a lot of people will likely stumble across in the early going. However, there is another, non-lethal weapon for you to get your hands on: the Stun Gun. And it's not far from where you might first spawn, but actually getting to it is another matter entirely.
The Stun Gun can be found at the following cave on the south coast which isn't far from the crashed helicopter on the map; you'll need an axe to break the wood barricading it.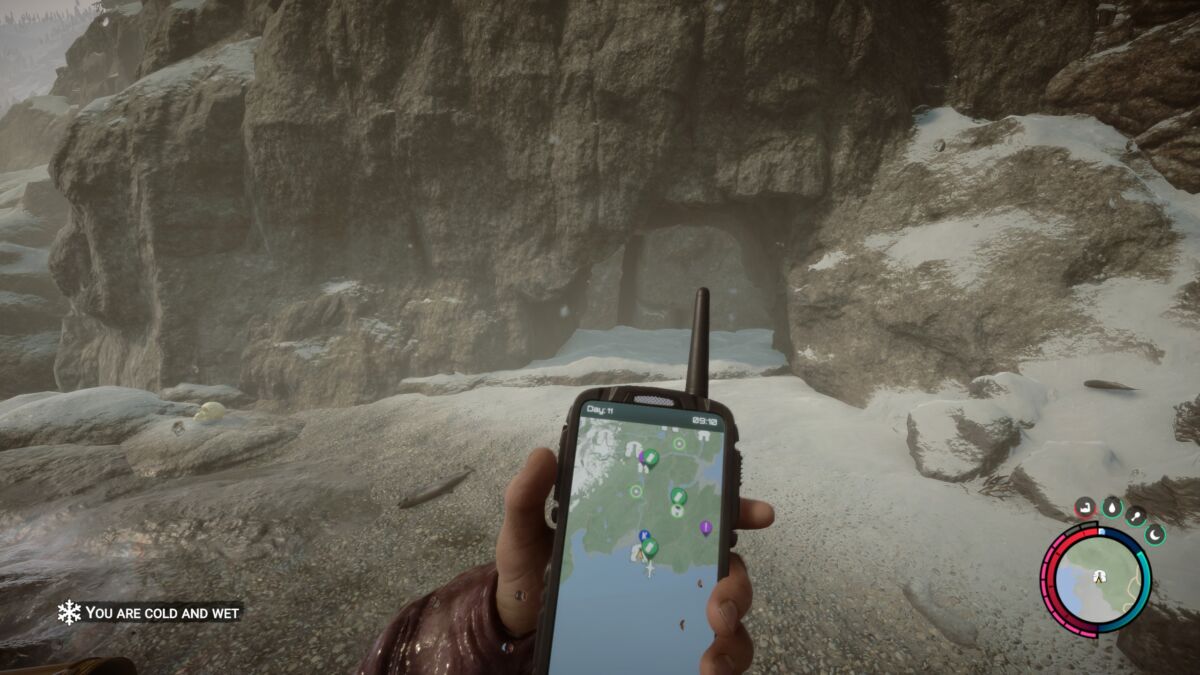 However, it is strongly advised that you don't go deep into these caves until you at least have armor and at least one Grenade, as this place is absolutely swarming with mutants. The Pistol wouldn't hurt either, neither would a whole bunch of Meds. The Flashlight also gives you the best light source down here, so be sure to grab that.
Once you get inside, you will probably find a skull and a few other resources. All will seem quiet first as you go deeper and deeper down, but eventually you will run into hard-hitting mutants that will kill you in a couple of strikes. Word of advice: don't try to fight them, especially if you're on your own. Simply run past them and keep hanging every right, past the dozen or so other mutants until you eventually get to what seems like a dead end, then crawl underneath some stalactite to get to an area where you cannot be attacked by the almost horde of mutants. Here's where that Grenade comes in handy — throw it at their feet and take care of them all in one fell swoop. Use your Spear to jab at any survivors.
With the coast clear(ish), go back from this dead end, then take the other open path that you haven't yet gone down and run past any more mutants that come your way until you eventually arrive at a hanging corpse.
The Stun Gun can be found above him stuck into the ceiling. Pick it up and add it to your inventory. You can either double back the way you came to escape the cave, or keep exploring to find another path that eventually leads to the Rebreather.
The Stun Gun, though, is very useful in a last ditch situation where you have nothing else and need to get away from a strong enemy, as it will stun them in place for a few seconds and may even make cannibals retreat. It fires a single "round" before it needs to be somewhat slowly reloaded and takes Stun Gun Ammo, which you can find sometimes in the containers on the beach where you washed up and also at abandoned camps.
After some more help against everything that wants to make you dead on this dang island? Don't worry, we've got you covered with a look into becoming a fisherman.
Sons of the Forest is available on PC.
READ NEXT: Sons of the Forest: What Does the Red Mask Do?
Some of the coverage you find on Cultured Vultures contains affiliate links, which provide us with small commissions based on purchases made from visiting our site. We cover gaming news, movie reviews, wrestling and much more.