As we approach the end of the 2010s, we can look back on what has been a huge decade for television. The 21st Century has been regarded as the Second Golden Age of Television and, when looking back on the past decade, it is not difficult to understand why. From sitcoms to cartoons, political dramas to zombie horrors, epic fantasies to superheroes, the 2010s have seen a huge variety of different television shows premiere, while a number of older series have concluded during the decade, following the peak of their ratings.
With so many different series on the air, some have to have a place of significance within the crowd, whether because of their critical and commercial success, or because of their impact, and this article will look at ten such series in alphabetical order. They do not necessarily need to have started in the 2010s – long-running series which began in 2009 are eligible as they were still very much in their infancy when the new decade began, and so are held as part of the 2010s rather than the decade before. (Would you believe The Sopranos started in the 90s? There you go.)
1. Adventure Time (2010-2018)
Cartoon Network has created some enormously successful and unique original shows – Dexter's Laboratory, Johnny Bravo and The Powerpuff Girls being just a few examples. At the start of the new decade, Adventure Time went on to be the most the network's most unique and different series to date. Set in the post-apocalyptic Land of Ooo, the series follows a young boy called Finn (Jeremy Shada) and his adoptive brother – an anthropomorphic dog named Jake (John DiMaggio) who can change shape and size at will. Together they go on all manner of crazy adventures, where they encounter an array of colourful, zany characters.
Drawing inspiration from Dungeons & Dragons and a variety of video games, Adventure Time is one of the most colourful and visually surreal cartoons ever made, whose appeal is not just in the adventures themselves but in the characters. Finn and Jake are a unique pairing, but the series has a variety of memorable supporting characters, including Princess Bubblegum (Hynden Walch), the Ice King (Tom Kenny), and BMO (Niki Yang). The series has gained a huge fanbase, and is equally beloved by children and adults, while an enormous variety of licensed merchandise (including comics and video games) has sold very well, and the possibility and hope for a feature film continues to be discussed, despite producer Adam Muto hinting beyond any shadow of a doubt that a film would not come to fruition.
2. Daredevil (2015-2018)
By 2015 the Marvel Cinematic Universe was seven years and ten films in, a pop-culture phenomenon which became the most popular film franchise of all time. Suddenly being teased for being a superhero fan by your peers wasn't really a thing. As such, there was a clear market for any adaptation of a Marvel comic, but for Marvel there were some characters which were not going to become part of their Cinematic Universe, due to its 12A-rated content that was created with family viewing in mind. Daredevil is one such character, but fortunately Netflix green-lit a series about the blind vigilante, which meant that Marvel could adapt the comics and expand the Cinematic Universe without needing to sacrifice the intense violence and bloody imagery.
Daredevil would have been regarded as a risk a few years earlier, following the critically-panned Ben Affleck film from 2003. However, this series would prove any sceptics wrong, as Matt Murdock/Daredevil (Charlie Cox) translates perfectly to the small-screen, with the vigilante taking on the criminal underworld at night, while working as a lawyer by night. It is a dark and gritty series with far more brutal violence than the Marvel Cinematic Universe films and meaty ongoing storylines. A huge hit with both critics and viewers alike, Netflix green-lit more such Marvel comic adaptations that expanded the Cinematic Universe – Jessica Jones, Luke Cage, and Iron Fist each got their own series before crossing over with Daredevil in The Defenders, while The Punisher later became a two season series. Despite three critically and commercially successful seasons, Daredevil did get cancelled by Netflix, as did the rest of the series in its shared universe. Fans were outraged by the shared universe's cancellation, with particular outrage over Daredevil (the one which started it all), but they hold out hope that the various series will eventually be revived, despite clauses in the contract between Marvel and Netflix throwing spanners in the work.
3. Downton Abbey (2010-2015)
Period dramas are a long-standing staple of British film and television, often adapted from classic literature, which became popular thanks to lavish sets, detailed period costume designs and little glimpses into Britain's past – in particular the lives of its aristocracy, which went into an eventual decline during the 20th century. Created by Julian Fellowes, Downton Abbey went on to become the most successful period drama of all time. Set between 1912 and 1926 on a country estate in Yorkshire, Downton Abbey depicts the lives of both the aristocratic Crawley family and their domestic servants (who are often overlooked in period dramas), as the major events of history unfold, which impact both their lives and the social hierarchy of Britain itself.
Noted for presenting a relatively sympathetic depiction of an aristocratic family in the British class system of the early 20th century, an era where class ultimately shaped society, there is a clear divide between aristocrats and servants, yet both are made up of well-realised characters whose work and personal lives both take centre stage. With a huge ensemble cast led by Hugh Bonneville, Maggie Smith, Jim Carter, and Laura Carmichael, the series' international success and numerous accolades testify to the global appeal of British period dramas, while a film continuation is being released in September 2019. As for the fanbase in Britain, they proved to be very opinionated indeed – numerous complaints were made about the number of commercial breaks, and Dan Stevens's exit in the 2012 Christmas Special led to countless negative Tweets and Facebook statuses as fans mourned the loss of a beloved character.
4. Game of Thrones (2011-2019)
Adapted from George R.R. Martin's A Song of Ice and Fire novels, epic fantasy Game of Thrones has the unique status on this list of being an adaptation which overtook the source material – will Martin ever publish those last two novels? – a status that was the source of some absurdly hilarious material in the Steven Soderbergh film Logan Lucky. Set on the fictional continents of Westeros and Essos, the titular Game of Thrones follows the power struggles within the Seven Kingdoms as noble dynasties enter conflicts with one another, either wanting to claim the most power by sitting on the Iron Throne or gain independence from it. While all this is going on, Winter is coming, as is a greater threat from far north of The Wall that most believe to be a legend.
The most successful HBO series to date, this is big-budget television at its best. While censors have been shocked by the nudity and violence (numerous characters have died in truly brutal fashion), the scale, scope, production values and complex characters have received critical acclaim. It is a series which values intimate character drama and cinematic scale battles with dragons and giants in equal measure, leading to it becoming a small screen phenomenon. As such, Game of Thrones is the most streamed series of all time, with the final season being regarded as the television event of the year, and has gained an enormous fanbase. Aside from creating one of the most heavily-used meme templates to date with "Brace yourselves. Winter is Coming", the fanbase have regularly taken to the internet to speculate with each other on the series' future, especially once the series overtook the source material and the big question was no longer whether the next episode would be a faithful adaptation.
5. House of Cards (2013-2018)
Adapted from a 1990 BBC miniseries of the same title, House of Cards follows ruthless politician Frank Underwood (Kevin Spacey) at the heart of Washington D.C., who works his way up the ranks to President, in a series with sharply written drama bolstered by compelling, Golden Globe winning performances and confident direction. To obtain the greatest position of power, Frank plays a long game in which he proves himself perfectly happy to manipulate people as part of his strategy and even commit murder to get what he wants. Complimenting him perfectly is his almost equally Machiavellian wife, Claire (Robin Wright), who is just as determined to ensure that her own agenda succeeds.
The series ended under a cloud, with Spacey being fired after Season 5 due to sexual misconduct allegations, resulting in Season 6 becoming the conclusion. While Spacey's absence was obviously noticeable and the finale met with negative reviews, Wright was a strong enough lead as Claire to make the final season worthwhile viewing. Despite that cloud and the less positive reception for the final season, House of Cards one of the most significant television series of the decade for its creation alone. It was the first Netflix original series, its overwhelming success ushered in a new era for viewing original content and, had it been a failed series, it is highly unlikely that streaming services would have become the original content juggernauts that they are today.
6. Modern Family (2009-)
Sitcoms about families have been a staple of popular American television for decades, but Modern Family is the first genuinely original example in a number of years. Filmed in a mockumentary style not unlike The Office and Parks and Recreation, the series centres around the Pritchett family, the patriarch of whom is Jay (Ed O'Neill), father of two adult children (Julie Bowen and Jesse Tyler Ferguson) who have both gone on to start their own families. Jay, meanwhile, has remarried to a younger woman – Gloria (Sofia Vergara) – and become stepfather to her son, Manny (Rico Rodriguez), an adolescent who continues to idolise his absent father. The concept of the Pritchetts being a "modern family" is further exemplified by the fact that Jay's son Mitchell has a same-sex partner – Cameron (Eric Stonestreet) – whom he marries in the Season 5 finale and with whom he has an adoptive Vietnamese daughter.
While the latter seasons have seen a decline in viewers and positive ratings, the first few seasons established a fanbase for the series and were praised by critics for their originality, sharp writing and loveably eccentric cast of characters. Indeed, it is different to any family-based sitcom that went before it, as remarriage and same-sex marriage were concepts rarely found in family-based sitcoms, let alone within the series' central family. As such, Season 1 was heralded as a triumphant return for good quality family sitcoms and the series has gone on to be one of ABC's longest-running sitcoms and winner of 22 Emmys and 6 Writers Guild of America Awards. While its fanbase is a more modest one than that of Friends or How I Met Your Mother, it is nevertheless a dedicated one that have written almost 200 pieces for fanfiction.net, and whose Facebook campaign for Mitchell and Cameron to be allowed to kiss on-screen led to Mitchell's discomfort with public displays of affection being written into Season 2.
7. Rick and Morty (2013-)
Animated science-fiction series have proven enormously popular in the past – one of the most iconic Hanna-Barbera cartoon series is The Jetsons, while Futurama has a huge fanbase and is one of only a small number of television series to be revived post-cancellation. Three months after the Futurama finale (following its second cancellation), science-fiction fans were given a brand new cartoon series in the form of Rick and Morty, a parody of Back to the Future, the likes of which had never graced television screens before. The titular Rick and Morty are a sociopathic mad scientist and his 14-year-old grandson respectively (both voiced by co-creator Justin Roiland), and while a considerable amount of screentime is dedicated to their family dynamic with Morty's parents and older sister, the heart of the series is in their interdimensional misadventures throughout the multiverse.
Rick and Morty is frankly ingenious television. The misadventures of the two central characters are very offbeat and surpass even the likes of Family Guy in terms of absurd situations and humour, yet the dynamic between the central characters is note-perfect. While Rick is an unhinged, eccentric sociopath, Morty is kind-hearted and naive, as such becoming easily distressed, but is ultimately a level-headed moral compass to his grandfather. Just as absurd and off-kilter as the screenwriting is the animation itself, which boasts some of the most surreal visuals in television history – 'Pickle Rick' has gone on to be the most iconic such examples, not least because it went on to become a popular meme. As such, Rick and Morty has received critical acclaim (97% on Rotten Tomatoes) and multiple awards including an Emmy for Outstanding Animated Program, as well as a cult following, the fanbase eagerly awaiting news on when the next season will come out as the wait between seasons gradually increases each time. You know what they say though – a pleasure deferred is a pleasure heightened.
8. Sherlock (2010-2017)
Adaptations of Sir Arthur Conan Doyle's detective stories are plentiful, with stage productions and numerous films which have ranged from outstanding to unbearable (easily one of the worst films of 2018 was Holmes & Watson). However, the 2010s saw the most recognisable and successful of these adaptations to date, with a BBC television series that put a modern twist on the Victorian era tales. Set in modern-day London, the world's greatest detective (Benedict Cumberbatch) puts his exceptional intellect and phenomenal powers of observation to great use – often at the request of Detective Inspector Lestrade (Rupert Graves) – and is aided in his investigations by flatmate and friend Dr. John Watson (Martin Freeman), a former Army medic who has recently returned from Afghanistan.
To take literary works that are over a century old and set them in the present-day may sound foolhardy on paper, but series creators Mark Gatiss and Steven Moffat pulled it off with a successful transition which shows off the heart of the source material. The screenwriting is sharp, with cleverly constructed puzzles which we the viewers piece together with Sherlock and John, a sense of mystery prevalent in each episode. Furthermore, the dynamic between the two central characters is very well realised, the great detective being a "high-functioning sociopath" whose rude and anti-social exterior hides a heart of gold, as he deeply cares for his flatmate and friend, who is compassionate, dependable and the foil to Sherlock. As such, Sherlock has received critical acclaim, multiple BAFTAs and Emmys, and has become one of the most popular BBC series worldwide. Sherlock's international success and global fanbase – who continue to hold out hope for the unlikely production of a fifth series – ultimately gave Cumberbatch his big break, and it is highly unlikely that he would have had the same opportunities within mainstream Hollywood cinema without it.
9. Stranger Things (2016-)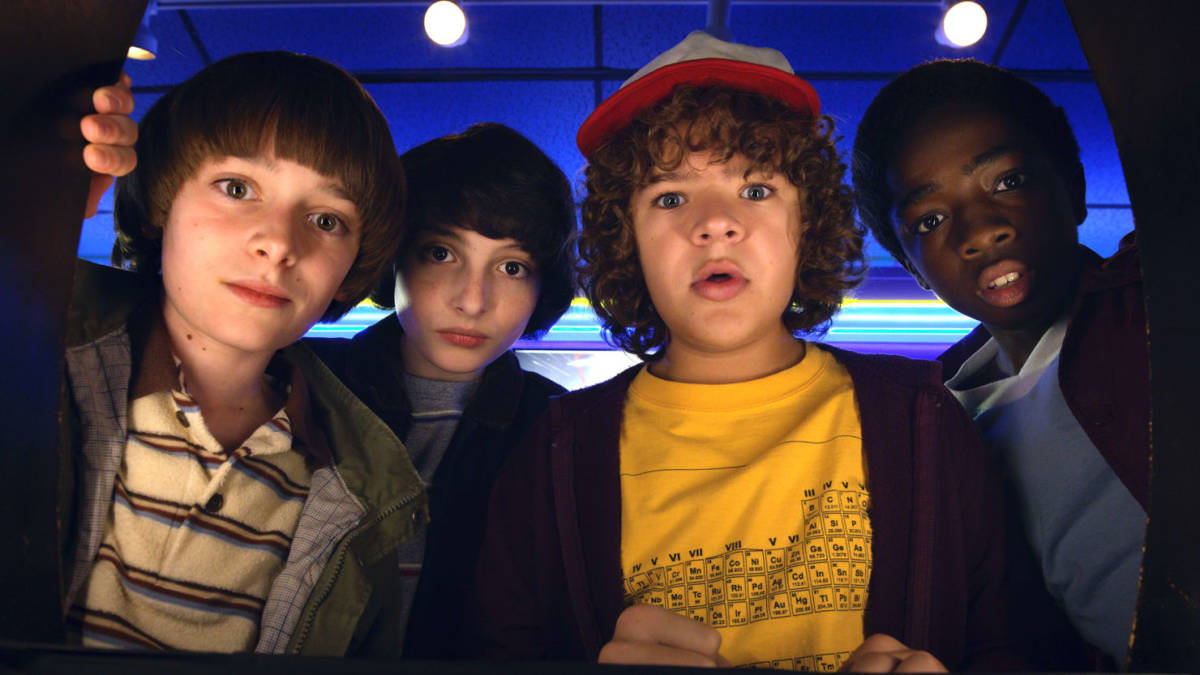 The film and television of the 2010s has revealed an immense nostalgia for the 1980s, whether that be the amount of science-fiction and horror set in that decade, or the sequels, reboots and remakes of iconic pieces of pop-culture from the era. However, arguably no piece of television has encapsulated this sense of nostalgia for the pre-smartphones and iPads era more than the Netflix original science-fiction/horror Stranger Things has. Set in the fictional Indiana town of Hawkins during the 1980s, Season 1 depicts the investigation into the disappearance of a young boy – Will Byers (Noah Schnapp). While a Police investigation is underway, Will's friends conduct their own investigation, which is aided by Eleven (Millie Bobby Brown) – a psychokinetic girl who has escaped from a scientific research laboratory.
The encapsulation of present-day nostalgia for the 1980s is seen in the prevalent homages to the films, television, and literature of the era – the title font's appearance is inspired by that of Stephen King's 1980 novel Firestarter, while the themes, direction and aesthetics of the series were informed by the works of King, John Carpenter and Steven Spielberg. A pop culture phenomenon that has received critical acclaim, Stranger Things is one of the most viewed Netflix original series to date, and its upcoming third season is one of the most eagerly anticipated pieces of television of 2019, the trailer for which became a huge discussion point for fans on Twitter. In future decades, Stranger Things will likely be regarded as the ultimate example of the 2010s' nostalgia for the media of the 1980s, making heavy reference and nodding to Stand by Me, The Goonies, E.T., and Ghostbusters to name but a few.
10. The Walking Dead (2010-)
The 21st Century has seen a huge rise in popularity for the zombie-horror subgenre, of which The Walking Dead has played a huge part. Even if you are yet to see an episode of the series, you're sure to have a friend or relative who is a big fan. Adapted from Robert Kirkman, Tony Moore and Charlie Adlard's comic book series, Season 1 sees Sheriff Deputy Rick Grimes (Andrew Lincoln) awake from a coma to discover that the world is now a post-apocalyptic landscape, ravaged by reanimated corpses (Walkers). Upon reuniting with his family, Rick leads a group of survivors across America in search of refuge. However, despite huge hordes of Walkers, the greatest threat to their survival are the living, as they now live in a world where justice and honour have become seemingly obsolete, and that is what makes it such a compelling survival story.
The Walking Dead has been one of the most popular and most streamed series of the 2010s, thanks to its ongoing storylines, regular cliffhangers, ever-present sense of uncertainty, and vivid use of gore and make-up as the revolving door of cast members are killed off in shocking fashion. Speaking of which, fans have never shied away from expressing their love for their favourite characters, with many threatening to quit the series should loveable redneck Daryl (Norman Reedus) or badass katana-wielder Michonne (Danai Gurira) be killed off. The series has also inspired numerous memes, many of which poke fun at how Rick pronounces the name of his son Carl (Chandler Riggs), thanks to his Southern drawl. The ultimate testament to its significance, however, is found in the fact that, along with vampire series True Blood, The Walking Dead ushered in the golden age of horror television that brought us classics like American Horror Story, Bates Motel, Hannibal, Ash vs the Evil Dead, and iZombie.
Any shows you think should have made the cut? Let us know in the comments.
Some of the coverage you find on Cultured Vultures contains affiliate links, which provide us with small commissions based on purchases made from visiting our site. We cover gaming news, movie reviews, wrestling and much more.