House of Cards collapsed like a–all right, all right. I think I'm a decent enough writer to not fall for that, but I have to acknowledge how easy it was. In its final season, House of Cards doesn't end on a "low note" – it actually ends worse than it ever was.
The most obvious change is the absence of main character Frank Underwood – the result of over a dozen men accusing Kevin Spacey of historic sexual misconduct. While this is certainly unfortunate, one cannot deny the damage done to the series as a result of his departure. And while I appreciate why he left, you can't exactly judge a series on a "Well, this is pretty good, considering that the star of the show had to leave." It doesn't seem honest or plausible. So why did the series fail?
Robin Wright, in my opinion, is more than capable of starring in her own show and carrying a series. It just isn't this one, and it isn't with this character. It isn't hard to tell when a supporting character is strong enough. It was plain within the first couple of seasons of The Sopranos that Edie Falco would be able to hold her own as a protagonist – and she moved on to Nurse Jackie shortly thereafter.
It certainly wasn't Wright's acting that fell short…but what happened to the writing? For the first time in my life watching House of Cards, I was actually able to predict the dialogue. The cheesy one-liners that the series never fell for, that it was above…it suddenly embraced them.
Claire Hale (back to her maiden name after Frank Underwood passed of off-screen complications) is magnetic, as she always was, but her steely-eyed resolve doesn't make for the kind of theatrics that was possible when Frank was the main character. Frank would toy with his characters. Frank would present them opportunities that he knew were tainted, he would coyly seduce them with his Gaffney charisma, and entangle them in scandals that they never knew existed.
Instead, Claire Hale simply tells her underlings what to do, offers no real alternative, and the characters all fall in line as if there is no other option. By the time that a movement grows to oppose her, it's too late, seems forced, and almost seems like it was crafted because there wasn't enough going on.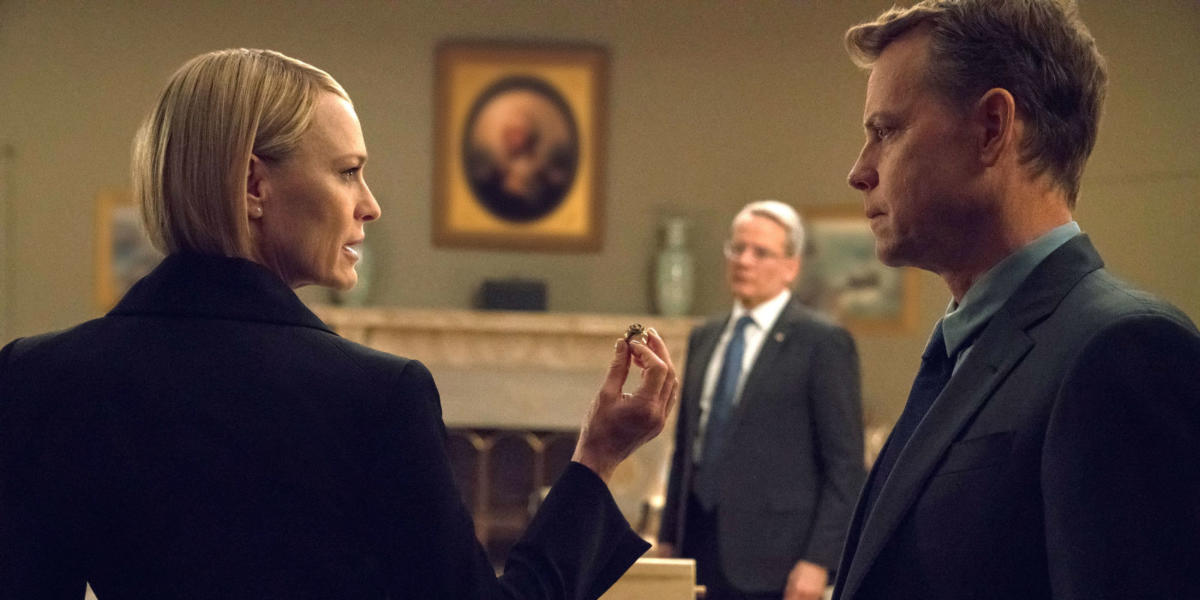 For the first time since its inception, House of Cards didn't seem incredible. We all know that politicians don't go around killing people every week, but Frank actually made it seem like it was possible. His anger was real. Even if he didn't actually care about people, he feigned it enough to maneuver through the world of politics flawlessly. It almost made sense that Frank had fought and bargained his way to the presidency. Claire's unwillingness to negotiate doesn't seem like it could have gotten her onto a city council.
Where Frank would play politicians against one another, have a trick up his sleeve, or introduce a new variable into the political playing field, Claire doesn't seem to offer up much. In one of the most ridiculous points of the latest season, her Machiavellian tactic is essentially to "play dead", and pretend to be incapacitated for several weeks while the nation hangs in the balance. It's about as clever as a child pretending to be sick from school, much less something that would be in the 48 Laws of Power.
Frank Underwood would break the fourth wall to offer insight that we didn't have, to express his anger, what he was going to do with that anger, or simply to truly explain to us how sinister he was. Claire breaks the fourth wall to tell us terrible one-liners such as "Out with the old," which hardly seems profound in any form or fashion.
In fact, the fourth wall – an aspect that used to be joyous for the series – is broken to the point where it is essentially ruined, and it seems as though all Claire does is barrage the viewer with platitudes like "I'm going to do what I have to do", without any of the tension and nuance that made Spacey's character legendary.
There are moments that are so obviously terrible that I almost feel as though they are low-hanging fruit for me to attack, and the season is so terrible that I almost want to ruin them for you. I was a tremendous fan of every season except this one, for those who might be concerned that I am biased against the show. This is not only an anomaly – frankly, and excuse the melodrama, it's an anathema.
To the series' credit, Wright does an incredible job of playing a homicidal politician, it's just that her performance seems to lack any real warmth. Wright unfortunately has the dilemma of being an incredible actress confined to a character whose depth was displayed alongside Frank's. Her advice during their cigarette sessions empowered and motivated him, and now her calculated moves not only are both less impressive and tactical than Frank's, they also lack the emotional context that Frank was able to insert into his feuds.
Frank would seduce you into friendship, do you a favor, and stab the character in the back when you least expect it. Claire stabs you in the front, and her victim grins, takes it, and doesn't even seem to exact revenge. It hardly seems like a realistic political show at that point.
Michael Kelly has his moments as Doug Stamper, but without Frank, he is basically left incapacitated, as well. His allegiances shift, when he was the most stable character, allegiance-wise, throughout the entire season. Kelly's acting is as brilliant as ever, but it honestly doesn't save the series in any meaningful way.
Greg Kinnear enters the series as a villain, and looks uncomfortable the entire time. Patricia Clarkson – who was absolutely incredible in Sharp Objects – plays some strange CIA agent who seems to sigh at everything, and it comes across as superfluous and tired.
There are a few winners, though, even if they aren't main characters. Lars Mikkelsen still offers up an incredible portrayal as President Petrov. Two of the highlights are Boris McGiver and Constance Zimmer, who both remain dedicated to their roles. Their integrity in their journalism almost translates into an overall integrity, and remains some of the few positive aspects of the season.
It isn't easy to replace Frank Underwood, who, within a short period of time, has become one of the most legendary characters ever portrayed on a TV show. However, it is obvious that this season not only lacked inspiration – it was lacking, in general. It seems only right that I end the review with one of Frank's most famous quotes:
"Money is the McMansion in Sarasota that starts falling apart after 10 years. Power is the old stone building that stands for centuries."
One thing is for sure – House of Cards, unfortunately, went the way of the McMansion, and it certainly didn't take 10 years.
Some of the coverage you find on Cultured Vultures contains affiliate links, which provide us with small commissions based on purchases made from visiting our site. We cover gaming news, movie reviews, wrestling and much more.