As opposed to feel-good movies, finding the saddest movies on Netflix was a far more straightforward endeavour. Is this because we as a human race have a tendency to deviate towards tragedy more than lighthearted content? Possibly. There's a reason there are quite a few Oscar winning films on this list.
Sad movies aren't an easy watch – they can leave you in pieces for hours, your mind reliving those heartbreaking moments, eating into the functionality of your day. These films also come in a myriad of forms: you have the films that are based on true events, films that deal with death and the grief that follows, or films that chart struggles which feel insurmountable.
Some of the films on this list are perhaps more bittersweet, since these sad moments are overcome, and we move forward with a sense of optimism. Others never quite leave the melancholic space, so it all depends on your threshold – how much sadness can you swallow before it gets too much?
It is perhaps a weird thing to recommend films that will, well, make you sad. However, for everything there is a season, so there are moments in our day to day existence where we might want to watch a sad film, so this list is curated for such an occasion.
Here are the 10 saddest movies on Netflix, for your consideration.
NETFLIX'S SADDEST MOVIES: What's Eating Gilbert Grape? | The Pianist | The Pursuit of Happyness | I Am Legend | A Single Man | The Perks of Being A Wallflower | Spotlight | Moonlight | Before I Fall | Pieces of a Woman
The Best Sad Movies on Netflix
1. What's Eating Gilbert Grape? (1993)
Director: Lasse Hallström
The film stars Johnny Depp as Gilbert Grape, a small-town young man with a lot of responsibility. His two main responsibilities are his mother (Darlene Cates), who is so overweight that she can't leave the house, and his mentally impaired (most likely autistic) younger brother, Arnie (Leonardo DiCaprio). Things are quite mundane for Gilbert, who has settled into a job at a grocery store and is having an ongoing affair with local woman Betty Carver (Mary Steenburgen), until the free-spirited Becky (Juliette Lewis) enters his life.
Even though What's Eating Gilbert Grape was meant to showcase Depp's talents – he is the film's star after all – the film was more to DiCaprio's favour. It's this film that put him on the map, and people saw what a star he was and the acting chops he had. As Arnie, he has an exuberance about him, as well as a capacity for forgiveness.
Despite the dysfunctional family dynamic, there's still a sense of hopefulness that encases the film, and while there are profoundly sad moments, which I won't delve into for fear of spoilers, there's a wistful, wholesome vibe to the film that gives it a bittersweet shade. There is as much humour and joy as there is sadness – a gem of a film that still holds up decades later.
2. The Pianist (2002)
Director: Roman Polanski
The Pianist is a Holocaust film, and oftentimes, because of the subject matter, balance is very hard to achieve in films set against the backdrop. Also, it's hard for any other film to come close to the impact of Spielberg's Schindler's List. The Pianist, while not overthrowing Schindler's List, is able to match it in terms of the storytelling and characterisation.
Interestingly, Polanski was approached by Spielberg to direct Schindler's List, but turned it down because he felt that he was a bit too close to the subject matter to achieve proper objectivity, since he is a Holocaust survivor. Ten years later, he made The Pianist, which has some parallels to his own life yet rooted in restraint.
The film follows Wladyslaw Szpilman (Adrien Brody), a Polish Jewish radio station pianist, who sees Warsaw change gradually as World War II begins. Szpilman is forced into the Warsaw Ghetto, but is later separated from his family during Operation Reinhard. From this time until the concentration camp prisoners are released, Szpilman hides in various locations among the ruins of Warsaw.
Brody won an Oscar for his performance in The Pianist, and it is well-deserved. As Szpilman, he goes from smug, confident artist, to a stumbling, frightened man – undergoing one of the most harrowing physical transformations an actor has committed to for a movie.
While Polanski doesn't wish to court our tears, the narrative will inevitably bring out the melancholy, as we bear witness to human atrocities and the chaos that inundates Szpilman's world.
3. The Pursuit of Happyness (2006)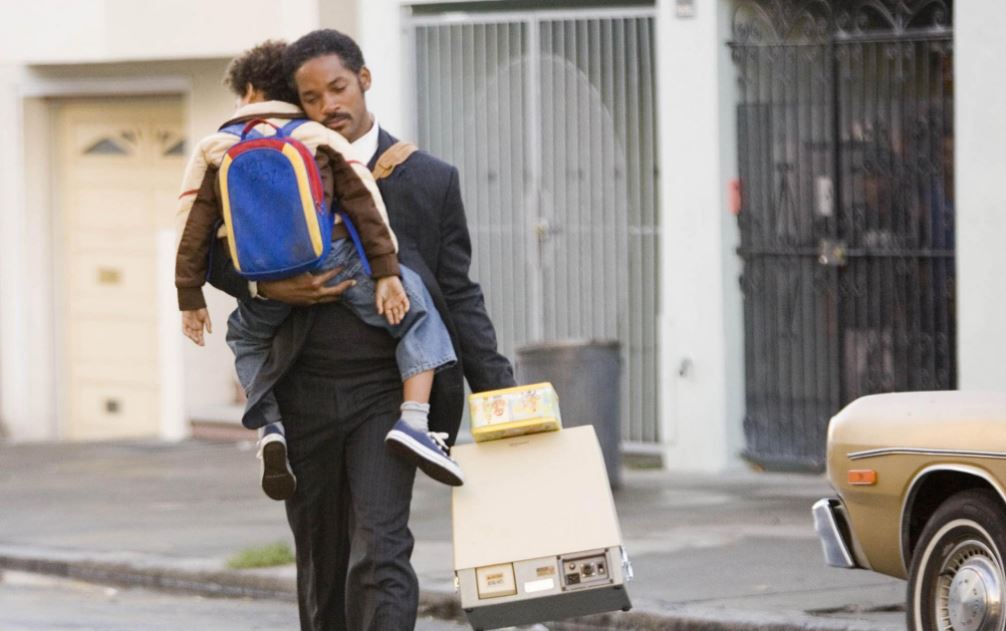 Director: Gabriele Muccino
For single father Chris Gardner (Will Smith), life is a struggle. After he and his son (Jaden Smith) find themselves evicted from their apartment because they are unable to pay rent, they find themselves alone with no place to go. Even though Chris eventually lands a job as an intern at a prestigious brokerage firm, the position pays no money. The pair must live in shelters and endure many hardships, but Chris refuses to give in to despair as he struggles to create a better life for himself and his son.
The main issue that people have with the film is that it seems to equate money with happiness, and you will understand why they think so at the film's conclusion. Focusing too much on that does take away from the film's merits though, which is Smith's incredible performance, as well as the sweet interactions he has with his own son in the film.
The subject matter is difficult stuff to wade through, and having to watch Gardner go through all that with a young son in tow is so sad – it will be hard to keep your eyes dry through easily one of the saddest movies on Netflix.
4. I Am Legend (2007)
Director: Francis Lawrence
Another Will Smith movie for the list, and another one that succeeds because of his performance. Smith plays Robert Neville, a scientist and a survivor of a man-made plague that transforms humans into zombies. He wanders alone through New York City, calling out for other possible survivors, and works on finding a cure for the plague. The film adaptation is nowhere on the level of Richard Matheson's novel, but its exploration of loneliness and alienation is an interesting one.
Neville lost his family during the chaos of things, so besides his dog Sam, he doesn't really have anyone. Abbey and Kona, both three-year-old German Shepherd dogs, took turns to play Neville's dog, and really sets the bar high in terms of animal performances (Love and Monsters is a recent film that does this well too).
I Am Legend explores ideas like faith versus the tangibility of science in the post-apocalypse, and while it doesn't always manage to bring home its points, the performances are strong and affecting.
5. A Single Man (2009)
Director: Tom Ford
I guess when you're a creative, the many hats you wear allow you to delve into different mediums for expression. Tom Ford, whom we all knew as a fashion designer, threw on the hat of filmmaker for this 2009 film – his first of many.
A Single Man focuses on George (Colin Firth), a college professor who recently lost his lover, Jim, in a car accident. Terribly grief-stricken, George plans to commit suicide. As he goes about his daily routine and puts his affairs in order, his encounters with colleagues, students and an old friend (Julianne Moore) lead him to make a final decision as to whether life is worth living without Jim.
It is a devastating watch, exploring themes like death, bereavement, grief and loss, with brilliant acting by Firth. While the film does seem over designed at times – a signature style of Ford's we see in his other film Nocturnal Animals – this is used to reflect the emptiness in George's life. For all the worldly goods he possesses, does life have meaning if he cannot be with the one he loves?
6. The Perks of Being A Wallflower (2012)
Director: Stephen Chbosky
As a firm believer that the book is always better than the movie, this is hard to stick to when the writer of the book also directs and writes the screenplay for the film adaptation of his own book. This is the case for The Perks of Being A Wallflower, and because Stephen Chbosky is so familiar with the content, what we get is such a competent feat of storytelling.
The film focuses on Charlie (Logan Lerman), who is basically a wallflower, always on the sidelines of things, until two charismatic students become his mentors. Free-spirited Sam (Emma Watson) and her stepbrother Patrick (Ezra Miller) help Charlie discover the joys of friendship, first love, music and more, while a teacher sparks Charlie's dreams of becoming a writer.
While it is a coming of age story, and delves into the fragility and joy of being young, the themes are applicable for us adults as well, and possesses so many quotable lines that it almost feels like a self-help book. Lerman, Watson and Miller deliver such wonderful, poignant performances, which is particularly impressive given that they were such young actors at the time.
7. Spotlight (2015)
Director: Tom McCarthy
Spotlight is an Oscar winning film (it took home the Academy Award for Best Picture), so one of the saddest movies on Netflix or not, you should watch it mainly because it's so damn good.
The film takes us to 2001, where editor Marty Baron (Liev Schreiber) of The Boston Globe assigns a team of journalists to investigate allegations against John Geoghan, an unfrocked priest accused of molesting more than 80 boys. Led by editor Walter "Robby" Robinson (Michael Keaton), reporters Michael Rezendes (Mark Ruffalo), Matt Carroll (Brian d'Arcy James) and Sacha Pfeiffer (Rachel McAdams) interview victims and try to unseal sensitive documents. The reporters make it their mission to provide proof of a cover-up of sexual abuse within the Roman Catholic Church.
Spotlight is a powerful film that highlights the importance of the press; it is also an emotional tour de force that explores sexual abuse and the part that communities and institutions play in letting the perpetrators get away scot-free. A definite must-watch.
8. Moonlight (2016)
Director: Barry Jenkins
It is a sad thing that Moonlight will always be linked to La La Land, and the kerfuffle that was the Oscars that year. Moonlight took home the Oscar for Best Picture, but will always exist in the shadow of that blunder. Much like Spotlight, Moonlight is an example of extraordinary filmmaking, and you should watch it because it's a remarkable film.
Moonlight is a character story, a look at the three defining chapters in the life of Chiron, a young black man growing up in Miami, who is trying to make sense of his sexuality. Jenkins fleshes out that struggle beautifully – as Chiron sits on the beach with his friend Kevin, with splashes of moonlight on their faces, there is a sense of connection, of being fully known and understood by someone, yet recognising that this isn't always the case in relation to society's perceptions of Chiron as a black man.
Moonlight is a beautiful, empathetic film, which hopefully leads you to explore Jenkins' other films.
9. Before I Fall (2017)
Director: Ry Russo-Young
Before I Fall is a surprising film, in the sense that it doesn't take you where you expect. Its structure is akin to Groundhog Day, where the main character Samantha Kingston (Zoey Deutch) dies in a car accident and finds herself stuck in a time loop, getting to relive the same day over and over again.
Samantha seemed to have it all: popularity, a loving boyfriend (Kian Lawley) and a seemingly perfect future – so what is she supposed to figure out in order to escape the time loop? As Samantha tries to break the time loop, she must also unravel the secrets of the people closest to her. Before I Fall wants us to see the power and potential a single day can have, so we never take our own days for granted.
This was the film that introduced me to Zoey Deutch, who is a pretty familiar name nowadays. Her performance is a reminder of how even the most simple of stories can be so affecting in the right hands, and she makes Samantha relatable despite her sometimes spineless ways.
I'm always impressed when a YA film handles mature themes with such thoughtfulness and delicacy. Before I Fall wants you to consider what makes life worth living, and wants young people to understand that they need to be accountable for their actions and find it within themselves to do the right thing, even if it isn't always easy.
10. Pieces of a Woman (2020)
Director: Kornél Mundruczó
Pieces of a Woman's opening act is its strongest – it's gutting, heart wrenching, and absolutely eviscerates the viewer. I've seen plenty of movies about women giving birth, but never have I seen a birth scene this visceral and intense. I was on pins and needles for the entirety of that moment, watching Vanessa Kirby's Martha going through a home birth with her partner Sean (Shia LaBeouf).
The volatility encases every moment, because like Martha, we feel that something is wrong. At the same time, we don't want to be right. We're rooting for the impossible, though – why else would she be in pieces after?
While the rest of the film doesn't quite live up to the strength of its opening moments, Kirby's performance is stellar, and the reason why she was nominated for an Oscar. She can do a simple thing like shopping, and somehow make you feel her character's sorrow so acutely. This movie is a difficult watch and will probably be a film you watch only once because of its subject matter, so be aware of this if you ever decide to take the plunge into one of the saddest movies on Netflix.
READ NEXT: The Best Action Movies On Netflix
Some of the coverage you find on Cultured Vultures contains affiliate links, which provide us with small commissions based on purchases made from visiting our site. We cover gaming news, movie reviews, wrestling and much more.