Facepunch have unveiled the third major DLC pack for Rust, Voice Props, following the release of the summer Sunburn DLC and Instruments Pack.
Voice Props, as you might be able to guess from its name, is all about giving players the ability to record and playback audio, which is something that is very important in a very serious survival game, obviously. To add to just how hardcore this DLC is for all the pro gamers out there, you also get a disco ball.
Here's everything you need to know about the Voice Props DLC in Rust, which has a chance of being the most annoying downloadable content of all time.
What's In The Rust Voice Props DLC?
Here's everything that's in the Voice Props DLC, including new deployables, gestures, and items that will get you obliterated off a server.
Cassettes and Recordings
Cassettes can store snippets of audio and can be used in a variety of ways. You can also simply insert a cassette with your voicemail message into the phone and anyone who calls in while you're away will be able to leave a message for you. You can access any voicemail messages from the dialling screen.
Boom Boxes
If you want to play your audio on something with a bit more oomph you can use a Boom Box. Coming in both static and deployed versions, you can use a Boom Box to play both recorded audio on Cassettes and stream internet radio. Deployed Boom Boxes can also be connected to other audio entities via the Audio Out IO port.
Megaphone and Microphone Stand
You can project your voice to friends and foes with the Megaphone and Microphone Stand. The Megaphone is a held entity that you can use while out and about. The Microphone Stand is a deployable version of the Megaphone that requires power. It has two different voice modes to modify your voice (squeaky and deep) and has an Audio Out IO port like the Boom Box to connect to other props in the DLC pack.
Disco Props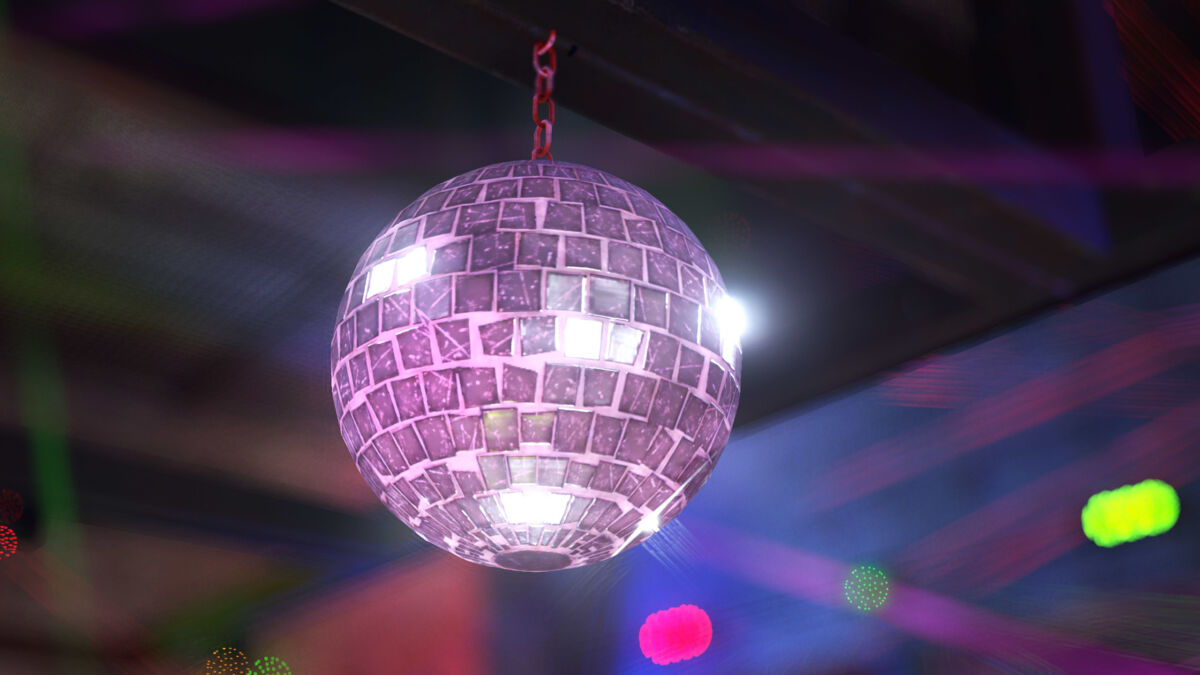 Give your base some late night disco vibes! Use the Disco Floor, Laser Light, Connected Speaker and Sound Light to set up a dancefloor that will make your neighbours jealous. All of these props have an Audio In IO port so you can connect them to an audio source (like a Boom Box or Microphone Stand) to make them react to any playing audio. The Connected Speaker will rebroadcast any audio from an audio source that it's connected to, so you can play music throughout your entire base or hook them up to a Microphone Stand to make a base wide PA system.
New Dances
A dancefloor is pointless without dancing, so this DLC pack includes three new dance gestures. Unlike the existing gestures these dances will loop endlessly and you won't be able to move while dancing. To cancel a dance you can just press a move input, jump, crouch or hit LMB.
Mobile Phone
Take calls on the go – and stylishly – with the latest in telecommunications technology on the island: the Mobile Phone! Giving you access to the telephone system from anywhere on the island. You can open the dialler with LMB and still move around while chatting.
The Rust Voice Props DLC comes with three new gestures and seven Steam achievements to unlock. You will be able to broadcast songs from internet radio streams or the Rust and Chippy soundtracks.
Bear in mind that not all of these items will be "out of the box" as some of them will require power to use and for you to have a pretty well established base. If you're a grub, you may want to save your money.
You may also want to make sure you have some chill neighbours who won't raid you because you're blaring out disco all day and night.
Voice Props Achievements
Here are the achievements with Voice Props:
Party Boat
Dance with 2 other players at the front of the Cargo Ship.
Bad Neighbour
Use a megaphone while in another player's Tool Cupboard radius.
On the Record
Record another player speaking onto a Cassette.
Like Nobody's Watching
Dance near a playing Boom Box on an active Disco Floor.
I can no longer see
Stare into a laser light for 30 seconds.
I should buy this Soundtrack
Listen to the Rust soundtrack from a Boom Box for 30 seconds
Full Collection
Play an instrument while floating in an Inner Tube while listening to a Boom Box play a radio stream
How Much Is The Rust Voice Props DLC?
The Voice Props DLC will set you back $12.99/£12.99, but will have a 10% launch discount. It's not a part of the Steam Summer Sale at the time of launch, just its launch discount.
Rust Voice Props DLC Release Date
The DLC will be available from July 1st, 2021 on PC along with the new update for the game, which will finally introduce a crawling system to the game.
Rust is available now on PC. Rust: Console Edition is a different experience that's also available for PS4 and Xbox One.
READ NEXT: Rust Contacts System: What You Should Know
Some of the coverage you find on Cultured Vultures contains affiliate links, which provide us with small commissions based on purchases made from visiting our site. We cover gaming news, movie reviews, wrestling and much more.