Rust: Console Edition is one of the biggest games of the year, a port of one of Steam's most popular, life-consuming misanthropy simulators that you can play from the comfort of your couch. It's been a long road to Rust arriving on PS4 and Xbox One since its announcement way back in 2018, but, sadly, it's got an even longer road ahead of it before it's really worth buying.
As someone who's racked up a few hundred nihilistic hours of Rust on PC, I was looking forward to playing the game in more comfort than being hunched over my keyboard like the gremlin that I so typically am. I love Rust, but when I work at my PC all day and then boot up a game on Steam, it can feel like there's little separation between work and play. Doesn't help that Rust is pretty much a second job at the best of times. A version of Rust that I could play without my pensioner knees screaming at me sounded ideal, even if I was always a little dubious about how good it could honestly be.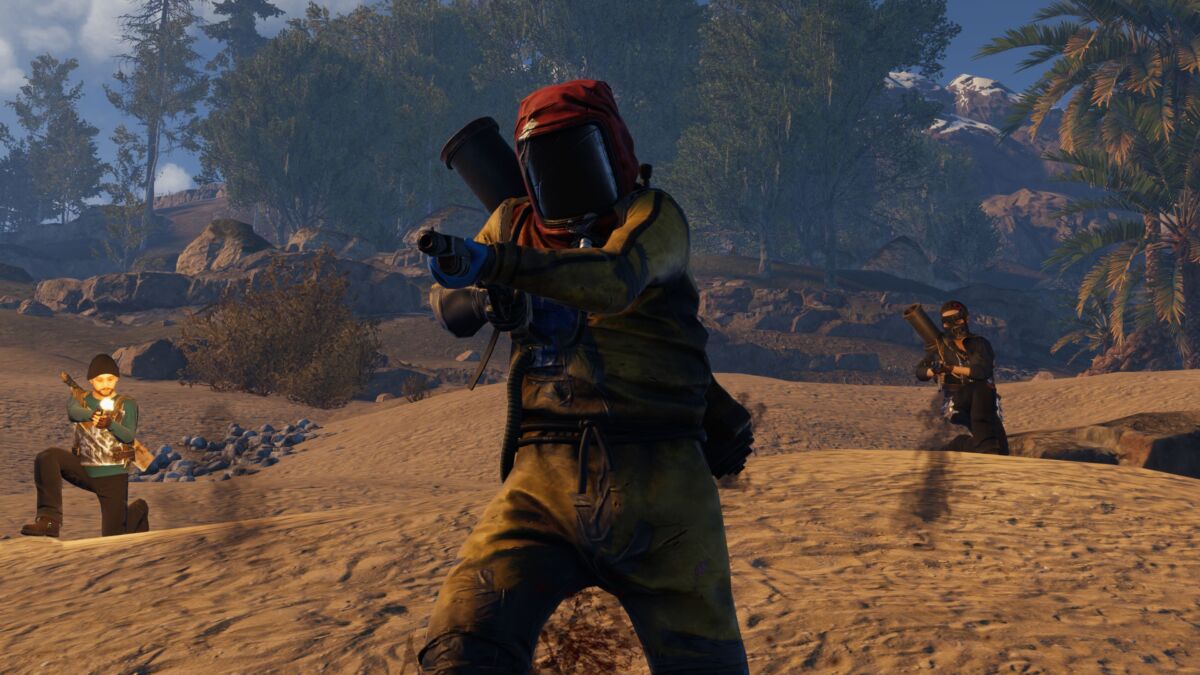 After the game's different pre-release betas were over, one of which I accessed by buying a more expensive edition (more on that later), I was intrigued to see how the final product would end up. The private beta felt largely good to play, but was beset by constant crashes on PS5 via backwards compatibility. Meanwhile, the pre-order beta seemed to perform better, but something was off about it, like the gameplay had lost a lot of its smoothness with Double Eleven chopping bits off and placing them elsewhere to try and squeeze out every ounce of power but ended up over-optimising things, if that makes sense. I hoped the full release of Rust: Console Edition would be a combination of the good from the betas, stamping out the bad in the process.
Well, it's definitely better, but it's still not great. While I think pre-order betas need to absolutely get in the bin because you're basically paying to do QA, at least Double Eleven seem to have used the feedback well to fix what needed fixing. But it seems that every time they fix one thing, another handful of issues appear.
All over Twitter, players are complaining about invisible enemies, constant glitches, missing monuments, input lag, regular lag, freezes, and much more.
More or less, my server was lagging and now I can't enter in this because this don't charge pic.twitter.com/tmZR4jFFIL

— byAdri89 (@byAdri_89) May 24, 2021
Bad because I bought it the day it came out and I still couldn't get in a server and here is the error it is still happening to me and 4 of my friends so is you can help me I would appreciate that allot thx pic.twitter.com/IqGXScaXhI

— Mýnt Œ (@Hazemmabrouk2) May 24, 2021
Man, I've been freezing non stop and getting killed by it, also when I'm fighting players they turn invisible and I die. You can check my Twitter and see videos of freezing and the invisible people I'll post here in a second. pic.twitter.com/ccMX3JIMfs

— Twī$p (@Twisp666) May 24, 2021
https://twitter.com/RealityOGX/status/1396913956216737797
Wtf is this bull shit hit me through a wall head shot lost base Bc of it please fix pic.twitter.com/bVD1WBN30j

— david (@david70622371) May 24, 2021
To Double Eleven's credit, as already mentioned, they're doing a good job of fighting these fires, but there's just so much to overlook with Rust: Console Edition right now that you're better off just waiting until the game's in a much better state. You might be having fun, but through gritted teeth. Playing the waiting game also applies when it comes to the actual content in Rust: Console Edition, because it's far, far behind where the PC version is at.
Owing to just how much they had to optimise to get Rust working on what is now extremely old tech in the form of the PS4 and Xbox One, a lot of the features have had to be stripped way back — if not removed entirely. From key components of the Rust experience like trains, hot air balloons, and horses all the way up to simple QoL changes like being able to move your workbenches, it feels like you're playing Rust from 2018.
That's probably because it, for all intents and purposes, is Rust from 2018. Double Eleven started collaborating with Facepunch, the original Rust creators, way back in 2016 and decided to split Rust into two different experiences, which meant making a lot of concessions. Rideable horses, for instance, were added in June 2019, but they aren't in the console version, suggesting that the basis for the port must be a version of Rust predating even that.
While Double Eleven have said that they will be adding in some of these missing features over time, the updates won't be that often, roughly every 8-10 weeks. Rust on PC, meanwhile, will be getting a new update every month that adds something substantial, meaning that the console version will be playing a constant game of catch-up that it can't possibly hope to ever win. For instance, Rust just had a major graphical overhaul on PC, which makes its console version look like even less of a, well, looker. Granted, there have been far uglier survival games on console (looking at you here, 7 Days To Die) in the past, but the visual gap between Rust on PC and console only looks like widening as time goes on.
Such disparity makes the price of Rust on PS4 and Xbox One make even less sense. On PC, where you can enjoy constant updates, much better performance, more maps, and just inarguably a better experience overall, Rust costs £30.99. Rust: Console Edition, meanwhile, where you're missing pretty much every update since 2018 and constantly encounter issues, will set you back £44.99 for the Standard Edition. I bought the Deluxe Edition for £49.99 to get in early, but also for Public Test Branch access — that's nowhere to be seen, though. There's even an Ultimate Edition for £64.99 that gives you Rust Coins to spend in the Skin Store, but, somewhat hilariously, the Skin Store isn't even in the game right now because of the port's many, many issues.
Rust: Console Edition isn't the worst survival game I've ever played on PS4 and Xbox One, it's just the worst way of playing Rust by some distance. Realistically, it could have done with a stretch in Game Preview on Xbox and some equivalent on PlayStation, because it really does feel like we're all in unofficial Early Access right now. You're not missing out if you just want to bide your time and maybe soak up all the sunlight you can before Rust: Console Edition consumes your life when it's eventually in the right state — and at a better price.
READ NEXT: Rust PS4 & Xbox One: How To Change Controls
Some of the coverage you find on Cultured Vultures contains affiliate links, which provide us with small commissions based on purchases made from visiting our site. We cover gaming news, movie reviews, wrestling and much more.