With Fortnite season 5 now underway, its Battle Pass skins have now been properly revealed and, well, they're kind of underwhelming. It's a shame that Epic don't seem to have made as much of the theme as they could have, but some of them are at least fairly cool.
Here's a rundown of the Battle Pass skins and a smarmy verdict on each. Remember: to unlock these skins you need to have purchased the Battle Pass, which you can buy either through leftover V-Bucks from season 4 or with a purchase through the storefront of whichever platform you're on. The Battle Pass again costs 950 V-Bucks, which translates to £8/$10.
Once you purchase the Battle Pass/launch season 5, you will be greeted with the following screens.
It would appear like season 4's addition of allowing players to unlock new styles for skins also applies for season 5 with Ragnarok and Drift being this season's Carbide and Omega. Here is a breakdown of all the skins for the upcoming season, their tiers, and grades.
Huntress – Tier 1
This season's Battlehawk is actually arguably cooler than all other skins apart from the two with unlockable styles. Fans of Vikings are sure to love this one, which seems to be partially inspired by Lagertha. Solid stuff, really.
Grade: B
Drift – Tier 2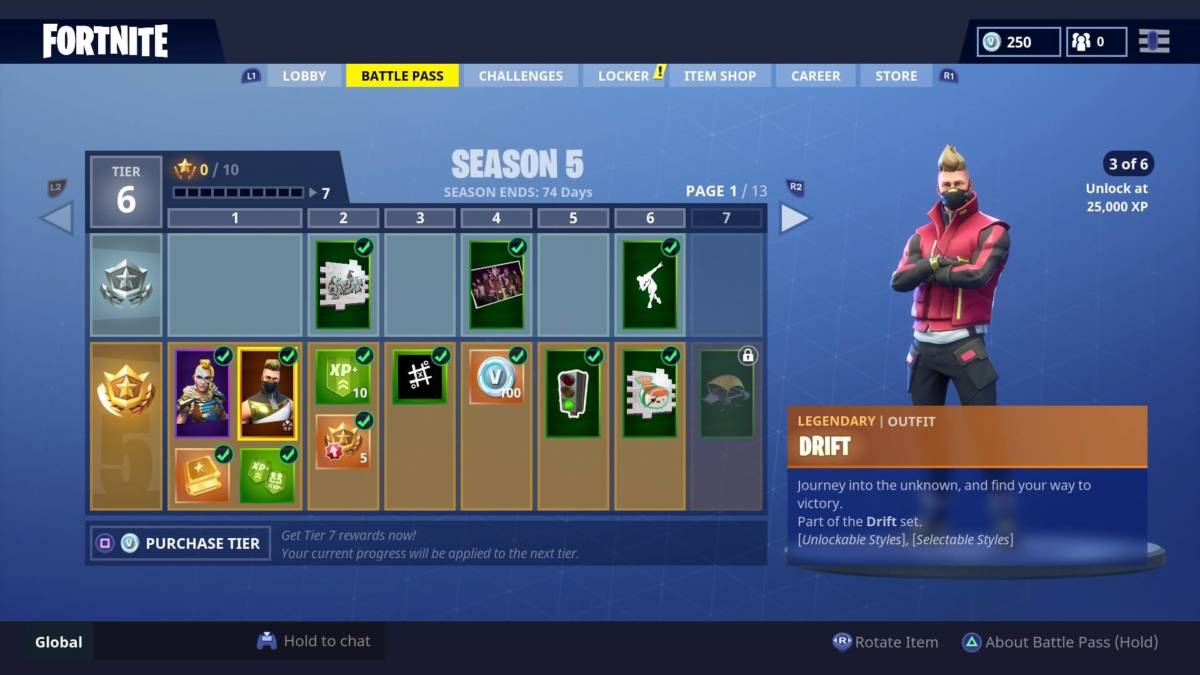 Not that wild on this one, in truth, even with six unlockable styles. It gets progressively more anime and he just looks a tad too chunky by the end. You will presumably be able to change the colours in Drift's final form, who is also the guy seen in the season 5 trailer, but apart from that, it's not great.
Grade: C
Redline – Tier 23
Say hello to this season's Rust Lord. A female variant on an old skin. Disappointing, to say the least.
Grade: F
Sun Strider – Tier 47
A decent skin to unlock around halfway in to the Battle Pass, though it does seem like it would have been better suited for a seasonally themed item shop update instead. Still, any skin with a prominent fanny pack is probably worth having.
Sledgehammer – Tier 71
Somebody at Epic has been playing a lot of Siege. As well as being the spitting image of Blackbeard, Sledgehammer might actually be the alcoholic stepdad of Battlehawk. A badass skin, for sure, and one that I personally will be most looking forward to getting.
Grade: A
Rook – Tier 87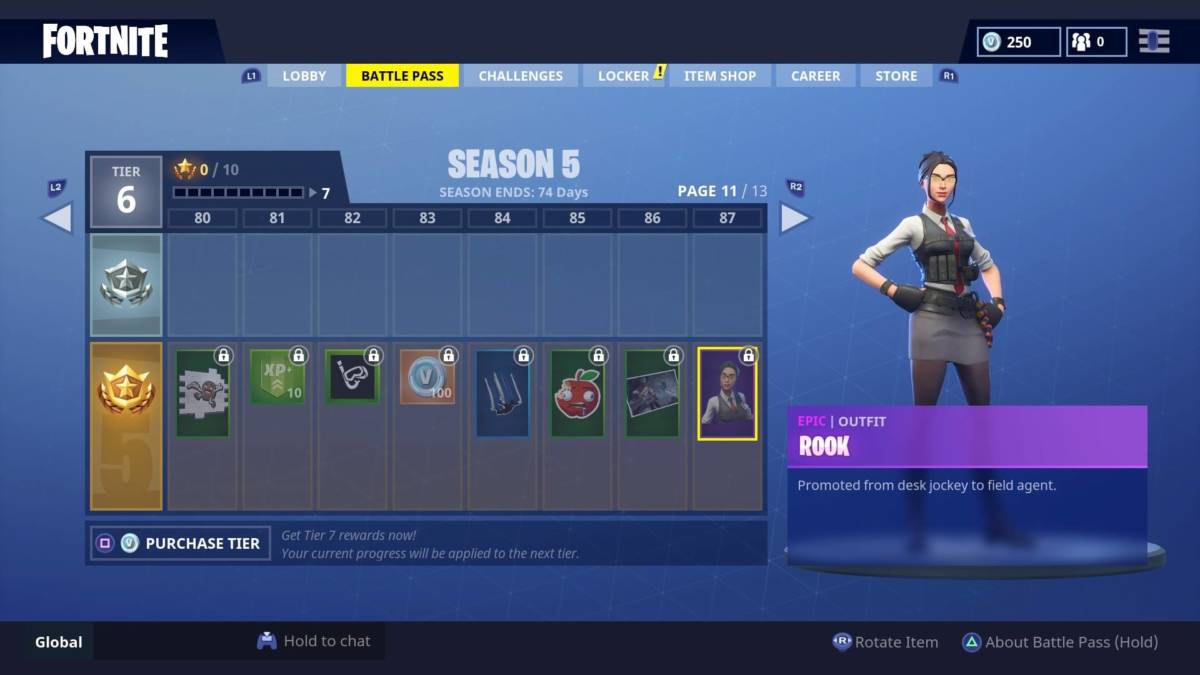 A weird one to have so late on in the Battle Pass. Rook is a good skin, but she's a cop at the end of the day — it's not really as exotic as a Viking warrior or even a lifeguard. A decent skin, but certainly one I won't be desperate to unlock.
Grade: C
Ragnarok – Tier 100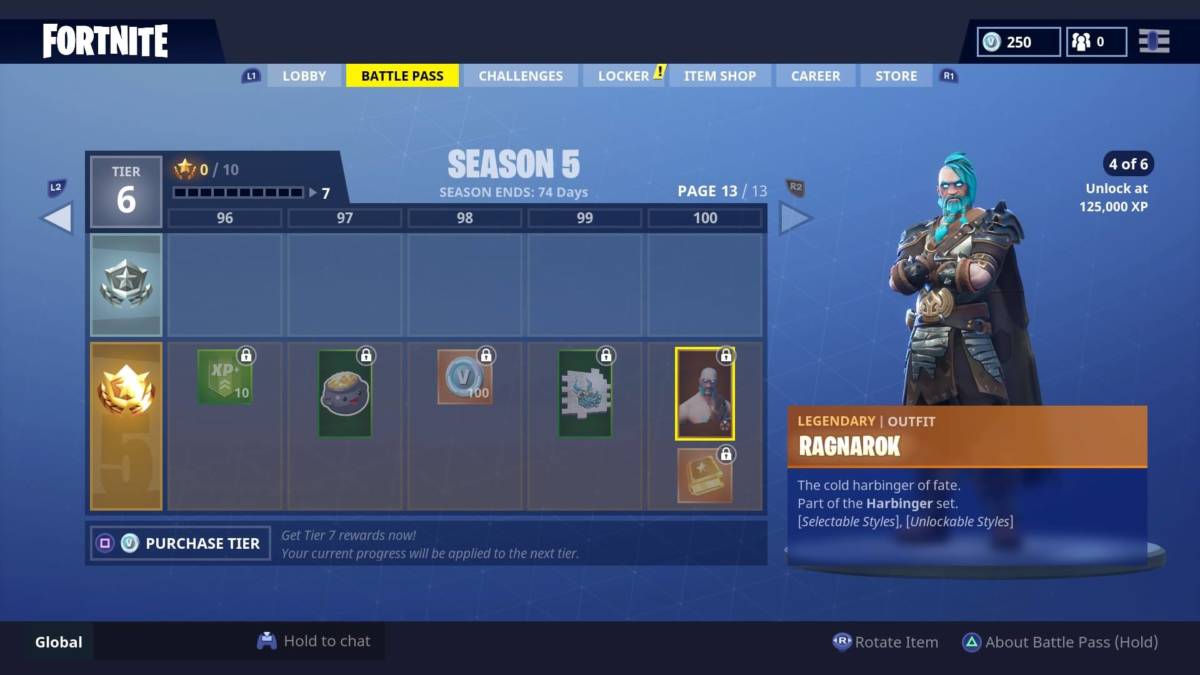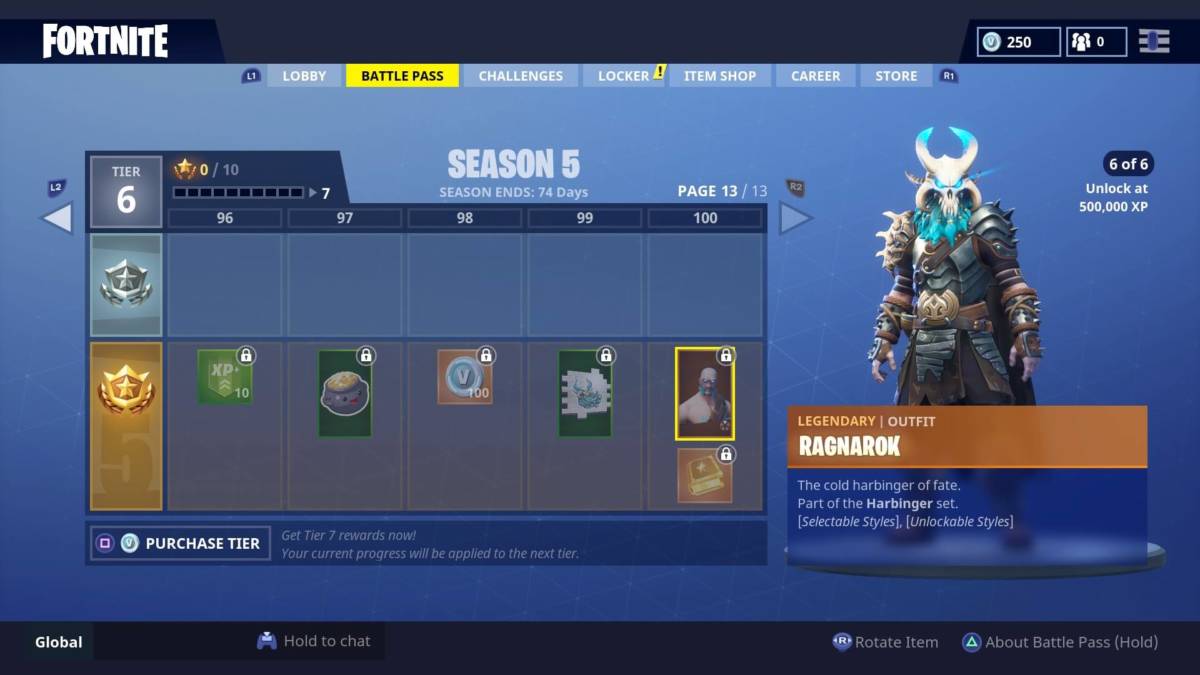 The opposite of Drift, Ragnarok is the "evil" side of this season's Battle Pass and comes with six different unlockable styles. His final form is probably just a little too flashy — I thought it would be hard for a skin to be as boisterous as Omega, but here we are. Also, am I mad in thinking that the fourth unlockable style is actually the best?
Grade: A-
Some of the coverage you find on Cultured Vultures contains affiliate links, which provide us with small commissions based on purchases made from visiting our site. We cover gaming news, movie reviews, wrestling and much more.